Christmas is one of the best times of the year in Philadelphia. There are so many fun things to do for the holidays. Even this year, there is no shortage of things to see around the city.
Our favorite part of the holiday season is checking out the Philadelphia Christmas lights. There are so many spots that families have made part of their annual traditions for years, but there are new displays, too. We love seeing them all.
Christmas Lights in Philadelphia
We've put together this list of some of the best Christmas lights in the city in beyond—from the top attractions to spectacular displays at private homes. Please remember that masks are required any time you can't maintain distance from others, even at the home light shows.
City Hall
Where: City Hall, downtown
Dilworth Park puts on a great show at the holidays. From late November through New Year's Day, the Deck the Hall Holiday Lights projection lights up the western side of City Hall.
Synchronized to sound effects, the free show is an engaging event that stops passersby in their tracks every year. From 5:00-9:00pm Sunday through Thursday and 5:00-11:00pm on Friday and Saturday, the show plays continually.
Cost: Free!
Christmas Village
Where: LOVE Park, downtown
Between Thanksgiving Day and Christmas Eve, LOVE Park transforms into a traditional German Christmas market complete with bratwurst, mulled wine, nutcrackers, and other German-inspired elements.
There are vendors whose chalets are lit for the season—both with regular lights and with glowing Herrnhut (Moravian) stars. Between the sights, music, and tastes of the market, the whole experience is pretty magical.
There are fewer vendors this year than in the past to encourage distancing, and weeknights tend to be less busy than weekends.
Cost: Free!
Macy's
Where: Online for 2020
For over 60 years, the Macy's Christmas Light Show has been a tradition in Center City. The show takes place in the Grand Court, the main area of the Market Street department store. Thanks to the size of the display, the lights are visible from every floor, so you don't have to crowd the main floor to see it.
During the show, over 100,000 multicolored LED lights dance to the music in the form of holiday characters. The Wanamaker organ—the largest pipe organ in the world—offers the soundtrack with songs like Frosty the Snowman, The Nutcracker, and Deck the Halls. Seeing the show is one of the best free things to do in Philadelphia at Christmas.
In 2020, the spectacular show is taking place virtually. Some lights are still on in person at Macy's, but store capacity is limited.
Cost: Free!
Franklin Square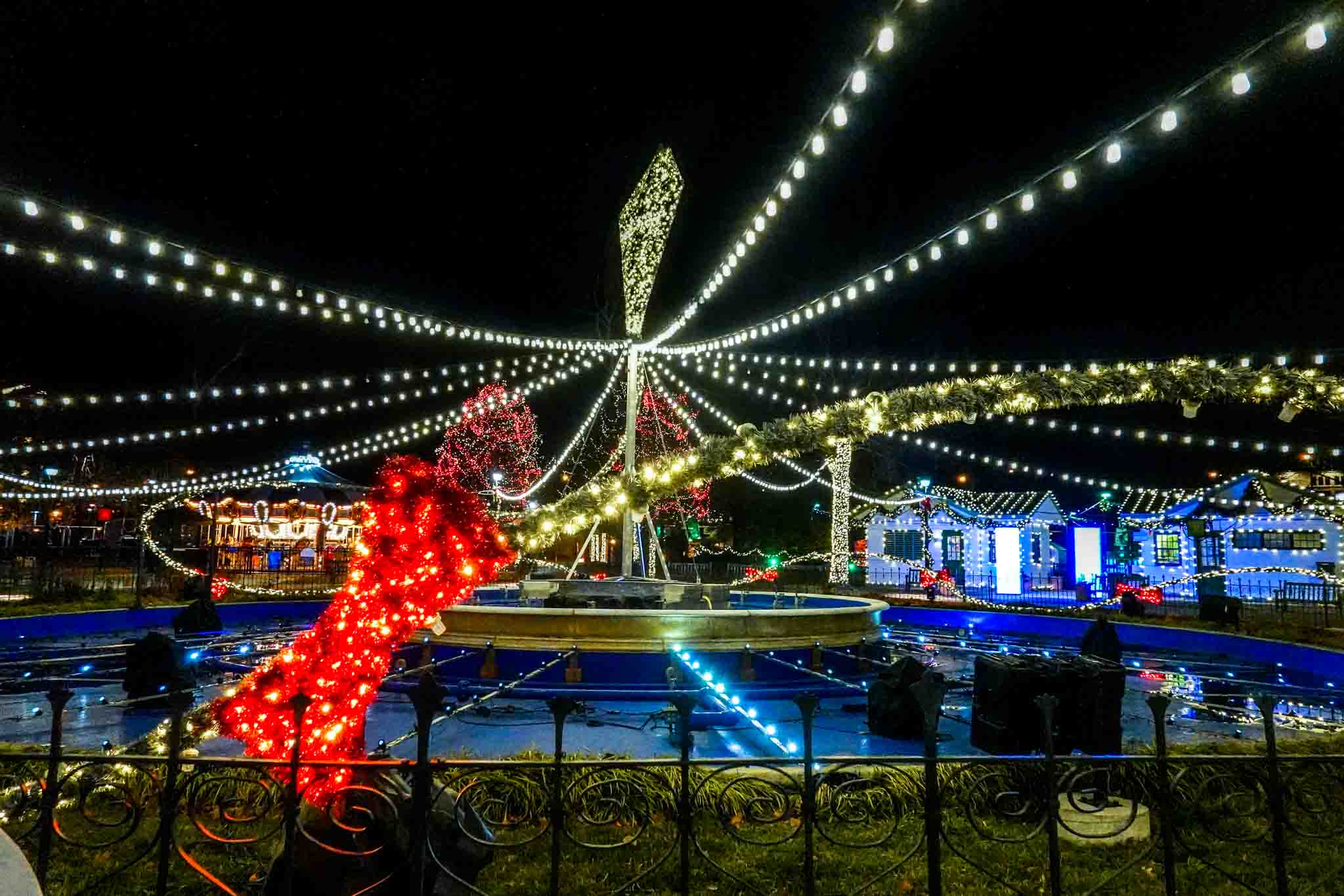 Where: Franklin Square, Old City
Every night through New Year's Eve, the Electric Spectacle Holiday Light Show lights up Franklin Square on the hour and half-hour from 5:00 to 9:00pm. The more than 100,000 lights are set to the music of the Philly POPS, which makes the show even more engaging.
During the 15-minute show, the lights dance and weave their way across the square. In the center is a 12-foot-tall, illuminated kite, a tribute to the square's namesake Ben Franklin and his famous kite electricity experiment. The scene never disappoints.
Day and night, the square also hosts Chilly Philly Mini Golf on a course with holiday music and reproductions of famous city landmarks. A carousel is available, too, for just $3 a ride.
Cost: Free to watch the light show
Blue Cross RiverRink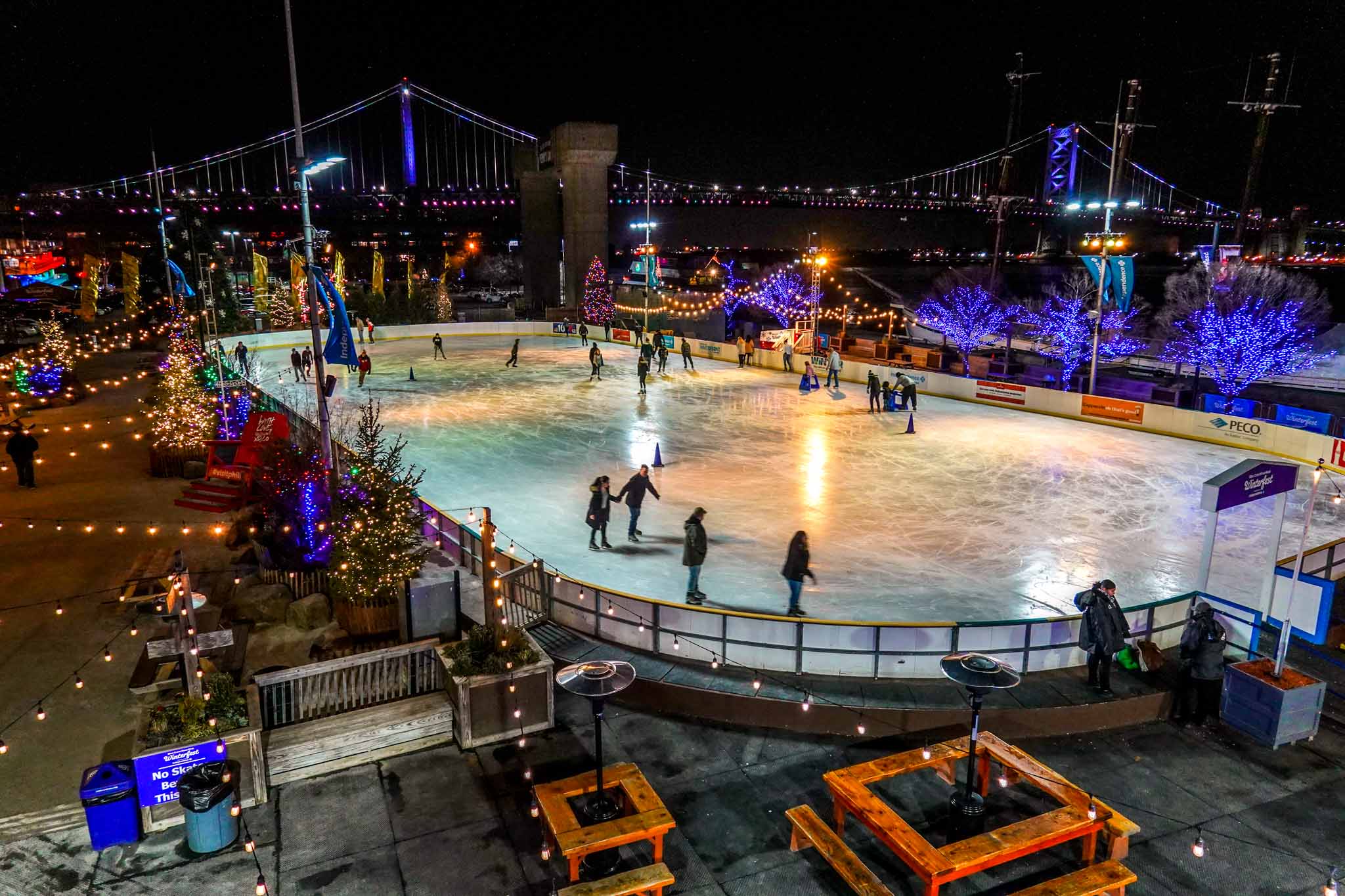 Where: 101 S. Christopher Columbus Blvd., Penn's Landing
At Blue Cross RiverRink's Winterfest, you can be as active as you want to be. Lace up your skates and take a spin around the rink or hang out by the fire with a snack underneath thousands of sparkling lights.
Guests can enjoy the Christmas tree decked out in lights and the light-strewn cozy cabins that are available by reservation this year. Winterfest is on now through March 7, 2021. It is open Monday-Thursday 1:00-11:00pm. Friday 1:00pm-1:00am, Saturday 11:00am-1:00am, and Sunday 11:00am-11:00pm. Reservations are encouraged because capacity is limited.
Cost: Admission to Winterfest is free. Ice skating, games, rides, and food and beverage are pay-as-you-go.
Rittenhouse Square Park
Where: Rittenhouse Square Park, downtown
Take a break from shopping to enjoy the lights of Rittenhouse Square Park. The trees are filled with white lights and floating orbs that give everything a magical glow. Don't miss the beautiful Christmas tree at the center of it all.
Cost: Free!
Miracle on South 13th Street
Where: 1600 block of South 13th Street, Philadelphia
Miracle on South 13th Street is pure joy. For years, this group of neighbors has coordinated to light up their block in epic style. With displays, decorations, and all things holiday kitsch, it's one of the most fun places to go at Christmas.
Cost: Free!
Chestnut Hill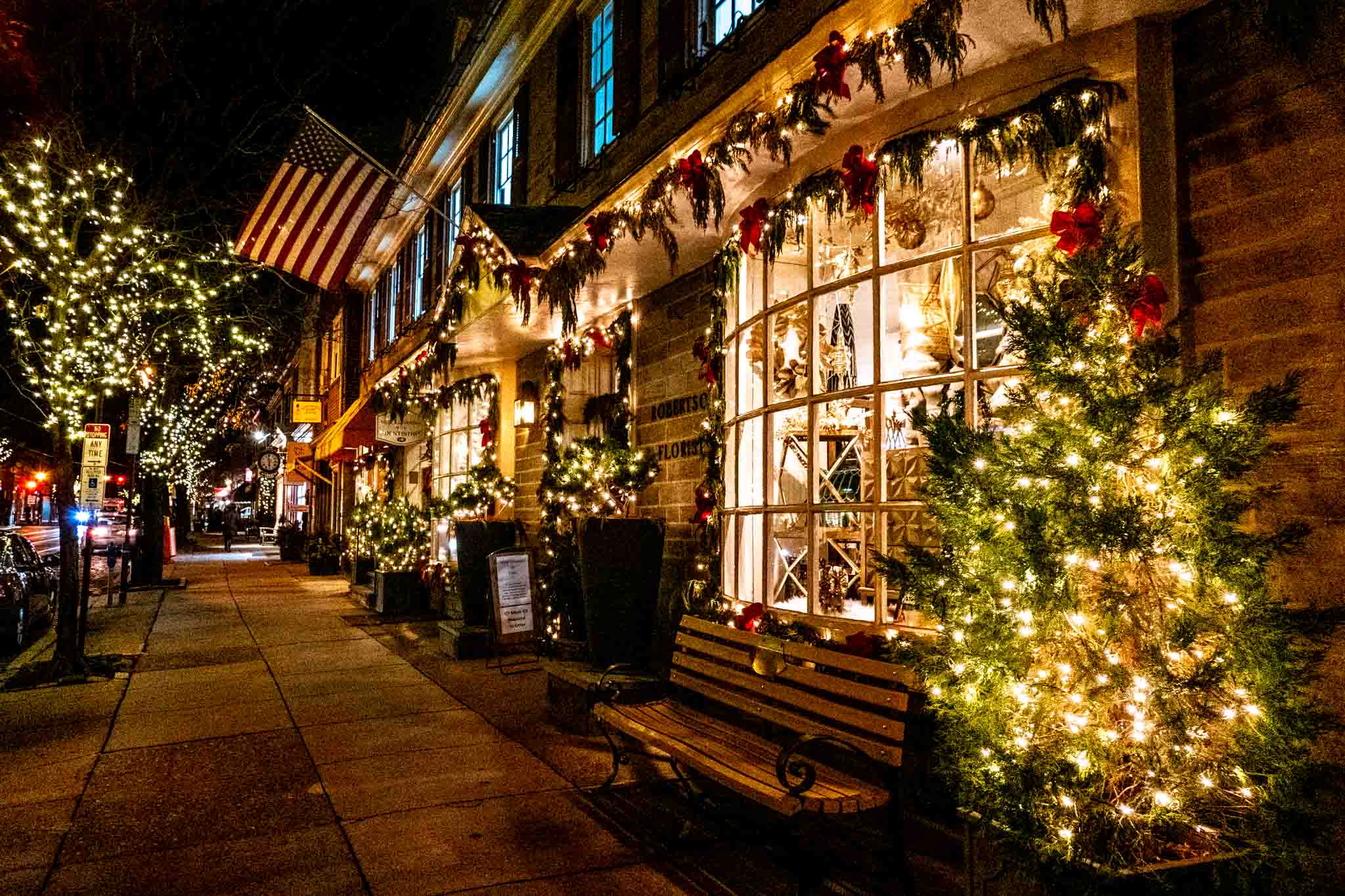 Where: Germantown Avenue, Chestnut Hill
Chestnut Hill's oldest tradition, Stag & Doe is expanding its hours this year to become all-day events.
Every Wednesday in December leading up to Christmas, the historic neighborhood is filled with holiday spirit. Stores stay open late to allow for socially distanced shopping and restaurants are offering seasonal treats. Just strolling up and down Germantown Avenue is beautiful thanks to all the lit storefronts, trees, and light poles.
Other special things are happening throughout the neighborhood. Each Wednesday night, a brass quartet performs, and horse-drawn carriage rides are available the afternoon of December 16th and the evening of December 23rd. Don't forget to keep an eye out for Santa who will be strolling the Avenue the evenings of the 2nd and 16th and the early afternoons of the 9th and 23rd.
Cost: Free!
Displays near Philadelphia
Peddlers Village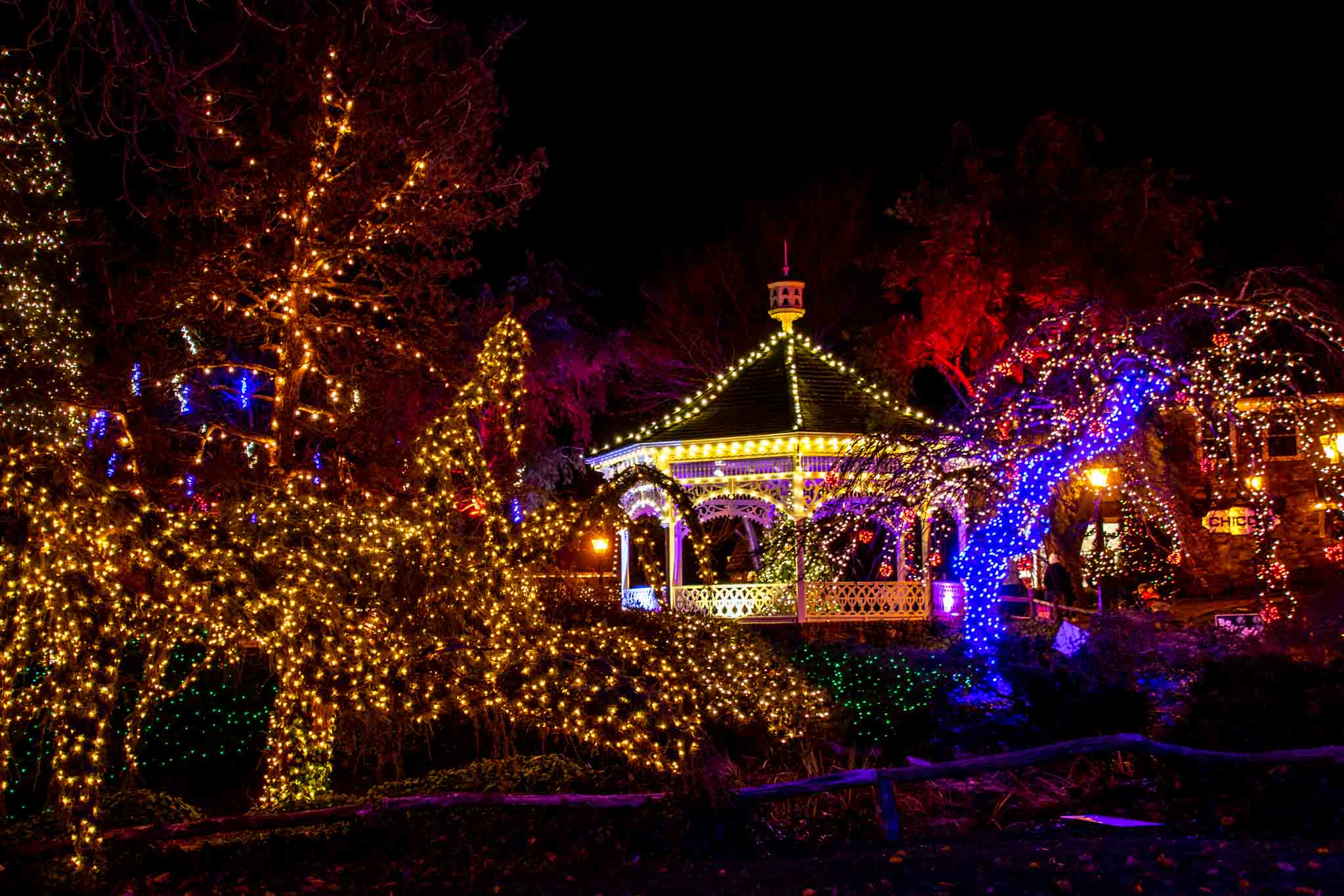 Peddler's Village takes on a special glow during the holidays. As soon as the sun goes down, its 1 million lights come on. Across the shopping center, the trees, gazebo, and buildings are lit along with special displays for the season.
Through January 9, you can see the amazing entries to the gingerbread house contest. On weekends, don't miss the Elf on the Stealth, a family walking adventure with Mrs. Claus who leads visitors in a search for the Elf on the Shelf.
Cost: Free to see the lights and gingerbread houses.
Shady Brook Farm
Where: 931 Stony Hill Road, Yardley
There's nowhere quite like Shady Brook Farm at Christmas. This 100-year-old farm has over 3 million lights in its drive-thru Holiday Light Show. With tunnels and every Christmas character imaginable from dancing reindeer to the Grinch, a visit here is a highlight of the season in Bucks County. Tune to 90.7FM to enjoy holiday music along with the lights.
Visitors can drive their own vehicle or join a socially distanced wagon ride to see the light trail. Visits with Santa, s'mores kits, snacks, and adult beverages are also available. The festivities run through January 10, 2021.
Cost: Tickets for a private vehicle are $25 or $35 depending on the night of the week. Wagon rides are $15 or $18 depending on the day. Children 2 years and younger ride free. Other activities are pay-as-you-go.
Hatboro
Where: 28 Saint Dunstans Road, Hatboro
A yard full of light sculptures is complemented by animated figures and music at the Chrostowski home in Hatboro. From an ice fishing penguin to elves decorating a tree, there is lots to see.
Cost: Free!
Longwood Gardens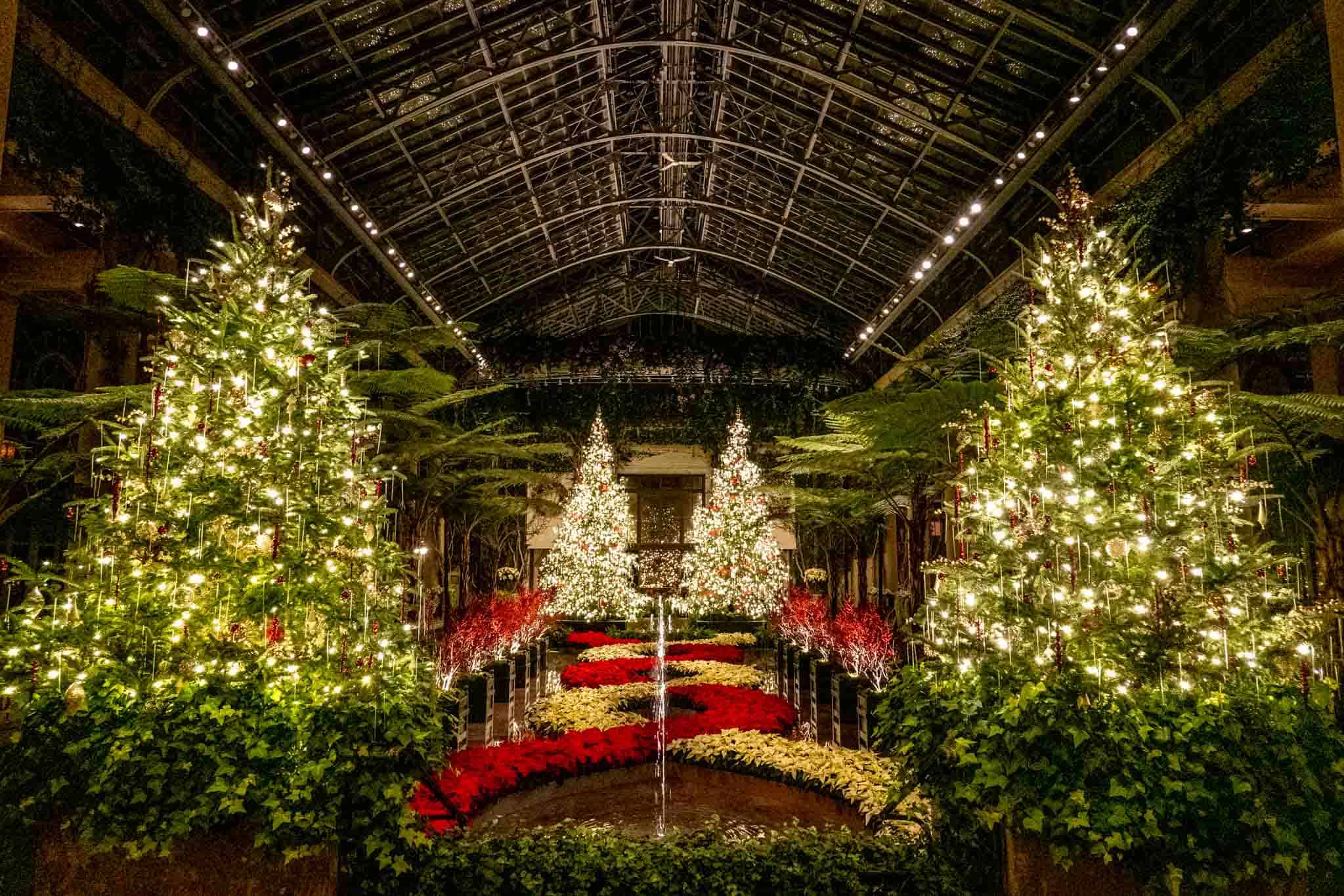 Where: 1001 Longwood Road, Kennett Square
Longwood Gardens is one of the most popular places in the area to see Christmas lights for good reason—it's gorgeous. With thousands of poinsettias, flowers transformed into sculptures, and trees that look like they're made of light, Longwood has acres and acres of things to see.
Outside, 500,000 lights drip from branches and encircle tree trunks while sculptures light up along walkways. The frequent fountain shows with water and lights moving in time with the music are also a highlight. Visitors can make their way through a shimmering tunnel, warm up over a fire pit, and lose themselves in the elegant tress and creations of the heated Conservatory.
Timed tickets and limited capacity help ensure that there is plenty of room to spread out.
Cost: $30 for adults, $16 for ages 5-18
West Chester Griswolds
Where: 304 Dutton Mill Rd, West Chester
Reindeer, snowmen, Snoopy, Mickey, and more grace the yard of the Plummer family in Chester County. The "West Chester Griswolds," as the family calls itself, take a page from the National Lampoon movies with their elaborate display.
More than 100,000 lights cover their front yard, and the display even extends into their backyard. If you tune your radio to 87.9FM, you can see the lights moving in time with the music approximately every 30 minutes from 5:30-9:00pm each night. As a bonus, kids can leave their letters for Santa in a mailbox by the driveway.
Cost: Free!
Wilmington
Where: 815 Justison St., Wilmington
The Wilmington Riverfront has added a fun drive-through event for this holiday season. Every Thursday through Sunday until January 3, you can check out the Winter in Wilmington Light Show from 5:00-9:30pm.
The show features dozens of light displays and animated installations, complete with music.
Cost: $25 per carload
---
What are your favorite holiday light displays in the Philadelphia area?