Some posts on this site contain affiliate links, meaning if you book or buy something through one of these links, we may earn a small commission (at no extra cost to you).
There is no shortage of ways to celebrate Christmas in the Philly area. One of those is the fabulous Tinseltown Holiday Spectacular at the Fairgrounds at the Greater Philadelphia Expo Center in Oaks. And it is fabulous!
When it comes to Christmas in Philly, there is no shortage of great ways to celebrate the holiday season. But most of those festivities are in the city or in Bucks County. There's a distinct lack of holiday cheer in Montgomery County…until now.
The Tinseltown Spectacular is billed as a massive, immersive, one-of-a-kind experience. The event is a chance to bask in the illumination of 1.2 million lights organized into beautiful, walk-through holiday sculptures. This is one of the best Christmas light displays in the area.
What to See
The centerpiece of the event are the illuminated displays of holiday sculptures. Like a true Philly event, many of the exhibits are themed to Philadelphia. There's the liberty bell, Gritty, and illuminated logos for all the sports teams (Eagles, 76ers, Flyers, and Phillies…noticeably absent was the Union). And yes, even a giant illuminated Jawn (if you're up on your Philly slang).
The three main areas are the wrapped presents, the light tunnel and the Christmas tree ornaments. Of course, there's also reindeer, Christmas trees, and a Hanukkah menorah.
When you get cold, head into the Tinsel Lodge for some food or drink. Or, pull up to one of the fire pits and warm yourself up.
Immersive Experiences
The entire Tinseltown Christmas event is designed to be completely immersive. Whereas other Christmas light displays want you to sit in your car. But at Tinseltown, you want through the displays and experience them with all your senses.
But there is so much to do here:
Meet Santa
Youngsters can get their photos taken with Santa. He checks the list and good children can meet him in his mini-workshop.
Listen to Mr. Claus
Mrs. Claus gets in on the action too! Children can listen to her as she reads holiday stories in her own reading tent.
Photo Opportunities
The entire Tinseltown event has Instagram-friendly sculptures perfect for those photos. Climb into a sleigh or an airplane, sit in the arms of giant teddy bear, or stand under the light tunnel. These are great backdrops for your photos.
Ice Skating Rink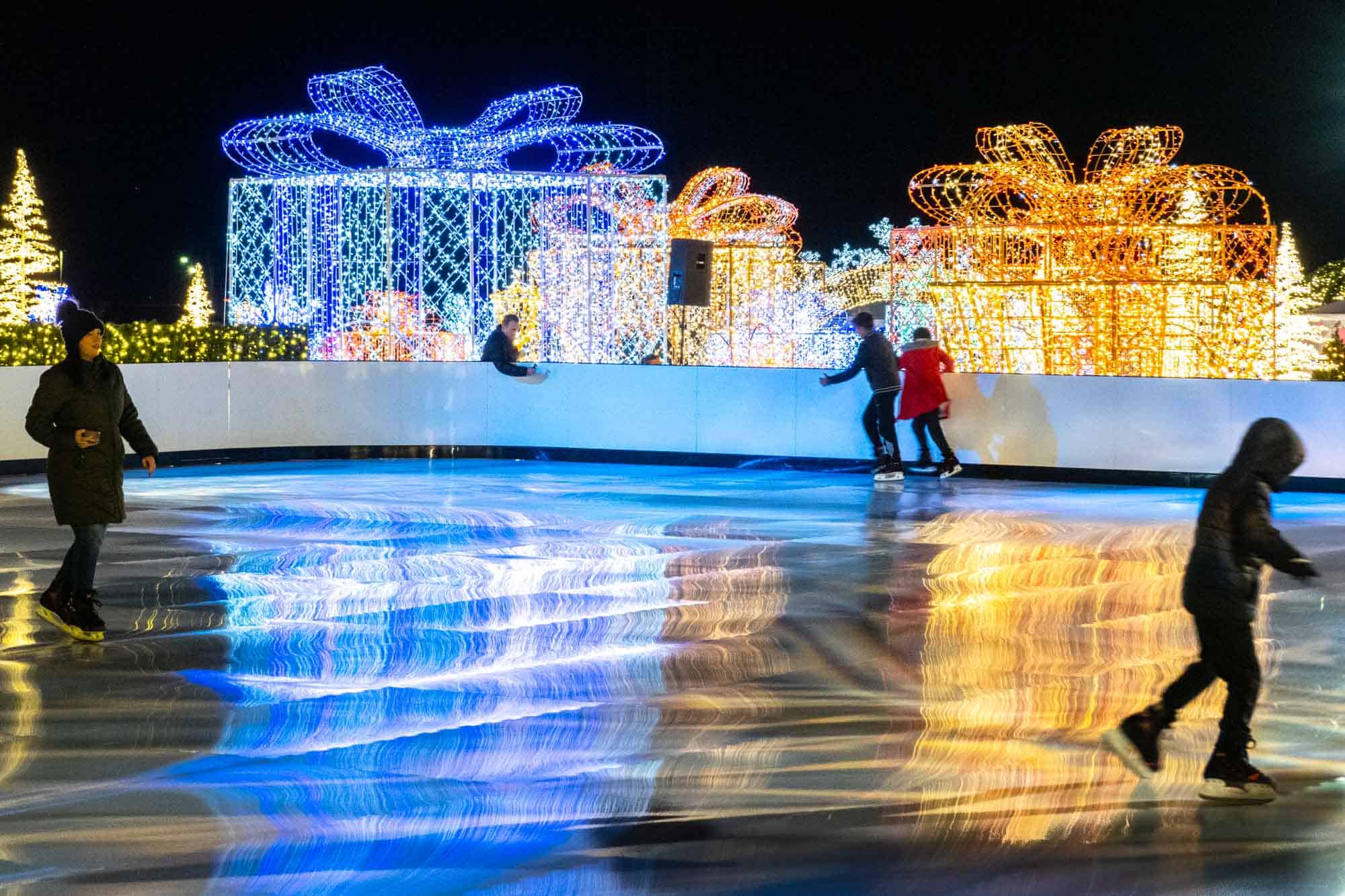 If you're feeling adventurous, strap on some skates and spend some time sliding around the environmentally-friendly synthetic surface called Rudolph's Rink. It isn't exactly like real ice, but it does a remarkably good job approximating ice…without the cold. It's also one of the most unusual places to go ice skating in Philadelphia.
Food and Drink
There are concessions located throughout the site. Food is served in the Tinsel Lodge, which is also a good place to warm up. The outdoor beer garden-like McTinsel's Pub is great place to grab those adult beverages. There's also five other concession stands throughout, including: Candyland Hut, Rudolph's Hut, Holly Jolly Hut, Polar Express Hut, and Jingle Bell Hut.
For food, there are Philly favorites like Cheesesteaks and sausage & peppers, but also short rib macaroni and cheese, the Fa La La La Funnel Cake, a festive twist on that believe festival classic. Other options include a vegetarian chili, chicken sandwich, and snacks like pretzels and popcorn. Absolutely not to be missed are the gourmet s'more cones!
Theme Nights
On Waggin' Wednesday nights, bring your four-legged furry friend to get their pictures taken with Santa. There are special giveaways for first 20 dogs each night.
Humans will be more interested in Gritty Thursdays. Philadelphia's beloved Gritty mascot will be rocking his most festive attire and taking photos with fans.
Finally, several evenings have been designated as sensory-friendly evenings. Guests will find smaller crowds and quieter music that are geared to guests on the autism spectrum as well as other sensory sensitivities.
Mistletoe Market
Visitors can get in some last minute holiday shopping in the Mistletoe Market – a village of artisan huts where hand-crafted gifts can be purchased. From artwork to sweet treats, you can find it here. Bring your shopping list and cross off some last minute gifts for your family and friends.
Where is it?
The Tinseltown Holiday Spectacular is located at the Fairgrounds at the Greater Philadelphia Expo Center. The address is: 100 Station Ave, Oaks, PA 19456. This is just 7 minutes from the King of Prussia Mall.
The event is in the parking lot adjacent to the Perkiomen Creek. There is ample free parking in the lots surrounding Tinseltown.
Hours and Dates
The dates for 2021 are from November 26th (Black Friday) through January 2nd. It is closed some Mondays and Tuesdays in early December, but open nightly as it gets closer to Christmas.
Tinseltown is open from 5:00pm-10:00pm.
How Much is It?
Tickets are $19.99 for adults, $13.99 for children under 13. Children under the age of five are free. Tickets can be purchased here.
Tickets are limited. Visitors should book ahead, particularly for peak/desirable time periods closer to Christmas.