Some posts on this site contain affiliate links, meaning if you book or buy something through one of these links, we may earn a small commission (at no extra cost to you).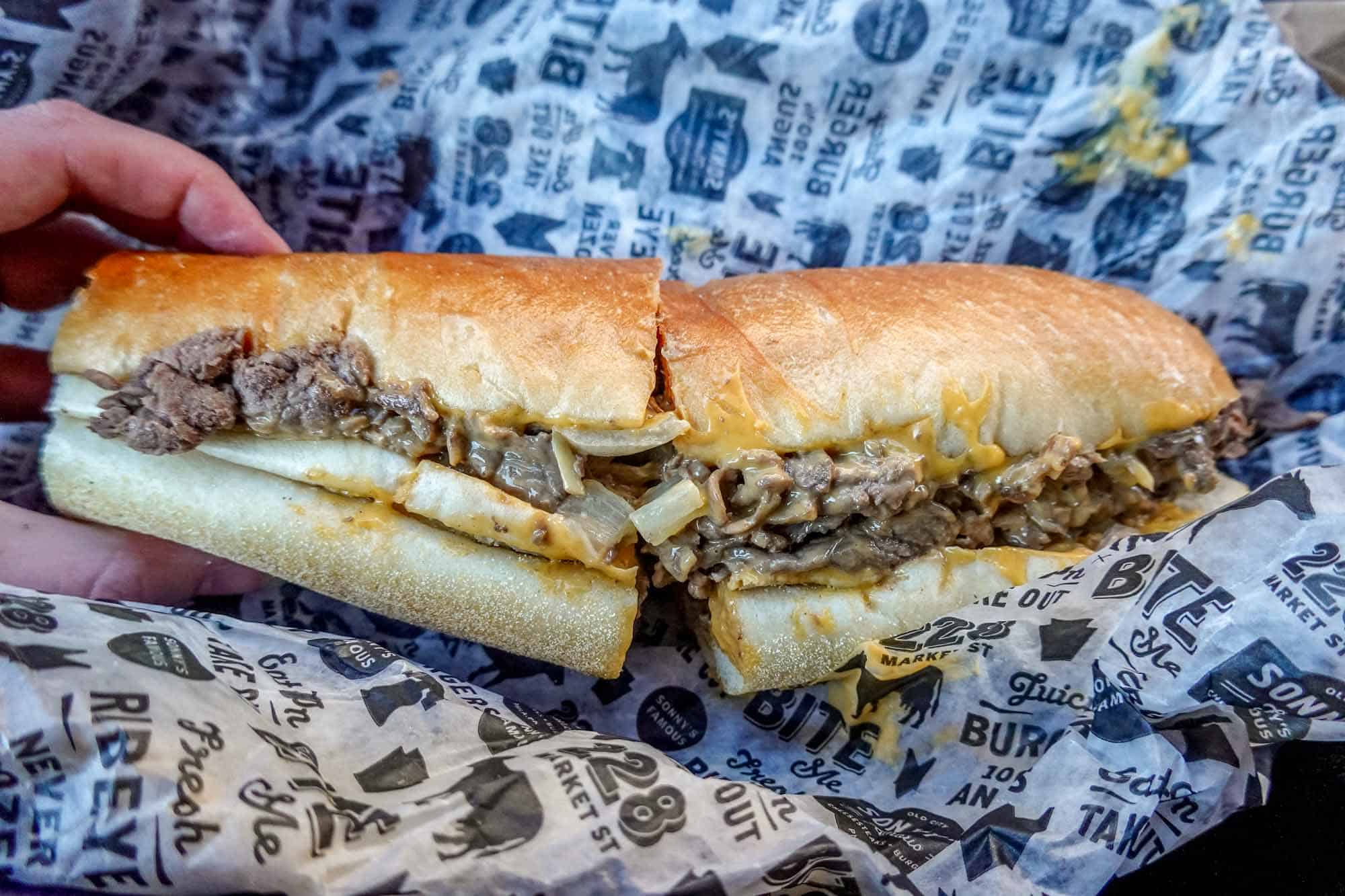 The Philly cheesesteak. There is no more iconic food in America than this tasty dish. Locals will swear by their favorites and it is the #1 thing on most tourists bucket list. Breaking it down, this is the definitive guide to the best cheesesteak in Philadelphia according to a local.
Cheesesteaks in Philly are an absolute institution in the city and one of the classic Philadelphia foods. And while the tastes vary greatly, they are all basically the same thing. First you start with the beef. The best Philly cheesesteak is made from ribeye steak sliced thin and thoroughly worked on a flat-top grill. Some places will use lesser cuts of meat, such as a chuck roast, to save on food costs, but you can taste the difference with ribeye.
Next is the bread. Nothing but a firm Italian roll will do. You need bread that will hold up to the folding and the grease. The roll is the unsung hero of the sandwich and most of the best Philly cheesesteak places will live and die by their rolls. Die-hard steak lovers even have favorite bakeries – Amoroso, Conshohocken Italian Bakery and Sarcone's Bakery – and will choose their cheesesteak shop based on the bakery.
And then there are the toppings. For die-hard cheesesteak overs, there are really only two choices here. First, we are talking With or Without. And that refers to the fried onions. You are getting your steak with fried onions or without friend onions. Yes, you will see some people ask for peppers, mushrooms or any other cheesesteak toppings their little minds can come up with. Yes, some of these concoctions are even tasty. But they are not authentic Philly cheesesteaks.
And the second question is cheese. There are three acceptable options: American, provolone, and that orange, gooey substance known as cheese whiz. Purists opt for American. The foodies will go for provolone. And if you want a delicious flavor bomb that will blow your mind, go for the cheese whiz. Once you get over the snob factor, there's really no stopping the cheese whiz.
There's a culture of ordering here: skip all unnecessary words and even some letters. "Steak prov wit out" for one with provolone cheese and no fried onions. "Steak wiz wit" for one with cheese whiz and fried onions. And remember, most places are cash only – so have your money ready before you order.
The roast pork sandwich is a close cousin to the cheesesteak, but is really quite different. While most places will offer both, some specialize in one or the other. We've noted the good roast pork sandwiches, but the focus here is on the cheesesteak.
A final note: unlike other Philadelphia cheesesteak guides on the Internet, we have been to every single one. We've sampled the best (and the worst) Philly cheesesteaks. You won't find some generic article by someone living a thousand miles away using images they've found on Internet. We have done the research, so you don't have to.
And here they are, in order, from best to worst:
Dalessandro's Steaks and Hoagies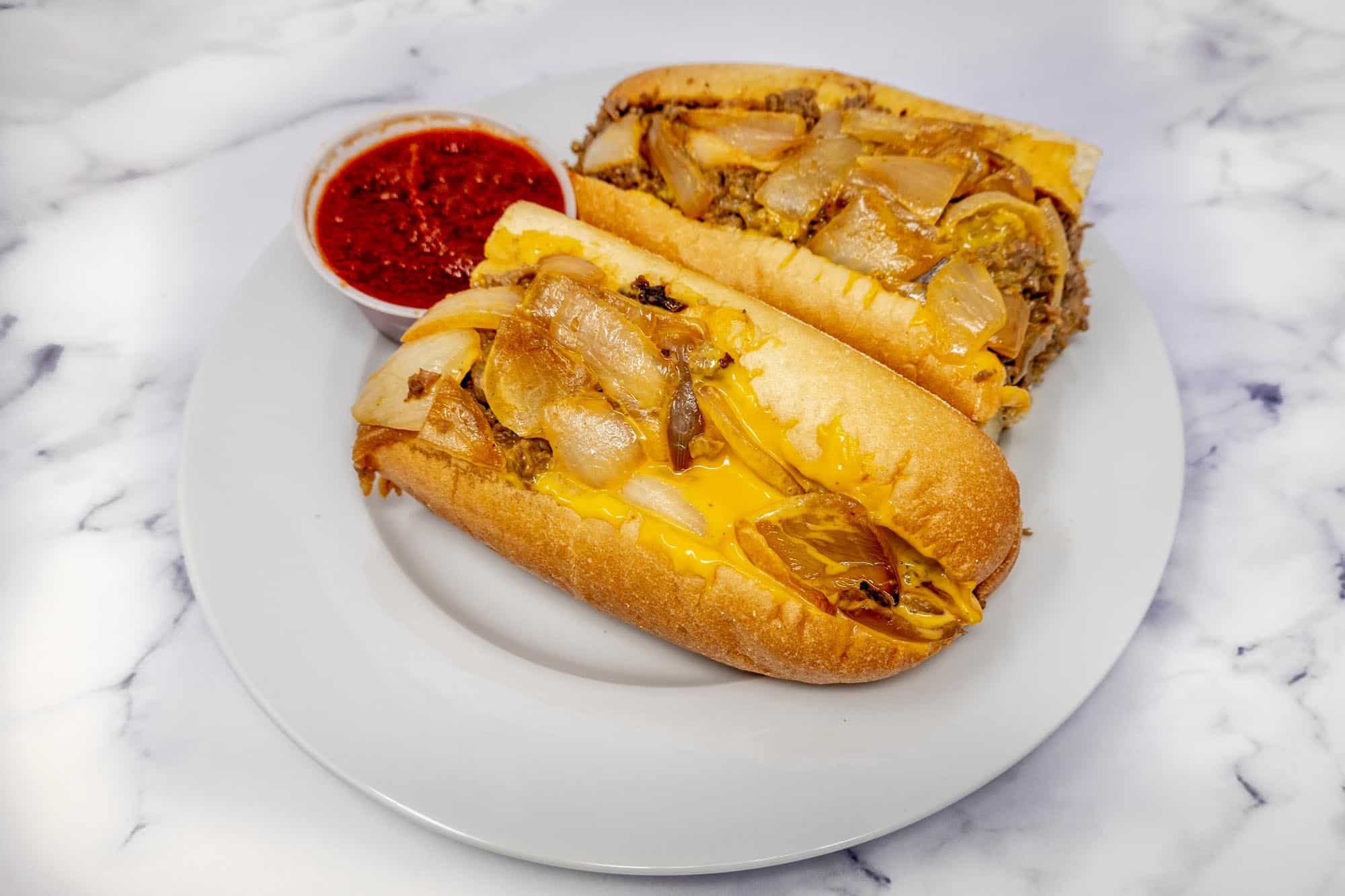 Located on Henry Avenue in the Roxborough section of the city, Dalessandro's has been serving up incredible cheesesteaks and hoagies for over 50 years. They focus on super fresh ingredients and cooked-to-order steaks. Of the classic cheesesteak restaurants in the city, Dalessandro's is head and shoulders above the rest.
The steaks here come out tender, but not soggy in grease (unlike some other places). They differentiate themselves by using large pieces of fried onion that you can really taste. Wiz wit is the best choice here. Also, marinara dipping sauce is a popular addition for many locals. Located at 600 Wendover Street (corner of Henry Avenue). Learn more.
Poe's Sandwich Joint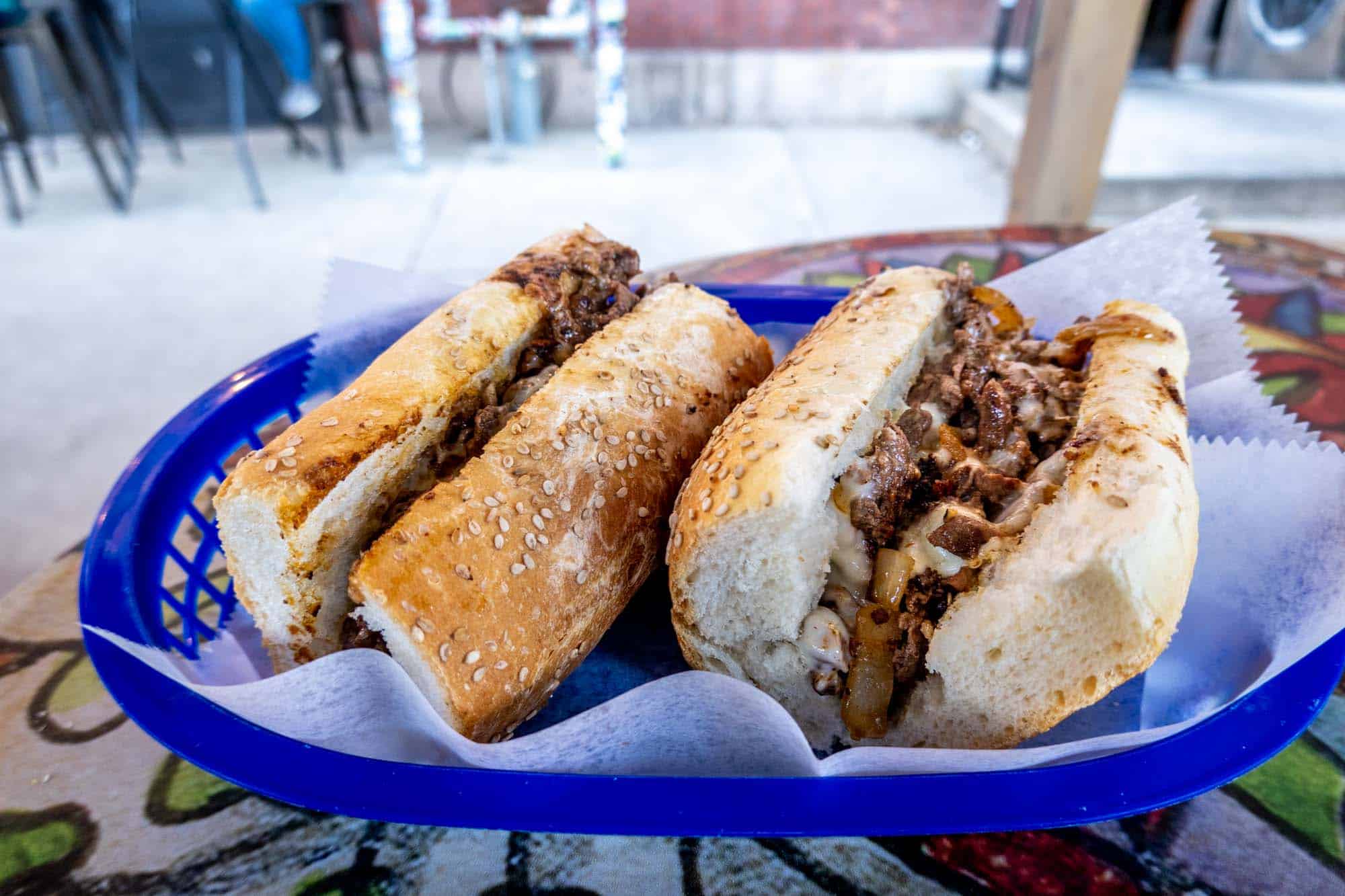 Poe's Sandwiches may be the best sandwich shop in the city. Led by Nikki Allen Poe (N.A. Poe), a community activist with a deep understanding of exactly what constitutes comfort food, continues to bring forth intensively creative…and delicious sandwiches.
Given that kind of concept, it makes sense that Poe's Joint makes one of the absolute best cheesesteaks in the city. They offer the "Uncle Tony" a more traditional wiz wit and the high- brow "Gary Cooper" with hand sliced ribeye and Cooper Sharp cheese. Both are remarkable, but the Gary Cooper is divine.
Located inside the Human Robot Brewery, the industrial space offers a cool vibe. There are lots of dedicated cheesesteak shops, but Poe's is completely unique and totally amazing.  Located at 1710 N. 5th Street. Learn more.
Mike's BBQ
The tender, peppery meat at Mike's BBQ ensures that its smoked brisket cheesesteak deserves its own, highly honored spot among the best the city has to offer. The brisket is complemented by a heavy dose of house-made Cooper Sharp whiz and fried onions served on a sesame seed Carangi Baking Co. roll. The combination—although non-traditional—is cheesesteak perfection.
There are two riffs on the standard sandwich. The first is the chicken cheesesteak, which is also incredible. The second, a fitting tribute to the beloved orange creature himself, is The Gritty, which adds lettuce, tomato, gritty sauce, and potato sticks on top.
There is one problem with the meat at Mike's BBQ, though: the brisket at this South Philly gem is smoked in-house daily, and when it's gone, it's gone. Don't sleep too late, if you want to make sure you can get one. Located at 1703 S 11th Street. Learn more.
Angelo's Pizzeria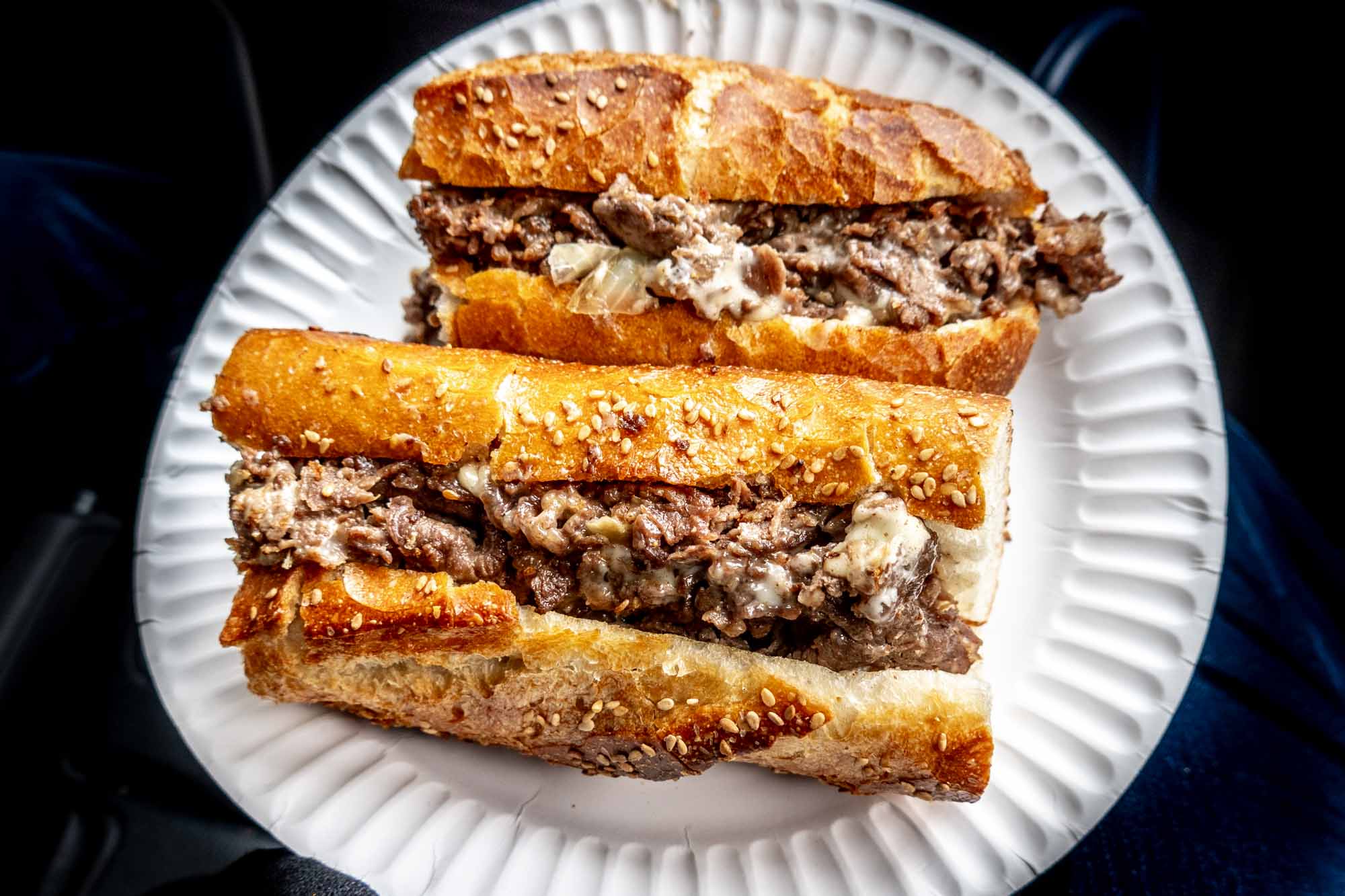 Everyone kept telling us, you have to try the cheesesteak at Angelo's Pizzeria, it's the best in the city. And we're damn glad we did. For Angelo's does indeed make a truly excellent cheesesteak, but it's not the best in the city (although quite close).
At Angelo's, owner Danny DiGiampietro focuses on the bread. Danny and his crew fresh bake ALL of their own sesame-seed rolls for the cheesesteaks. They also make their own mozzarella. In fact, they try to make (or source) the best ingredients possible, including the ribeye for the steak. And you can taste that quality difference.
Angelo's has everything you could want in a cheesesteak: good fried onions, a toasty roll, incredible steak, and tasty cheese. Our only complaint was that there wasn't very much cheese. For a true cheesesteak, you want a real gooey cheese. You don't want to sift through the roll looking for it like some kind of scavenger hunt. This is truly one of the top cheesesteaks in the city and it has the potential to be among the best. Remember: Order by phone only (keep trying) and Angelo's is cash only (there's an ATM on site). Located at 736 S. 9th Street. Learn more.
McNally's Tavern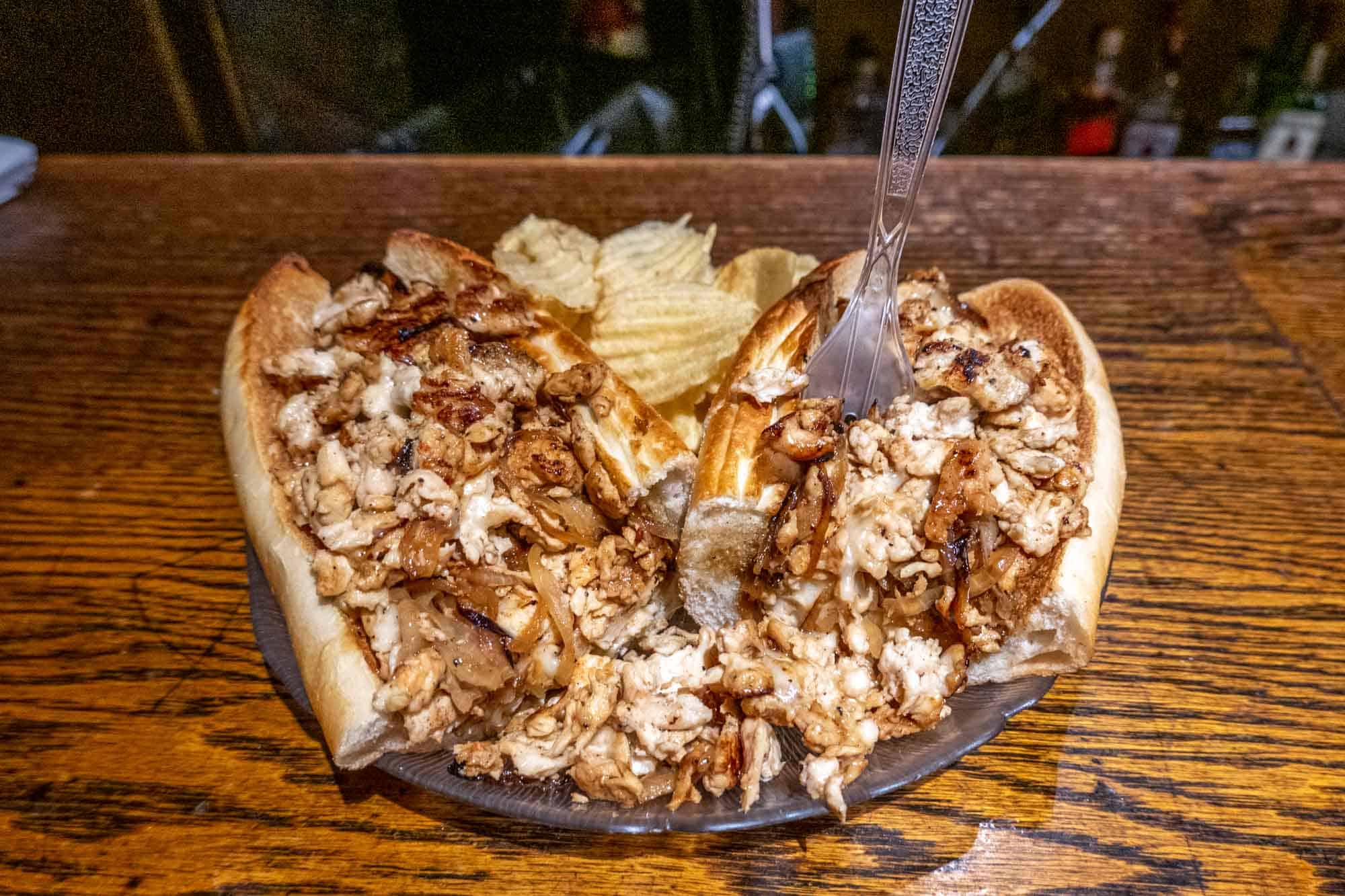 After the cheesesteak and the roast pork, Philadelphia's most famous contribution to the sandwich world is the Schmitter. Invented at McNally's Tavern in the Chestnut Hill section of the city, but served at the sports stadiums and copied by…well…everyone, the Schmitter has been featured on all the food TV shows and is sometimes called the 'Cousin of the Cheesesteak.' It's not. They're not even in the same family. It is remarkable, but the Schmitter is a whole different article.
McNally's also does cheesesteaks. Their traditional beef steak is good. But their chicken cheesesteak is a legend and is the best in the city. Delicious breast and thigh meat, moist and tender, worked with ample amounts of cheese on a Conshy long roll. The McNally's chicken cheesesteak is sublime! Located at 8634 Germantown Avenue in the Chestnut Hill neighborhood. Or learn more.
Barclay Prime
Best known as one of the city's finest steakhouses, Barclay Prime serves one of the best cheesesteaks in the city…at a price to match. The cheesesteak costs a whopping $140 dollars and it is worth every penny. For the casual cheesesteak connoisseur, this is big financial investment and we'd rank it a bit higher if it were reasonable. For the serious steak lover, this is mandatory eating.
The cheesesteak is made with A6 Japanese Wagyu ribeye, grilled onions, homemade truffle cheese whiz, foie gras on a fresh baked sesame seed roll. The steak is paired with a bottle of champagne. The steak is incredible and is one of the most memorable dining experiences we've had in the city in a long time. Put this on your bucket list. Located at 237 S. 18th Street. Learn more.
Sonny's Famous Steaks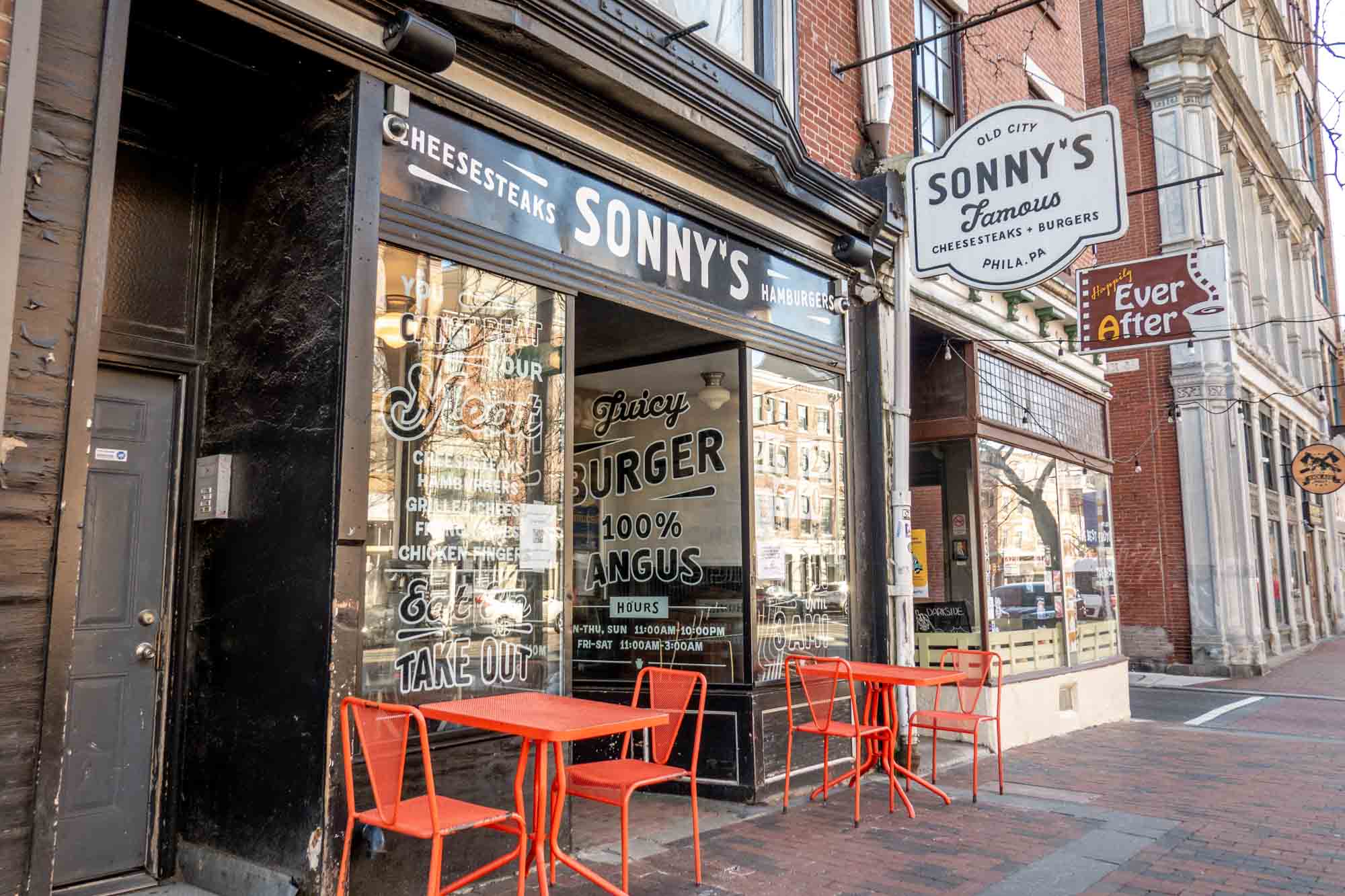 Locals tend to look down on Sonny's for its Old City location and Market Street address. There is nothing about Sonny's that says this would be a good cheesesteak. And that is where the prevailing local ideology is all wrong.
Sonny's is not a made-for-tourist spot in Center City. It is a legit shop with actual friendly service (South Philly take note). They serve a delicious steak on an Italian roll with extra-creamy whiz goodness.
That Sonny's is so often overlooked in the pantheon of Philly cheesesteaks is both a crime and a blessing (shorter lines!). Located at 228 Market Street. Learn more.
Mama's Pizzeria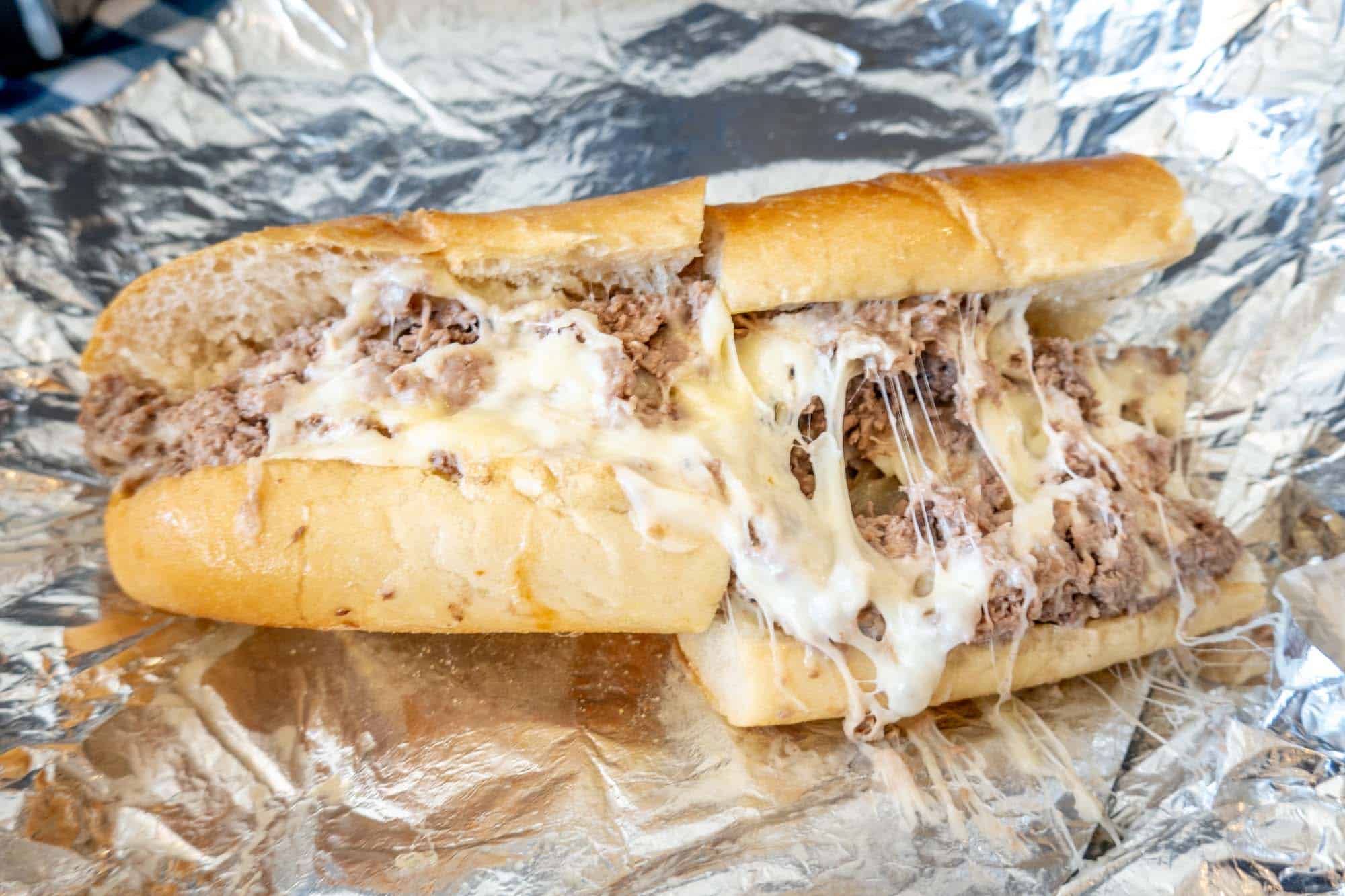 Like we've said before, pizza shops can make great cheesesteaks. And despite being called a pizzeria, Mama's doesn't make any pizzas. From the outside, the fading sign and cracked parking lot have all the hallmarks of a business that has been around for a long time. Inside, you are immediately hit with the grease perfume endemic to all good steak shops.
Despite being tucked into an obscure corner of Montgomery County and only open for a few hours a week (mostly around late breakfast/early lunch time and never when you actually want a cheesesteak at night), Mama's is worth the trip. The cheesesteak comes with their own proprietary cheese blend and fat, fried onions. They chop the steak finer than anyone else in the city – it comes out minced (and is an acquired taste). Once the cheese is worked in, it is almost like a cheesy, ground beef. In terms of texture, it is definitely unique in the city. And it's heavenly to eat!
They also lightly scoop their delicious rolls to fit more in. Yes, I realize scooping is one of those things that divides this city like almost nothing else, but it works here. Their chicken cheesesteak is also exceptional (perhaps #2 in the city behind only McNally's).
Tip: When they run out of rolls, they close. They post their limited hours online, but often close hours early! Located at 426 Belmont Ave in Bala Cynwyd. Learn more.
Pizza Jawn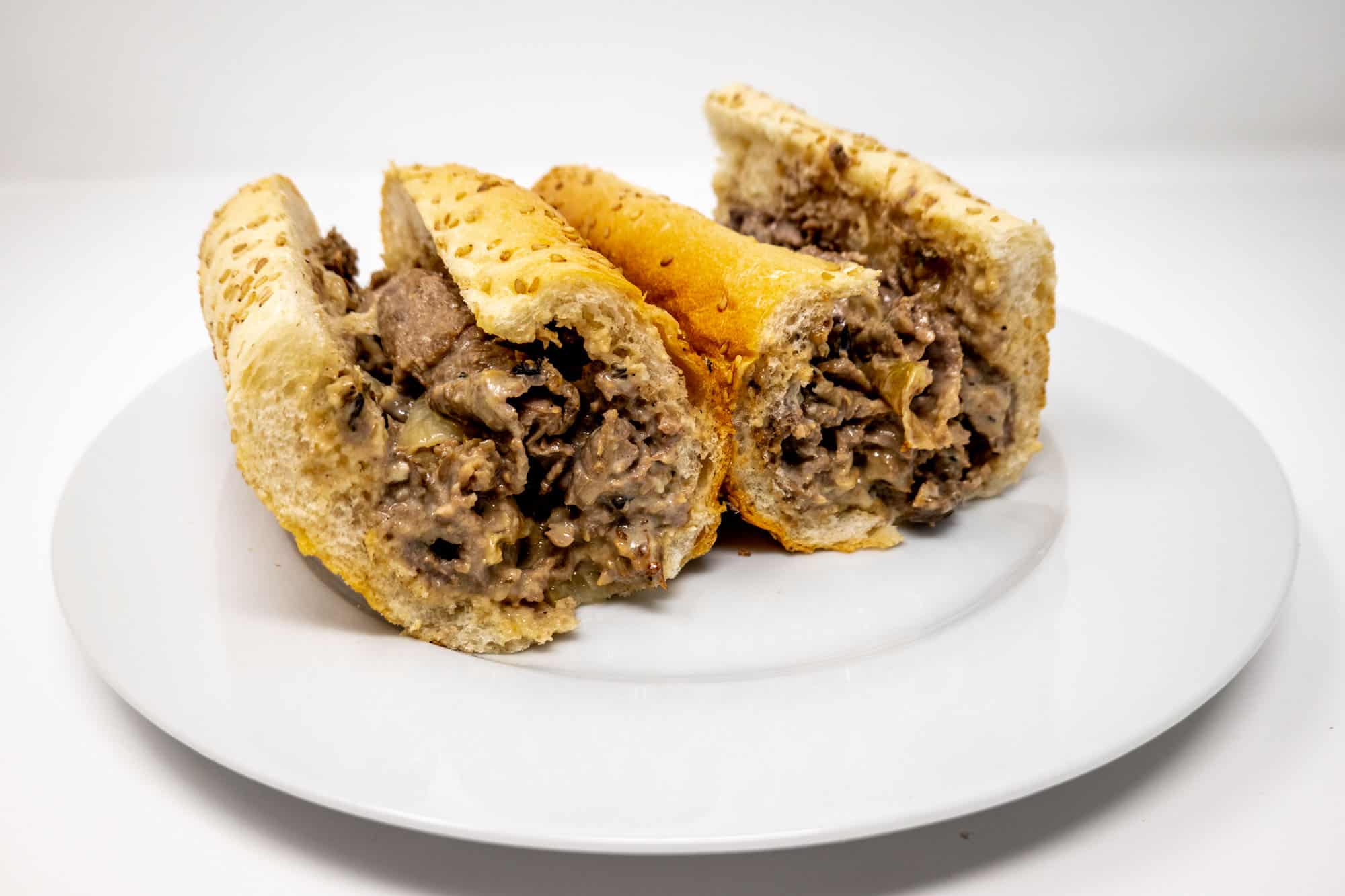 Perhaps better known for one of the best pizzas in Philadelphia, Manayunk's Pizza Jawn also serves up one of the best cheesesteak in the city. While other places are better known and certainly more popular with tourists, locals know that pizza shops can serve up some amazing steaks. And Pizza Jawn delivers my favorite in the city! The only problem…it's not on the regular menu and is only available as a special. If it were a regular item, this would be #1 on the list.
They use the highest quality meat and layer it into a delicious sesame seed roll. With whiz and fried onions is the way to go here. The only downside to Pizza Jawn is the extremely limited supply and complex online ordering system. If you can secure a spot, it is well worth the trip to Manayunk to dig into this delicious sandwich. They also have a roast pork, which is less remarkable. Located at 4330 Main Street in Manayunk. Learn more.
Joe's Steaks + Soda Shop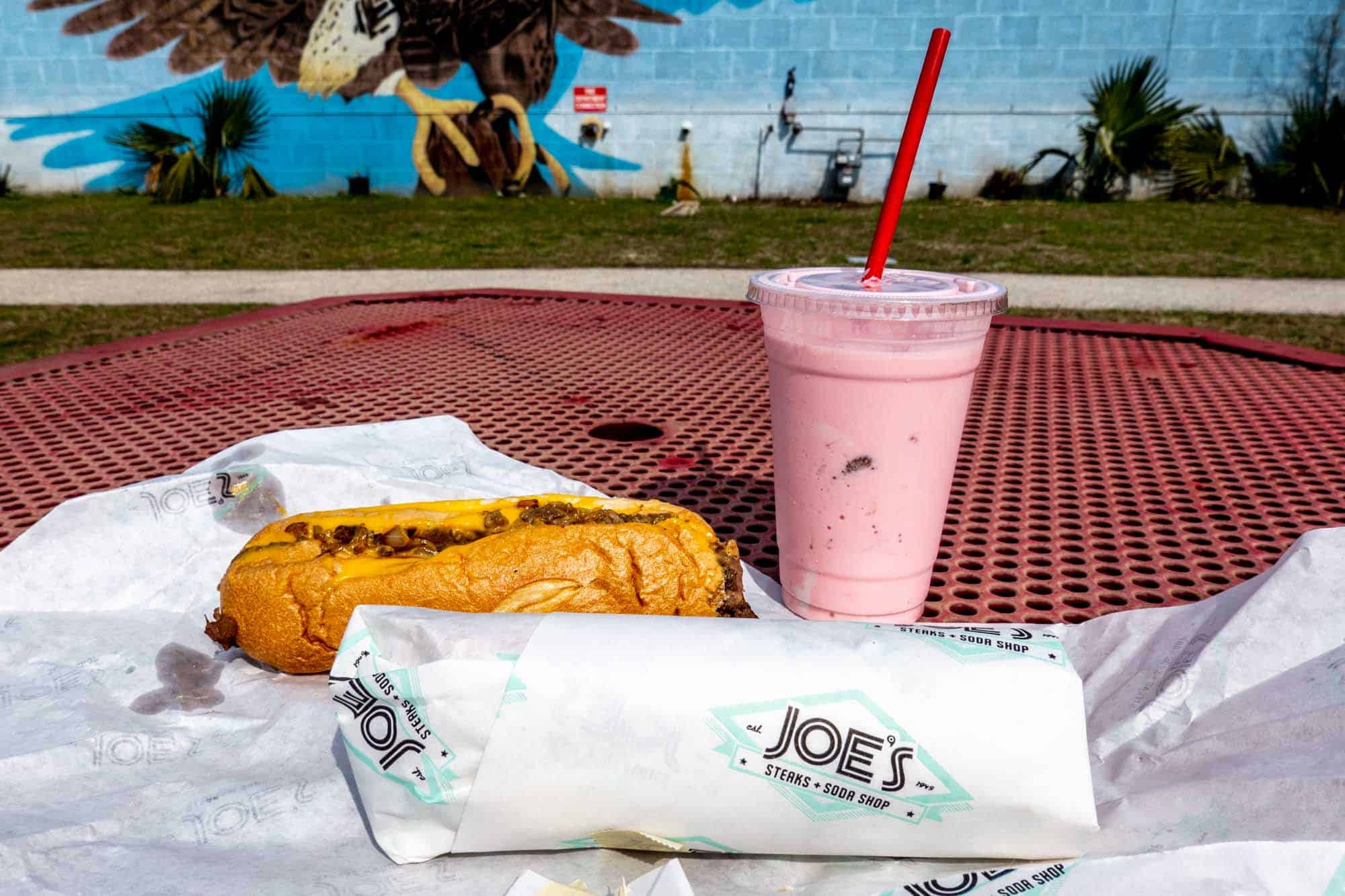 Don't let the throwback 1950s décor and color schemes fool you, this is serious eats. For decades, this was known by the name Chink's Steaks, after the founder Samuel "Chink" Sherman. After the owner died, the restaurant was taken over by employee Joe Groh, and the offensive name was retired.
But the quality of steak has never deviated from its path to cheesesteak perfection. The steaks are stuffed full of prime ribeye on a hard roll. Add in whiz and onions, and you can't beat it.
Joe's operated the original location on Torresdale Avenue in a working-class section of Northeast Philadelphia for decades. However, the original located closed in 2022, but they still operate a decidedly more upscale (and much busier) location in the Fishtown neighborhood. Located at 1 W. Girard Avenue in Fishtown. Learn more.
Barry's Steaks & Hoagies
Not far from the Henry Avenue battle that is Dalessandro's vs. Chubby's, Barry has been doing his own thing in the Roxborough neighborhood for over 30 years. He started making steaks at D'Alessandro's but then branched out on his own. Now, he's unphased by what is happening on Henry Ave and his steak shop churns out a remarkable product in a completely unpretentious environment.
On walking in, you start to realize everyone is a local…like within a few blocks local. All the customers are talking to each other and the staff like old friends. Barry's is first and foremost a neighborhood shop. They do an excellent classic cheesesteak on traditional Amoroso rolls. The way they work the cheese deep into the steak results in cheesesteak perfection. You won't find their cheese just on the top, or pooled in the bottom of the roll like something they are ashamed of (wish the other cheesesteak shops understood this!). Barry's are the cheesiest cheesesteaks in the city.
But Barry's differentiates itself by doing some truly unique and non-traditional steaks. The pepperoni pizza cheesesteak will infuriate purists, and melt the heart of anyone else. It is an absolutely delicious Italian interpretation of the classic steak…and not to be missed. They also have their own line of craft sodas. The root beer and the black cherry are excellent. Located at 471 Leverington Avenue. Learn more.
Jim's South St.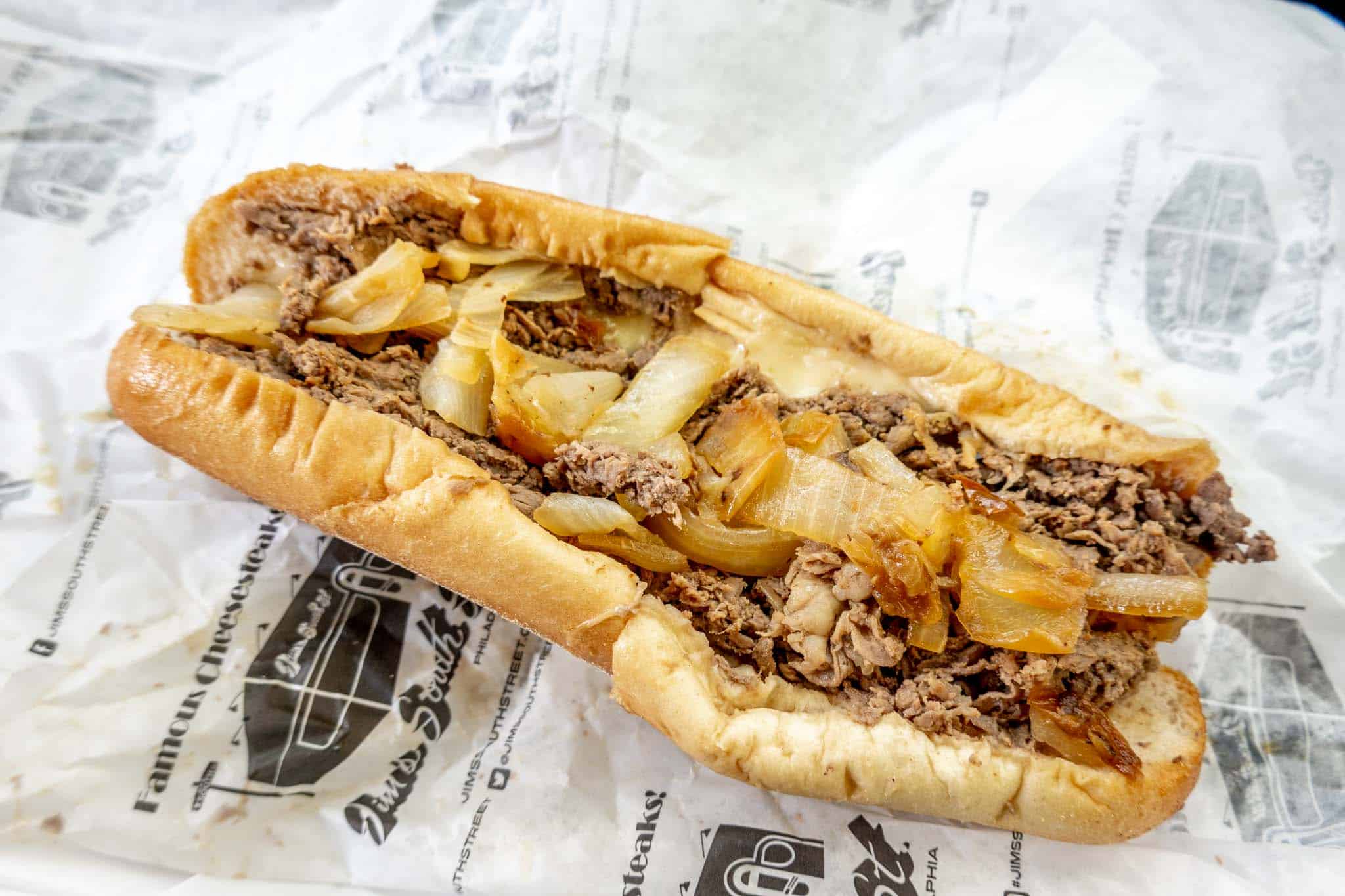 Note: Jim's is temporarily closed due to a fire in 2022. Jim's plans to re-open.
People have a love it or hate it feeling about South Street. From the lack of parking to the constant party vibe, there is a lot for people to overcome to come down here for a cheesesteak. But come they do. The constant line around the black building is a testament to how good these steaks can be. Don't worry, the line moves quickly.
Jim's has the perfect mix of big, perfectly fried onions and provolone. The only downside is that the roll is a bit thinner and narrower than other cheesesteak places. While some people prefer this, it is less authentic. But when it comes to the big-name steak shops, Jim's sets a high bar for their competition. Located at 400 South Street. Learn more.
Chubby's Steaks
Imagine an iconic cheesesteak rivalry. No, not Pat's and Geno's. Imagine an iconic cheesesteak rivalry with great food. That's the Dalessandro's vs. Chubby's rivalry. Located across Henry Avenue from each other, these two shops battle it out daily. Yes, the long lines across the street attest to the winner of the battle, but don't overlook the scrappy upstart.
Chubby's suffers by comparison. Yes, it has only been in business for half the time. Yes, it is not as good as Dalessandro's. But…in any other section of the city, we would be talking about Chubby's. And we would be loving it. So why the hate? They are simply a victim of comparison.
Chubby's offers a very good, frizzled steak, large onions and creamy whiz on really tasty roll. Service is fast and the prices are cheap. And if they were located anywhere else in Philly, there'd be a line down the block. This Roxborough cheesesteak rivalry is much better than anything you'll find in South Philly. Located at 5826 Henry Avenue. Learn more.
John's Roast Pork
Not far from those other places in South Philly, John's Roast Pork (or JRP to the die-hards), has legions of fans and long lines. And it is well worth the wait. At first glance, it doesn't look like much. It's a shack with some storage buildings next to some abandoned railroad tracks and across the street from an unremarkable strip mall. It doesn't inspire confidence.
However, this lowly little establishment has climbed the mountain of culinary delights and won a prestigious James Beard Foundation Award for their efforts. Since 1930, John's Roast Pork has been perfecting the craft and their roast pork is one of the most defining foods of Pennsylvania. And we dare say, they have perfected it…for their roast pork sandwich.
While roast pork shares some traits with the cheesesteak, they are different beasts entirely. Their roast pork is, at worst, incredible. At best, it is a transcendental experience that will change your life.
The cheesesteaks at John's? Very good. In fact, probably top half in the city. But they are nowhere near as remarkable as their roast pork. Located at 14 Snyder Avenue. Learn more.
Woodrow's Sandwich Shop
There's no short of cheesesteak options along South Street, but Woodrow's holds its own with the best. Woodrow's has a broad menu of sandwich options (which you would expect), including a truly remarkable cheesesteak.
At Woodrow's, they make their own homemade truffle whiz, which is truly next level cheesesteakery. If you order your sandwich "Woody's Way," you'll also be treated to a steak with cherry pepper mayo. The hint of acid in the mayo brings out the flavors in the meat and the cheese.
Grad your cheesesteak to go or eat at one of the handful of tables inside while checking out the cool art. Located at 630 South St. Learn more.
Ishkabibble's
Since 1979, Ishkabibble's on South Street has been serving up some fine steaks. They have a friendly cross-street rivalry with Jim's. But they focus on very different segments of the sandwich-loving population. At Ishkabibble's, the focus is on the different, rather than the traditional.
The go-to here is the chicken cheesesteak, which they actually invented. Using fresh chicken tenders, the chicken is then chopped up and lovingly placed into the roll. The chicken is best with whiz and onions. Be sure to pair the sandwich with the gremlin drink, also one of their own creations: a soda made from mixing grape and lemonade. It is both delicious and addictive. If you crave a traditional beef steak, don't worry, they have that too. Located at 337 South Street. Learn more.
Campo's Philly Cheesesteaks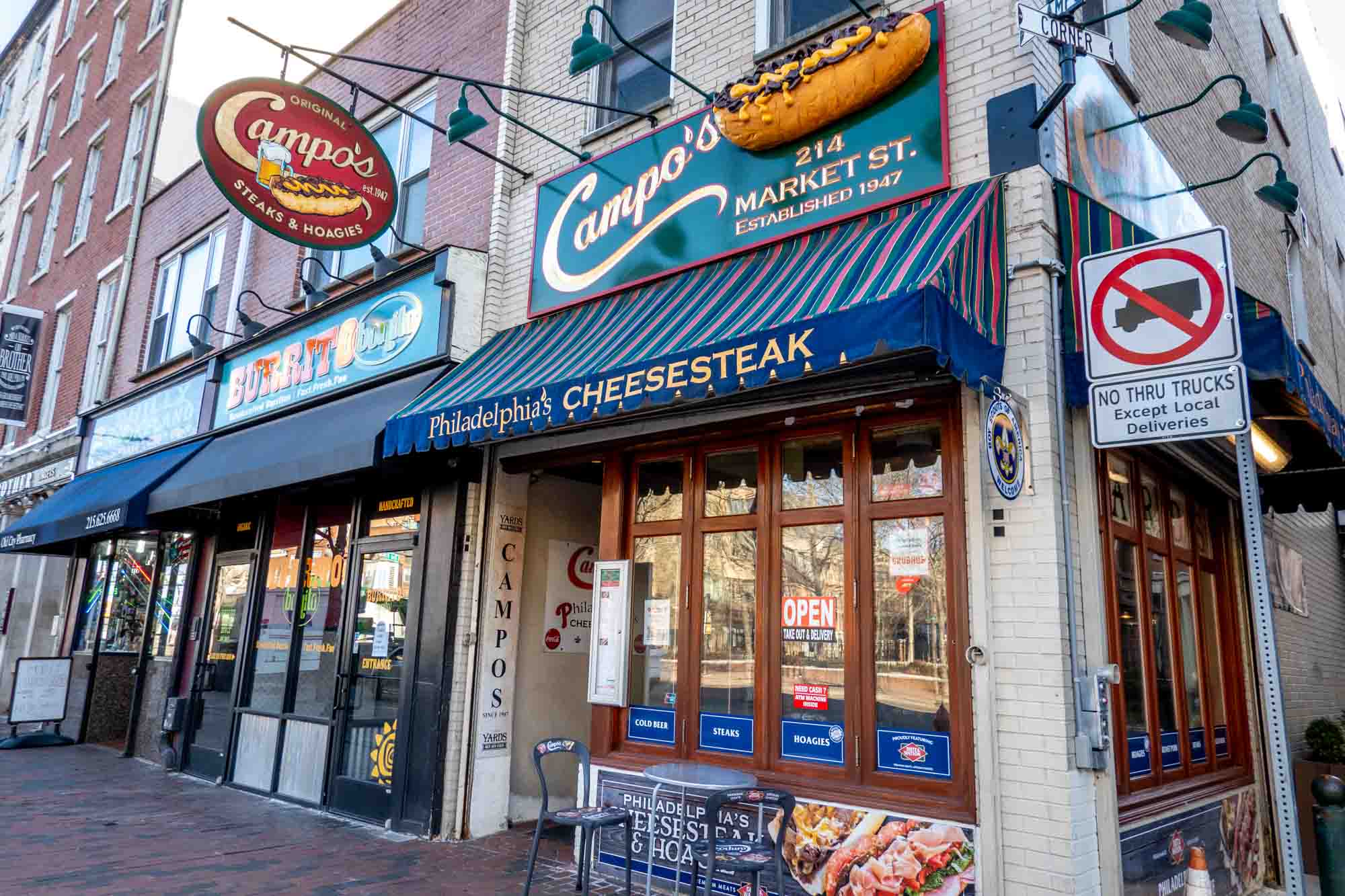 Campo's has been turning out steaks since 1947. While they do a classic version, most people come here for their specialty: The Heater. It is a cheesesteak with a hot pepper cheddar cheese, spicy hot peppers, and liberal doses of hot sauce. It's an acquired taste but has legions of devoted fans.
While the Market Street location has been around for 20 years, more people experience their Campo's at the sports stadiums. The steaks are the same at all locations. Located at 214 Market Street, and also locations at Citizen's Bank Park and the Wells Fargo Center. Learn more.
Shank's Original
Shank's is another one of the storied, South Philly steak shops. Founded in 1962 and once a mainstay of the Italian Market, they've served all the politicians and sports stars in the city. The daughter of the original proprietors still runs the place, but they've moved out of the Italian Market to a cozy kiosk on Pier 40 along Columbus Avenue (with parking!). There's also ample picnic tables and a view of the river.
They've been doing their steaks the same way for 50 years. You're getting an authentic classic. For us, we found the steaks too greasy, although the roll held up well. They do get the cheese really evenly distributed. As a bonus, they are slightly cheaper than some of the other South Philly shops. Located at Pier 40, 901 S Columbus Blvd. Learn more.
DiNic's Pork & Beef
DiNic's is primarily a roast pork establishment. The brainchild of cousins Frank DiClaudio and Tommy Nicolosi (hence the DiNic), these guys serve up hot and delicious pork. The cousins broke up the business and DiClaudio runs the Navy Yard and Montgomeryville locations, while Nicolosi runs the Reading Terminal Market location. Whichever one you visit, you're getting the best sandwich in America according to the Travel Channel. And while we still love JRP, the pork here is excellent.
The cheesesteaks, on the other hand, are passable but unremarkable. Service is quick and friendly with no lines. But the sandwiches tend to be too heavy on the grease to taste the meat. Skip the steak and get the pork instead. Located at 1511 Kitty Hawk Avenue in the Navy Yard and also at 411 Doylestown Road in Montgomeryville. Learn more.
Pat's King of Steaks
Most tourists start their Philadelphia cheesesteak trail at Pat's King of Steaks, named for the self-proclaimed inventor of the cheesesteak Pat Olivieri. The small white shack at the corner of 9th and Passyunk could be hollowed ground for those who love their steaks. Yet, it's more of a tourist draw than a local favorite, driven primarily by the cross-street rivalry with Geno's.
Pat's has a good steak. In fact, it was far better than we expected. Locals love to hate these Passyunk Ave cheesesteak shops, but the King of Steaks does deliver in spades. And while there are better cheesesteaks in the city, it is nice to have one here where it all started. Located at 1237 East Passyunk Avenue in South Philly. Learn more.
Read more on the Pat's vs Geno's Cheesesteak Rivalry.
LaSpada's Original
Tucked into a small strip mall, LaSpada's lays claim to be the best cheesesteak in Delco. It's close to the Philly Union stadium and makes a good pre-game stop. But, when your motto is "The Best Damned Sandwich in Town!" you set a high bar. Sadly, the experience doesn't deliver.
They've perfected the surly South Philly service attitude, but the steak lacked seasoning and just seemed sad sitting in the roll. Having heard about this place for years, I left wondering if I was at the wrong LaSpada's or if the people raving about it have ever had a good cheesesteak. Located at 4724 Pennell Rd in Aston. Learn more.
Max's Steaks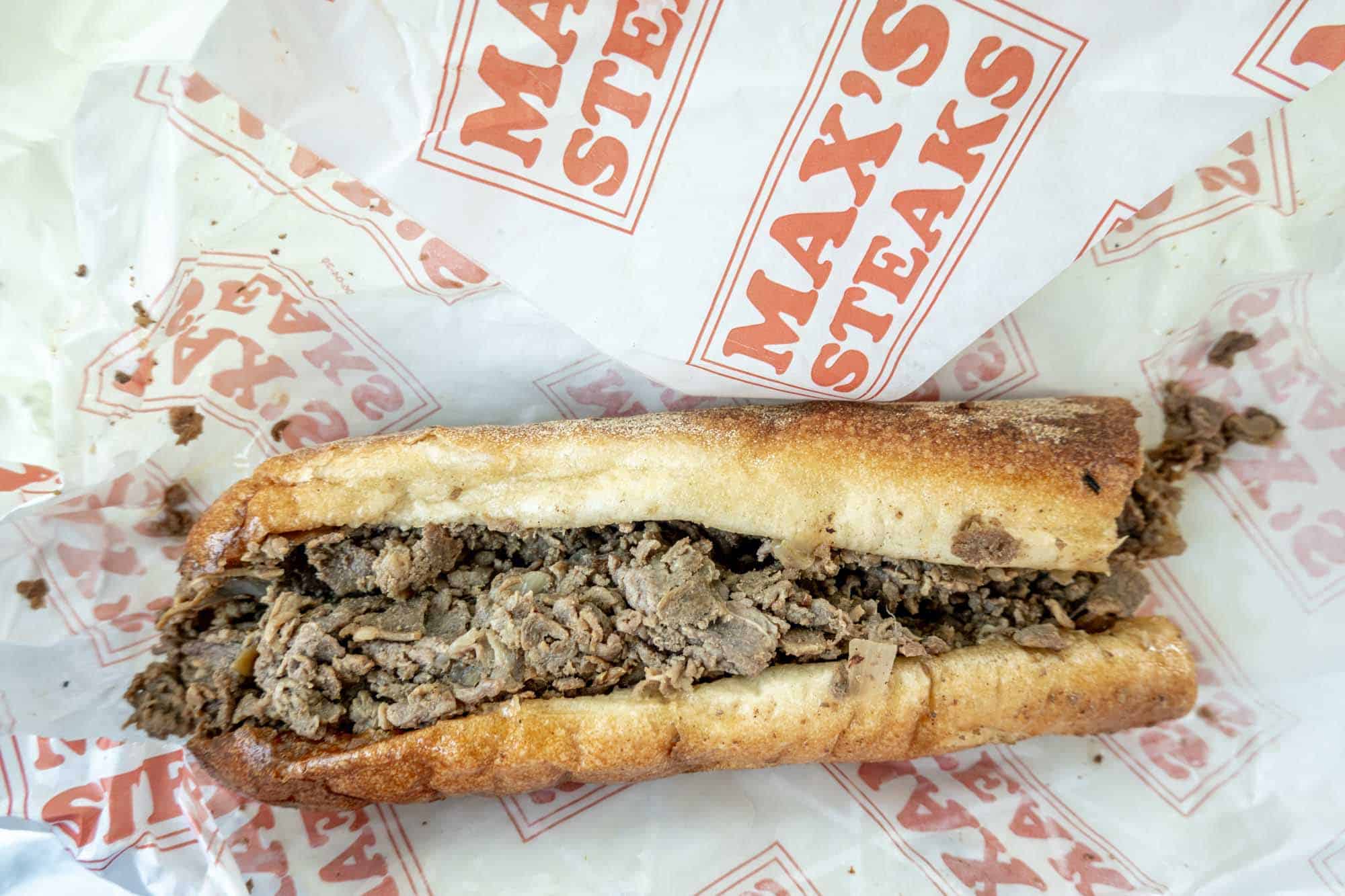 Long before we ever visited, we'd heard about Max's. The steaks are supposed to be so good that a vegetarian friend swore this would be his last meal. And Max's has gone Hollywood, being featured in the Rocky spin-offs Creed I and Creed II, as well as on the small screen in the popular tv-show This Is Us. That's a lot to live up to. Our visit? Not so much.
We found the perfunctory roll, some meat, a little cheese, and onions. But not much else to enjoy. The whole steak was just so soggy in grease that we couldn't taste either the steak or the cheese. After hearing friends rave about Max's, we were left wondering why. Either we visited on an off day, or Max's has gone the way of other famous steak shops: a relic of history, but not a contemporary favorite.
We probably need to try it again before we write it off forever but can't imagine paying another $10 for such a mediocre steak when there are so many good cheesesteaks in Philly. Located at 3653 Germantown Avenue. Learn more.
Larry's Steaks
With a couple of locations in the city, Larry's Steaks has its followers. Larry's is known for two things. First, they specialize in a two-foot cheesesteak known as the "belly filler." Second, the deep appreciation for Kobe Bryant in their décor and a special sandwich named for the now-departed star on the menu. A trip to Larry's is almost obligatory during a night of hard drinking for St. Joseph's students.
The cheesesteak? Mediocre. The roll was good, but the steak and cheese were nearly flavorless, likely due to being under seasoned. Both of our steaks were missing the ingredients/toppings we ordered. I guess you get the steak Larry wants you to have, not what you ordered. With a good location and so few good steak shops in this part of the city, Larry's has so much potential, but it wasn't meant to be. Located at 2457 N. 54th Street across from the St. Joseph's Field House or at 920 W. Girard Avenue. Learn more.
Geno's Steaks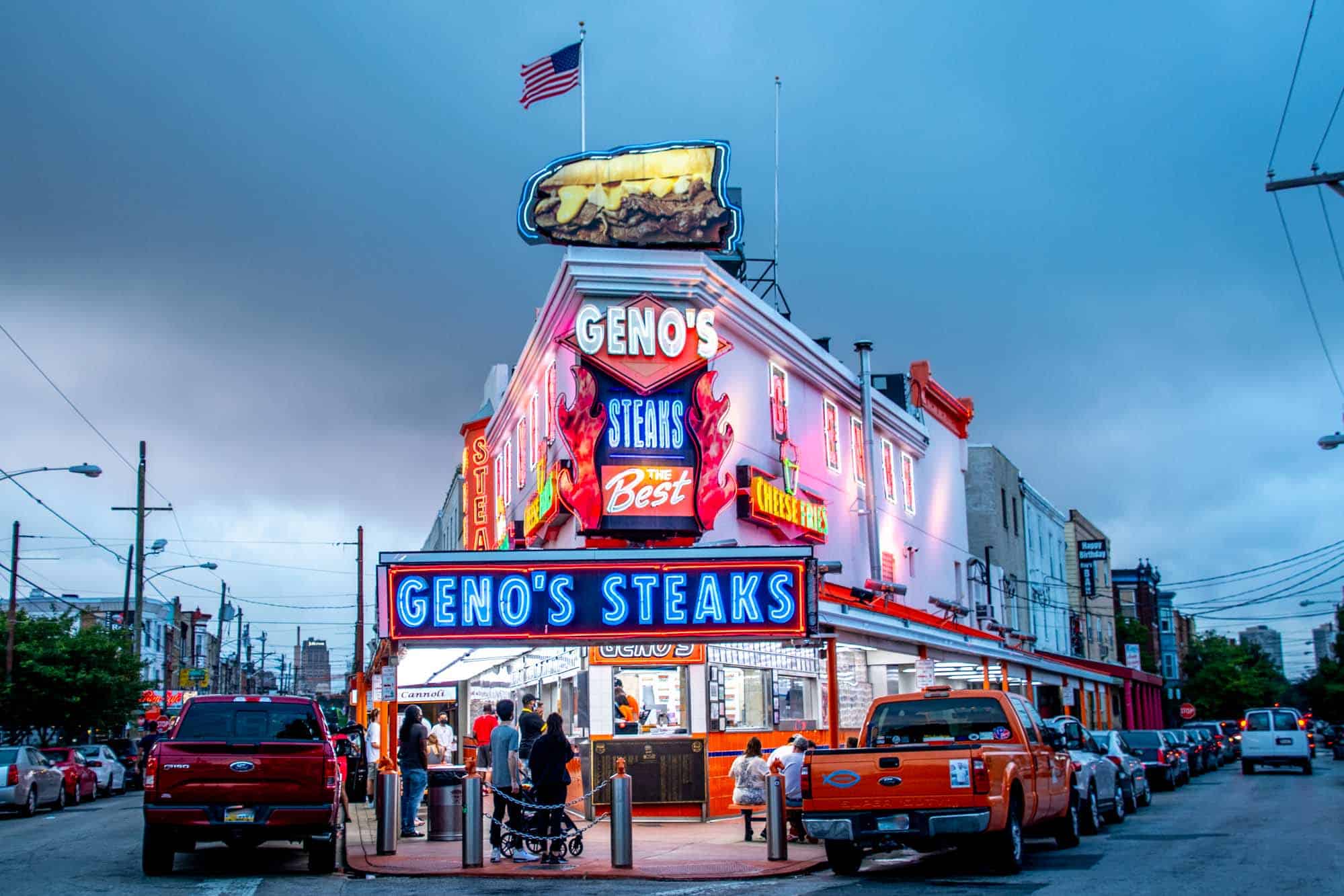 When it comes to South Philly cheesesteaks, you can't miss Geno's. There's so many signs and neon lights that you can actually see it from space. Locals like to say Geno's is for tourists. After all these years, that is probably overstating the case, but visitors flock here in droves. You only need look at the large number of cars with out-of-state plates to see this is true.
Geno's is best known for its rivalry with Pat's across the street. The marketing battle hasn't necessarily translated into the food. The cheesesteak is serviceable, the steak often cooked far in advance and can become dry. Located at 1219 South 9th Street in South Philly or a location in the Philadelphia International Airport. Or learn more.
RIP
Previous versions of this article included the all-vegan Blackbird in Northern Liberties that helped pioneer the vegan cheesesteak, but has since closed. Other notable shop closures include Frizwit at Musi BYO.