In the northwest part of the city, Chestnut Hill is known as Philadelphia's Garden District. Its tree-lined streets, grand homes, and tons of shops and eateries make it a welcoming and vibrant neighborhood.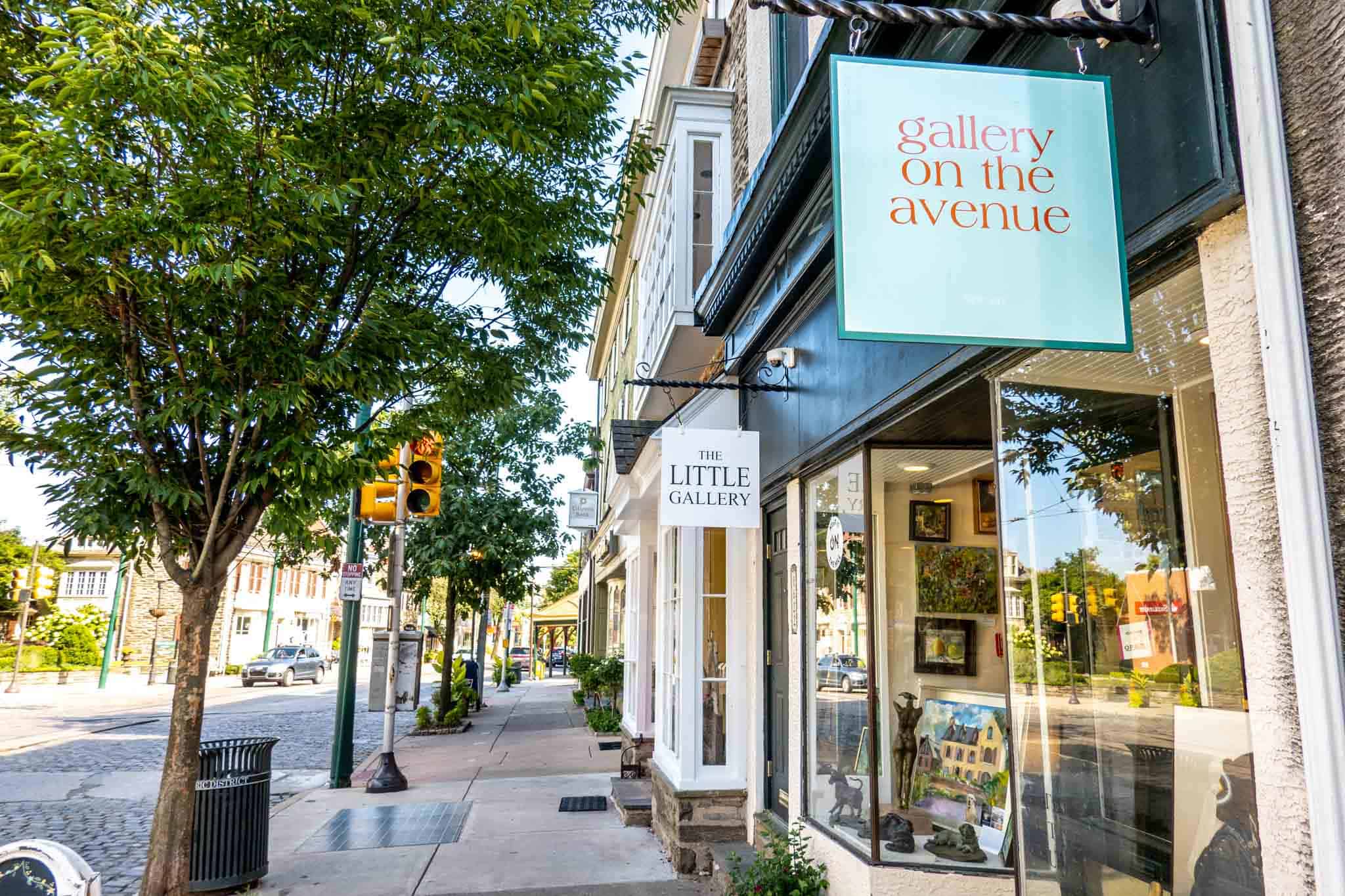 Much of the area's activity centers around its main street, the cobblestone Germantown Avenue, which has been a major thoroughfare here for centuries. Lining the street and beyond are over 125 stores, restaurants, and businesses. Along with nearby homes, some of the buildings here are part of a National Register Historic District.
Chestnut Hill is also full of green space, making it a popular destination for people who love to exercise outside or to simply enjoy the outdoors. Morris Arboretum of the University of Pennsylvania occupies 92 acres and is filled with manicured gardens, sculptures, and fountains. Nearby is a main entry point for Wissahickon Valley Park, which covers 1800 acres in Chestnut Hill and other Northwest neighborhoods.
History
The founding of Chestnut Hill dates to the early 1700s when it was part of German Township, the first permanent German American settlement. By the latter part of the century, it was a popular summer vacation spot for affluent Philadelphia residents to escape the heat of the city.
In 1854, Chestnut Hill and other nearby towns and farmlands became part of Philadelphia. That same year, the Chestnut Hill Railroad opened, making the neighborhood easy to reach from downtown.
Museums and Attractions
Market at the Fareway – Previously the Chestnut Hill Farmers Market, Market at the Fareway has a mix of produce stands, butchers, and other grocery stops along with food stands and cafes. Don't miss the delicious options at Barry's Buns, MoMos of Tibet, and Poppy's Cafe.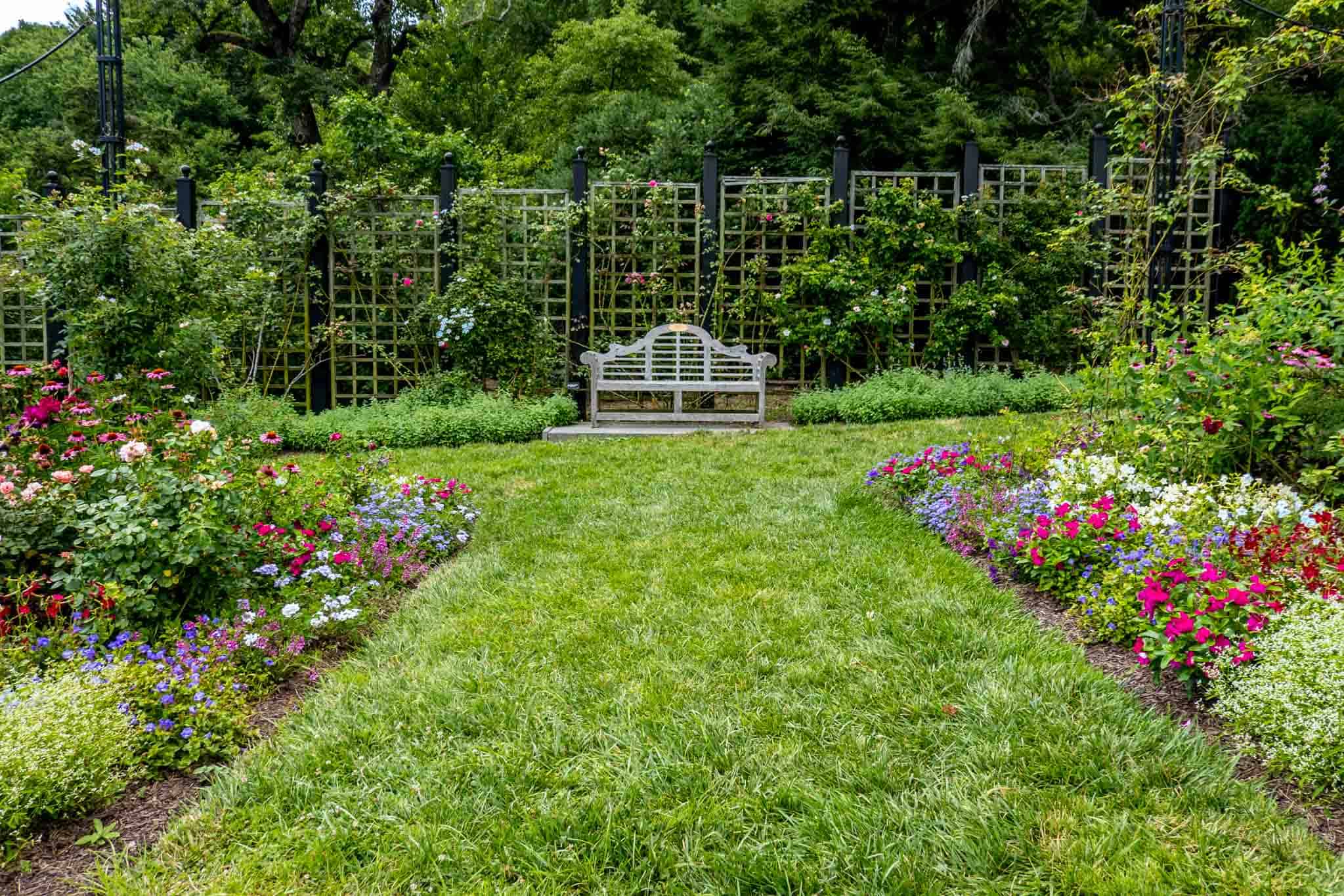 Morris Arboretum – Year-round, Morris Arboretum is a stunning escape from the activity of the city. Whether it's cherry blossoms, fall leaves, or the winter displays you want to see, you'll find them here among the walking paths and sculpture gardens. Out on a Limb, an exhibit that takes visitors 50 feet up into the treetops without climbing, is a favorite stop.
Skyspace – Located at the Chestnut Hill Meeting House, Skyspace is a unique space designed for silent reflection and meditation. It's particularly remarkable at sunrise and sunset and is often open to the public at those times throughout the year.
Thomas Mill Covered Bridge – This red, wooden bridge is the last covered bridge in Philadelphia. It crosses Wissahickon Creek and is accessible from the Forbidden Drive parking lot.
Wissahickon Valley Park – The north end of Wissahickon Valley Park lies in Chestnut Hill and extends through nearby neighborhoods along the Wissahickon Creek. There are 57 miles of trails to explore by walking, hiking, biking, and even horseback riding.
Woodmere Art Museum – Woodmere showcases the works of artists from the Delaware Valley inside its location in a 19th century mansion. The grounds, which are free to visit, feature numerous sculptures and a fountain.
Restaurants, Bars, and Eateries
There are lots of great bakeries, bars, and restaurants—both casual and fine dining—to try in the neighborhood. This is a selection of some top choices.
Bredenbeck's Bakery & Ice Cream Parlor – From traditional cookies to seasonal specialties and custom cakes, Bredenbeck's has been part of the fabric of Chestnut Hill since 1889. They serve Bassett's ice cream, another area favorite for over 150 years.
Campbell's Place – Another neighborhood institution, Campbell's Place models itself after a traditional British Pub.
Cake – Located in a former greenhouse, Cake specializes in breakfast, lunch, and brunch.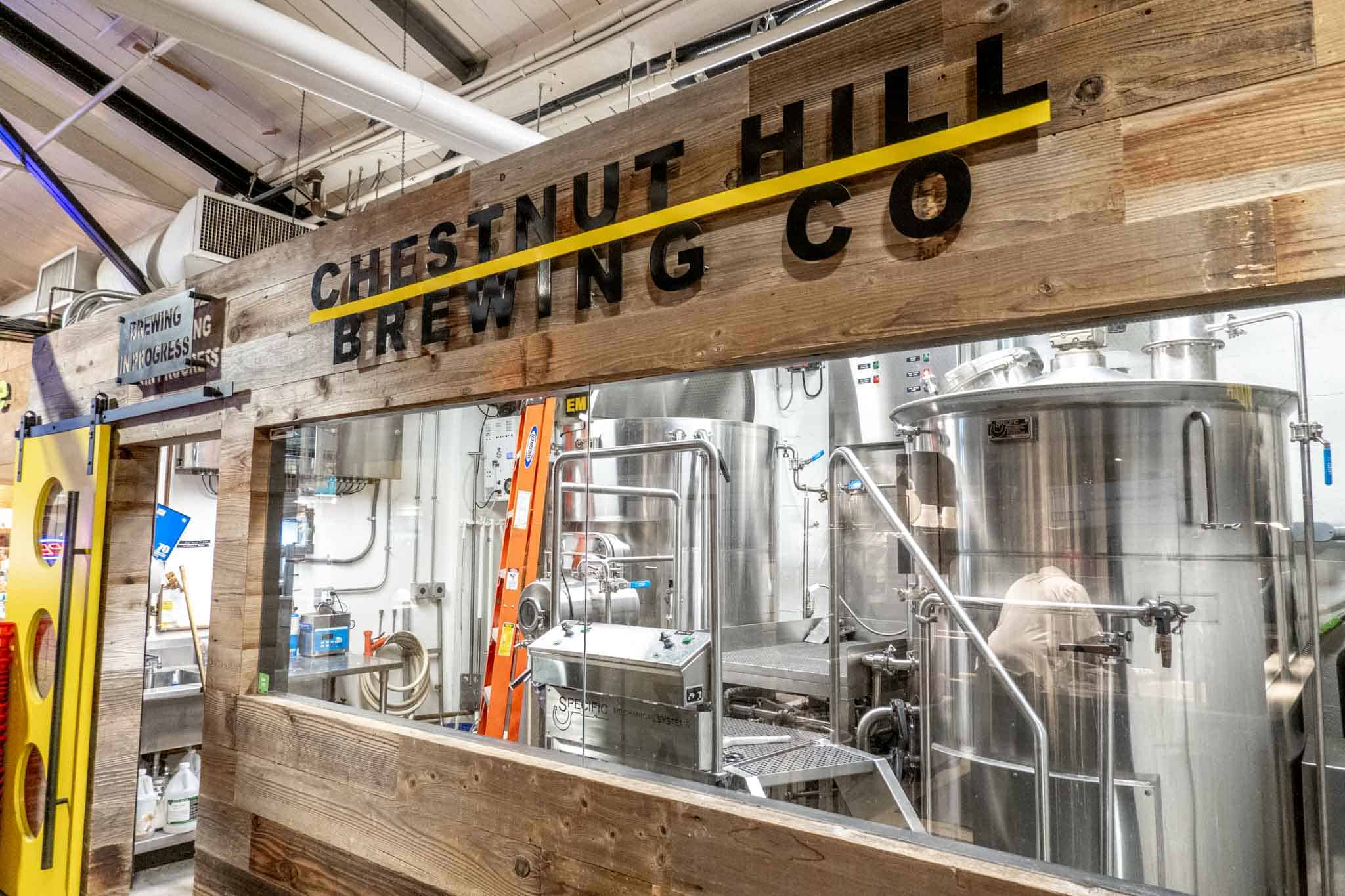 Chestnut Hill Brewing Company – If you're a fan of Neapolitan pizzas and craft brews, make a beeline here, one of the top microbreweries in the area.
Cin Cin – From Peking duck to Mongolian beef, Cin Cin offers French and Asian-fusion dishes.
Iron Hill Brewery – Every burger, salad, and pizza made at this (mostly) local chain is from scratch, and the award-winning beer is brewed in the restaurant.
McNally's Tavern – This family-run pub has served the area for over 100 years. It is known for its crab cakes, chicken cheesesteak, and The Schmitter, a classic Philadelphia food that combines roast beef and salami with the signature Schmitter sauce.
Valley Green Inn – Set in Fairmount Park, this historic inn serves lunch, dinner, and a critically-acclaimed Sunday brunch in a romantic setting.
Shopping and Businesses
Greene Street – This consignment shop is a popular stop on Germantown Avenue. They specialize in mid-to-high-end women's fashion labels.
Hideaway Music – With one of the best selections of vintage vinyl in the area, Hideaway Music has CDs, vintage audio equipment, posters, and more.
Robertson's Florist – Robertson's has served Philadelphia for nearly 100 years. It's located in a building that was originally built as a hotel around 1790.
Serendipity – This cute shop offers a variety of gifts, artisan merchandise, and Philadelphia-themed gear.
Annual Events
Chestnut Hill Home and Garden Festival – Each May, the Home and Garden Festival features over 150 vendors. You'll find everything from seedlings and lawn decorations to hand-made furniture and jewelry. There are often special features at the local shops along with live music and lots of food.
Fall For The Arts Festival – September brings the neighborhood arts festival—a day of food, art, music, and shopping. Over 150 artists fill the streets for the day-long event that draws visitors from across the city and region.
Where to Stay
Chestnut Hill Hotel – This 36-room boutique hotel is split across three buildings, each with a different style ranging from 18th-century to Pop Art.
How to Get There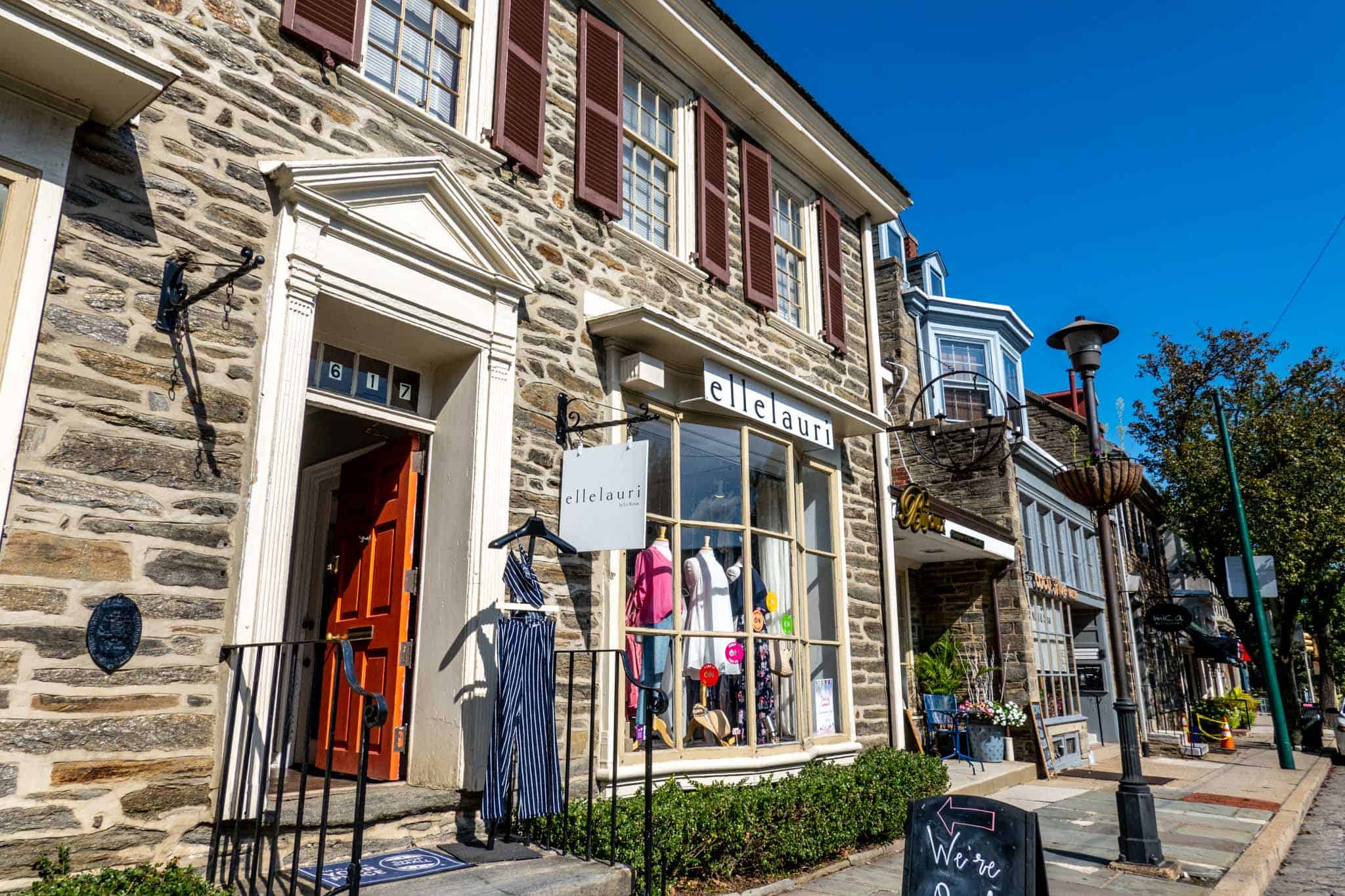 The neighborhood is served by two SEPTA (commuter) train lines – the Chestnut Hill East Line and the Chestnut Hill West Line. Both are within steps of Germantown Avenue. SEPTA bus routes 23, 77, 94, 134 and L also service the neighborhood.
For visitors coming by car, there is ample on-street parking in addition to six parking lots.
Explore More of the Neighborhood