Some posts on this site contain affiliate links, meaning if you book or buy something through one of these links, we may earn a small commission (at no extra cost to you).
Glowing snake eyes, blacklights in an underwater seascape, and a projection show of giraffes in the African savanna could only mean one thing—LumiNature at the Philadelphia Zoo. This light display teeming with over 1 million lights is the highlight of winter at the Zoo, drawing thousands of visitors to explore the grounds after dark.
Now a seasonal staple, the light display keeps some elements while making innovative changes every year, so we enjoy returning to see what's new as often as we can.
For LumiNature, the Zoo is divided in 16 different illuminated zones, each with a creative, nature-themed approach.
As you might expect, everything here is about different species of animals and the landscapes they live in. In one spot, a passage lit in pink and turquoise is punctuated by a 25-foot-tall tree made entirely of glowing flamingos. In another, trees that seem to be made of light change into the cool colors of the Arctic along with projections on a 3D Earth-shaped screen.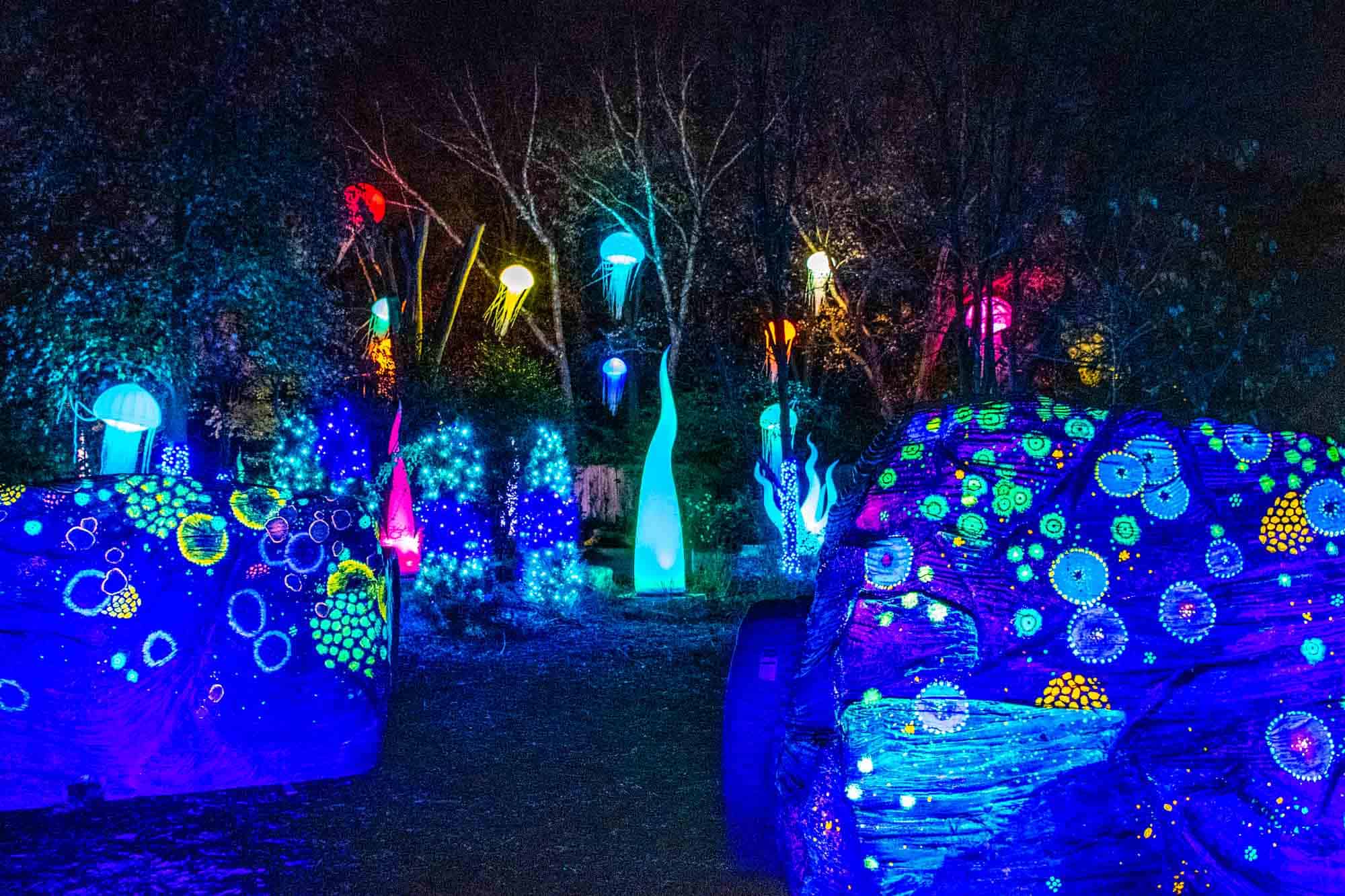 One of our favorite areas among the Philadelphia Zoo lights was Tis the SEAson, an "underwater" environment reached through a 100-foot-long light tunnel. On the other side, blacklights make neon designs pop, reminiscent of bright coral. Giant jellyfish overhead light your way along the path in a light show unlike anything we've ever seen.
In addition to the light installations, there are also several different light and projection shows throughout the Zoo. Undoubtedly the biggest is the Penguin Prismatic show that includes a massive penguin made of over 40,000 lights that move in time to the music. They're synced up to everything from the Black Eyed Peas to Elton John singing "Philadelphia Freedom."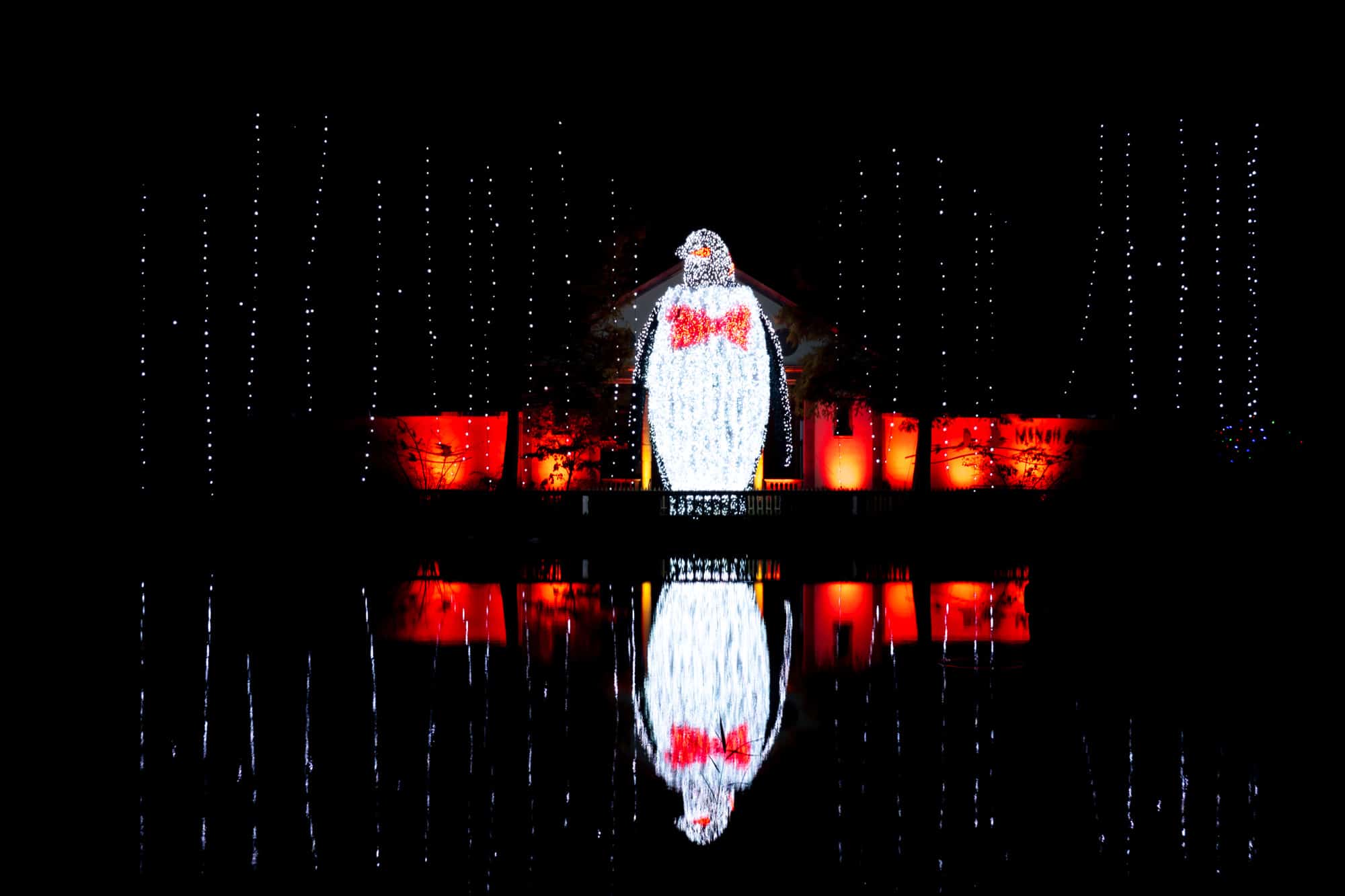 Elsewhere on the grounds, there are projections of animals roaming through Africa beside giant glowing frogs and giraffes as well as a hulking blue gorilla. You'll also see roving performers wearing costumes entirely made of lights.
There are several different areas throughout the event to stop for snacks (or something heartier) and to warm up. Visitors will find everything from soft pretzels to popcorn chicken and cheese quesadillas. There are also warm beverages (spiked is also an option) to make sure you don't get too cold as you walk around.
We loved stopping at the fire pits under the trees decked out in glowing orbs to make s'mores. About $5 gets you a kit to make two of the gooey treats. It's also a nice place to sit and enjoy the fire, if your feet need a break.
There is lots to see at the LumiNature light show, but it is worth mentioning that you won't see animals. At least not ones that aren't lit up to be part of the show. All the animals who live at the zoo are inside and away from view.
Additionally, LumiNature is not particularly a holiday light show. There are many Christmas trees decorated by community groups plus elaborate ones covered in butterflies, coral, or other creatures, but that's the limit of anything vaguely holiday related, which makes LumiNature unique in a city packed with somewhat more traditional epic Christmas light displays.
Visiting information
One of the fun things to do for Christmas in Philly, LumiNature run select dates from November 17, 2023 through January 6, 2024. Timed tickets are required. Costs range from $20-28 depending on day of admission.