Some posts on this site contain affiliate links, meaning if you book or buy something through one of these links, we may earn a small commission (at no extra cost to you).
Shady Brook Farm has hosted its famous holiday light show for decades and always has something fun and interesting that draws people back time after time. From the moment the structures begin to go up around the property, the anticipation builds until the millions of lights turn on shortly before Thanksgiving. This 100-year-old farm in Yardley welcomes thousands of guests to its massive drive thru display and to enjoy other seasonal activities.
Here's a look at what makes a visit to the Shady Brook Farm holiday light show a highlight of the season.
Drive thru light show
The light show at Shady Book Farm is not only one of the top light displays near Philadelphia, but it's one of the best in all of Pennsylvania. With over 3 million lights and dozens of elaborate structures, it grows and changes each year so there's always something new for guests to see.
Arriving at the light show, visitors are funneled through the gates into two lanes, which is necessary to accommodate everyone who makes the trip to see the Christmas lights. If you tune your car radio to 90.7 FM, you'll find plenty of commercial-free holiday tunes to accompany you on your drive. (Note that the lights aren't synced to the music, so you can also listen to your favorite Christmas music for the same effect, if you'd prefer).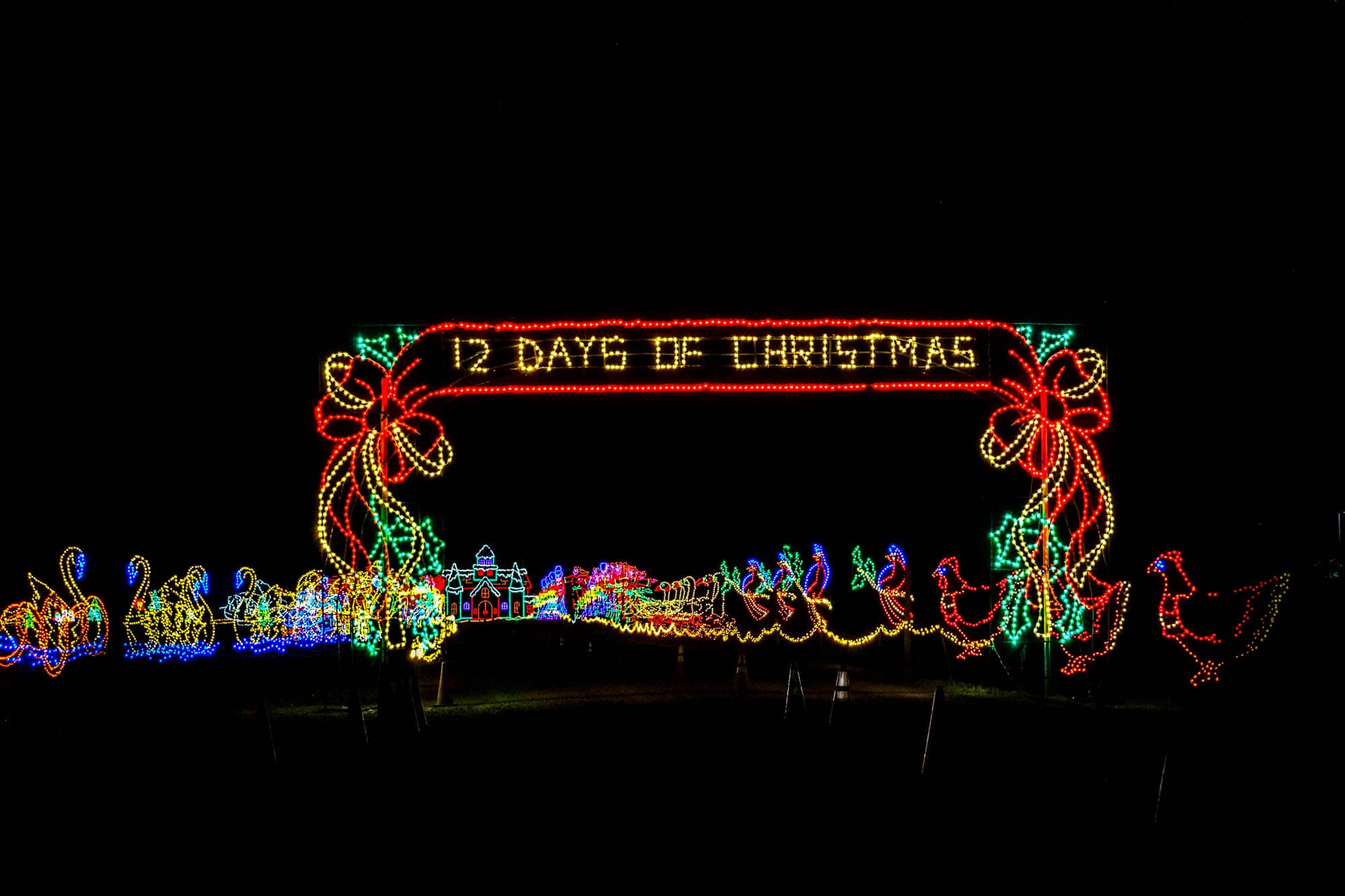 The range of lights along the 1.25-mile drive is incredible.
All the characters from the "12 Days of Christmas" get their own time to shine with the dancers, drummers, and leaping lords acting out their parts in animation. Santa's workshop and lots of reindeer aren't far behind. You'll see the elves hard at work making toys in an elaborate assembly line.
There are also lots of familiar Christmas characters like The Grinch and Frosty the Snowman represented in bright lights with unexpected additions like dragons and dinosaurs. If you've ever wondered how reindeer learn to fly, the Shady Brook light show will answer that question, too, with the "reindeer flying school" lights.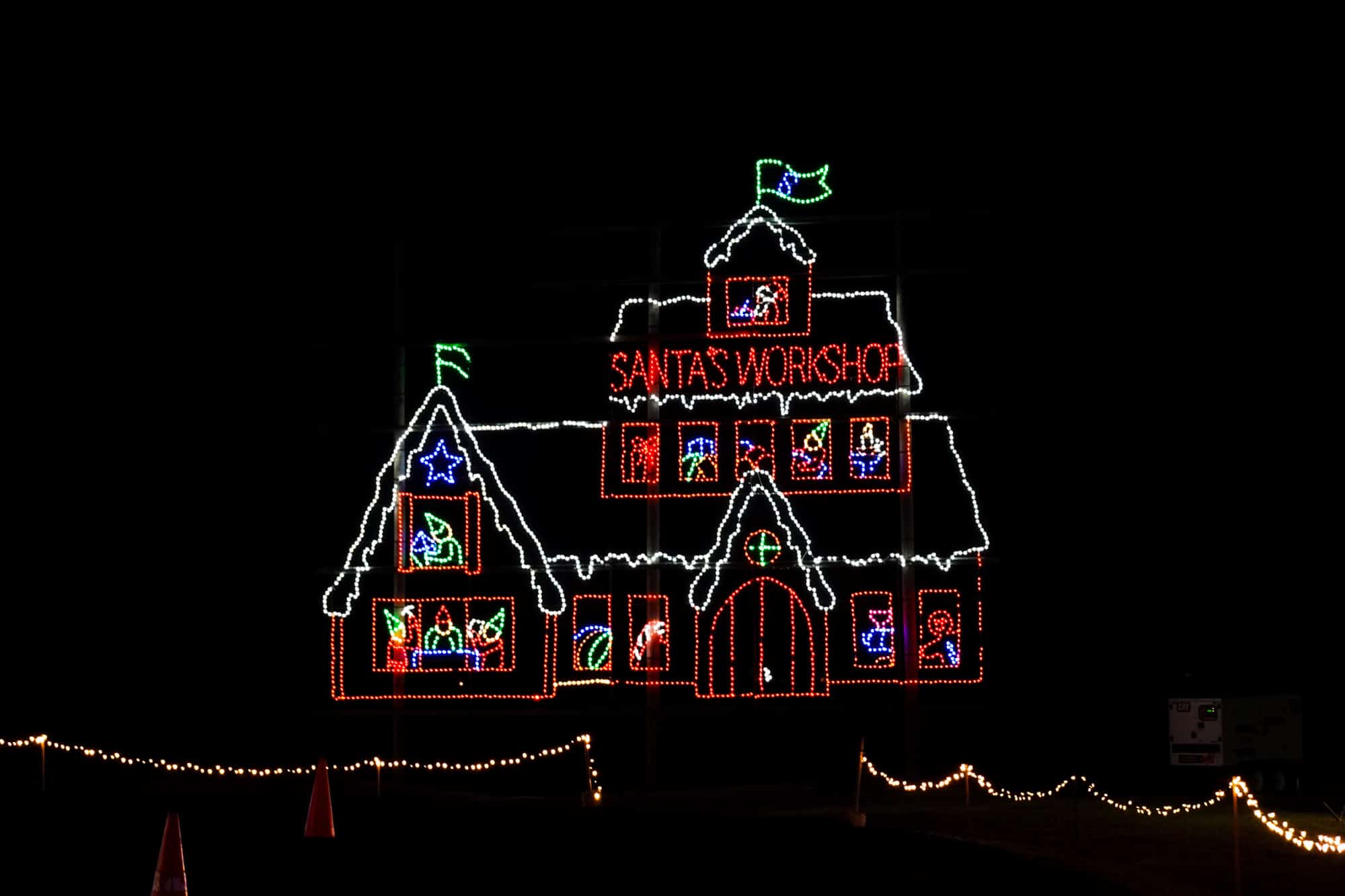 Many of the displays are unrelated to the holidays, showing everything from Egypt's Great Sphinx to nursery rhymes and sports. There's a little bit of something for everyone.
Depending on the amount of traffic during your visit, the route is likely to take about 30-45 minutes, which is plenty of time to take in all the unique creatures and stories along the way.
More activities
Visiting Shady Brook Farm feels like a Christmas festival. In addition to the lights, there are also lots of other activities to enjoy at Santa's Village.
Visitors can pick out a Christmas tree or shop for holiday decorations. There are opportunities to get your photo taken with Santa and to visit the free walk-through Christmas lights, Candy Cane Lane.
Inside, the farmer's market, there is a huge selection of specialty products and prepared food items. If you're looking for a treat, don't miss the apple cider donuts.
Outside, you can reserve a private campfire to make s'mores or just crowd around to enjoy some hot chocolate and the ambiance of the fire.
Visiting information
The light show is open Sunday through Thursday from 5PM – 10PM. On Friday and Saturday, the lights stay on until 11. Tickets for a car or minivan are $40 in advance or $50 at the gate, so it's best to buy online and reserve a timed slot ahead of time. If you'd rather join the group wagon rides through the light trail, tickets are available for $15-23, depending on the night you go and whether you reserve in advance.
The Shady Brook Farm light show is very popular, so, if you book on a weekend in December, pack your patience and be ready for a bit of traffic and a great time.
For options like photos with Santa and the firepits, reservations are required, and there are additional fees. Consult the website for more specifics.
There many Christmas lights in Bucks County worth seeing, so check out some of the other light shows to make your outing even more festive.