Some posts on this site contain affiliate links, meaning if you book or buy something through one of these links, we may earn a small commission (at no extra cost to you).
When it comes to holidays and Christmas, Philadelphia always goes all out with the amazing events and displays of Christmas lights and decorations. That's why it's no surprise that Miracle on South 13th Street in South Philly has one of the best Christmas light displays in the city.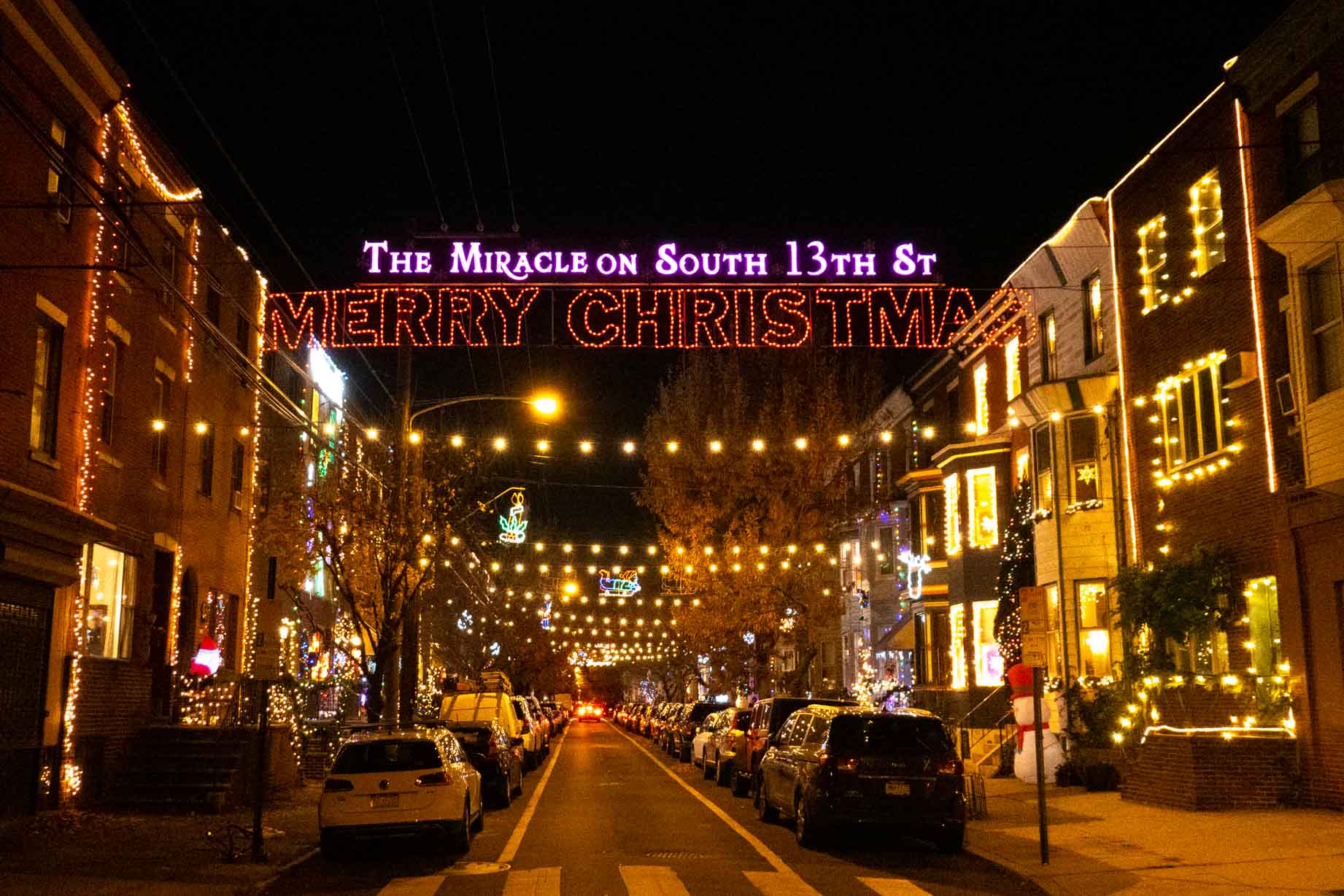 In South Philadelphia, neighbors of the 1600 block of 13th Street come together to create amazing displays of Christmas lights, garlands, inflatable snowmen, and other fun decorations. This display outshines every other neighborhood and attracts people from across the city thus earning the name: The Miracle on South 13th Street. This event has been around for more than 20 years and is an annual tradition that kicks off every Thanksgiving weekend.
New in 2023, the street is hosting a Characters Parade to kick off the season, a tradition that they hope to continue. On Saturday, November 25, visitors will find snacks and hot drinks, face painting, music, and lots more fun. The party starts at 5pm, and Santa arrives by pickup at 6pm.
What is it?
The Miracle on 13th Street is one of the most iconic Christmas destinations in Philadelphia. It is a tradition in South Philly that involves displaying dazzling lights from the Saturday after Thanksgiving all the way up to New Year's Day.
There are about 50 homes along this stretch of 13th Street and almost all the houses are decorated for the holiday season. While some go for simple decorations like a few string lights on the door, others go all out with over-the-top decorations, lights, window animations, and inflatable snowmen.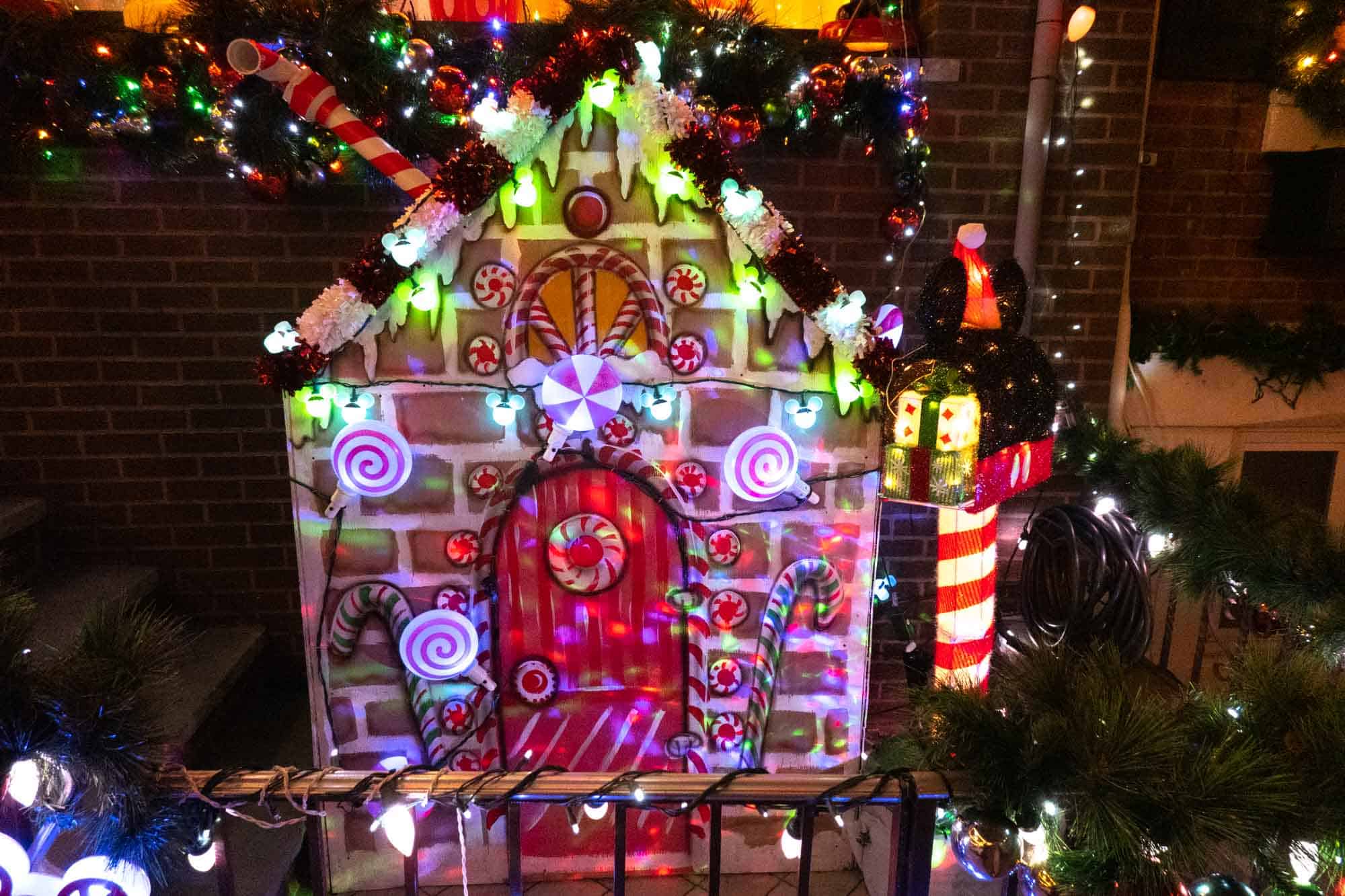 The Christmas decorations on this street are nothing short of spectacular and is one of the most important festive displays in the city. Decorations range from string lights, garlands, a projected hologram to an inflatable Snoopy on track to visit the North Pole. Every house on the street shines in the Christmas displays and you will find lights strung everywhere.
History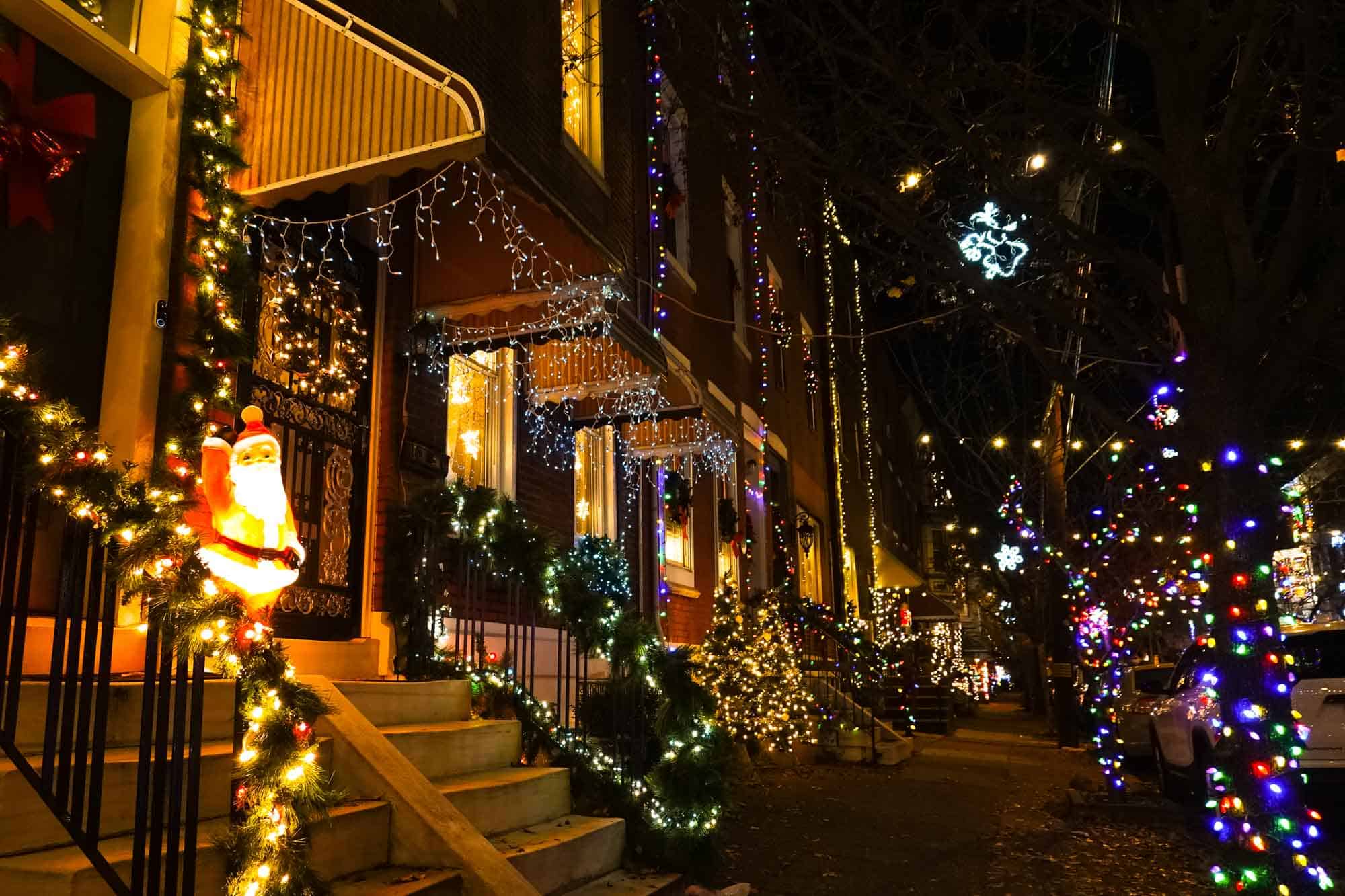 There is no definitive history of Miracle on 13th Street, but, according to a long-time resident, the practice started around 30 years ago with a few houses. After a few years, a conscious effort was made to organize the whole block. Now, for over 20 years, the tradition encompasses several blocks along both sides of South 13th Street. What started only with lights, now includes holiday window displays, holiday characters, and other impressive decorations.
In true Philly style, the residents have to work together and pool resources to keep this tradition alive and create a festive atmosphere. Over the years, this street has gotten lots of attention thus attracting many visitors and tourists during the holidays.
Where is it?
Miracle on South 13th Street is held on the 1600 block of South 13th Street between Tasker and Morris streets. Although in recent years, decorations can also be seen on the adjacent blocks of 13th Street as well. This little stretch of South Philly transforms into a magic land that is currently recognized as one of the best places to visit during Christmas.
Pro tips: The display is near one of the best hot chocolate spots in the city: Café y Chocolate on Snyder Avenue. If you crave more substantial bites, there are a lot of great restaurants on Passyunk Avenue, just two blocks away.
When do the lights go up?
The extravagant lights of South 13th Street go up the Saturday after Thanksgiving and stay up through New Year's Day. Tradition has it that local residents take the lights down after the Mummer's Parade. During this period, the street is lit daily from 5pm to 11pm.
The best way to experience the lights
There are two good ways to see the Christmas lights in South Philly. First, if you have a car, start your visit by driving up 13th Street from Morris. The street isn't blocked off, so driving in your car will keep you warm and give you an overview of the display. You'll be able to see the whole block in a short period of time.
After driving through, find a place to park (always a challenge) and then walk up the street – starting at 13th and Morris Streets. Or, if you don't have a car or are coming by public transportation (the nearest SEPTA stop is Tasker Morris on the Broad Street Line), just walk up the street. Take time to explore all of the little details of this magical, winter wonderland.
While you are here, don't forget to say hello to Santa as he's known to make appearances on the block and pose for photos on the street or in a special third-floor window – particularly on weekend nights. Special events–like Santa visits–are posted to their official Facebook page.
There are so many ways to enjoy Christmas in Philadelphia, but one of the best is Miracle on South 13th Street. Make it an annual holiday tradition!