Some posts on this site contain affiliate links, meaning if you book or buy something through one of these links, we may earn a small commission (at no extra cost to you).
Bucks County is full of fun holiday lights displays to see. Whether you're looking for an amazing drive-through light show or neighbors who go all-out to decorate their homes for the season, the area has so much to offer. There are giant Santas, the Twelve Days of Christmas, and even Baby Yoda. Take a look at some of our favorite Christmas lights in Bucks County to get you in the holiday spirit.
Shady Brook Farm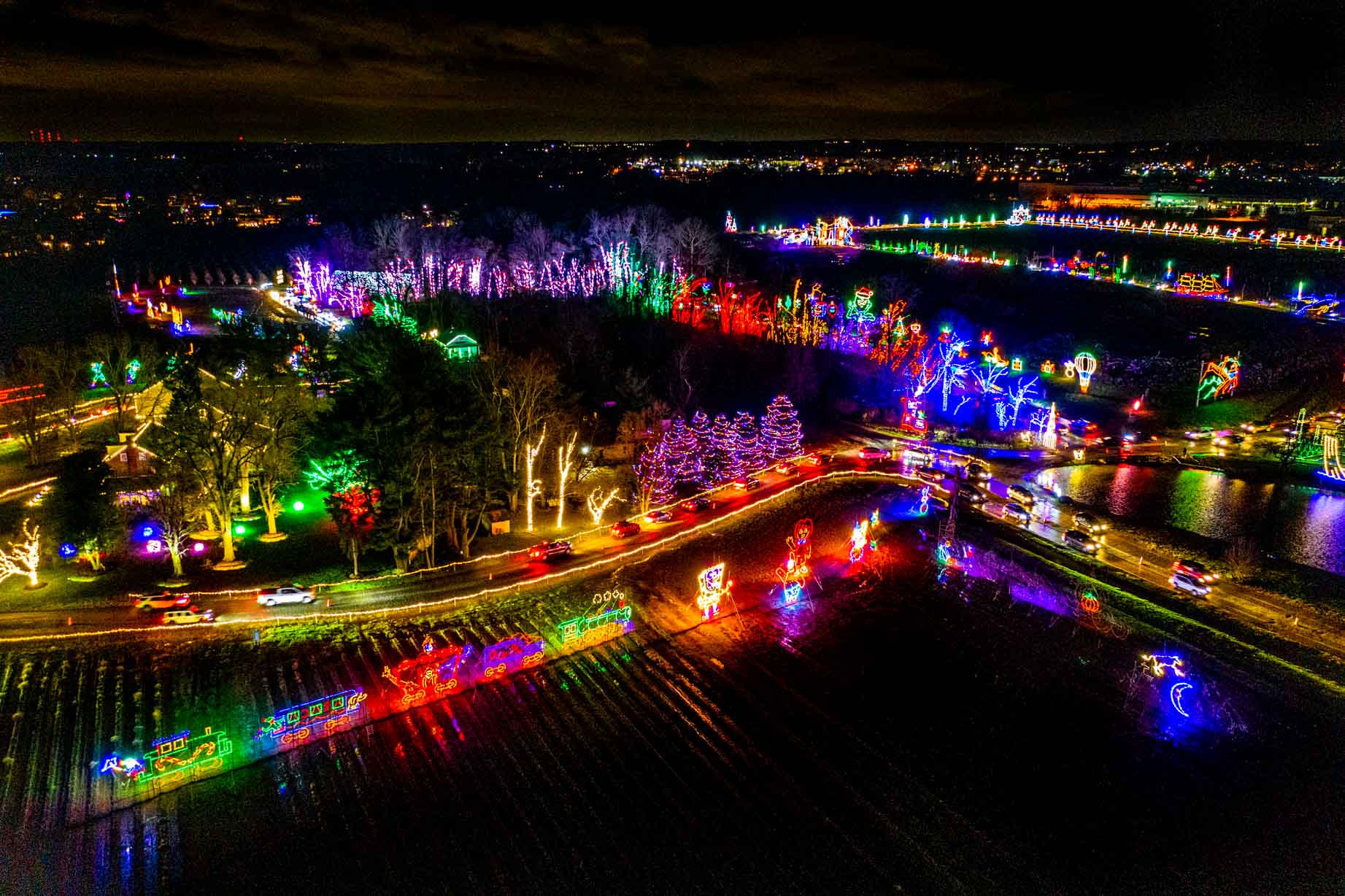 One of the best drive-through holiday lights shows near Philadelphia is Shady Brook Farm. The 3 million lights include everything from Santa's workshop to a Bucks County covered bridge. The dedicated radio station, 90.7FM, plays carols and holiday standards for visitors to hear as they drive through the display.
In addition to the holiday light show, which stretches for over a mile, there are lots of other seasonal activities. There are plenty of snacks and hot drinks for adults and kids, plus visits with Santa, fire pits, and more. The festivities always stretch into January if you want to keep the Christmas spirit into the new year. Location: Shady Brook Farm, 931 Stony Hill Road in Yardley
Colonial Drive Lights
Seeing the lights on Colonial Drive is an annual tradition for many families around Langhorne. Synchronized to music, the lights come on every night at 5pm throughout the holiday season and last until 10pm.
With dozens of trees, snowflakes, signs, and more, the Colonial Drive Lights are a spectacular show. The music is available at 92.1FM, and it also plays at a low level right outside the house, so you can enjoy the songs even if you're not in the car. If you get lost finding the house, just look for the beams of light blazing across the sky.
Each year, the owners select a charity for donations. See the Venmo code on the mailbox to make a contribution. Location: 155 Colonial Drive in Langhorne
Christmas Stories in Doylestown
This house in Doylestown is incredible and a highlight of seeing Christmas lights in Bucks County. The whole yard is full of every Christmas story you can imagine.
From The Bible to National Lampoon's Christmas Vacation to Die Hard, there are lights, statues, displays, and dioramas depicting ALL the Christmas tales. If you're looking for Mickey and Minnie, the kid with his tongue stuck to a flagpole, or Buddy the Elf, this is your spot. Classics like 'Twas the Night Before Christmas are included, too. Location: 212 Stags Leap Circle in Doylestown
Inflatables on Farber
If you like inflatables, don't miss this display. Dozens of characters from Baby Yoda to Mickey Mouse fill the front yard. You'll see Frosty and Rudolph on a Ferris wheel, a North Pole shuttle, and The Grinch hanging out in the background. A little bit of music and light projections complete the show. Location: Corner of Farber Drive and Tower Hill Road in Chalfont
Santa's Place on Limekiln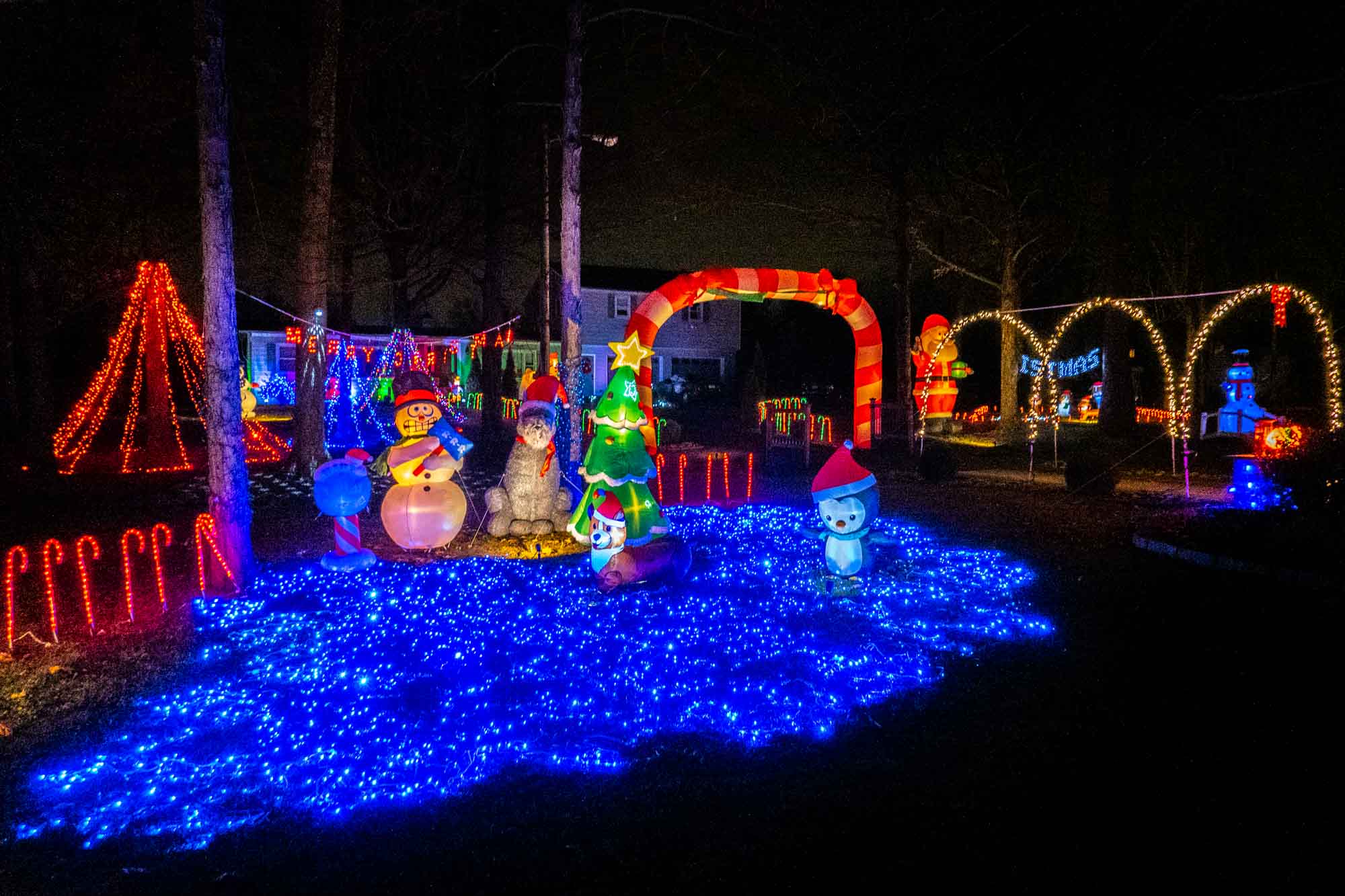 This sprawling front yard has a little bit of everything for Christmas lovers. A large Santa greets visitors beside lit trees, candy canes, snowmen, and even a scrolling message of Christmas cheer. There are plenty of inflatables and lights to enjoy. Be aware that cars move pretty quickly here, so you may want to put your hazard lights on to drive by slowly and appreciate the Christmas light display. Location: 764 N. Limekiln Pike in Chalfont
Peddler's Village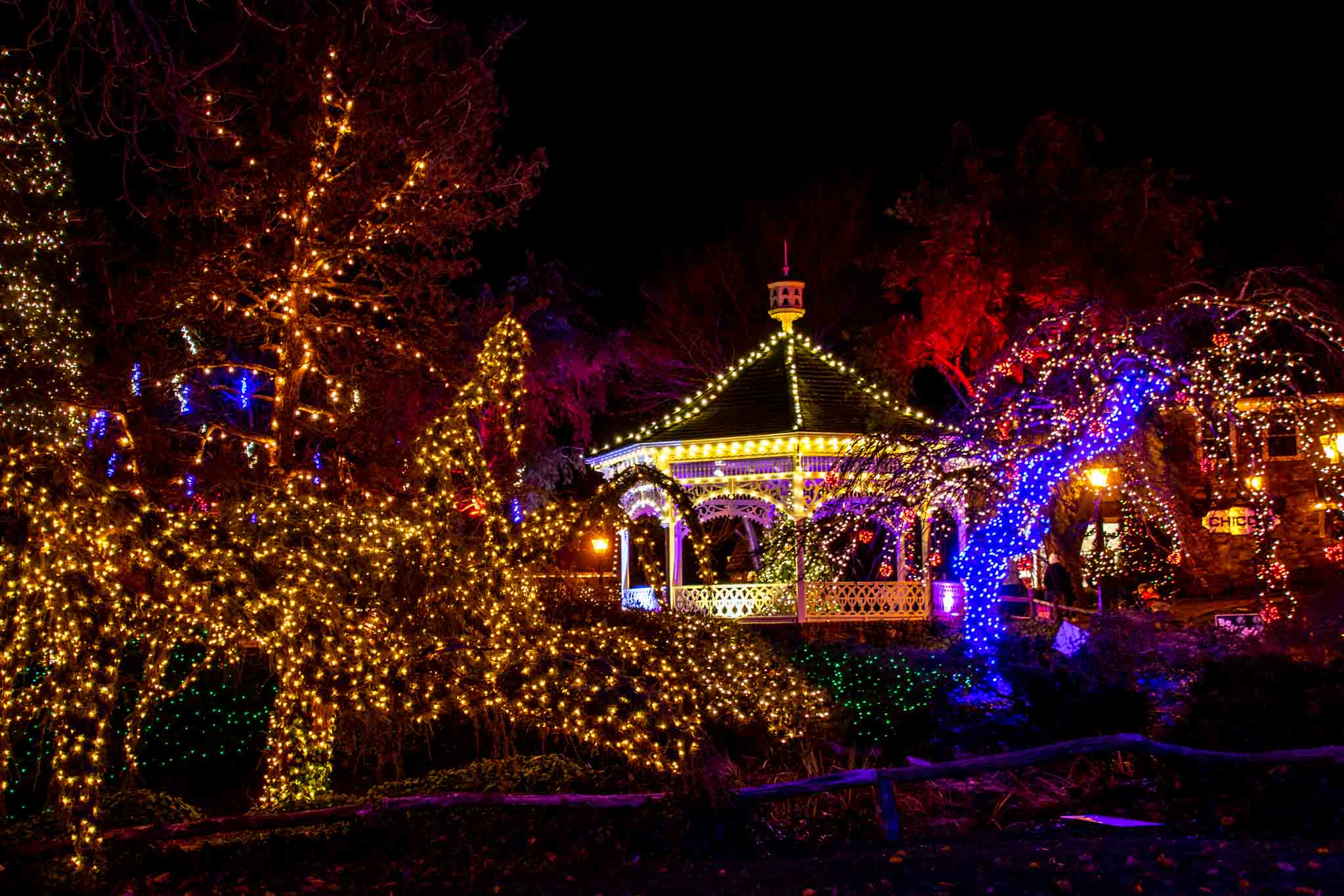 One of the most impressive holiday lights displays in Bucks County is Peddlers Village in Lahaska. Across the shopping center, the trees, gazebo, and buildings are lit along with special displays for the season. In total, 1 million lights decorate the property at Christmastime and light the way for people shopping, dining, and enjoying all the holiday events like the gingerbread display and visits with Santa. Location: Peddler's Village, Routes 202 & 263 in Lahaska
Green Heather Lights Show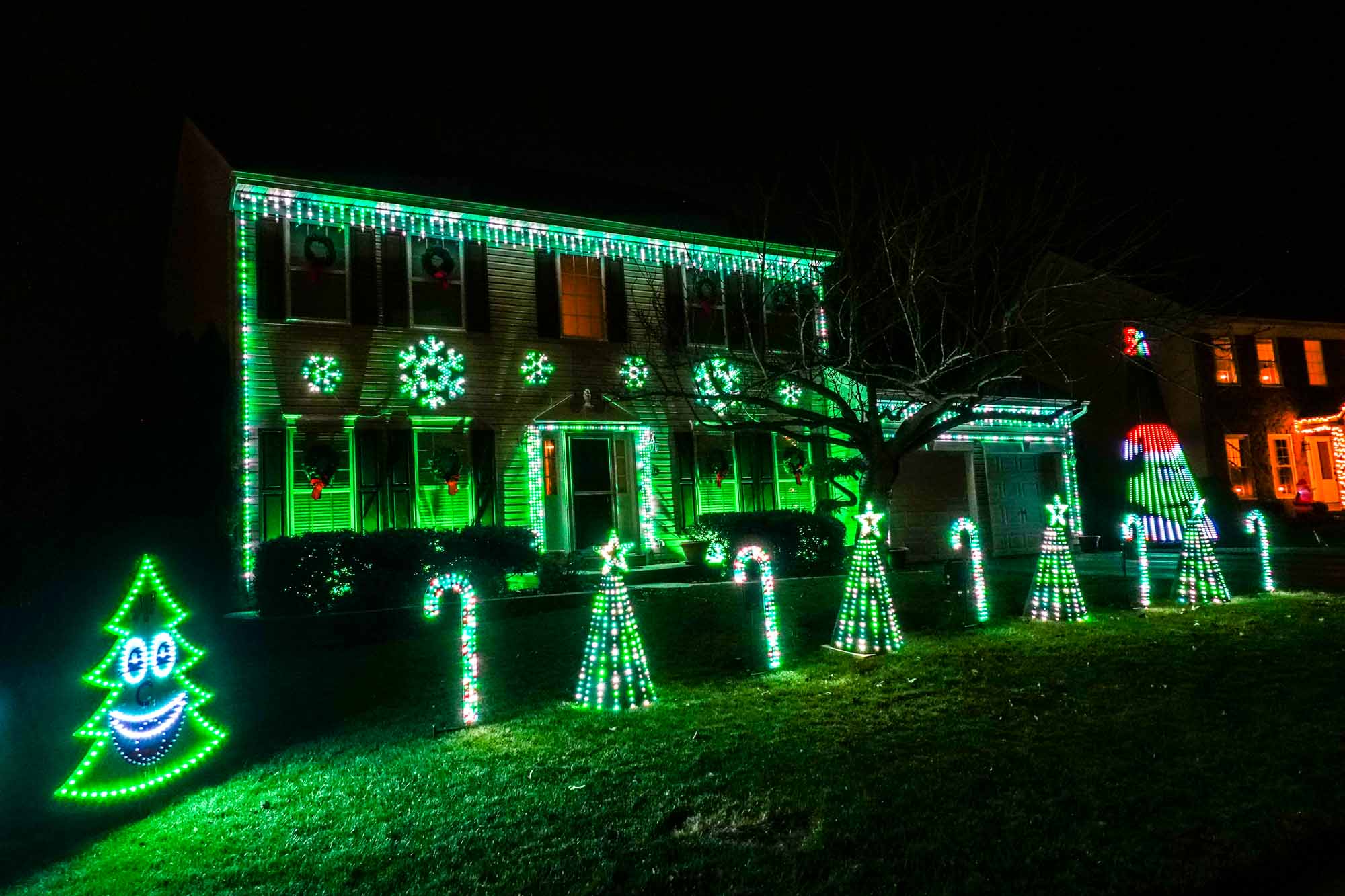 The Grinch, Frosty, Santa, and more beloved characters make an appearance at the Green Heather Lights projection show. The family-friendly show features computer-animated LED lights synchronized to music. One of the more ambitious residential Christmas lights shows, they have their own radio station—87.FM—that plays along with the lights as they change color and patterns. Location: Green Heather Court in Buckingham Township
Walking in a Winter Wonderland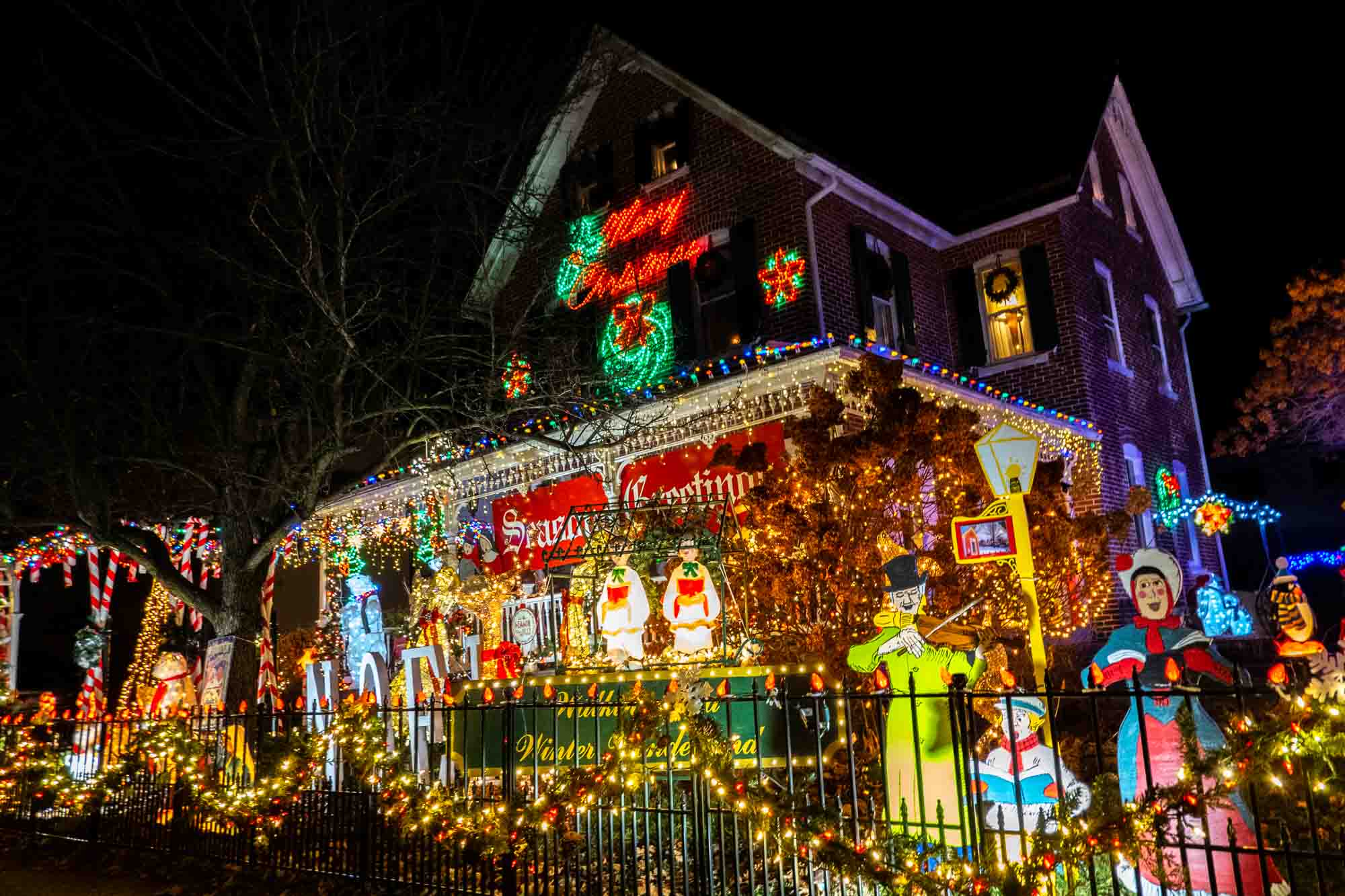 Every inch of this house in Perkasie seems to be covered in lights and Christmas characters. With musicians, carolers, and Nutcrackers positioned among thousands of lights, the homeowners have taken great pains to make the space entertaining and welcoming.
As you walk by the house, there are so many things to see that it's hard to know where to look. A swing is specially decorated for visitors who want to take photos. Then there are light sculptures, figurines, signs, and lots of Christmas cheer. Location: 308 North 5th St. in Perkasie