Some posts on this site contain affiliate links, meaning if you book or buy something through one of these links, we may earn a small commission (at no extra cost to you).
Christmas is one of the most festive times in Philadelphia. From Christmas Village to the Macy's light show, Center City and beyond are filled with seasonal attractions and events that make the holidays feel even more special. There are ice skating rinks, music performances, and lots of lights to see. Christmas in Philly is not to be missed.
Every year, we love making the rounds to the city's top attractions. For some of the events, advanced ticketing is recommended (and sometimes required) for popular times. Make sure to check the websites before you head out and look for any updates on social media.
Read on to see some of the top things to do in greater Philadelphia during the Christmas season.
Shop and ice skate at Dilworth Park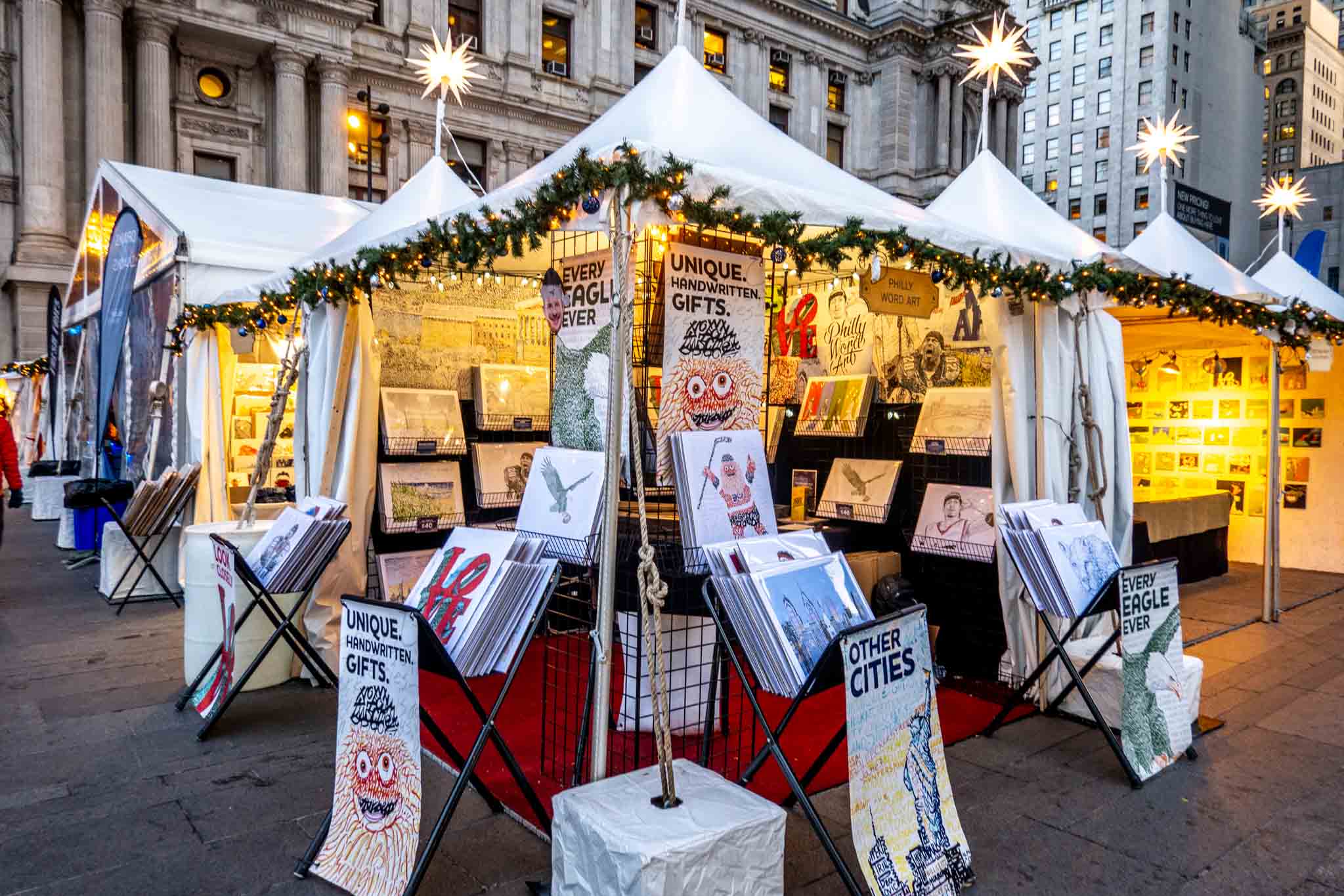 Dilworth Park alongside City Hall is a hub of activity in the winter.
To complement the nearby Christmas Village, you'll find the Made in Philadelphia Holiday Market here. The vendors are from the metro area and often feature gifts and unique offerings with Philadelphia-area themes. From sea glass from the Jersey Shore to homages to Gritty and Jalen Hurts, there are a lot of fun things to see.
Beyond shopping, the ice-skating rink is lots of fun. It's open 7 days a week for 90-minute skating sessions (reservations recommended), and plenty of skaters are beginners. The nearby Wintergarden on the Greenfield Lawn has space to spread out and ample chances for photo ops with rustic topiary characters. To warm up, head to the Rothman Orthopaedic Cabin for seasonal cocktails and food items.
The market runs November 10, 2023 through January 1, 2024, and the other activities are on through February 25.
See the Macy's Christmas Light Show
The Macy's Christmas Light Show has been a tradition in Center City since 1956. Spanning four stories, the massive display dominates the store's Grand Court.
Nutcrackers, snowmen, and more holiday characters dance to the sounds of Deck the Halls and other favorite Christmas carols. With over 100,000 multicolored LED lights, the light show is something to behold. The Wanamaker organ—the largest pipe organ in the world—provides the soundtrack multiple times a day. No matter how many times we see it, it never gets old.
Shows run November 24 through December 31, 2023. While you're there, check out the store's animated window scenes.
Visit the Dickens Village
There is a certain charm to the relatively low-tech version of A Christmas Carol at Dickens Village. Each year on the third floor of Macy's, vintage animatronic characters enact the story of redemption and Christmas spirit.
Dates for the village are November 24 – December 31, 2023. Reservations are required.
Browse and eat at the Christmas Village
It's not Christmas in Philadelphia without a visit to Christmas Village at LOVE Park.
The traditional German Christmas market features nutcrackers, traditional ornaments, and other German-inspired elements and foods. Between the lights, music, and tastes of the market, it's a great place to enjoy an afternoon or evening. The raclette–decadent melted cheese on bread with different toppings–always draws a crowd, and the bratwurst, mulled wine, and hot chocolate are predictably popular.
There are lots of special events throughout the market's run, including spirit tastings, German cultural events, and weekday storytime for kids, so check the calendar to see what's on. Weeknights tend to be less busy than weekends for those wanting a more manageable crowd.
The market is on November 18 through December 24, 2023.
Try a treat at Shane Confectionery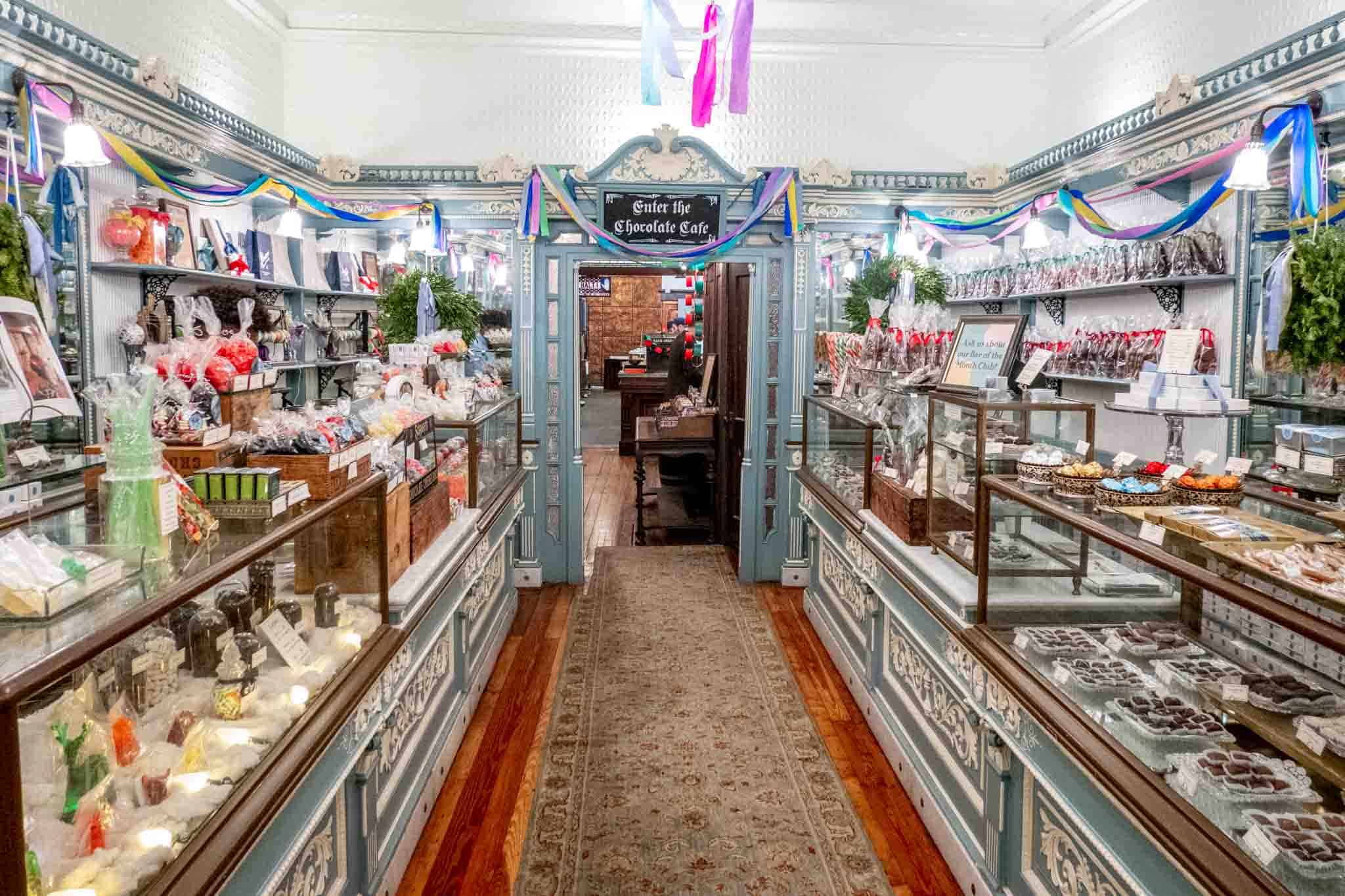 America's oldest candy shop is a great place to go at Christmas. Shane Confectionery's drinking chocolates are a must try, and they have lots of seasonal treats.
A particular standout during the holidays reinforces Shane's commitment to tradition in the form of a Pennsylvania Dutch Christmas gift known as Clear Toy Candy. The colorful sugar candies range from miniature to upwards of 6 inches in size. You'll find everything from reindeer to Santas and wreaths. Stars of David are also available.
Skate at Blue Cross RiverRink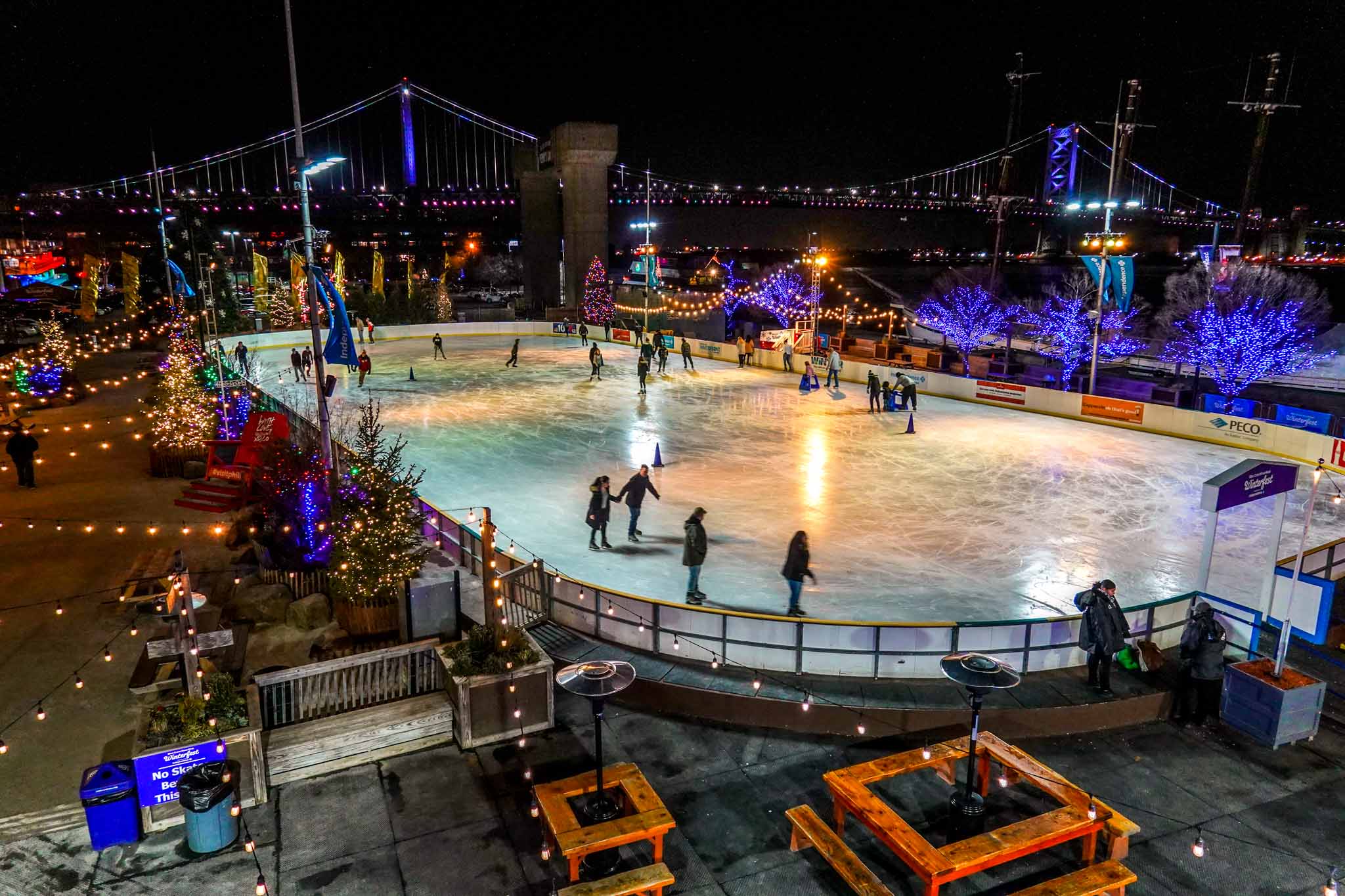 There are a variety of wintery activities at Independence Blue Cross RiverRink's Winterfest. The ice-skating rink is a main draw and one of the best places to skate in the city. Skaters of all ages and abilities take to the rink overlooking the Delaware River for some outdoor fun in the cooler temperatures.
If you don't feel like lacing up your skates, warm up by one of the fire pits instead, or get cozy in one of the cabins strewn with lights (reservations are available online). There are also carnival games, amusements, and a Ferris wheel to keep everyone entertained. In the lodge, you'll find plenty of snacks and warm drinks for purchase.
Winterfest opens for the season on November 24 and typically continues through February. Entrance is free, but tickets are required for skating.
See the lights at Franklin Square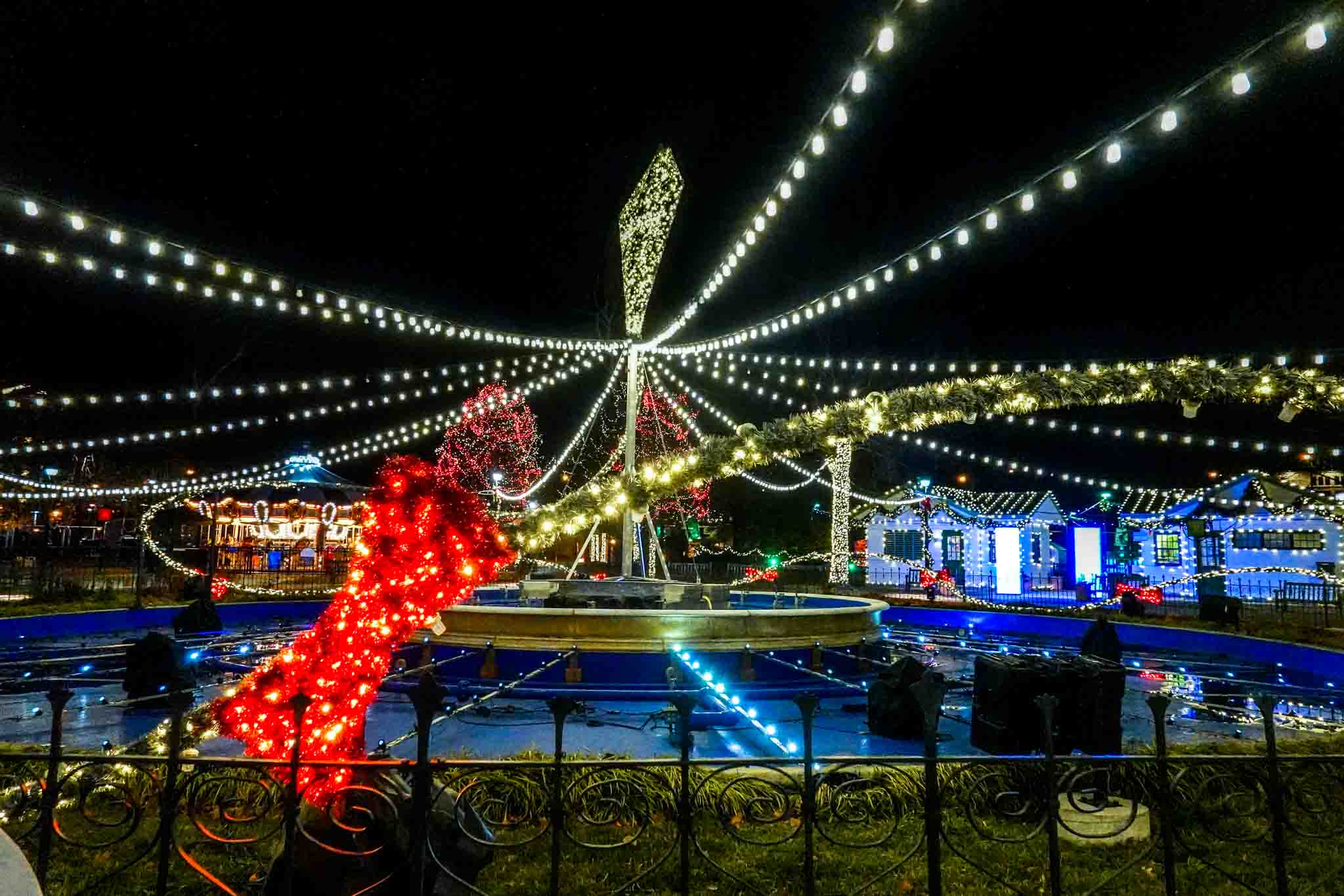 Several different attractions bring visitors back to Franklin Square year after year.
The highlight of the season is the Electrical Spectacle Holiday Light Show. Multiple times each night, more than 100,000 lights dance across the square in time to the music. It's one of the best free things to see in the city during the holidays.
Kids will love the carousel rides, and Chilly Philly Mini Golf is appropriate for all ages with a course that includes holiday music and reproductions of famous Philadelphia landmarks. New this year is the addition of street curling. Groups can try their luck at the popular winter sport on two iceless curling rinks. After you're done playing, get a warm drink or snack at Ben on the Rocks in the heated tent.
Activities are available nightly from November 16, 2023 through February 25, 2024.
Enjoy the Holiday Garden Railway at Morris Arboretum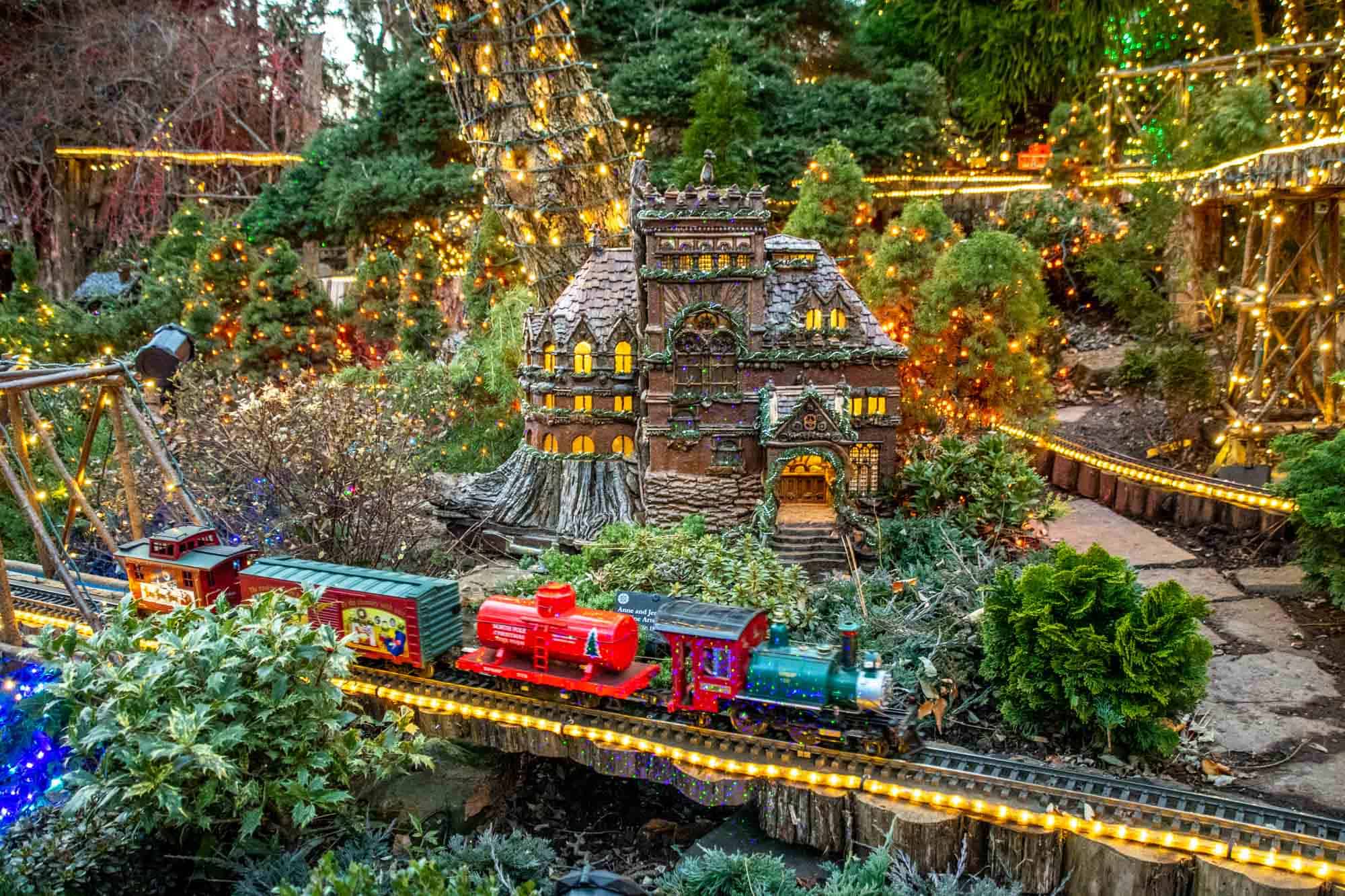 Morris Arboretum is lovely in any season. But, during the holidays, it is even more enchanting thanks to the addition of its Holiday Garden Railway. For one-quarter mile, the train winds its way along a track through the winter garden passing through tunnels and over bridges. Along the way, it snakes by miniature buildings and town scenes lit with twinkling lights for Christmas.
The railway is free with admission during the day from November 24 though December 30, 2023. Thursday through Sunday evenings are special events when the railway is lit with holiday lights, and there are laser lights in the trees. Evening reservations typically sell out well in advance, so plan ahead if you want to enjoy the experience.
Stroll through Miracle on South 13th Street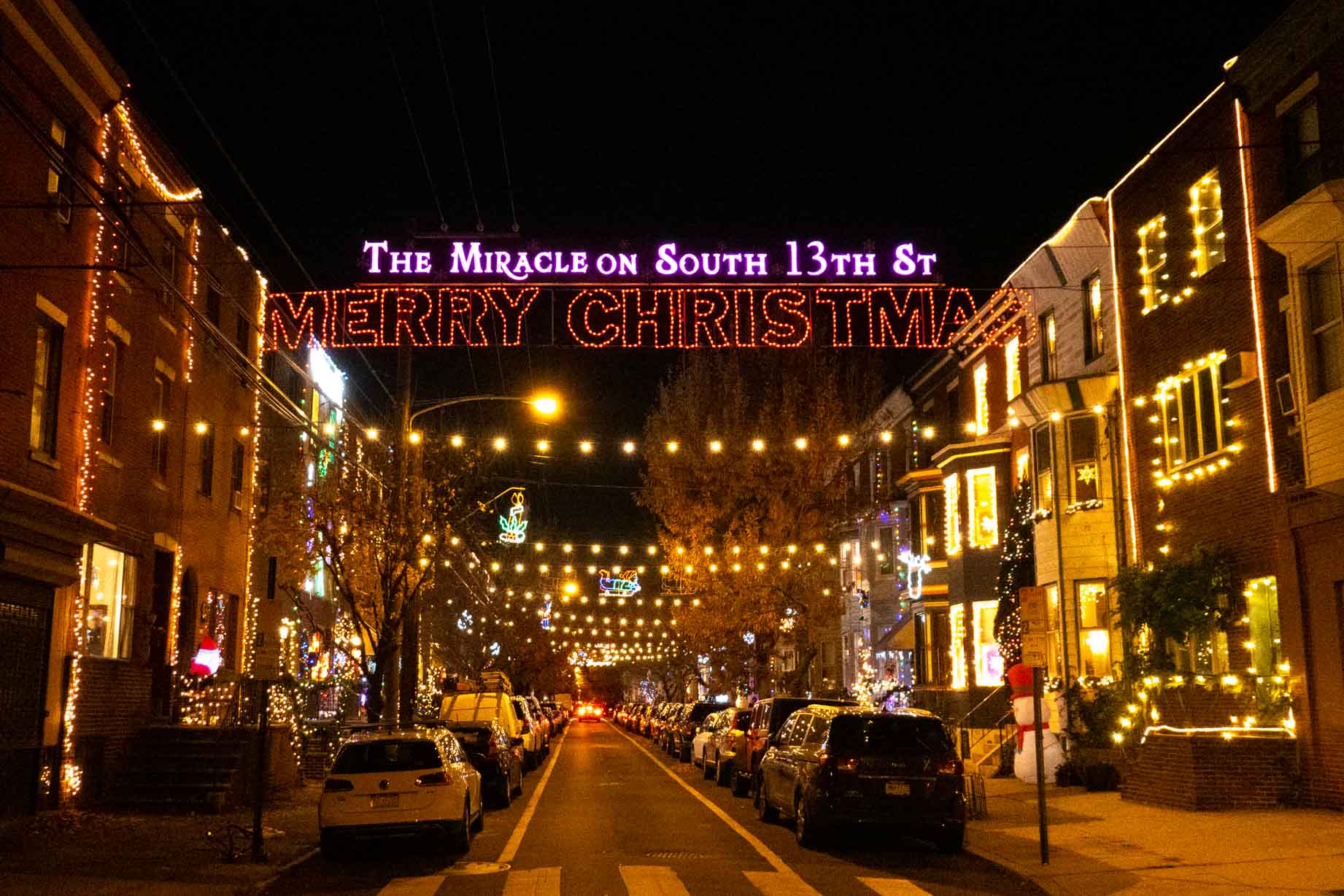 Miracle on South 13th Street is, hands down, one of my favorite things about Christmas in Philadelphia. For years, this group of neighbors has coordinated to bring the joy of Christmas to those who need it and the thousands of people who visit every season.
Most of the houses pour all their creativity into their decorations from displays honoring Philly legends and Mickey Mouse to more traditional Christmas imagery. The result is a little bit like Christmas threw up on the street—but only in the very best of ways. You just have to take a stroll or a drive through and see it for yourself.
Our favorite way to see the display is by walking both sides of the block. It's best to come by public transportation if you can, or leave yourself a lot of extra time because parking in South Philly is often challenging.
Catch a holiday performance
Favorite Christmas performances are happening in Philadelphia this winter.
George Balanchine's The Nutcracker has been a fixture of the holidays in Philadelphia for years. The story of Marie's fantastic adventures with Sugar Plum Fairies and more told through ballet runs December 8-30, 2023 at Philadelphia Ballet. Tickets for opening night start at just $10.
The Philadelphia Orchestra also has a season full of music to enjoy with shows at the Kimmel Cultural Campus. You can watch The Nightmare Before Christmas or the Christmas classic Elf as the Orchestra plays the full score along with the film. There are also two performances of Handel's Messiah, a seasonal favorite, and The Glorious Sound of Christmas.
From December 26-31, the Miller Theater hosts Cirque Dreams Holidaze, a family-friendly show that combines circus acts, jugglers, and acrobatics with a Broadway-style production. It is full of stunts, music, and artistry.
Check out the Christmas pop-up bars
The holiday season is always full of fun pop-ups to keep things merry.
Tinsel returns in Midtown Village with lots of lights, cocktails served in ornaments and snow globes, and Christmas cookies. A few blocks away, Craftsman Row Saloon is covered in Christmas decorations. They offer a festive holiday cocktail menu, over-the-top milkshakes like the "All I Want for Christmas" shake, and the Christmas dinner burger.
Taqueria Amor in Manayunk always has something fun up its sleeve for the holidays, too. During its Grinch-themed pop-up, you can still get the delicious Mexican food the restaurant is known for, and you can try their Grinchy cocktails, too. If you play your cards right, you may run into the green man himself.
Go to Stag & Doe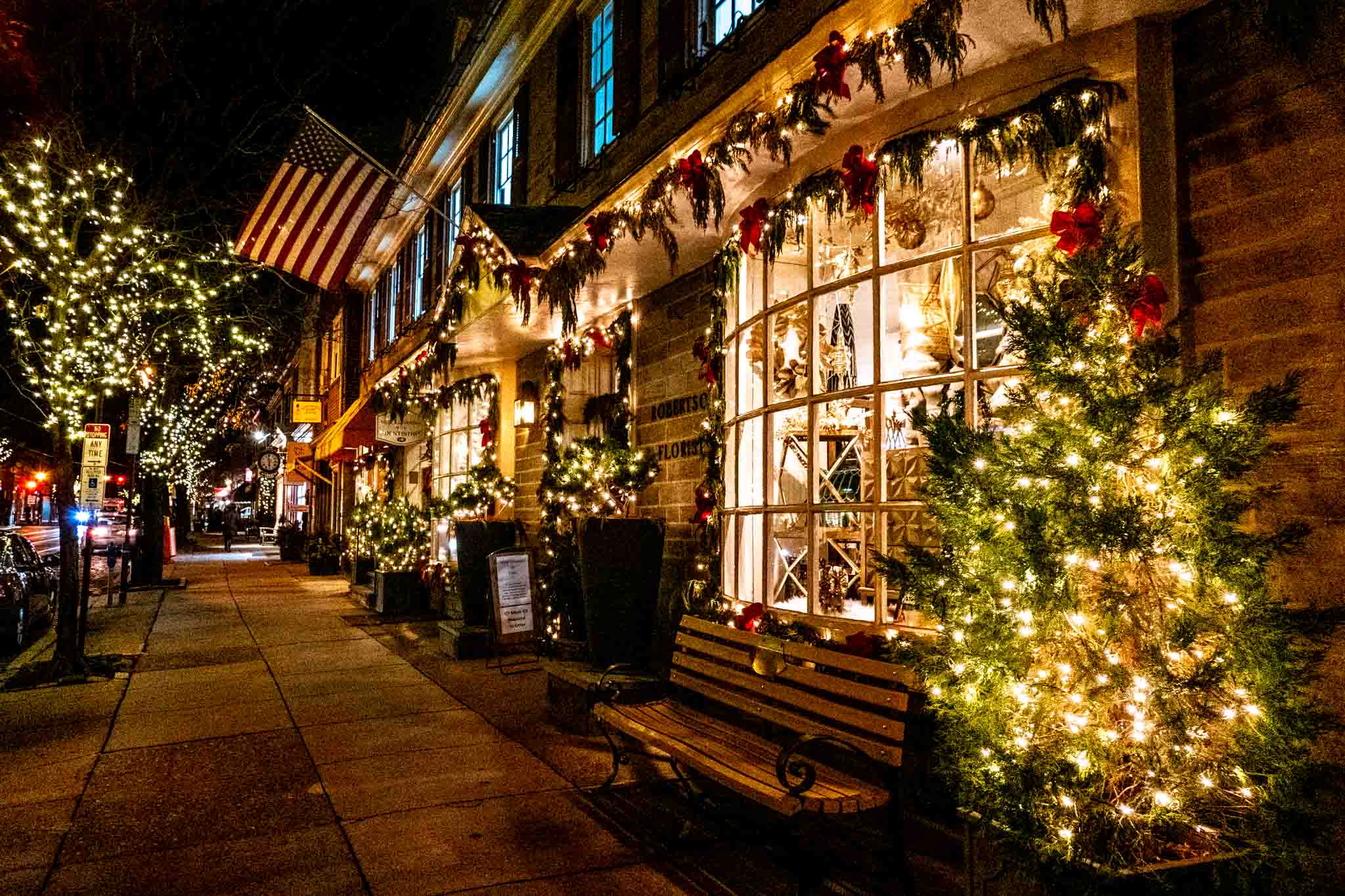 Stag & Doe is a long-standing tradition in Chestnut Hill running from November 18 through December 31, 2023. Events begin on November 18 with the arrival of Santa via firetruck to turn on the lights at Woodmere Art Museum. Then on November 25 (Small Business Saturday), you'll find special promotions among the stores as well as visits by mummers and Santa.
The last Wednesday in November and each Wednesday in December before Christmas, stores in Chestnut Hill stay open late to allow for more shopping. There are also special events throughout the neighborhood, including brass quartet performances and appearances by Santa who will be strolling Germantown Avenue.
Get festive at Tinseltown Holiday Spectacular
During the holidays, giant light-covered sculptures dot the grounds of FDR Park in South Philly as part of the Tinseltown Holiday Spectacular. From reindeer to ornaments and even Gritty, there is no shortage of interesting things to see here. Altogether, there are more than 1 million lights.
In addition to the lights, visitors will find an ice trail, an ice slide, a seasonal pub, photos with Santa, and more. The Spectacular is on November 17, 2023 through New Year's Day.
Walk under the lights at LumiNature
The Philadelphia Zoo's nighttime exhibit LumiNature combines larger-than-life illuminated animals with light shows and projections to create a dazzling environment that's fun for the whole family. From giant jellyfish in an underwater seascape to a Christmas tree made entirely of bright flamingos, 14 different zones around the property are packed with things to see.
Live performers and lots of food and warm beverages help make it a fun winter experience. Don't miss the make-your-own S'mores kits by the fire pits.
LumiNature is on November 17, 2023 through January 6, 2024.
Enjoy the season at Peddler's Village
Peddler's Village is the perfect destination in Bucks County at Christmastime. It's a given that the village is a great place for shopping with more than 60 stores and boutiques—many of which are specially decorated for the season. But what we love most are the features that can only be found at the holidays.
Visitors can see the entrants in this year's gingerbread competition. These are no basic gingerbread houses. Instead, you'll find boats, mansions, advent calendars, and even movie sets expertly produced in miniature, edible style.
Outside, 1 million lights illuminate the trees and buildings of Peddler's Village beginning November 17. Across the shopping center, there are special displays for the season, including Christmas trees, a light tunnel, and more.
Explore Wild Lights at Elmwood Park Zoo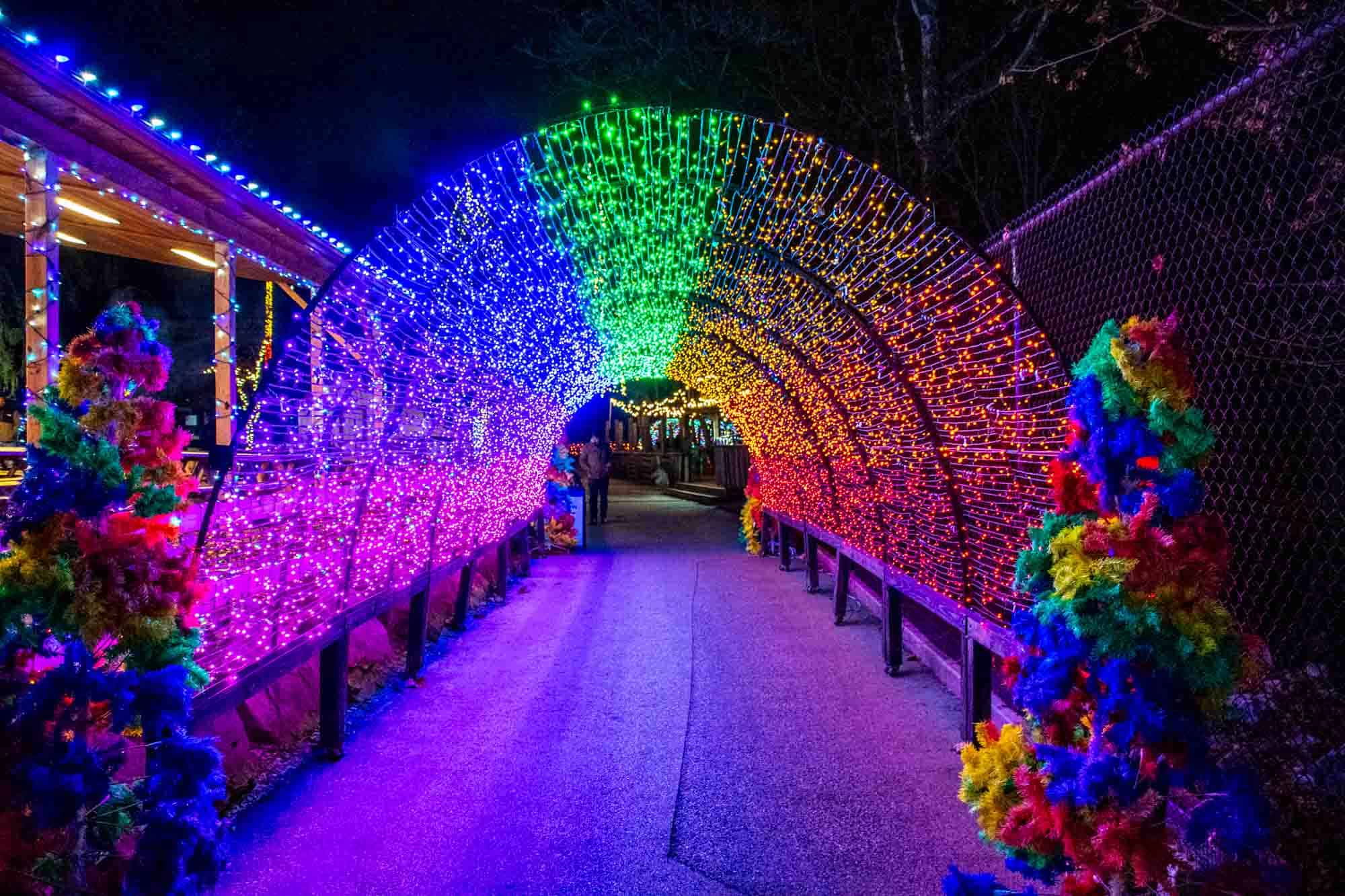 When the sun goes down, the lights come on at Elmwood Park Zoo in Norristown. The family-oriented display–Wild Lights–includes over one million lights around the property. Animal sculptures, light tunnels, and decorated trees ensure a colorful visit as you explore the zoo's attractions.
Depending on the night, Wild Nights includes live music and entertainment for the littlest visitors. There are also character meet-and-greets with Anna and Elsa from Frozen, carousel rides, and a mini-train that takes kids around.
Another fun feature is that you may get to see some of the animals in their habitats, depending on weather. During our visit, we saw alpacas, porcupines, several birds (including an eagle!), and bats, which added to the overall experience. The lights are on select nights from November 17 through December 30, 2023. Save on tickets by booking in advance online.
See the lights at Shady Brook Farm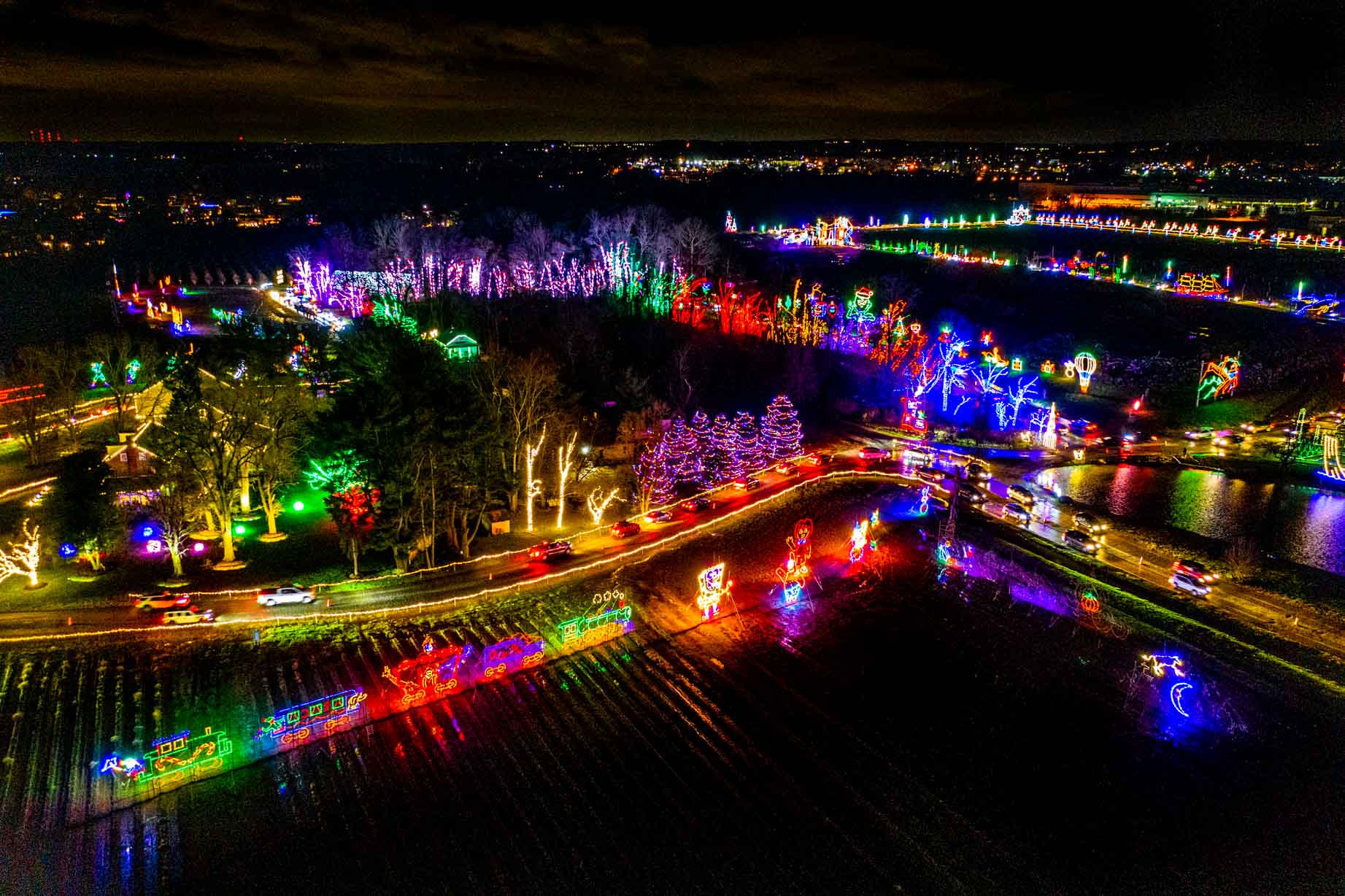 The 100-year-old Shady Brook Farm has, undoubtedly, one of the top Christmas light displays in the Philadelphia area. The 3 million lights in its drive-thru Holiday Light Show include everything from dancing reindeer and Santa's workshop to The Grinch. Plan ahead and tune your radio to 90.7FM to enjoy carols and holiday standards along with the lights.
Visitors can drive their own vehicle or take a wagon ride to see the light trail. Visits with Santa, s'mores kits, snacks, and warm drinks (both alcoholic and non) are also available, and you can pick up a Christmas tree while you're there. The light trail opens November 18.
Explore the grounds of Longwood Gardens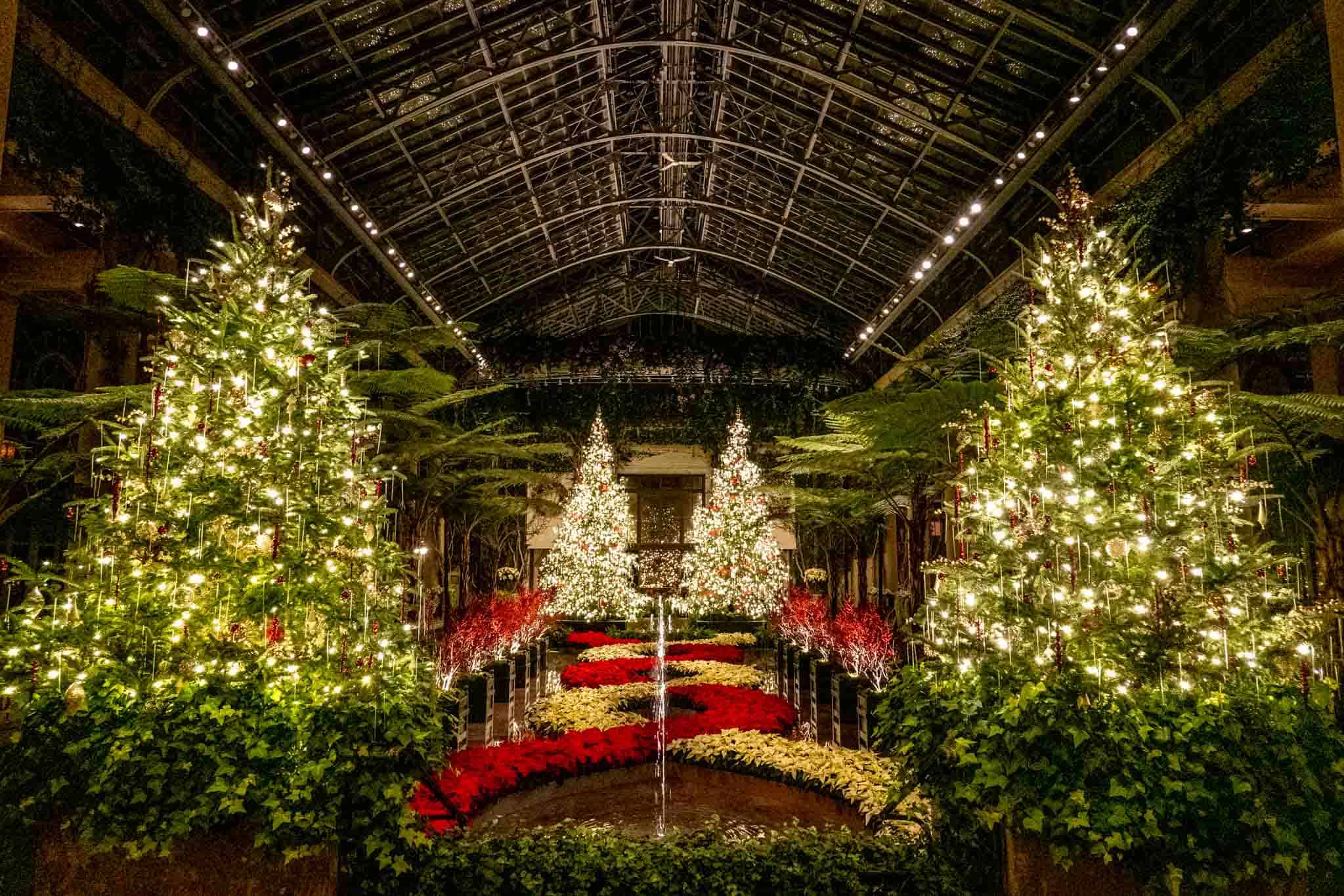 The holidays are one of the most popular times to visit Longwood Gardens. The grounds of this 1000-acre garden come alive with displays, lights, and special offerings for Christmas.
Around the property, more than 500,000 lights illuminate the trees and plants alongside unique light sculptures. Inside the Conservatory, there are dozens of Christmas trees decked out for the season—many in unexpected ways. The sculptures and designs are truly spectacular, and we make it a point to go every year.
Other highlights include fire pits, holiday treats, and a visit to the Peirce-du Pont house that dates from 1730. Don't miss the fountain show where the water and lights move in time with Christmas music. See the displays from November 17, 2023 through January 7, 2024.
Watch Washington cross the Delaware
Every December, hundreds of reenactors and thousands of spectators gather to commemorate General George Washington and his troops crossing the Delaware River on Christmas Day 1776. The troops—in full Revolutionary-era dress—row massive boats across the quick moving river from Pennsylvania to New Jersey, leaving from a spot at Washington Crossing Historic Park.
There are two crossings, if weather the permits. The first crossing reenactment is December 10, and the second occurs on Christmas Day. The first crossing also features additional programming with re-enactors, including various demonstrations and presentations.
Experience holiday magic at Brandywine Museum of Art
The Brandywine River Museum of Art features an attraction that has been a holiday staple since 1972—the Brandywine Railroad. Visitors can see the famous O-gauge model train wind its way through miniature scenes like a drive-in movie theater and a welcoming village. Interactive elements let you control a bit of the action.
The museum's cute Critter ornaments, which are handmade by its volunteers, decorate the trees in the three-story atrium. Take one home during the annual Holiday Critter Sale or order select options online. The train runs November 18, 2023 – January 7, 2024.