Some posts on this site contain affiliate links, meaning if you book or buy something through one of these links, we may earn a small commission (at no extra cost to you).
The change of seasons brings lots of fun winter activities and festivals to Philadelphia. Light shows dazzle visitors well beyond the holidays, ice-skating rinks pop up around the city, and special events celebrate the colder temperatures. It's also a great chance to indulge in winter treats like hot chocolate and activities like sledding.
There are lots of fun things to do in Philadelphia in winter. Here's a look at some of our favorites in the city and beyond.
Experience Winter at Dilworth Park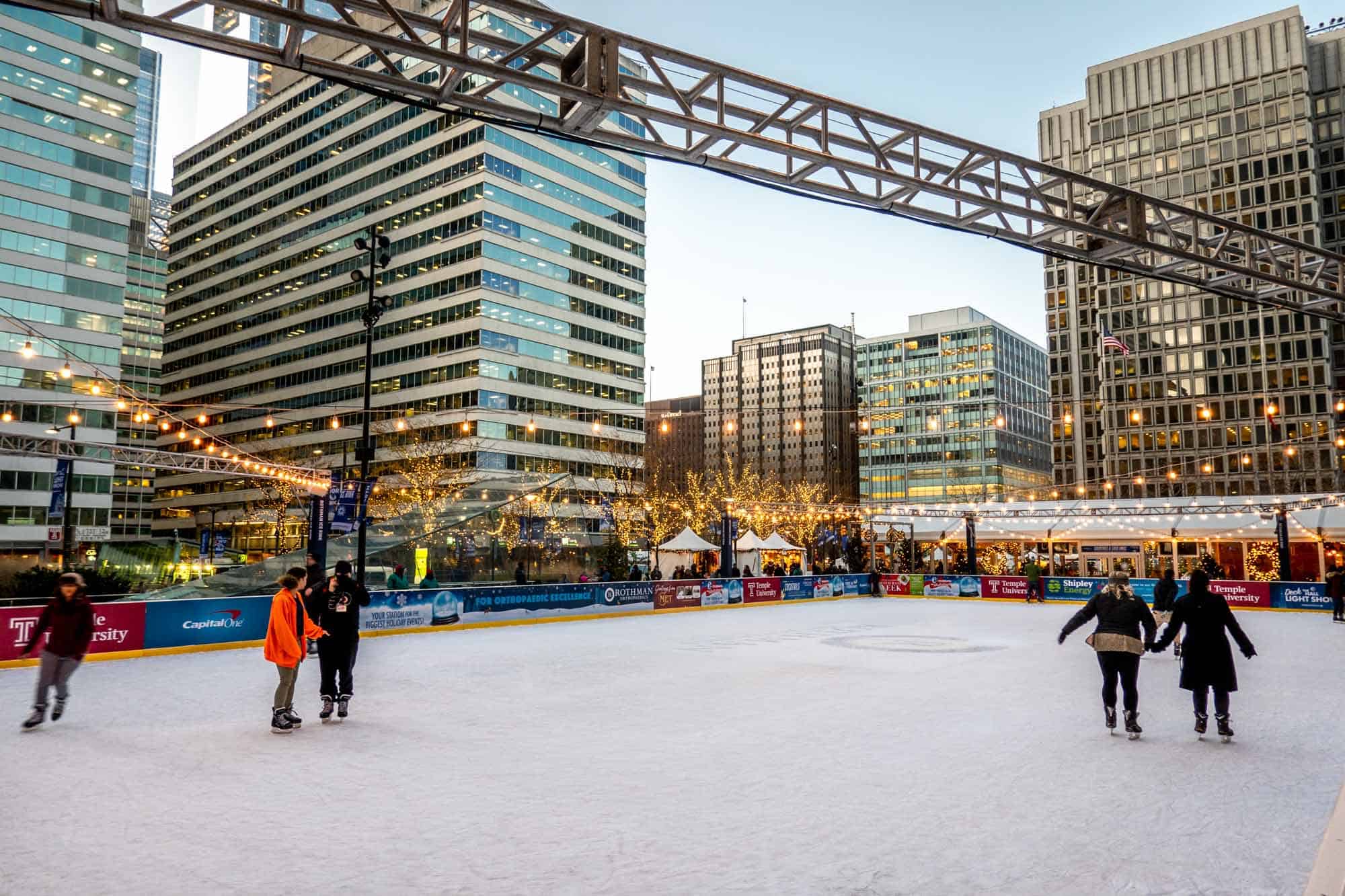 The fun at Dilworth Park continues well into the New Year. Rothman Orthopaedics Ice Rink offers 90-minute sessions, and the nearby Rothman Orthopaedics Cabin serves seasonal cocktails and food items in an open-air set up through February 26. Just a few steps away, visitors can relax in the arbor- and light-filled Wintergarden all the way through March 26, 2023.
See the light show at Franklin Square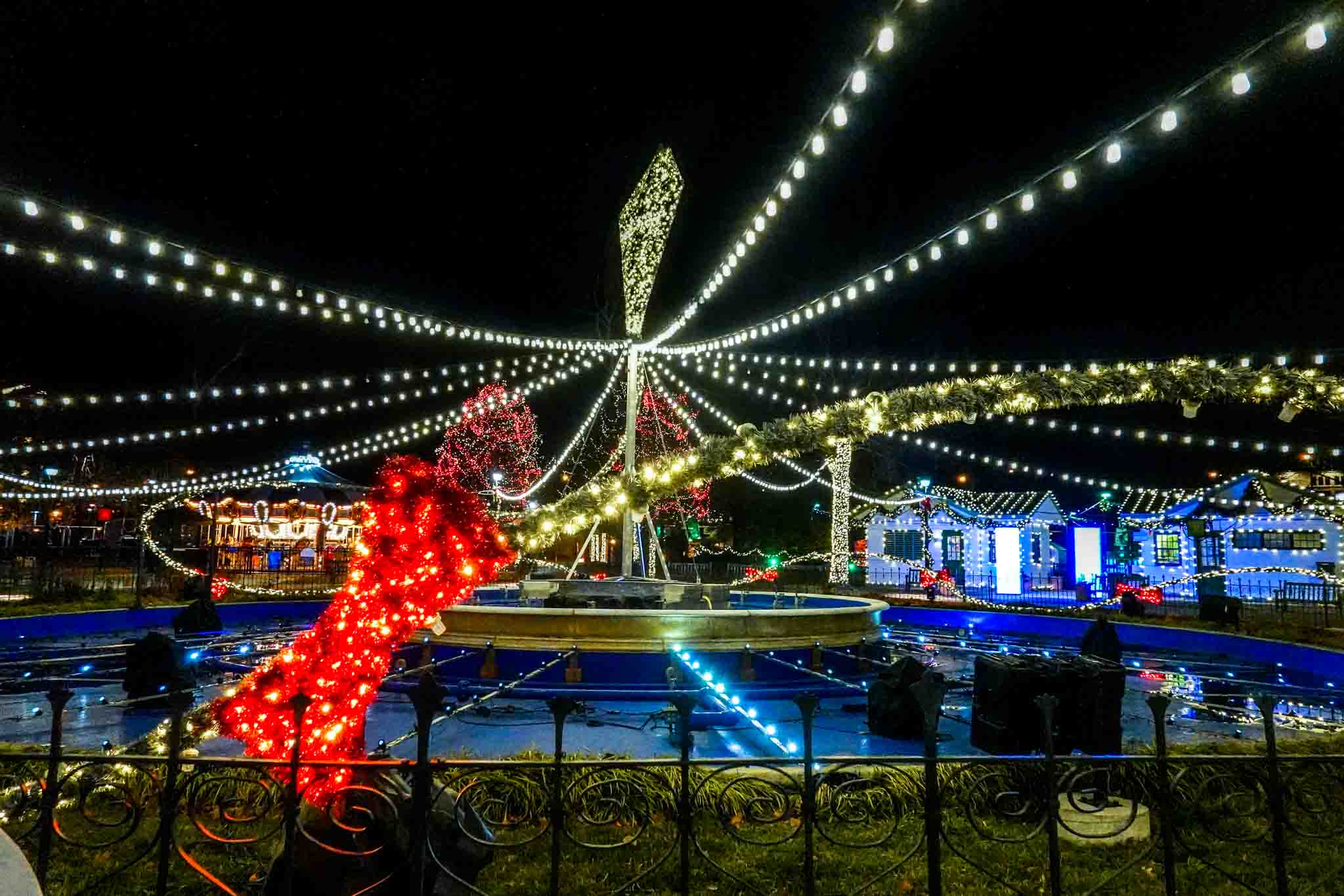 The highlight of winter in Franklin Square is the Electrical Spectacle Holiday Light Show.
Multiple times each night, more than 100,000 lights dance across the square in time to music. In the center of the square, a 12-foot-tall kite lights up in a tribute to the square's namesake Ben Franklin and his famous kite electricity experiment.
The show is one of the best free things to do in the city during the holidays. It runs until February 26, 2023 with reduced evening hours after January 8th.
Walk through Longwood Gardens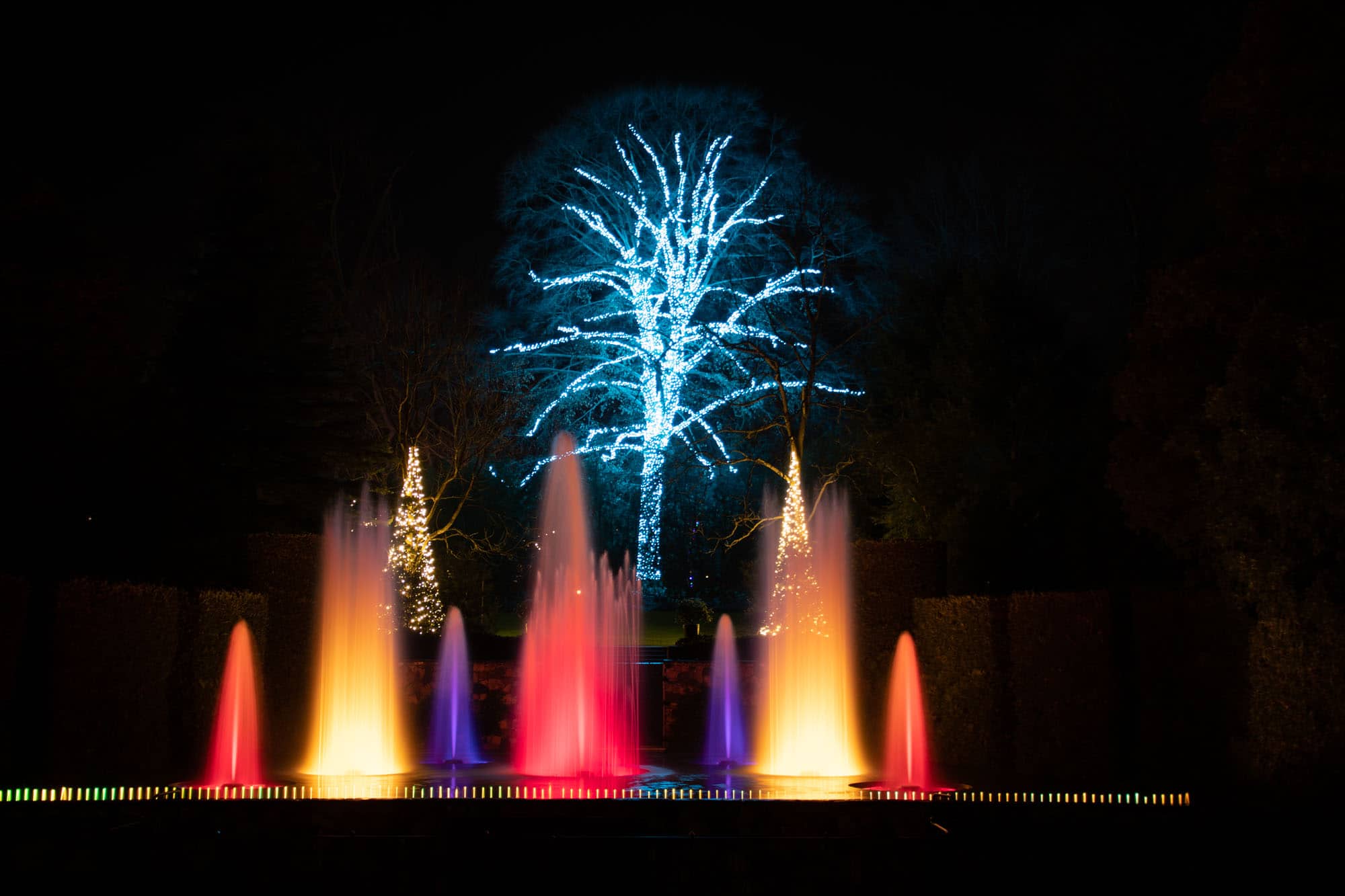 Visiting the winter wonderland that is Longwood at Christmas is one of the most popular things to do near Philadelphia in winter. With over 500,000 lights, regular fountain shows, and even fire pits and live music, the transformation at these beautiful gardens is incredible.
Timed tickets are required to visit for the holiday lights and are available through January 8, 2023. Don't miss the East Conservatory where Christmas trees and other plants almost seem to be made from light. Every year, the horticulturalists incorporate water features and fountains that result in ethereal reflections and pools that make the plants seem to float. It's remarkable.
Enjoy the holidays at Peddler's Village
If you haven't had your fill of holiday cheer, Peddler's Village keeps shining through early January. Across the shopping center, the trees, gazebo, buildings, and special displays are lit with over 1 million lights through January 8, 2023.
In addition to the holiday lights, guests will find the entrants in the gingerbread competition still on display through January 8. Check out the brilliant creations and find your favorite.
Make s'mores at Shady Brook Farm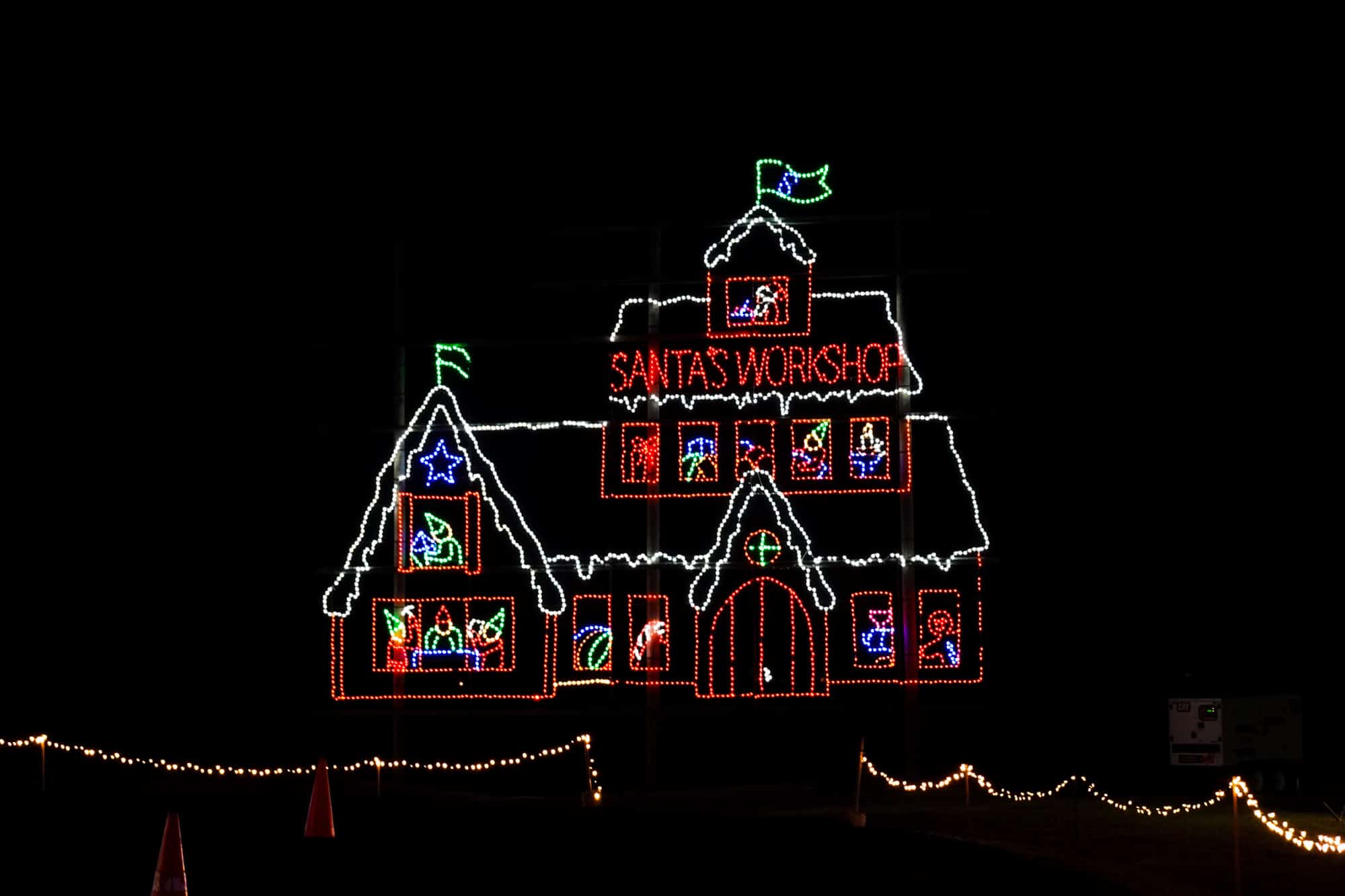 Shady Brook Farm is a Bucks County favorite. Through January 28, 2023, visitors can enjoy its light show packed with 3 million lights. With tunnels and every character imaginable from dancing reindeer to The Grinch depicted in holiday lights, there is a lot to see here. Firepits, s'mores kits, snacks, and adult beverages are also available.
Go skating at Blue Cross RiverRink Winterfest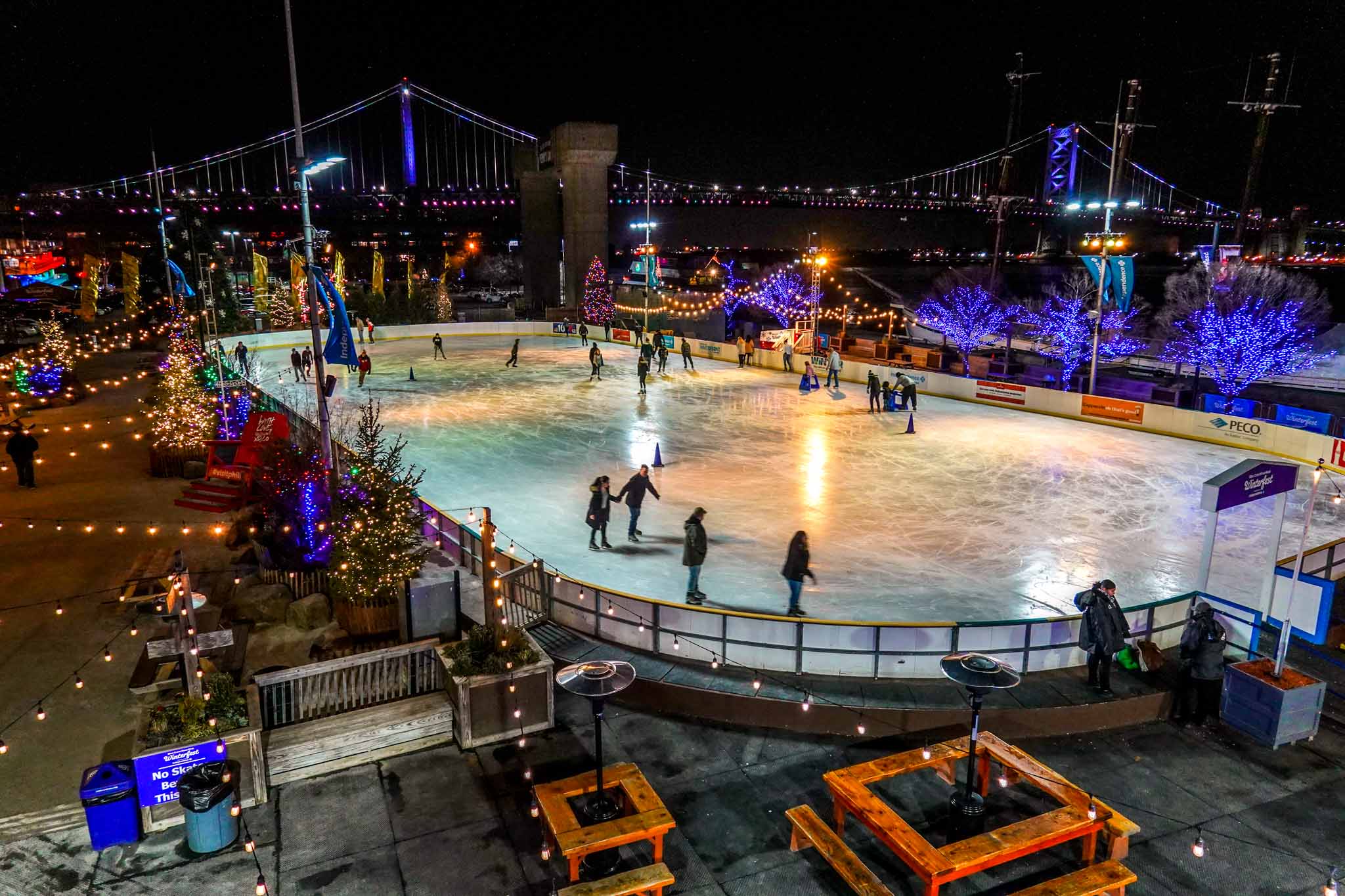 There are lots of wintery activities at Blue Cross RiverRink's Winterfest. The ice-skating rink is one best skating rinks in Philly and is the main draw with its outstanding view of the Benjamin Franklin Bridge. There are also firepits to warm up by, carnival games, and a Ferris wheel to keep everyone entertained. In the open-air lodge, you'll find plenty of snacks and warm drinks for purchase.
Winterfest is on until March 5, 2023, so there is plenty of time to enjoy the events.
See the Crossing Reenactment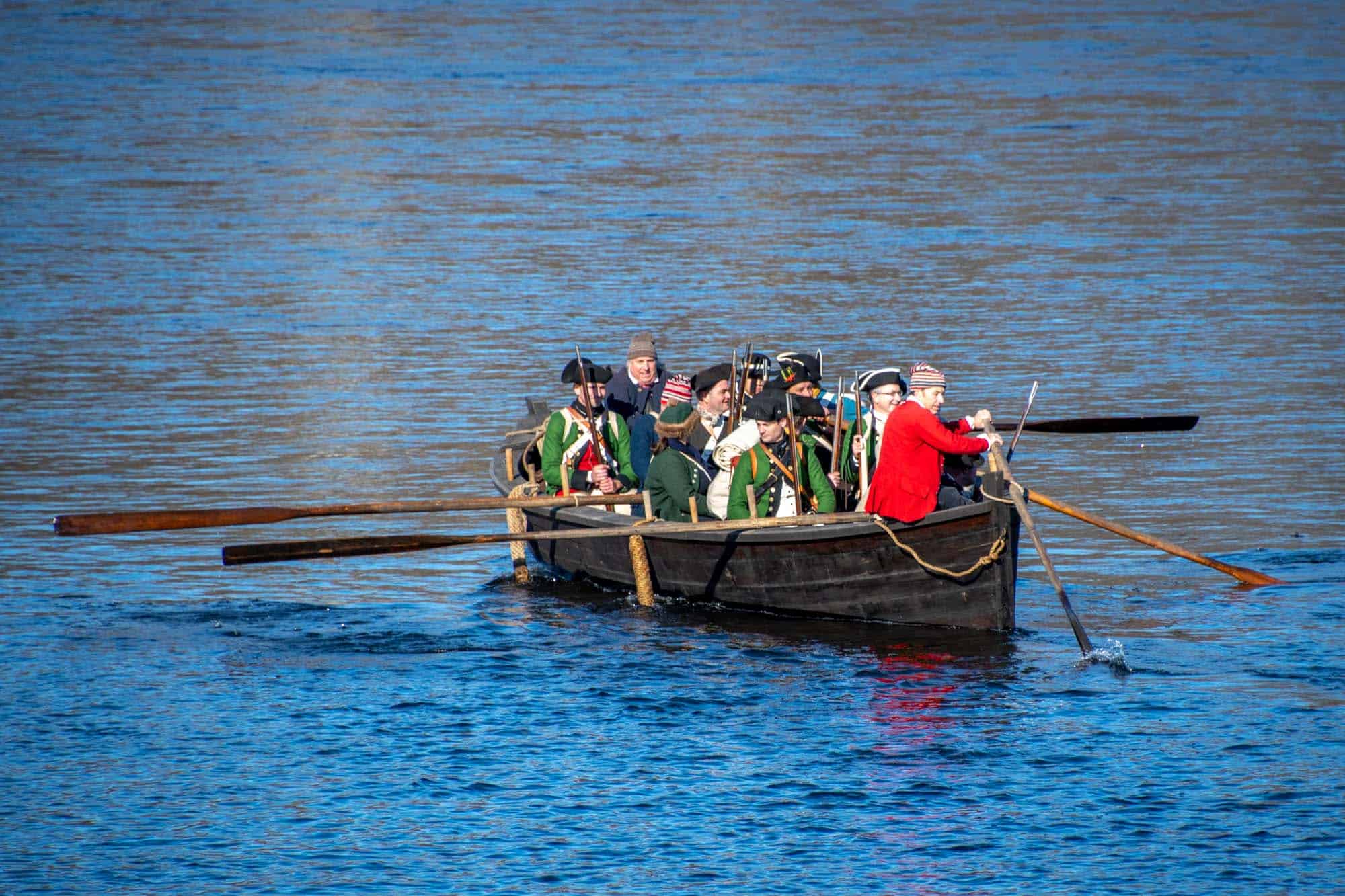 On Christmas Eve 1776, General George Washington and his troops crossed the Delaware River on their way to fight in Trenton. The important victory there helped re-energize the war effort that was already nearly two years old. Since 1953, reenactors have taken to the cold river on Christmas Day to give spectators a glimpse at what the crossing might have looked like right from the spot where it happened at Washington Crossing Historic Park.
Two weeks before the Christmas Day crossing, you can see the rehearsal, which is an event in and of itself. All day, the park hosts colonial-era activities and demonstrations in addition to the narrated Washington Crossing reenactment. This year's first crossing happens December 11, 2022.
Celebrate at the Mummers Parade
The New Year's Day Mummers Parade has been a tradition for 120 years. A little bit comical, a little bit Mardi Gras, and a lotta bit Philadelphia combine in this unique display of music and dance routines.
Each New Year's, more than 10,000 Mummers dressed in sequins, makeup, and fancy costumes march in the parade that goes from City Hall south on Broad Street to Washington Avenue. After the parade, the Fancy Brigades head to the Pennsylvania Convention Center for finale performances. Bleacher tickets for seating at City Hall and for the Fancy Brigades are available online.
Go sledding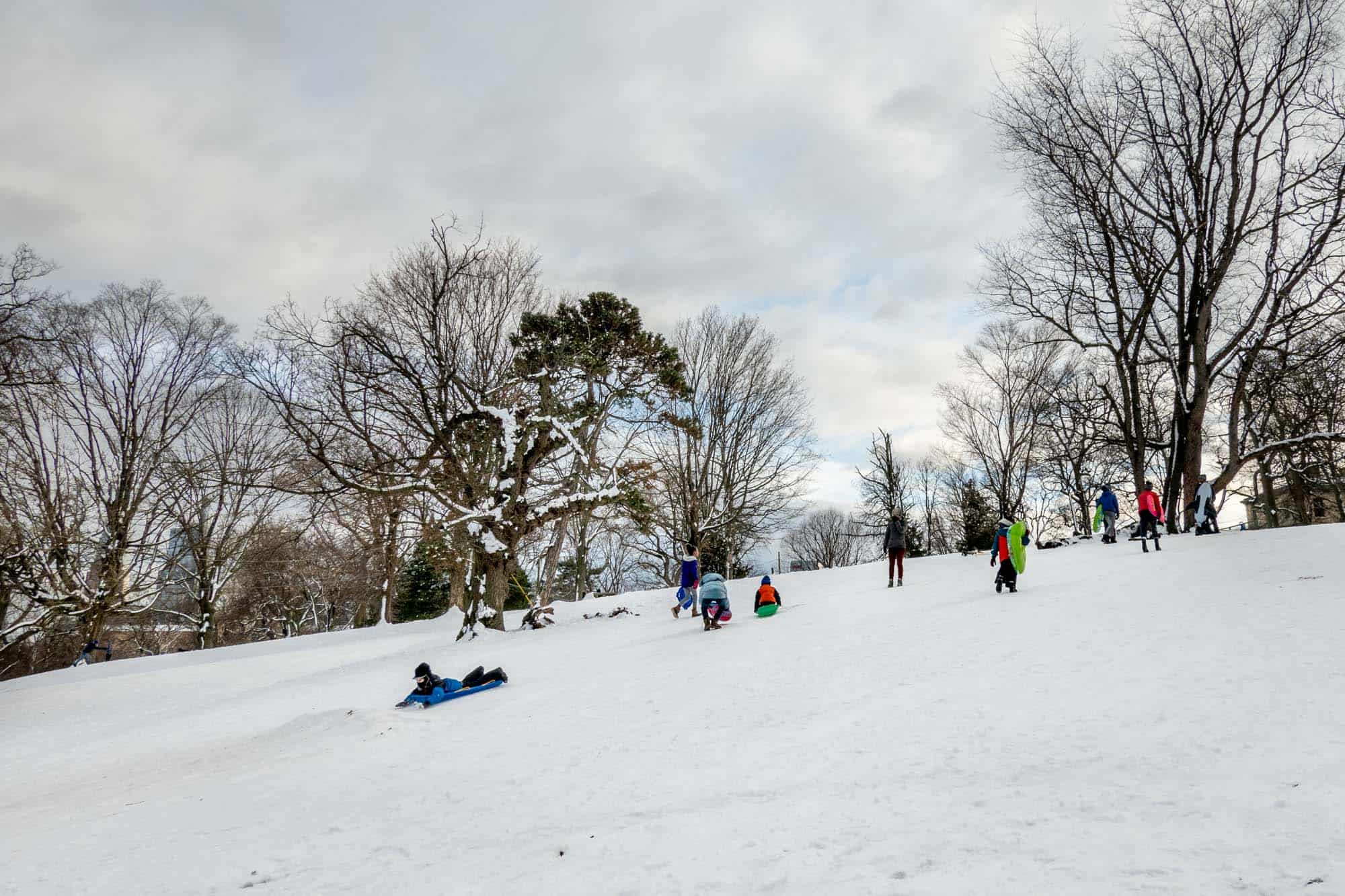 Like most years, this winter in Philadelphia is predicted to be cold, which usually means at least a few snowfalls. Luckily, there are lots of places to go sledding in the city and just a short drive away.
If you're in Philadelphia, the (somewhat bumpy) steps of the Art Museum are always a popular spot, and nearby Lemon Hill offers room to pick up a little speed on its slopes. In the suburbs, there are several different sledding spots at Valley Forge, and locations like the Mercer Museum and Central Park are great options in Bucks County.
Cool off at Chestnut Hill on Ice
Every January, Chestnut Hill comes alive with a festival of ice sculptures, skating, and other winter activities at Chestnut Hill on Ice. January 27 and 28, 2023, visitors will find carvings and live demonstrations from Ice Sculpture Philly plus a synthetic skating rink, live music, and food and drink specials throughout the neighborhood.
Explore the Philly Home and Garden Show
For remodelers, do-it-yourselfers, and dreamers, the Philly Home and Garden Show is always a highlight of Philadelphia in the winter. The marketplace is on this year at the Greater Philadelphia Expo Center February 24-26, 2023.
Get inspired by designs and décor, and check out the hands-on workshops throughout the weekend. Plus, there's a wine garden for when you hit project overload.
Go on a hot chocolate crawl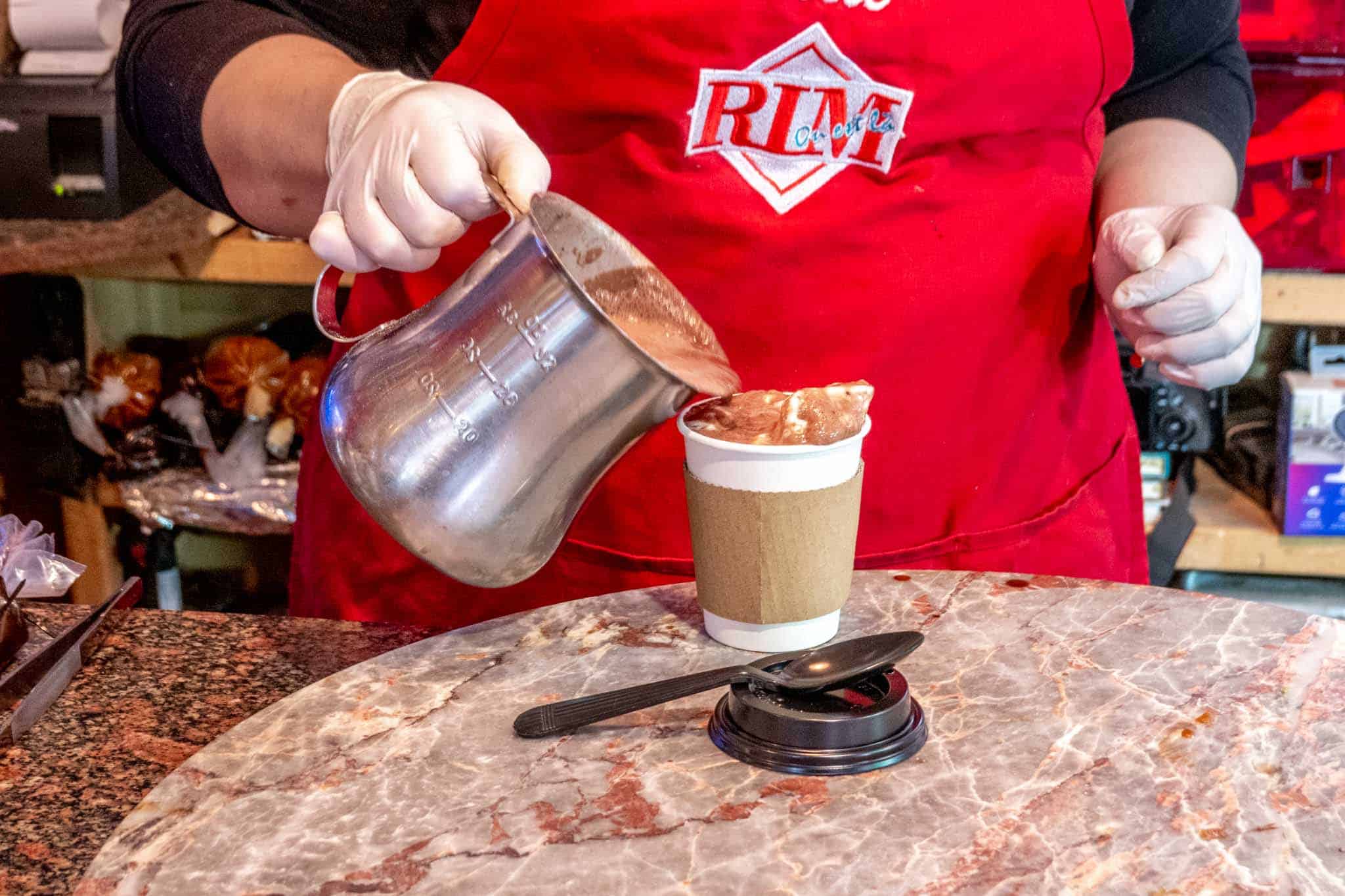 Philly is full of great places to try hot chocolate. Whether you're looking for a cinnamon sprinkle, a flambeed flourish, or thick drinking chocolate, you'll find it here. Check out our recommendations for some of the best hot chocolate in the city.
See the latest at the Philadelphia Auto Show
Car enthusiasts flock to the Philadelphia Auto Show every year. Every major car manufacturer brings their newest and best to display at the expo from January 28-February 5, 2023.
The massive show lets visitors get up close to the innovative technology and updated models. The concept cars and celebrity appearances are always a huge draw, putting Philly at the center of the automotive universe for a week.