Some posts on this site contain affiliate links, meaning if you book or buy something through one of these links, we may earn a small commission (at no extra cost to you).
The Christmas Village in Philadelphia is the highlight of the season in the city. Every year, LOVE Park and the area around City Hall fill with food vendors, merchants selling their creations, rides, lights, and more. The whole experience is a spectacle of fun and festivity.
Designed to feel like an authentic German Christmas market, the Christmas Village is full of things straight from Europe—from the shopping to the food. Visitors will find German decorations for sale, wooden vendor stalls topped with Herrnhut (Moravian) stars, bratwurst, and mulled wine. An evening exploring all that the village has to offer is one of the best ways to enjoy Christmas in Philly.
The village runs from November 19 – December 24, 2022. Here's what to expect from a visit.
Food & Drink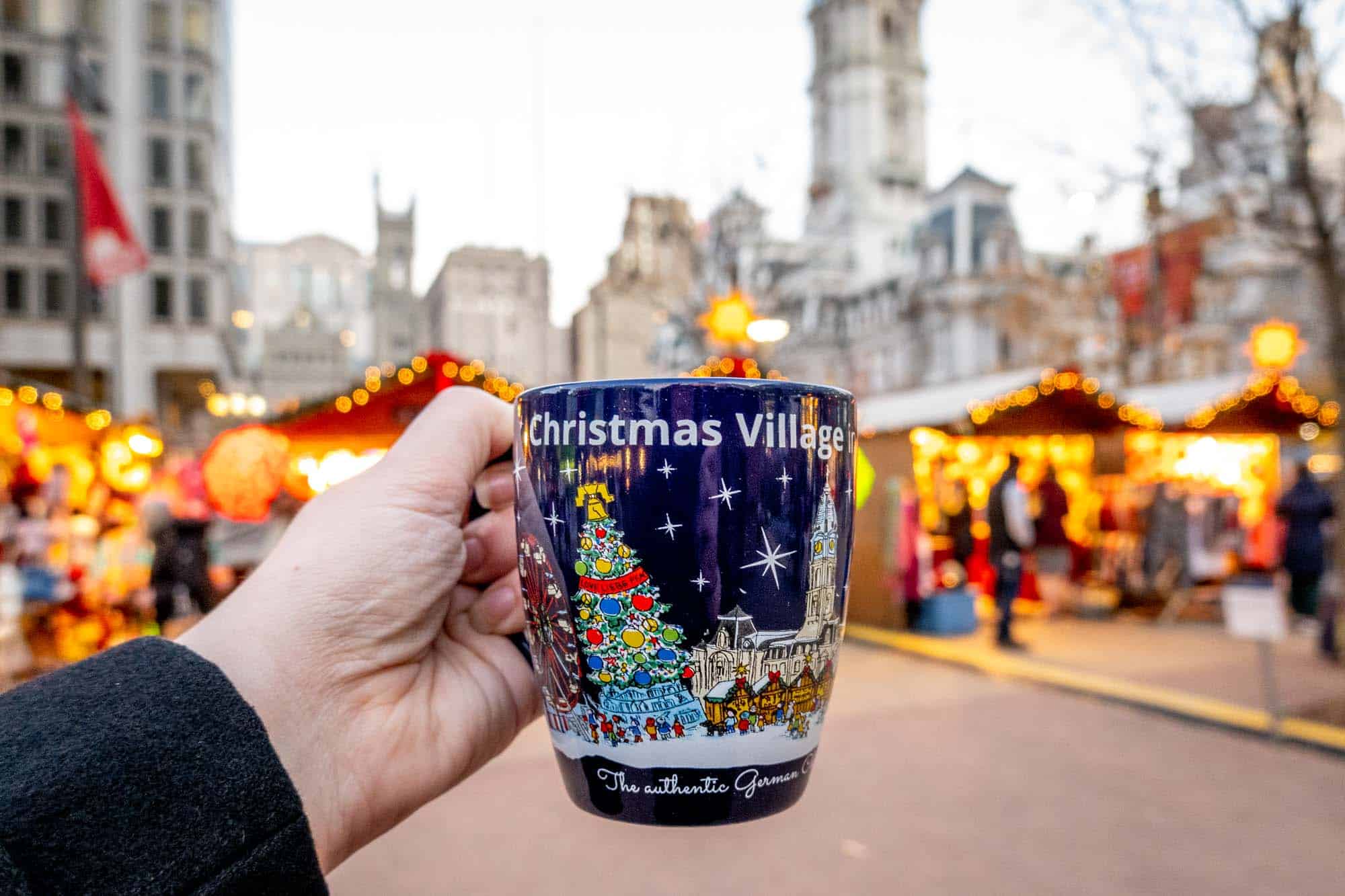 The areas of the Christmas market are packed with food options.
There are snacks like French fries and French toast bites and more substantial dishes like flatbread.
One of the most popular items around the village is raclette—a thick sheet of melted cheese spread over crusty bread. If this sounds like your idea of heaven, plan to wait in line for a little while if you're visiting on the weekend.
Keeping with the German theme, kiosks offer pretzels, spaetzle, and schnitzel, among other treats. Bratwurst and smoked sausage (with or without sauerkraut) are also cooked over an open charcoal grill, just like in the famous markets of Nuremberg and Munich. Everything can be paired with mulled wine from Chaddsford Winery, German beer from Mainstay Independent Brewing, hot chocolate, and other warm drinks.
Shopping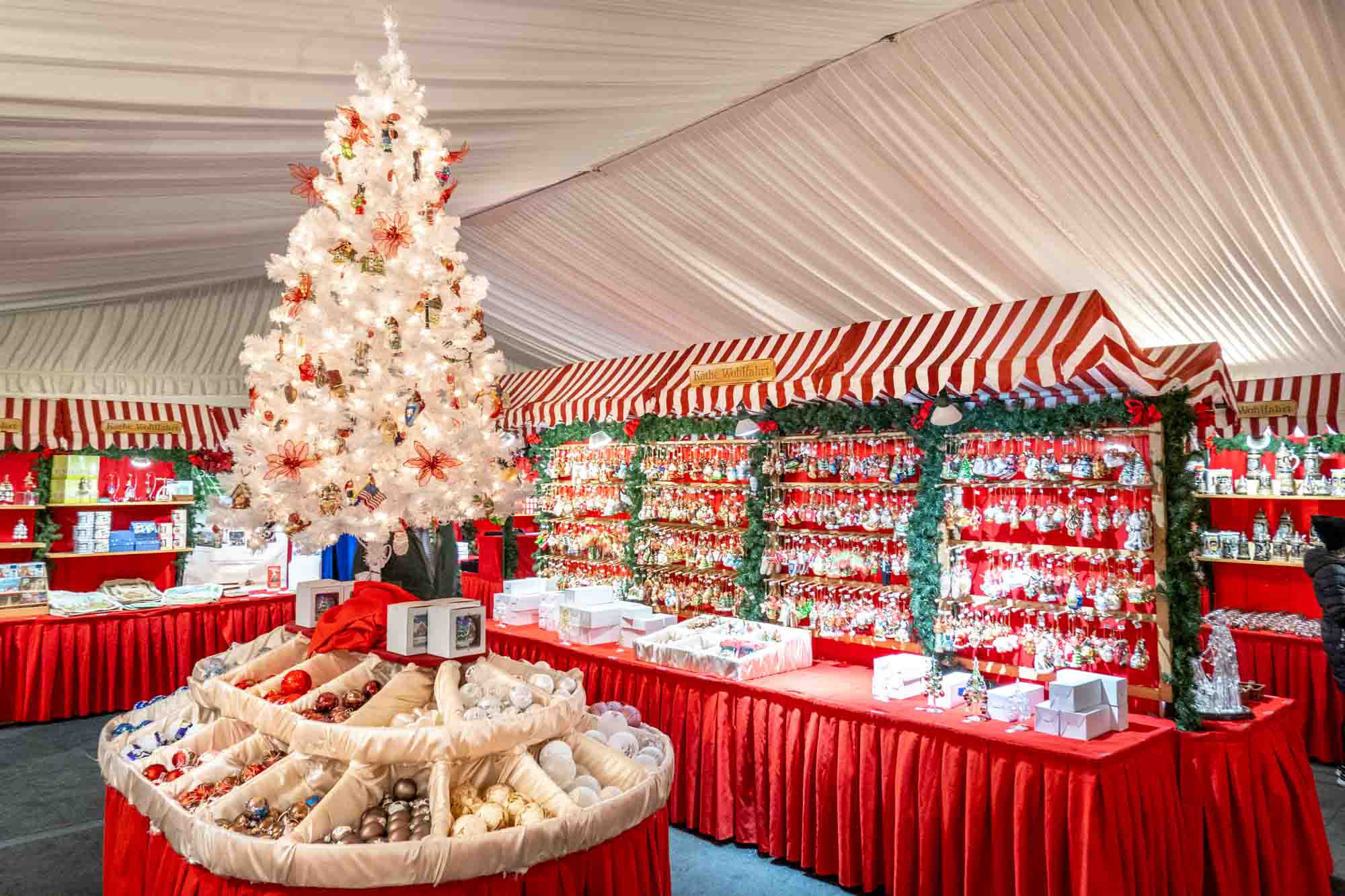 The Christmas Village presents lots of opportunities for shopping. Visitors will find toys, jewelry, candles, and knitted items to keep out the winter cold. There are also lots of decorative items like glassworks, star-shaped lanterns and other unique, artistic pieces.
The largest shopping space at the market belongs to Kathe Wohlfahrt, a German company known for its traditional Nutcrackers, ornaments, and displays. In a large, white tent on the south side of LOVE Park, there are German pyramids, smoker characters, and other items carefully crafted to become family heirlooms. It's one of the most popular stops at the village.
Across from LOVE Park at Dilworth Park, there is even more shopping at the Made in Philadelphia artisan market. Vendors here are from Philadelphia and around the tri-state area. They bring their creations ranging from Philly-themed clothes to items made from Jersey Shore sea glass to photos of city icons and lots of things in between.
Amusement rides
The area around City Hall has several different rides to keep visitors of all ages entertained.
The popular Ferris wheel has returned to the north side of City Hall right by the Christmas tree. For just $5, riders can take a spin and see the Christmas Village and surrounding area from above. Immediately next to it is the kiddie train.
A few steps away in the courtyard, the double-decker carousel returns for the second year. It is surrounded by several different food stands and holiday vendors.
Special events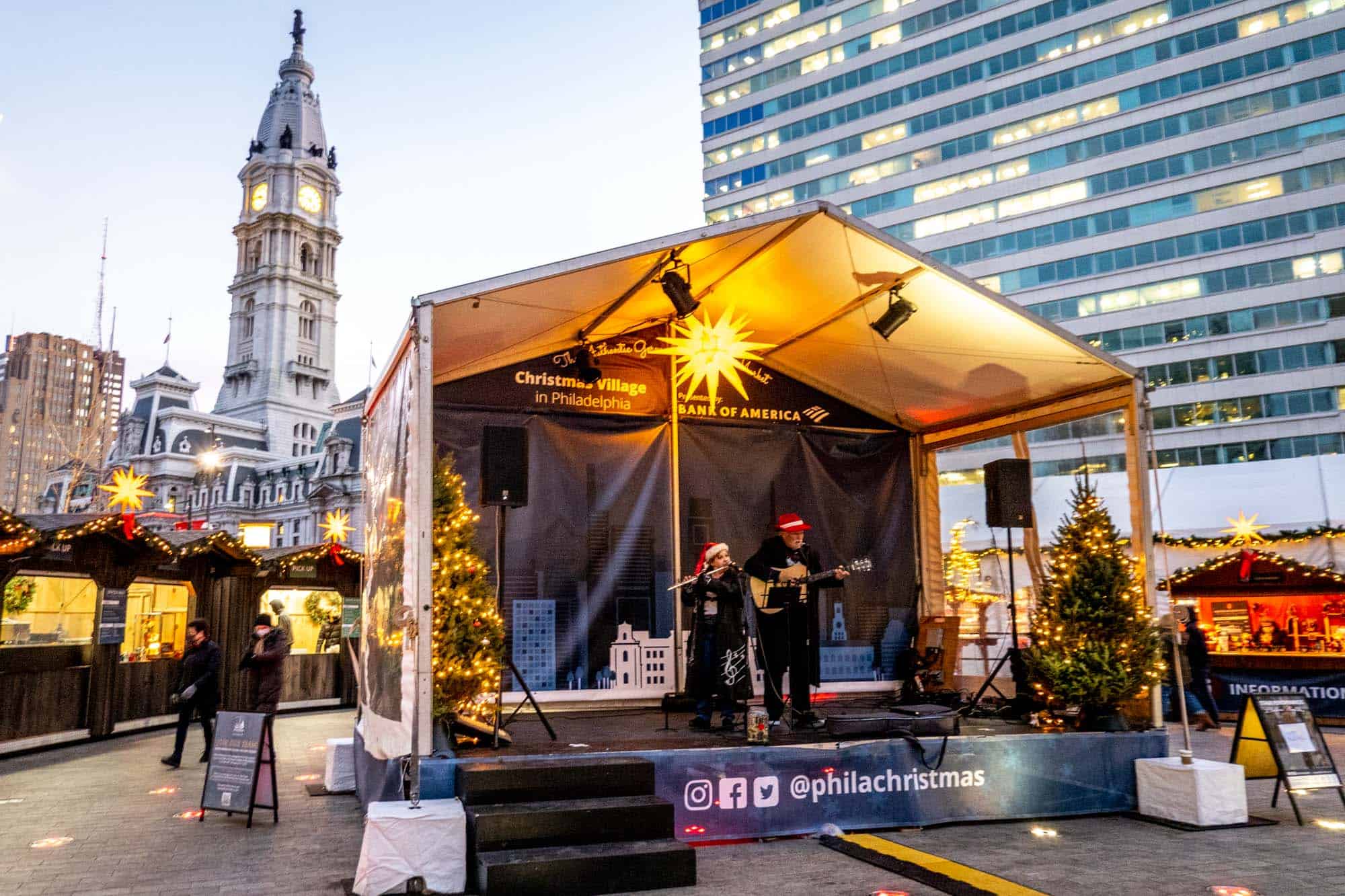 From beer tastings to bratwurst eating contests, there are special events almost every day. Performers and musicians regularly take the stage, there is weekly storytelling time for kids, and there are even pet adoption drives. Check out the full calendar to see what's happening.
Ice skating and light show
Several other attractions take place in Dilworth Park amidst the activity of the Christmas Village. Though they are technically separate, they are worth a stop.
The Rothman Orthopedics Ice Rink welcomes visitors of all skill levels. It has been one of the most popular Philly ice skating rinks for years, as skaters take to the ice with the towering buildings of Center City above them. In 90-minute sessions, you can learn how to skate or show off your talents. For something with a slower pace, pop into the Rothman Orthopedics Cabin for drinks and snacks.
Right beside the rink, the façade of City Hall is splashed in color continuously beginning at 5pm. The Deck the Hall Holiday Lights projection is set to music and shines brightly across the building every day of the week. It's one of the nicest light displays in the city.
How to get here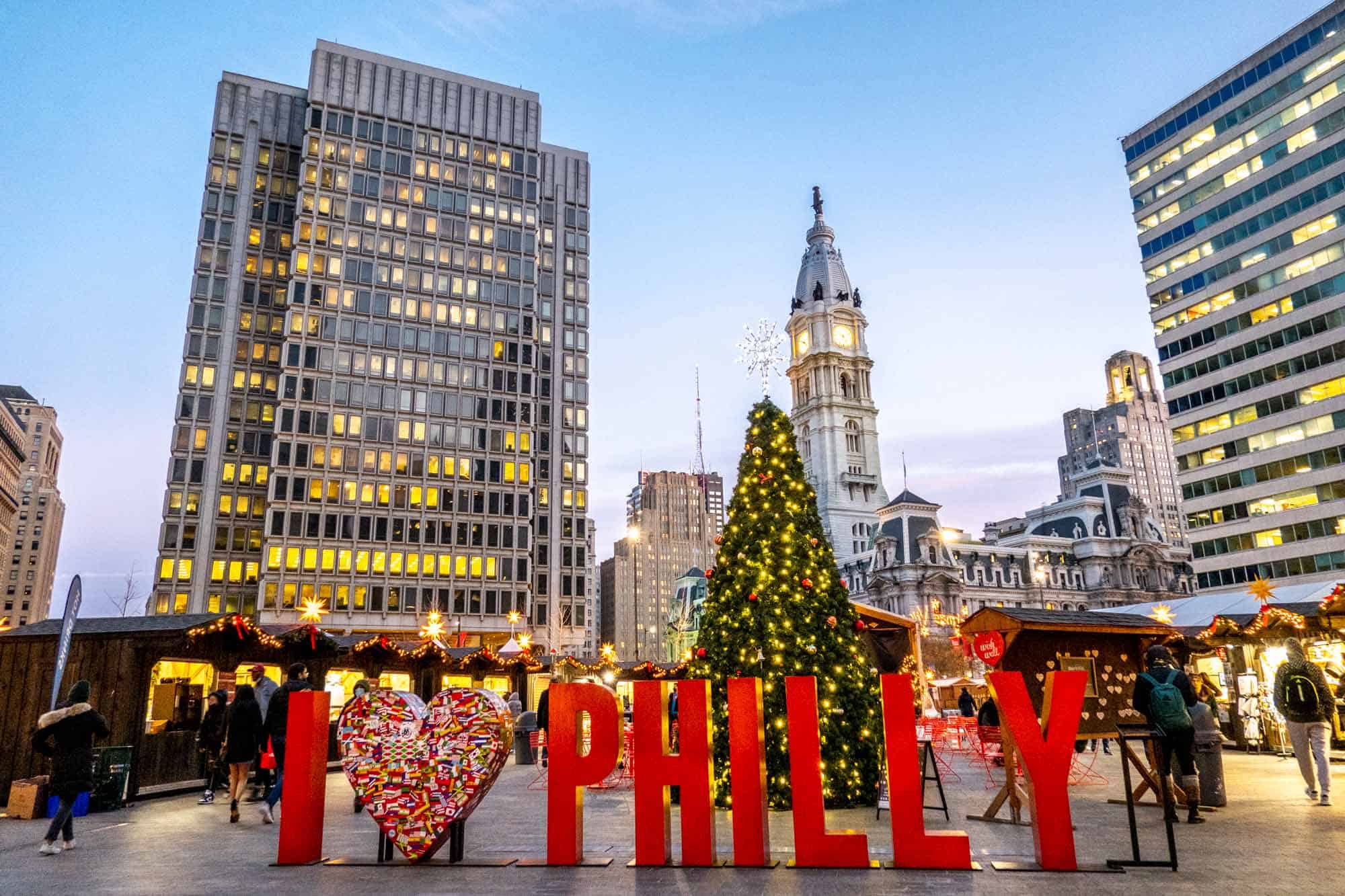 The Philadelphia Christmas Village is located across the street from Suburban Station and is about one-half mile from Jefferson Station. Additionally, bus lines 16, 17, 27, 4, 402, 42, 44, and 48 stop near LOVE Park.