Some posts on this site contain affiliate links, meaning if you book or buy something through one of these links, we may earn a small commission (at no extra cost to you).
We don't need to tell you that Fishtown is a foodie's paradise. With so many top destinations for eating, drinking, and lounging, however, you may need a little guidance on the Fishtown restaurants. From world-class dining rooms to hipster dive bars, this neighborhood has something to offer for everyone in your group.
To get you started on your foodie excursion, we've created a road map of the best places to eat and drink in Fishtown.
Wm Mulherin's Sons
This 100-year-old building that was once a whiskey blending and bottling facility is now a restaurant and boutique hotel serving some of the best pizza and pastas in the city. For a sophisticated night out, enjoy an expertly crafted cocktail on a crushed velvet loveseat by the glow of Wm Mulherin's indoor fireplace.
If you're looking for fresh air, Mulherin's has two outdoor seating areas in the garden and on the sidewalk that are perfect for a nice night or for a relaxing place to have brunch.
Kalaya Thai Kitchen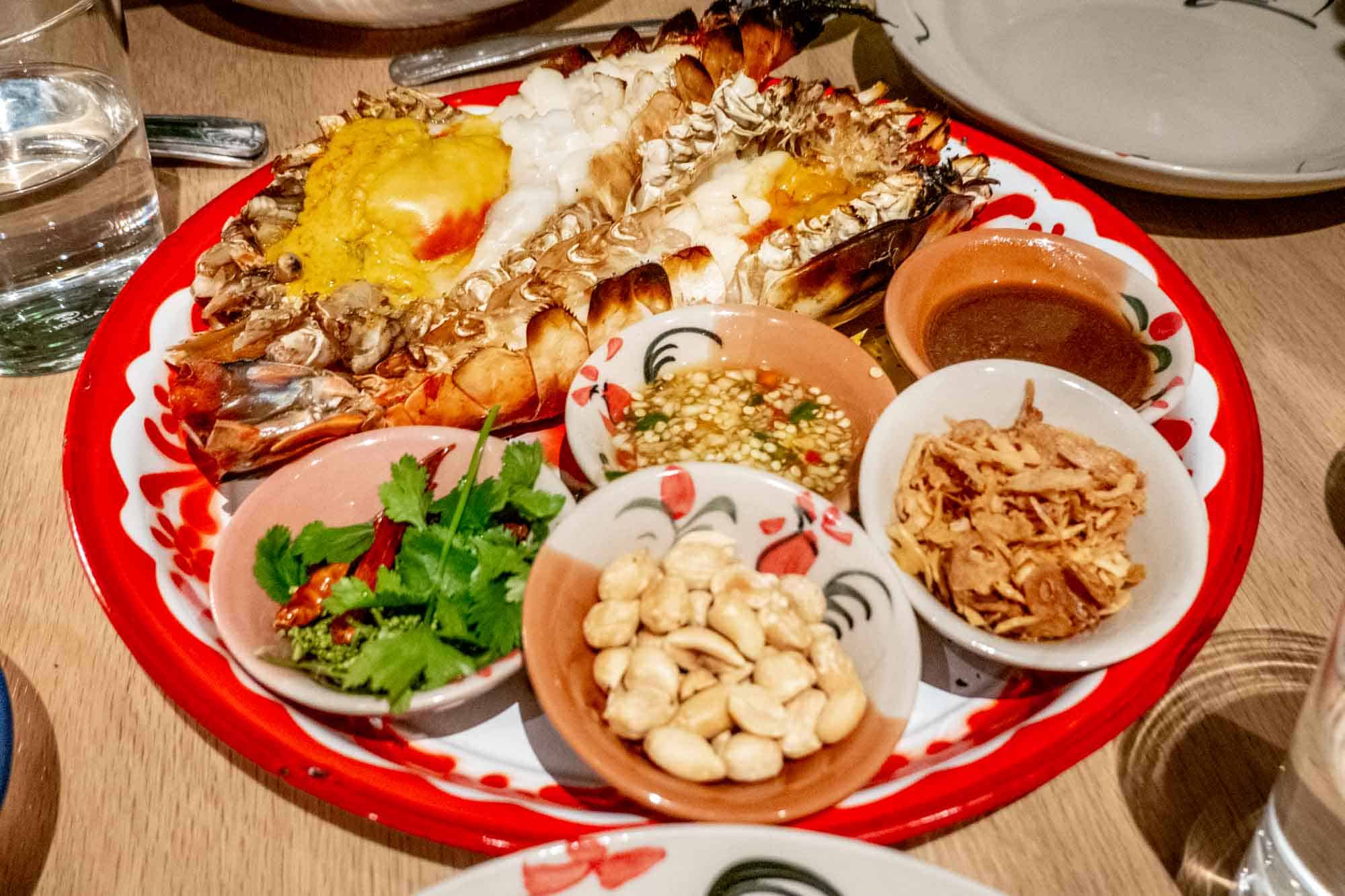 Chef Nok Suntaranon's traditional Thai dishes at Kalaya are executed with exacting precision and unexpected creativity. Her inventive dumplings are signatures that have helped earn the restaurant numerous national accolades, and the fiery curries are spicy and sublime.
One of our favorite items on the menu is the river prawn. The large platter is prepared tableside with a mix of the succulent prawn meat, fried shallots, garlic, peanuts, jasmine rice, and sauces. We dare you not to eat every bite. Also don't miss the picture-perfect dumplings that are among the best dishes in the city.
They are open for evening service and weekend lunch. A table at Kalaya is highly sought after, so plan several weeks ahead if you're hoping for a prime time weekend reservation.
Frankford Hall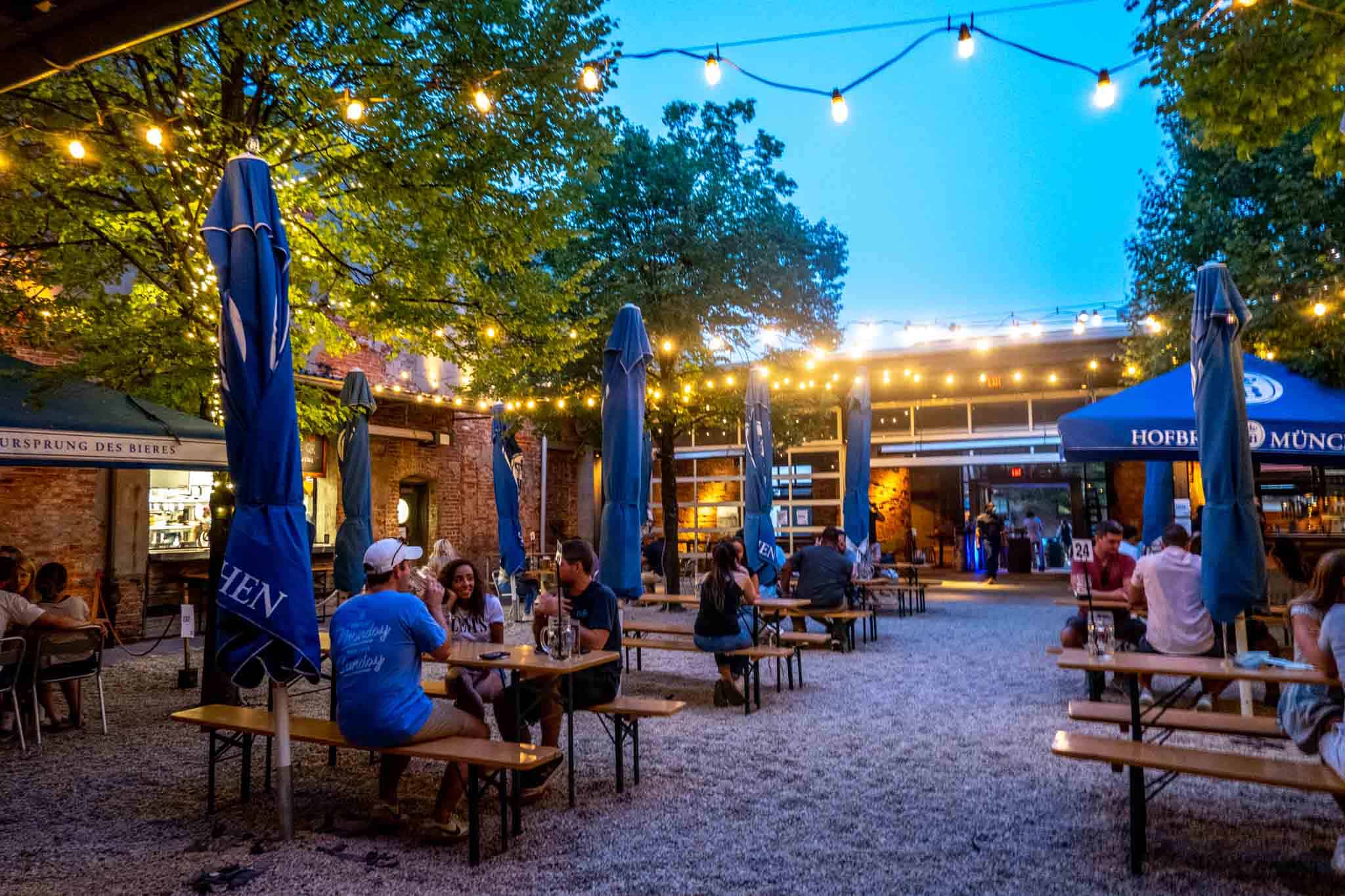 Embrace Philly's German roots with a cold stein and a hearty bratwurst to soak up the suds. Frankford Hall–a German-style, open-air beer garden–is the perfect spot for happy hour, complete with picnic tables and all the Old World charm you can handle. We're big fans of the giant Bavarian pretzel and cheese dip.
Kensington Quarters
Originally a butcher bar, this Fishtown favorite had shifted its focus to sustainable, coastal cuisine with raw bar offerings. Kensington Quarters boasts its status as one of the original farm-to-table missions in the Fishtown neighborhood. If its gourmet entrees weren't enough, the restaurant also offers pasta and seafood classes.
Suraya
Going head to head with James Beard Award winning Zahav, Suraya has gained the reputation of one of city's best and one of the best restaurants in Fishtown. Suraya infuses its open concept dining room with traditional Middle Eastern flair, offering complex but inviting flavor profiles that will keep you coming back.
At dinner, we love the kafta kebabs and creamy labneh dip. If the fatteh is on the menu, don't skip ordering this dish of chickpeas, eggplant, and crispy pita topped with cashews–it's addictive. Suraya also offers one of the best brunches in the city, which features many of their delicious mezze plus dishes like poached Turkish eggs and a Lebanese omelette.
Ekta
A great BYOB spot in Fishtown, Ekta serves big portions of delicious Indian cuisine. With the option for family-style dining, this place works especially well for big groups. Go with the biryani and the spicy shrimp curry.
Pizzeria Beddia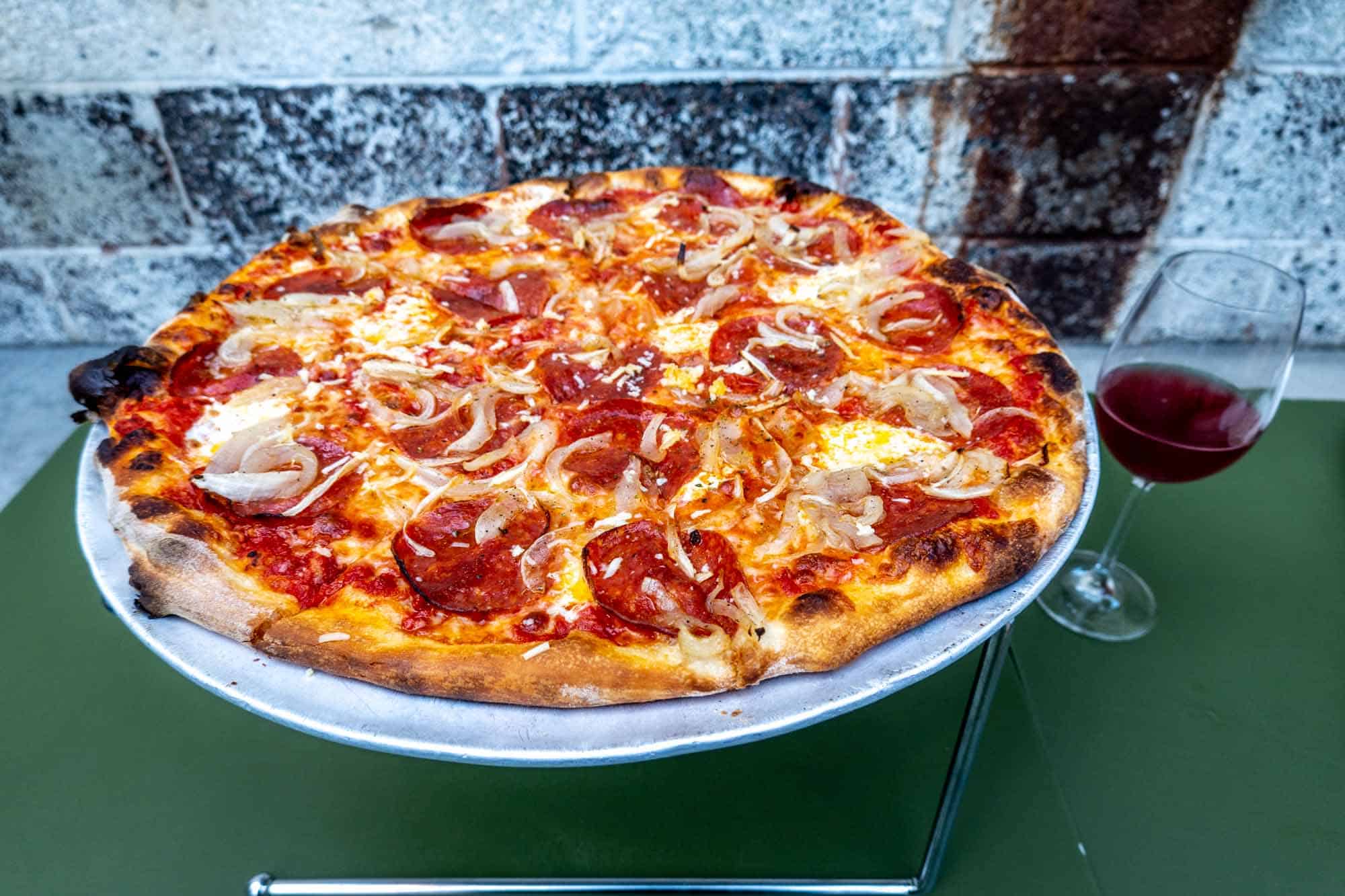 Before its current Fishtown location, Pizzeria Beddia was a no phone, open-till-sold-out operation. Joe Beddia has converted his one-man show into an electric dining room with a horseshoe bar, long farm tables, and the same incredible pizza. Pizzeria Beddia is also known for its natural wine program and its private "pizza and hoagie Omakase experience."
Everything we've ever had at Pizzeria Beddia is delicious. You can't go wrong with judion beans, Caesar-topped roasted vegetables, and a pizza with toppings of your choice. In summer, the go-to is the special–a pie topped with local corn, cream, marinated cherry tomatoes, mozzarella, and basil. Pure heaven.
Tulip Pasta & Wine Bar
The open kitchen at Tulip Pasta & Wine Bar produces fresh, modern Italian-inspired cuisine. There are heaps of handmade pastas and classics like foccacia and decadent stracciatella. The inventive fried cauliflower with crispy shallots and pecorino wiz was one of the best things I've had lately. I left wishing the wiz was sold by the gallon.
Tulip features wines from Wayvine Winery & Vineyard in Chester County, which far exceeded expectations, along with a limited menu of PA spirits and beers.
Johnny Brenda's
Johnny Brenda's is one of the only music venues that you might actually go to for the food and drink menu first and the music second. It has awesome veggie burgers and a killer brunch.
Middle Child Clubhouse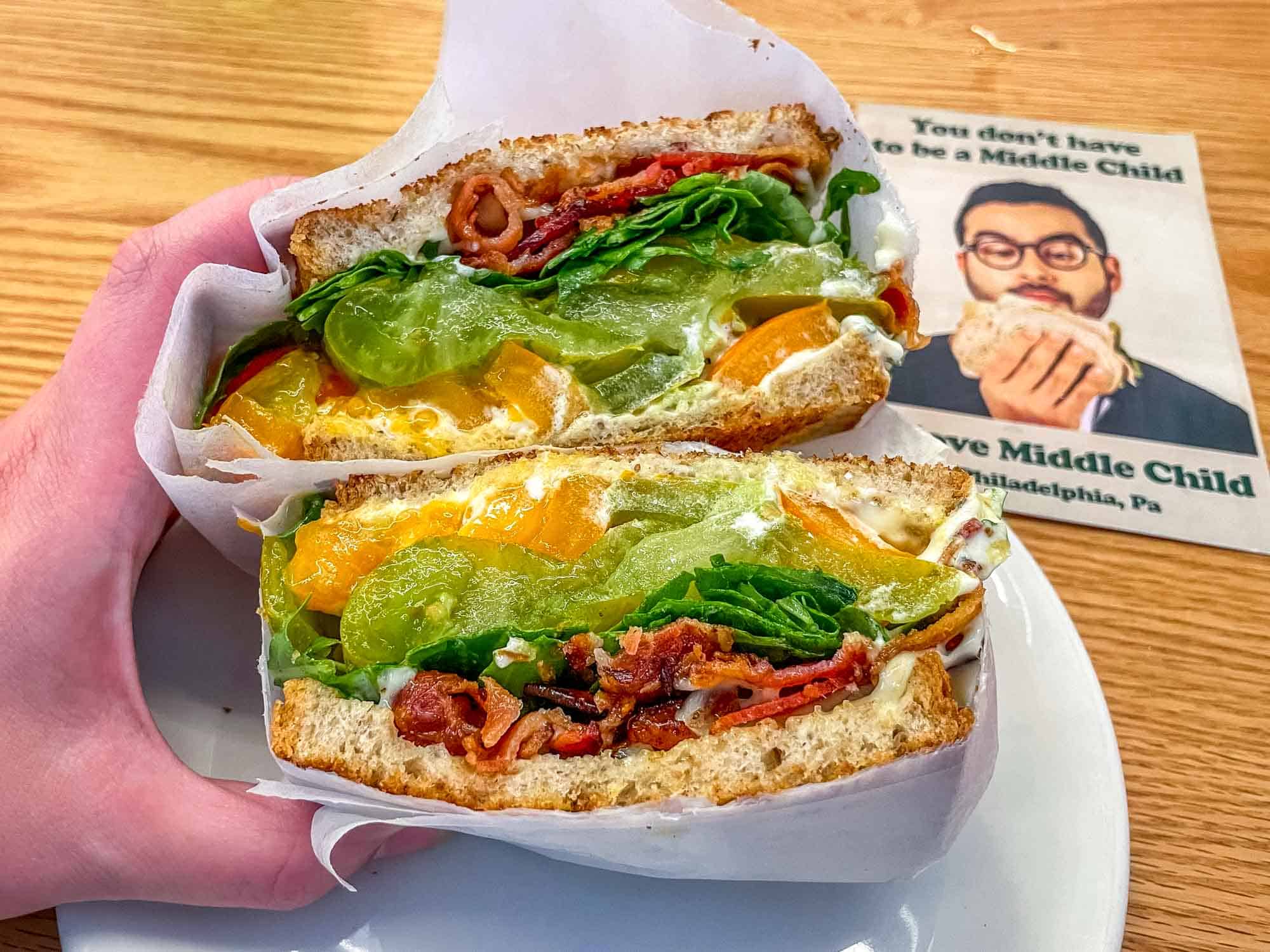 Underneath the Market-Frankford El, Middle Child Clubhouse is the type of place you want to hang out all day. It's casual with lots of space to relax, the bartenders are friendly, and there's even a pool table to enjoy.
Beyond the ambiance, Middle Child Clubhouse is one of the best places for sandwiches in the city. Their breakfast sandwiches with fluffy eggs are legendary, and house-smoked pastrami draws rave reviews. In the summer, diners (myself included) come in droves when the BLTs with local heirloom tomatoes are featured.
At dinner, the menu is eclectic, featuring everything from oysters to latkes served with unagi. The brick chicken and the cheeseburger are always homeruns. Plus, plenty of gluten-free, vegetarian, and vegan choices are available all day.
Pizza Brain
Pizza Brain is up there with the best, offering giant slices, thin crust, and a museum of pizza memorabilia. Come for the quirky interior, stay for the pizza with unusual ingredient combinations.
Cheu Fishtown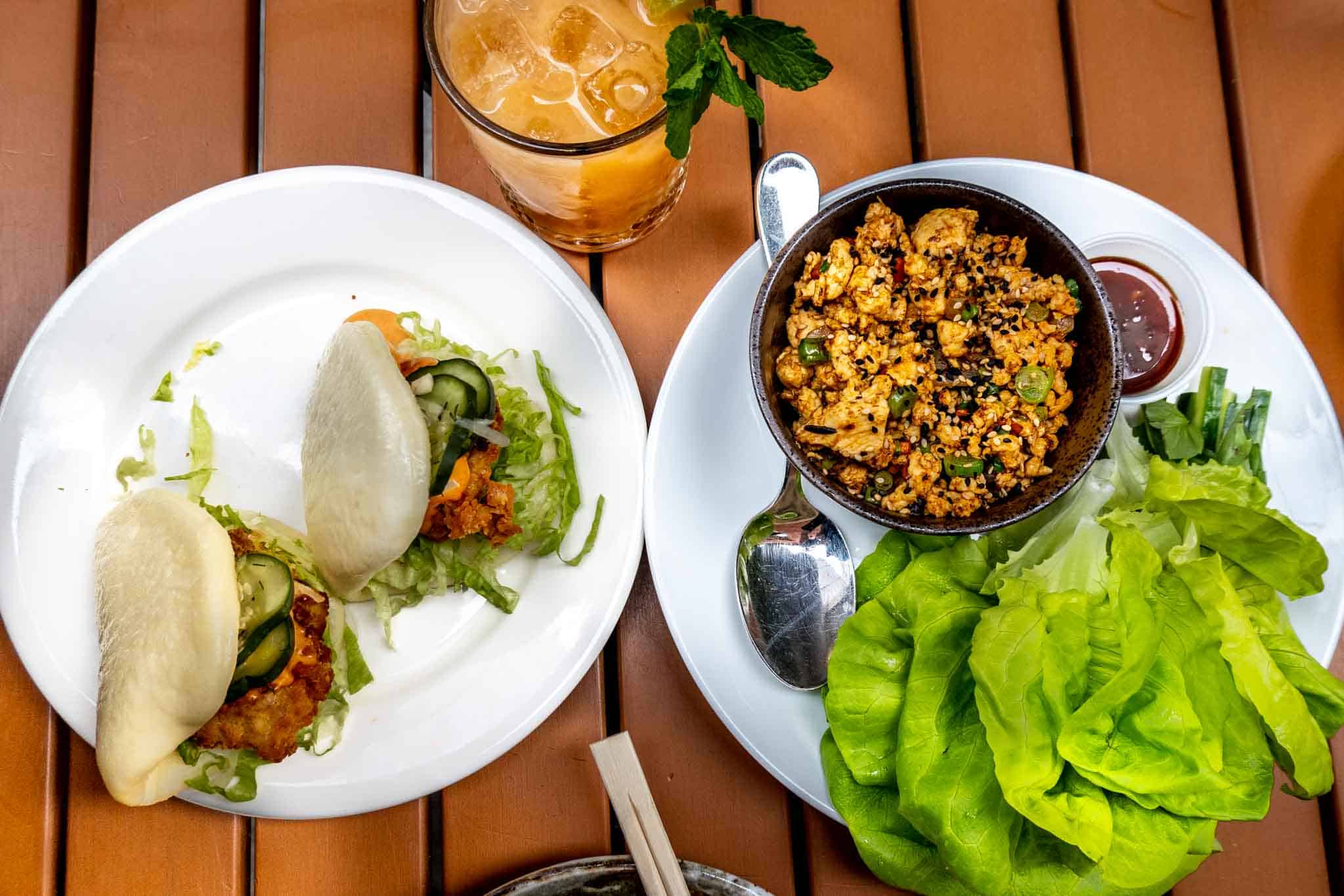 With a bright, airy interior, Cheu invites guests to indulge in their ramen, rice bowls, and dumplings. Set in a former horse stable with muraled walls and a vibrant red bar, Cheu embraces the spirit of Asian fusion and cart-style street food. We're partial to the fried chicken Pacman buns and the miso ramen with pork shoulder.
Elwood Restaurant
Who knew Pennsylvanian cuisine was a thing? Elwood's chef, Adam Diltz, that's who. Diltz takes home cooked meals to a new level, presenting regional family recipes in an elevated dining atmosphere.
Weckerly's
The brainchild of pastry chef Jen Weckerle, Weckerly's Ice Cream has offered craft, locally sourced ice cream to the people of Fishtown for over a decade. With so many out-there, rotating flavors as well as non-dairy options, Weckerly's hits Philly's sweet spot.
Philly Style Bagels
Made fresh daily, Philly Style Bagels take a bath in beer before heading into the oven for a unique malted flavor. Pair a Lox #1 with an Elixir coffee to start your day off right.
Front Street Café
Cleanse yourself from the night before with one of Front Street Café's signature smoothies or opt for the hair of the dog in Bloody Mary form. Front Street touts healthy, sustainable, but soul-satisfying meals that will make you feel good. Take a stab at the breakfast tacos if you can make it in for brunch.
LMNO
Stephen Starr's newest contribution to the Philadelphia dining scene, LMNO is a Mexican restaurant with a massive dining room, patio, and music listening lounge. There's even a bookshop and art gallery to browse once you've finished your tacos and margaritas.
The Baja-inspired menu includes aguachiles, tostadas, and "dirty" tacos with perfectly crispy melted cheese. The larger dishes are designed to share and feature several make-your-own tacos options, including lobster tails and an adobo lamb shank.
Joe's Steaks + Soda Shop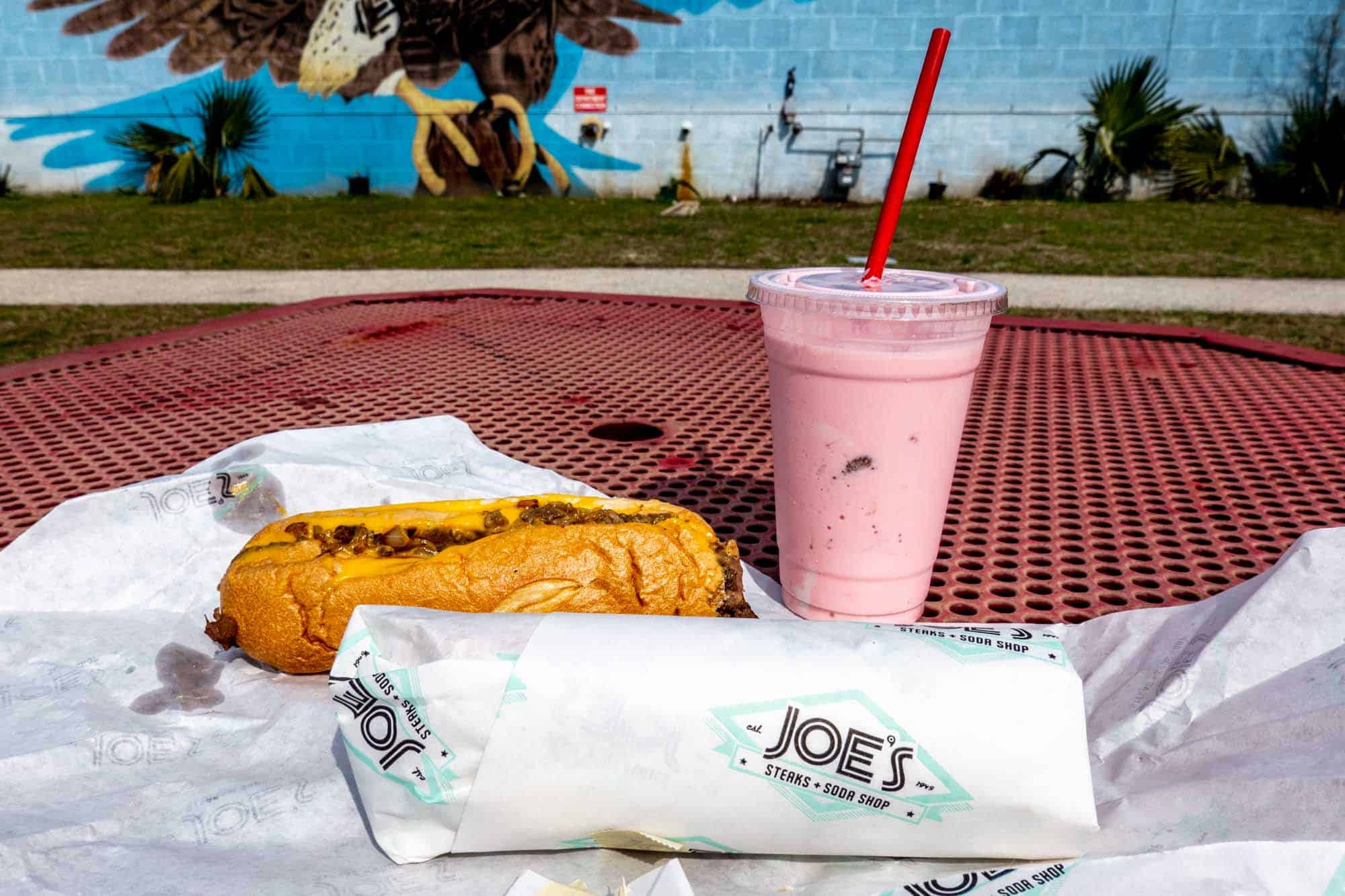 Its nostalgic décor and affordable, tasty food make Joe's Steaks + Shake Shop a popular choice in Fishtown. As the name says, Joe's is most known for its cheesesteaks stuffed full of prime ribeye on a hard roll. Add in whiz and onions, and you can't beat it.
But there's more to Joe's than cheesesteaks. Other top dishes include burgers, the hot sausage, and numerous milkshakes and sundaes. They're open daily and you can get something delicious until midnight on Friday and Saturday.
Fishtown Social
One of the most laid-back bars in the neighborhood, Fishtown Social focuses on organic, biodynamic, and natural wines. The featured offerings at the bar change regularly and often highlight lesser-known wine regions and varietals. There is a wine shop in the back to explore more options.
In addition to wine, Fishtown Social offers a full bar, and there are charcuterie boards and snacks to share. They regularly offer a $10 bottle of wine on draft with proceeds going to a charity.
R&D Cocktail Bar
R&D is a Mediterranean wine bar turned speakeasy. Once the owners decided to take their creation in another direction, they brought on the originator of Suraya's cocktail menu to reboot their image. What resulted was a Prohibition-era cocktail menu and a dimly lit bar to match that is among the best bars in Fishtown. The Milk Punch is a best-seller.
Murph's Bar
If you're hesitant to eat an authentic Italian meal at a place that sounds like an Irish pub… don't be. Italian-born chef Francesco Bellastelli rents the kitchen from the bar owner and runs the place as a cash-only establishment. Murph's tight corners and cult-following may leave you waiting for a table, but the fresh pasta and umami of each homemade sauce make it all worth it.
Philadelphia Distilling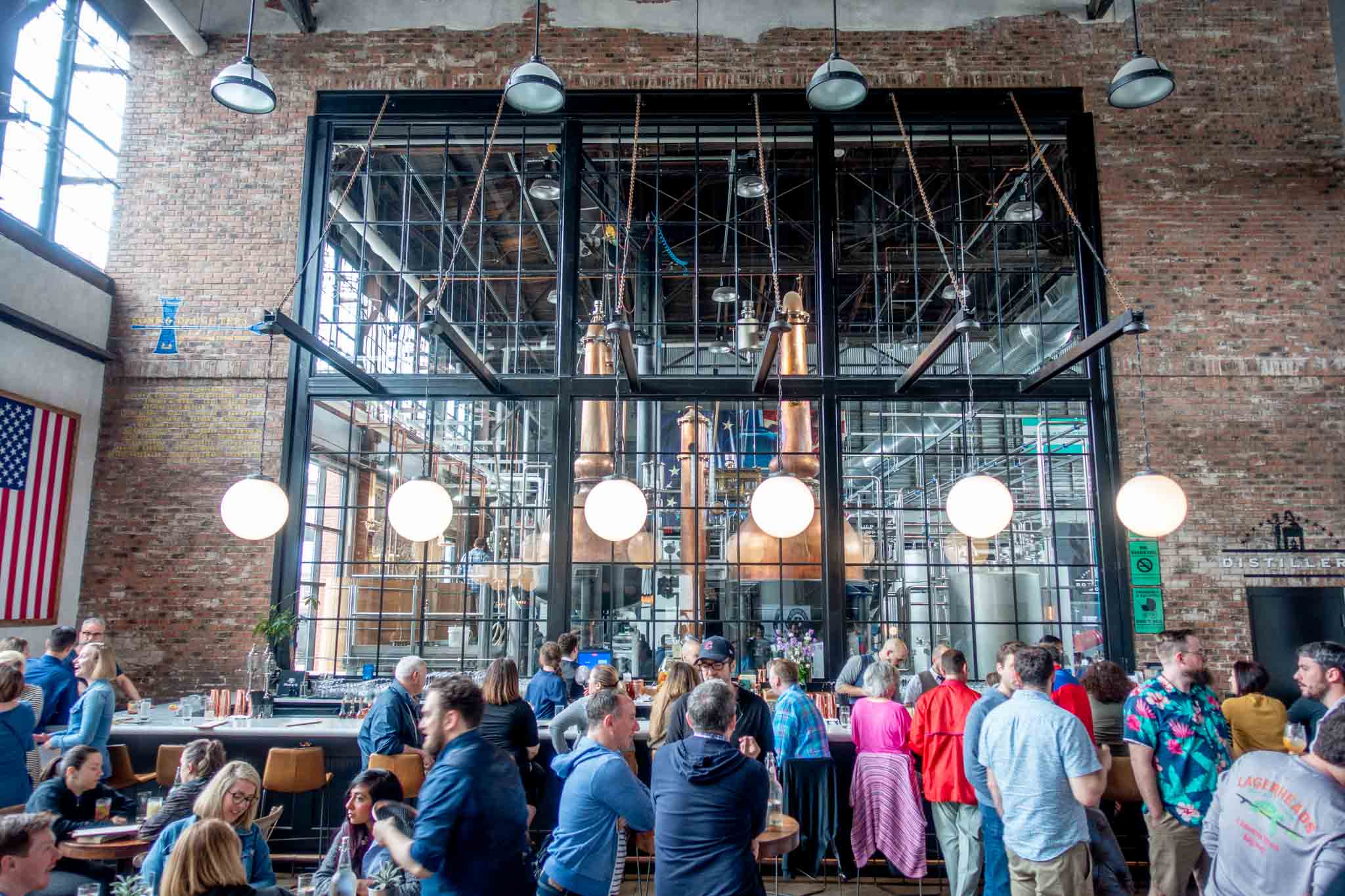 Philadelphia Distilling is internationally renowned for its premium spirits, shipping products all over the world. The first craft distillery in Pennsylvania since prohibition, Philadelphia Distilling was founded in 2005. Visitors are welcomed to enjoy a custom cocktail at the marble-topped bar or learn more about the facility's history on a guided tour. 
El Bar
Sometimes the night calls for a Citywide (beer and shot combo) and some hipster people-watching. Grab a barstool and take in the dive bar vibes of El Bar. From the funky murals on the exterior to the eclectic clientele, you won't leave this joint without a story or two.