Some posts on this site contain affiliate links, meaning if you book or buy something through one of these links, we may earn a small commission (at no extra cost to you).
Spicy and sublime, Kalaya Thai Kitchen has the best thai food in Philly. From inventive dumplings to fiery curries, Fishtown's Kalaya offers one of the best dining experiences in the city.
Overview
In many ways, Kalaya is the story of the American dream. The story begins in Thailand with a flight attendant named Chutatip "Nok" Suntaranon. She loved food and decided to open a restaurant 20 years ago in Bangkok. She moved the U.S., went the French Culinary Institute, and interned with luminary chefs. But the food of her family, specifically her mother Kalaya, kept drawing her back.
Chef Suntaranon opened Kalaya Kitchen in the Bella Vista section of the city in January 2019, and Kalaya Thai Market opening in the Italian Market in September 2020. Ultimately moving to Fishtown in 2022. In a neighborhood with amazing cuisine, Kalaya has quickly become one of the Fishtown's best restaurants.
The menu of traditional Thai dishes uses Chef Suntaranon's mother's recipes. Along the way, traditional Thai morphed into complex, pleasing culinary artistry. Kalaya is arguably some of the best Thai you'll find outside of Bangkok.
And remarkable it is. The accolades for Chef Sutaranon and Kalaya have been pouring in. In 2020, Kalaya was named Best New Restaurant in America from Esquire, and both the James Beard Foundation and Food & Wine named the restaurant as a finalist for Best New Restaurant. In 2022, Chef Suntaranon was a finalist for the James Beard Best Chef: Mid-Atlantic (and is a nominated in the same category for 2023).
The Menu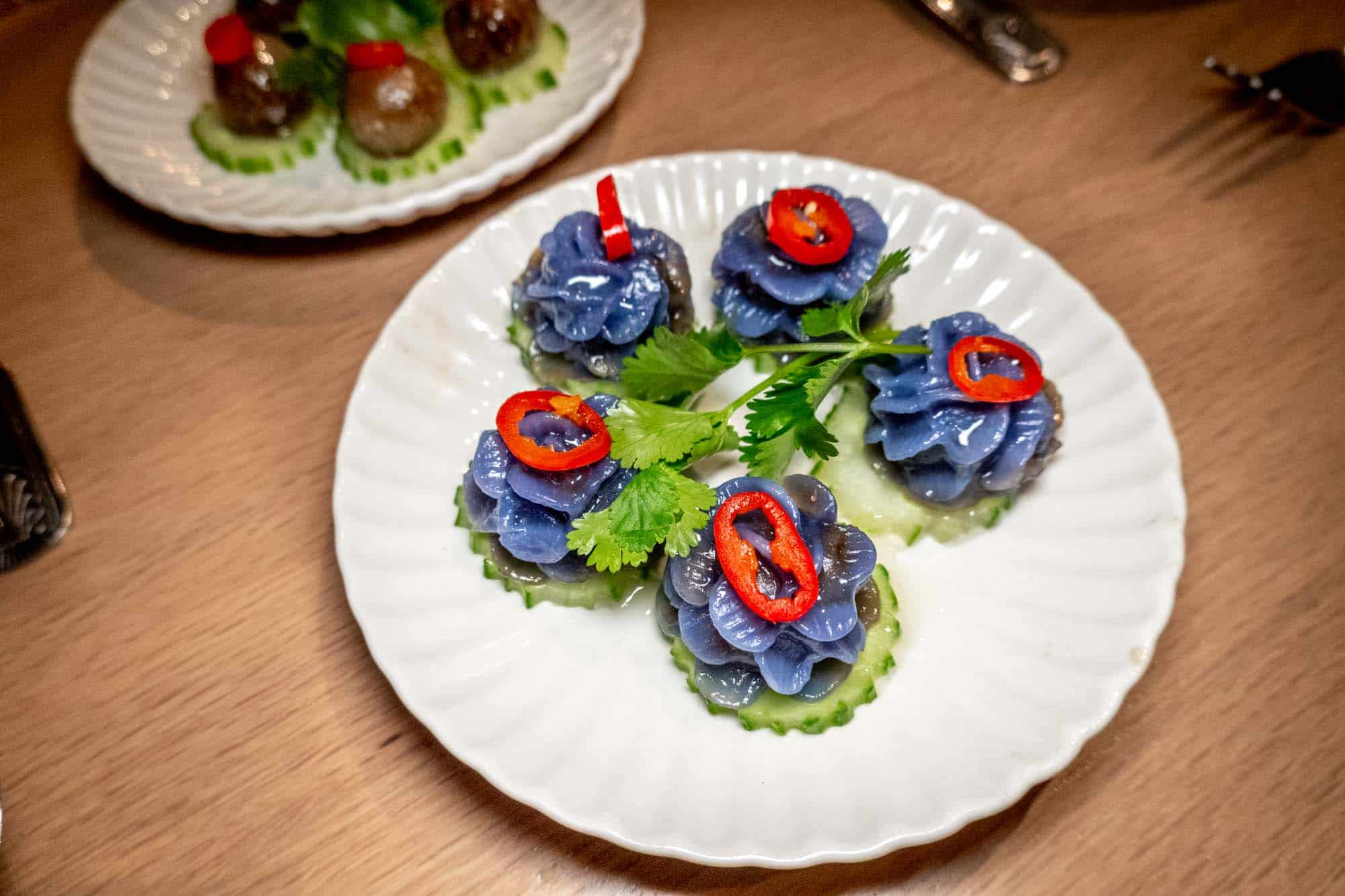 Kalaya Thai Kitchen specializes in the bold, bright and beautiful cuisine of Southern Thailand (think Phuket and the Malay Peninsula). No, you will not a find a Pad Thai anywhere on the menu. Instead, this menu features a broad range of options from Chef Suntaranon's mother: from colorful salads to hearty curries and from vegetarian to the heartiest goat and lamb.
There are numerous menu standouts, including the appetizers of sakoo moo (dainty ground pork dumpings), shaw muang (flower-shaped, dark purple dumplings with ground chicken), and gui chai (crispy rice cakes). The gaeng massaman nua (beef massaman curry) is exactly what you need on a cold, winter day. The gai yaang naa por (grilled half chicken glazed in coconut cream and drizzled in a rich fish soy sauce) is remarkable in its simplicity…and perfection.
But the star of the show is the goong phao (whole grilled river prawns). The prawns are cooked in the kitchen and then brought tableside where they are removed the shells, chopped and served in a jasmine rice along with a delicious fruit sauce, fried shallots and the ubiquitous peanuts. It's one of those dishes that becomes a life-changing moment.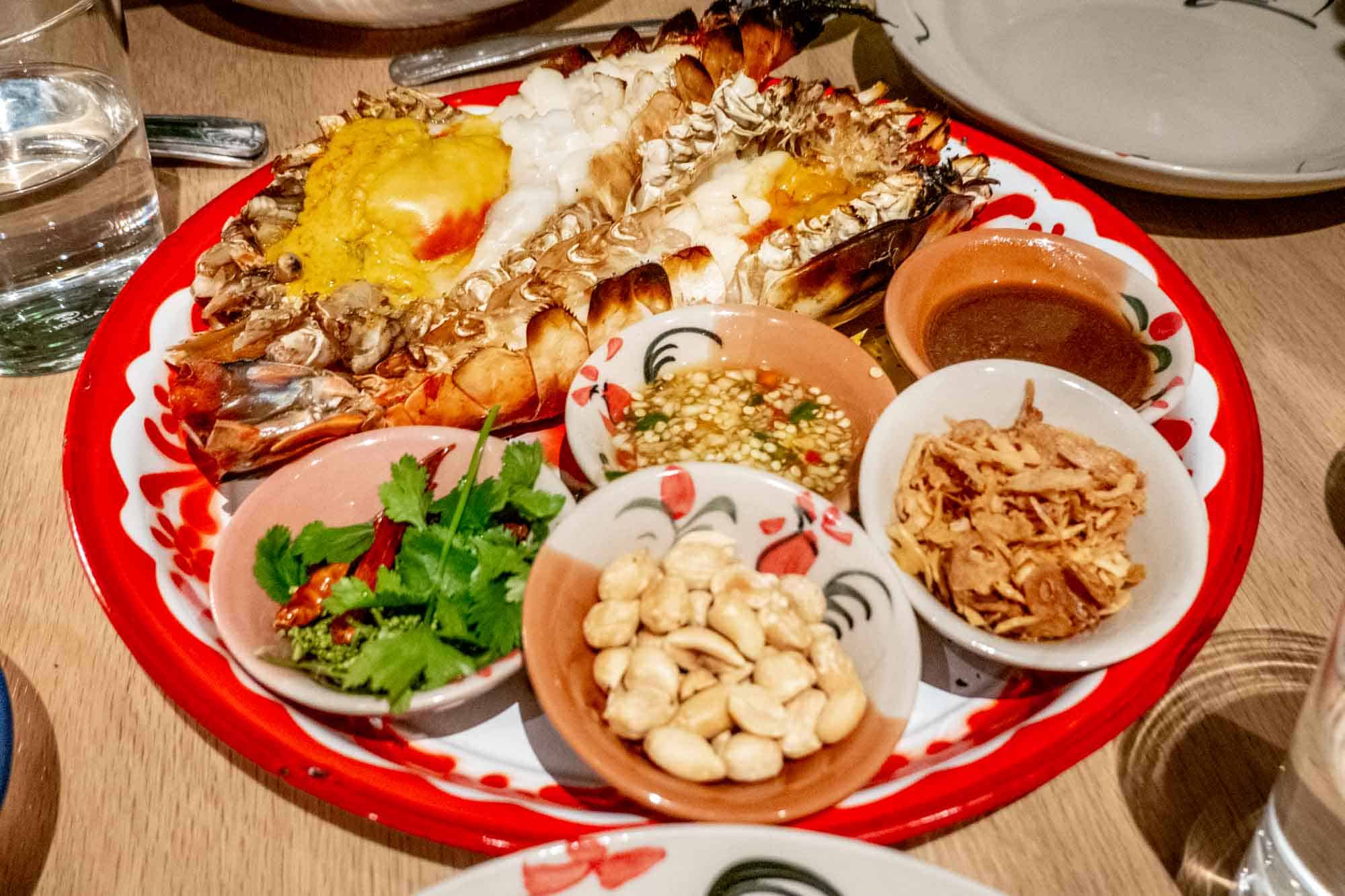 We discovered Kalaya in September 2020, when Chef Nok did a pop-up at Bok Bar in South Philly. At the time, we thought it was some of the spiciest food we'd ever tried. And over the last few years, that has become the restaurant's reputation: they serve dishes that are melt-your-face-off spicy. And while food at Kalaya can be just that hot, it doesn't have to be.
Kalaya doesn't dumb down its cuisine for the uninitiated. Dishes that are meant to be spicy are spicy, namely the curries. But there are many Thai dishes that can accommodate those who don't tolerate heat. If you are spice intolerant, look to the dumplings as well as the larger entrees, specifically the goong phao (grilled river prawn with rice) and the gai yang naa por (grilled half chicken with coconut cream and soy sauce).
The Vibe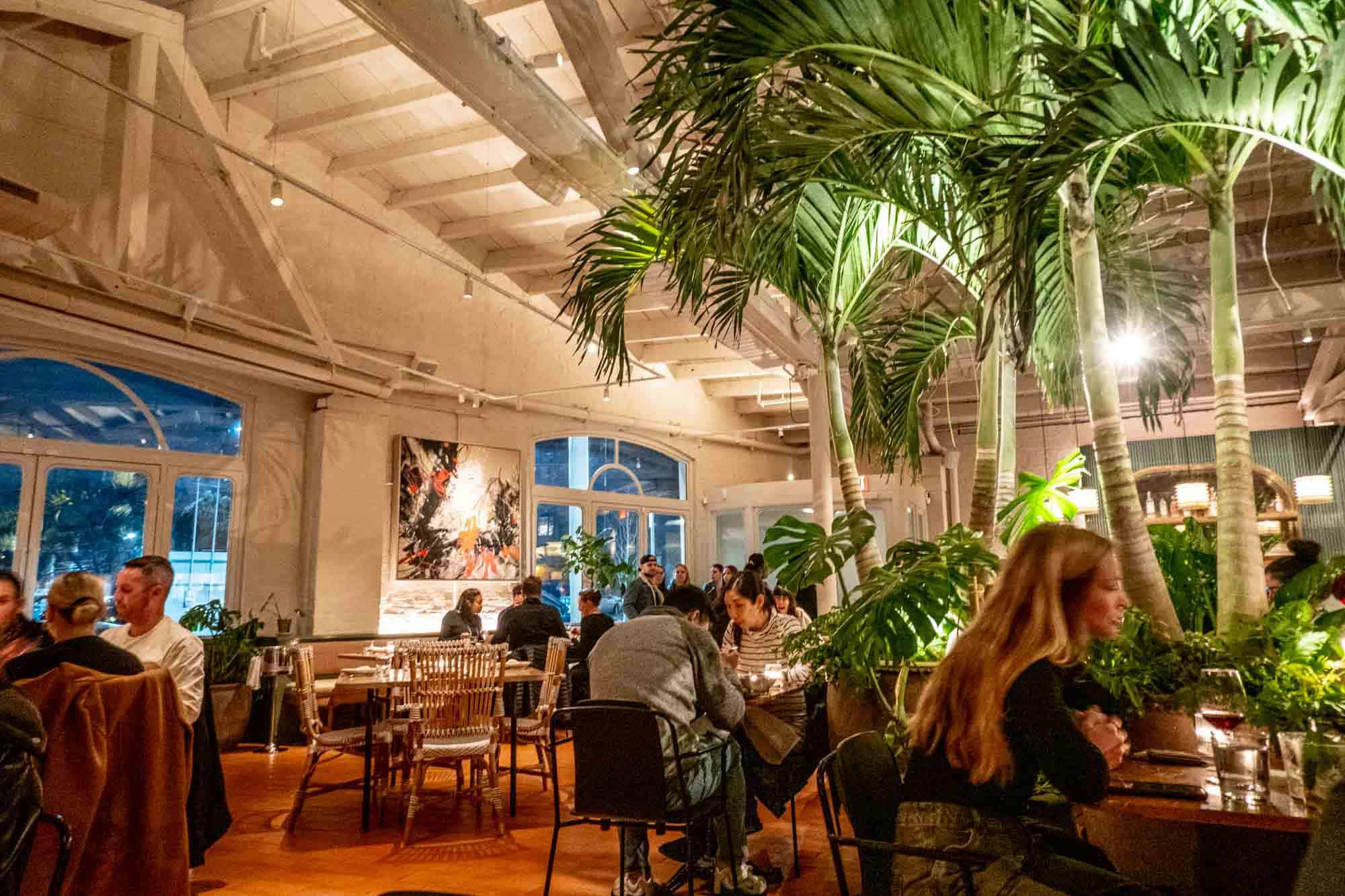 The new Kalaya Fishtown is four times the size of the previous incarnation in Belle Vista. The new space, like everywhere else in Fishtown these days, was an old garage that has been repurposed into a nice, open dining space. Several palm trees in the center gives the restaurant an almost tropical feeling. Kalaya is the kind of place where you go to have a good time.
We visited on a Monday night in January and found an atmosphere that could best be described as lively. The noise clocked in at over 90 decibels (about like sitting next to a roaring motorcycle engine for two hours), making conversations very challenging to almost impossible. And with food this good, everyone wants to talk about it.
Price Range
Dumplings and appetizers are $18 (except for the rice cakes which are $16). Salads range from $16-20. The curries range from $21-35. The larger entrees range from $38-54.
All dishes are served family style. Couples can easily share a dumpling (or two), a curry and an entrée.
Reservations
A reservation for Kalaya is absolutely essential, and often very difficult to obtain. They begin taking reservations 30-days prior and are usually fully booked by two weeks out. You can add yourself to the "notify" list for cancellations and last-minute openings (which do happen!).
Location
Kalaya Thai Kitchen is located at 4 W. Palmer in the Fishtown neighborhood. And being Fishtown, street parking is very difficult to find. Try looking for parking on the streets to the west of the restaurant (Front, Hancock, 2nd Ave, and even as far as American Street). There is a parking lot immediately across the street, however, it is reserved for the housing complex on Frankford (towing is possible and the restaurant discourages parking there). Also, the City of Philadelphia doesn't allow parking at the school on Front Street.
The nearest SEPTA station is Berks Station on the Market-Frankford Line. The restaurant is also well served by SEPTA bus 5 using the Frankford Ave & Palmer Street stop.
Visit the Kalaya Philly website for more information.