Some posts on this site contain affiliate links, meaning if you book or buy something through one of these links, we may earn a small commission (at no extra cost to you).
Going out for brunch is one of the best ways to kick off the weekend. Whether you're looking for homemade pasta, kebabs, or pancakes and eggs, there are lots of options across the city. These spots are some of out favorites from our quest to find the best brunch in Philadelphia.
The Love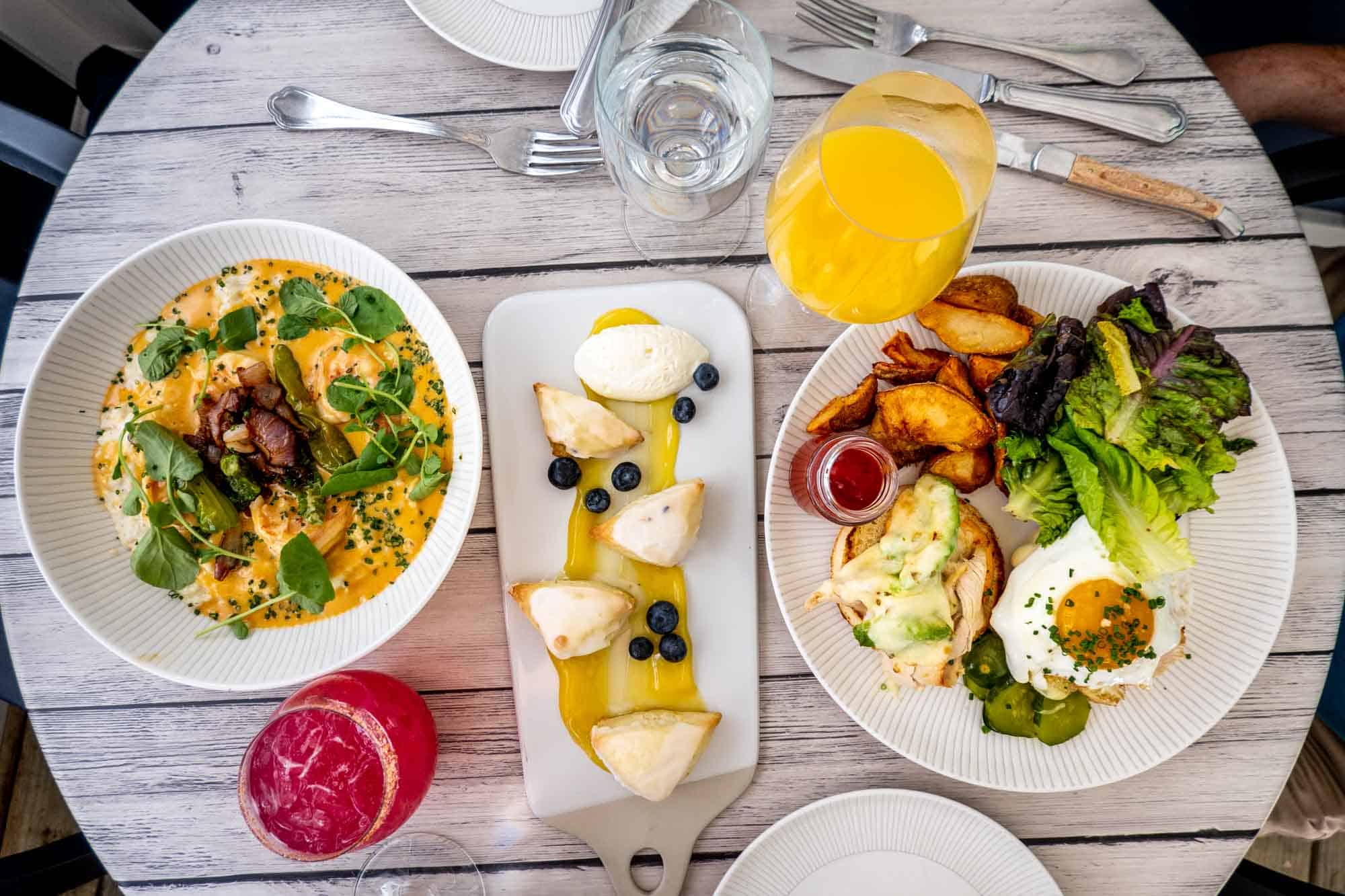 The Love offers a take on New American cuisine in its prime people watching spot right off Rittenhouse Square. Light and airy with white brick interior and inviting chalets outside, the restaurant is modern and comfortable.
We've never had anything at The Love that we didn't love. The menu is full of delicious pastries like lemon lavender scones, fresh salads, and hearty options like shrimp and grits and a turkey avocado melt topped with a fried egg. With drinks like a prickly pear margarita (also available in a non-alcoholic version) and a grapefruit and elderflower Champagne cocktail, it's the perfect place for a lazy brunch.
K'Far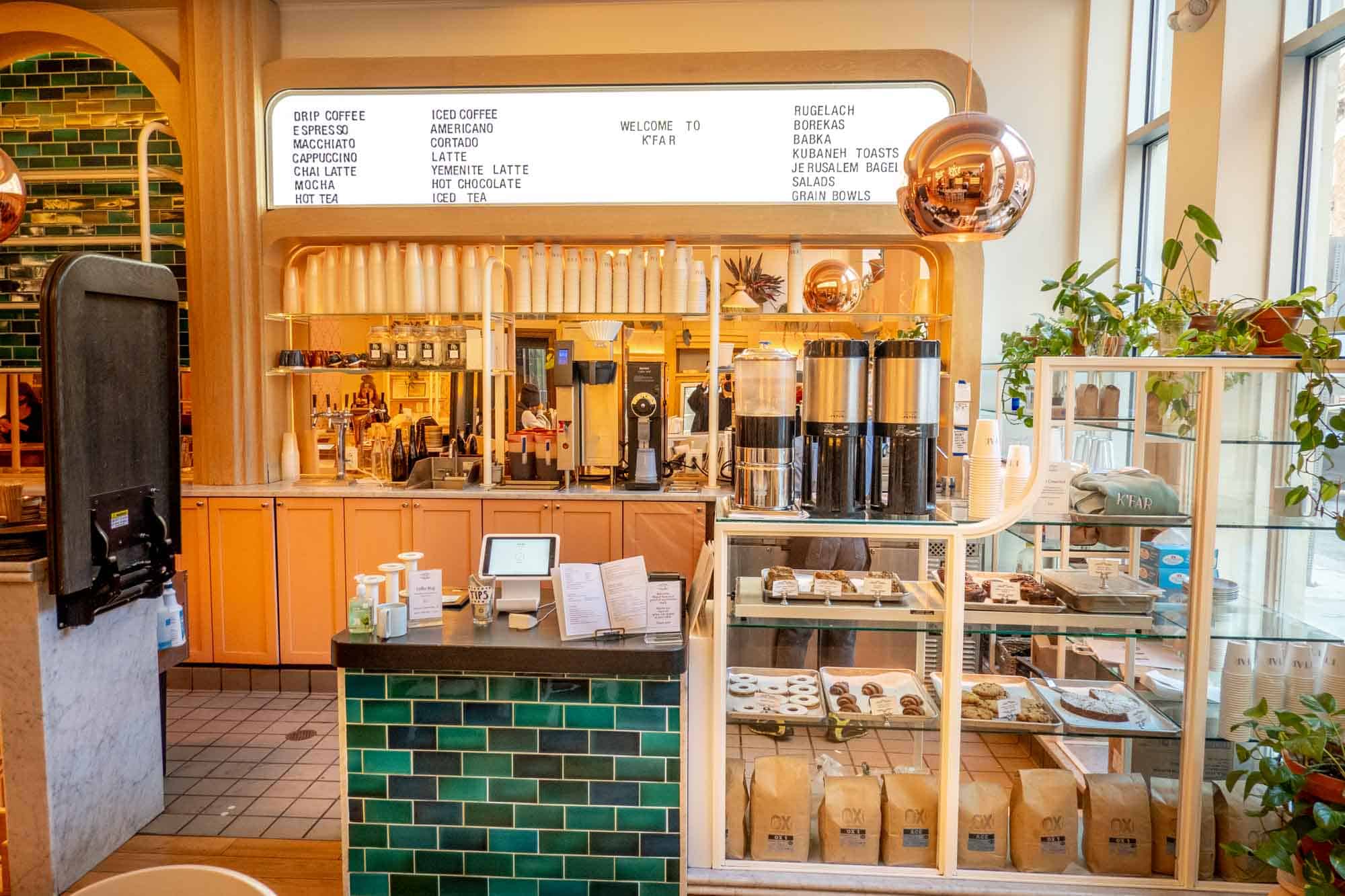 An Israeli bakery and café, K'Far is one of the most welcoming places for brunch or breakfast in the city any day of the week. Whether you're looking for a chocolate babka, a potato boreka, or a Jerusalem bagel piled high with egg and cheese, there's lots to choose from here.
Grab a table or a seat at the bar to enjoy Kubaneh toast topped with brown sugar ricotta and figs, an Arabic salad with all the veggies, or any of the other light and flavorful choices.
Spice Finch
Known for its small plates and packed with lots of fresh vegetable dishes, Spice Finch is a fabulous Mediterranean restaurant in Rittenhouse.
The brunch menu features avocado toast with an "egg in the hole" and harissa tomatoes and a breakfast flatbread with bacon, egg, cheese, harissa, and spiced potato hash. Much of the regular menu is also available with standouts like the baked cheese with tomatoes and lamb merguez sausage with tomato chutney.
Parc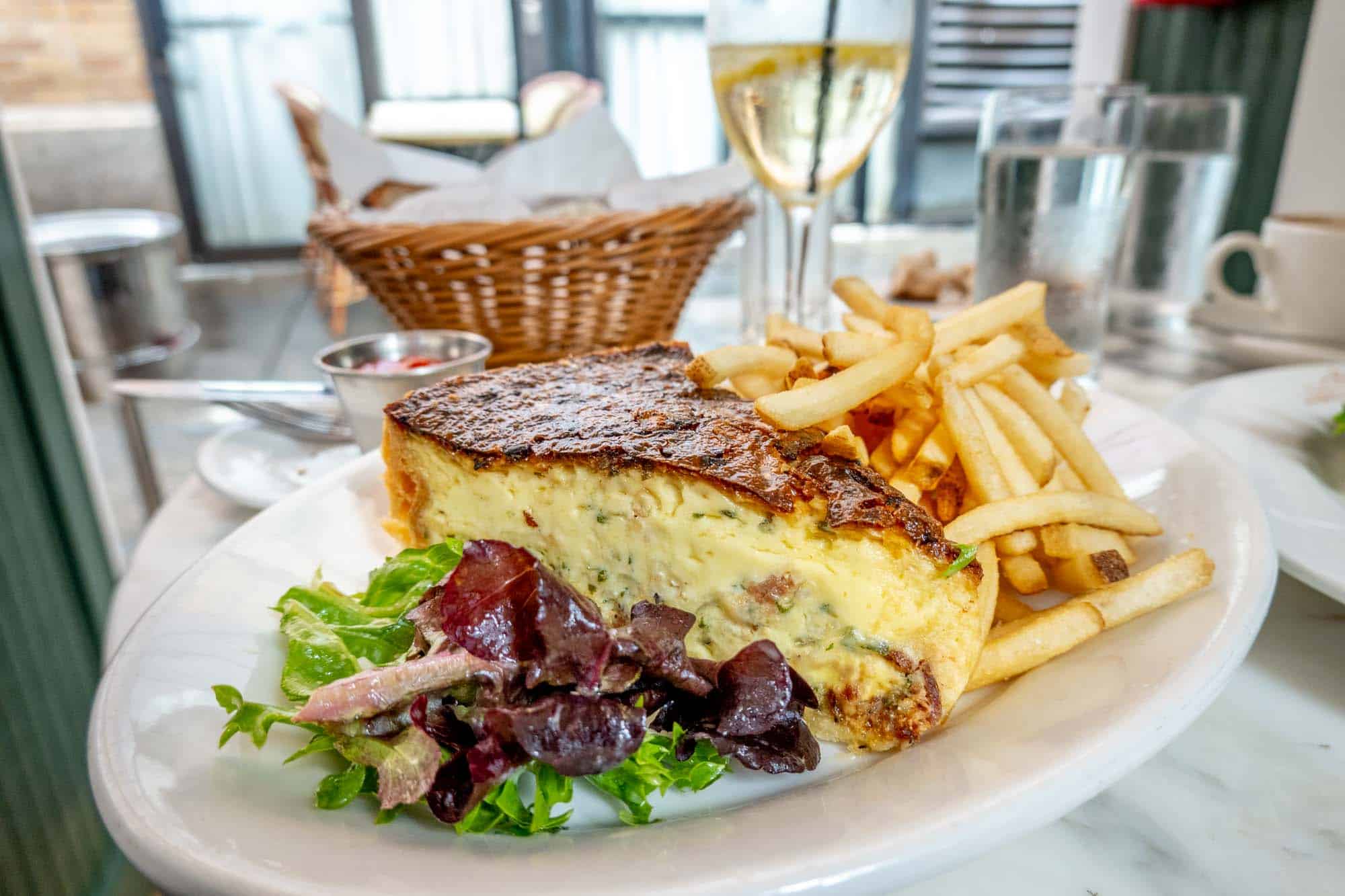 It doesn't get much better than starting your day at Parc.
The French brasserie from Stephen Starr is renowned across Philadelphia and beyond because of its cheesy French onion soup (a Philly favorite), its incredible bread basket, and fruits de mer, among many other items. We're particularly partial to the quiche Lorraine and steak frites.
At brunch, get a sidewalk table, a glass of Champagne, and anything else that suits your fancy at this special spot.
Via Locusta
It's hard to pinpoint the best thing about Via Locusta. It might be the whipped honey butter with the hot focaccia. Or it might be the half-dozen homemade pastas—served stuffed, with delicious sauces, or sometimes both ways. Or it might be the honey sweet stuffed onion baked until it nearly melts. Or it might be all of those things.
Can you tell we love it here? The dishes are well-executed, the service is friendly and knowledgeable, and when you order so much that you have to take some home, it reheats well, too. Get to Via Locusta for brunch or any other meal–it's one of the best Italian restaurants in the city.
The Dutch
The Dutch is one of the best brunch spots in South Philly, so, thankfully, they serve it every day. The Dutch baby pancakes are a must-try, but the buttermilk waffles and great sandwiches like the reuben and fried chicken BLT make it hard to choose.
Visit during the week to avoid a long wait.
Bud & Marilyn's
Bud & Marilyn's describes its style as retro American, which is evident from the sleek 60s-style décor. The dishes here are elevated comfort food from perfectly crispy cheese curds to shakshuka with hash browns.
The brunch menu at Bud & Marilyn's is filled with favorites like fried chicken and waffles, brioche French toast, and braised shortrib chilaquiles. Alongside one of the dozen brunch cocktails or non-alcoholic options, they're a great way to start the weekend.
El Chingon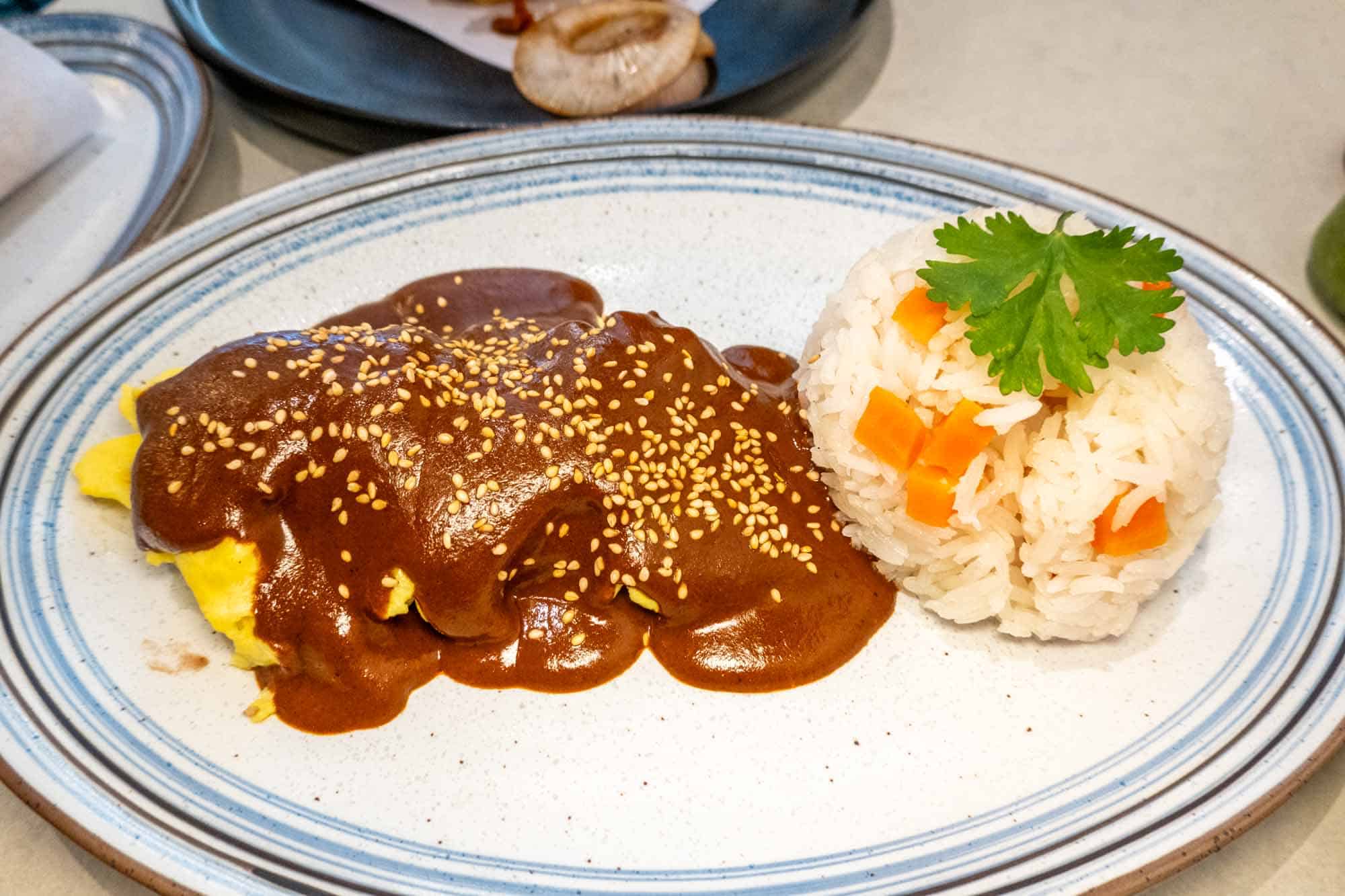 A relatively new addition to the South Philly Mexican scene, El Chingon is best known for their house-made cemitas, a sandwich from the Mexican state of Puebla. Their round rolls, which are made daily in-house, are filled with proteins like beef birria in adobo, pork al pastor, and marinated skirt steak.
El Chingon's lunch and brunch menu is available daily, and, in addition to cemitas, includes chilaquiles, a chalupa, and our favorite, huevos con mole—scrambled eggs topped with flavorful mole and served with homemade corn tortillas.
Attico
Attico is right in the middle of the action on Broad Street. Above the Cambria Hotel, this year-round rooftop restaurant and bar serves brunch every Saturday and Sunday. Even if you sit inside, the wrap-around windows ensure an atmospheric experience.
The menu here has plenty of egg dishes like smoked scrambled egg toast with sheep milk cheese and steak and eggs as well as shrimp and grits, a crab melt, and plenty of dessert selections.
White Dog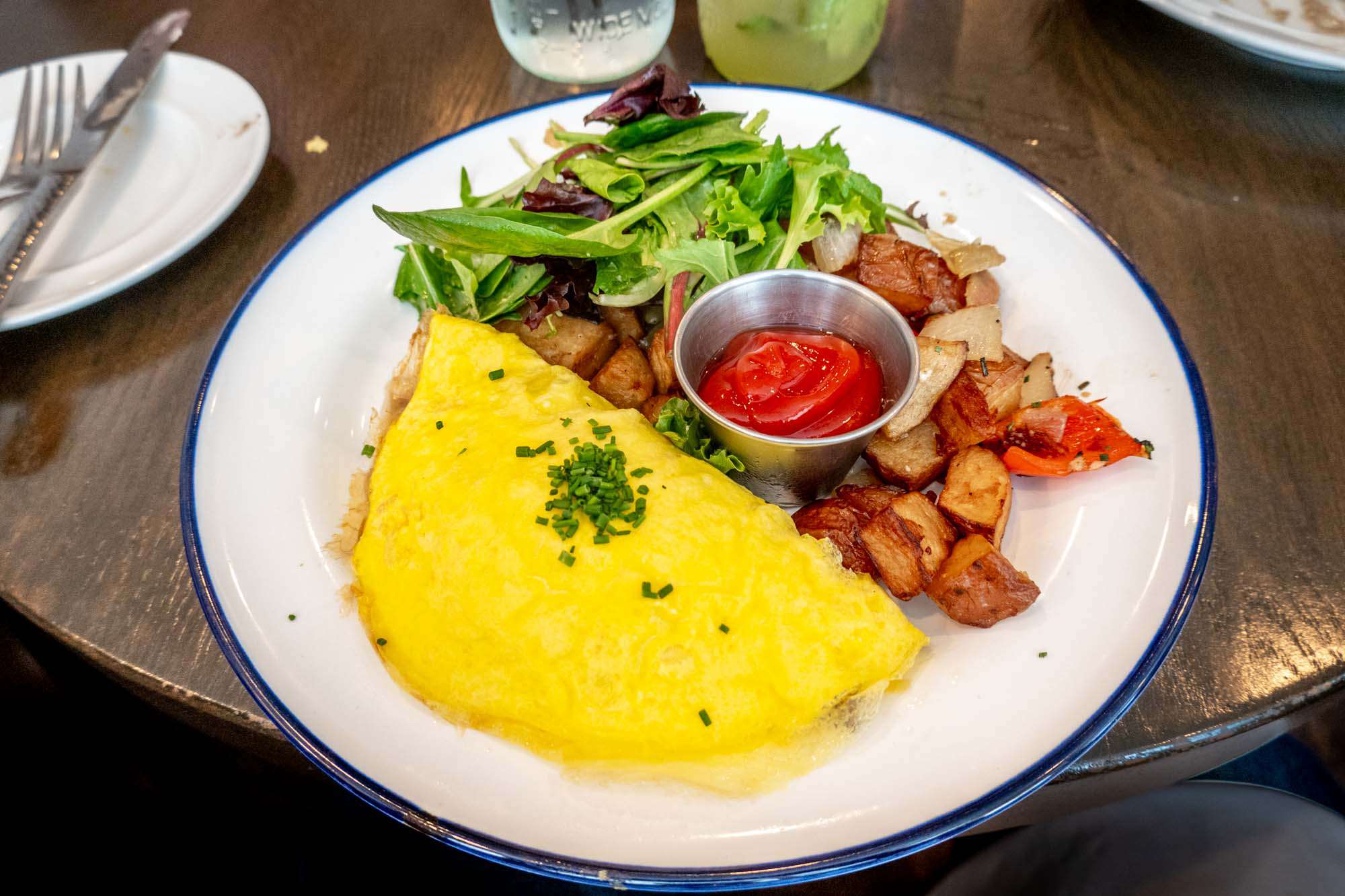 White Dog Café has been a mainstay of Philadelphia (and suburbs) dining for nearly 40 years. Known for its dog-themed décor and cozy furnishings, the restaurant was one of the first in the area to commit to environmental sustainability and using local, seasonal ingredients. The brunch menu is full of treats like whipped goat cheese ricotta with figs, Kennett Square mushroom soup, a churro waffle, and a Lancaster County omelet with smoked bacon, goat cheese, and spinach.
The Wayward
At the Canopy by Hilton Hotel, The Wayward is a delightful daily brunch spot with a sleek dining room and spacious patio. The American brasserie features American dishes with a French flare and prides itself on its selection of oysters and gin.
The Wayward menu includes French omelettes, a croque madame, and a wild mushroom tartine topped with a sunny-side up egg. The croquembouche is a particularly decadent tower of Federal Donuts, crème pâtissière, pecan, and gin caramel. Paired with a selection from the French 75 cocktail menu, it's hard to go wrong here.
Winkel
Diners at Winkel will find a menu full of Northern European influences liked smoked fish and open faced sandwiches. For those less accustomed to Dutch food, this BYOB also has many familiar favorites such as omelettes, waffles, and a roasted tomato grilled cheese.
Harper's Garden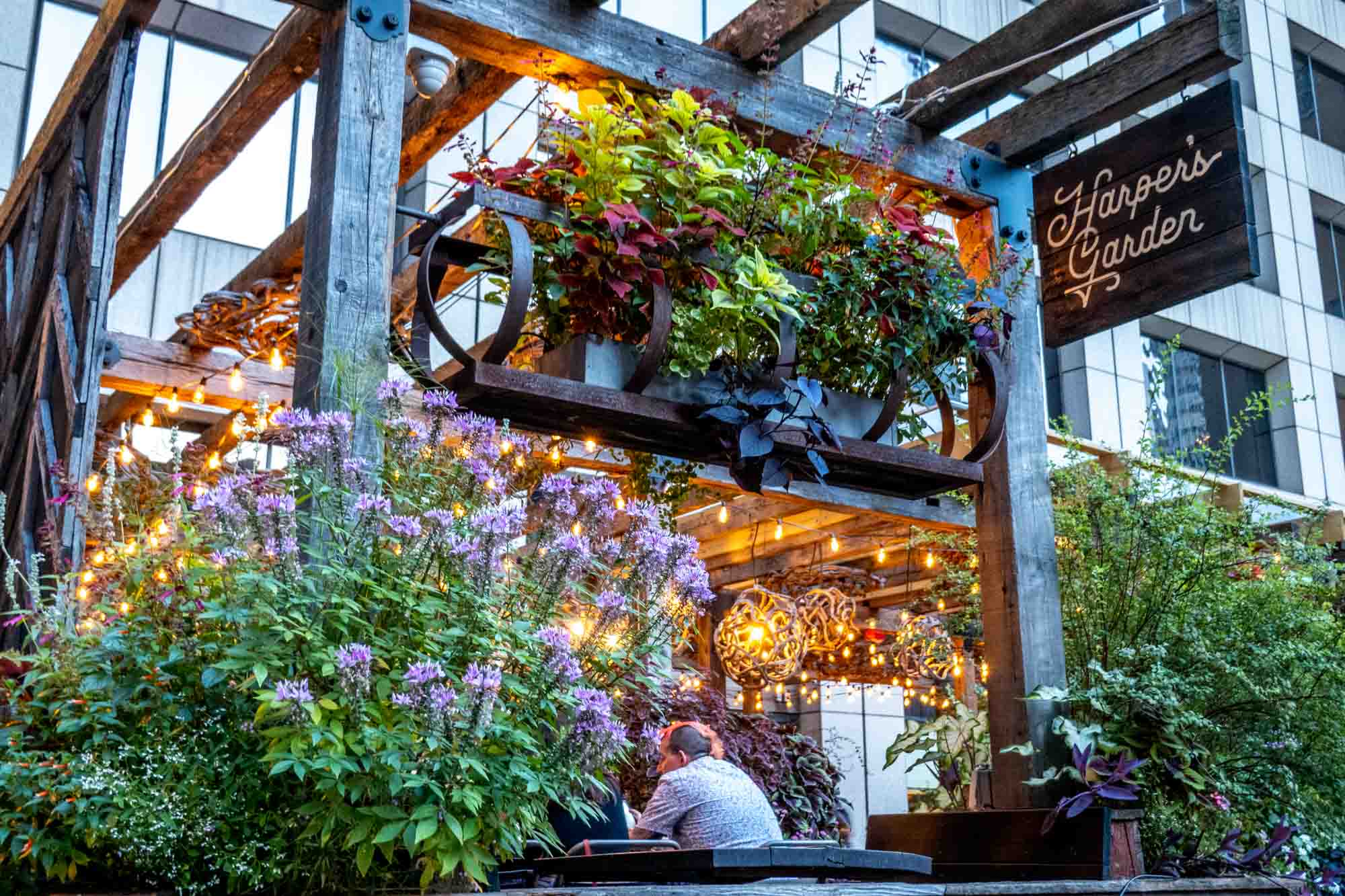 Harper's Garden serves New American cuisine with a focus on seasonal ingredients in its lush indoor/outdoor space. With its warm lighting and areas full of plants, you hardly feel like you're in Center City. Diners can choose from the patio, the dining room, or the greenhouses—each option brings something special to the experience here.
Every weekend, Harper's Garden welcomes guests for brunch. The menu includes everything from avocado toast to a variety of eggs Benedict choices. Favorites include the shareable cheese board and the 'Merica burger, which is a hit at every meal.
Bar Hygge
One of our favorite restaurants for brunch in Philadelphia's Fairmount neighborhood, Bar Hygge serves elevated brewpub favorites in its cozy lounge and dining room. Try the pretzel beignets covered in powdered sugar and cinnamon, the hygge home fries topped with bacon and a poached egg, or their lox and bagel board. Bar Hygge has lots of brunch cocktails and zero-proof cocktails to try, or opt for one of the beers brewed in-house.
Cafe la Maude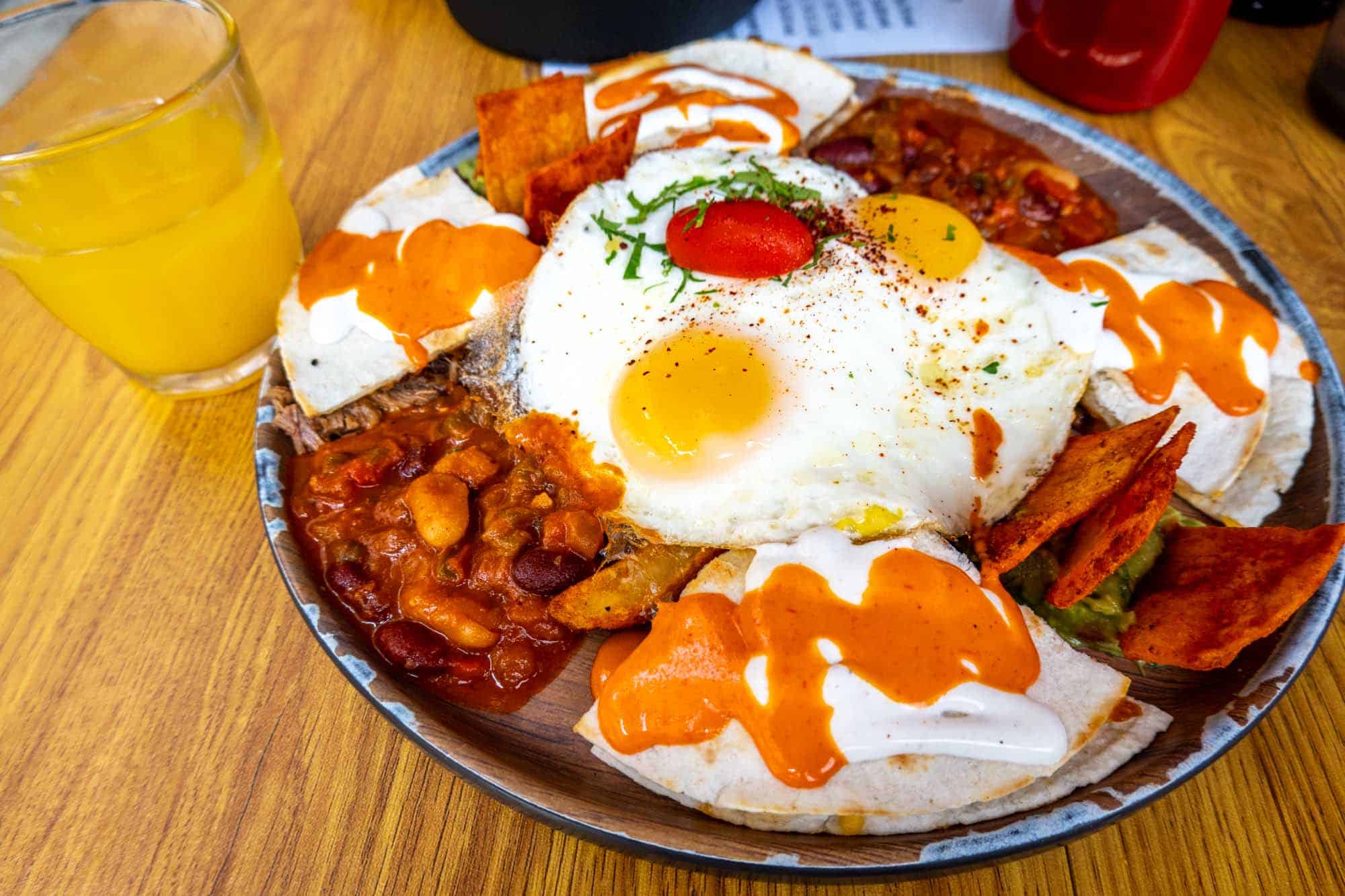 Café La Maude is a staple in Northern Liberties restaurant culture. Open every day until 4pm, this French Lebanese cafe infuses both flavor profiles into its dishes while offering a European cafe vibe.
Snag a sidewalk table and devour an open-face Mediterranean burrito or a stack of red tiramisu pancakes to satisfy your morning sweet tooth. It's BYOB and first-come, first-served.
Wm Mulherin's Sons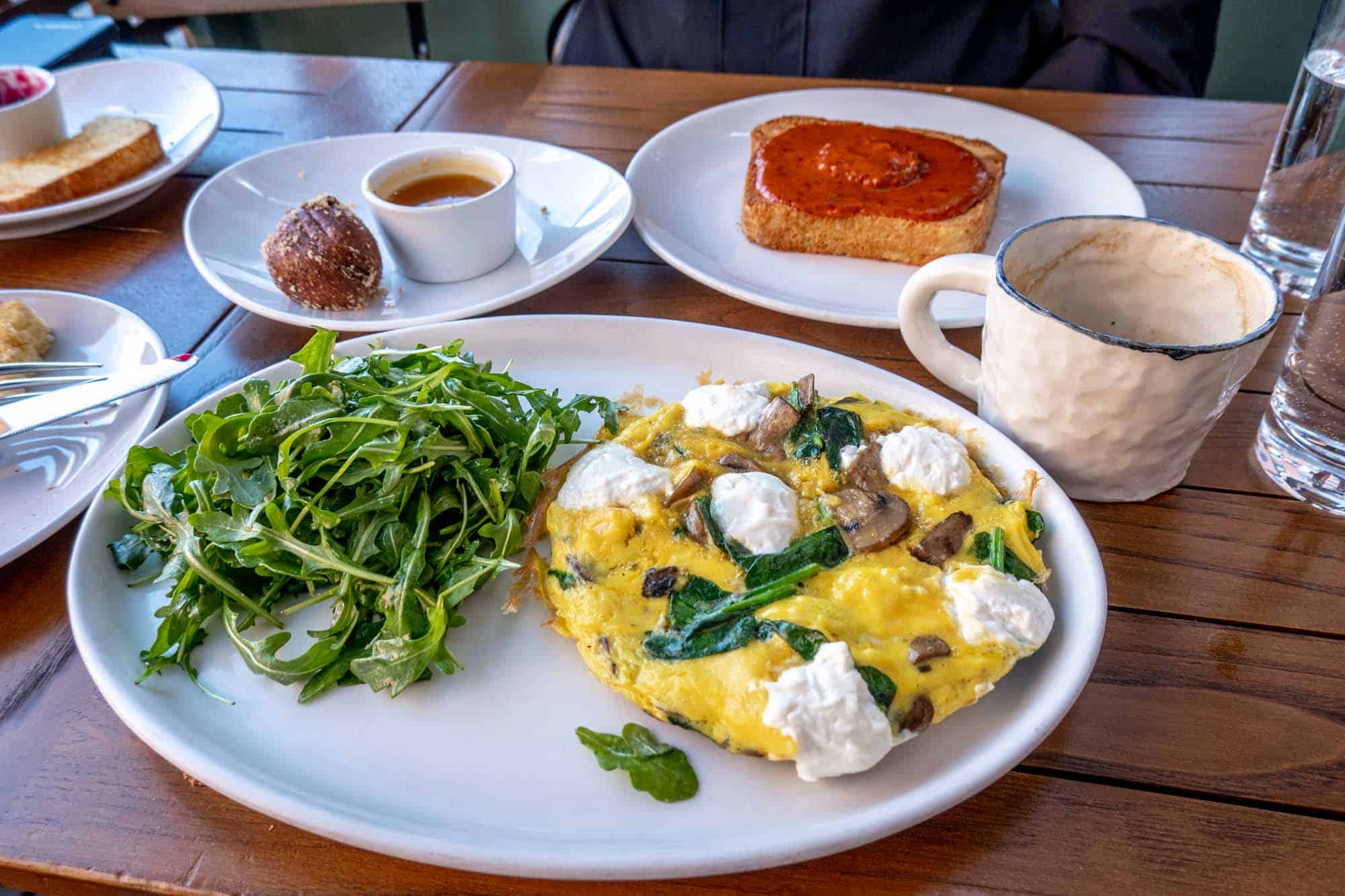 Located in a renovated 100-year-old whiskey bottling facility, Wm Mulherin's Sons is one of our favorite restaurants in Fishtown both for a sophisticated night out and for a fun brunch.
Wm Mulherin's is known for its homemade pastas and pizzas which feature prominently on the brunch menu. We also love the Toad in a Hole topped with spicy 'nduja gravy, the shrimp and polenta, and the oatmeal brulee with caramelized banana.
4th Street Deli
Queen Village's Famous 4th Street Deli has been the go-to place for authentic Jewish breakfast for nearly a century. With portions big enough to share, you can tuck in to some bagels and lox, corned beef hash with eggs, and some of the best challah French toast around.
Honey's Sit 'N Eat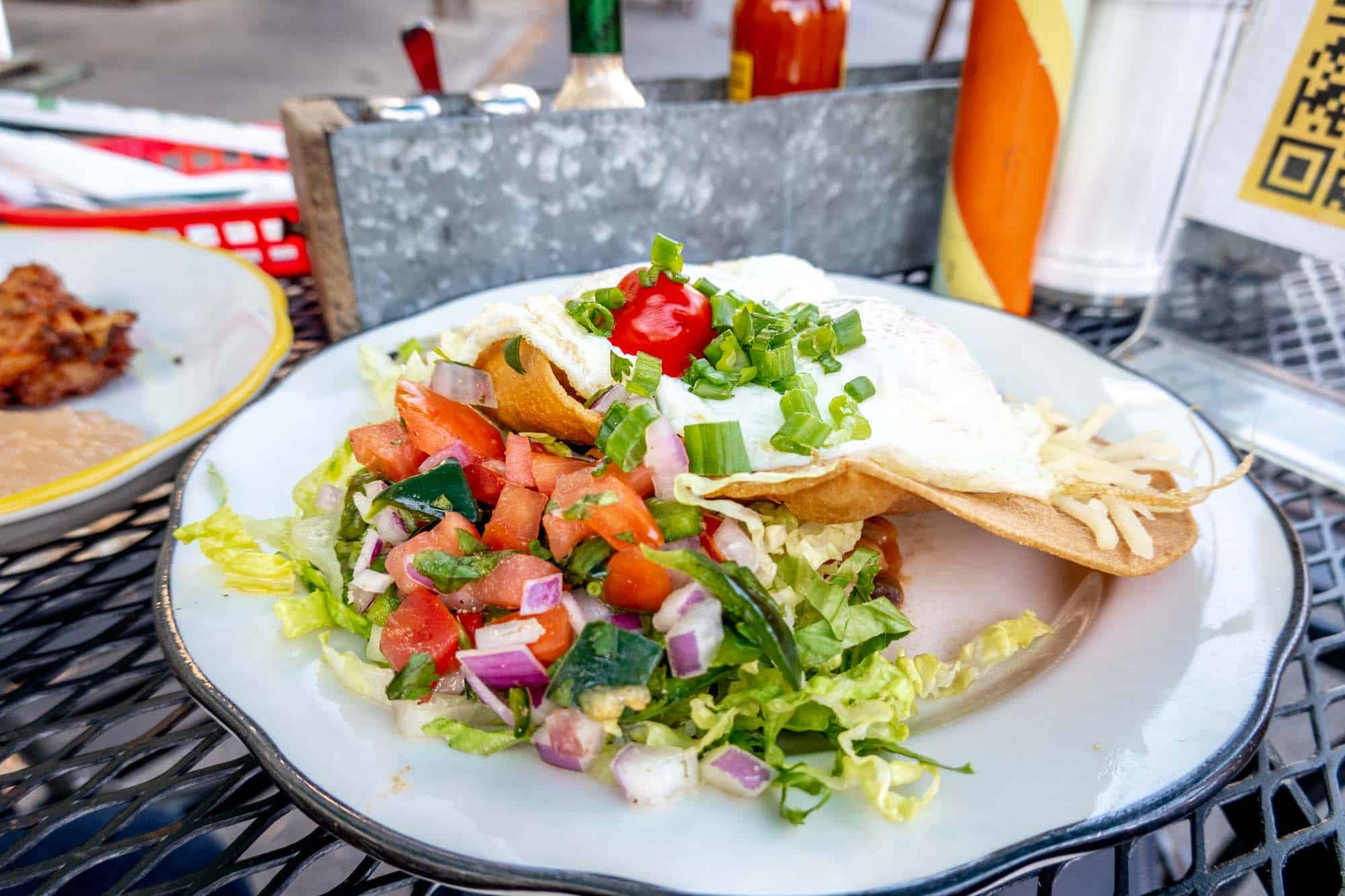 Southern comfort and a bit of Tex-Mex meets Jewish deli seven days a week at Honey's Sit 'N Eat. Honey's takes big flavors and even bigger portions to a totally new and delicious place. The Honey Cristo (ham, egg, and cheese on challah French toast) and the Bubby's Brisket Breakfast with eggs, biscuits, and savory brisket gravy are worth every calorie.
Suraya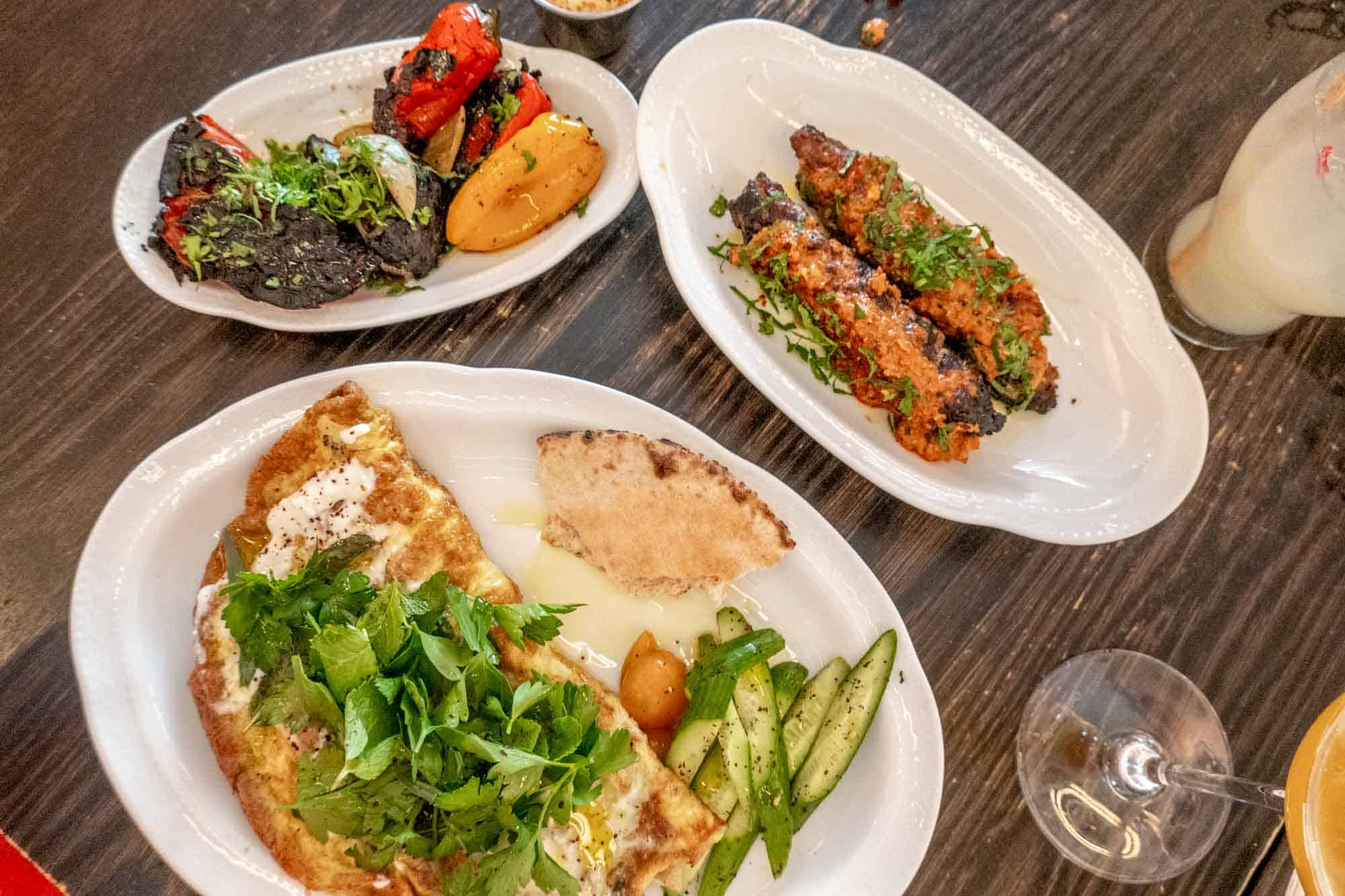 One of our favorite restaurants for any meal, Suraya shines at brunch. This upscale Lebanese destination has a light and airy dining room with an expansive garden area that's ideal on a sunny day.
The brunch menu combines highlights of the dinner menu like labneh, muhammara, and kebabs with egg dishes, crullers, and other delicious pastries.
Valley Green Inn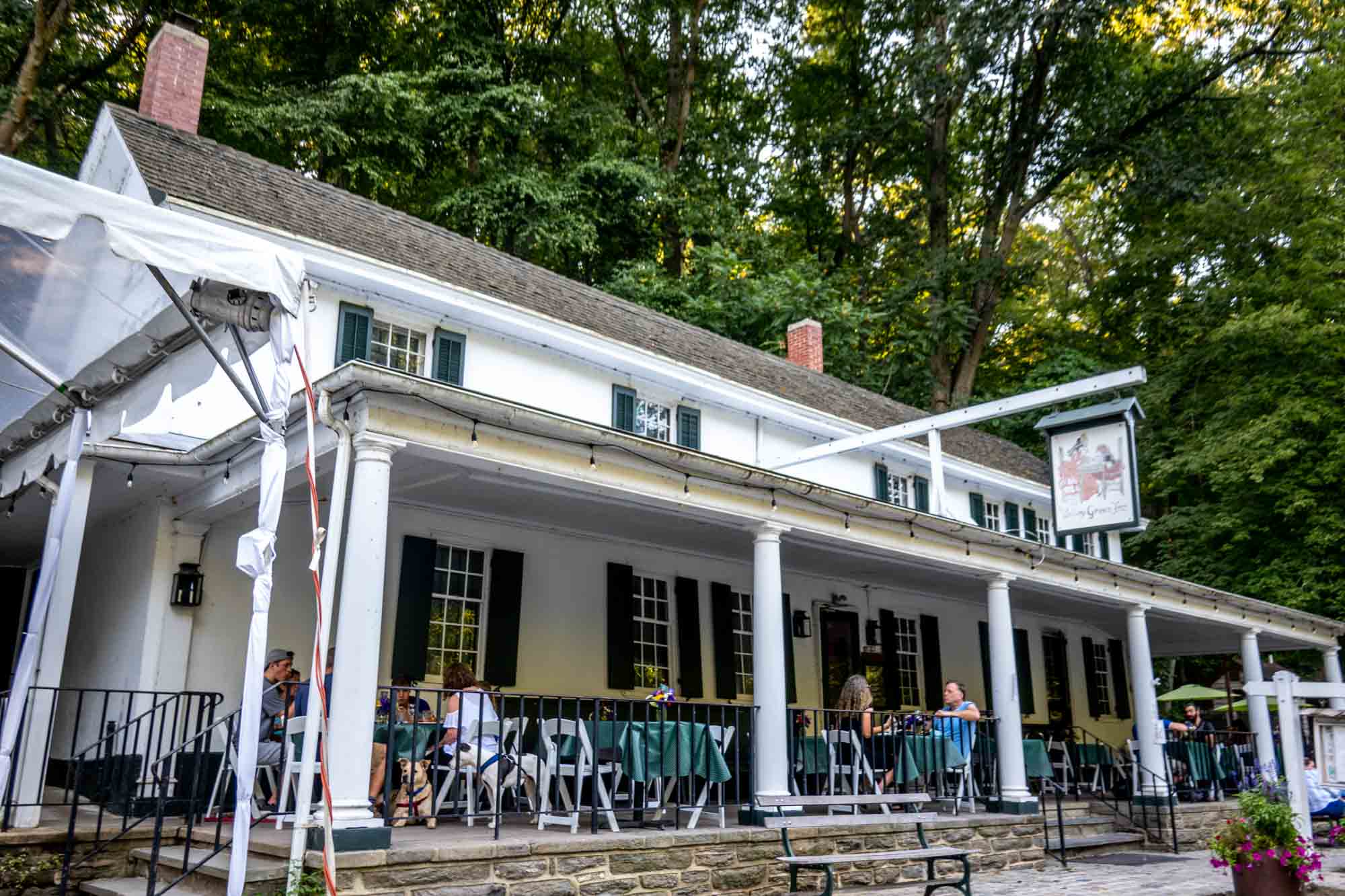 Valley Green Inn, located in Fairmount Park, is undoubtedly one of the most romantic restaurants in Philadelphia, even in the daytime. The historic inn, which dates from the mid-1800s, is surrounded by trees and is just a few steps from Wissahickon Creek.
Diners can choose from the covered patio or the charming indoor dining rooms, complete with cozy fireplaces. The upscale spot is a local favorite for lunch and brunch with menu items like brie stuffed French toast with warm berry compote and short rib Benedict plus plenty of sandwiches and hamburgers.
Cake
Set in a Victorian greenhouse in Chestnut Hill, Cake is well-known for the glory of its Sunday brunch. This bakery and café offers baked brie, buttermilk waffles, and several egg dishes, among other treats to start your week off right.
If you can't make it on Sunday, Cake also serves breakfast and lunch Tuesday through Saturday.
Cantina la Martina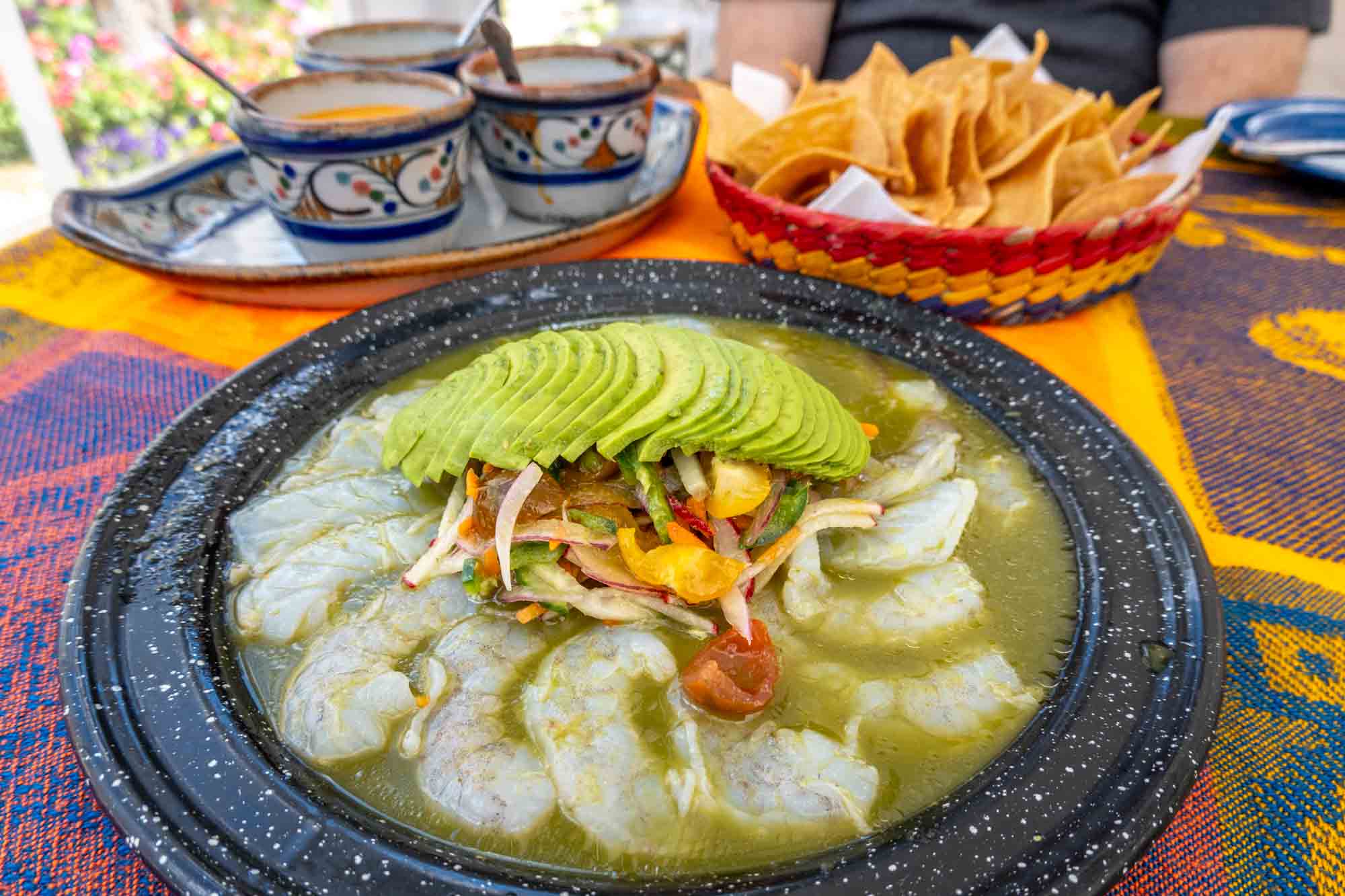 Chilaquiles, divine moles, and pancakes topped with berries and Mexican chocolate whipped cream make Cantina la Martina a top place for brunch. The dishes at this Kensington spot range from tamales to a breakfast torta to a menu that lets you build your own aquachile—choose from a variety of fish, shellfish, and preparations made with different spices to create a refreshing dish.