Some posts on this site contain affiliate links, meaning if you book or buy something through one of these links, we may earn a small commission (at no extra cost to you).
Italian food is as essential in Philadelphia as cheesesteaks or hoagies. In a city with a long Italian heritage, there is a wide variety of cuisines. Diners can try modern Sicilian seafood dishes, the grilled meats of Abruzzo, Italian American pasta and meatballs coated in red gravy, and more. Here's a look at some of our top choices for Italian restaurants in Philadelphia.
Irwin's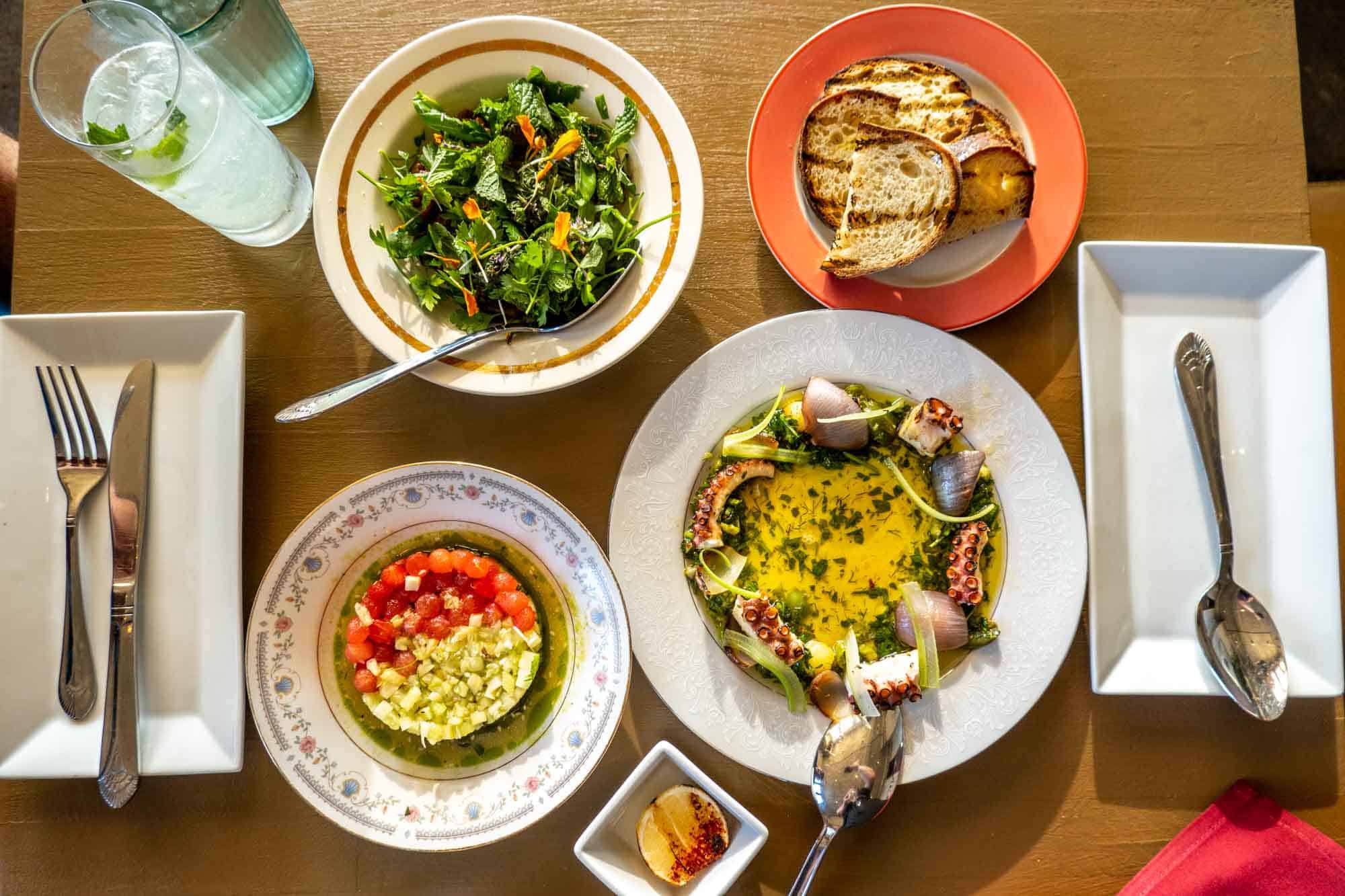 Helmed by executive chef Michael Vincent Ferreri, Irwin's is an energetic spot serving modern Sicilian fare and natural wines. Its handmade pastas, agrodolce chicken, and perfectly crispy fritto misto combine for a meal you'll want over and over again.
The food at Irwin's is delicious, and its setting in a former classroom in the Bok Building is intriguing—there's even graffiti on the walls. Its deck offers a sweeping view of South Philly, making it an ideal rooftop dining destination.
Fiore Fine Foods
Inventive Italian specialties, pastries, and gelato are the hallmarks of Fiore Fine Foods in Queen Village. We first visited Fiore during the challenging days of 2020 when their takeout meals explored the highlights of different regions of Italy each week. Since the moment we had our first bites of Bolognese and tortellini en brodo, we've been hooked.
With warm hospitality and a wood-burning grill, the welcoming spot on Front Street cooks up roasted meats, a selection of handmade pastas, and small plates. Their pastries and gelatos (some of our favorites) are even more plentiful on the weekends when you can pop in for brunch or pick up a pre-order.
The menu changes frequently, but we've yet to have a dish we didn't love from soft ricotta gnudi to a pork shank with spicy romesco. Reservations are recommended for indoor and outdoor dinner seating. Parking can be a challenge to find.
Fiorella
Steps from the Italian Market, chef Marc Vetri delivers pasta perfection at Fiorella. The tiny pasta bar was a butcher for its first 125 years, and Fiorella pays homage to its long history both in name and in the use of its revered sausage recipe, part of the restaurant's signature dish.
Both a destination restaurant and a neighborhood favorite, Fiorella has a variety of antipasti and handmade pastas plus a cocktail list featuring hits like a dirty pasta water martini and brown butter old fashioned. The tonarelli cacio e pepe and rigatoni with sausage ragu are mainstays along with charred octopus. Dinner reservations are a must for indoor and outdoor dining.
Dante & Luigi's
Italian opera and white tablecloths greet diners at this city institution. The oldest Italian restaurant in Philadelphia—and one of the oldest in the country—Dante & Luigi's opened in 1899. Set in a converted townhouse, it serves up straightforward Italian American classics.
The menu includes numerous types of pasta and plenty of seafood and meat dishes, including pork chop Milanese, veal Parmigiana, and seafood cioppino. Diners paying cash get a 10% discount. Reservations are available by phone, and on-site valet helps immensely with the often challenge parking in South Philly.
A Mano
Located in Fairmount, A Mano comes from a place of deep love for the simple things in life, including hand crafted pastas made the old way. With dishes spanning the range of Italian cuisine – from Piemonte to Calabria – there's something here for everyone.
The menu is deceptively simple in its scope. While specifics change seasonally at this Italian BYOB, there are often about 6 antipasti, 5 pastas, and 5 meats, plus 3 sides and desserts.
What the menu lacks in quantity, it makes up for in terms of quality. The roasted beets with whipped ricotta is sweet and tangy. The burrata with prosciutto di Parma, grilled beans, and pesto showcases the best of the season in one dish. And, no meal would be complete without an order of the homemade focaccia with house-made Stracciatella. Reservations are available for indoor and outdoor dining.
Osteria
Since 2007, Osteria has been one of the city's most celebrated restaurants. Warm and welcoming from the moment you walk through the front door, it has a large open kitchen and patio decorated with plants and white lights.
The ambiance is only surpassed by the food. Helmed by chef Jeff Michaud, Osteria is certainly one of the best Italian restaurants in Philadelphia.
Their incredible bread (don't skip the focaccia and baked ricotta) and pizza cooked in the wood-burning oven are highlights on a menu that spoils guests for choice. The restaurant is also well-known for its rigatoni with chicken liver, grilled meats, and decadent housemade gelati.
Cry Baby Pasta
Cry Baby Pasta is a welcoming place in Queen Village serving homemade pastas, sharable plates, and mains like Chicken Francaise. Seasonal ingredients keep the menu fresh, but there are always solid offerings like moist meatballs with smoked ricotta and tagliatelle with the restaurant's signature Bolognese. Everyone here feels like a regular and is welcomed accordingly. Reservations are recommended for their indoor and outdoor seating.
Little Nonna's
Italian American comfort food is the specialty at Little Nonna's. The cozy Midtown Village restaurant has only 40 seats inside, but that space doubles with the addition of the coveted patio area and sidewalk seating.
Plates here are piled high with pasta that will give even the best grandmotherly cook a run for her money. The Sunday gravy (served daily) is the star and includes shortribs, meatballs, garlic sausage, and broccoli rabe in a four-hour San Marzano marinara over pasta. It's huge and indulgent and great as leftovers. There are also plenty of pastas, salads, and antipasti to choose from. Whatever you do, order the garlic bread that comes with a head of confit garlic. Thank me later.
Barbuzzo
Just three blocks from Little Nonna's, culinary team Marcie Turney and Valerie Safran helm another gem, Barbuzzo. Though it styles itself as a Mediterranean kitchen, you'd be forgiven for calling it Italian based on the range of pastas, starters like arancini, and meatballs with grilled bread. Since it opened, Barbuzzo has been praised for its outstanding pizza (among the very best Philly pizzas) and its salted caramel budino.
Reservations are available for indoor dining, but the bar and chef's counter are first come, first served.
Via Locusta
With a focus on seasonal, local ingredients, Via Locusta is a standout among the city's Italian offerings. This restaurant near Rittenhouse Square offers a menu of shareable plates, a half-dozen homemade pastas, and several mains that make for one of the best meals around. It's worth the trip for the fresh focaccia with whipped honey butter alone.
We loved the honey sweet stuffed onion baked until it nearly melts as well as the porcini agnolotti and the pappardelle with pork ragu bianco. For brunch or dinner, Via Locusta is a must-try. Reservations are available for indoor and outdoor dining.
Villa di Roma
An Italian Market mainstay for nearly 60 years, Villa di Roma is known for its red sauce that's so popular they even sell it by the jar. The menu in this homey spot is long and includes everything you would expect from spaghetti and meatballs to fettuccine alfredo and a long list of seafood, sausage, veal, and chicken entrees. It's cash only, and reservations are only accepted via phone.
Wm Mulherin's Sons
For a lazy brunch or a special date night, Wm Mulherin's Sons fits the bill. Between its outdoor spaces, fireside seating, and buzzy bar, it's easy to find just the right atmosphere for your meal.
Located in a renovated 100-year-old whiskey bottling facility in Fishtown, Mulherin's serves great food complemented by an expertly-curated cocktail and wine list. They're known for their superb Neapolitan pizzas, pastas, and wood-fired grilled meats. We particularly love the crispy octopus with lemon-white bean puree and the oatmeal brulee with caramelized banana on the brunch menu.
Victor Cafe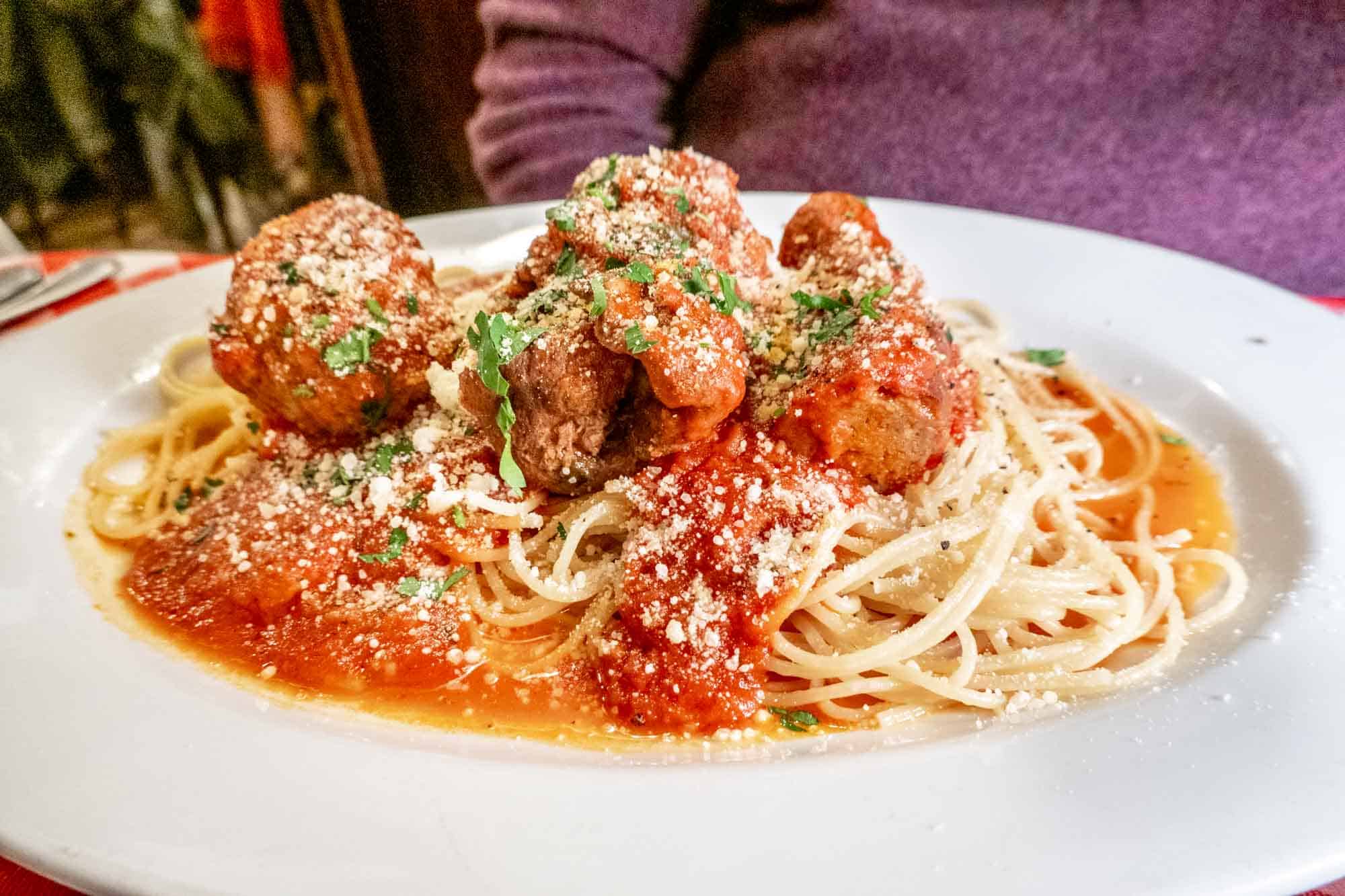 At Victor Café, you're in for dinner and a show. Every 20 minutes or so, the classically trained servers take turns in serenading dinners with operatic performances. The menu focuses on old school standards like linguine fra diavolo and chicken piccata.
Le Virtu
Le Virtù on East Passyunk serves Abruzzese cuisine—the food of Abruzzo—often using ingredients straight from the region's farms and cooperatives. The restaurant is a casual trattoria well-known for its patio, which is busy much of the year.
The menu at Le Virtù includes cured meats, a selection of pastas, and lots of roasted meats and seafood. The seafood gnocchi, roasted rack of lamb, and pasta with butcher's ragu are particularly good.
Vetri
In 1998, Marc Vetri elevated Italian food in Philadelphia and made his Vetri Cucina an essential dining experience in the city. For the last 25 years, the 32-seat dining room has remained the home of an exquisite tasting menu paired with grand Italian wines.
The Quattro Piatti menu features antipasti, pasta, secondi, and dessert courses for $150 per person. Dishes change often, but standards include a sweet onion crepe with truffle, spinach gnocchi, and roasted goat.
Prunella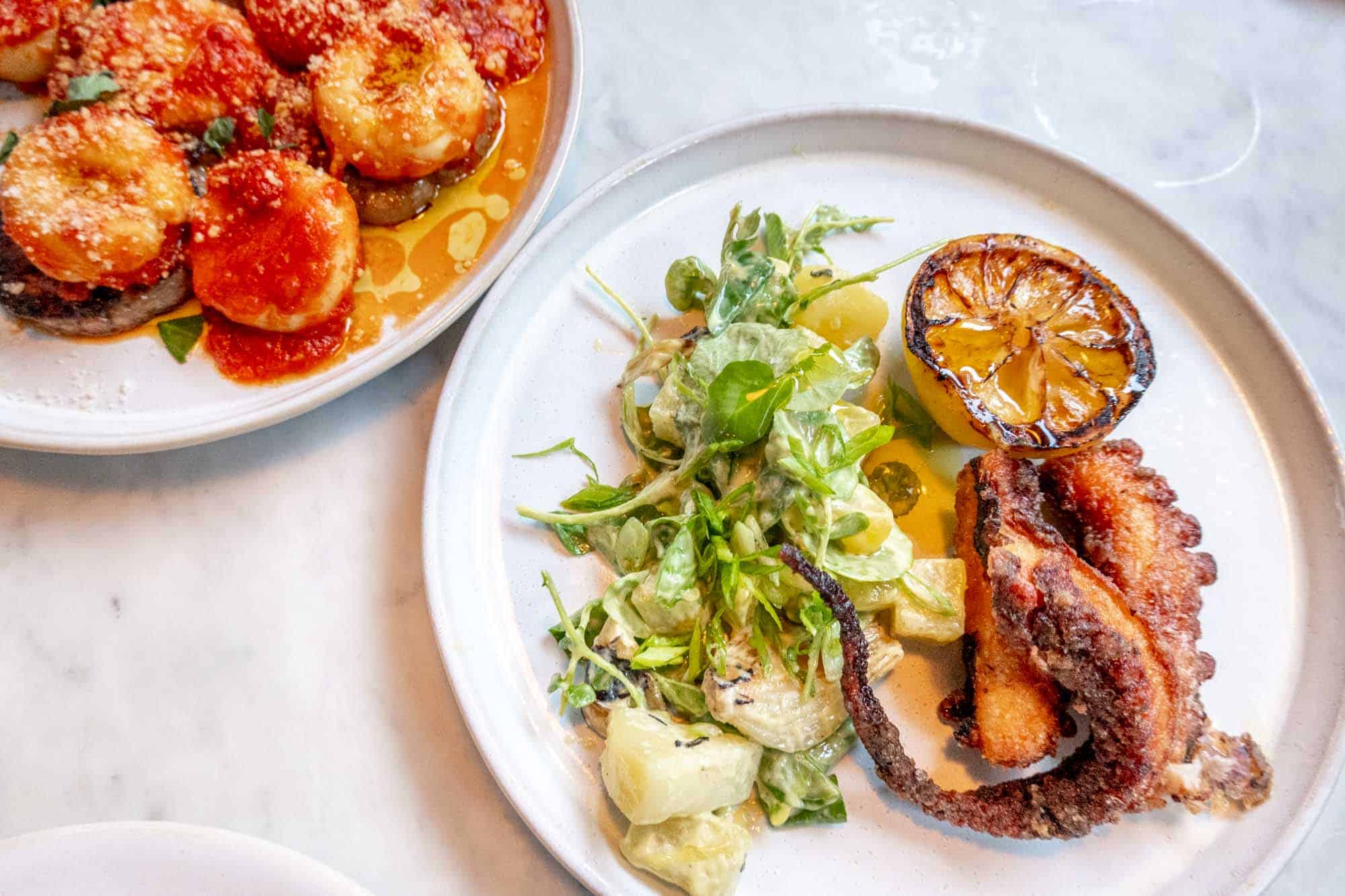 Pizza is the star at Prunella in Midtown Village. With unique names like White Claw and The Big Nick, the thin crust, wood-fired pies come topped with everything from burrata to braised pear. We were impressed with every bite and rank it among our favorites.
Prunella has cozy indoor seating and a substantial outdoor dining area that feels well-suited for a relaxed lunch or a fun date night. The versatile menu is full of things to share, including whipped ricotta with burnt honey, rigatoni all'amatriciana, and tuna crudo with preserved lemon and capers.