Some posts on this site contain affiliate links, meaning if you book or buy something through one of these links, we may earn a small commission (at no extra cost to you).
Philly's love affair with Mexican food is strong. The city is full of options from authentic recipes from different regions of Mexico to more Americanized adaptations, all of which go down easy with a margarita or fruity agua fresca. Whether you want a casual taqueria, more upscale offerings, or vegan spins on traditional dishes, here's a look at some of the best Mexican restaurants in Philadelphia right now.
Cantina La Martina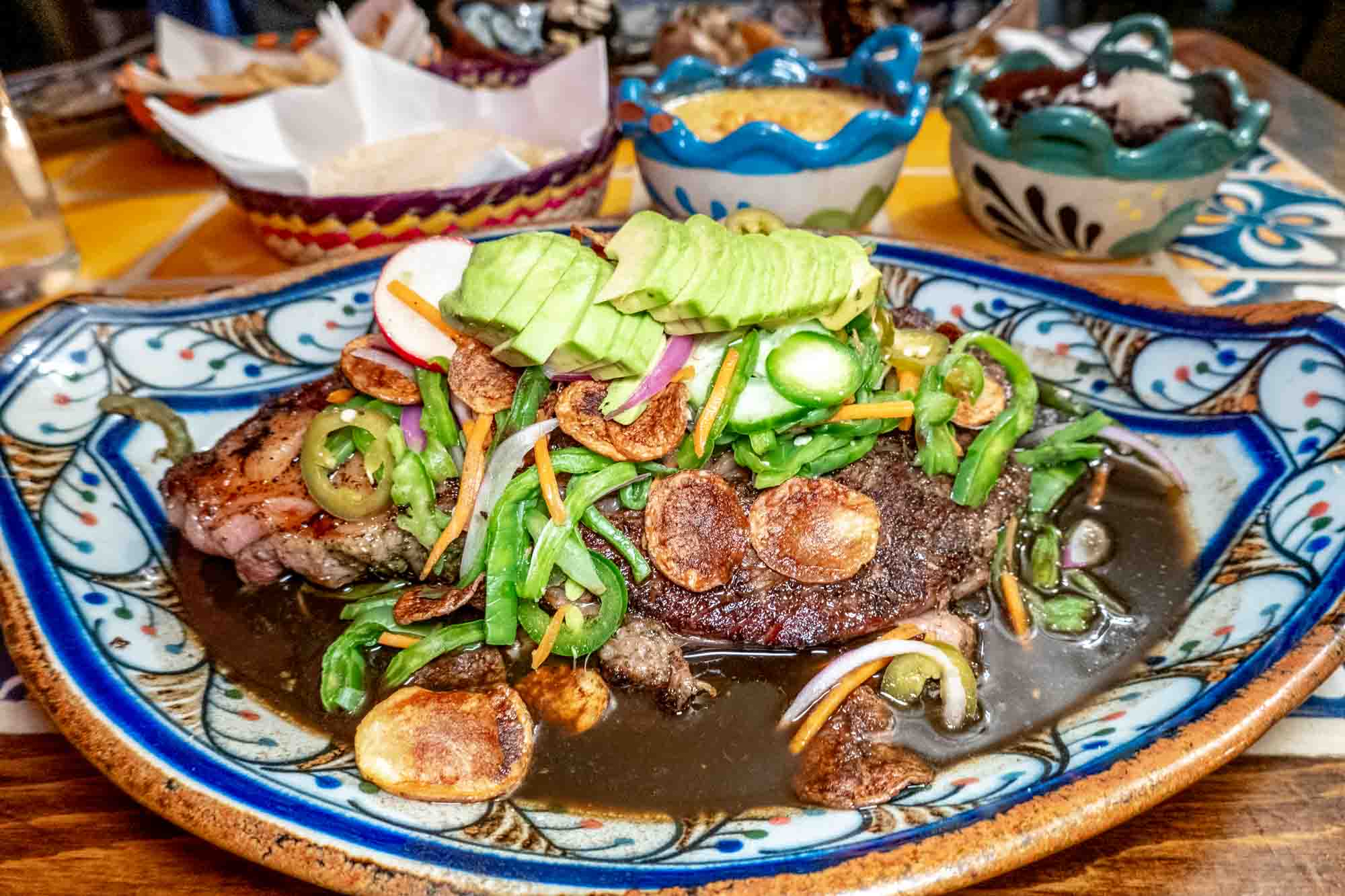 Quesadillas made for sharing, refreshing aguachiles, and divine moles are just a few of the things that put Cantina La Martina at the top of the list of best Mexican restaurants in Philly. The dishes at this Kensington spot have earned chef-owner Dionicio Jimenez a James Beard nomination and many devoted fans.
At lunch, diners will find lots of tacos and enchiladas. Brunch features chilaquiles, tamales, and other specialties as well as pancakes topped with berries and Mexican chocolate whipped cream. At dinner, the braised goat and New York strip steak with nopales and huitlacoche are stand outs.
South Philly Barbacoa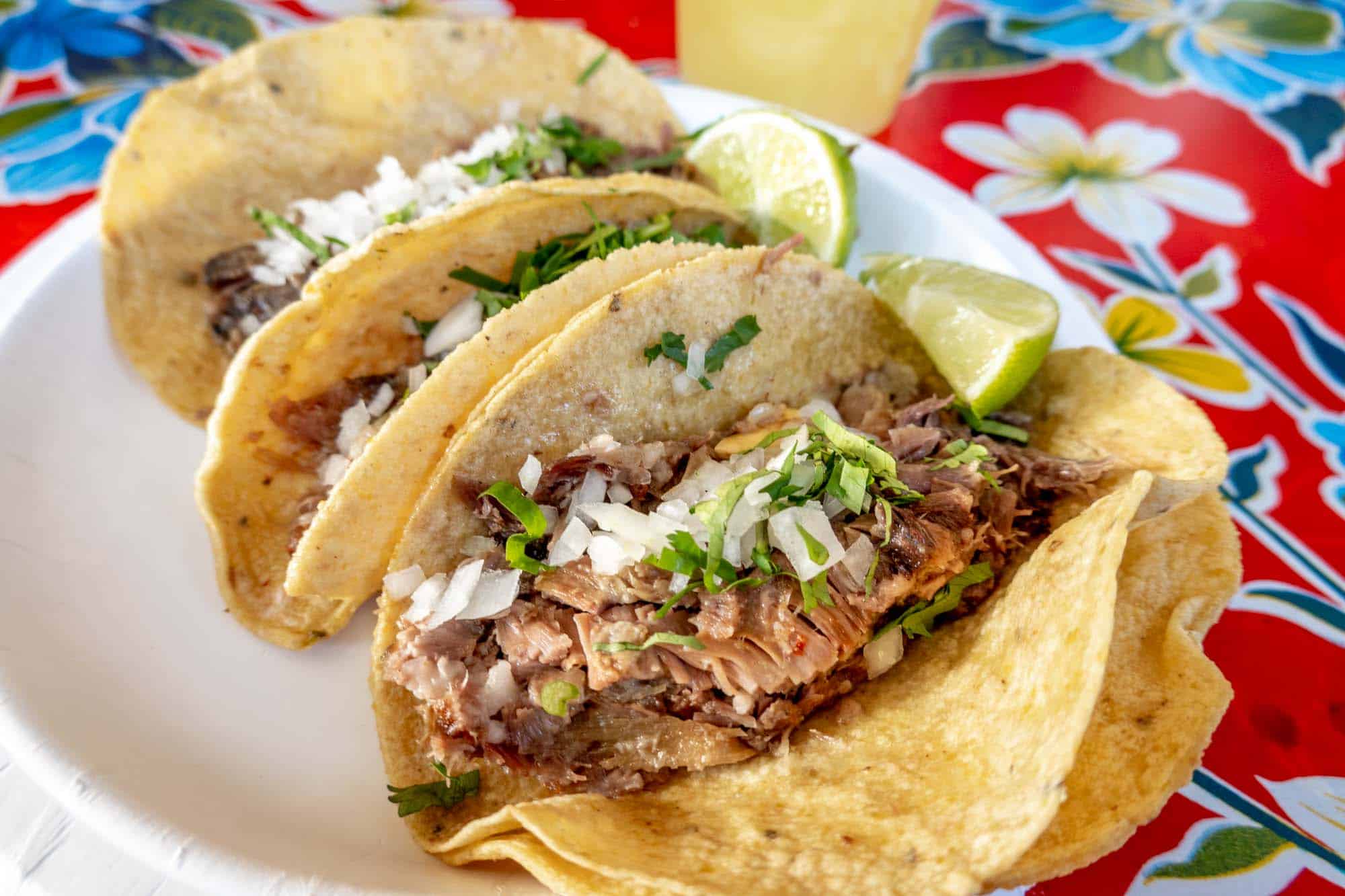 The food at South Philly Barbacoa isn't just outstanding Mexican food—it's an essential part of the city. Chef-owner Cristina Martinez has been recognized just about everywhere—from the James Beard Awards (more than once) to numerous magazines and TV shows—for her dishes rooted in her Mexican heritage.
Lamb barbacoa tacos are the top choice here. Slow cooked in a citrus marinade, the lamb is served on corn tortillas made in-house from corn that is grown specifically for the restaurant. The lamb consommé is always popular, and visitors will find other rotating dishes like tamales, but the menu is always small.
The barbacoa is only available Saturday through Monday from 5am (9am on Monday) until 3pm or sell out. The restaurant is open Monday through Thursday evening with a menu of quesadillas, tlacoyos, and more.
LMNO
A cornerstone of the Fishtown dining scene, Mexican-themed LMNO has not just a massive dining room and patio but also includes a music listening lounge, bookshop, and art gallery.
The Baja-inspired menu includes seafood and vegan aguachiles, tostadas, and "dirty" tacos with crispy melted cheese. The larger dishes are designed to share and feature several make-your-own tacos options, including lobster tails and a whole grilled seabass. Don't miss the birria Benedict and tres leches French toast at brunch.
Tamalex
Tamalex, a BYOB not far from the Italian Market, is a go-to for weekend tamales. Its broad menus includes Mexican and Honduran dishes ranging from pozole, sopes, and gorditas to pupusas and empanadas.
Juana Tamale
Carnivores and vegans alike can rejoice at the varied options at Juana Tamale in East Passyunk.
The star at this BYO restaurant is undoubtedly the birria tacos. Served with consommé and stuffed with cheese and tender beef, an order of three assures you won't need to eat again for a long time. My favorite thing is grabbing one of the tacos with the birria ramen, which is packed with beef, cheese, and green onions. If you prefer to skip the meat, vegan quesabirria tacos are a great option.
The menu has steadily expanded to include quesadillas, a Mexi-pizza, chicken carnitas tacos with slow-braised chicken, and seitan wings tossed in Buffalo or Thai chili sauce. Tamales are specials, so grab them whenever you can.
Taqueria Amor
Quesadillas, fajitas, and tons of tacos take center stage a Taqueria Amor. The casual Mexican taqueria in Manayunk brings good food and good fun to every meal.
In addition to their menu that features gems like tacos al pastor, brisket enchiladas, and cheesy chorizo fundido, the restaurant often features pop-up concepts. Depending on the time of year, visitors may find Tikirita Amor (a tiki bar theme), Barbie, Merry Grinchmas, or something else to liven up your evening.
La Llorona Cantina
The food at La Llorona Cantina is designed for sharing. And thank goodness for that because having to limit yourself at this South Philly standout would be a travesty.
Tacos, quesadillas, and ceviches dominate the menu full of items that accompanies the long tequila and mezcal list. For something more substantial, turn to the chicken breast with mole or the half rack of guajillo adobo ribs that you can use to build your own tacos.
Blue Corn
A family-owned Mexican restaurant in South Philly, Blue Corn brings authentic recipes and tasty margaritas to the diners on busy Ninth Street. The ceviches and huaraches here are among our favorites—it's hard to lose with a combination of fresh seafood, homemade vinegar, and olive oil or masa topped with salsa, refried beans, and tender steak.
Loco Pez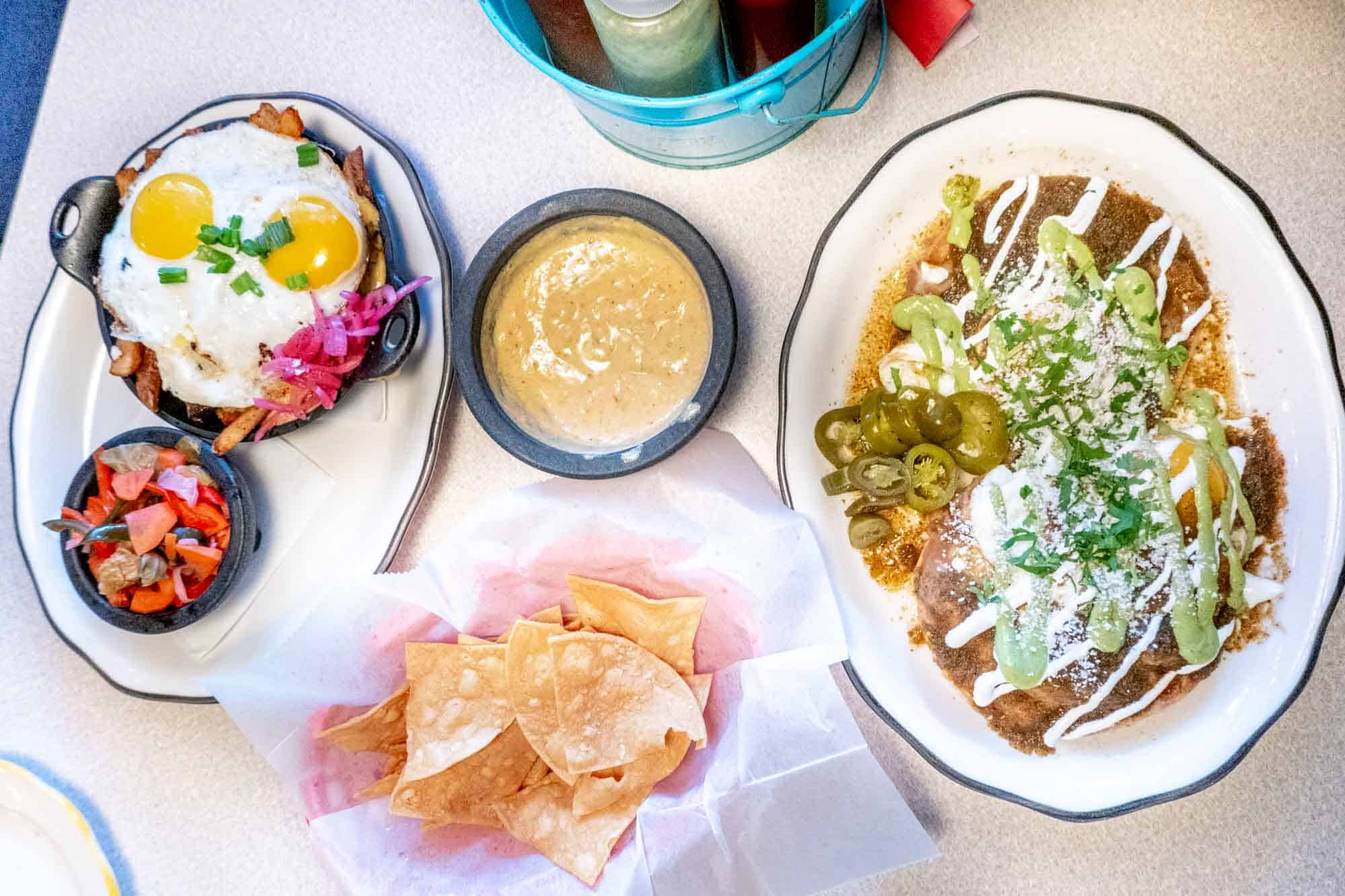 The three locations of Loco Pez serve up straightforward Cal-Mex in the form of numerous tacos, burritos, and quesadillas. Their long list of beer and tequilas hits the spot, especially if you find yourself here on one of the dollar taco nights. We're partial to brunch for the chilaquiles or the outstanding charro skillet that includes carne asada topped with mole and a fried egg.
El Vez
The colorful and personality filled El Vez has been a prime spot for margaritas and guacamole in Midtown Village for 20 years. With cushy velvet booths, a spinning low-rider bike over the bar, and lots of glitz and glam, it is a destination for brunch and dinner and a great lunch option in Center City, too.
We particularly love the black bean tlayuda—a crispy corn flatbread with lots of toppings—and the Baja shrimp tacos with crispy shrimp coated in Modelo beer batter. There are lots of build-your-own tacos and other versions of Mexican classics. Plus, the bar has an extensive tequila list and flavors from spicy pineapple to blood orange.
Sor Ynez
Part of the rapidly growing Kensington dining scene, Sor Ynez takes a sustainable approach to traditional recipes from different parts of Mexico, reflecting the heritage of chef Alex Tellez and his family. We nearly swooned over one of the restaurant's signature dishes, the puffy and crispy tlacoyos made of blue corn masa. Layered with refried beans, nopales, queso fresco, and salsa verde, they're filling for an appetizer and an absolute must-try.
Other highlights include the Michoacan-style pork carnitas platter—a piece of tender pork that comes with whole pinto beans, blue corn tortillas, and cilantro habanero salsa—and the garlic shrimp that gets a hit from mezcal and is complemented by creamy rice. Vegetarians will find a good list of options here, too.
If you're visiting when the weather is nice, don't miss the chance to have a margarita or cocktail on the beautiful patio. As a bonus, Sor Ynez has ample free parking.
Mole Poblano
Naming your restaurant Mole Poblano after the classic chicken dish covered in chocolatey, nutty, complex mole sets a diner's expectation high. Luckily, this classic Mexican restaurant that incorporates the flavors and cooking traditions of Puebla lives up to every hope you might have for it.
From the mole that graces enchiladas and burritos to the handmade sopes and classic tacos, dishes at Mole Poblano sing. If you're headed there on the weekend, look out for the tamale specials and the braised goat barbacoa.
La Calaca Feliz
Whether you're toasting with margaritas on the cozy patio or digging into a pile of nachos in the mural-covered dining room, La Calaca Feliz has several spaces to enjoy its contemporary Mexican cooking. The Fairmount restaurant has quesadillas, enchiladas, and plenty of tacos to choose from.
Start off with the esquites guacamole topped with grilled corn and queso fresco and follow up with the carnitas tacos or enchilada mixto to try a little bit of everything. The Santana margarita and Ranch Water cocktail are perfect beverage selections whatever you're eating. For brunch, huevos rancheros is a personal favorite, though there's lots to choose from.
Tequila's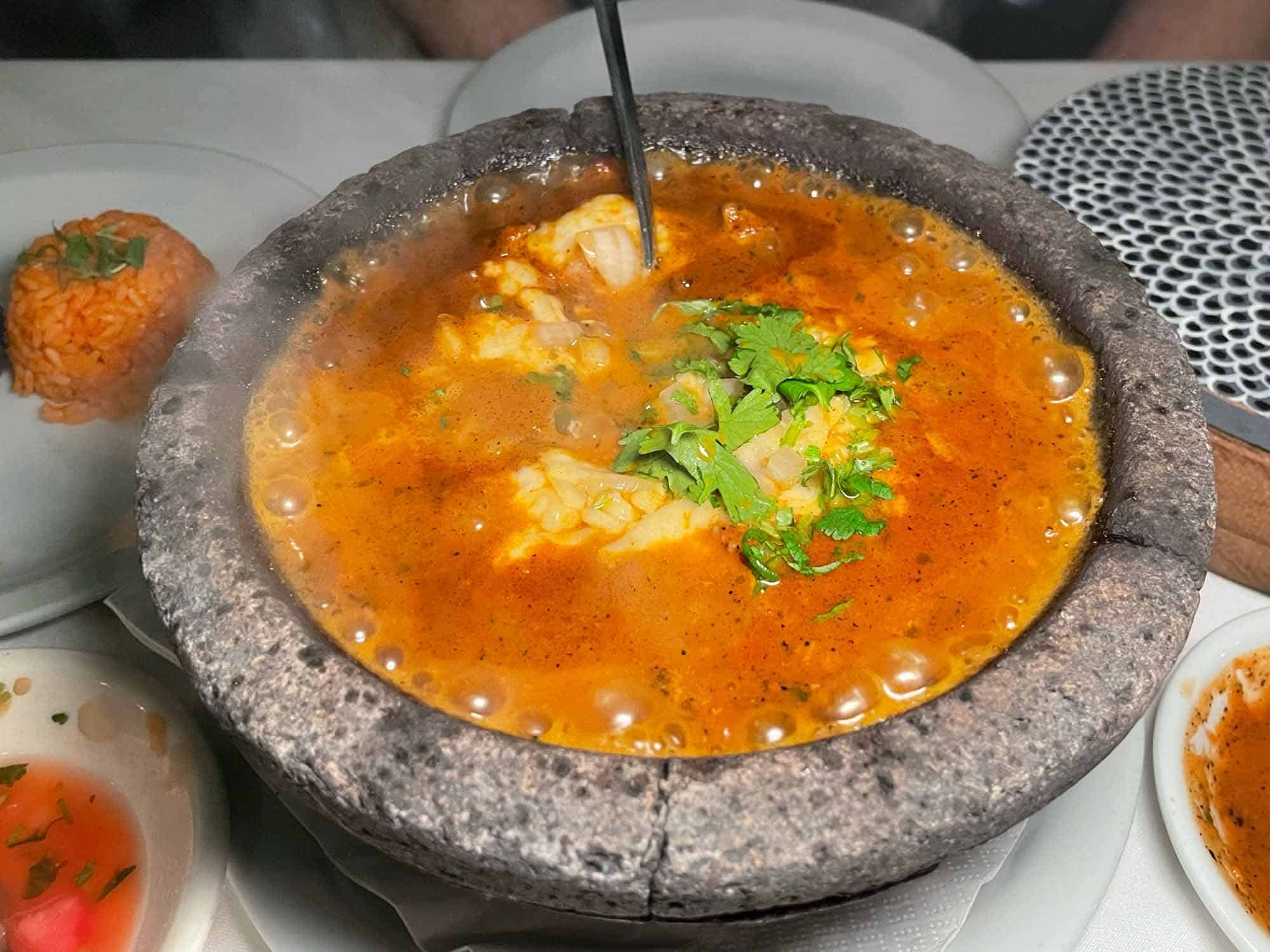 For nearly 40 years, Tequila's has brought Mexican food to Rittenhouse Square. One of the city's first authentic Mexican restaurants, its large bar and dining rooms full of white tablecloth-draped tables make for an upscale setting. But that doesn't mean an evening here is stuffy—look no further than the server who balances cocktails on his head for proof of that.
Start off with seafood ceviche and queso fundido topped with huitlacoche for an indulgent first course. For mains, it's impossible to go wrong. We love the molcajete de carne served bubbling in a heated lava bowl and the carne asada a la tampiqueña, a marinated strip steak with a tamal and a chicken taquito. The churros are a must-try for dessert. (Note: as of April 2023, Tequila's is temporarily closed due to a fire. Keep an eye out for a reopening date.)