Some posts on this site contain affiliate links, meaning if you book or buy something through one of these links, we may earn a small commission (at no extra cost to you).
The craft distillery industry is booming in Philly. From vodka distilled seven times to expertly made Pennsylvania rye whiskey and everything in between, there are lots of small-batch options to choose from.
In addition to the excellent spirits, the distilleries in Philadelphia run creative cocktail bars to show off the best notes of their products. Whether you're looking for a straight whiskey flight or a refreshing mixed drink, you'll find it in these welcoming environments–often complete with live music and food trucks.
Here's a look at some of the top distilleries in Philadelphia and the surrounding area.
Philadelphia Distilling
The first thing you notice when you visit Philadelphia Distilling is the giant still visible through the window just behind the bar. That's where all the magic happens and the product line comes to life.
Pennsylvania's first distillery after Prohibition, Philadelphia Distilling is the oldest distillery in Philadelphia. It's most well-known for its Bluecoat gin, which has won numerous national and international awards. Bluecoat is available in traditional recipe as well as barrel-aged and flavored with elderflower. The gins—along with absinthe, two types of vodka, and amaro—are available on the creative cocktail menu that changes seasonally.
Originally a production-only facility, the distillery began in northeast Philly over 15 years ago. When laws changed to allow visitors and bars, Philadelphia Distilling opened their welcoming tasting room and bar in Fishtown. With comfy couches, games, and a welcoming vibe, it's a fun place to come for a tour to learn more about the production or just to grab a drink and a bite to eat.
Manatawny Still Works
For four years, Manatawny Still Works has been a popular spot on East Passyunk Avenue in South Philly. With signature and classic cocktails, whiskey tasting flights, and outdoor seating, it is popular with locals and visitors exploring all this great neighborhood has to offer.
Manatawny began in Pottstown in 2014, and we've been fans of it since the very beginning—before they had any of the whiskeys that they're now famous for. On the banks of the Manatawny Creek, the distillery produces a wide range of spirits, including vodka, gin, four-grain whiskeys, and their award-winning gold rum.
An informative tour is available in Pottstown where you'll also find regular live music and food trucks.
New Liberty Distillery
New Liberty Distillery has dedicated itself to making Pennsylvania rye whiskey world famous. At one time, the spirit was more well-known than Kentucky or Tennessee whiskey, and New Liberty wants to reclaim those glory days. With its award-winning Kinsey Rye Whiskey, it is well on its way.
Founded in 2014 by former Philadelphia Distilling master distiller Robert Cassell, New Liberty has three brands— Kinsey, New Liberty, and Heritage Series. They offer a range of whiskey, bourbon, rye, and vodka as well as liqueurs like limoncello and walnut nocino.
The New Liberty building was formerly a stable, and visitors can still see the horse stalls along with the working distillery and bar inside. There is also a great courtyard with plenty of room to spread out while you try the spirits and cocktails.
Bluebird Distilling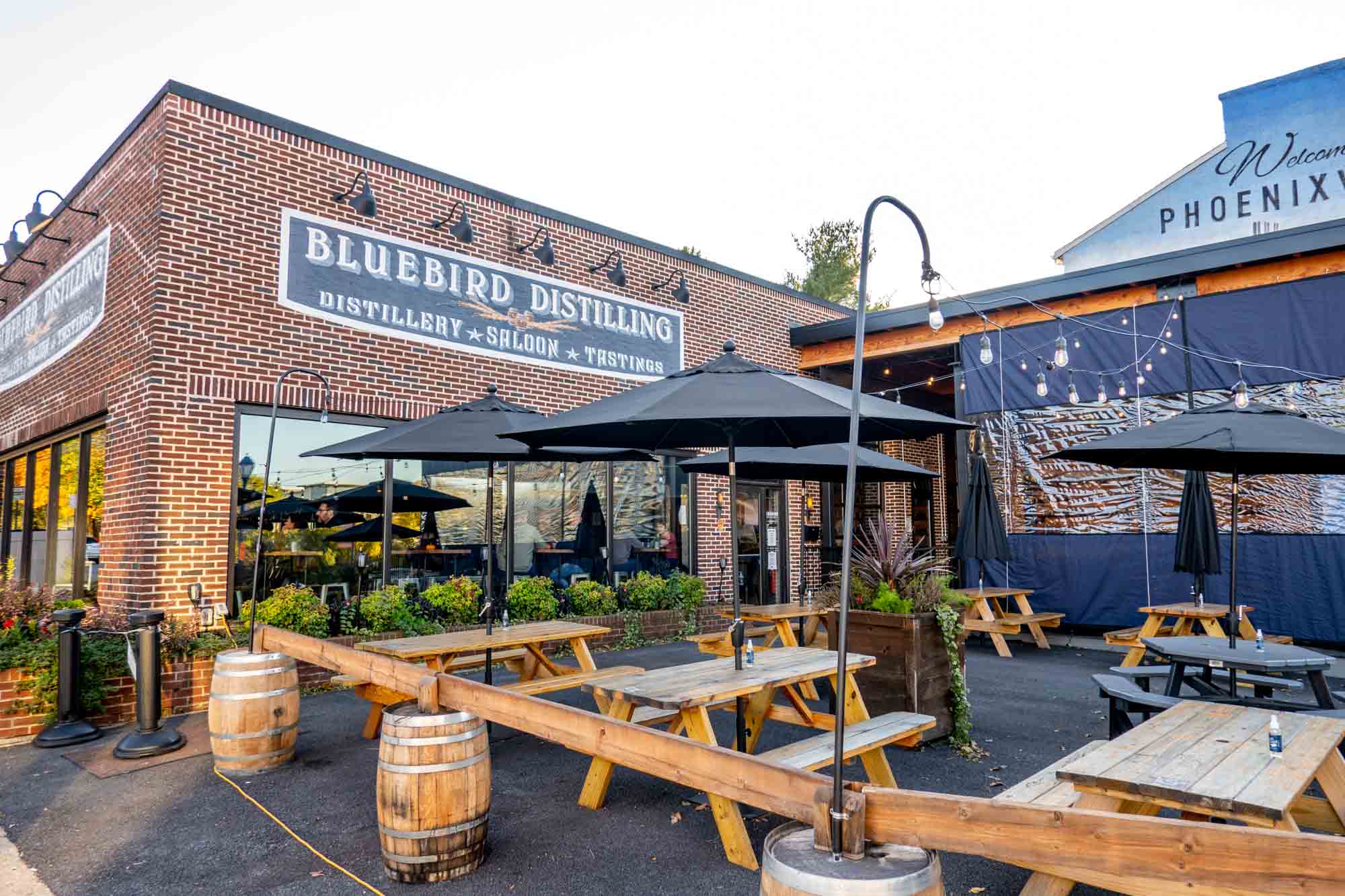 A grain-to-glass distillery, everything at Bluebird Distilling is done on-site at their Phoenixville facility. From the mash to the bottling, the whole process is hands-on with the goal of creating some of the best craft spirits around. Not only are their straight products top-notch, the cocktails at their bar are also killer.
Bluebird has a line of over a dozen spirits, including Four Grain Bourbon, Juniperus Gin, Sugarcane Rum, and even an agave spirit similar to tequila. They're available in classic and seasonal cocktails at the distillery. Go slow because they catch up with you. (I may be speaking from experience.)
Bluebird also has a tasting room and bottle shop in downtown Philadelphia at the Shops at Liberty place and a bar in The Bourse food hall in Old City. Both locations are temporarily closed.
Stateside Vodka
You can't go anywhere in Philadelphia without coming across Stateside Vodka. Started by brothers Matt and Bryan Quigley in their parents' basement, the brand has grown into Philly's most recognizable vodka and the top selling craft spirit in Pennsylvania.
The final steps in producing Stateside Vodka are completed at their distillery in Kensington. The 6000-square-foot space is also home to a tasting room and full-service cocktail lounge where visitors can try lots of cocktails featuring the vodka and spirits from around the world. If you get lucky, you may also find their small-batch Black Label Bourbon.
Four Humours Distilling
Getting a distillery going takes time, especially if you're producing an aged spirit like whiskey. Four Humours Distilling is in the process of perfecting their own spirits now at their rickhouse in Kensington. But, in the meantime, they've set up an excellent cocktail bar.
Designed to look like the inside of an American oak barrel, the bar is cozy and welcoming. Four Humours also has some super creative bartenders who pour all their attention into making syrups, squeezing juices, and finding just the right balance of cocktail ingredients with Pennsylvania spirits—and they're excited to share their craft with visitors in detail.
Boardroom Spirits
Boardroom Spirits focuses on using local ingredients in its line of products that includes traditional and flavored vodkas, rum, gin, brandy, and bourbon. Since opening in Lansdale in 2016, the distillery has added celebrity chef Robert Irvine of Kitchen Impossible to its owners, expanding its reach and profile to a national level.
The distillery was built on the idea of combining European distilling traditions (like the making of Hungarian palinka, a fruit brandy) with American ingenuity. As a result, some of Boardroom's first products were unique spirits made from carrots, beets, and apples. Everything they make comes from their in-house stills using ingredients like Bucks County grain, Berks County apples, and cider from local favorite Solebury Orchards.
The tasting room in the distillery is a local favorite, and they offer regular tours that explain the science behind distilling.
Hewn Spirits
As its clever name indicates, Hewn Spirits is all about using different types of woods to impart smooth flavors in its aged spirits. Whether it's historic oak, chestnut, or another type, the distillery combines local grains distilled in a handmade copper still with the reclaimed wood to produce their award-winning products.
Founded in 2014, Hewn has two locations about 45 minutes from Philadelphia in Bucks County—a bar and tasting room at Peddler's Village near New Hope and the distillery and tasting room in Pipersville. Stop by to try flights or cocktails using their oak-finished rum, vodka, white whiskey, rye whiskey, or Dark Hollow Bourbon that's made using Pennsylvania heirloom corn. We're partial to Reclamation, a single malt whiskey aged with hickory, chestnut, or oak.
Pennsylvania Distilling Co.
Whatever your spirit of choice is, you'll find it at Pennsylvania Distilling Company. While new to the Philadelphia distillery scene, this small-batch distillery in Malvern produces a line that includes vodka, rye whiskey, single malt whiskey, rum, gin, and bourbon.
The influence of Pennsylvania is clear in all aspects of production here. Beginning with grains and malts from small farms in the state to the spirits distilled on-site and even the names such as Pennsylvania Liberty Rye Whiskey and Old City White Rye Whiskey.
Their tasting room and bar is a fun place to hang out for a while, and tours of the distillery are available by reservation.
Five Saints Distilling
Five Saints Distilling has been one of our favorite distilleries in the area since it opened in 2015. Set in a former firehouse in Norristown, it still has the fire pole and retractable doors. Memorabilia inside honors the firefighters who used to serve here and their families.
Windows into the distillery show where the products are made. Visitors can try the gin, vodka, white whiskey, flavored whiskey, blood orange liqueur, and raspberry-lavender absinthe at the bar. An upstairs restaurant is in the works.