Some posts on this site contain affiliate links, meaning if you book or buy something through one of these links, we may earn a small commission (at no extra cost to you).
Once crowned the Best Pizza in America, Pizzeria Beddia continues to deliver world-class pizza pies to hungry patron. At Beddia, the focus is on doing one thing incredibly well. And we think you'll agree, this is still a very special pizza.
Overview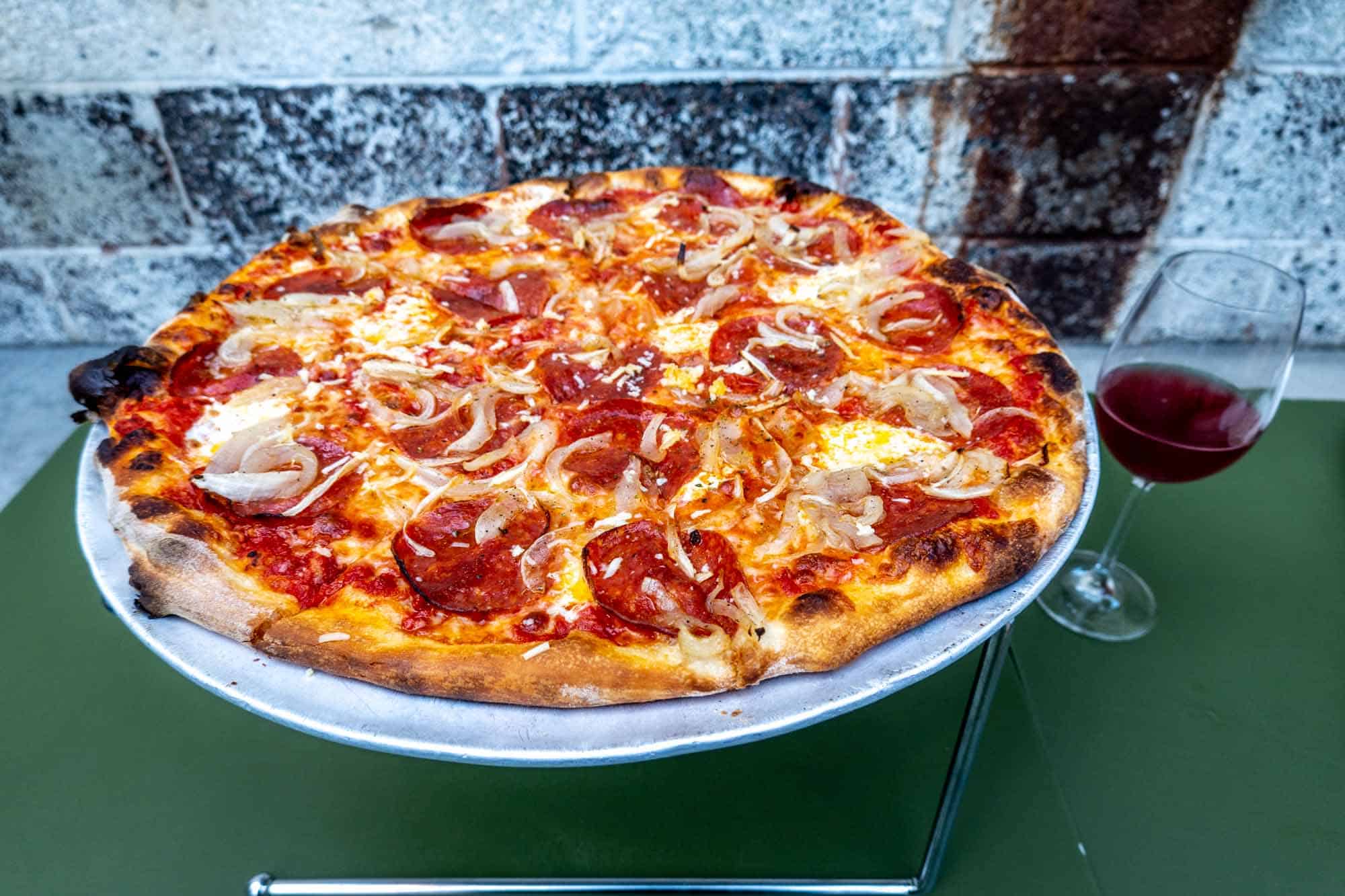 Pizzeria Beddia is brainchild of Chef Joe Beddia. Yes, that one. You might have heard about him. In 2015, Bon Appetit magazine named this the Best Pizza in America (at their original location on Girard Ave, now home to Pizzeria Shackamaxon, an exceptional pizza in its own right). Yes, Joe Beddia, the chef who traveled from Japan to Brooklyn in pursuit of his craft: making the perfect pizza. This is the same pizzeria that chefs in the city STILL say has the best pies. And that's a lot to live up to.
The original location of Pizzeria Beddia had no phone, only took walk-up orders, required guests to pay in cash, and was limited to just 40 pizza pies a day – all made by Joe himself with just two employees helping in the background. And it developed a cult following with Beddia himself being crowed a "pizza saint" or a "pizza Jesus" with his pies being called "more addictive than meth" and people's claims of being willing to "sell my first-born child to get it." And there have even been songs written about this pizza.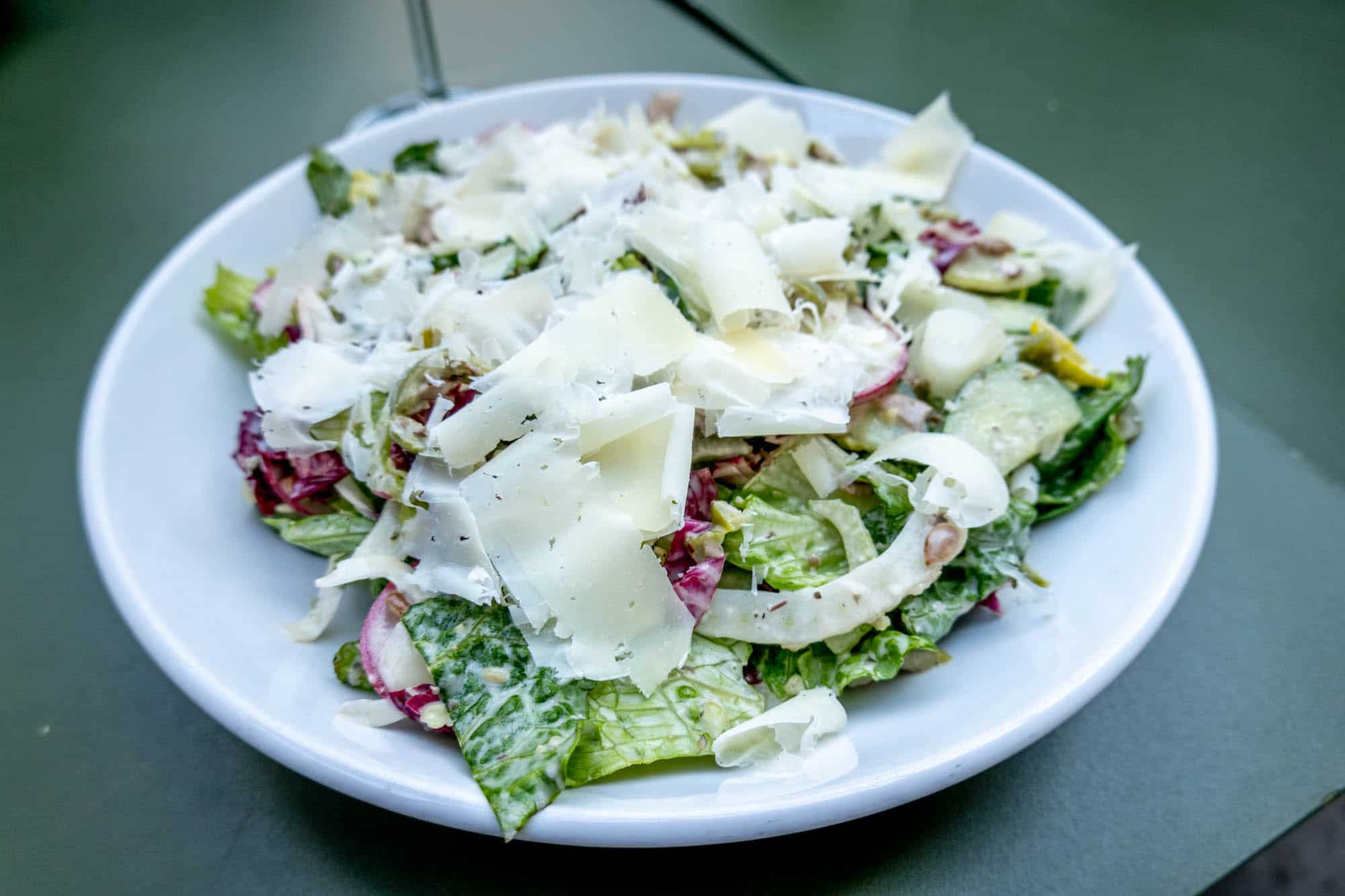 The ethos for Joe Beddia is about doing one thing and doing it exceptionally well, similar to the roast pork at JRP or the barbacoa at South Philly Barbacoa. Beddia's pizza obsession was total, and we all benefited from that. And Bon Appetit recognized that when it named them 'Best in America.'
But the zen-like rarefied ground that Joe Beddia trod could not be sustained or repeated. It was also a recipe for his becoming overworked. So when the inevitable burnout happened in 2018, the Girard Ave location closed and this new location in an alley two blocks away was opened a year later.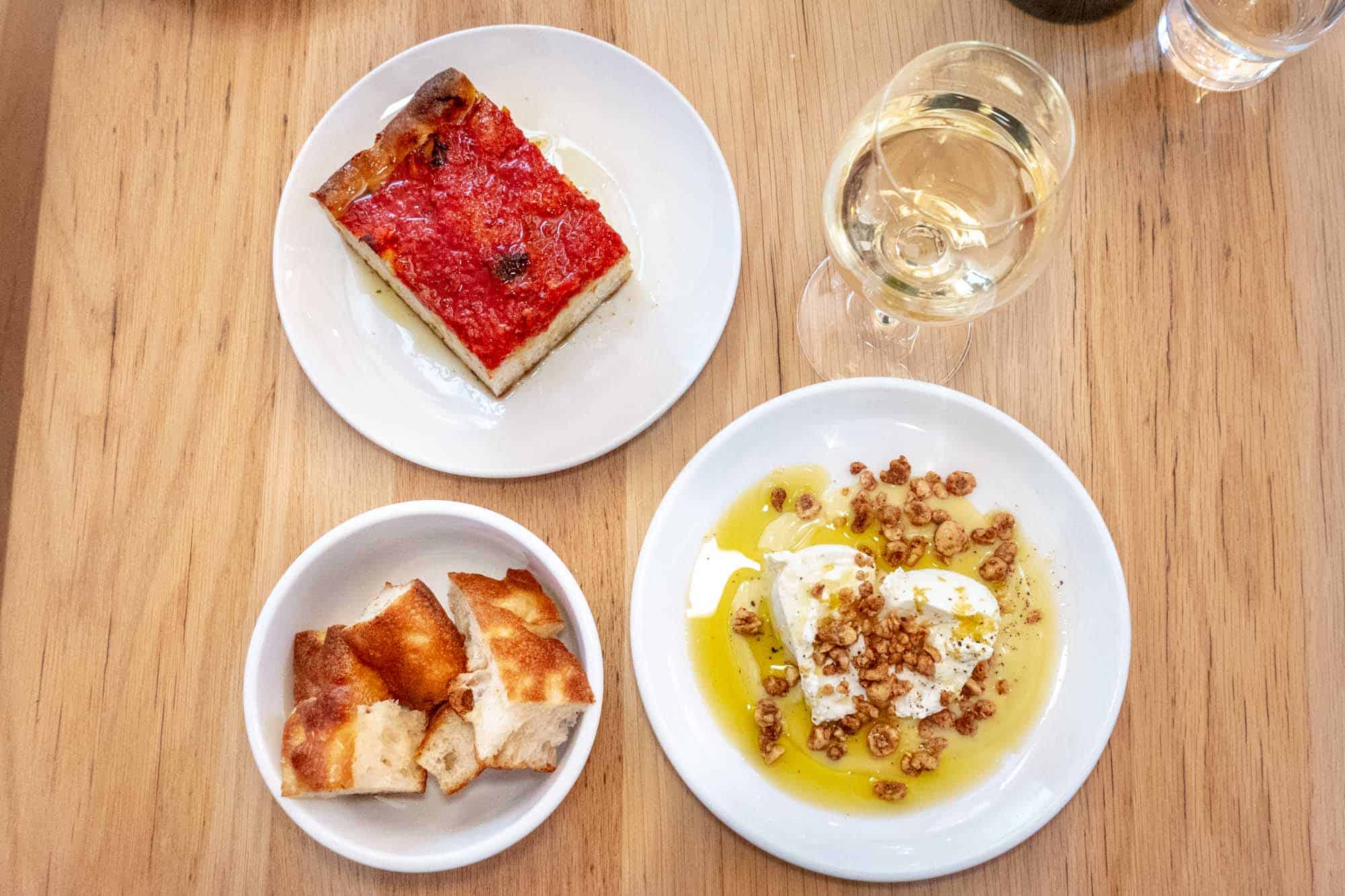 The reincarnated Pizzeria Beddia still has traces of the same essence that made the original location so special. There's a limited menu, a starkly minimal ambiance, and a beverage list featuring natural, unique or unusual wines (such as the Sicilian Aglianico) and local beers from Philly. The new space has quickly become one of the most popular Fishtown restaurants.
In a city with fickle tastes, it's inevitable that people would call the latest version a "sell out" or "overhyped." Nothing could be further from the truth. Over the last three years, we've enjoyed Pizzeria Beddia nearly a dozen times. And each has been as remarkable as the last. In a city with more pizzeria's than any other city, Pizzeria Beddia makes a strong claim for the Best Pizzeria in Philadelphia.
The Menu
Unlike other pizzeria's in the city that have added everything from meatball parm to cheesesteaks to their menu, Beddia remains committed to the vision of incredible pizza. The menu is remarkably static with a few seasonal adjustments and an occasional special, usually around holidays.
You'll find just a handful of appetizers on the menu (currently there are 9). These include lite bites like anchovies or a salad to a burrata cheese or a tomato pie. And then there's the pizza.
There are 5 pizza pies on the menu. The most popular is the Number 1, which is a plain cheese that can be customized. Numbers 2-5 have a mix of toppings that are usually pretty consistent – inventive concoctions from the mind of Joe Beddia. The Number 2 (greens with Calabrian cream) and the spicy Number 3 (arrabbiata) are also very good. Whichever Beddia pizza you chose, you're in for a remarkable experience.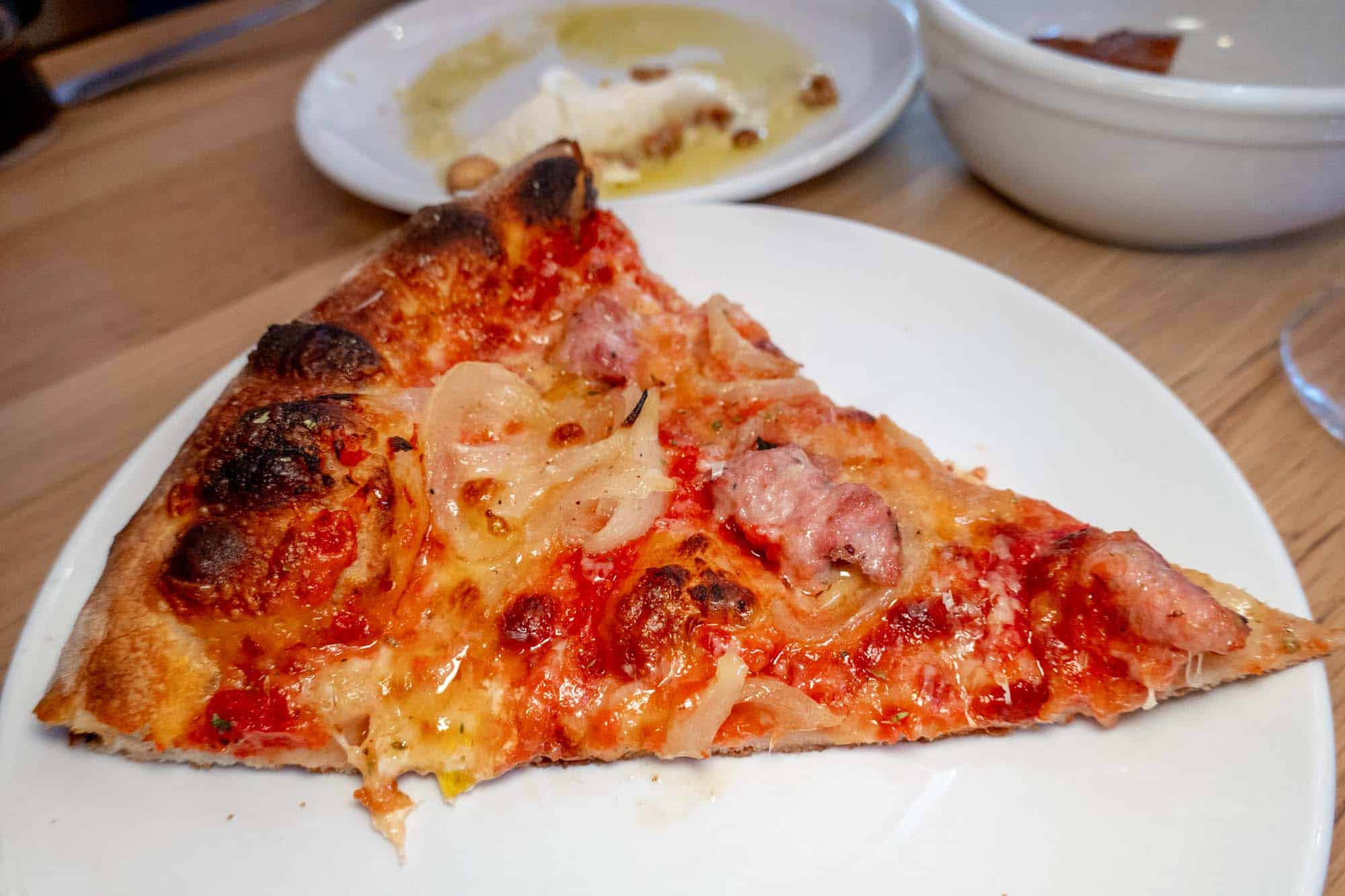 For dessert, there are two flavors of soft serve ice cream served in plain glasses, like the kind you used to drink water out of in high school or college. They have espresso, but the real gem is a sweet cream, to which you can add Amaro for a boozy delicacy.
In addition to the standard pizzas and pizzeria favorites, Beddia also has the Hoagie Room. This omakase-like experience, inspired by Joe Beddia's time in Japan, features iconic hoagies, pizzas and their famous soft-serve ice cream. It's a truly unique experience and unlike anything else in the city.
The Vibe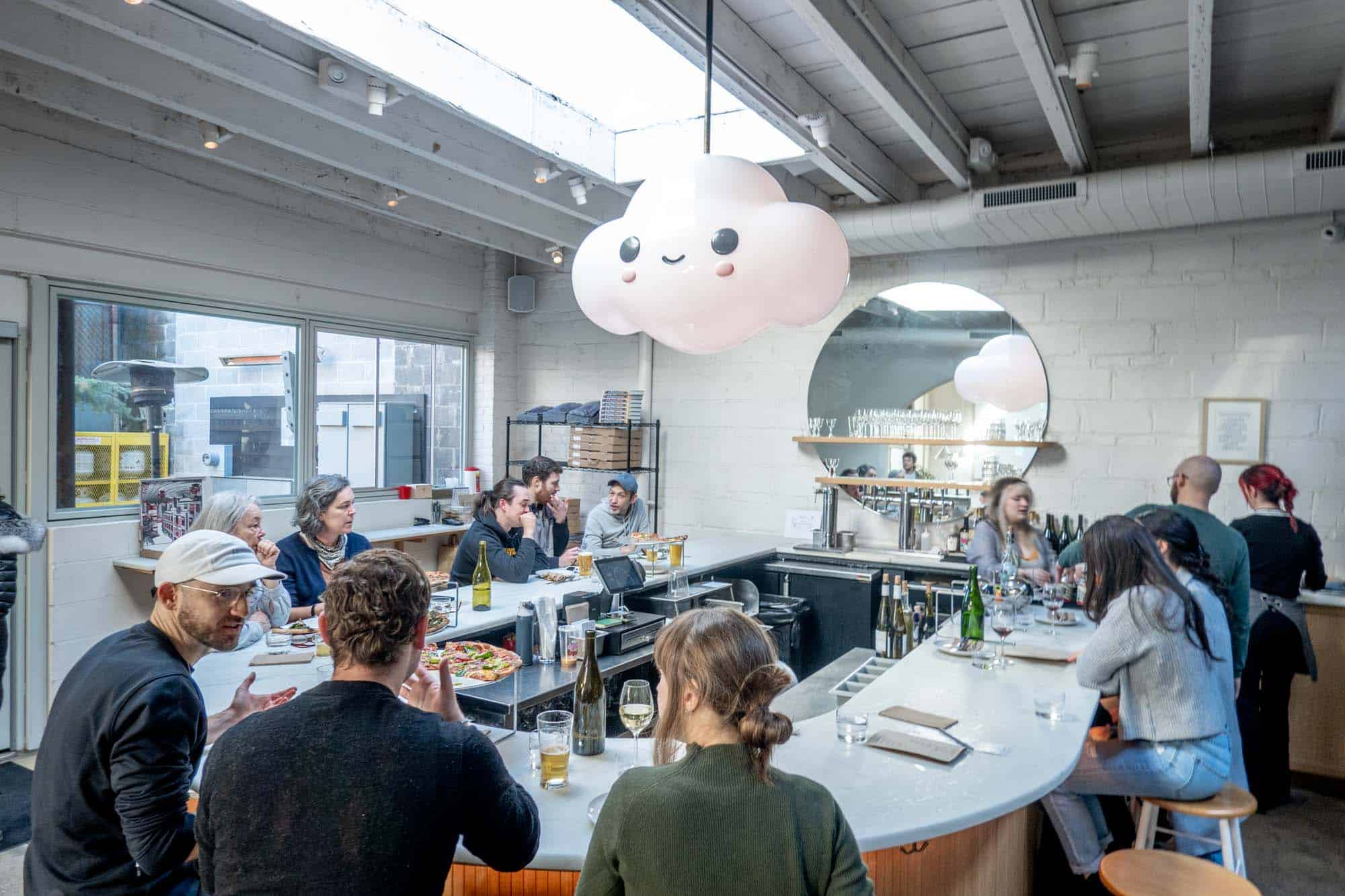 The Beddia 2.0 is located in a repurposed auto garage and has a speakeasy-like vibe. From the outside, all you see is the ratty red sheet metal exterior with a green peace sign (the company's logo) above the door. When open, part of the red sheet metal is rolled back to reveal a green door that simply has "Pizzeria Beddia – Serving Whole Pies" on it.
Inside, the restaurant has three distinct rooms. You enter into the restaurant's kitchen – a large room with a horseshoe-shaped bar and the magical pizza oven that spits out Beddia's pizza perfection. The first dining room serves larger parties and features picnic-styled tables. And the back room with its white walls and plain cedar roof beams, features seating for groups of two, four and six. There's a handful of tables outside in the courtyard.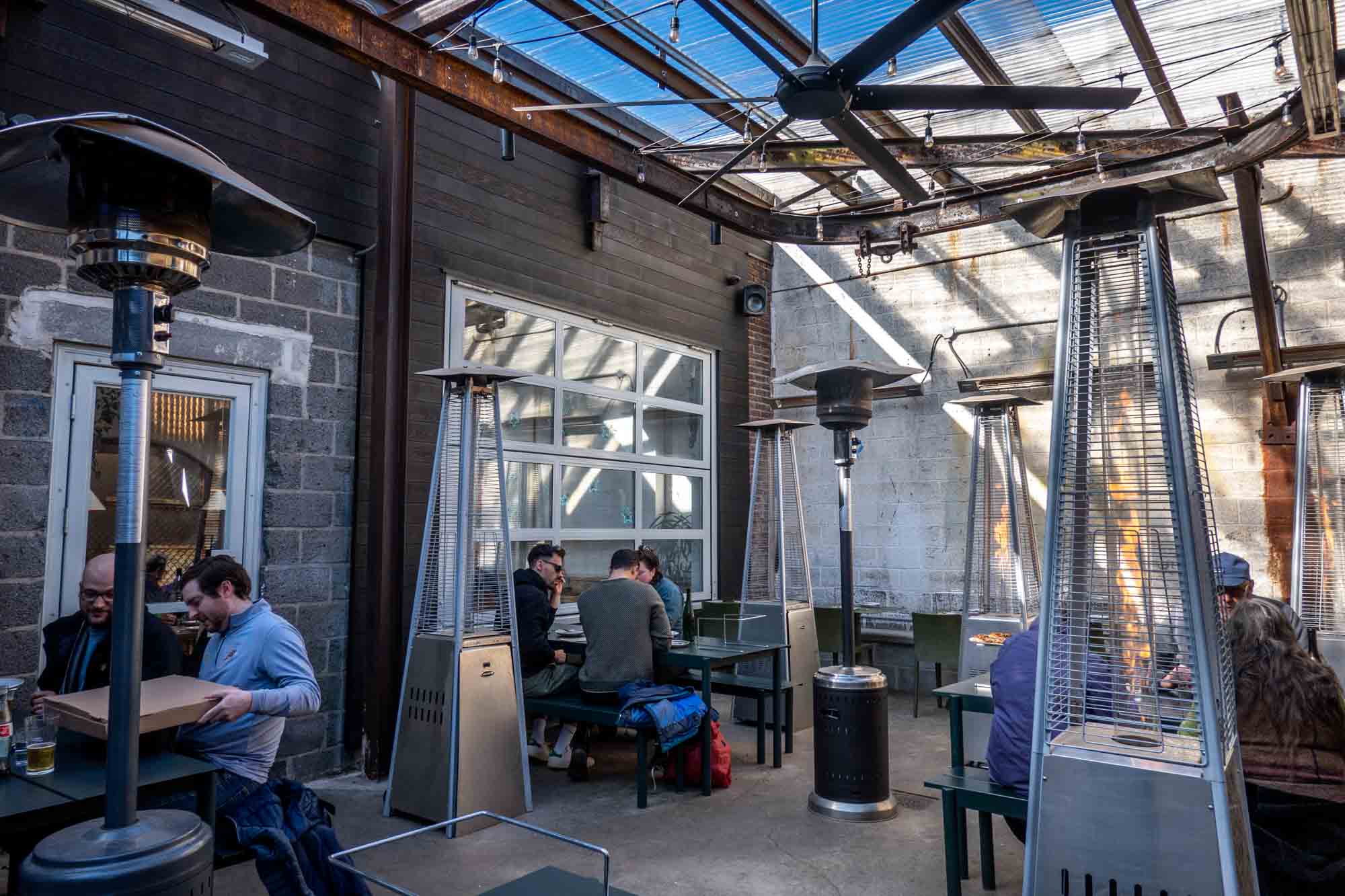 The dark-wood, dimly lit Hoagie Room is a place for clandestine meetings and deep culinary secrets. It's a remarkable space for a remarkable experience.
The entire restaurant has the kind of stark minimalism that focuses your attention on the food: white walls, white plates, and brown paper napkins. The one nod to ambiance is the 1980s pop and electronica and synthpop music featuring classics like Roxy Music, Anything Box, and Modern Talking.
Price Range
Appetizers range from $5-16 depending on the item. Pizzas are $24-26 for the base pie, and add-on's available for $3-6 each. A mandatory 3% service fee for kitchen staff is added to all checks.
Reservations
The once impossible-to-obtain reservation is now much easier, but reservations are still essential, even for lunch. Reservations open 30 days in advance.
The Hoagie Room experience opens for reservations 30-days in advance at midnight and the reservation is usually gone in seconds. If this is of interest, keep trying!
Location
Pizzeria Beddia is located in the Fishtown neighborhood at 1313 N Lee Street. The street is essentially a one-block long alleyway that dead ends at both ends. The alley is narrow and can sometimes be congested with cars picking up pizzas.
Being Fishtown, there is extremely limited street parking in the area. If you are looking for parking, try the streets west of N Front, including N Howard, N Mascher, and N Hancock Streets. There is a paid lot on N Front Street between Thompson and Master.
The nearest SEPTA station is Girard Station on the Market-Frankford Line, two blocks away. The Light Rail 15 and Bus #5 are also both two blocks away.
Visit the Pizzeria Beddia website for more information.