Some posts on this site contain affiliate links, meaning if you book or buy something through one of these links, we may earn a small commission (at no extra cost to you).
There is an astounding amount of excellent ice cream in this city. Whether you're looking for a simple scoop of vanilla, a unique flavor combination, or an over-the-top sundae, there's something that will fit the bill. These are our picks for shops that serve some of the best ice cream in Philadelphia.
Zsa's Ice Cream
Zsa's rose to popularity selling its excellent frozen treats at farmers markets. Thankfully, their permanent, cute storefront in Mt. Airy makes it easy to find them whenever you have a craving.
The ingredients in Zsa's ice cream are locally sourced, and many flavors include home-made baked goods like their stand out Cookie Jar that features four types of cookies. Flavors rotate seasonally and include options like Salted Caramel, Black Magic, Peppermint Bark, and Rich Chocolate Sorbet.
Customers can opt for ice cream sandwiches, pints, or scoops (with a colorful cone from Brooklyn bakery The Konery, if you choose). There are also occasional treats like hot chocolate floats. Location: 6616 Germantown Ave.
Weckerly's Ice Cream
Weckerly's is known for its outstanding ice cream sandwiches, which makes a lot of sense when you learn that its owner not only has a passion for great ice cream but is also a pastry chef.
Founded in 2012, Weckerly's makes French-style ice cream using local ingredients, including organic milk from a dairy just 35 miles away. From pasteurizing their own milk and making their ice cream base to perfecting the flavors and mix-ins, no detail is overlooked here. It's no wonder it's a Fishtown favorite.
Flavors are seasonal and include delicious options like chocolate peanut butter pretzel, vanilla bean, eggnog, and German chocolate cake. Available in sandwiches, pints, cups, and cones. Locations: 9 W. Girard Ave. and 265 S. 44th St.
Franklin Fountain
It's not unusual for the line at this Old City gem to stretch around the block on summer weekends, proving that Franklin Fountain is one of the best ice cream shops in Philly.
The menu here is extensive—2 dozen traditional and exotic flavors are available. You'll find standards like vanilla bean, pumpkin, and Hydrox cookie as well as flavors like black sesame, peppermint stick, and more that are added seasonally. Many flavors have an historic or local tie, such as their apple butter ice cream that includes local apples and apple butter from a Pennsylvania company founded in 1892.
Ice cream sandwiches, shakes, and sundaes with house-made toppings are available along with some baked goods and seasonal specialties like hot chocolate. Location: 116 Market St.
Bassetts
With its prime location in Reading Terminal Market, Bassetts is many people's introduction to ice cream in Philadelphia. And what a fabulous introduction it is. Any of their over 35 flavors of ice cream and sorbet is a good bet from classic mint chocolate chip to English toffee crunch.
Bassetts history dates to 1861, making it the oldest ice cream company in the US. Its scoops, pints, and quarts are available at the Reading Terminal Market location. Bassetts is also widely available at grocery stores across the area, and it is featured in scoop shops such as the Chestnut Hill staple Bredenbeck's Ice Cream Parlor. Location: 51 N 12th St.
Somerset Splits
Somerset Splits produces some of the most decadent ice cream treats in Philadelphia. Using Bassetts ice cream, they pile on just about anything you could think of to make unusual and delicious combinations at their store in Port Richmond.
The classic Somerset Split is always popular with three scoops, a banana, three sauces, whipped cream, and a cherry. From there, things get creative with toppings including Nutella, cereal, cake, potato chips, and cotton candy sprinkles. The specials are super creative, or you can make your own sundae from your favorite ingredients. Location: 2600 E. Somerset St.
Scoop DeVille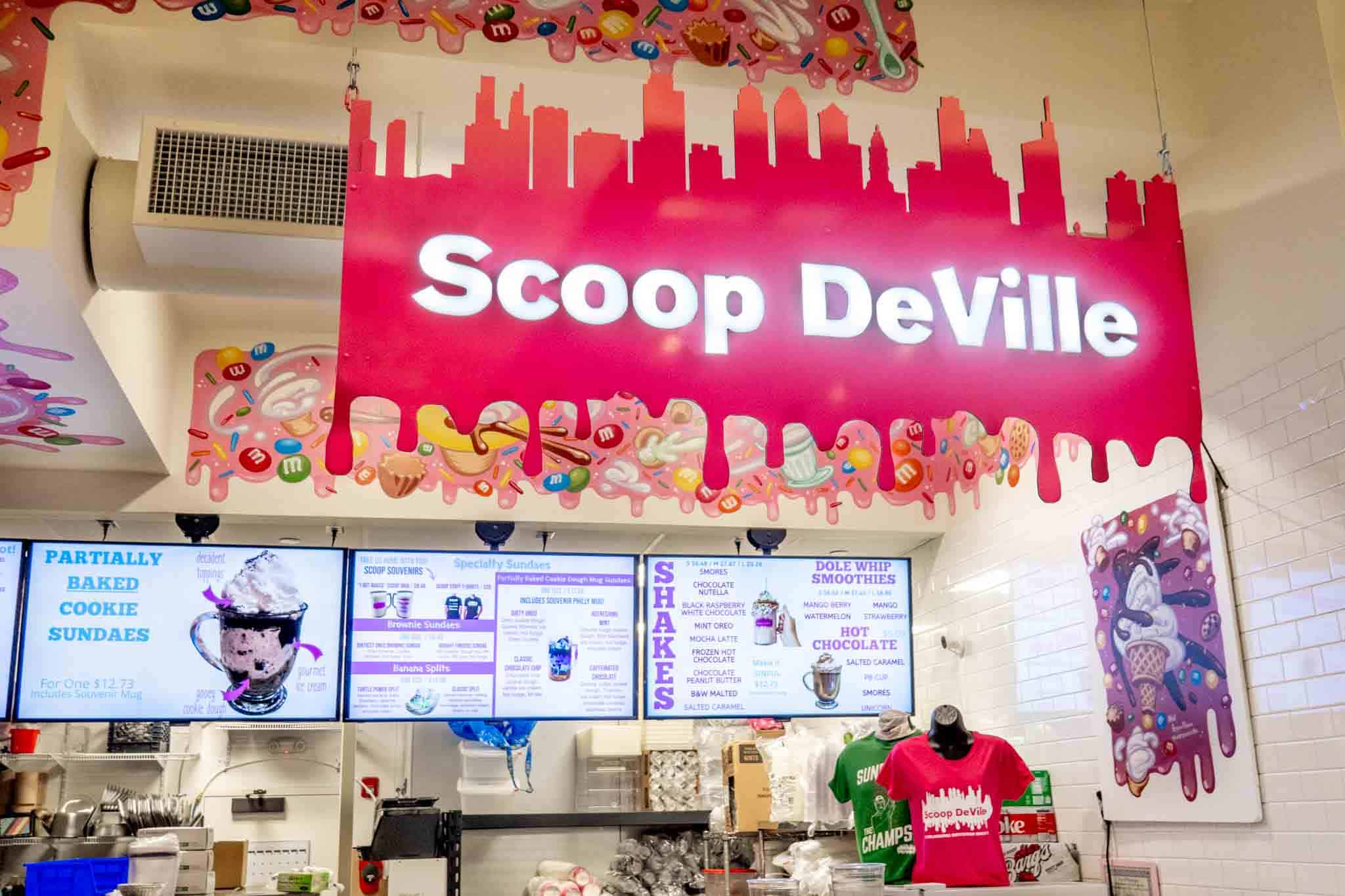 In its 30+ years of serving creamy concoctions, Scoop DeVille has become an ice cream institution.
The offerings of Scoop DeVille are unique because customers get to make their own custom blends. Whether you want Junior Mints, strawberries, or brownie bits, you'll find your choice among the nearly 100 options that get mixed into over a dozen ice cream flavors. If that's too many options, there are suggested blends, too.
In addition to the blends, traditional ice cream, ice cream sandwiches, milkshakes, sundaes, and more are available. Location: 1109 Walnut St., 538 South St., 111 S. Independence Mall E. in The Bourse
D'Emilio's Old World Ice Treats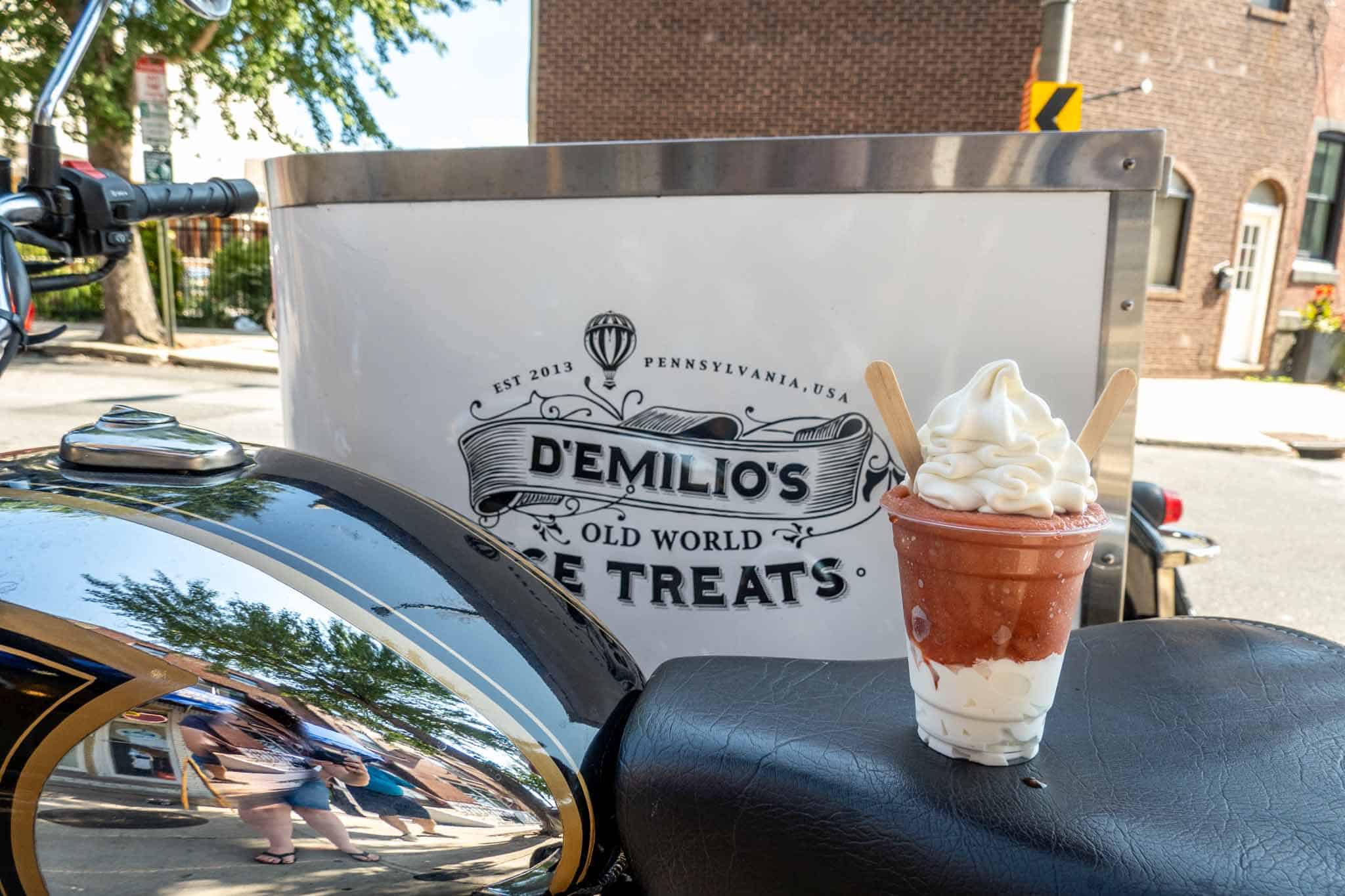 As an expert in artisanal water ice and the best soft serve we've ever had, D'Emilio's Old World Ice Treats is the perfect dessert spot in any season. Using his grandmother's sorbetto recipe, Chris D'Emilio makes numerous creative water ice flavors using fresh, mostly local ingredients.
It's possible to buy water ice only here, but with soft serve like this, you'd be missing out. Add some soft serve to water ice for a gelati (pro tip: birch beer and vanilla tastes like a root beer float), or go all-in on the soft serve alone. D'Emilio's makes amazing sundaes with fanciful names like Love Ya to Reeses packed with peanut butter flavor, the Unicorn Sundae featuring the colors of the rainbow, and the Pooh Bear sundae complete with clover honey. Location: 1928 E Passyunk Ave.
Arctic Scoop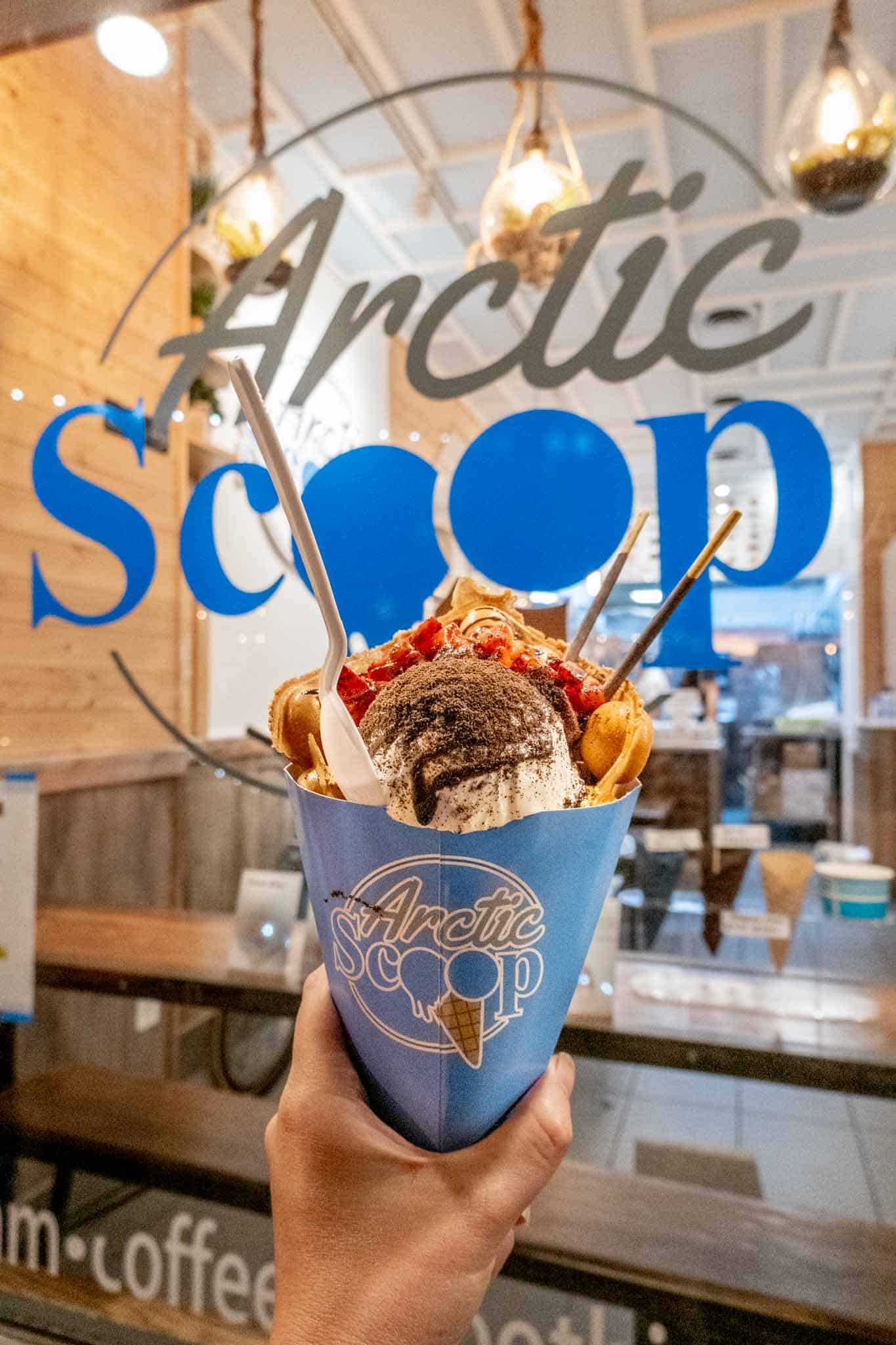 Arctic Scoop serves some of the most Instagram-worthy ice cream desserts in town. This East Passyunk shop offers Hong Kong-style egg waffles or Thai-inspired coconut bowls as the vehicles for their treats. Customers then choose from traditional ice cream flavors like strawberry or more unexpected offerings like lychee, rose, or black sesame. Add a condensed milk drizzle and toppings ranging from fresh fruit to Fruity Pebbles and you have your custom creation. Location: 1812 E Passyunk Ave.
Milk Jawn
What started as a hobby for the founders of Milk Jawn turned into a business designed to share their creations with other "ice cream-obsessed Philadelphians." Today, the small-batch, super-premium creations are available at pop-ups and pick up points around the city and through delivery.
The Philly-style (no eggs) ice cream is packed with flavor and comes in fabulous combinations like Lemon Curd with Blueberry Basil Swirl. We're also partial to Caramel Apple Pie, Dark Chocolate Orange, and Mint Stracciatella. Locations: various, check social media for the latest
Dre's Homemade Water Ice & Ice Cream
At pop-ups and festivals all around town, Dre's Homemade Water Ice & Ice Cream offers a variety of flavors not to be missed. There are more traditional options like chocolate chip brownie and surprises like the slightly more unusual (and addictive) sweet potato pie. Follow their social media to find their truck and carts. Locations: various, check social media for the latest
1-900-Ice-Cream
Using local dairy and an unlimited variety of mix-ins, 1-900-Ice-Cream prides itself on (almost) never making the same flavor twice. The rich ice cream in every flavor under the sun is packed with swirls and mix-ins ranging from rainbow chocolate chips and amarena cherries to carrot cake and pop-tarts.
Locations in Rittenhouse and Fishtown allow for pick ups of pints, and their Ardmore scoop shop is a neighborhood favorite. Follow on social for current offerings and hours in the city. Locations: 1848 N. Front St., 229 S. 20th St., 18 W. Lancaster Ave. in Ardmore
Gran Caffe L'Aquila
While it doesn't qualify as ice cream, any list of the best creamy frozen treats in the city would be incomplete without a mention of Gran Caffe L'Aquila. This Italian café and specialty shop makes outstanding gelato in a broad range of flavors with top-quality ingredients. It's a must visit near Rittenhouse Square. Location: 1716 Chestnut St.