Some posts on this site contain affiliate links, meaning if you book or buy something through one of these links, we may earn a small commission (at no extra cost to you).
This is a beer town, so it should only make sense that there are a number of truly fantastic beer gardens in Philadelphia. Whether you're looking for a pier over the river or a grassy rooftop with incredible views of the city, there's a Philly beer garden just for you.
The original beer garden in the city might well have been located behind the City Tavern on 2nd Street. Dating from 1773, this famous spot entertained most of the Founding Fathers. And speaking of Founding Fathers, those old guys liked their beer. Thomas Jefferson, Benjamin Franklin and even George Washington had their own signature beer recipes. Yeah, Philly is a beer town.
Today, the beer garden has evolved. Yes, you'll find some fantastic outdoor spots at some of the best breweries in Philly. But you'll also find cool places along the rivers, on the tops of buildings and in small corners of the city.
You can also find an amazing pop-up beer garden in your local park thanks to either the Pennsylvania Horticultural Society or the Philadelphia Parks & Recreation Department, who each offer similar pop-up gardens.
So whether you are looking for funky, formal, or fun, there's a place for you in the city. Here are the best Philadelphia beer gardens ranked:
Independence Beer Garden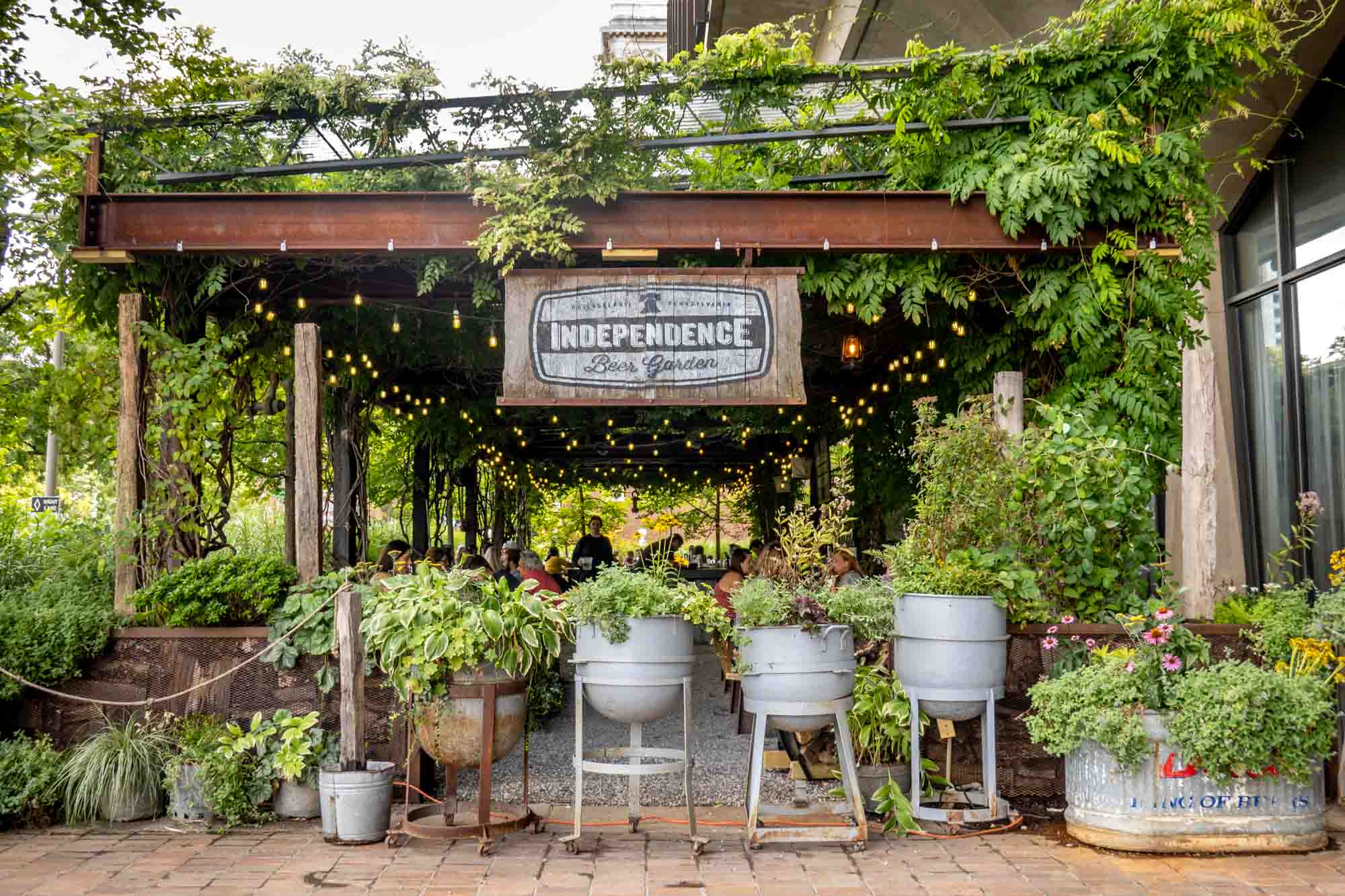 Located in the heart of the city, the massive Independence Beer Garden (or IBG to locals) sits across the street from the Liberty Bell and has commanding views of Independence Hall and the mall. Despite the proximity to the tourist area, it is surprising popular with locals as well.
They have several different zones for seating and relaxing. You can sit on German-style benches, hang out in the shade under the pergola, or chill in an Adirondack chair. There are several different games to play to break up the time and keep you entertained.
While the Independence Beer Garden doesn't make their own beer, they offer a surprising array of drafts and cans from local favorites to national standbys. Non-beer drinkers will be happy with the extensive cocktail and wine list. They also have an extensive food menu of pub favorites. Location: 100 South Independence Mall West. Learn more.
The Garden at Cherry Street Pier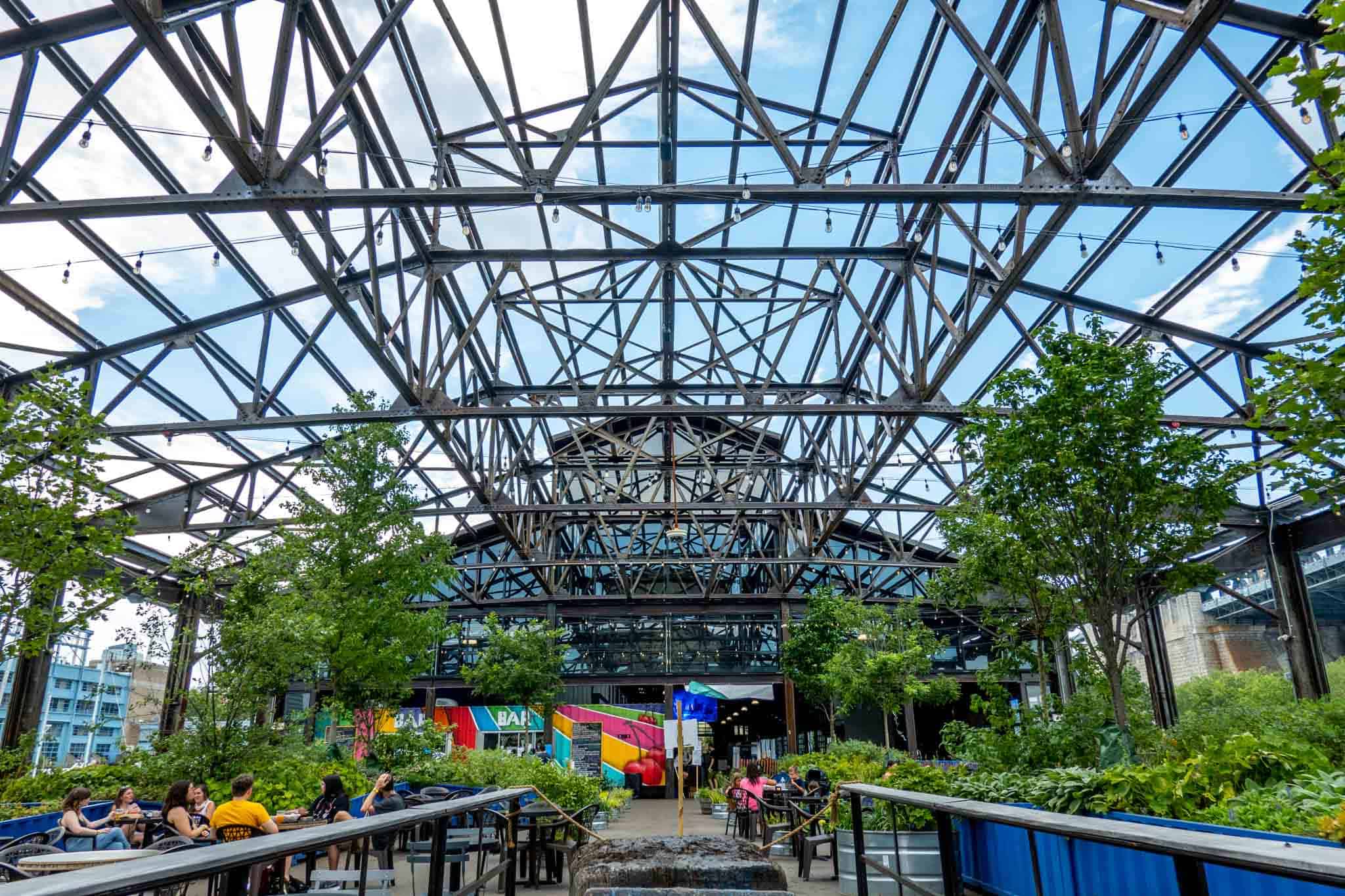 There are some experiences that so perfect that they almost defy categorization. The Garden at Cherry Street Pier is just such a place. It's as if someone took one of Europe's famous ruin bars, dropped it on a pier in the Delaware River with incredible views of the Ben Franklin Bridge, and then added great food and drink. That's Cherry Street.
There is no shortage of adjectives to describe this space: amazing, fun, relaxing, beautiful, phenomenal…and the list goes on. It's the perfect mix of industrial funky with open-space greenery. And it makes for the perfect Philadelphia beer garden – it's just so this city.
Cherry Street has beer, including some from local brewers, as well as wine, cider and cocktails. The food offerings, while limited, are also better than your average beer garden fare. Location: 121 N. Columbus Blvd. Learn more.
Philadelphia Brewing Company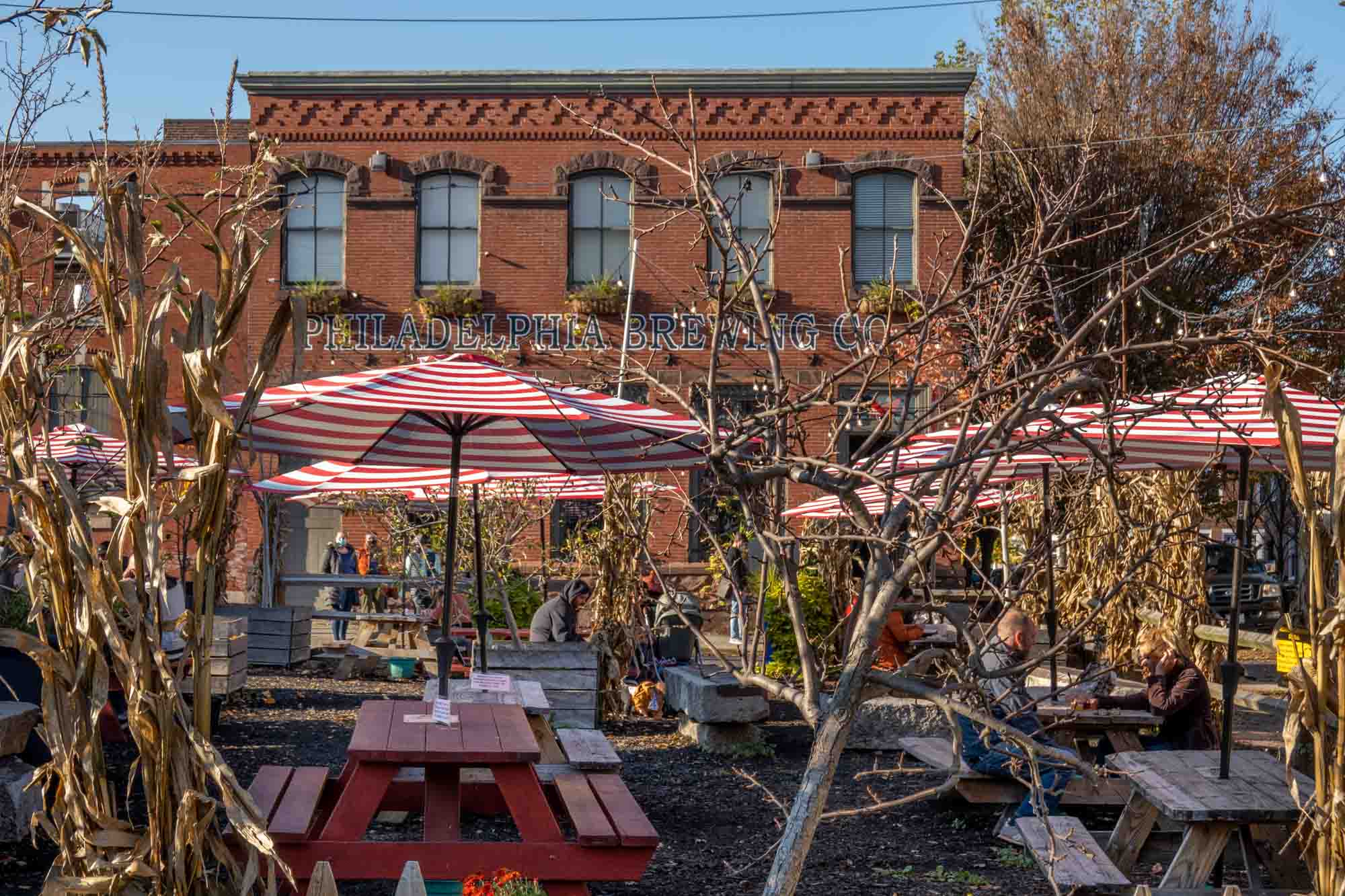 The beer garden at Philadelphia Brewing Company is one of the best in the city. Located on Frankford Avenue in East Kensington, the brewery is in a historic brewhouse originally constructed in 1885. The historic building serves as the backdrop for the garden, and it's not a bad view to have!
Grab a pint of the golden Kenzinger or Walt Wit and pull up a seat at one of the umbrella-covered picnic tables. Feeling hungry, grab some street food from the taco truck in the garden. For the non-beer lovers in your group, they also serve cider from Commonwealth Ciders, which is conveniently located next door. Location: 2440 Frankford Avenue.
Frankford Hall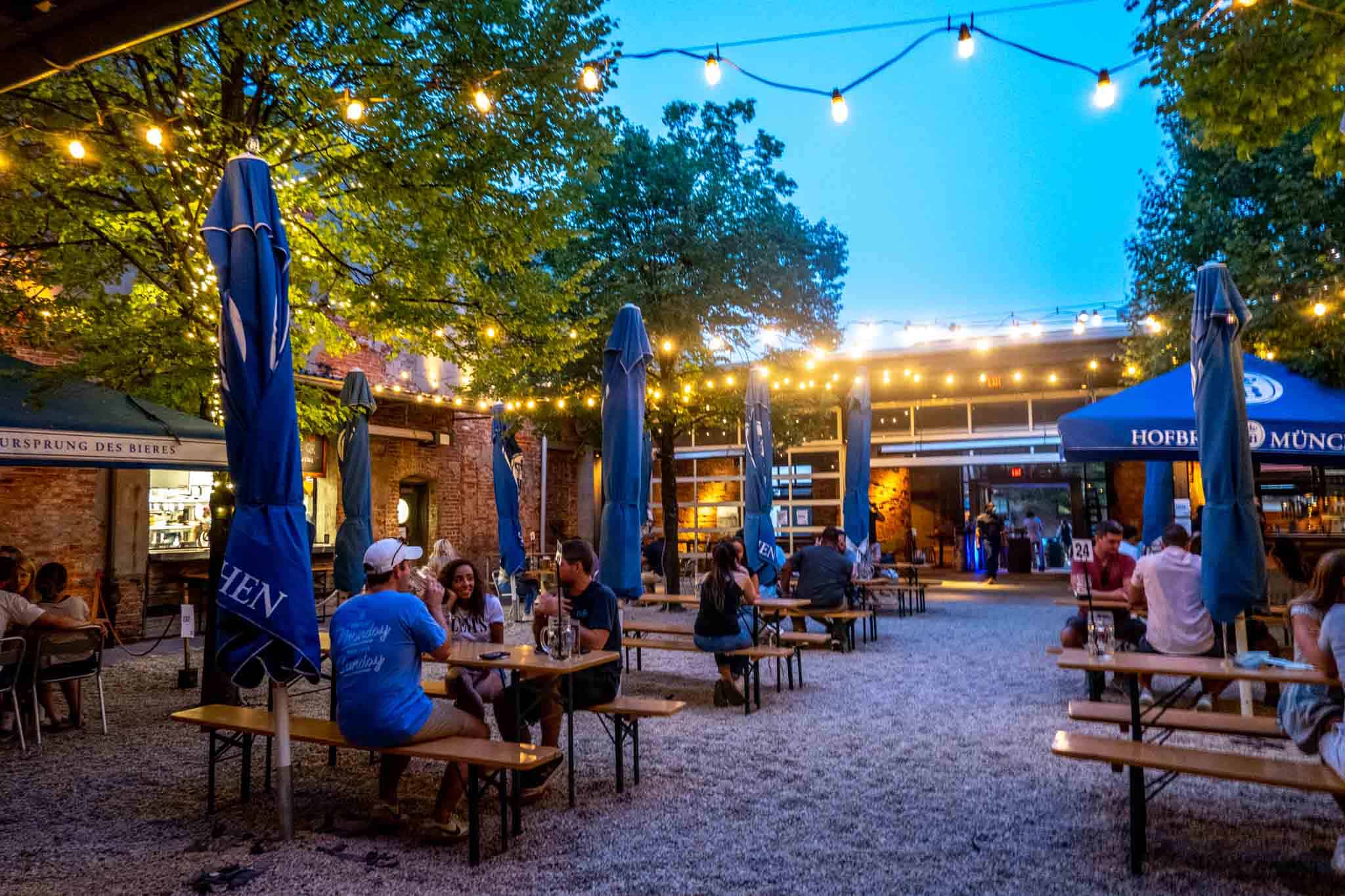 This stylized biergarten concept restaurant/bar from Stephen Starr is exactly what you think a German beer garden would be: loud, fun, and wonderful. While this could come off as fake or artificial, it works surprisingly well. And if you haven't been, you need to get there now. For many, this is the classic beer garden in Philadelphia.
The restaurant features long benches, and a courtyard of tables complete with Bavarian colored umbrellas. The beer menu is German-focused with many different beers not on normal menus. Of course, there are also the traditional foods of bratwurst, schnitzel, and even a traditional spätzle that is the best in the city.
While this Fishtown establishment could come off as cheesy, it isn't. Whether you pop in for a quick bit or linger over a long liter of beer, you'll have a great time. Location: 1210 Frankford Ave. Learn more.
Spruce Street Harbor Park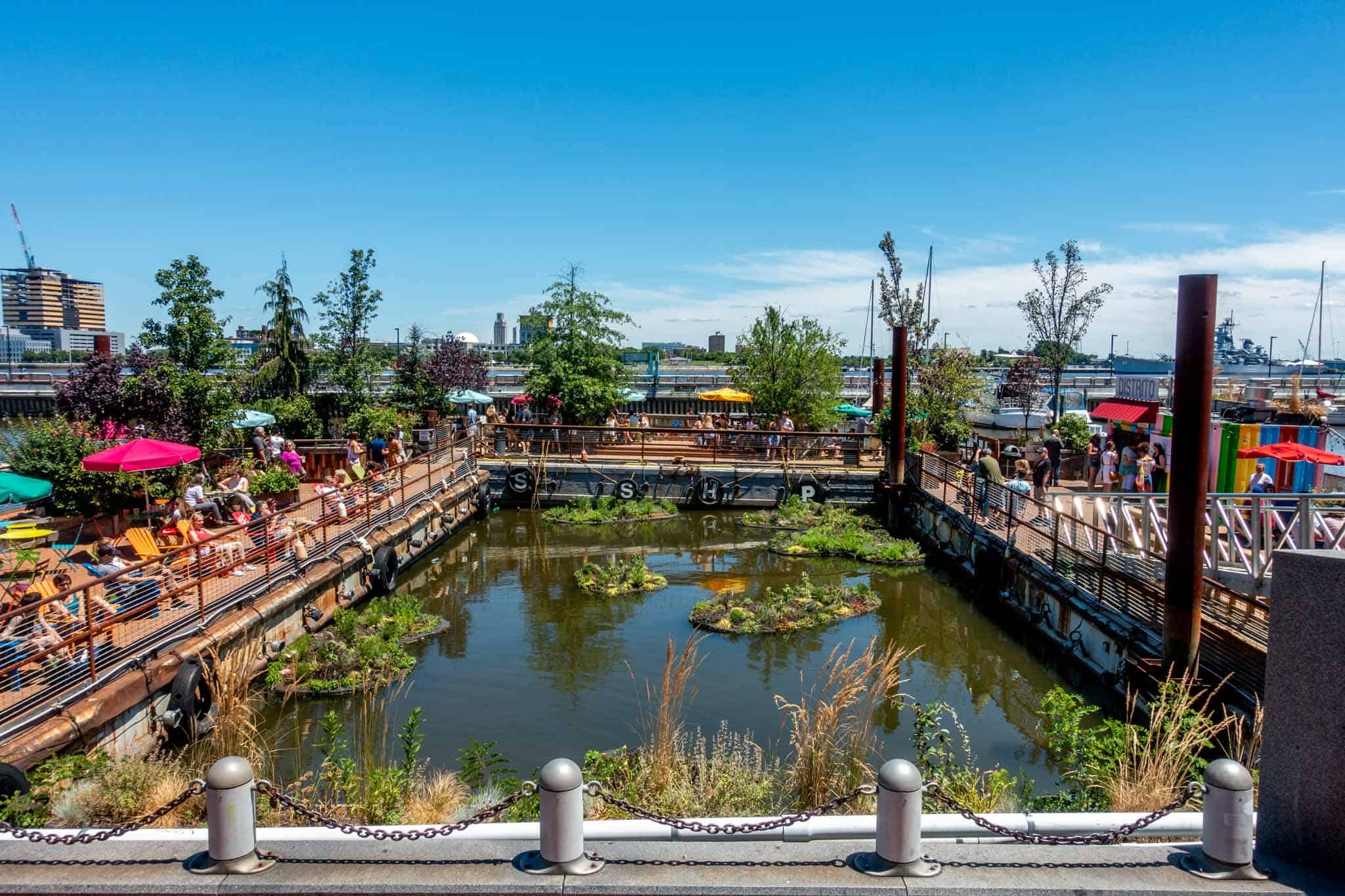 For several years, the center of fun in Philly has been the Spruce Street Harbor Park. This spot has everything that is good about Philly: river views, cool breezes, hammocks, games, tons of great food and drink, and some of the best people watching in the city.
The hip Barge Bar is the place to hang out over the water and drink to your heart's content. Whether you want to try a local craft IPA or a cocktail, they've got you covered. In the evenings, the vibe changes when the colorful lights from the trees light up the park.
Grab some tacos or maybe a water ice and relax while socializing with your friends. There is no finer place to spend a day in the city. Read our detailed review about the harbor park. Location: 301 S Christopher Columbus Blvd.
Cannstatter Volkfest-Verein Biergarten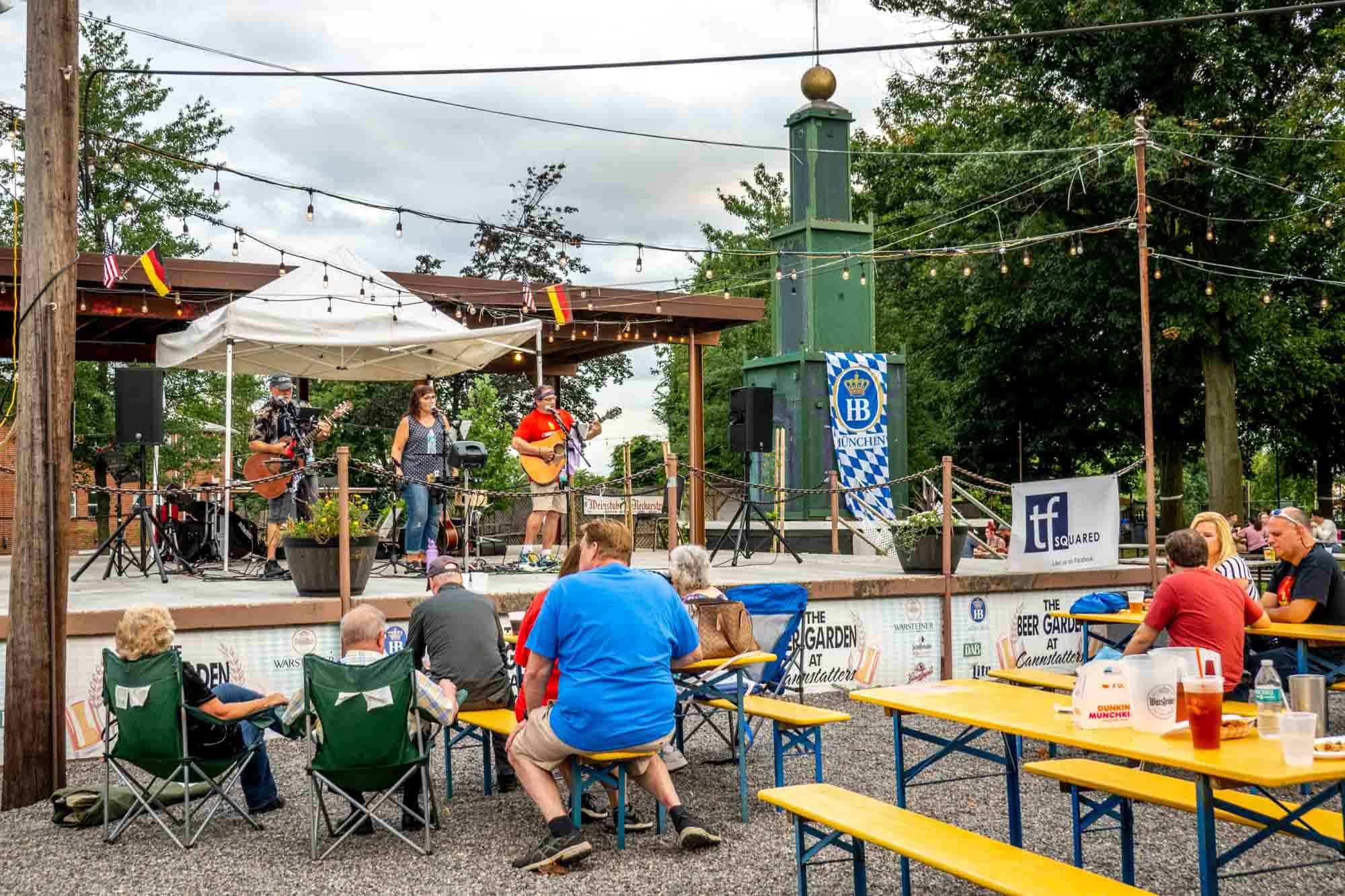 This 5-acre park in the Northeast section of Philadelphia feels like it is in the middle of nowhere, but this arguably one of more authentic beer gardens in the city. It is certainly the most classically German with its large outdoor space.
The Cannstatter Volkfest-Verein social club has existed in Philly since 1873. And since the late 1800s, they have been gathering and celebrating in classic German style every Friday during the summers.
Located behind their clubhouse on Academy Road, you'll find long rows of picnic tables, tents, and a stage for live music. And there's beer…lots of beer. You'll find both traditional German imports as well as a handful of local beers. They also serve up traditional German fare: pretzels, wursts, schnitzels, and other tasty dishes include an authentic potato salad that is like pure heaven.
If the idea of going to a private club and crashing their party sounds a little weird, don't worry about it. The public is welcome and encouraged to attend. And the folks are friendly. So bring your fun attitude and get ready to yell PROST!. Location: 9130 Academy Rd. Learn more.
Bok Bar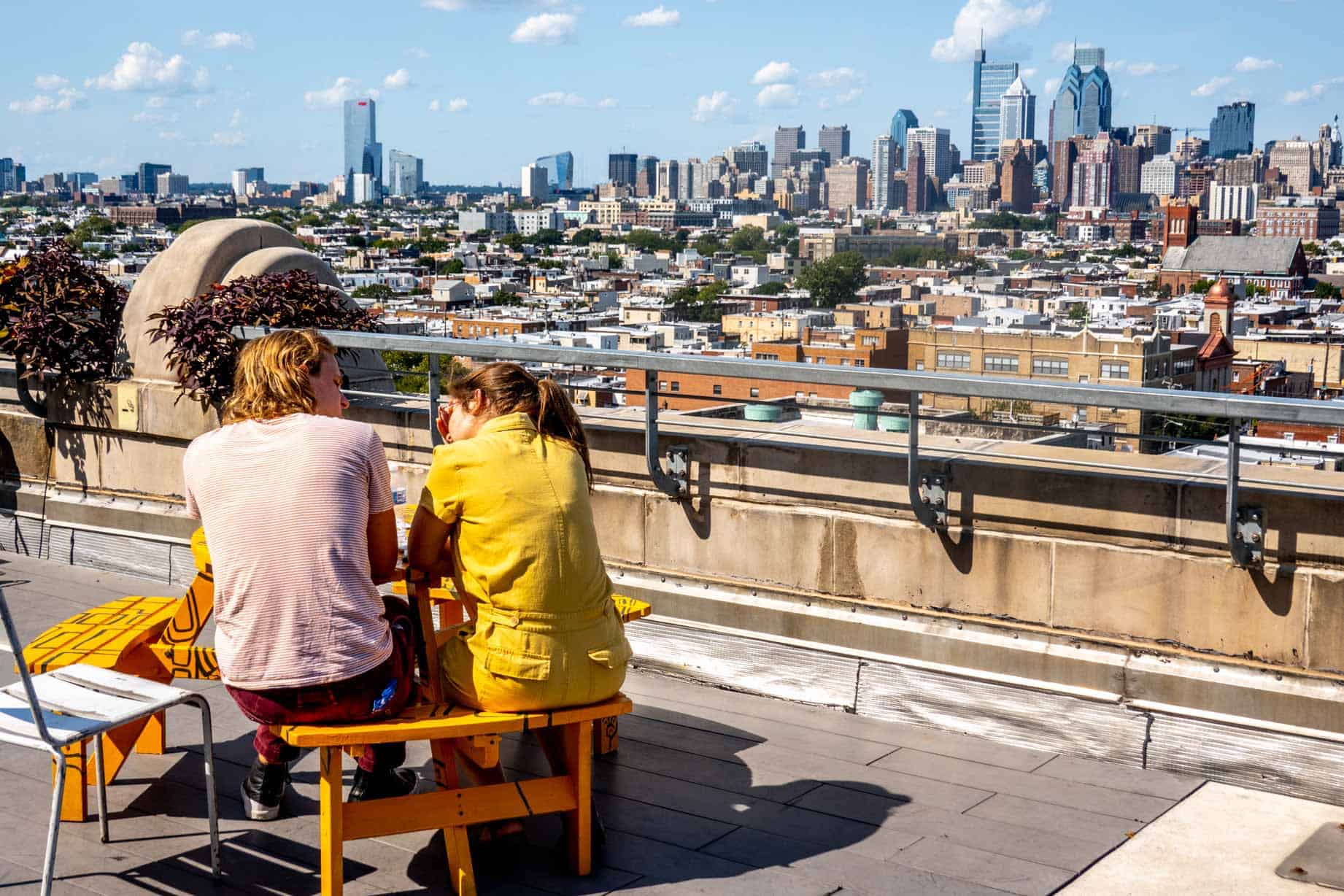 There is no shortage of rooftop bars in Philly, but few of them have that cool beer garden-like vibe. But that's the elite class that Bok Bar finds itself in. This is without a doubt the best rooftop in the city. From the views, to the drinks, to the cool food pop-ups from highly acclaimed chefs, Bok Bar stands apart.
First and foremost, you come here for the incredible views of the downtown skyline. But the staff mix up some fine cocktails and serve a number of local brews. You wouldn't think the South Philly rooftop of a former vocational and high school would be cool, but it is. When the weather turns warm, head to this school. Location: 800 Mifflin St.
PHS Pop Up Gardens
The Pennsylvania Horticultural Society (PHS) has pop-up gardens throughout the city. Specifically, they include the PHS Pop Up Graden at Manayunk and the even more popular PHS Pop Up Garden at South Street. For both, there are well thought out garden spaces decorated with native plants and they even provide information placards for education.
Like any pop up park or garden, there are Adirondack chairs for lounging, tables with umbrellas for eating and even some lawn games. The menu is fairly broad with beer, wine and cocktails offered. A stationary kitchen provides food from a limited menu, with the quality being better than you'd expect at a pop up.
These pop ups are so good that everyone in the city needs to visit at least once a season. Of course, you can go more frequently! And best of all, you are supporting the noble mission of this great organization. Location: 1438 South Street in South Philly or 106 Jamestown Avenue in the Manayunk section of the city.
Evil Genius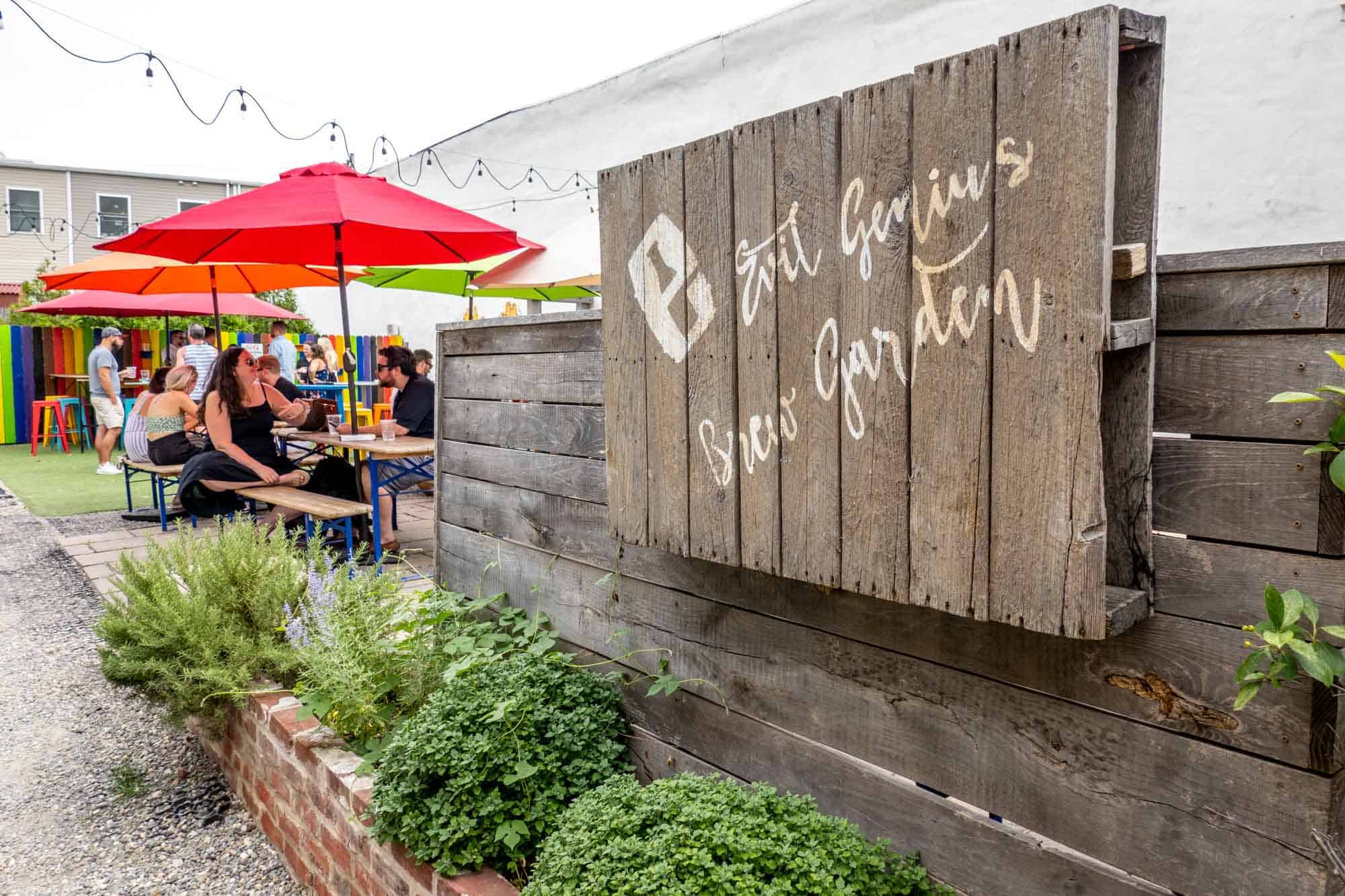 This frat-house-grows-up space is one of the most popular in the city for those in the know. The hip outdoor vibe is only interrupted occasionally by the passing El train. The garden is photogenic and is a top spot for those popular beer selfies – the space is just so photogenic.
From cool murals to good food, there's a lot to love here. Of course, it doesn't hurt that they have great fresh beer. And in classic Evil Genius style, those beers have funky 1990s throw-back names (Stacy's Mom). Bring a friend or bring all of your friends and spend the day socializing. Non-beer options are available (and quite good). Location: 1727 N. Front Street.
Manayunk Brewing
The massive outdoor deck overlooking the canal and the Schyulkill River is Manyunk Brewing Company's offering to the beer garden scene. Large tables with umbrellas overlook the water and it actually feels like a beach bar. And it is wonderful.
At Manayunk Brewing, they serve their own brews, mostly IPAs. However, they also feature a selection of craft beers from nearby brewers, and some classic national brands. They have a full-service bar if beer isn't your scene.
And they have a large menu of food options, including pizza from their stone oven and sushi from their own sushi bar. The food here is way better than your average microbrewery offerings. Location: 4120 Main Street. Learn more.
Sunset Social at Cira Green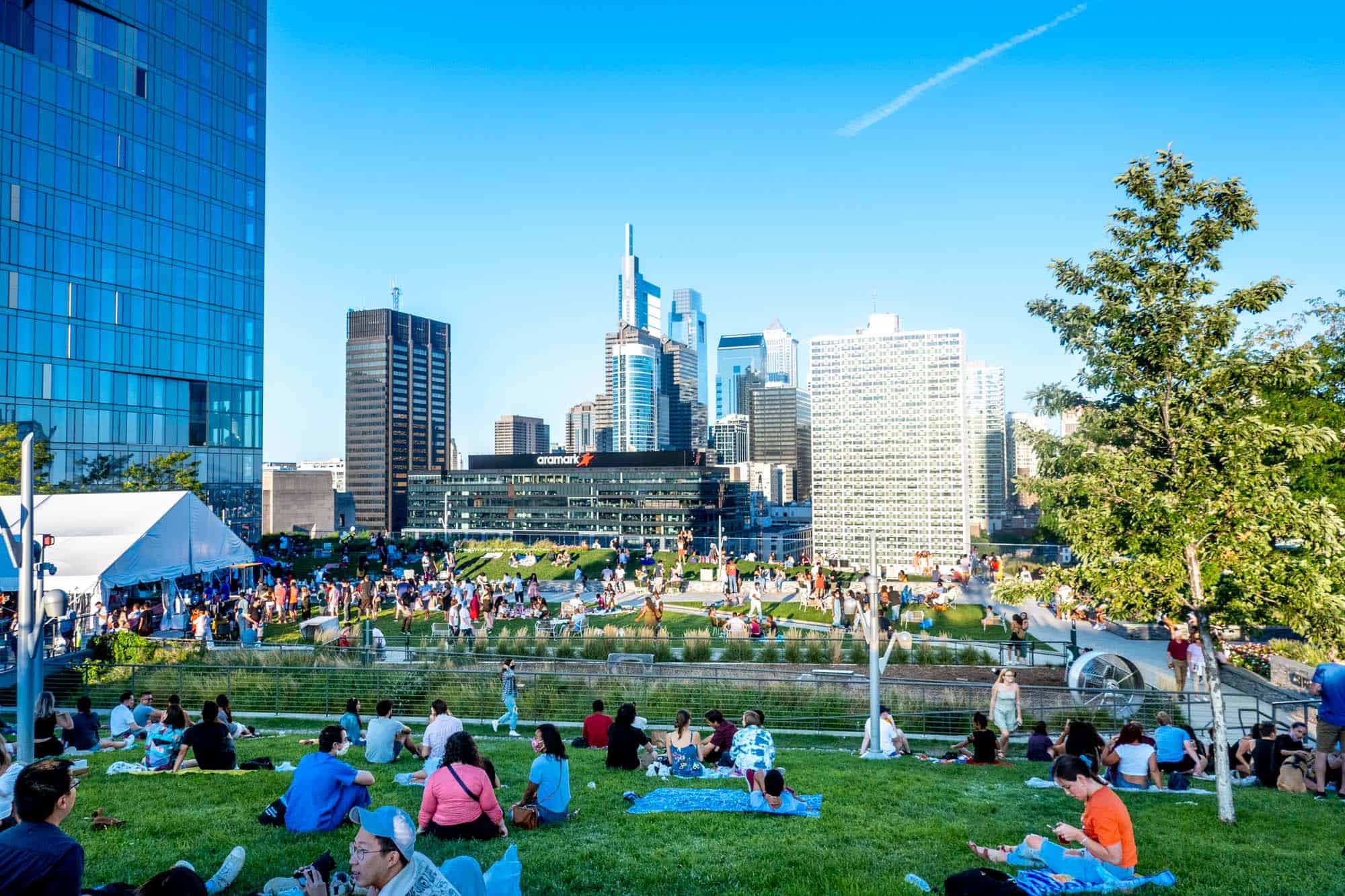 Arguably the best view of the Philadelphia skyline and the most popular Instagram spot in the city, the rooftop of the Cira Center, called Cira Green, is the place to be. Towering nearly 100 feet over the street below, the 30,000+ square foot garden features a rooftop beer garden called Sunset Social.
They serve up great drinks, including beer, wine and frozen cocktails. The food is passable, but unremarkable. However, they occasionally have theme nights and host pop-ups, which can be excellent. We visited during the lobster roll pop-up and loved it. But you really come here for the views! Location: 80 S 30th Street
Parks on Tap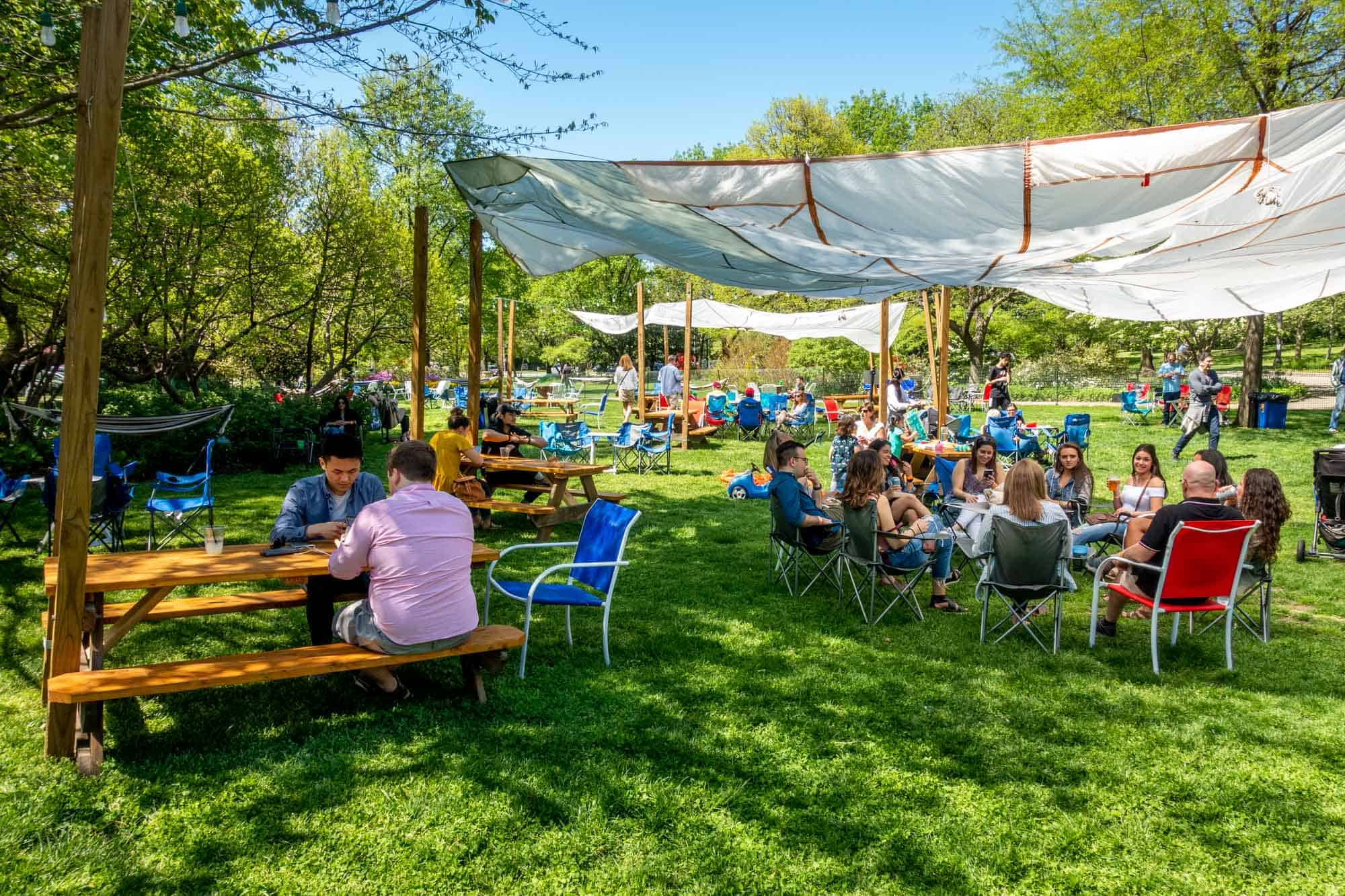 The Philadelphia Parks & Recreation Department offers their own pop ups called Parks on Tap. The concept is essentially a traveling beer garden that pops up in various city parks through the summer season. Past popular locations include the Water Works behind the Art Museum, adjacent to the Shofuso Japanese House and Garden, and FDR Park near the sports stadiums.
These pop ups are wonderful in their simplicity. Some chairs, a few picnic tables and a place for you to gather with your friends. Provide a simple menu of beer, wine and a basic-but-good food menu, and you have a winning combination. Best of all, a portion of all proceeds from Parks on Tap goes back to supporting our beloved Philly parks. So drink up! Location: Check the website for the current location.
Morgan's Pier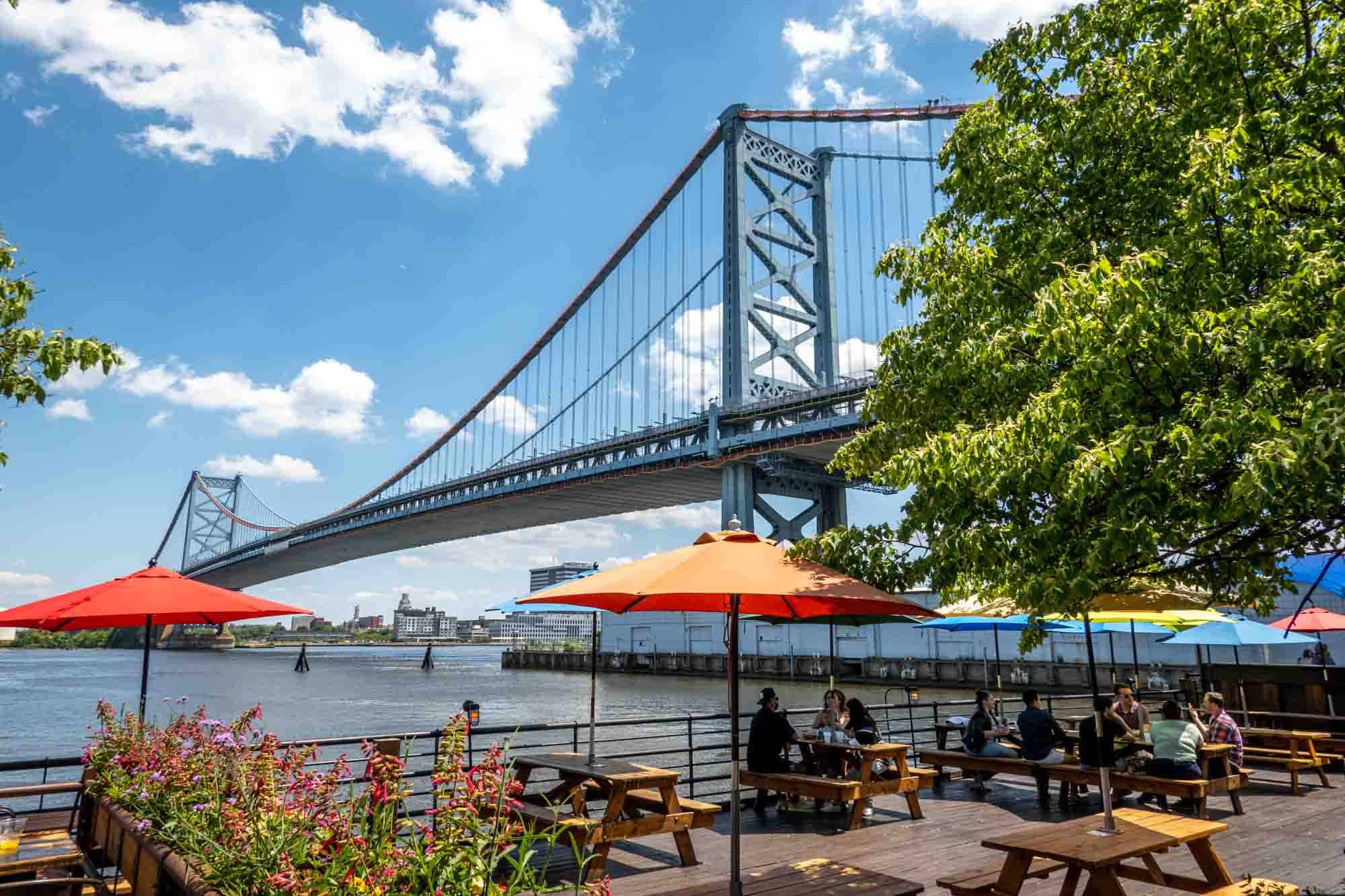 There may not be a more idyllic waterfront bar in Philadelphia than Morgan's Pier. This spot takes the beer garden and puts it over the water. Add a stunning view of the Benjamin Franklin Bridge, sprinkle in picnic tables with large umbrellas, throw in some lights and put on some good music to set the vibe. This spot is perfect.
The drinks are fantastic. You can get anything from the full bar (including slushies for those hot days) and that includes a healthy beer list. Sadly the food doesn't live up to either the drinks or the view. But this can be a good after-lunch, pre-dinner, or after-dinner spot. Location: 221 N Christopher Columbus Blvd. Learn more.
Old City Beer Garden
The Old City Beer Garden is everything that a proper, urban beer garden should be. Brightly colored picnic tables tucked into an alleyway between buildings on Market Street. It would be easy to write this off as a spot for tourists given its location in the Old City neighborhood, but you'll find plenty of locals too. It's a great spot to meet up before events and concerts at Penn's Landing.
They have a narrow-but-respectable list of craft beers, ciders and cocktails, plus a handful of food options (tacos, sandwiches and typical bar fare). It's a fun, relaxed spot to have a drink while taking in the tourist sites or meeting up with friends. Grab a can and stay a while. Location: 240 Market Street. Learn more.
Chinatown Beer Garden
In the heart of the city and located in the shadow of the Pennsylvania Convention Center, the Chinatown Beer Garden brings the party to downtown. They have live DJs and a lively party atmosphere, making this a hit with groups and pub crawls. The crowd here tends to be young, loud and beautiful – more like an outdoor nightclub than a beer garden. They also offer that rarity among beer gardens: the ability to reserve your table!
Being right on the edge of Chinatown, they take their inspiration from the community. The food is all Asian and they have a large selection of Asian-imported beers. But they also have a full bar and the majority of the patrons seem focused on doing shots or cocktails. Location: 212 N 11th Street. Learn more.
Drury Beer Garden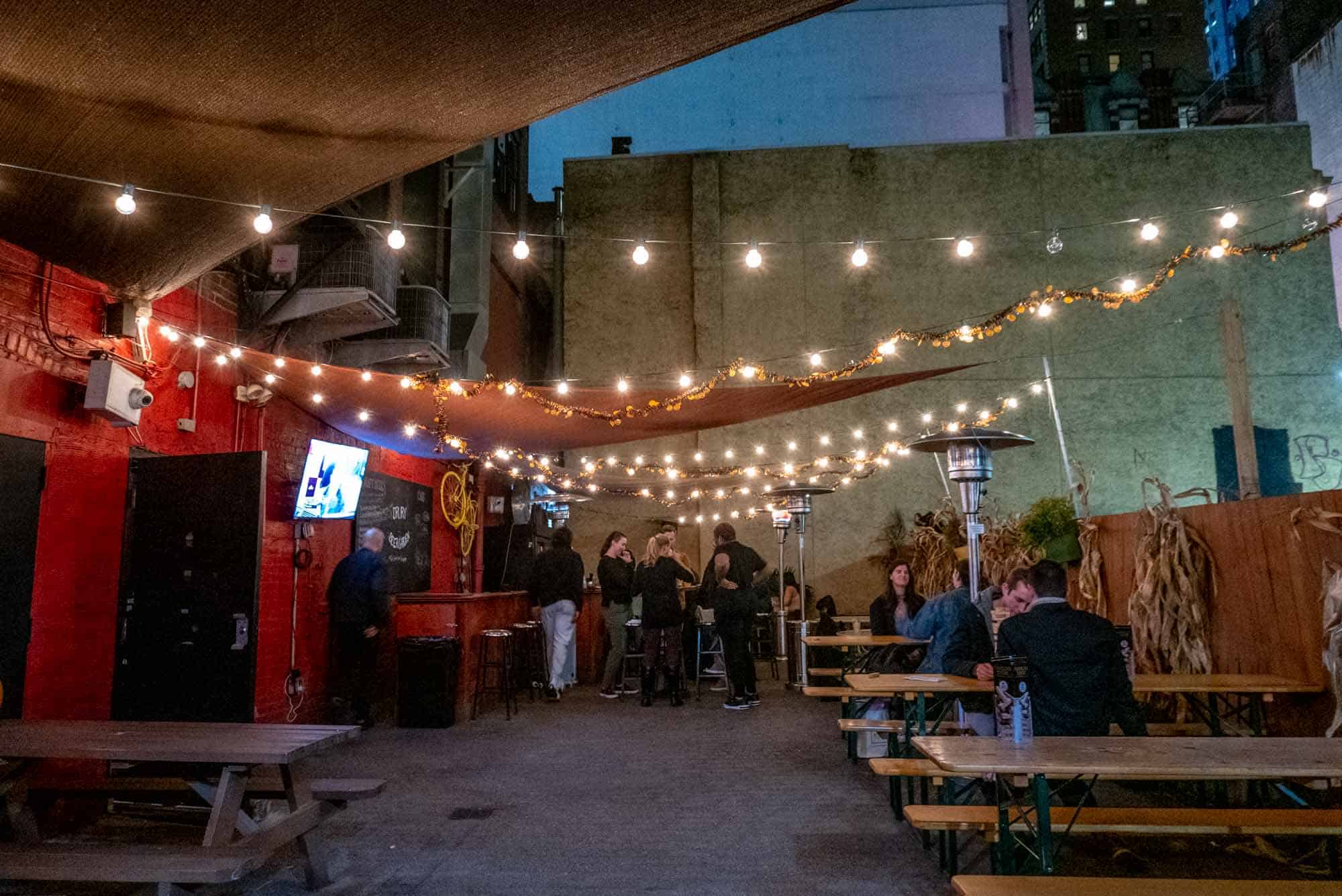 Billed as an indoor-outdoor beer garden, this is a fantastic spot in the heart of Midtown Village. (Is an indoor beer garden a thing?) Originally located behind the Opa Greek restaurant, the owners decided to dump the Opa concept and go all-in on the beer garden. And it's a good thing too.
The old Opa restaurant entrance on Sansom, functions as the indoor space (again, an indoor beer garden?). But the true garden can be found out back in the Drury alleyway adjacent to McGillin's Olde Ale House (the oldest continually operated tavern in Philly). The beer list is heavy on big national and international brands (bottles and cans), but there are a handful of standout local brews to be found.
Saddle up to the bar, grab a beer and take a seat at one of the picnic tables. The Opa legacy can still be found in the numerous Greek menu items available (including the Greek salad and some of the best tzatziki you'll ever have). Location: 1311 Sansom Street. Learn more.
Craft Hall
Philly's largest indoor beer hall also has one of the most unique outdoor beer gardens. We're talking about UNLEASHED: Bark & Beer, of course. This dog park/human garden concept lets your pouch run around off leash while you sip the brews from Mainstay Independent Brewing Company. Order online and your beer is delivered to you. Note: it is frowned upon to serve the dogs beer.
With room for about 40 people and dozens of rambunctious canines, this is hardly the relaxing space like some of the other gardens on this list. But it is fun. Note: visiting is at your own risk. Location: Adjacent the parking lot across from the Craft Hall entrance at 901 N Delaware Ave. Learn more.
Chestnut Hill Brewing
In the northwest section of the city, Chestnut Hill Brewing offers a fun garden space with cool, colorful oversized chairs, fire pits, and water feature. The tables sprawl out around the plaza and make for a fun experience in a relaxed atmosphere.
They serve their own beers and a few other drink offerings. But the reason why this place is so popular is the pizza. Neapolitan pizzas crafted by hand and fired in their wood oven. Grab and pie, pair it with your beer, and enjoy the environment. Or, if you aren't feeling pizza, grab takeout from any number of other food stalls in the Market at the Fareway. Location: 8221-8231 Germantown Avenue behind the Chestnut Hill Hotel. Learn more.
Love City Brewing Co.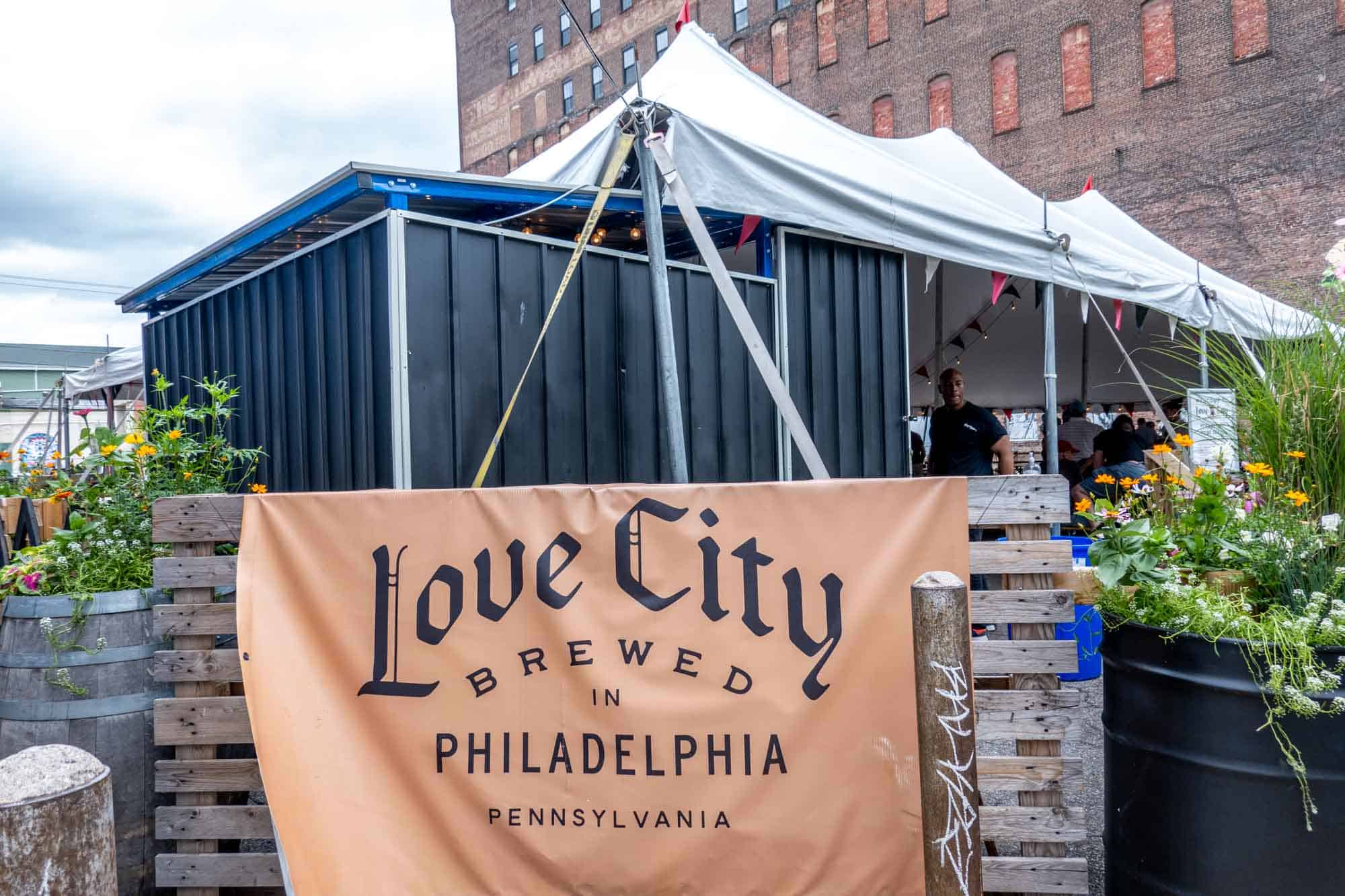 This brewery is so close to the Rail Park that it might as well be part of it. The brewery has an outdoor beer garden space with murals that is a popular place in the summer. It makes a good spot to cool off after walking the Rail Park or exploring the Callowhill neighborhood. The space has a Bavarian vibe as it is located under a giant tent, so this is the place to be, whatever the weather.
They serve bold, hoppy brews as well as cocktails. If you are hungry, they are well served by a rotating array of food trucks. Location: 1023 Hamilton Street. Learn more.
Yards Brewing Company
Yards Brewery has long been a popular brewery. Since 1994, they've been rocking out great beers and good food. When they moved to their current Northern Liberties location in 2017, it gave them the ability to open a beer garden-ish space.
Along the outside of the building under the massive tanks, they've placed a number of tables. They feel secluded away from busy Spring Garden Street, but you miss the greenery and garden-like feel. Of course, this doesn't diminish the awesomeness of the beer, or the good food they serve. Location: 500 Spring Garden Street. Learn more.
Puddler's Kitchen & Tap by Conshohocken Brewery
The Puddler's Kitchen & Tap is an outpost of the popular Conshohocken Brewery in Bridgeport. Located along the banks of the Schyulkill River, this small, fun beer garden can turn into a lively place during the weekends and in the evenings. There are chairs for lounging, tables for eating, and, of course, there are classic games like cornhole and jenga.
Grab some food from one of the food trucks and of course your favor Conshohocken Brewing beer and spend time with your friends or family. Location: 3 Dekalb Street in Bridgeport. Learn more.
Uptown Beer Garden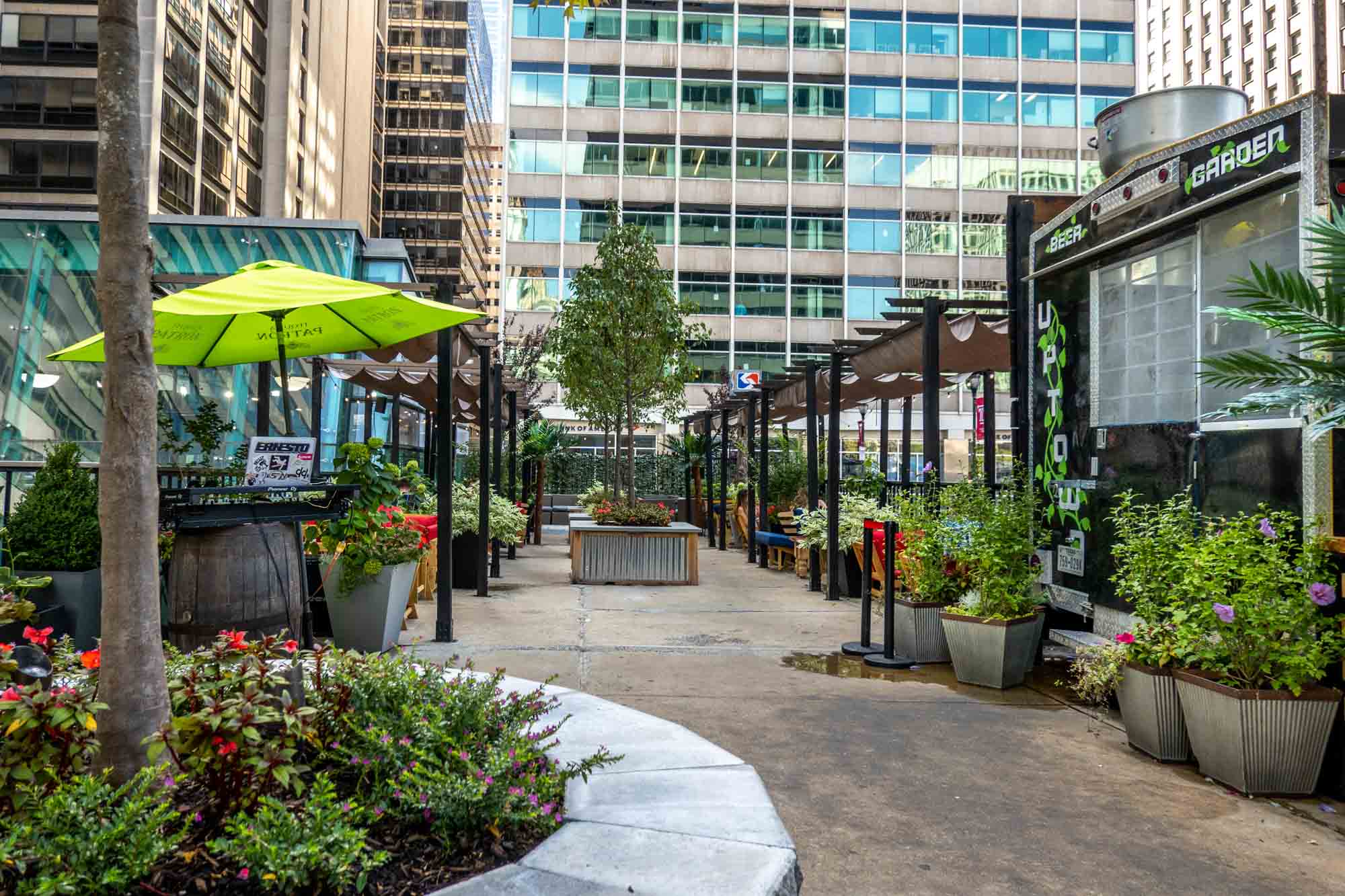 Located on JFK Boulevard, this beer garden is popped into a large outdoor plaza, parts of which have nice views of City Hall. It has a large bar with giant televisions for sports, as well as tables for lounging and chatting. There's also some lawn games, including the obligatory cornhole.
They have an extensive beer and cocktail menu as well as food. Sadly, we found the drinks were a little watered down for our tastes. Stick to the beer. Location: 1500 John F Kennedy Blvd. Learn more.
Piazza DiBruno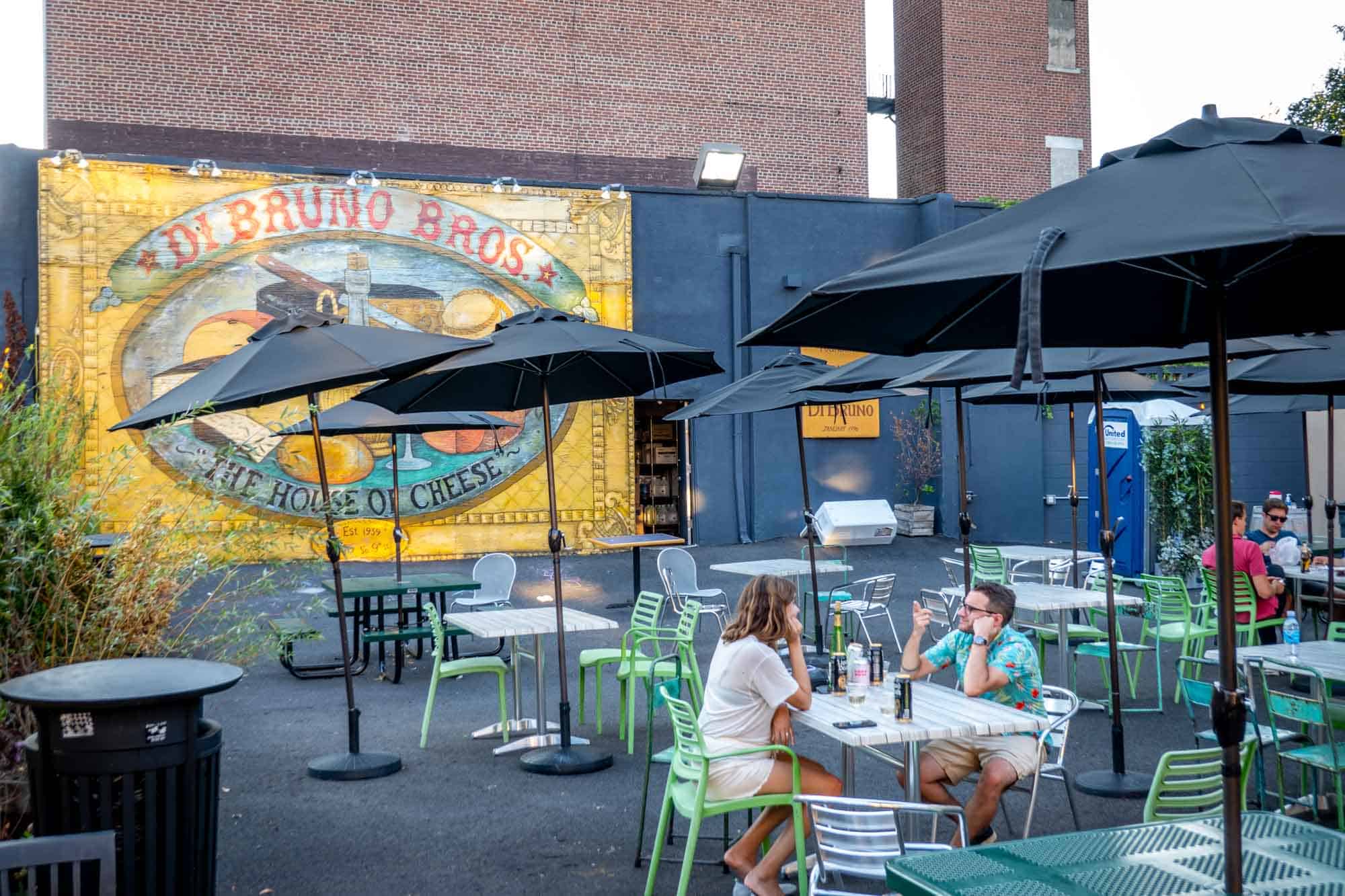 Located in the heart of the Italian Market, Piazza DiBruno is across the street from the DiBruno Bros 9th Street Bottle Shop. The shop sells all manner of delicious alcoholic beverages. Wine? Check. Locally brewed craft beers? Check. Buy a bottle or can and then cross the street into the piazza.
Piazza may be overstating it a bit. If you've been to Italy and are thinking the grand piazza's, you'll be disappointed. What you will find is a nice pocket park in the Italian Market with tables, chairs and benches to enjoy your delicious beverage. You can also grab a cheese or charcuterie board from the Bottle Shop and pair it with your favorite beverage. Location: 914 S 9th St. Learn more.
Wissahickon Brewing Company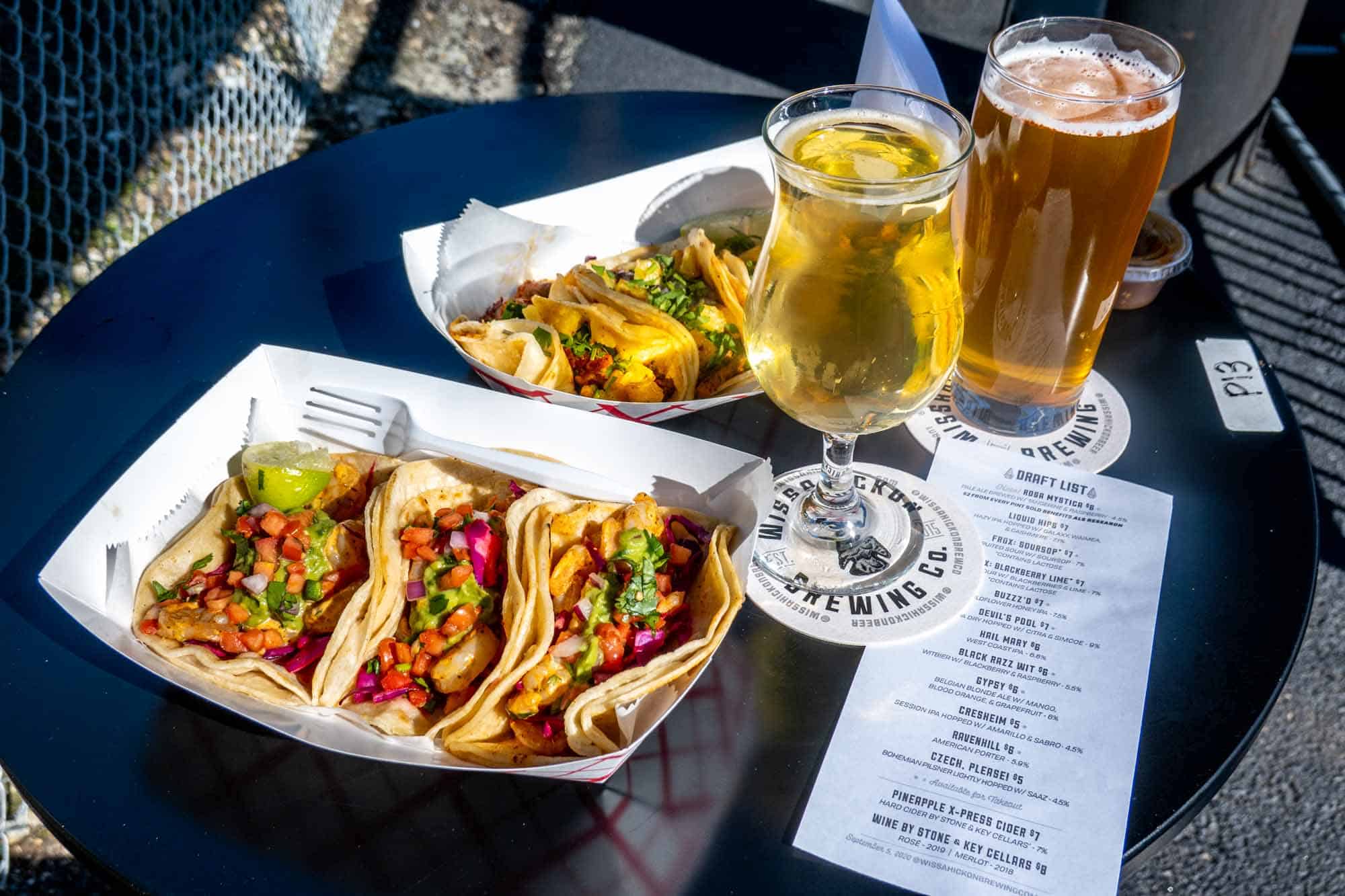 If you're looking for a family-friendly beer garden to bring the kids to, Wissahickon Brewing is your best bet. They've got a nice little outdoor patio space with some spruced up greenery to make it feel cozy. On nice weather days, they close the parking lot and add in extra tables and seating, which go the end of the property up to the train tracks.
They serve their own beers, a healthy mix of IPAs, pilsners, sours, and the odd Belgian thrown in. They differentiate themselves by having food trucks every day. If you're hiking or cycling in the Wissahickon Valley Park, this is a good spot to cool off afterwards. Location: 3705 W. School House Lane. Learn more.
Other Half Brewery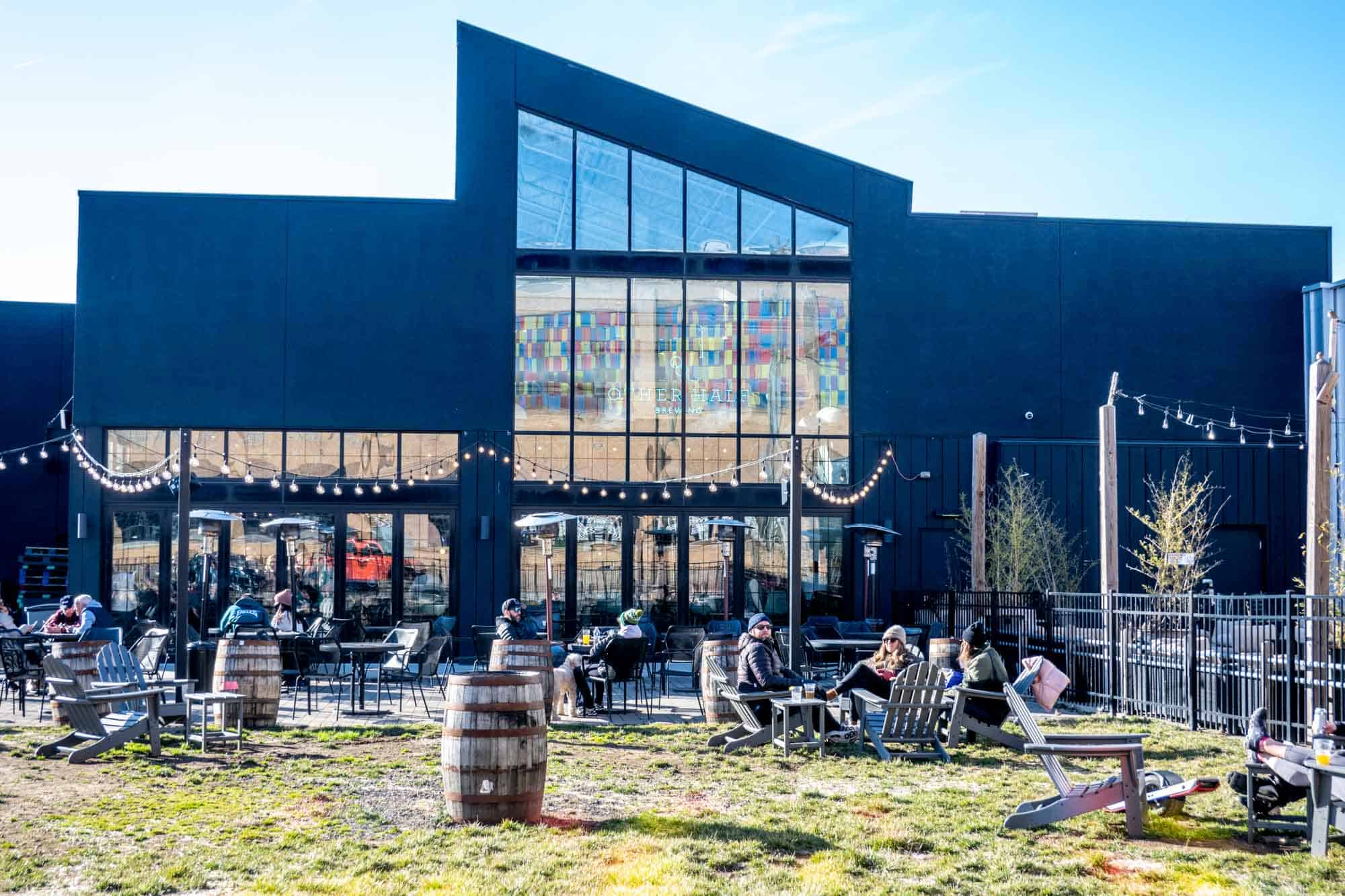 Part of the recent Philly invasion by famous New York businesses, Brooklyn's much-lauded Other Half Brewery took over the space of the now-departed Chicago-based Goose Island brewery in Fishtown. Along with it came the massive outdoor lawn and beer garden. It's the kind of place you just want to love…except for the fact that there's very little seating on that massive lawn (a handful of Adirondack chairs dot the space and some tables on a cement patio). So much potential in all that green space…
They serve the same award-winning beers you'll find at all the Other Half locations from Buffalo, NY to Washington, DC. The go-to here is their range of double dry hopped IPAs. A full kitchen churns out some excellent tacos, burgers, sandwiches, and finger foods. Location: 1002 Canal St. Learn more.
RIP
Previous versions of this article have mentioned beer gardens that have since closed, including The Lawn at LoveLuck located in Love Park and Ship Bottom Brewery at Wake Coffee Roasters in Ambler.
What do you think are the best beer gardens in Philly? We'd love to hear your thoughts in the comments below.