Some posts on this site contain affiliate links, meaning if you book or buy something through one of these links, we may earn a small commission (at no extra cost to you).
Everybody loves a good date night restaurant. Whether you're celebrating an anniversary or meeting someone for the first time, it's fun to find a place with fantastic atmosphere and excellent food. Luckily, there are lots of options to choose from when it comes to romantic restaurants in Philadelphia.
An historic inn in a park setting, a garden lit with white lights, or cozy fireplace seating–whatever ambiance you're looking for, there's something that fits the bill here. After years of date nights around the city, we've put together our top recommendations for where to eat on a romantic night out.
Zahav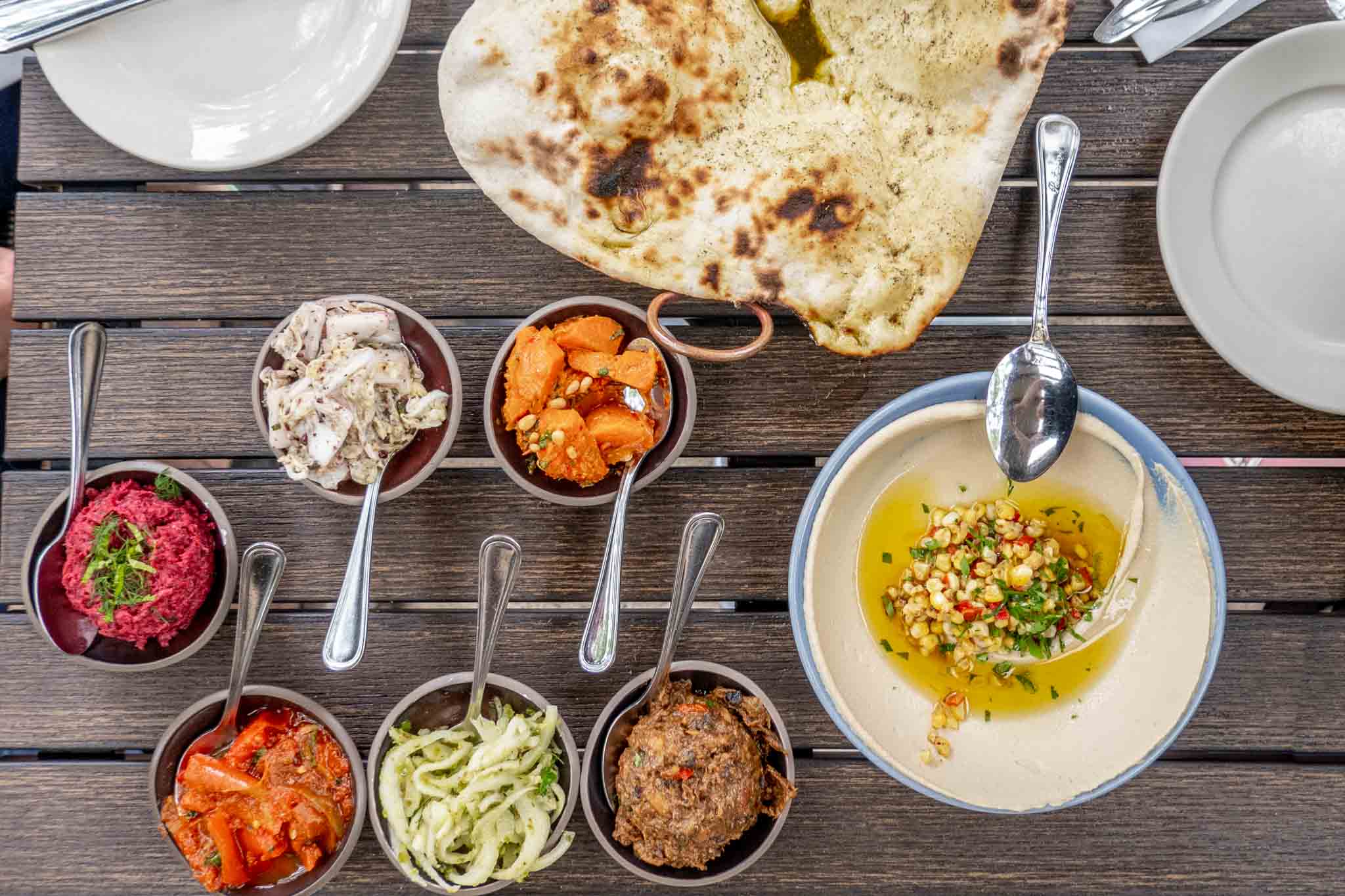 Getting a primetime Zahav reservation is one of the most coveted achievements among lovers of good food in the city. Named the most outstanding restaurant in the country at the 2019 James Beard Awards, this modern Israeli gem is a must for people in search of a special meal. It's recently become our go-to birthday spot when we can get in.
The design of Zahav is meant to evoke Jerusalem courtyards with golden lighting and luxurious booths. Visitors can appreciate the decoration while enjoying some of the most incredible hummus ever made plus one of the best dishes in the city—chef Michael Solomonov's tender lamb shoulder with pomegranate molasses and chickpeas. Don't miss the halloumi either.
If you can't get a reservation inside, try your luck on the first-come, first-served patio that's open from spring through fall. Many of the same menu highlights are available outside.
Fork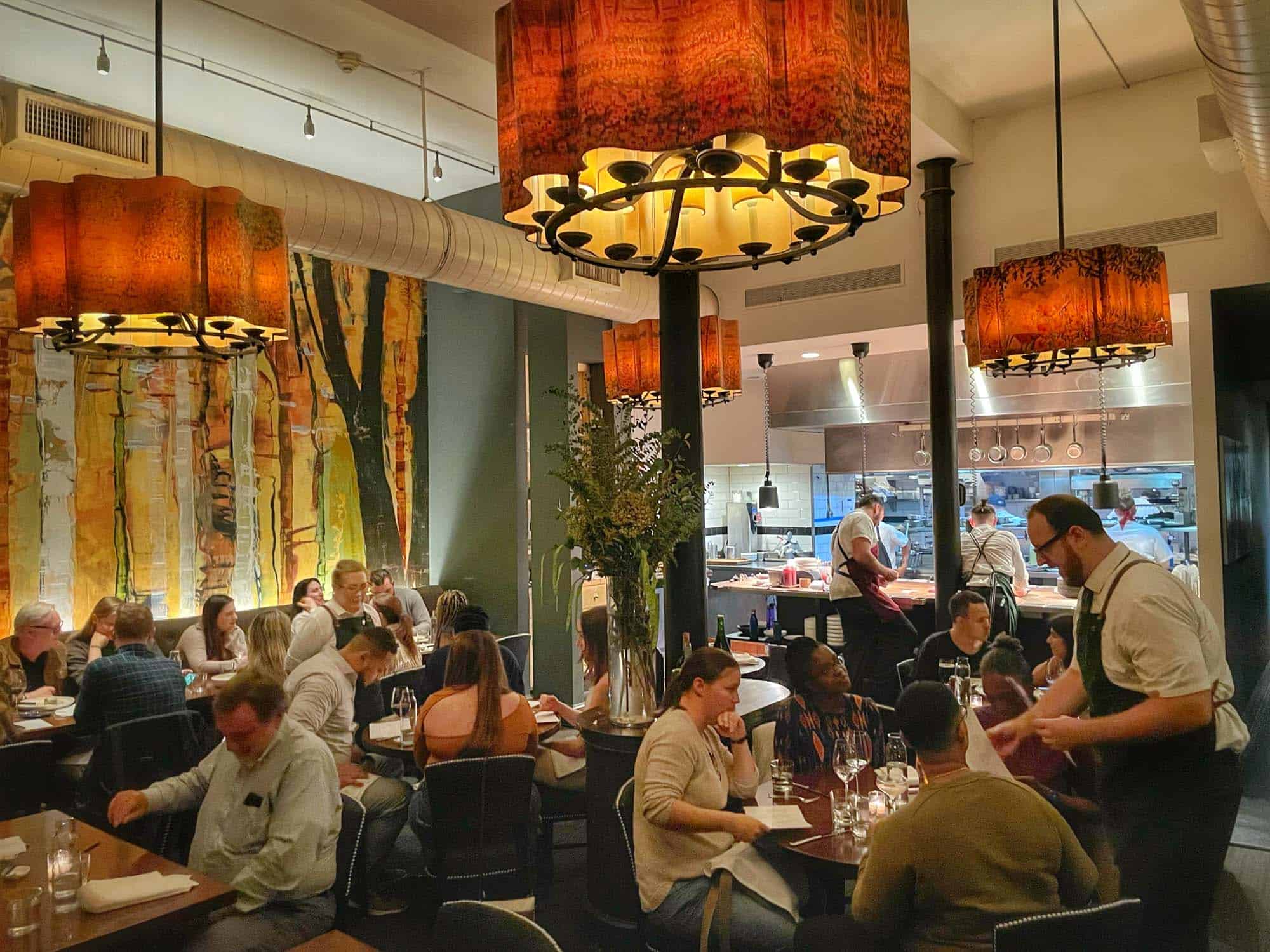 Critically acclaimed Fork is located in the heart of Old City not far from top historic attractions. For over 25 years, the New American restaurant has served seasonal cuisine made with locally-sourced ingredients. Noted for their attention to detail and high level of service, dining here is always a treat and never feels fussy.
The inviting dining room bustles with activity on the weekends but always comes with a personal touch, so it's an ideal choice for a fun night out or a celebration. The fish dishes are always good, and there are lots of sharable and small plates. We have loved every oyster and skate wing dish we've ever had here.
Valley Green Inn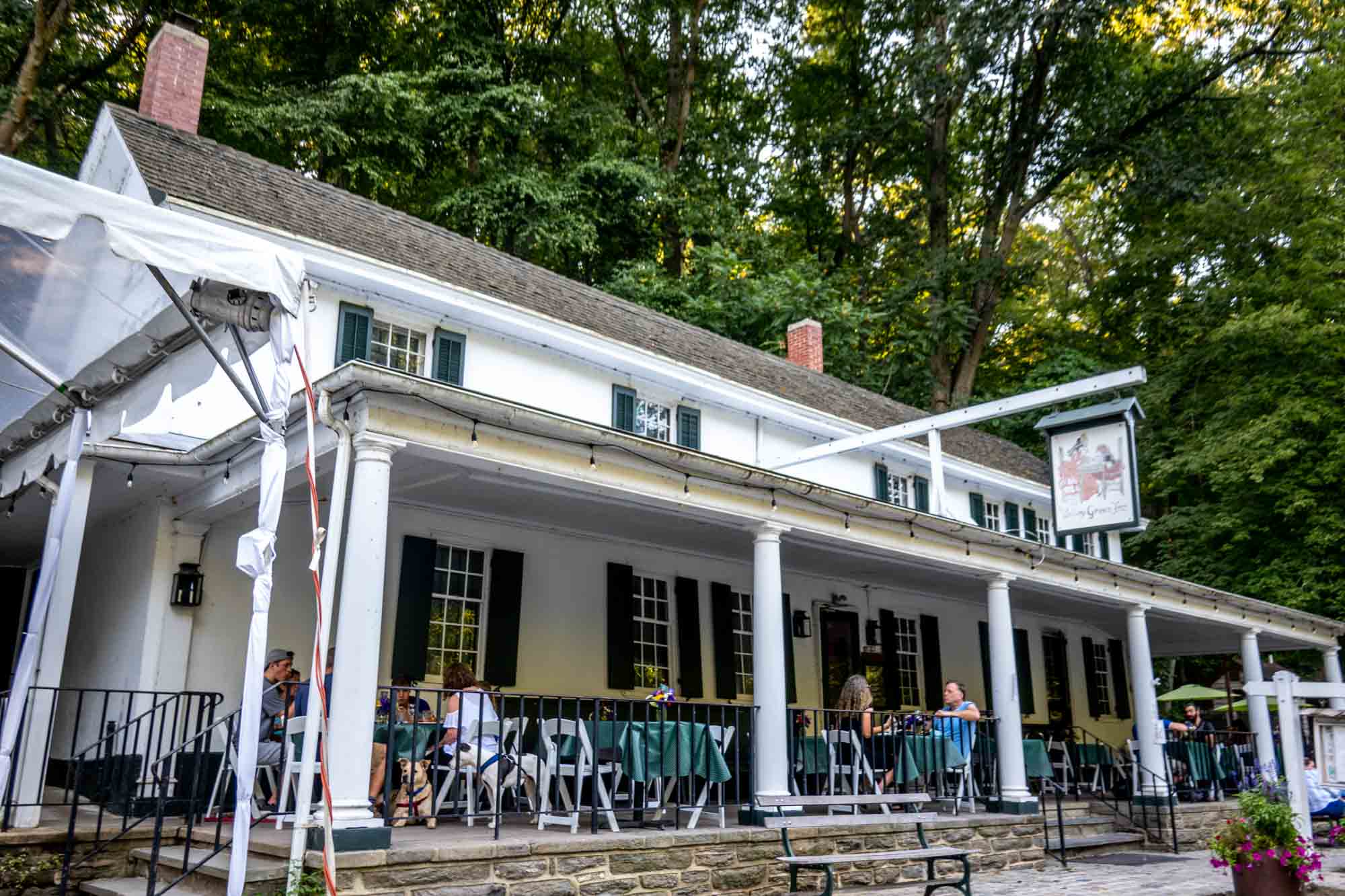 Unique among the romantic restaurants in Philadelphia, Valley Green Inn is located in Fairmount Park. The historic inn, which was built in 1850, is surrounded by trees and is just a few steps from Wissahickon Creek. It's hard to imagine a more idyllic setting.
Diners can choose from the covered patio or the charming indoor dining rooms, complete with cozy fireplaces. The upscale spot is a local favorite for lunch and brunch, and dinner is also a standout with offerings like steak frites, crab cakes, and pan seared salmon.
Vernick Food & Drink
Consistently one of the best restaurants in the city, Vernick Food & Drink is guaranteed to impress. Its dining rooms are designed to ensure that you can always hear your dinner companions, and its warm lighting and décor properly set a relaxed mood.
The modern American menu has a variety of small plates and toasts, which are a Vernick signature. Meats straight from the woodfire oven and a selection of fish round out the frequently-changing offerings. For a particularly special experience, reserve well in advance to enjoy the six-course tasting menu. Complete your romantic evening with a walk in Rittenhouse Square Park just a block away.
Laurel
Laurel might be the perfect date-night restaurant in the city. Much of the food is shareable, the service is on-point, and it's quiet enough that you can hear your dining companion. Following a recent switch from a tasting menu to a la carte items, the price point has also dropped to a more accessible level. There's everything to love here.
A mix of small and large French-inspired plates allow for tasting lots of dishes, which you'll definitely want to do. They are well-composed and creative without feeling overly pretentious (I always appreciate when I don't have to Google ingredients to make a selection). We started talking about when we could come back before we had even paid the check.
Lark
Nicholas Elmi's Lark is really something special. The chef (who also owns Laurel above) has created a coastal Mediterranean restaurant with an airy, light-filled dining room and a welcoming patio complete with a fire pit. The river views help push the romance factor here over the edge.
From seafood to pasta, every dish here sings with flavor and elegant simplicity. We loved the grilled prawns with citrus pesto and the roasted beet mezzalune in brown butter. The menu changes frequently, but if the gnocco fritto with ricotta is available, don't skip it.
Amada
Amada has been the go-to tapas restaurant in Old City for over 15 years. With dark wood, luxe curtains, and wine barrel décor, it's a great spot whether you're celebrating an anniversary or going on a first date.
Portions here are small, so order lots of different dishes to sample with your date. Let the pitchers of sangria flow while you try the flash fried peppers known as pimientos de padron, the platters of cured meat and cheese, and the lamb meatballs (alblondigas). Just make sure to bring a mint if you plan to try the sizzling garlic shrimp (you should!).
Charlie was a sinner.
We're suckers for a speakeasy vibe, and Charlie was a sinner has that in spades. The dark interior, brass top bar, and projector showing scenes from old movies make for a romantic ambiance perfect for indulging in their killer cocktails.
In addition to an extensive drink menu, Charlie is one of the most popular places for vegan food in the city. Its stunning potato croquettes, artichoke frites, and Mama's meatballs will make you appreciate how good a plant-based menu can be.
Bistro Romano
Bistro Romano has provided Society Hill diners with the most exquisite Italian food for over 35 years. On weekends, you'll be serenaded by live piano music in the bar, which you can still hear in the cozy, dimly-lit downstairs seating.
The menu here is packed with good options from grilled swordfish with jumbo lump crab to veal saltimbocca. I'll be honest, though–we make a whole meal out of their homemade pastas. The black peppercorn macaroni with sausage is infused with pepper, the Maine lobster ravioli is a standout, and the gnocchi with black truffle cream is the thing that dreams are made of. The wine list is also expertly-curated, so try your favorite or ask the server for a pairing recommendation.
Wm. Mulherin's Sons
Located in a renovated 100-year-old whiskey bottling facility, Wm Mulherin's Sons is the perfect date night restaurant. This Fishtown spot is ideal for a sophisticated night out. Gather near the pizza oven or on a sofa by the fireplace, or take a seat in one of the several outdoor areas strewn with white lights.
Wherever you sit, get ready for some excellent cocktails and even better food. Wm Mulherin's is known for its top-notch pizzas (among the best in the city) and Italian-influenced entrees. We love the crispy octopus with lemon-white bean puree, and the fresh pastas and wood-fired meats are always a winner. If you have a date earlier in the day, their weekend brunch is a must-try.
Fiorella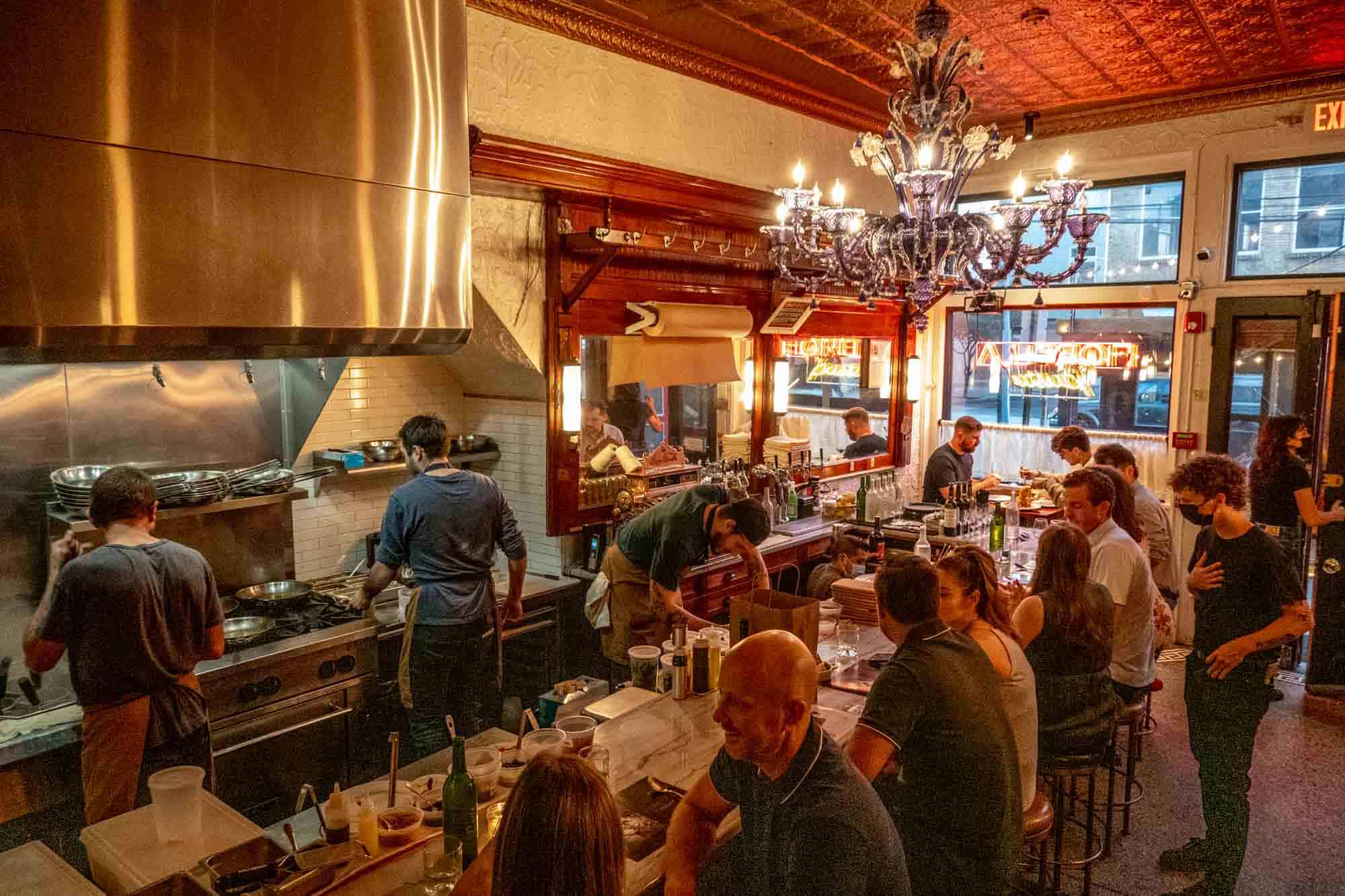 Marc Vetri's intimate pasta bar Fiorellla is located in a former butcher shop just steps from the Italian market. By the glow of the red neon in the window and under a grand chandelier, the chefs whip up some of the best pasta in town for those lucky enough to score a seat. They're one of a few places that has been able to maintain their covered outdoor seating, so that's also a good option if you're happy to take a chance on weather.
Menu highlights at Fiorella include rigatoni with sausage ragu, tonarelli cacio e pepe, and the gnocchi of the moment. Locals swear by the dirty pasta water martini, and the brown butter old fashioned is our personal favorite. Dinner reservations are a must for indoor and outdoor dining.
Friday Saturday Sunday
Friday Saturday Sunday has long been known as one of the nicest restaurants in Philadelphia, and its move to an eight-course tasting menu has helped solidify its status (a recent James Beard Award didn't hurt either). Seating in the upstairs dining room is limited, so this is a reservation to plan ahead for if Friday Saturday Sunday on your list of places to take a special someone.
The menu from Chef Chad Williams changes often but always features numerous stand-out courses. Diners can expect highlights such as caviar with crème fraiche, sweetbreads, and New York strip. The cocktail list is also incredible.
The Love
The Love offers a take on new American cuisine. Light and airy with white brick interior, the Rittenhouse Square restaurant is modern and comfortable.
We've never had anything at The Love that misses the mark. The menu is full of perfectly dressed salads and a variety of entrees ranging from Thai salmon with coconut red curry to a honey brined pork chop. The signature dish, the Lovebird, is a combination of buttermilk fried chicken, grits, and collard greens.
Whether you're looking for a romantic dinner, a casual lunch, or a lazy brunch, The Love is one of the best places in the city to sample a little bit of everything.
Harper's Garden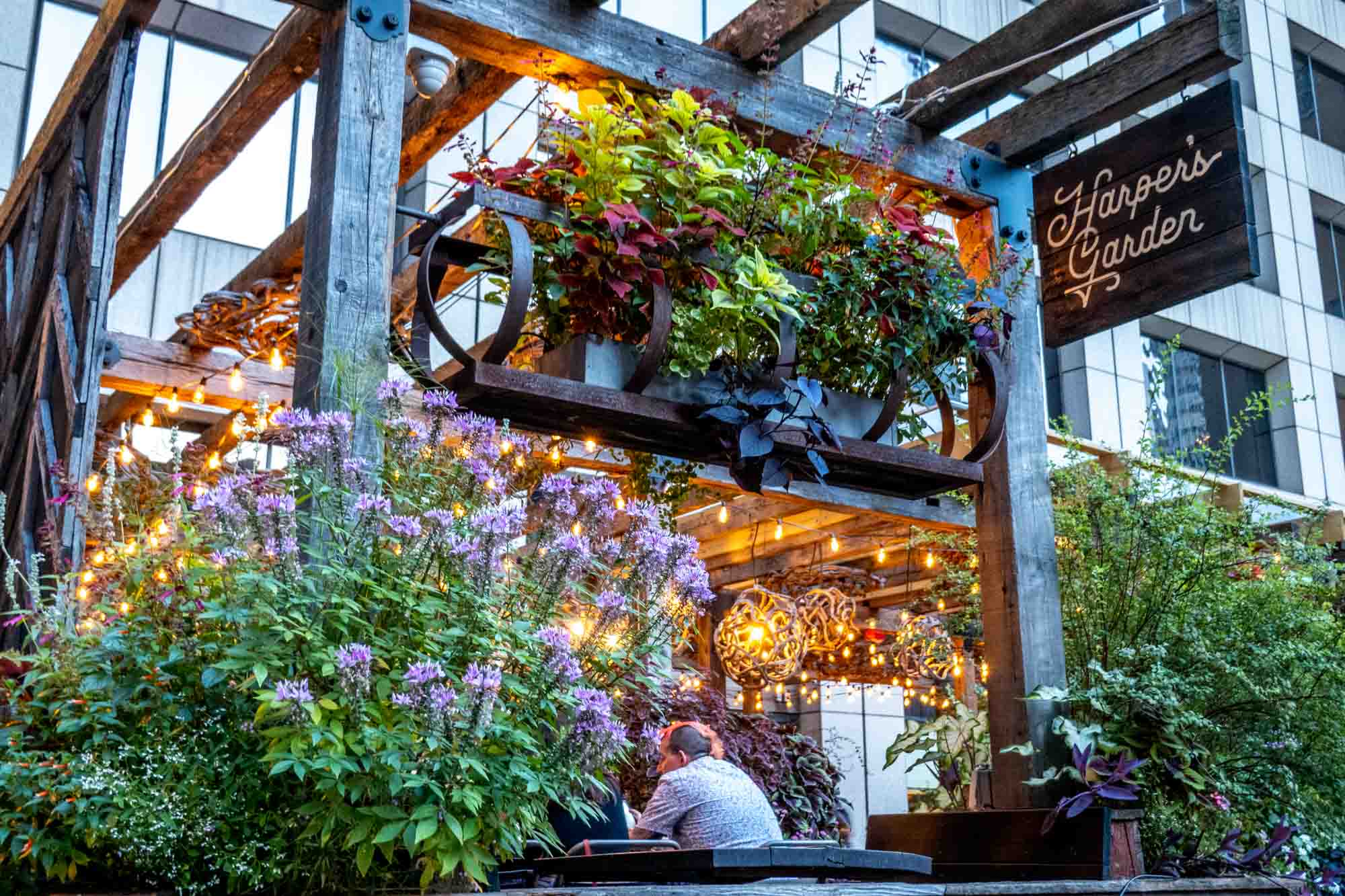 In a lush indoor/outdoor space, Harper's Garden serves New American cuisine with a focus on seasonal ingredients. With its warm lighting and areas full of plants, you hardly feel like you're in Center City. Whether you choose the dining room, the patio, or the greenhouses, each option brings something special to the dining experience.
Many of the appetizers at Harper's Garden are made for sharing, including its cheese board and vegetable board. Dishes like the mushroom fettuccine and the three spice crusted mahi mahi are highlights. The 'Merica burger is also a winner with a double stacked patty and cooper cheese.
Vedge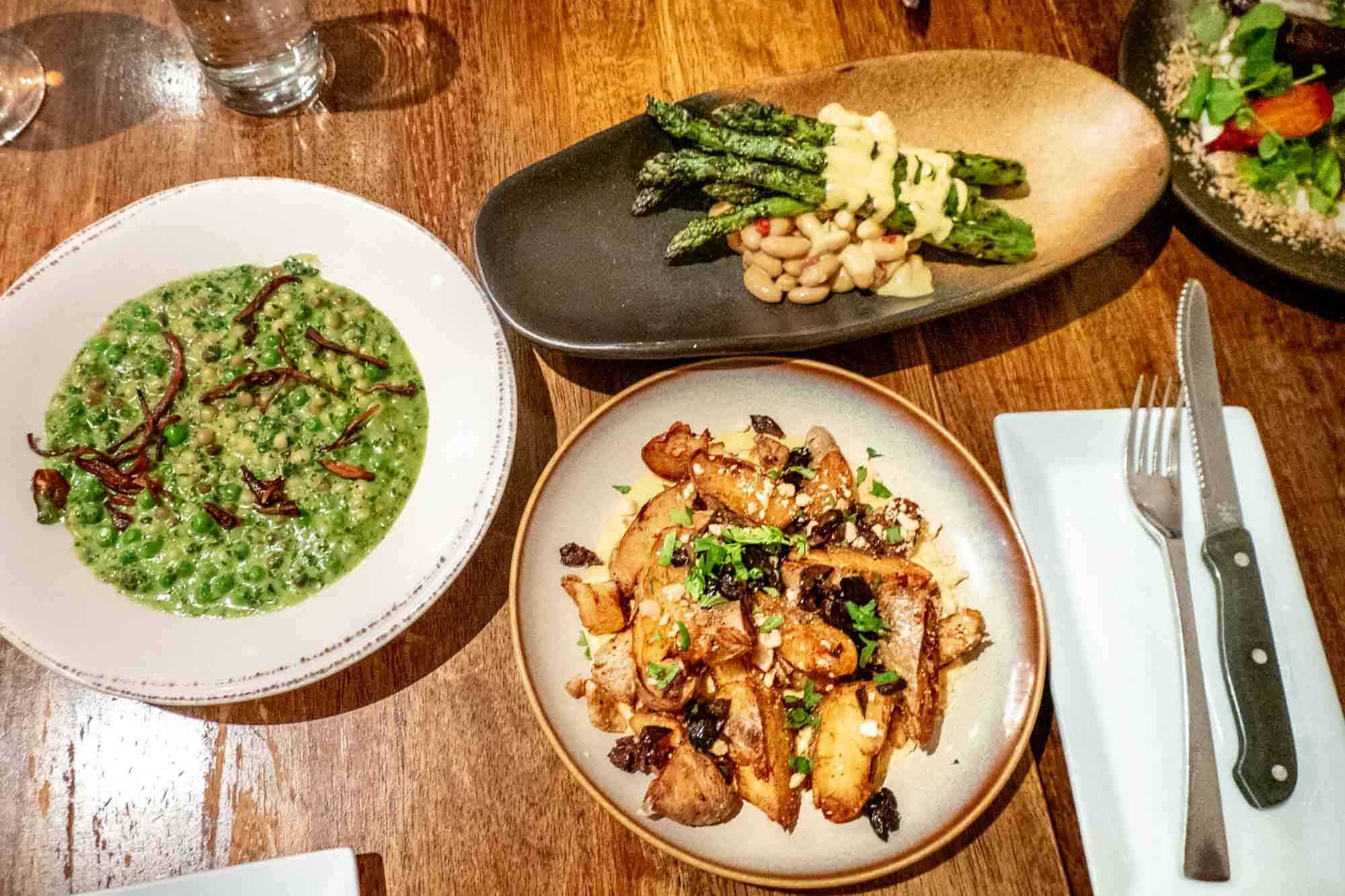 Vedge is one of our favorite restaurants. Whether celebrating an anniversary, a birthday, or a regular Tuesday night, the options here are always creative and unique. They do things with vegetables like most diners have never seen before.
The award-winning vegan restaurant set in a Victorian townhouse in Midtown Village has had its praises sung far and wide for over a decade. From stuffed avocados to rutabaga fondue, the dishes here are always a little bit surprising and a lot delicious. We love anything they make with carrots, mushrooms (especially carpaccio), the fingerling potatoes with aji Amarillo, and all the cheesecakes. The cocktail and wine menus are also always full of something new to discover.
Hiroki
Hiroki is a place to save for a special occasion both because of its outstanding quality and its price point. This exquisite omakase-only restaurant is Asian fine dining at its best.
The seasonal menu is inspired by Chef Hiroki Fujiyama's hometown of Kyoto. Its 20 courses run the gamut from soy-marinated wagyu to seared Japanese tilefish to all manner of elegant sashimi. It's unquestionably some of the best Japanese food in the city.
Osteria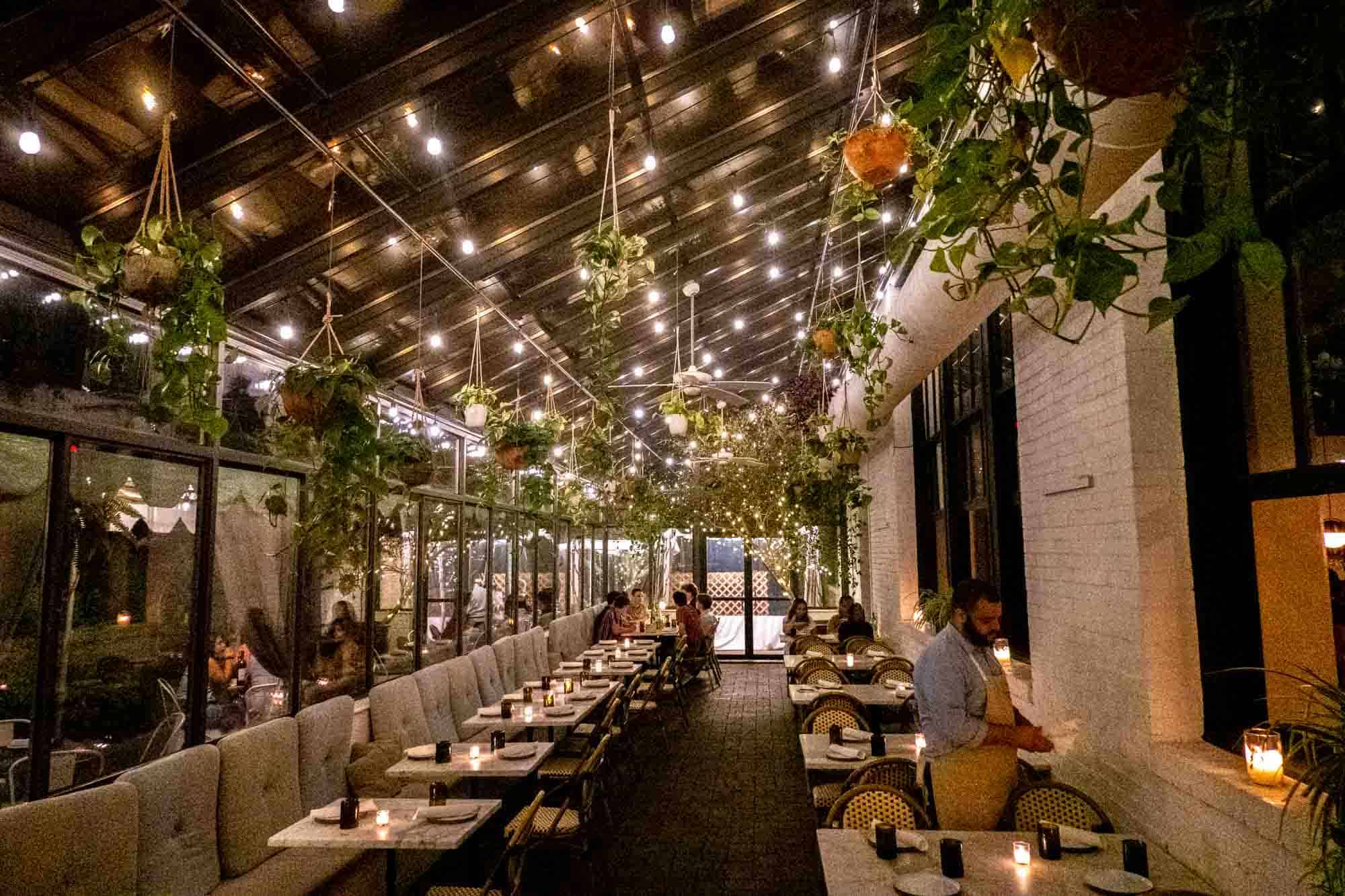 Osteria is welcoming from the moment you walk through the front door. From the dining room that has a view of the kitchen and the always-busy oven to the patio decorated with plants and white lights, this feels like a place where you can hang out for a while.
The ambiance is only surpassed by the food. Osteria is certainly one of the best Italian restaurants in the city. Their incredible bread (don't skip the focaccia and baked ricotta) and pizza are highlights on a menu packed with delicious choices. The restaurant is also well-known for their rigatoni with chicken liver, the house-aged ribeye for two, and their decadent housemade gelati.