The Fishtown neighborhood of Philadelphia is like your cool aunt–she introduces you to underground bands, always has the best snacks in her car, and is a little loosey goosey in all the right ways. The secret may be out on this once hidden gem, but that doesn't stop Fishtown from consistently upping its game with top-rated restaurants, exciting art exhibits, and independent boutiques.
What is Fishtown like?
While blue collar at its roots, Fishtown has exploded into an arts district. The neighborhood sits west of the Delaware River and north of Girard, offering beautiful waterfront views. If you walk along the side streets packed with row homes, you may also notice decorative wooden fish displaying home numbers—a signature of apartments here.
An urban farm next to a Dunkin' Donuts, a waterfront park connected to a graffiti garden–Fishtown just does things a little differently, and people are noticing. Every local realtor has the area on their wishlist, and young families are flocking in at increasing rates. Home of the bakery that made Beyonce's birthday cake and recent recipients of America's Best Sandwich and one of America's best hotel rooms awards, the future for this hip neighborhood is bright.
Fast facts
Population: 16,307
Median age: 34
Median rent: $1850
Median home value: $346, 791
The name and history
Fishtown is a nickname that stuck. What was once Lower Kensington morphed into Fishtown after the shad fisheries on the Delaware River that contributed to the area's industrial economy. Captain Anthony Palmer founded the land that is Kensington and Fishtown in 1728, defining the boundaries by a triangle of the Delaware River, Frankford Avenue, and York Street.
Over 30 properties are designated historic in the neighborhood limits, including Penn Treaty Park, the First Presbyterian Church of Kensington, and Palmer Cemetery. The way that the roads weave around these monuments sets this neighborhood apart, diverging from the grid system and rather oriented toward the Delaware.
Don't miss
Shops and more
From shops and art galleries to bookstores and parks, there are lots of unique places to check out around the neighborhood. As you wander, you may notice the Fishtown Shads. Lovingly referred to by the neighborhood association as a "Shadress," many homes boast a hanging fish sign with their address in honor of the area's fishing history. See how many you can spot!
Harriett's Bookshop – This popular neighborhood bookstore is black-owned and named in honor of Harriet Tubman.
Philadelphia Record Exchange – Sell your old records or pick up some new ones at the record exchange.
Jinxed Fishtown – Vintage, vintage, vintage. Find some great thrifted finds at this stop.
The Random Tea Room & Curiosity Shop– In their words, the Random Tea Room provides a "diverse sensory selection that expands beyond the tea pot."
Indie Photo Lab – Indie is a great place to get film developed. The staff is super friendly and knowledgeable.
Penn Treaty Park – Exercise, lay out, or just enjoy the view at this historic green space, said to be the spot where William Penn signed his treaty of peace with the local Lenape Tribe.
Palmer Park – Small, but peaceful, Palmer is a great place to enjoy your morning bagel from Philly Street Bagels located within a stone's throw.
Check out other places to visit and things to do in Fishtown.
Good eats
Some of the city's best places to eat and drink are here, making it very hard to create a condensed list. Here's our best shot:
Kosta's – This dive bar is more than meets the eye. It also serves killer Greek food. The Greek nachos? YUM.
Pizzeria Beddia – Another best. Time magazine called Beddia one of the best places to eat in the world. That should say everything. Read more about Joe Beddia's pizzeria.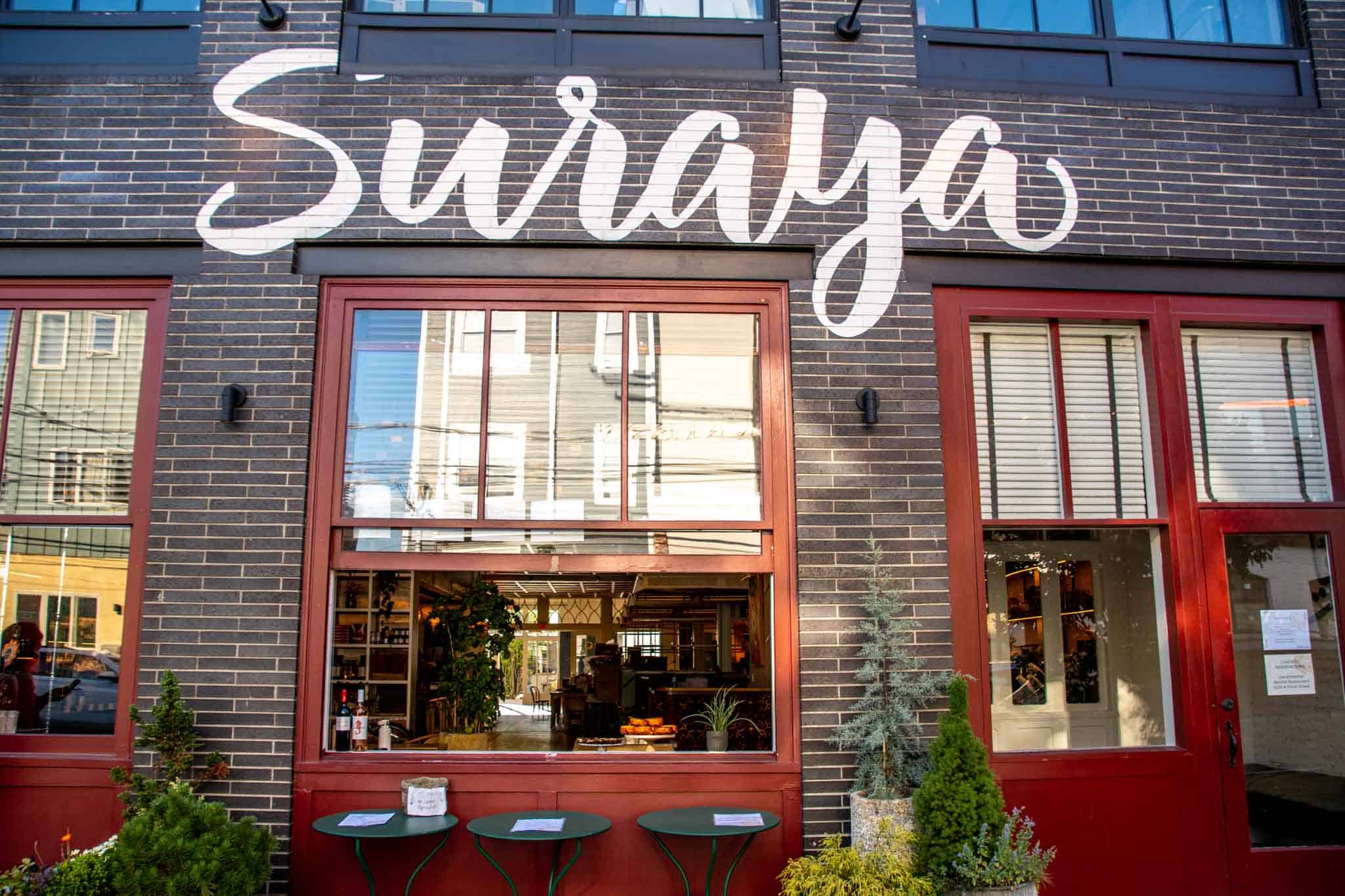 Suraya – If the vibrant Lebanese decor wasn't enough, the food is legendary. You can even choose a seat in front of the open kitchen to get a look behind the scenes. Read more about Suraya restaurant.
Fette Sau – Come hungry. Fette Sau has some of the best barbecue in this part of the city and the $5 happy hour Old Fashioneds don't hurt.
Philly Style Bagels – Philly Style makes their delicious bagels fresh every morning. Come early, though— they sell out quickly!
Murph's Bar – Murph's Bar doesn't sound like somewhere you would be able to find an authentic Italian meal, but Fishtown is all about keeping you on your toes.
Kalaya – Unquestionably one of the best restaurants in Philadelphia, Kalaya brings authentic Thai food and all the spice to Fishtown.
El Bar – El Bar is a staple for the lonely hipster looking for a cheap drink and some quirky company.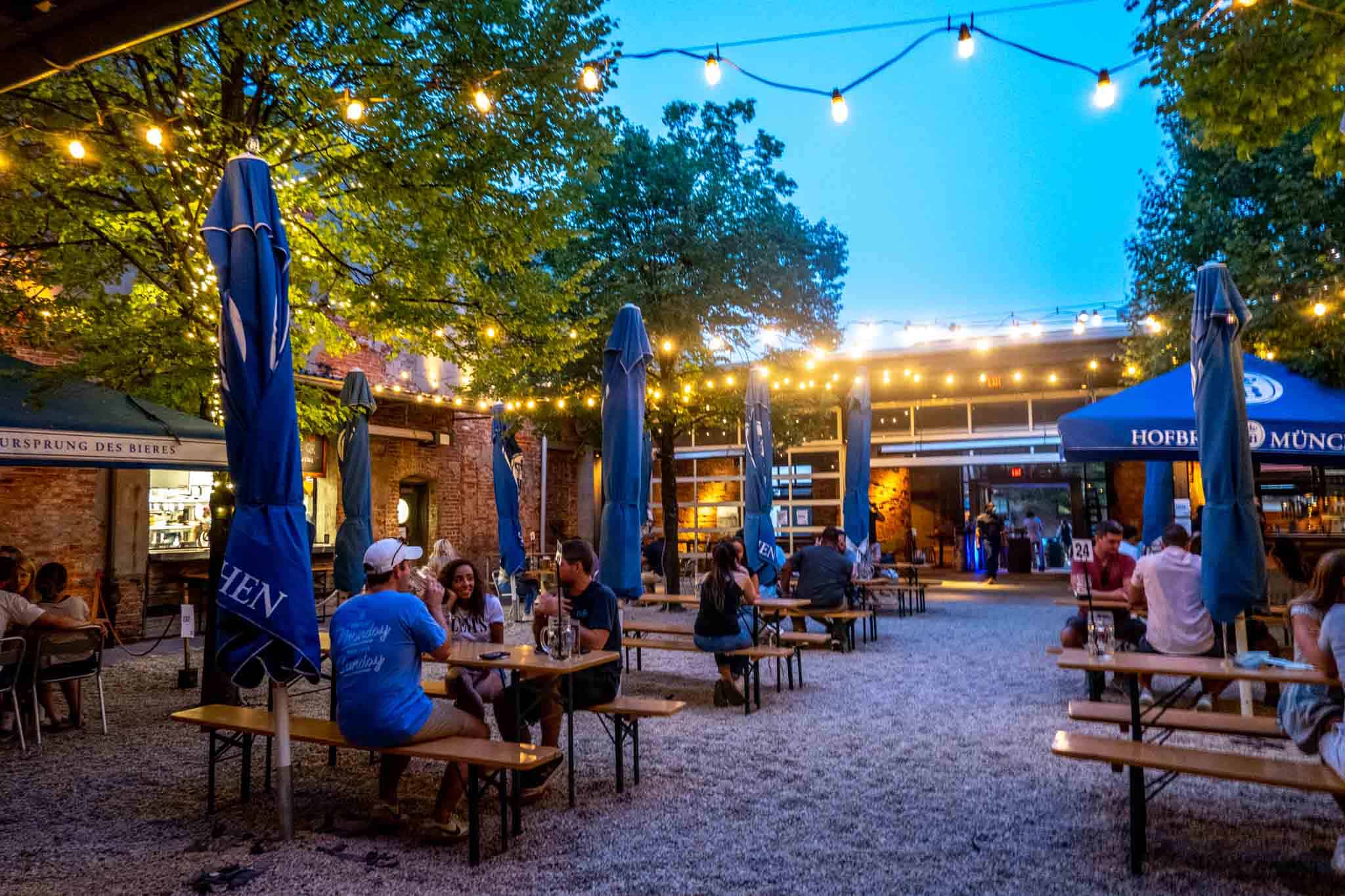 Frankford Hall – One of the city's top beer gardens, it's an authentic German beer garden with a fun vibe.
Johnny Brenda's – Good food, good drinks, and constantly rocking with great live music.
See more great restaurants in Fishtown.
Where to stay
Lokal Hotel Fishtown – Lokal is a design driven hotel that is highly curated to the local Philadelphia experience, meant to make visitors feel like they're in their own apartment rather than a stuffy hotel room.
Wm. Mulherin's Sons Hotel – Small but noteworthy. This hotel only consists of four rooms but makes the most of the space. Only opened four years ago, Wm. Mulherin's Sons has already been named the "Best Hotel in the United States" by USA Today. SEPTA's Market-Frankford Line stops on Girard Avenue, right in the middle of the action. It is also accessible by bus, the Route 15 trolley and by car.
How to get there
SEPTA's Market-Frankford Line runs through Fishtown. Get off at Girard Avenue to access the heart of the neighborhood. The area is also accessible by bus, the Route 15 trolley, and by car.
Explore More of the Neighborhood