Some posts on this site contain affiliate links, meaning if you book or buy something through one of these links, we may earn a small commission (at no extra cost to you).
Any date night in Philadelphia is bound to be an experience. There are plenty of options in the city for a conventional night out, but why settle for dinner and a movie when the City of Brotherly Love is at your fingertips? Check out these fun date ideas in Philly.
If you are not a self-proclaimed romantic, worry not – we're gifting you a roadmap that will set the bar high for your next date night. Whether you're a board game nerd, exercise enthusiast, or simply a lover of love, you will find no shortage of date ideas in Philadelphia to keep you and your significant other occupied.
Play a game at Thirsty Dice
Game night is always a classic, but what about choosing from 800+ board games while sipping on boozy milkshakes and indulging in bacon lollipops? Sounds a little better than playing Monopoly in your living room, huh?
Thirsty Dice is the perfect place for couples to let loose with some healthy competition. Just purchase a one-time library pass for a few bucks and enjoy a selection of over 800 games. You can grab something off the shelf and get your game on, or if you'd prefer a Gametender can make a recommendation and even teach you a new game.
Picnic in Clark Park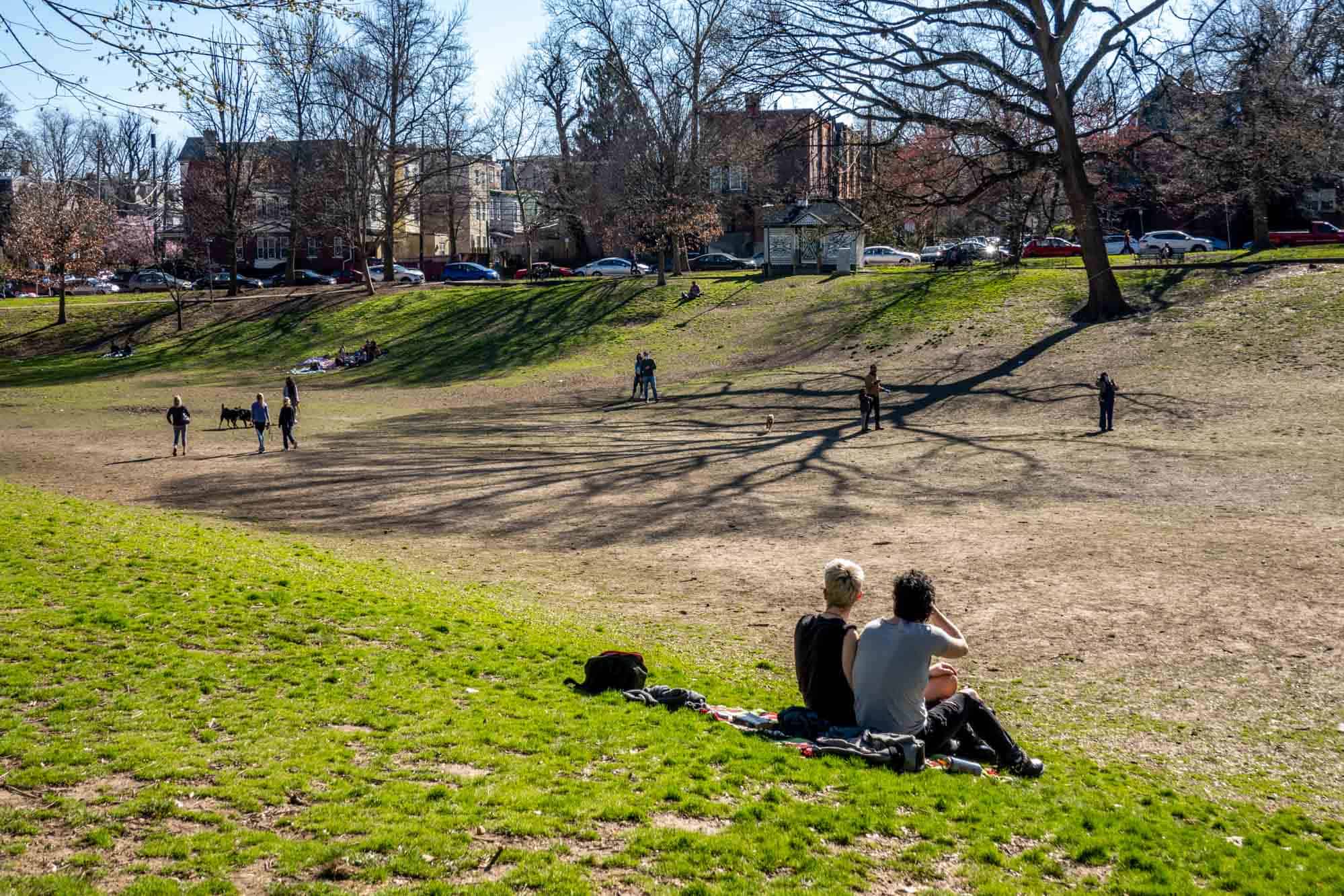 While there are countless parks to choose from when picking a picnic destination, historic Clark Park stands out from the crowd with popular activities like Shakespeare in The Park and bocce. If you prefer a full on barbecue over a packed lunch, there are grills and picnic tables at your disposal.
Break out your finest picnic blanket and wicker basket and soak up the sun with your date.
Experience First Fridays
A time-honored tradition in Philly, every first Friday, professional and amateur artists alike line the streets of Old City displaying their works of art. If you take a stroll down 3rd and Arch Street, you will find a casual atmosphere that encourages art appreciation, fantastic food, and mingling with other like-minded art lovers, with many art galleries and boutiques serving free wine and snacks.
If you're not sure exactly what you want to do with your date, this is a great option. Peruse the art galleries, sip on some free wine, and take in the historic beauty that is Old City.
Experience the Love Letter Train Tour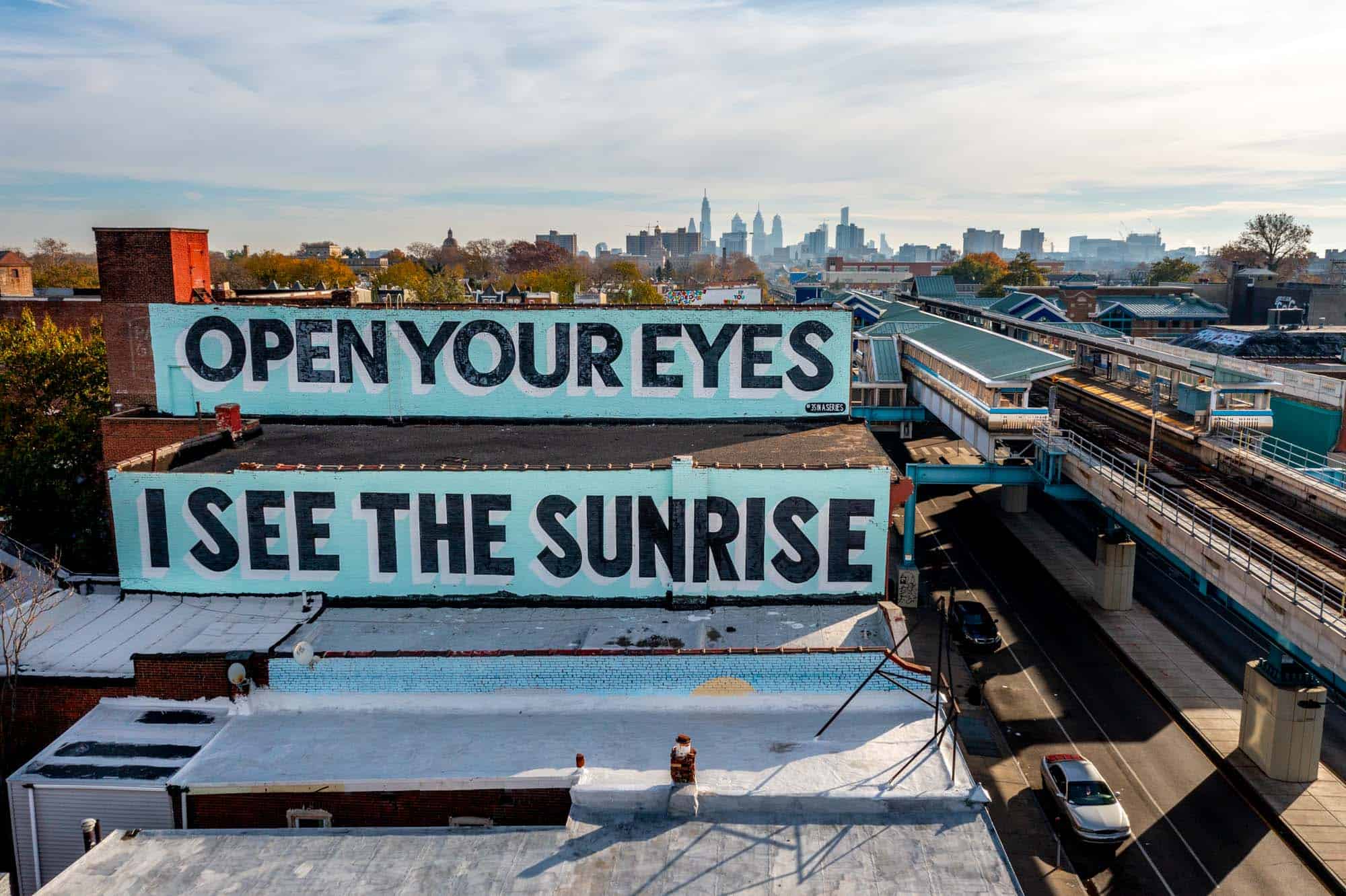 Love is everywhere, even on the walls. A series of murals by Philly-born artist Stephen Powers, the Love Letters project spans 50 rooftops in West Philadelphia. Stretching from 45th Street to 63rd Street, this stretch of murals and images is best viewed while riding the Market-Frankford Line subway. These are love letters from a guy to a girl, from an artist to his hometown, and from local residents to their neighborhood of West Philadelphia.
The whole ride takes about 15 minutes from City Hall (15th Street Station) to 69th Street Terminal (you can actually get off at 63rd Street and go back into the city as there aren't any more murals past that point). Do yourself a favor and make the trip with someone you love. You won't regret it.
See a show at Chris' Jazz Cafe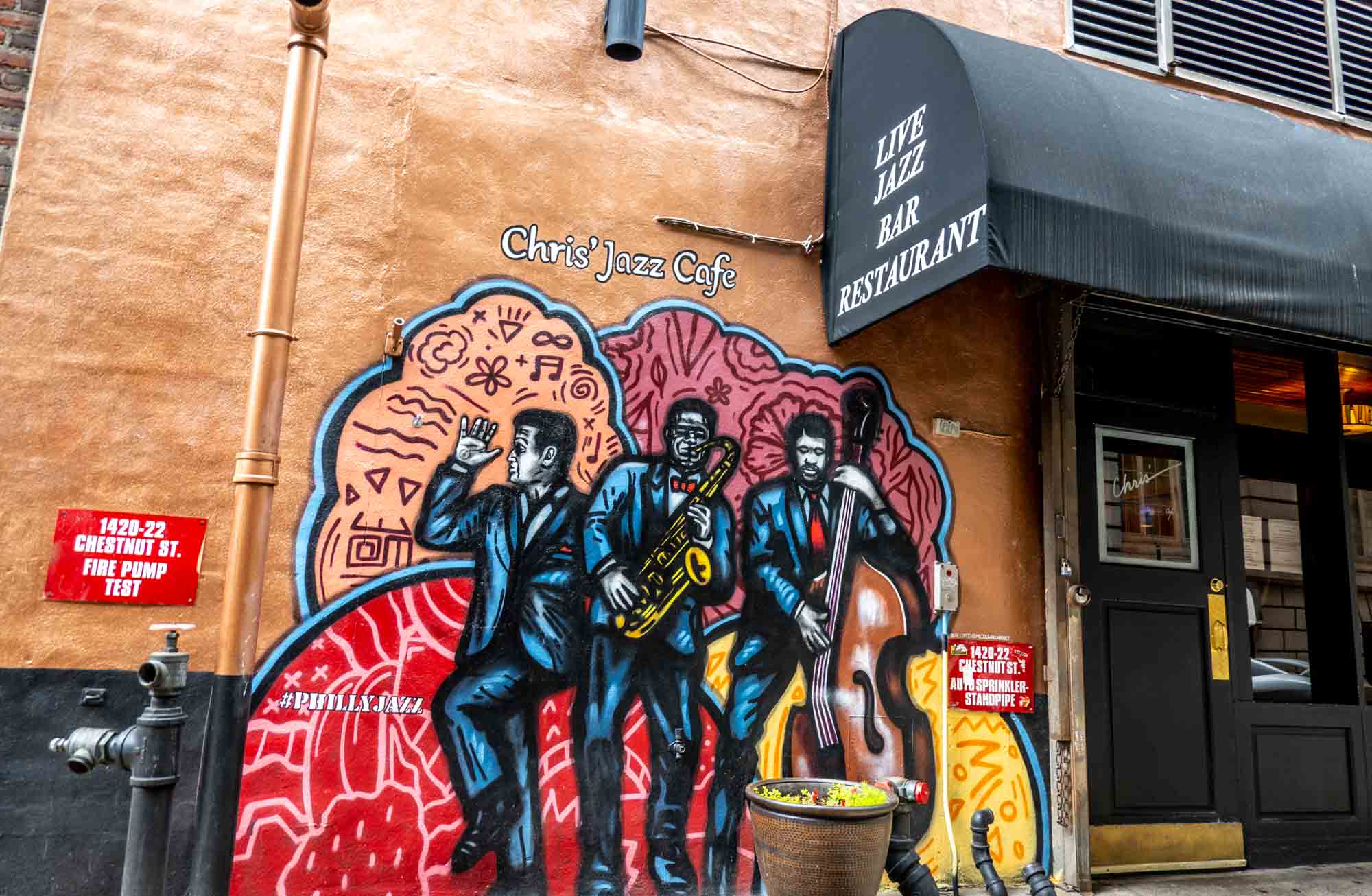 For a mellow evening out, head to Chris' Jazz Café. For over 30 years, the venue has been a go-to destination for jazz in the city five nights a week. Guests enjoy performances from local, national, and internationally-known artists, usually with two sets a night. The Southern-influenced menu at the on-site restaurant makes this a great spot for dinner and a show. Hint: get the jambalaya!
Roll at South Bowl
South Bowl is not your mother's bowling alley. With two floors of bowling lanes, arcade games galore, and two full indoor bars, you don't have to be a lover of bowling to have a great time here. If that's not enough, South Bowl has "The Yard," an outdoor area containing batting cages, two 40-foot bocce courts, shuffleboard, horseshoes, and an outdoor bar and lounge.
With so many activities to choose from, you can really curate your own date experience. Claim a lane or settle in and munch on some tater tots. Insider tip: go on a weekend to catch a live DJ set and don't forget to bring cash as bowling is cash only.
Pet furry friends at Schuylkill River Dog Park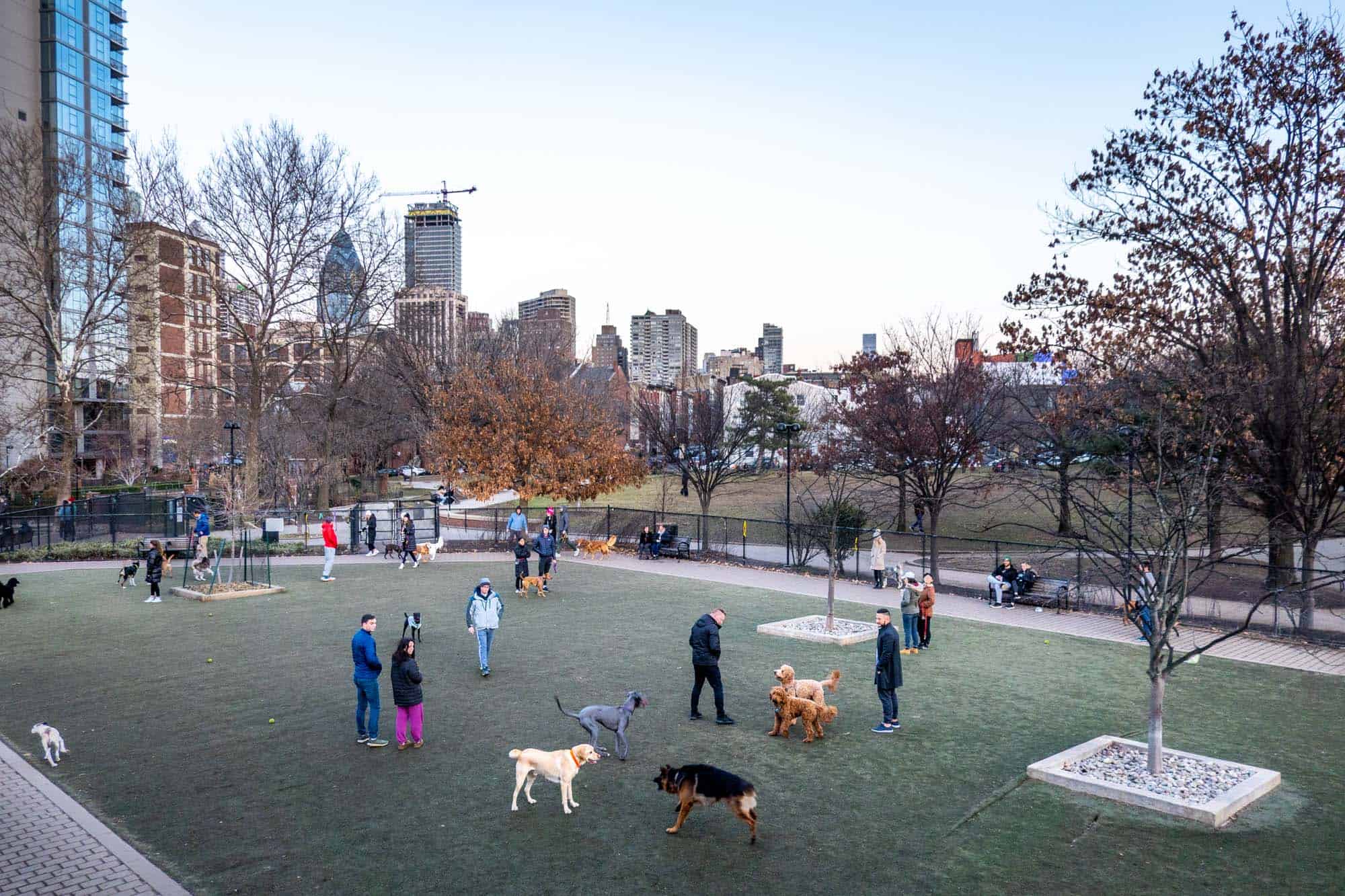 Calling all dog lovers! If your bio reads, "Must love dogs," this one's for you. Whether you have your own pup or you just want to marvel at their cuteness, the Schuylkill River Dog Park is a great place to bond over your love of furry friends. The bridge that leads to the fenced-in dog park offers the perfect vantage point for dog (and people) watching.
Maybe you've arranged a doggie date? The dog park offers two areas, one for big dogs and one for small dogs both with watering areas, plenty of benches, and even kiddie pools.
Hike the Wissahickon Valley Park
The seven-mile long Wissahickon Valley Park is both beautiful and historic. General George Washington led his troops into battle here. But walkers and hikers come to wander along Forbidden Drive, a beautiful path following the contours of the creek. This park is one of the best places to get outside in the city.
There is more than one way to walk the Wissahickon, but only one entrance borders a killer BBQ spot. Just before Ridge Avenue becomes Main Street in Manayunk, Deke's Bar-B-Que gifts passerby with the smoky aroma of slow-cooked barbecue. This is some best in the city.
Deke's sits directly at the head of a Wissahickon Valley trail, making it the perfect post-hike indulgence.
Tour Eastern State Penitentiary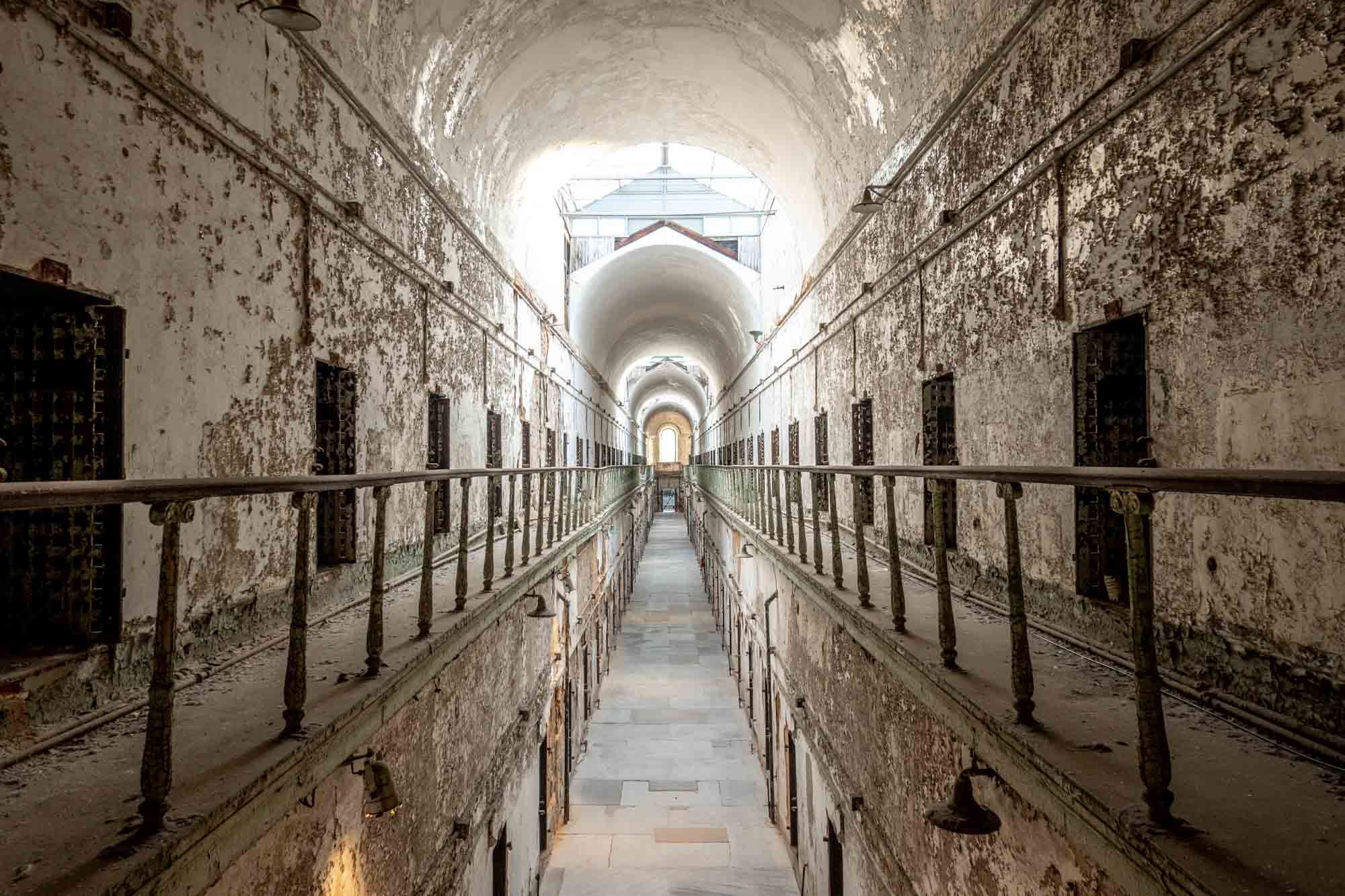 One of the more unusual attractions in Philadelphia, Eastern State Penitentiary is full of stories to explore. Opened in 1829, the jail-turned-museum housed thousands of inmates in its 140-year history. Today, its crumbling walls and dilapidated cellblocks welcome visitors to learn about the people that were incarcerated here and the history of the building.
In the summer, Eastern State's twilight tours let you see the space in a different light. After your visit, grab a drink at the Fair Chance Beer Garden in the courtyard and ponder the history around you.
Hang out at Spruce Street Harbor Park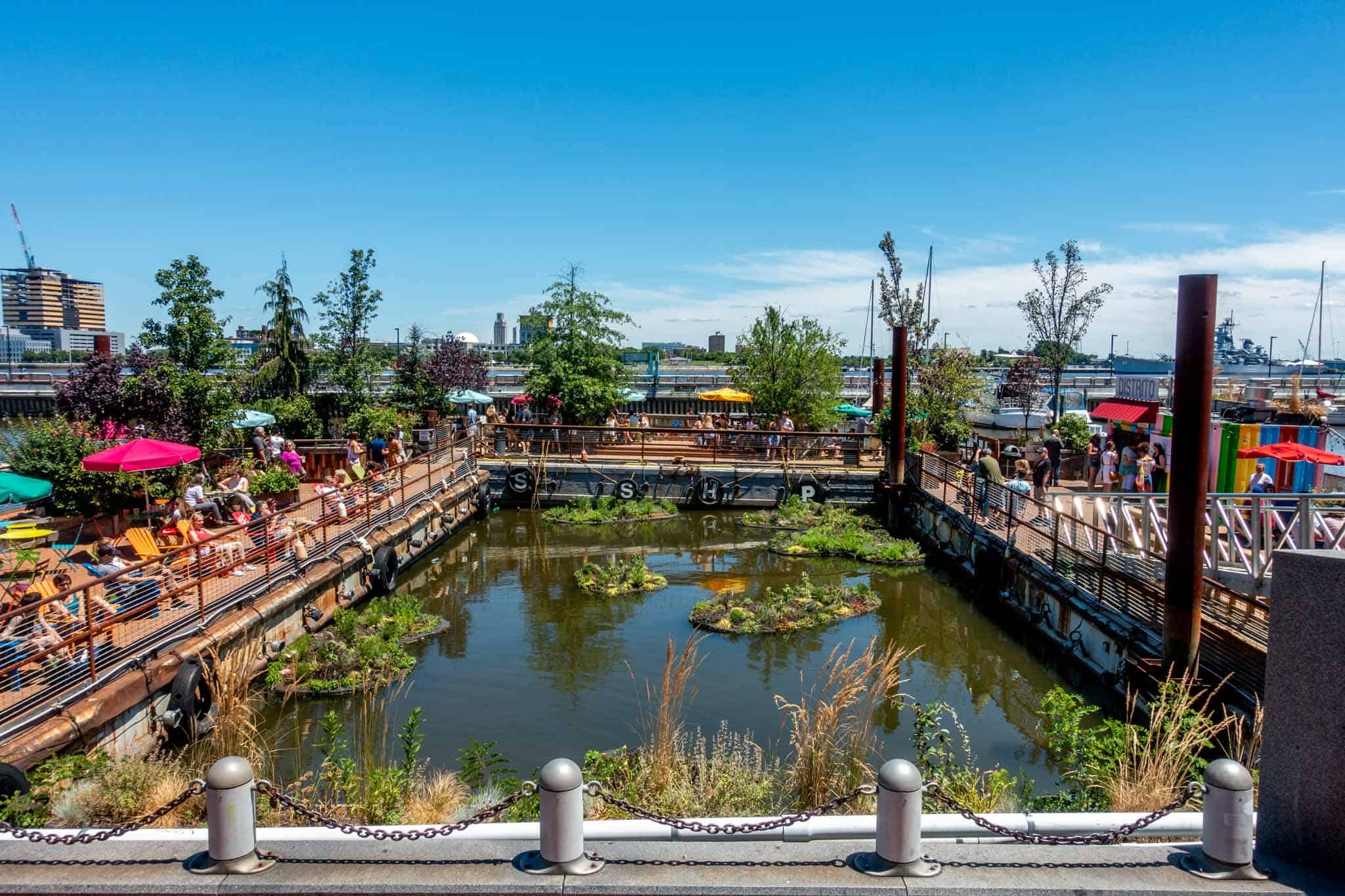 Snuggle up in a hammock and watch the sunset on the Delaware River at Spruce Street Harbor Park. The park is packed with live music, food stands (the al pastor tacos from Philly Taco!), vendors with interesting cocktails, and hammocks that hang right above the water.
When the sun goes down, a rainbow of lights illuminates the park. Finish off your night with a delicious banana split from the Frozen Delights kiosk or opt for a nightcap and lounge in an Adirondack chair. Read more about the harbor park.
Get weird at the Mutter Museum
The Mutter Museum is not for the faint of heart and is one of Philadelphia's most unique museums. You are welcomed by a banner that reads, "Disturbingly Informative," which checks out given the content of this museum. Anything from (real) gangrenous feet to femurs splintered by bullets to slices of Einstein's brain live in the confines of the Mutter. Romantic? Maybe not, but definitely a conversation starter.
If you or your significant other is a lover of gore or medical oddities, what better place to start off your day?
Take in the Philly skyline at Bok Bar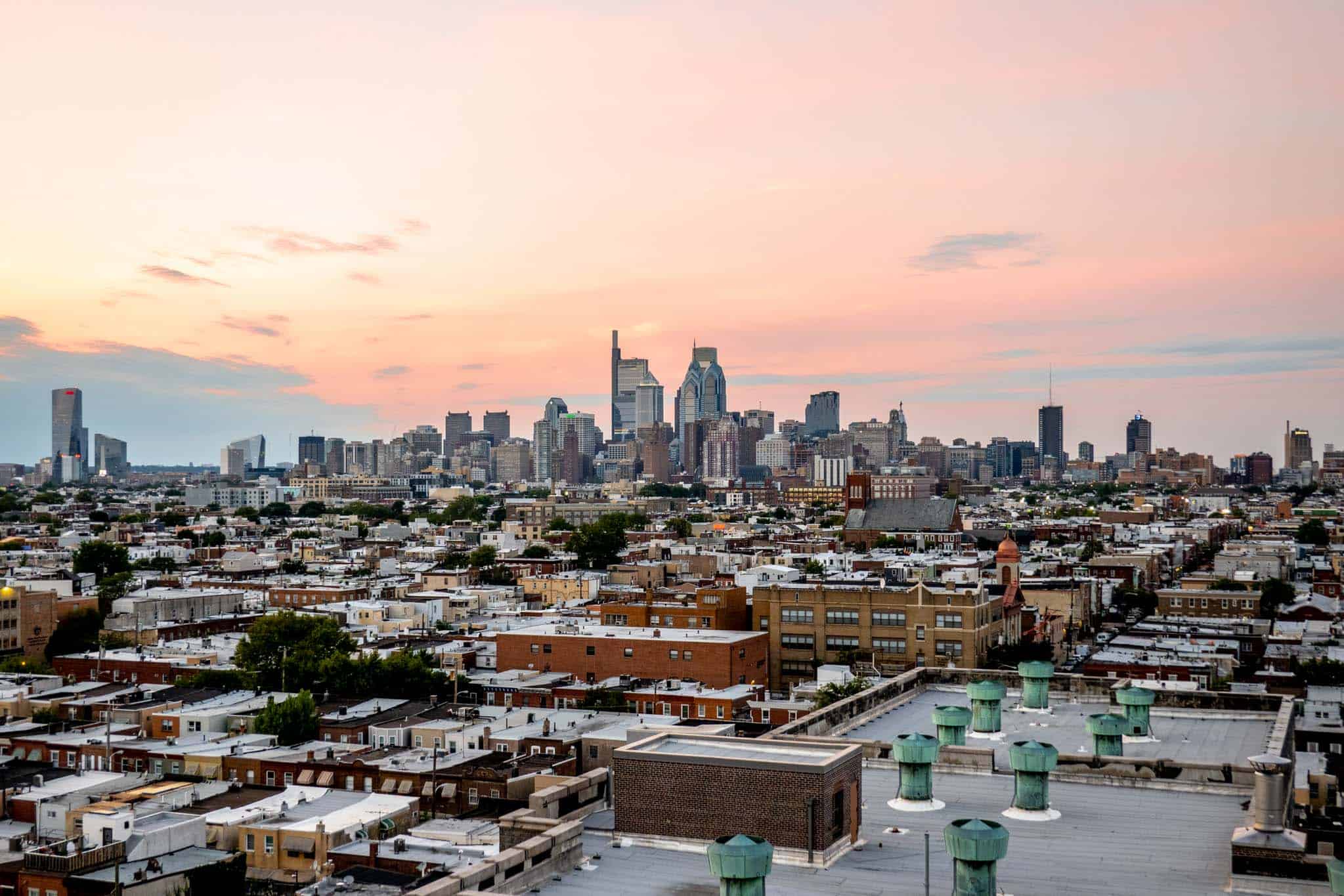 It's hard to beat a summer night at Bok Bar watching the sunset. Located in former art deco inspired technical school, Bok rooftop bar is the place to be on a steamy summer night.
The rooftop is one of the best Philly date ideas and gives unobstructed views of the Philly skyline, a full bar onsite along with light bites, and open seating throughout. Your date is sure to swoon over the stunning backdrop and you will get to experience the sheer and utter liberation of drinking in a defunct high school.
Get creative at East Falls Glassworks
If you've ever wanted the excitement of working with 2000-degree molten glass, East Falls Glassworks is your place. This public access glassblowing studio offers multiple beginners' classes every week. You can pick from making creations like ornaments, stemless wine glasses, paperweights, and more. Just about everything here requires two people working together, so it's about as perfect a fun date night as you'll find.
See a Phillies game at Citizens Bank Park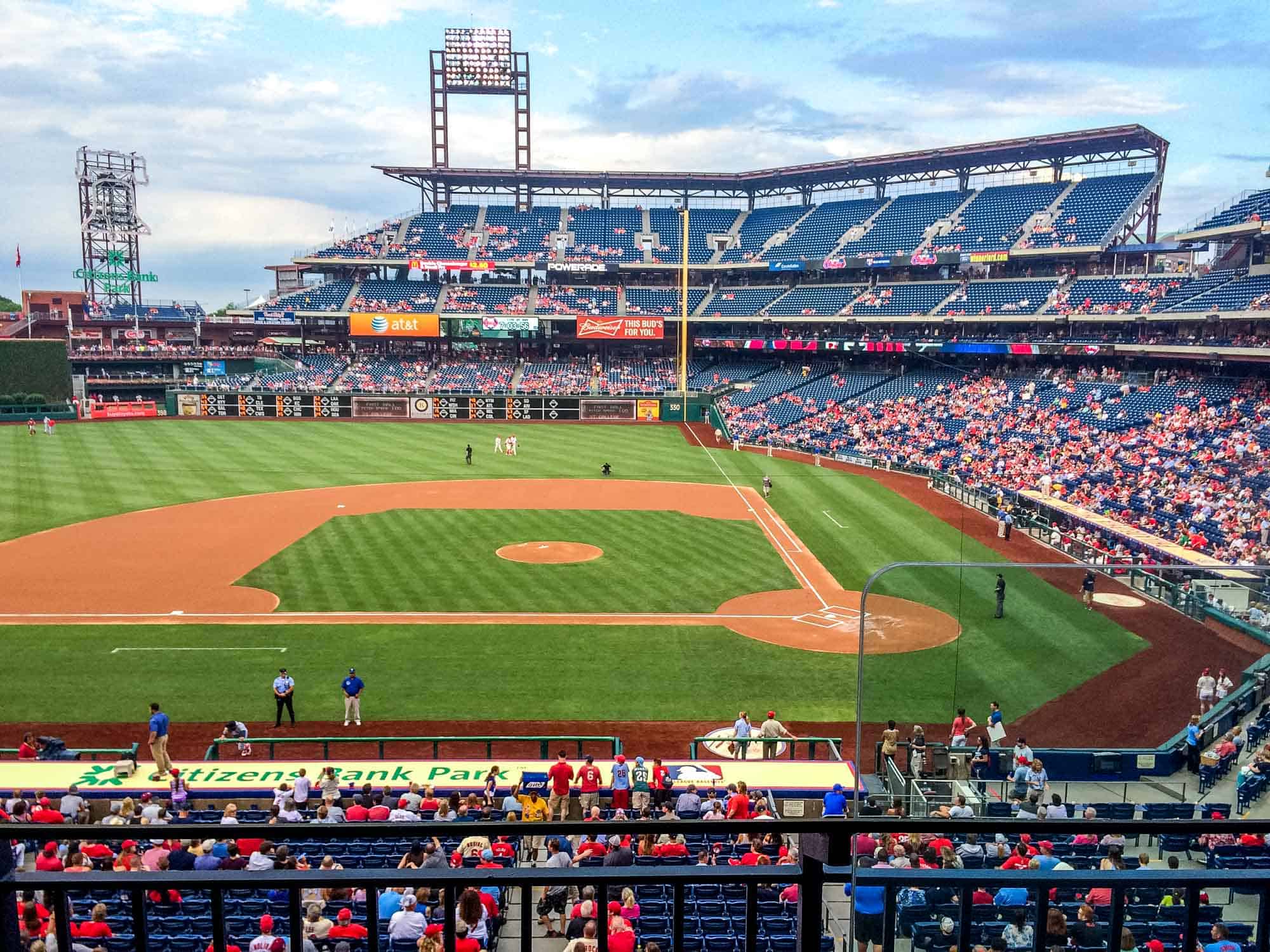 What says romance like one dollar hot dogs? Sure, the Phillies are great, but ONE. DOLLAR. HOT DOGS. Need I say more? Treat your date to a true Philly night out with a trip to Citizens Bank Park. Whether you're just in it for the hot dogs or a fan of America's favorite pastime, attending a baseball game is a great time at any stage of your relationship.
If you are partaking in Dollar Dog Night though… enjoy responsibly.
Enjoy Music at the Mansion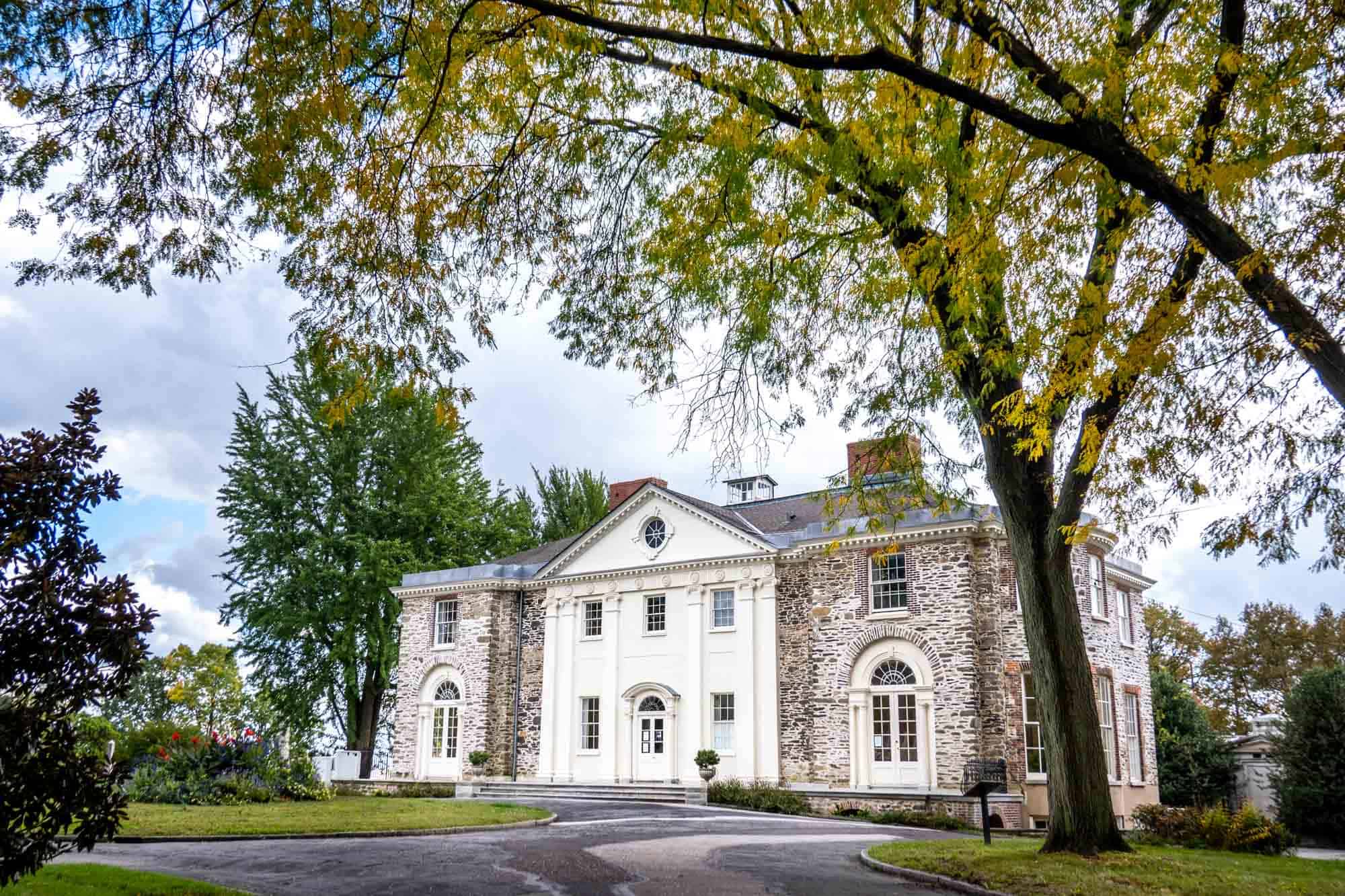 Talk about a night to remember! Hamilton Mansion at The Woodlands hosts highly-curated chamber music evenings every year in a ballroom fit for royalty. Visitors can hear classical and contemporary works in the space that was built in the 1780s just for performances like this.
If chamber music isn't your speed, this unique property hosts all kinds of gatherings year-round. Enjoy an array of events like outdoor yoga, cultural performances, and seasonal happy hours with this National Historic Landmark District as your backdrop.
Not only does The Woodlands boast 54 acres of lush, green landscape, but this destination also brings Philadelphia history to life with an 18th-century English pleasure garden and a 19th-century rural cemetery. Make your love one for the history books with an evening in The Woodlands.
Take a tour at Philadelphia Distilling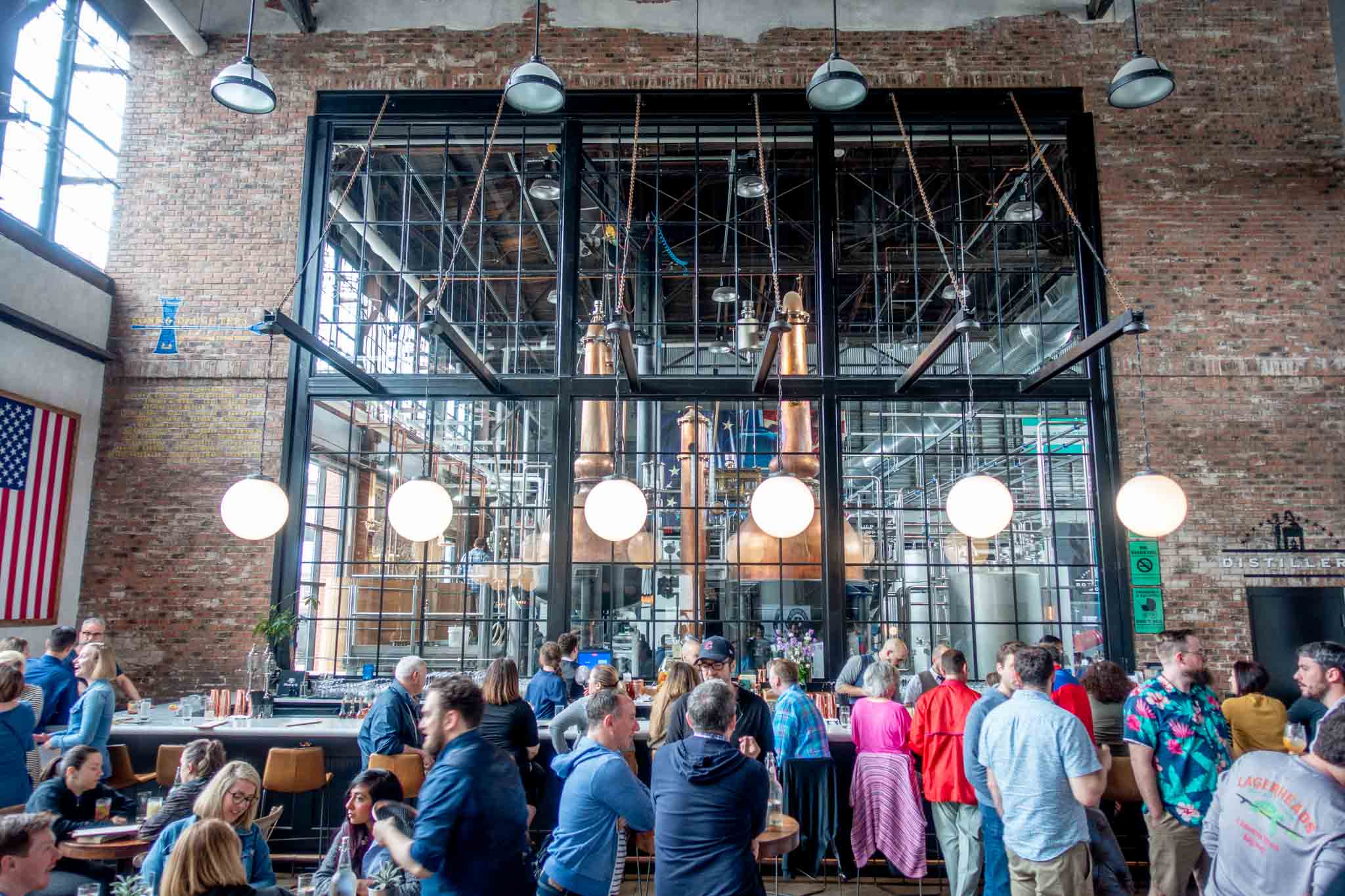 Is grabbing a drink your date night go-to? Take your Friday night to the next level with a peek behind the curtain at Philadelphia Distilling, one of the city's top distilleries. For $20, you and your date can explore the process behind Philadelphia Distilling's tasty spirits. Sip on a "welcome cocktail" while you learn the history behind this Philly gem.
Public tour times are roughly around 45 minutes to one hour long and run Friday, Saturday, and Sunday every week. If you prefer a more intimate occasion, private tours are also available. Don't want the night to end? Check out a concert at The Fillmore, located right next door.
Spend an evening at Cira Green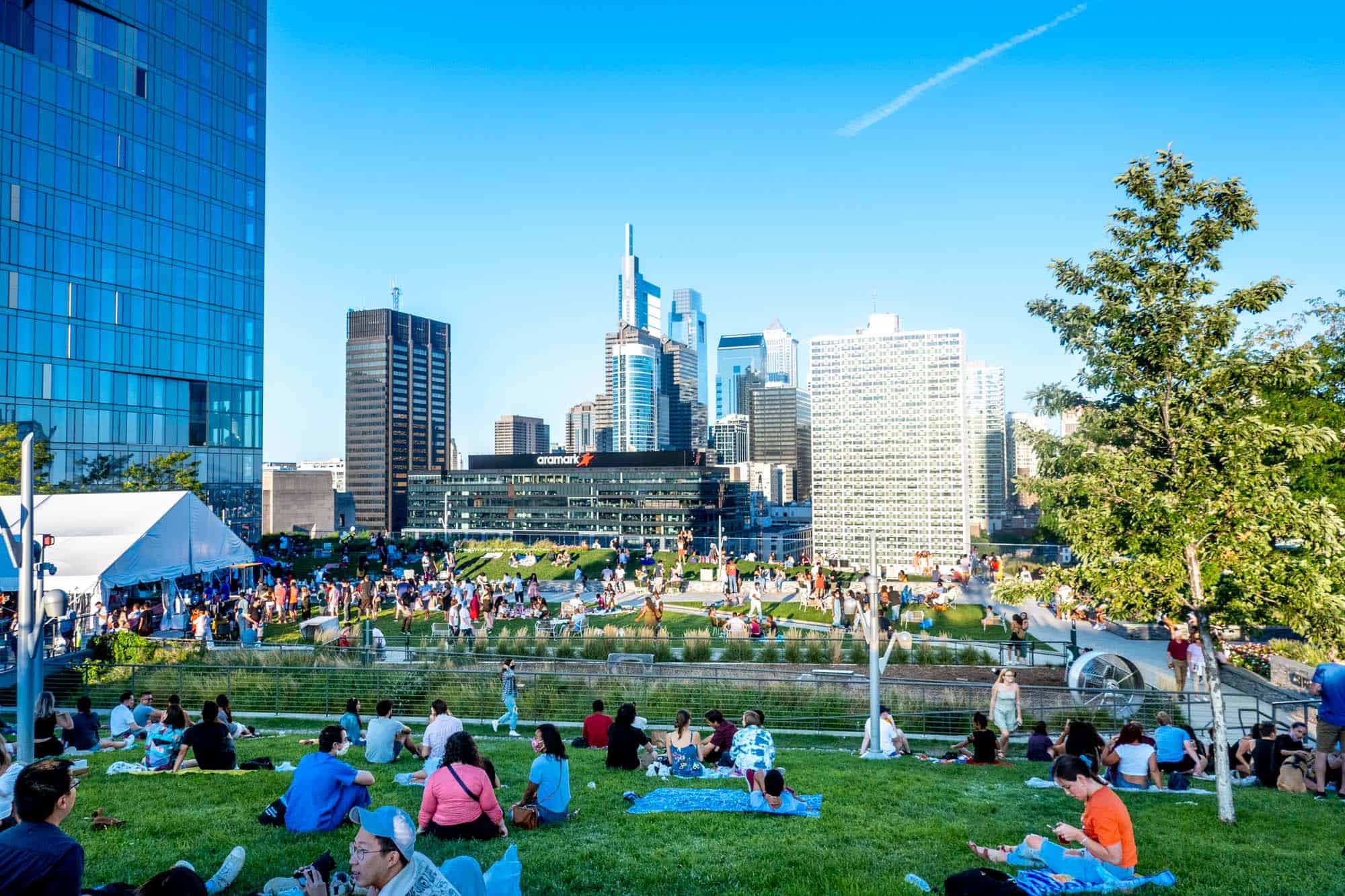 Rumor has it, it's always sunny in Philadelphia but the sun tends to shine just a little bit brighter at the top of Cira Green. Looking for the ultimate summer date spot? Look no further. This self-proclaimed "park in the sky" offers panoramic views of the city from its rooftop spot, a full menu of food and drink, and countless events throughout the summer.
Cuddle up on a picnic blanket and catch a movie screening or hang out with adorable puppies available for adoption— just a few of the summer happenings hosted by Cira Green. Before you start planning your date, check out their website for more information on upcoming events.
Stroll around Morris Arboretum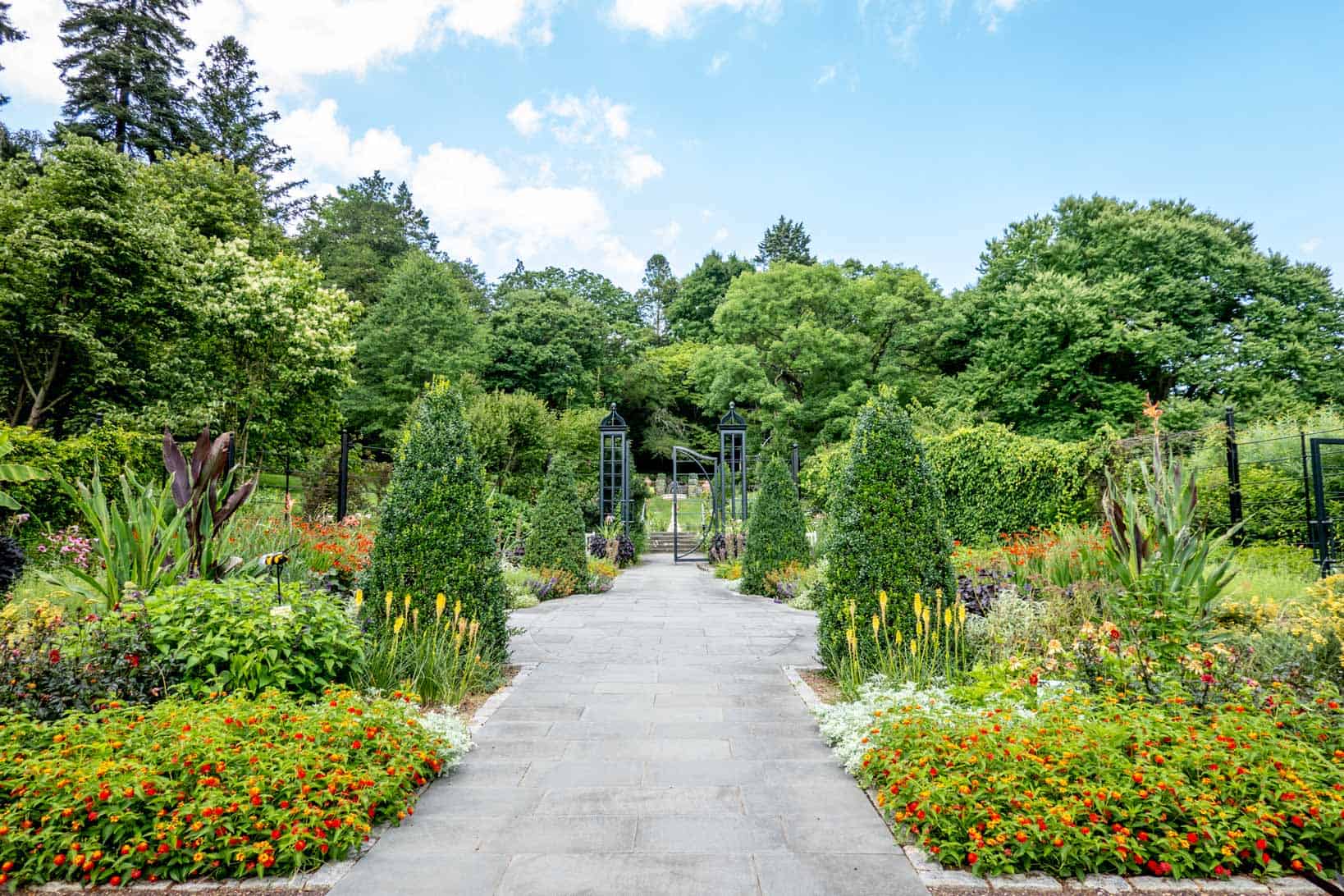 Roses are red, violets are blue, at Morris Arboretum, love is abloom. Surround yourself with the beauty of the gardens on a tour of the grounds. Complete with sprays of seasonal flowers, towering sculptures, and koi-filled ponds, a visit here may be one of the most romantic things to do in Philadelphia.
With a general admission ticket, guests are free to roam the arboretum unguided but if you would prefer to learn more about specific aspects of the gardens, check the website for guided tour times.
Play around at Five Iron Golf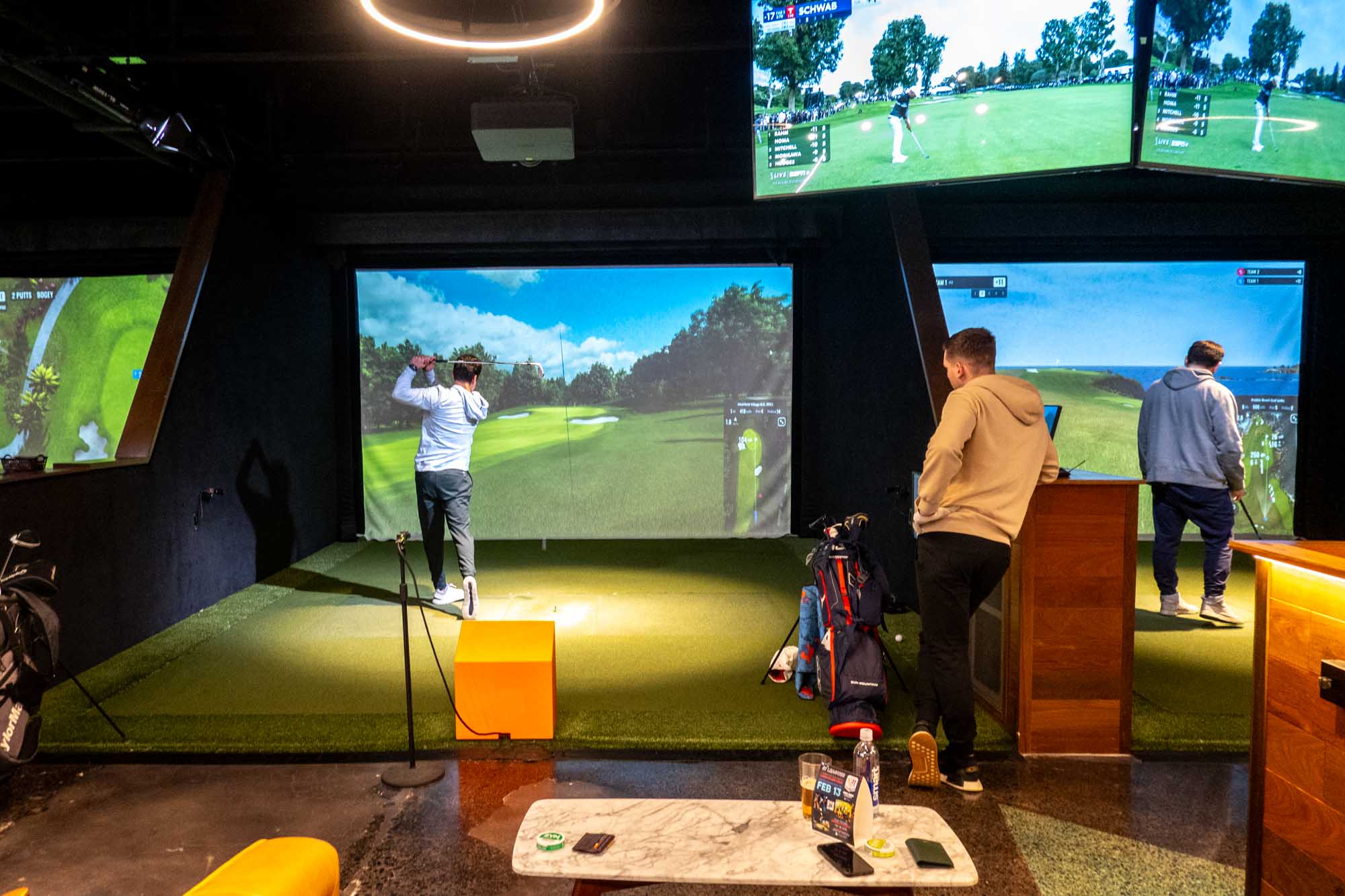 Whether you're a total novice or an expert on the back nine, Five Iron Golf is a fun place for an outing. You can choose to play on over 100 simulated golf courses or just be a spectator and nosh on items from their restaurant and full bar. There's plenty of space to hang out plus other games to play and TVs to watch all the sports you can manage.
Take a dinner cruise
Everything is more romantic when you add water. Cue: Spirit of Philadelphia dinner cruise. Set sail on the Delaware River and feast on a delicious dinner buffet. For the best views, book a table by the window in advance!
Boarding begins at 7 PM for Friday and Saturday night cruises and 5:30 PM for Sunday night cruises.
Spray your initials at Graffiti Pier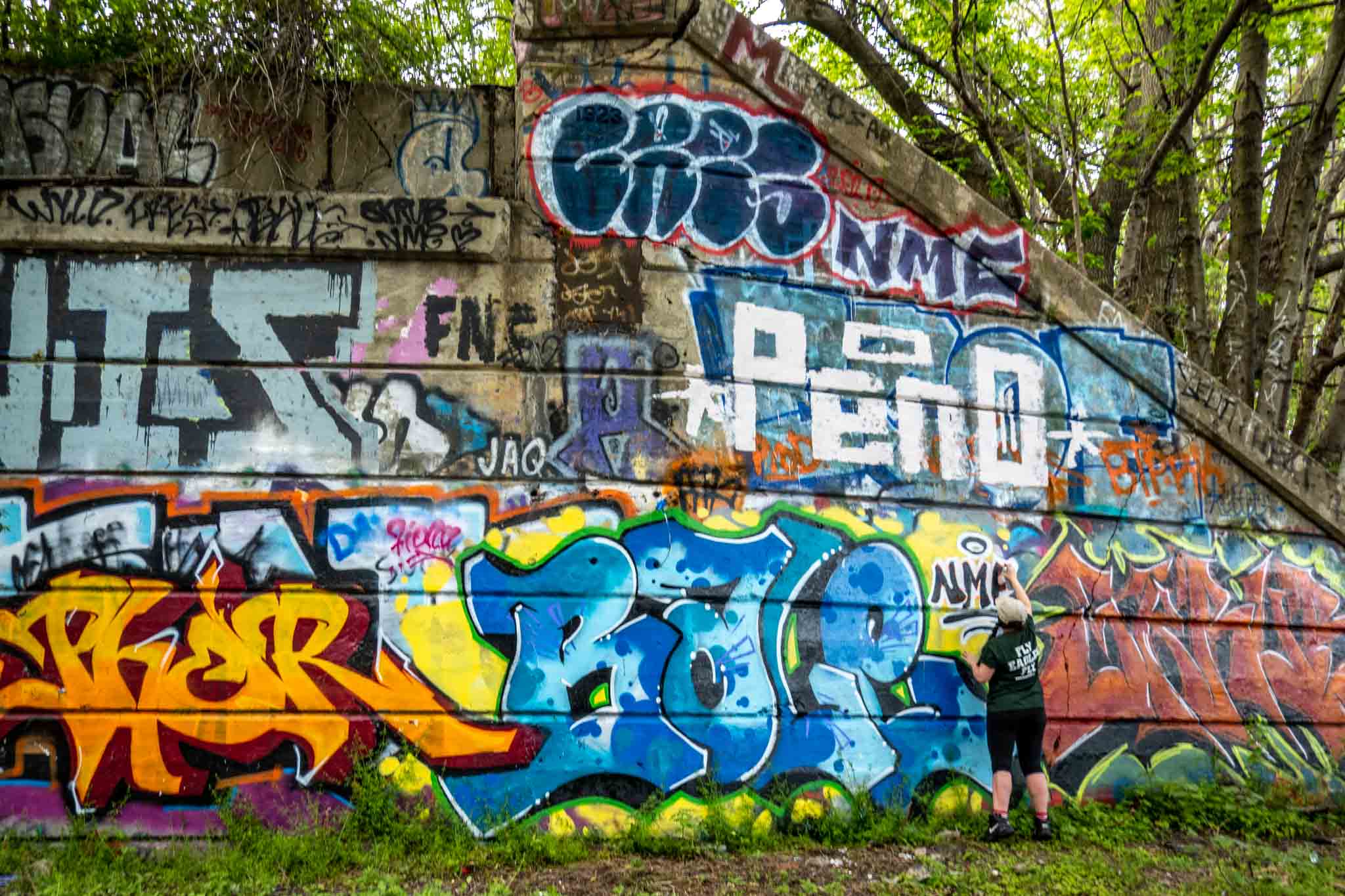 Embrace your nostalgic side at the waterfront urban art gallery known at Graffiti Pier. At the intersection of E. Cumberland Street and Beach Street, find the decades-old public art exhibit, featuring years of local graffiti artists.
Commemorate your love on these historic concrete walls and take a cute pic or two while you're at it.
Take a food tour
They say the stomach is the way to a lover's heart. Thank goodness, Philadelphia is a foodie's paradise! A range of companies in the city offer food tours, but City Food Tours is among the most popular. Pick the city neighborhood you wish to explore or decide based on your preferred genre of cuisine.
Get a mouthful of Philly with City Food Tours and impress your partner in the process.
Rent a paddleboat at Penn's Landing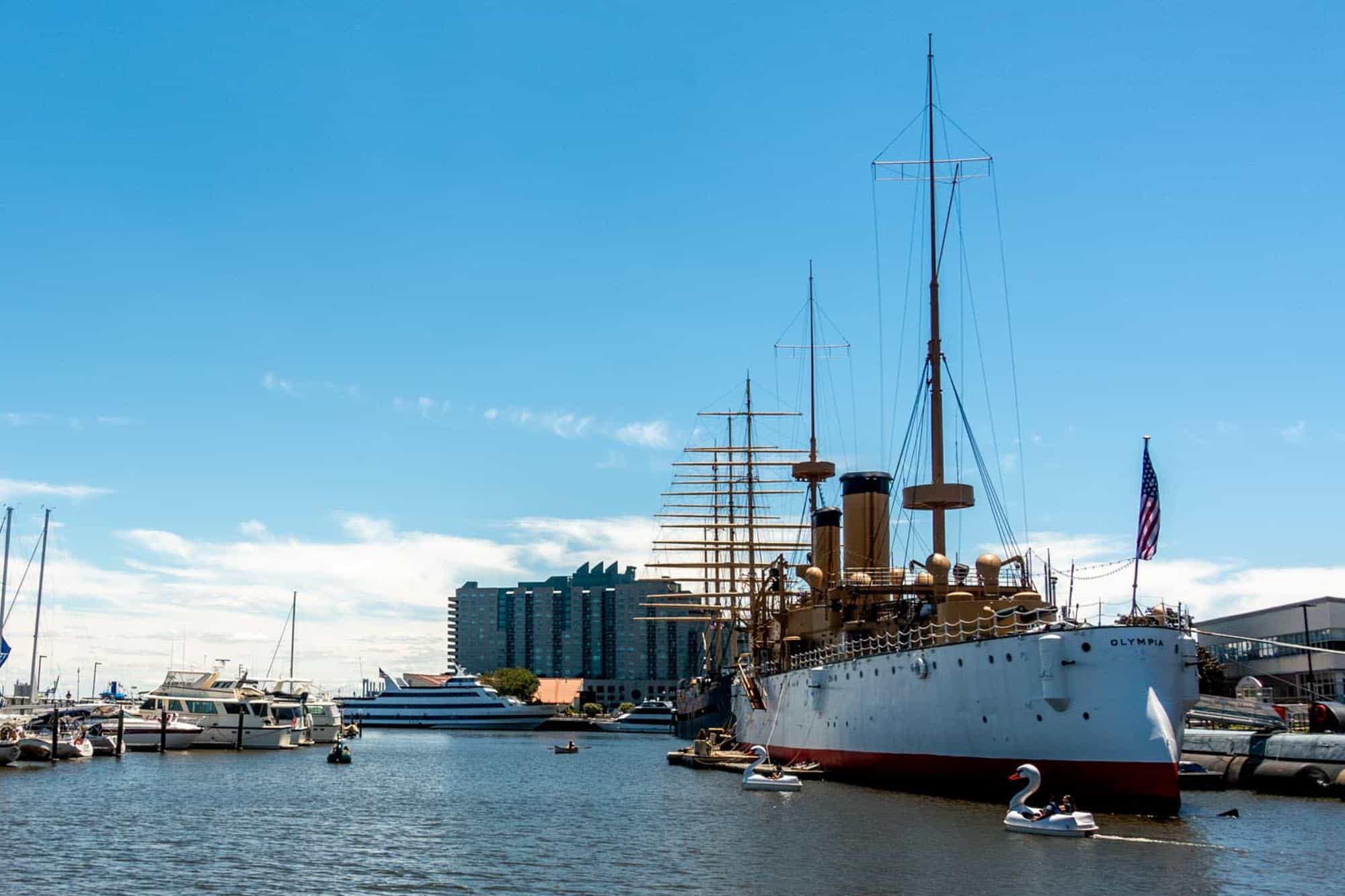 Choose your fighter: paddleboat edition! Select between a swan, flamingo, yellow duck, or dragon boat and cruise the Delaware River with your cutie. Hours for paddleboat rentals are weather contingent. For information on hours, boat options, special discounts, and seasonal events, visit the Paddle Penn's Landing website.
Take a day trip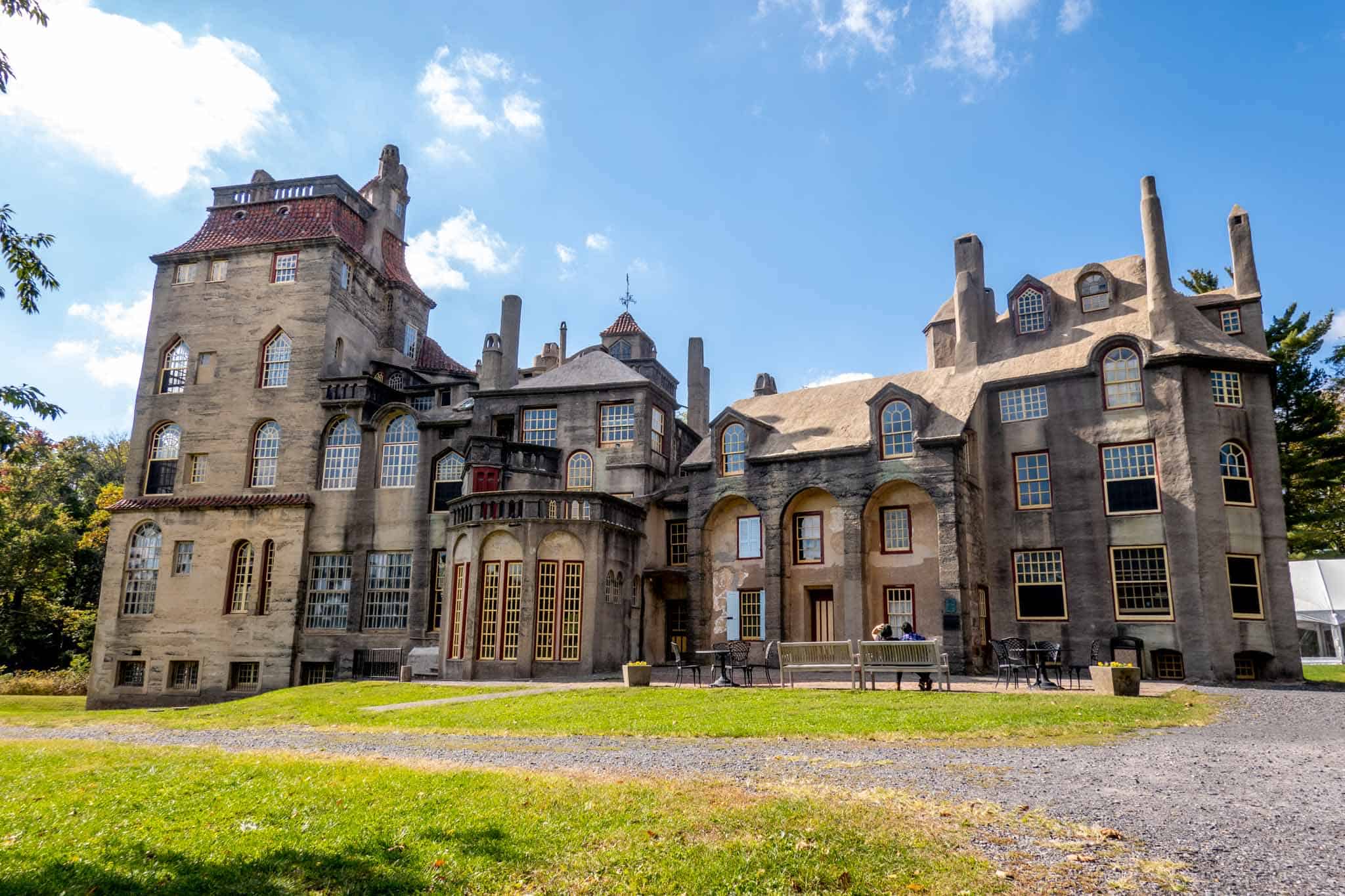 Searching for a quick getaway? Step outside the city limits to explore all that the suburbs have to offer. Just an hour drive from Philadelphia sits culture-rich Doylestown, known for the Mercer Mile, the impressive belt of historical attractions comprised of Fonthill Castle, Mercer Museum and The Moravian Tileworks.
For something a little more relaxed, wander over to cozy Kennett Square for a sampling of some local wine. Galer Estate Vineyard and Winery offers wine exclusively from grapes grown at their vineyard or from vineyards within a 30-mile radius of the winery. The tasting room is open Thursday through Sunday throughout the year and guests are permitted to bring light bites.