Some posts on this site contain affiliate links, meaning if you book or buy something through one of these links, we may earn a small commission (at no extra cost to you).
There's just something about a cold drink on a warm day amidst a beautiful setting that makes all your cares float away. Luckily, Philly is full of plenty such places. Around the city, dazzling views, craft cocktails, and a fun atmosphere combine at the best rooftop bars in Philadelphia.
From a unique park 12 stories up to a prime spot along the Delaware River, there are lots of opportunities to enjoy food and drinks with a premium view. Here's a look at some of our favorite rooftop bars and restaurants around the city.
Assembly Rooftop Lounge
High above Logan Circle, the Assembly Rooftop Lounge has some of the best views in Philadelphia. You can see everything from Sister Cities Park to the Philadelphia Museum of Art all while sipping bubbly nine stories up.
Located at The Logan Hotel, Assembly is open-year round and has covered and uncovered spaces so guests can find just the right spot no matter the season. In the winter, the space transforms with an alpine ski theme that includes blankets, fire pits, and other cozy elements. Cocktails and wine are the focus here, but there are a few beers available plus a selection of charcuterie, cheeses, and small plates.
Pro tip: Assembly has a great view of Ben Franklin Parkway, so it's an ideal spot to watch the annual Thanksgiving parade. It's reservation-only for the event.
Sunset Social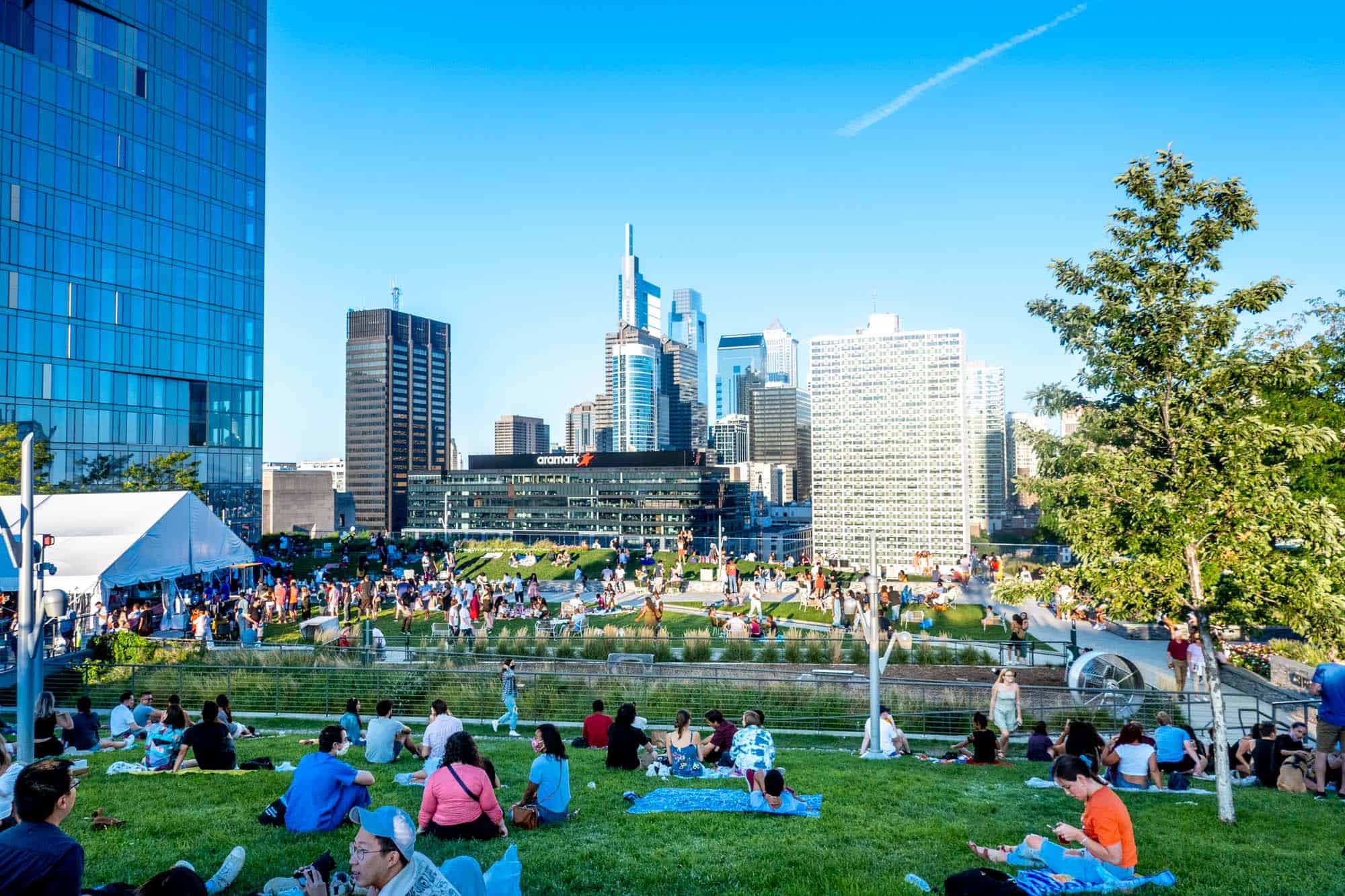 As soon as there's a hint of warmth in the air, Sunset Social opens its doors to visitors at one of the coolest places to visit in the city—Cira Green, a sprawling rooftop park. Cira Green offers views of the skyline at practically eye level, 12 stories above University City. In season, the park hosts lots of special events, often projecting movies and sports on its massive screen.
Every day of the week, visitors can enjoy the offerings of Sunset Social while they hang out at the park. The fast-casual menu at the rooftop restaurant includes salads and a broad selection of burgers and sandwiches. There are also plenty of adult beverages, including cocktails and frozen drinks plus beer and wine. Seating is limited, so it's a good idea to bring a picnic blanket if you plan to hang out for awhile.
Attico
Attico is right in the middle of the action downtown. High above the Cambria Hotel on Broad Street, this year-round restaurant and bar serves dinner Wednesday through Sunday and weekend brunch every Saturday and Sunday. Even if you sit inside, the wrap-around windows ensure an atmospheric experience. Attico is always only 21+.
Liberty Point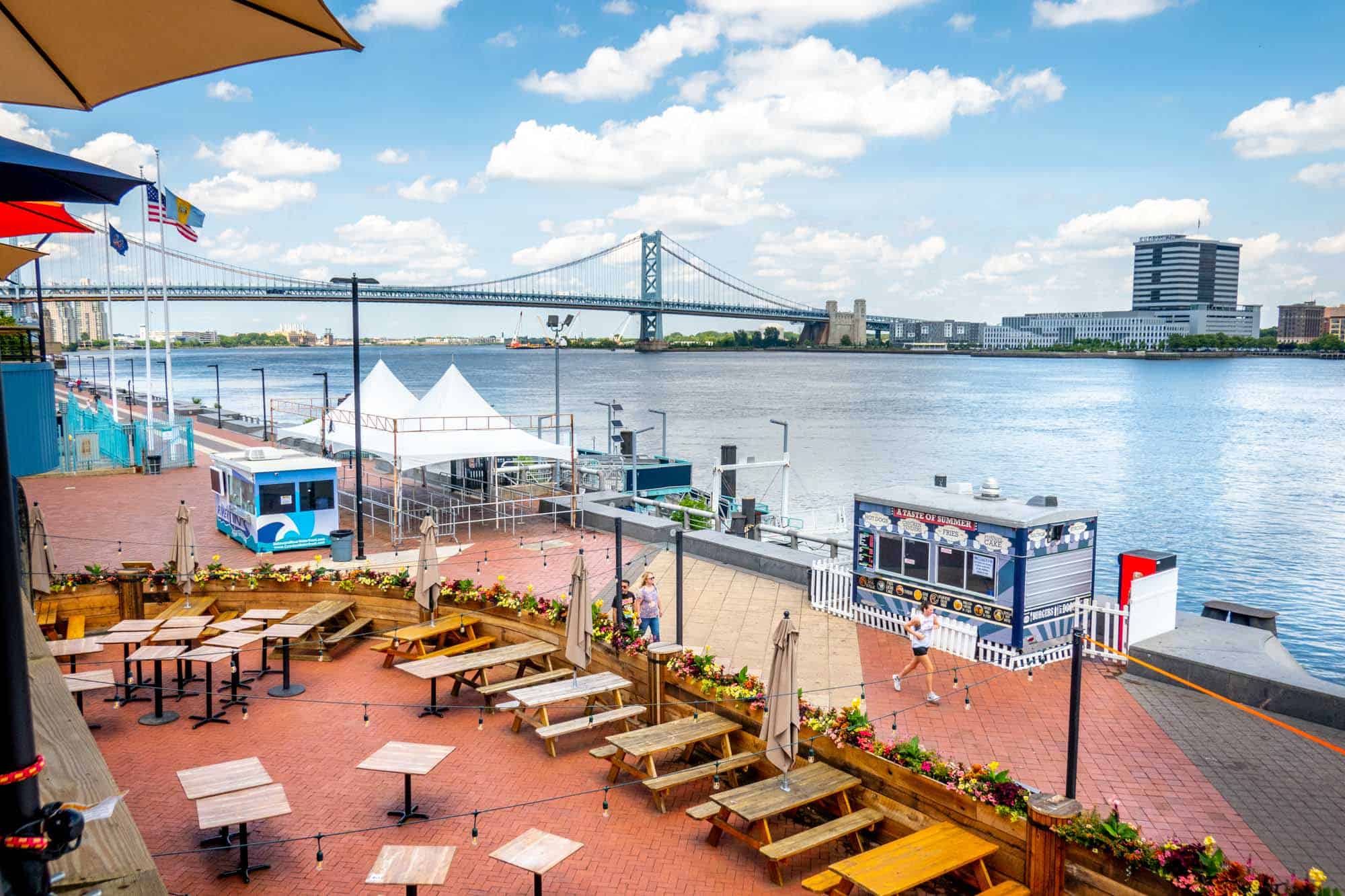 Riverfront views, great drinks, and tons of seating are the main draws at Liberty Point. The largest outdoor restaurant in Philadelphia, Liberty Point has three levels of seating, a circular rooftop, and five bars, so you're never too far from a cold drink.
Crabcake sandwiches, cheeseburgers, soft pretzels, and similar fare make up the menu here, but it's really all about the atmosphere—an energetic vibe with incredible views anywhere you look. There is frequent live music and DJ performances.
Bok Bar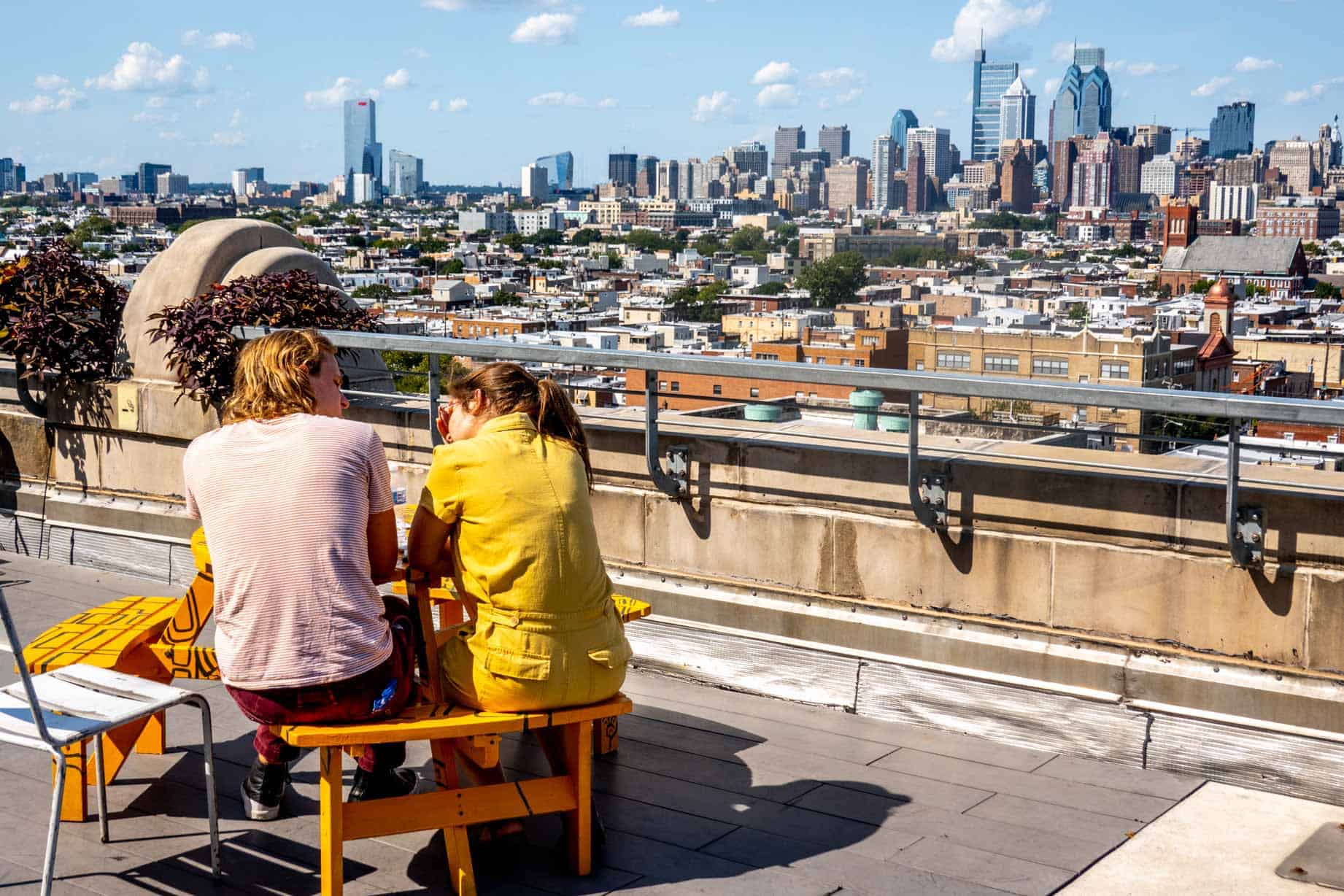 Located in South Philly, Bok Bar offers an unparalleled view of the city skyline alongside good food and drinks. This unusual space is at the top of the former Bok Vocational High School, which opened in 1938. The building retains many of the features you'd expect in such a setting—from lockers to school restrooms—which makes it even more fun to explore. It's a great spot for a date night and is one of the most Instagrammable places in Philadelphia.
The food menu rotates monthly as different chefs and restaurants pop up here, often featuring some of the best in the city like Kalaya, Fiore, and Tabachoy. You'll find several cocktails and a larger selection of beer, seltzer, and wine to choose from.
Bok often hosts special events ranging from yoga classes and salsa dancing to ice cream tastings and drag brunches. The bar is entirely outside and is open for about six months of the year.
El Techo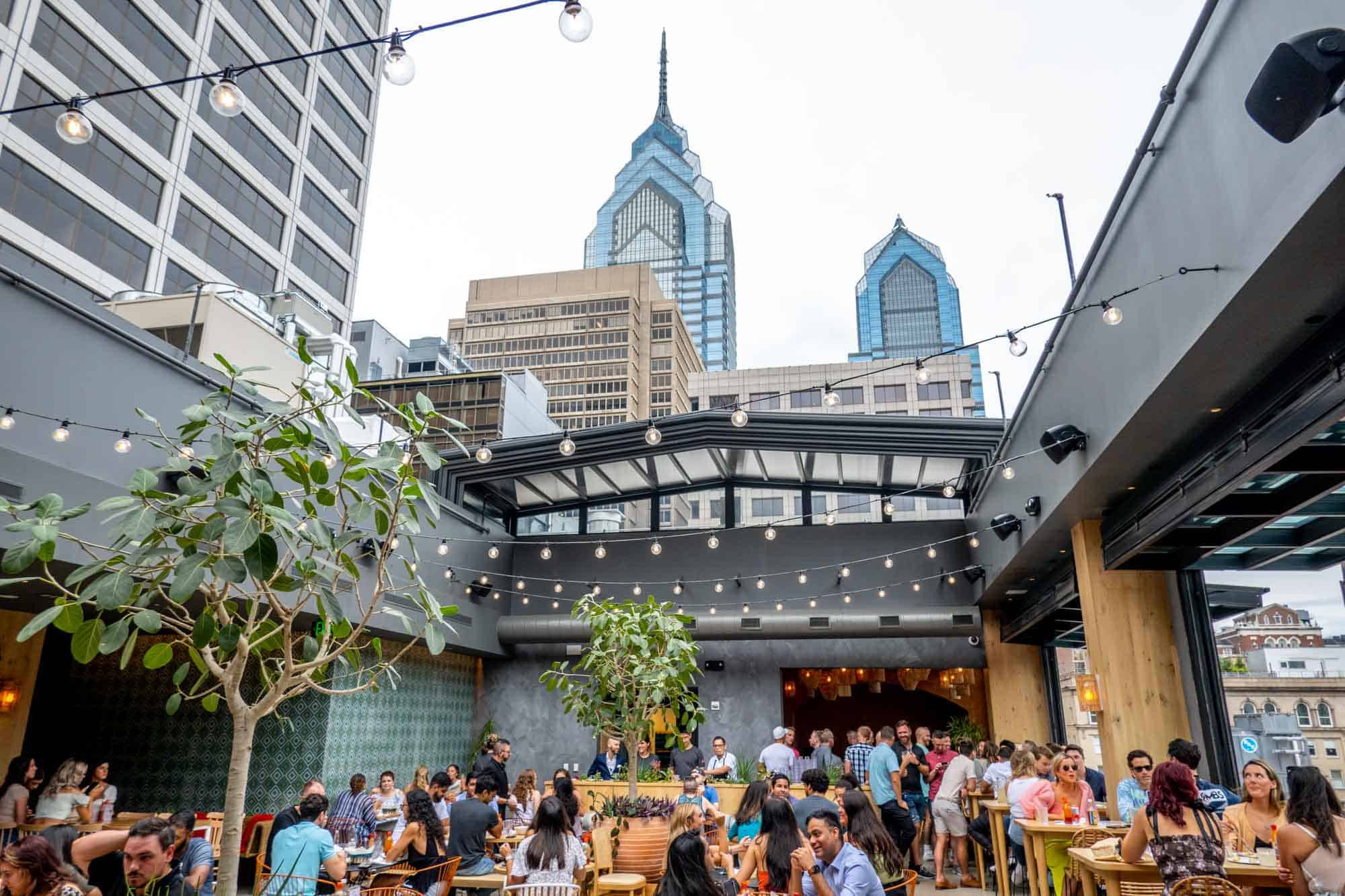 For all the tequila and mezcal you could want alongside gorgeous views of Center City, El Techo is the place to go. A retractable roof ensures that this standout in Rittenhouse is comfortable no matter the weather. The Mexican menu has a selection of tacos, salsas, guacamole, and a seasonal ceviche.
El Techo is at the top of the Motto by Hilton hotel and Condesa restaurant.
The Continental Mid-Town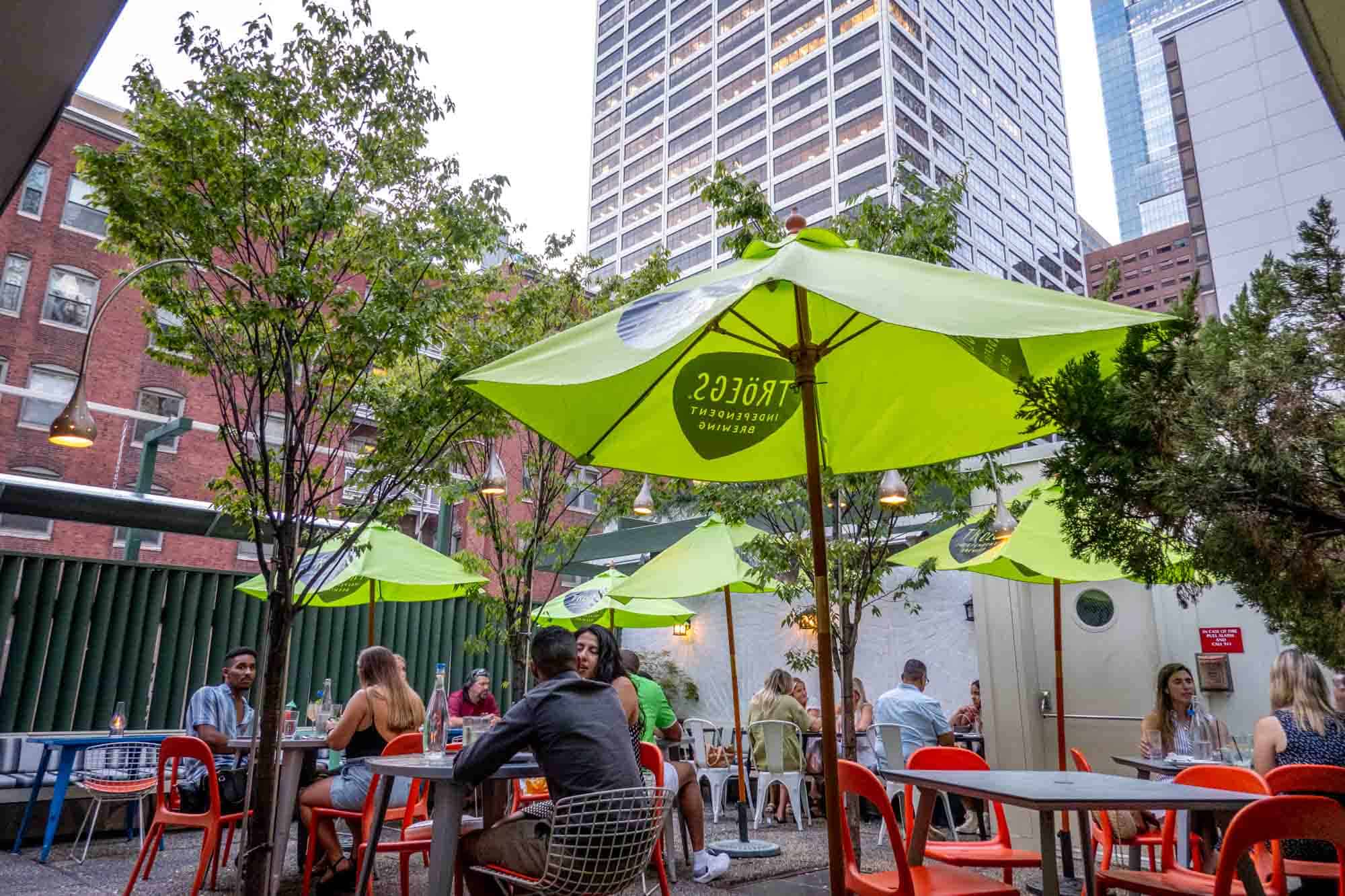 The Continental Mid-town is a classic Philadelphia spot at the corner of 18th and Chestnut. Its third level rooftop features indoor and outdoor areas with a retro bar at the center of it all.
Try the notable cheesesteak eggrolls and lobster mac and cheese or head straight for the Korean fried chicken (our personal favorite). Drink choices here are endless, but The Astronaut cocktail (which includes Tang) is a memorable choice.
Irwin's
With modern Sicilian fare, natural wines, and amaro-scented cocktails, Irwin's is one of the best restaurants in the city. Its deck with a sweeping view of South Philly—all the way to Lincoln Financial Field—means that it has one of the best settings, too.
Located eight stories up at the Bok Building, Irwin's is opposite Bok Bar and has a very different view and vibe. Visit for handmade pastas, perfectly crispy frito misto, and an assortment of on-point drinks to enjoy inside or on the rooftop deck under twinkling lights.
Lark
Chef Nicholas Elmi's Lark is really something special. The rooftop bar and restaurant overlooking the Schuylkill River features a sizeable deck with tables and lounge-style seating. The comfortable area is a great place to enjoy a cocktail while watching the sunset or enjoying the warmth of the fire pit.
The menu at this romantic spot is coastal Mediterranean with a focus on seafood and impeccable handmade pasta. We loved the grilled prawns with citrus pesto and the roasted beet mezzalune in brown butter. The menu changes frequently, but if the gnocco fritto with ricotta is available, don't miss it.
Victory Brewing Taproom
For over 25 years, Victory Brewing Company has been known as one of the best breweries in the area. Their recent addition of a taproom in Philadelphia brings that great beer from the suburbs to the city. Even better news: the taproom comes with a view.
Victory's multi-level space has a wraparound rooftop deck with a large bar and plenty of seating. Grab a seat and sample one of the 30+ beers on tap along with Bavarian pretzels, Buffalo wings, and a double smash burger with two kinds of cheese.
Revolution House
Overlooking Market and Second Streets, Revolution House is a rooftop restaurant serving an eclectic menu ranging from Korean tacos and buttermilk fried chicken to a selection of wood fired pizzas. It's a great place to take a break after visiting the attractions in historic Philadelphia thanks to its proximity to some of the city's main sites.
Revolution House—set in a building that dates to the 1700s—has a retractable roof covering, which makes it a popular destination year-round. It can be particularly busy for weekend brunch, so make reservations, if you can.