Some posts on this site contain affiliate links, meaning if you book or buy something through one of these links, we may earn a small commission (at no extra cost to you).
Ocean City, New Jersey is the calmer, gentler Jersey Shore experience. The focus in this beachside community is family friendly. If you've got children in tow, OCNJ should be your destination. These are the best things to do in Ocean City NJ this year.
This town likes to think of itself as "America's Greatest Family Resort." It is perhaps best known for being a dry town. Officially, there is no alcohol served within the town's borders, although there are loopholes.
And while the 'dry town' thing is a bummer for nearly all adults, there's still a surprising amount of fun to be found here.
Wander the Boardwalk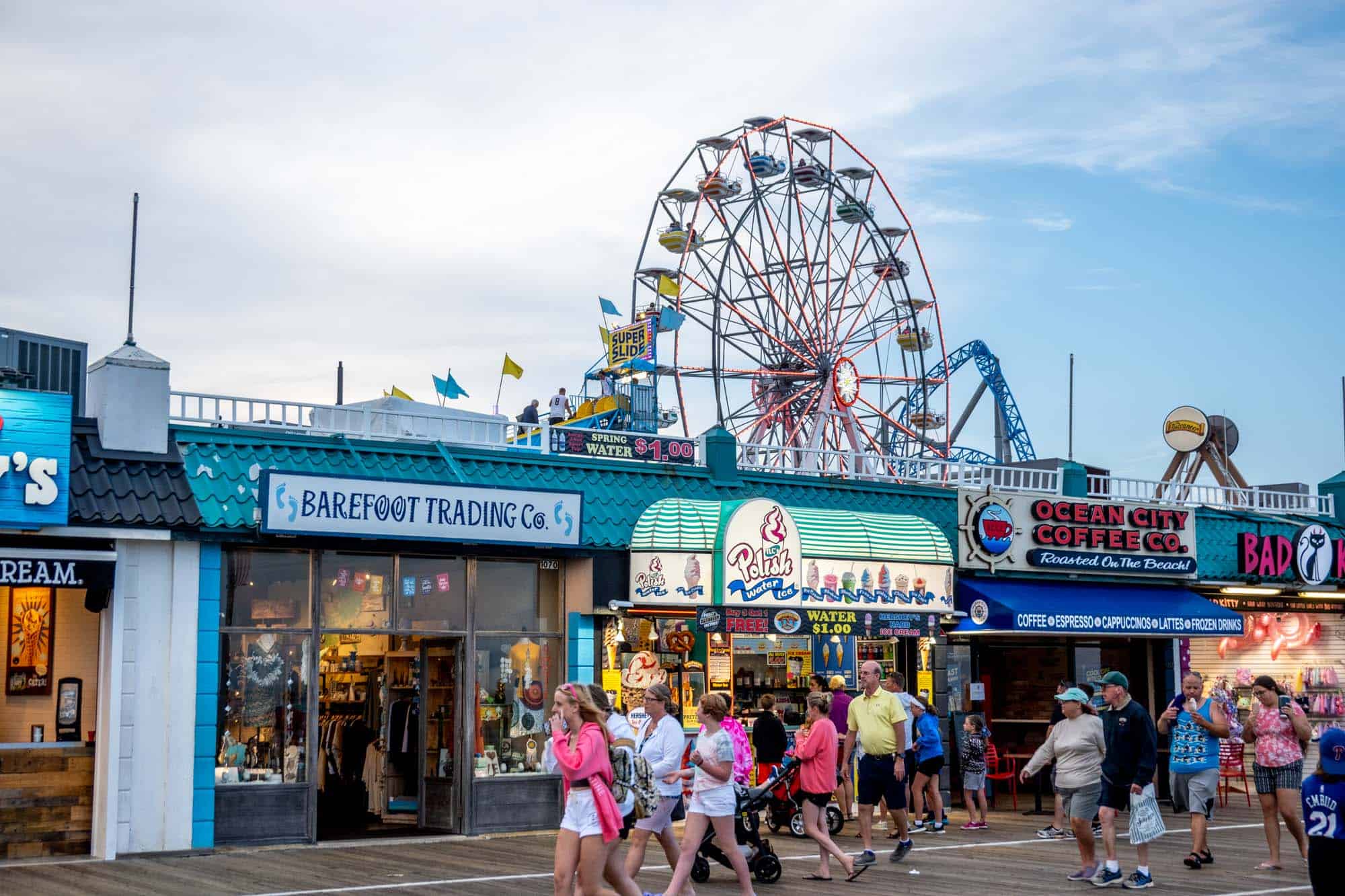 Among the best things to do in Ocean City, New Jersey, is visiting the Boardwalk. The famous wooden walkway spans close to 3 miles of shoreline. The boardwalk hugs the sand and runs parallel to Wesley Avenue.
There's plenty of activity happening here. There are amusement park rides, various shops, and restaurants. It's really the focus of a visit to OCNJ. When combined with the variety of family-friendly activities on this remarkable destination, the Boardwalk is highly recommended.
Food is a key part of visiting. Various snacks are available along the Boardwalk, such as ice cream, pizza, caramel corn, funnel cake, fried Oreos, popcorn, and taffy, to mention a few.
It's accessible at any hour of the day. You can walk, run, or bike here while enjoying the view. It's especially popular with walkers and runners early in the morning, before everyone else has rolled out of bed.
Hang out on the Ocean City beach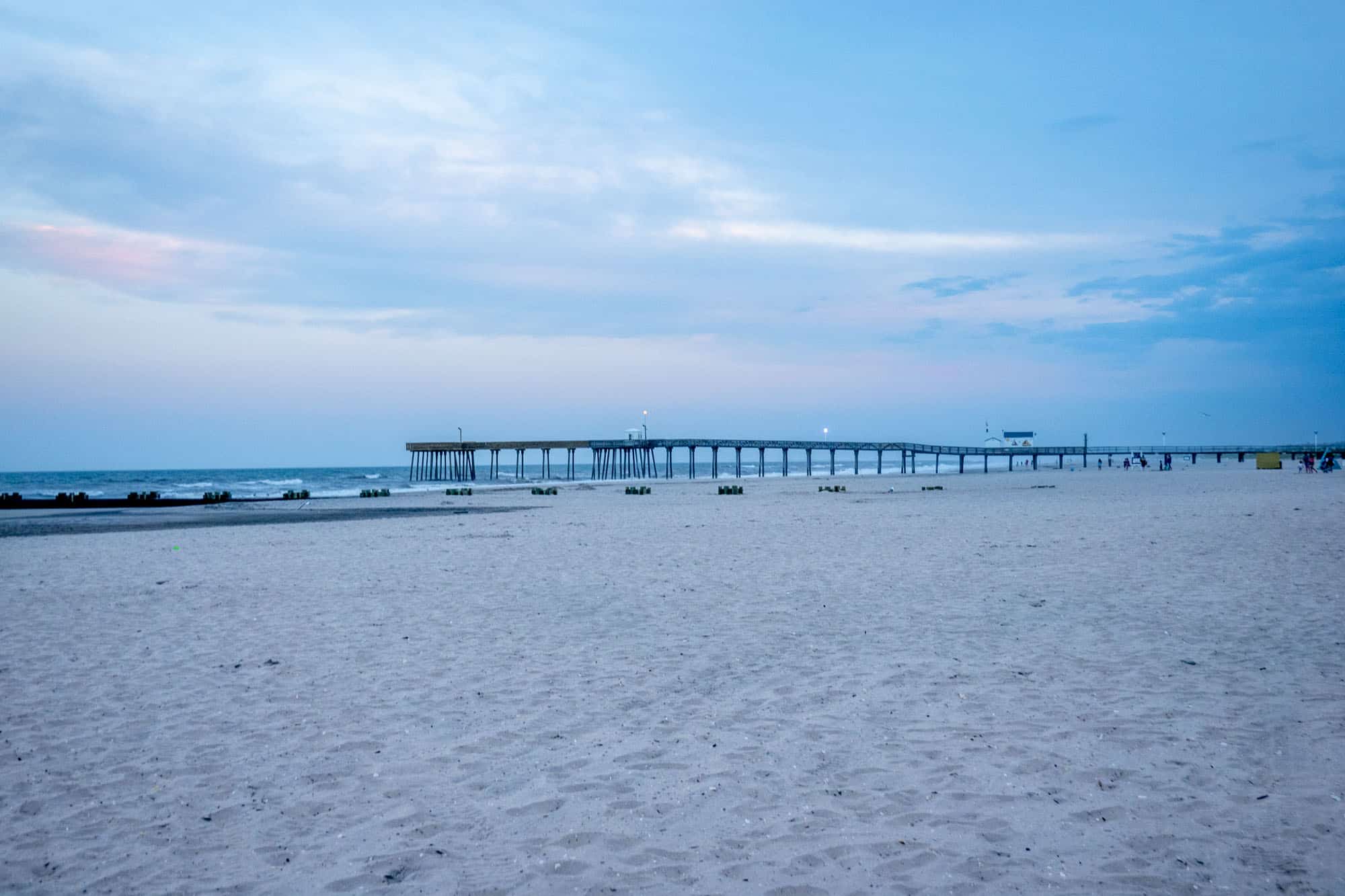 The 8-mile stretch of coastline that is the city's beach is the main point of interest in Ocean City. It is one of the top beaches in the area. The most popular section is to the north of the Ocean City Boardwalk, near the sand dunes.
The beach's pleasant weather and family-friendly policies attract people searching for a relatively tranquil way to spend quality time with family and friends. Overall, Ocean City Beach is a child-friendly destination with a fantastic atmosphere. You can be assured that this is among the safest beaches to visit as there are lifeguards vigilantly on patrol.
Bring your sunscreen and book and lounge out on the sand all day long. Or maybe cue up some Jersey songs on your phone. It is rumored that this beach inspired the Beach Boys hit "The Private Life of Bill and Sue."
Beach tags are available for purchase at information centers and other nearby lifeguard venues. Lastly, this particular beach has public restrooms along the promenade visitors can use. Note: alcohol, smoking, and vaping are forbidden.
Take a ride at Gillian's Wonderland Pier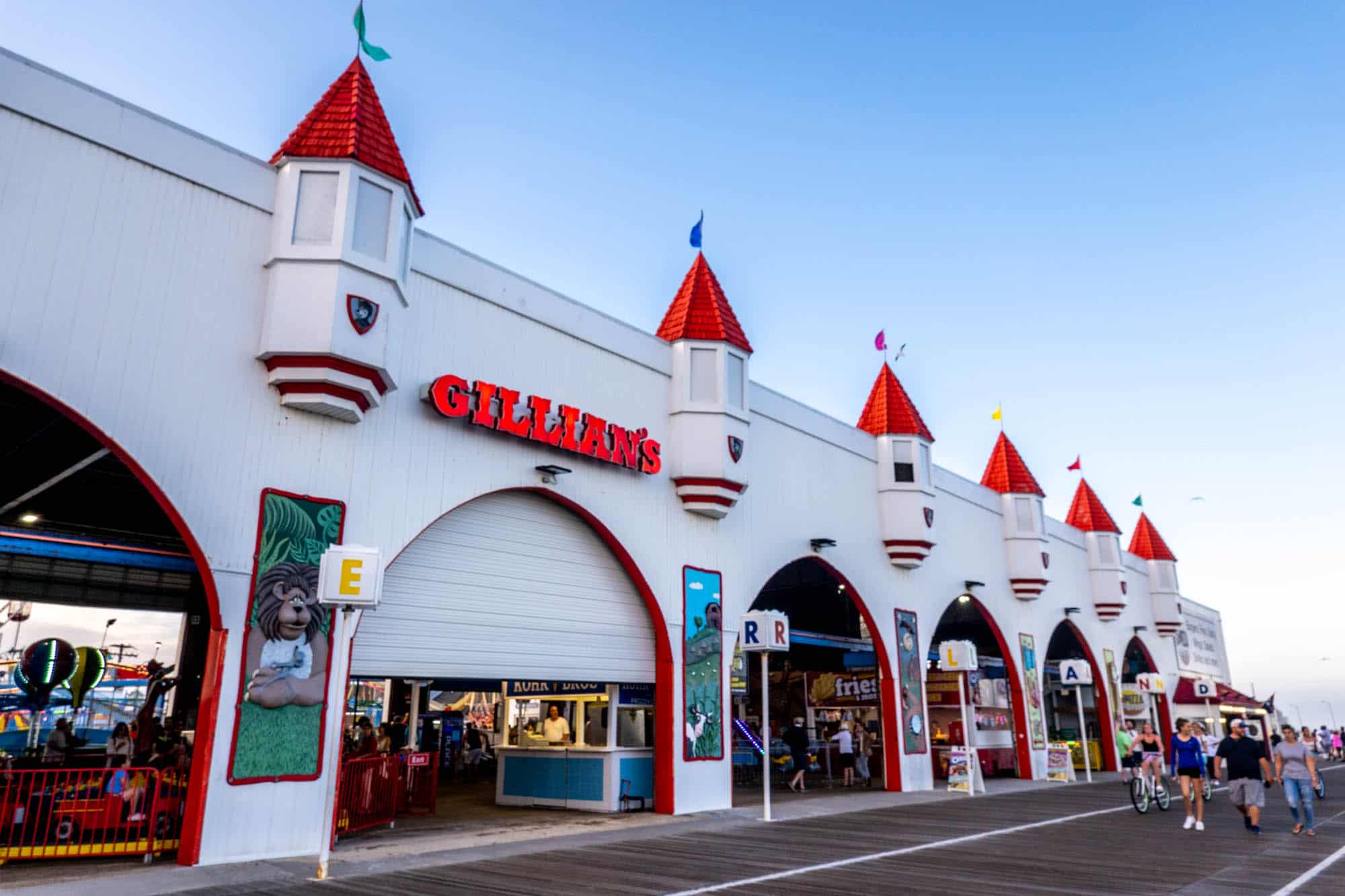 Tourists unfamiliar with the town will have little trouble finding indoor and outdoor entertainment parks. Gillian's Wonderland Pier is among the top places for amusement rides in Ocean City. The park is located between 6th and 7th Streets on the Boardwalk.
First opened in 1929, Gillian's has grown to include over 25 rides for visitors of all ages. Although the rides at Gillian's Wonderland Pier are geared toward children, there are plenty of rides that are ideal for adults, too. The famous Giant Wheel–a massive Ferris wheel towering over 140 feet in the air–is a municipal landmark in town. From the top of the Giant Wheel, you can see Atlantic City on a clear day.
The two most popular rides are the Carousel, which dates from the early 1900s and is ideal for kids, and the Canyon Falls Log Flume, which will definitely give you an adrenaline rush.
Gillian's is a "pay-as-you-go" park, which means that each attraction or ride requires a specific number of tickets.
Try a Kohr Brothers frozen custard
Whenever you visit Ocean City and want to have a tasty soft frozen custard and hard ice cream, go to Kohr Brothers. Founded in 1919, this company is renowned for having one of the best ice creams in New Jersey.
Since 1923, soft frozen custard served in napkin-wrapped cones has been a summertime tradition at Kohr's ice cream booths on the Boardwalk. It is indeed a mouthwatering summer treat and irresistible to children young and old. Flavors range from traditional vanilla and chocolate to a vast choice of natural fruits. We always opt for peanut butter and chocolate twist.
See a show at Music Pier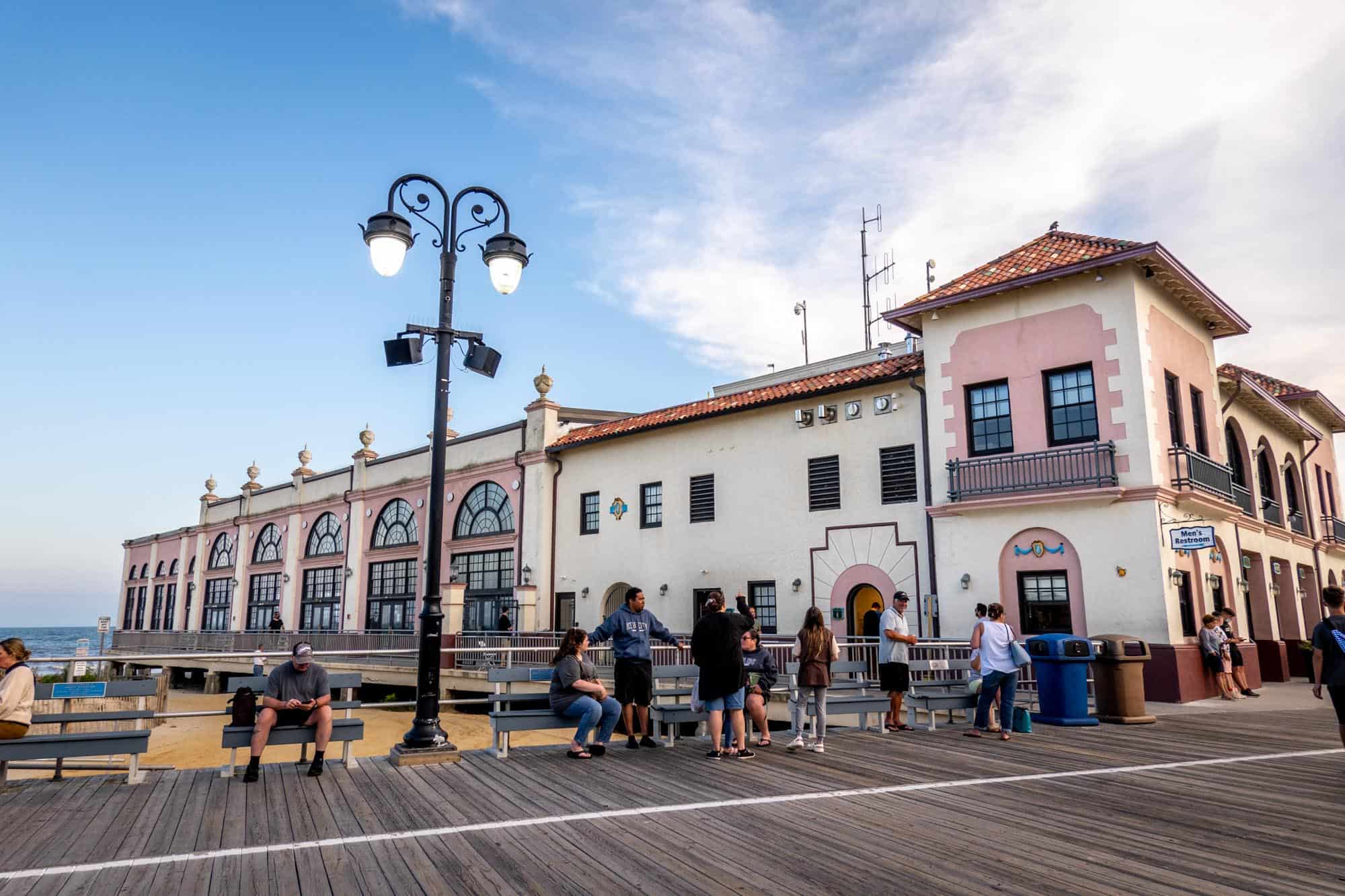 The Ocean City Music Pier has been a key part of summer in the city for nearly 100 years. Opened in 1929, it still welcomes notable comedians and performers along with musical productions like The Sound of Music and Broadway on the OC Boardwalk.
From July through October every year, Music Pier hosts a concert series by the Ocean City POPS, performing music from different genres and featuring special guests. It's a special part of every season at the shore.
Grab a slice at Manco & Manco
Going to Manco & Manco is a highlight in any season. This pizza joint is a great spot to have hot pizza during a cold winter day at the Shore, or when you're looking for a slice to head down the Boardwalk on a hot summer day.
Over the years, Manco & Manco has made a name for themselves as one of the best spots serving the tastiest pizzas in town. Some of their signatures include cheesesteak pizza and the Philly Special, named after the legendary Eagles' Super Bowl victory play. Don't miss it!
Buy a sweet treat at Shriver's Taffy
Shriver's Taffy is the oldest business on the Boardwalk. It was founded in 1898 by William Shriver as a restaurant, ice cream shop, and candy store.
Visitors are in for a treat as Shriver's Taffy serves a variety of delicious confections such as fudge, macarons, chocolates, mint rolls, and saltwater taffy. Shriver's sells over 47 different taffies, and over 2,000 people visit every day.
Be sure to pick up a box of the famous taffy to take home–it will make your Shore memories last longer.
Play around at Playland's Castaway Cove
Playland's Castaway Cove stands out on the Boardwalk with more than 32 rides, including a Ferris wheel. The amusement park has operated for over 60 years and is known for its variety of fun, family-friendly rides. In addition to a roller coaster, Castaway Cove has an indoor arcade, two minigolf courses, and a go-kart track. The amusement park is open daily from late March to early October, so a visit here is what to do in Ocean City even if you're not visiting in summer.
See a ghoul at Haunted Golf
One of the top attractions in Ocean City, Haunted Golf is an 18-hole indoor minigolf course filled with equal parts haunting and humor. Spread over 5,000 square feet, the course includes a haunted wedding reception, a macabre piano player, talking skeletons, and lots of surprises. The course is open year-round and rated PG.
Visit JiLLy's Arcade
JiLLy's Arcade is another excellent spot for fun along the Boardwalk. Everyone who visits is guaranteed to have an enjoyable time. This fantastic destination, which is open the entire year, has thrilled many generations over the years.
JiLLy's arcade showcases more than 100 old and modern arcade games, such as crane games, pinball machines, air hockey, sit-down driving games, pool tables, and more.
Some video games range from classics such as Pac-Man and Asteroids to highly sought-after titles such as Jurassic Park and Star Wars. Skeeball is, of course, a JiLLy's Arcade tradition, and it still costs just a dime to play–the same as when JiLLy's first opened its doors in 1976.
Enjoy nature at Corson's Inlet State Park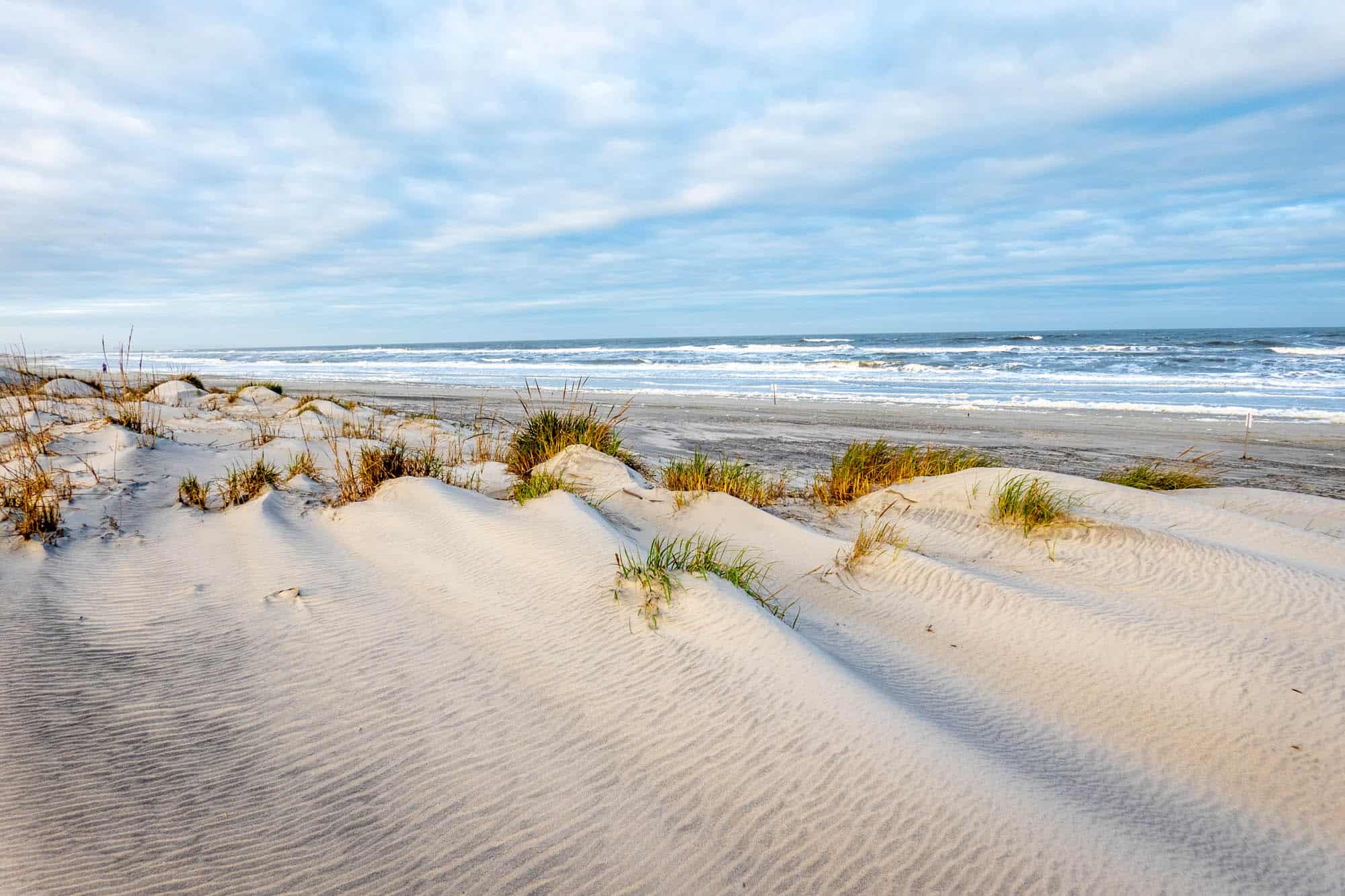 Corson's Inlet State Park, which spans a little more than 340 acres, was established in 1969 to conserve and safeguard this section of land along the New Jersey coast. The park's natural habitats support diverse wildlife and include primary and secondary dunes, upland areas, marine estuaries, and coastline over wash. Basically, this is prime, undeveloped, pristine coastal land.
There are plenty of outdoor recreational activities visitors can enjoy, such as boating, saltwater fishing, hiking, kayaking, and sunbathing. There are also plenty of natural trails. The park is also part of the New Jersey Coastal Heritage Trail, a heritage area administered by the National Park Service in New Jersey.
Go bird watching at Stainton Wildlife Refuge
The Stainton Wildlife Refuge is a spectacular destination for naturalists. This bird paradise is the perfect spot to see numerous wading and shore birds. Tourists can also get up close and personal with nature as there is lots of pretty scenery.
This refuge is home to the endangered Least Tern and Black Skimmer–birds that are avid hunters in the freshwater marsh in the summer and spring. Additionally, during spring and fall, the refuge draws many migrating shorebirds.
The sanctuary is also home to ducks, geese, and cormorants that are especially easy to find when the tide is high. However, Sandpipers, Herons, and egrets love it when the tide is low, and the area is virtually a giant mudflat. So, whether the tide is in or out, there is good birdwatching.
In a nutshell, the Stainton Wildlife Refuge, is ideal if you want a tranquil destination away from the crowds and to be close to nature.
Explore the Ocean City Historical Museum
Another fun activity is visiting the Ocean City Historical Museum. History buffs will enjoy seeing the collection of shipwreck items, religious history items, and artifacts related to the city's unique cultural heritage.
While Ocean City was founded in 1879, the history museum tells the story of the town from well before that date and continues to present day. From Native American history to Grace Kelly's love of the city, the museum features a little bit of everything.
Have you visited Ocean City NJ? Do you have a favorite memory from your childhood or a favorite activity?