Some posts on this site contain affiliate links, meaning if you book or buy something through one of these links, we may earn a small commission (at no extra cost to you).
With great views, lots of places to lounge, and plenty of good food and drinks, Spruce Street Harbor Park is one of the best places to go in Philadelphia on a nice day. This seasonal waterfront oasis on the Delaware River is a fun outdoor destination for visitors and locals.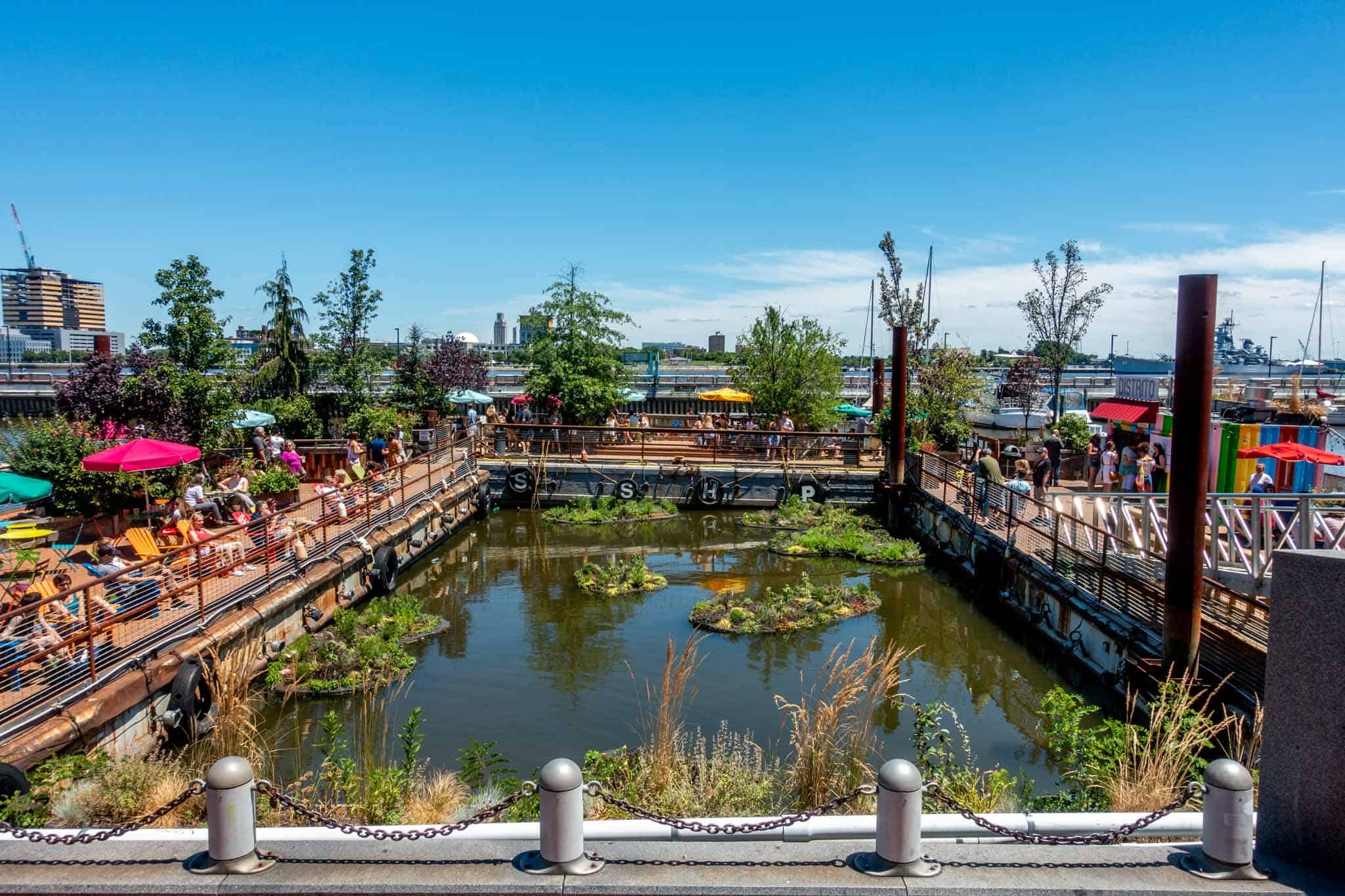 Since debuting in 2014, Spruce Street Harbor Park has been named one of the best urban beaches in the US. While you won't find sand here, there is a boardwalk and ample room for relaxing and enjoying the waterfront views. It's an extremely popular place to relax in Old City.
You'll find food vendors distributed throughout the park, games, and frequent special events for the whole family.
At night, this already vibrant park becomes even more unique. Thousands of colorful LED light strands hanging from the trees are turned on, making it feel a bit like an enchanted forest.
The park is generally open from mid-May through the end of September. In 2023, the park is open May 12 through September 24.
These are a few of our favorite things to do there.
Try a Philly favorite
The park has numerous concessions options ranging from cheeseburgers and tacos to healthy vegan options. You definitely won't go hungry here.
Among the selections, you'll find several classic Philadelphia foods. Don't miss the crabfries at Chickie's and Pete's—a Philadelphia staple—and join the line at Frozen Delights on a hot day to try one of their delicious ice cream flavors.
Hang out over the water
One of the park's unique features is its Caribbean-inspired net lounge. Hanging above the Delaware River and feeling the breeze off the water is one of the best ways to cool off in the city in the summer. Don't worry—there's a liner to catch any wallets or phones before they meet the water.
Challenge a friend to a game
You'll have lots of opportunities for a little friendly competition. Check out the bocce courts, ping pong, shuffleboard, and Connect-4 to make your visit to the park a little more active.
Attend a festival
There are regular festivals and special events in season. You'll find pop-up art markets, live music performances, festivals, and movie screenings. Check out the calendar to see what's on this summer.
See the gardens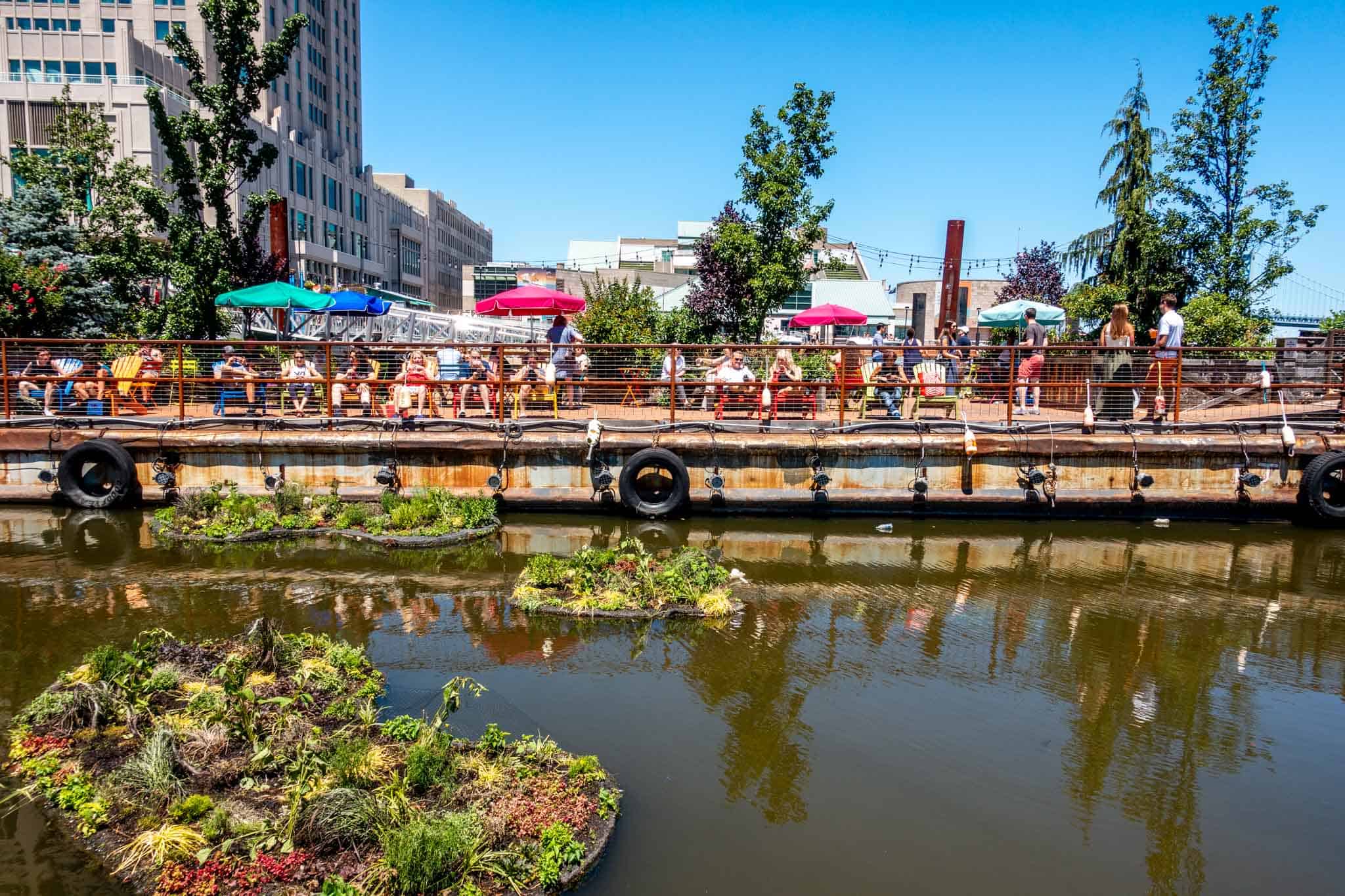 The floating gardens add a lovely and environmentally friendly touch. Among the floating barges, the clusters of plants are more than just pretty to look at—they help clean the water in the marina.
Lounge in the hammocks
There are nearly 100 hammocks spread out across the park. You can pick a colorful spot to lounge under the trees or head for one of the hammock lounges to sway a little closer to the water. If you're feeling really fancy or want to host a party, the lounges are available for rent.
Grab a drink
There are two bars at this lovely waterfront oasis—the Barge Bar and the Beer Garden. Buy a margarita, a local craft beer, or another adult beverage of choice and let your mind wander as you watch the boats go up and down the river. Overall, the park is one of the best beer gardens in Philly.
Getting to the Park
Spruce Street Harbor Park is easy to reach by multiple types of transportation.
By foot: The park is located at Columbus Boulevard and Spruce Street by the Philadelphia Vietnam Veterans Memorial.
By SEPTA: Take the Market-Frankford Line to 2nd Street or hop on one of the buses that stops nearby. Route 12 stops directly at the park, routes 21 and 42 stop at Penn's Landing, and other routes stop nearby.
By car: There are several parking lots located at Lombard Circle, Walnut Street, and Market Street at Columbus Boulevard. We often opt for 500-550 S. Christopher Columbus Blvd Parking.