Some posts on this site contain affiliate links, meaning if you book or buy something through one of these links, we may earn a small commission (at no extra cost to you).
About halfway between Philadelphia and New York City, New Hope, Pennsylvania, is a charming riverside town full of cute boutiques, excellent restaurants, and atmospheric bed and breakfasts. From markets and parks to historic sites and places to relax, there are lots of fun things to do in New Hope. Here's a look at some of our favorites.
Get outside at Delaware Canal State Park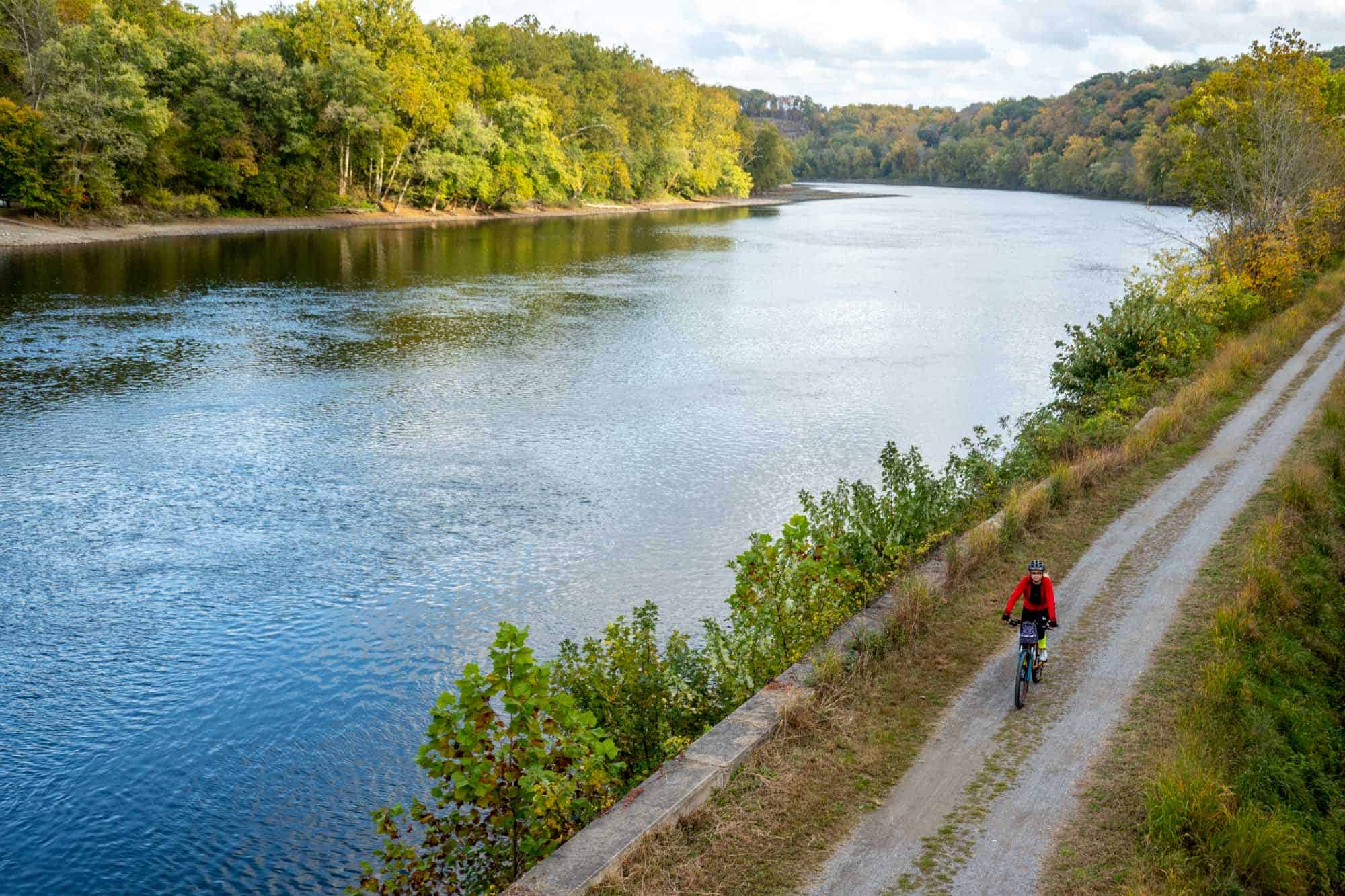 The towpath of Delaware Canal State Park is one of the best places in New Hope for nature lovers. At nearly 60 miles long, it offers lots of opportunities for runners, bikers, horseback riders, and even cross-country skiers. As a bonus, it's super scenic, snaking along the river and connecting historic towns and farms along the way.
For a lesson in the history of the canal itself, stop by the restored Locktender's House. Visitors can get an up-close look at the workings of the canal locks and learn about their importance and function.
Stroll Main Street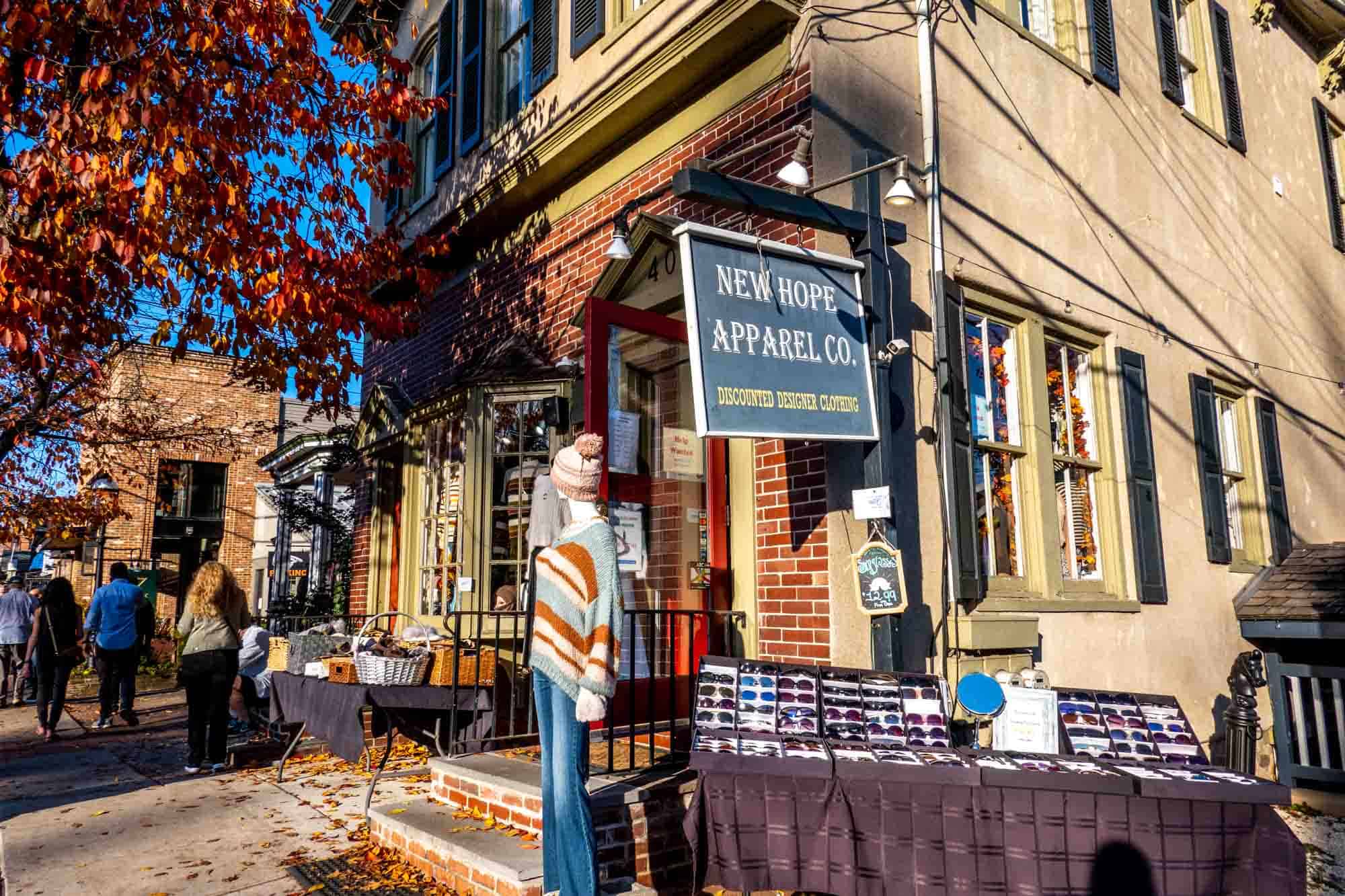 The city's main street is filled with shops, restaurants, and beautiful river views. From leather goods and jewelry to quirky gifts and decorations, New Hope is full of all the things you didn't know you needed.
Stop by New Hope Apparel for women's clothes and gifts, or support an independent bookstore by browsing the new releases at Farley's Bookshop, a mainstay of the city for over 50 years. Take a look at the creations at Diana Michaels Jewelry or visit Ditto Vintage for unique clothing and accessories.
Grab a bite at Ferry Market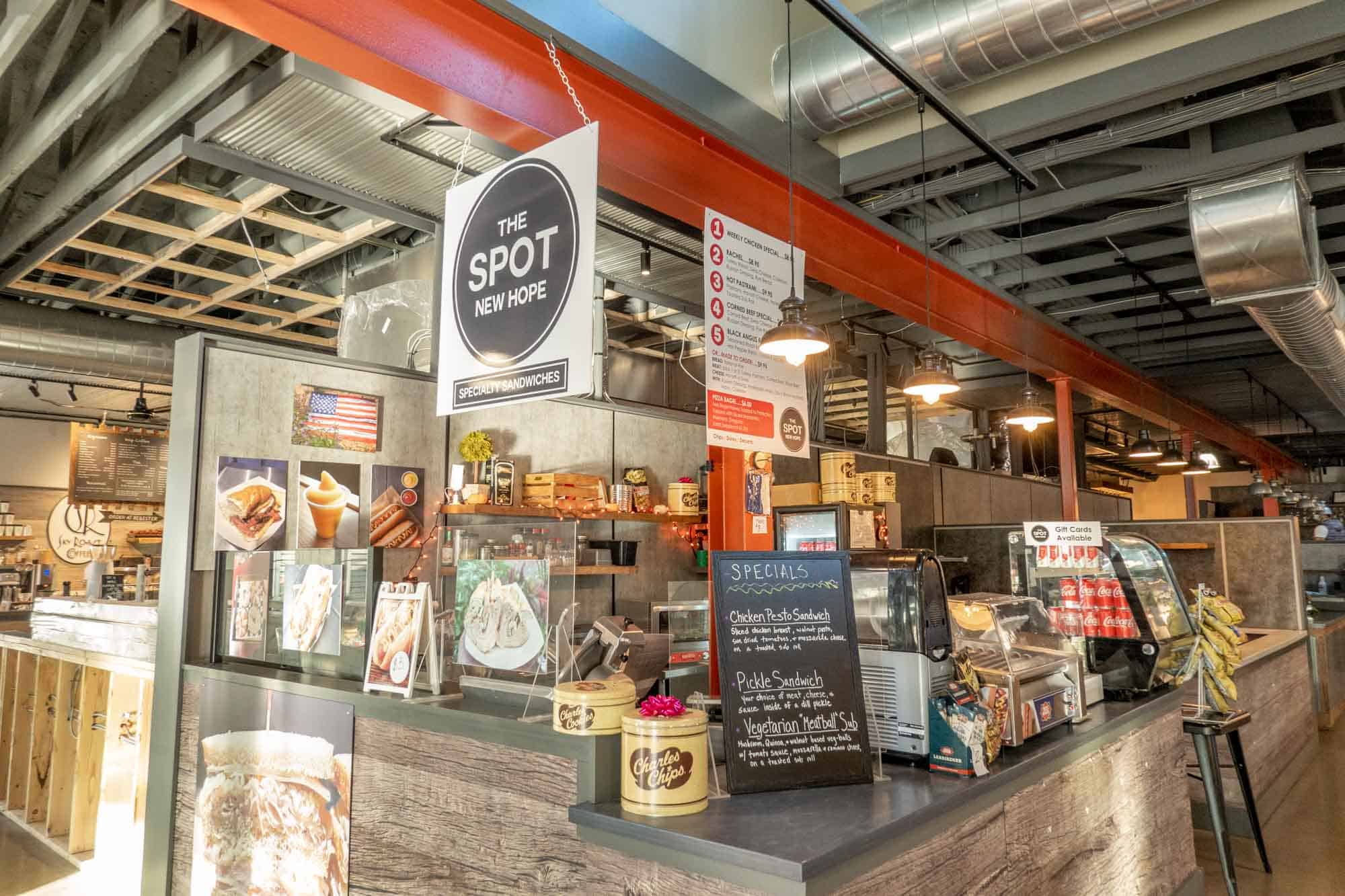 For locally roasted coffee, wine, or a bite to eat from over 10 different vendors, the Ferry Market is the place to go. Lima Fusion offers Peruvian specialties, The Good Gyro has Mediterranean and Middle Eastern dishes, Market Pizza serves handmade flatbreads, and there are many other delicious things to try. There is even an outpost of local brewery Neshaminy Creek Brewing Company. Indoor and outdoor seating options are available along with great views of the river.
Get active on the Delaware River
When the weather is nice, the Delaware River is the place to be. There are active pursuits like canoeing and kayaking, or you can rent rafts and tubes and float your way down the river to cool off.
Visit Bucks County Playhouse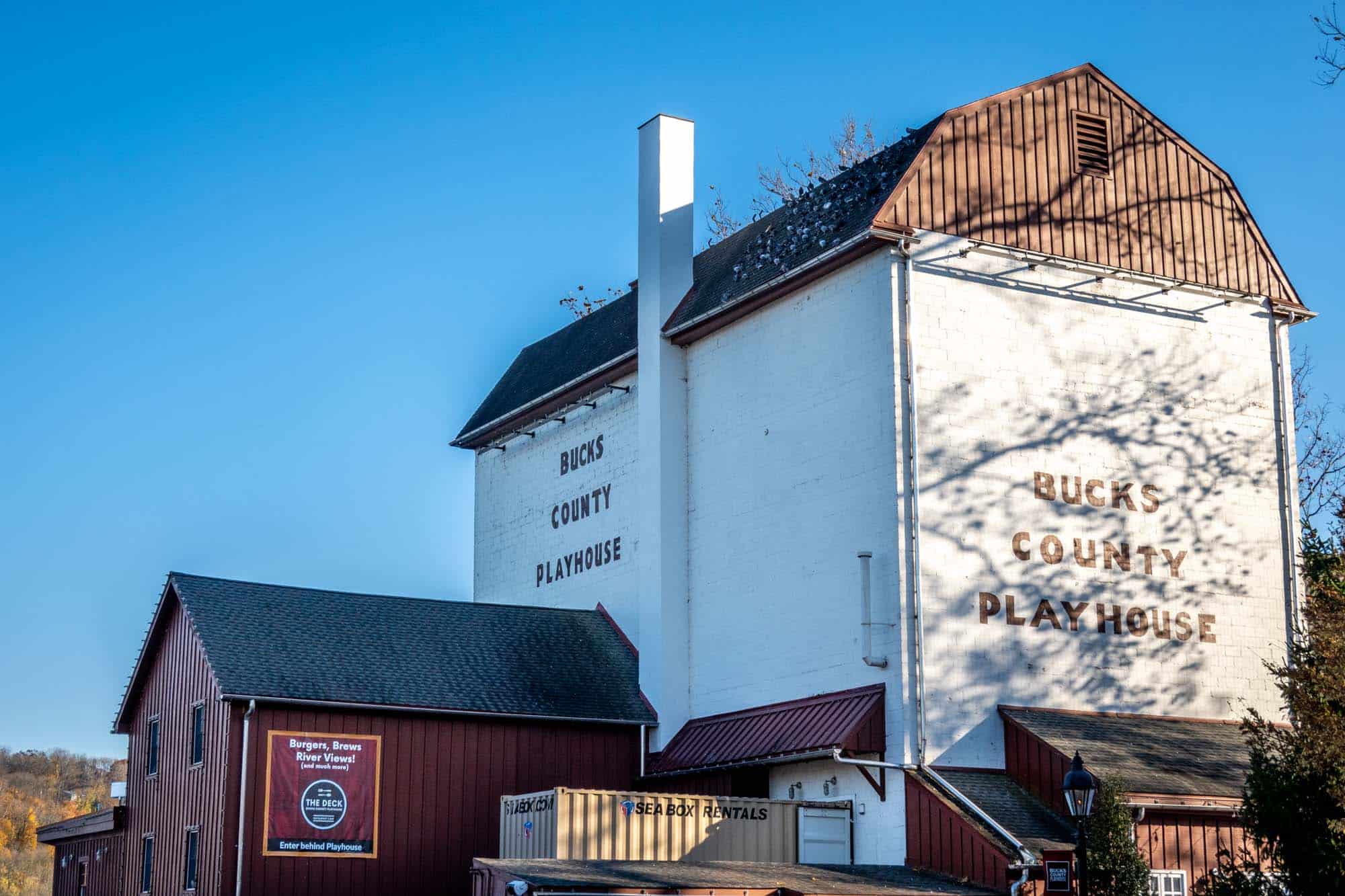 The Bucks County Playhouse is a true gem in New Hope. First built in 1790, the converted gristmill has welcomed the likes of Neil Simon, Robert Redford, Dick van Dyke, and other legends of the stage and screen throughout its illustrious history. The Playhouse now hosts live performances year-round ranging from children's plays to Broadway musicals. As a bonus, it has a restaurant and bar on its deck overlooking the river.
Go wine tasting
There are lots of options when it comes to wine tasting in New Hope. For something low-key right in town, visit Main Street Wine Cellar. Do a guided tasting of their red, white, and rose varietals or try unique creations like prickly pear froze. Seasonally, they have fun tasting pairings available, including Halloween candy and Girl Scout cookies.
Bucks County is home to seven wineries that offer a variety of sweet fruit wines and dry, European-style wines like Merlot and Sauvignon Blanc. Close to New Hope, you'll find Wycombe Vineyard and Winery, a lovely property set on an historic estate, and Buckingham Valley Vineyards and Winery, one of the largest wineries in Pennsylvania.
Appreciate nature at Bowman's Hill Wildflower Preserve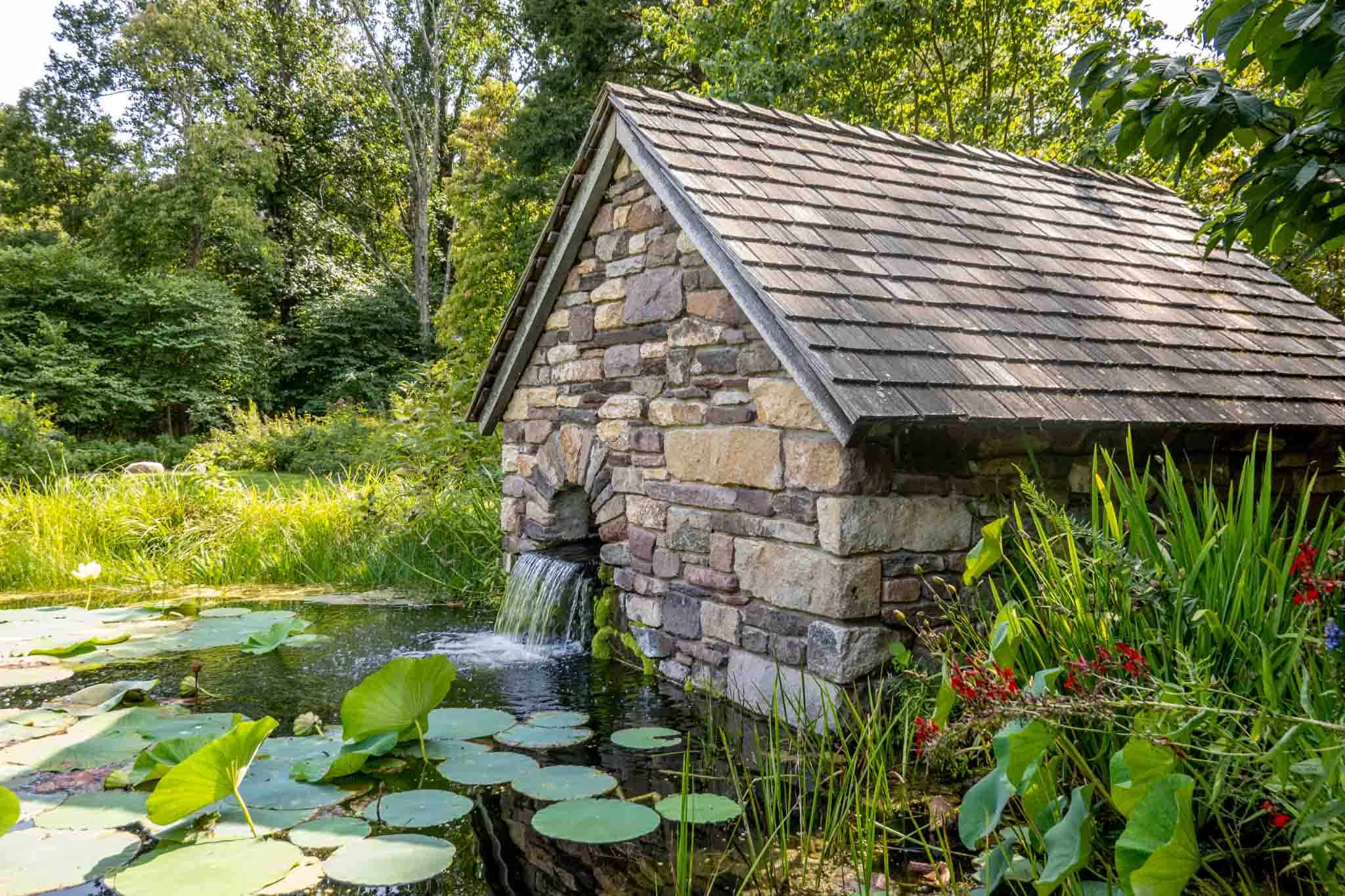 Spanning 134 acres, Bowman's Hill Wildflower Preserve has over 700 native plant species that line its trails. The diverse habitats include ponds, mature forests, a meadow, and a creek as well as three geological zones, all of which provide growing environments for different flowers, grasses, and trees. The website for the Preserve highlights what's in bloom in each season, so visitors always know what they can expect to see.
The Preserve is an excellent site for bird watching, and there are regular birding programs along with wildflower walks, workshops, and other educational offerings. It is open daily (closed on major holidays) from April through June and is open Wednesday – Monday from July through March.
Climb Bowman's Hill Tower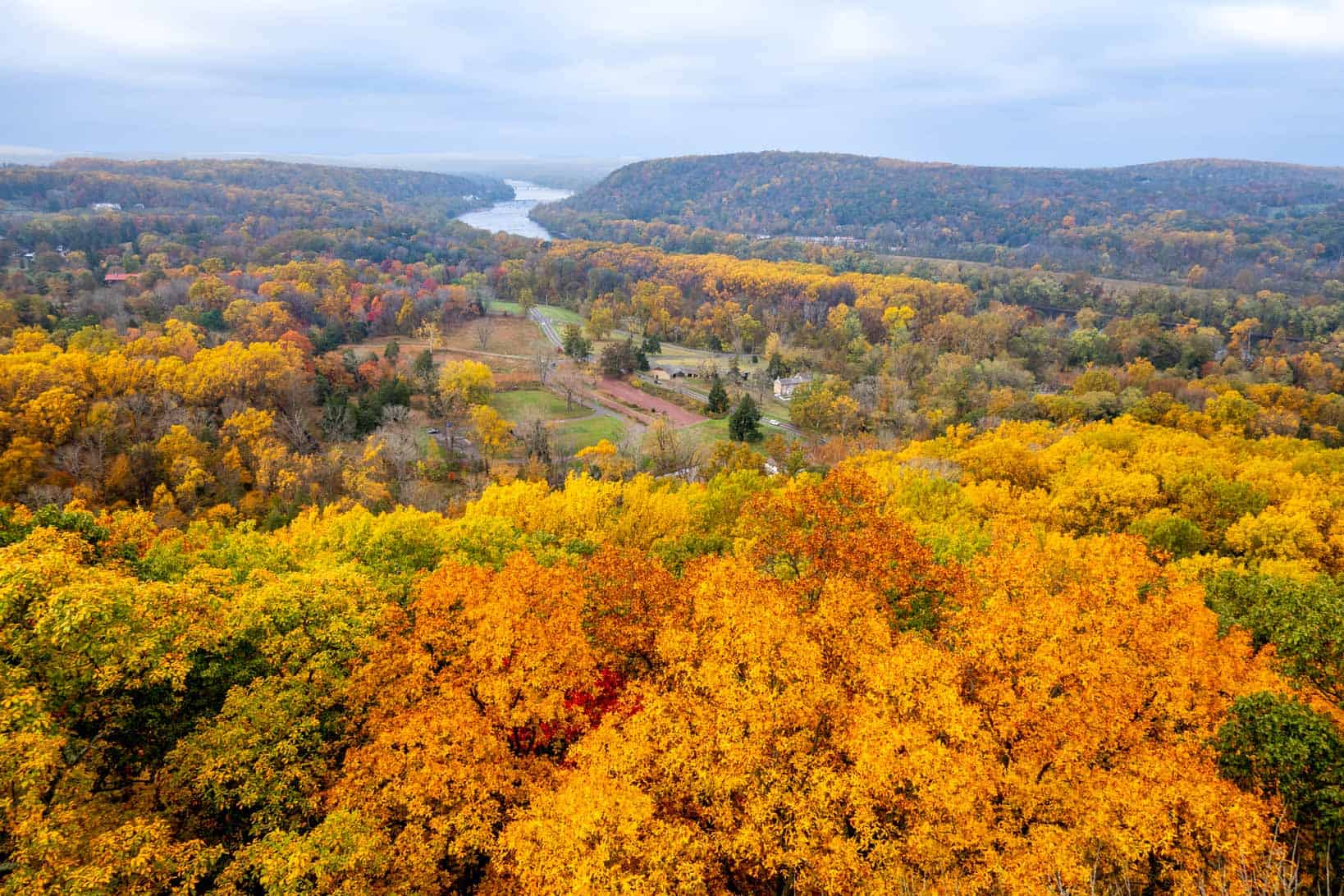 Bowman's Hill Tower offers stunning views of the Delaware River and surrounding landscape. On a clear day, you can see up to 14 miles. It's particularly impressive in the fall when you can have a bird's-eye view of the area's incredible foliage.
An elevator takes you most of the way to the top of this 90-year-old tower, but there are 23 final stairs up a spiral staircase to reach the viewing platform. (NB: In our experience, the elevator is frequently out of service.)
Ride the New Hope Railroad
For a scenic way to enjoy the area, don't miss a chance to take a ride on the New Hope Railroad. The Railroad's 1925 steam locomotive travels along tracks that were laid in 1891 to connect Bucks County and Philadelphia. The picturesque route passes by woods, farmland, streams, and bridges as it makes its way through the countryside. Along the way, narration tells the history and stories of the Railroad.
Train rides have different themes and lengths. The Buckingham Valley Route is a 2-hour roundtrip to Buckingham while the Traditional Excursion is a one-hour jaunt to Lahaska. There are also wine and cheese experiences on the Grapevine Express and journeys to see the beautiful leaves in Bucks County in the fall.
See the covered bridges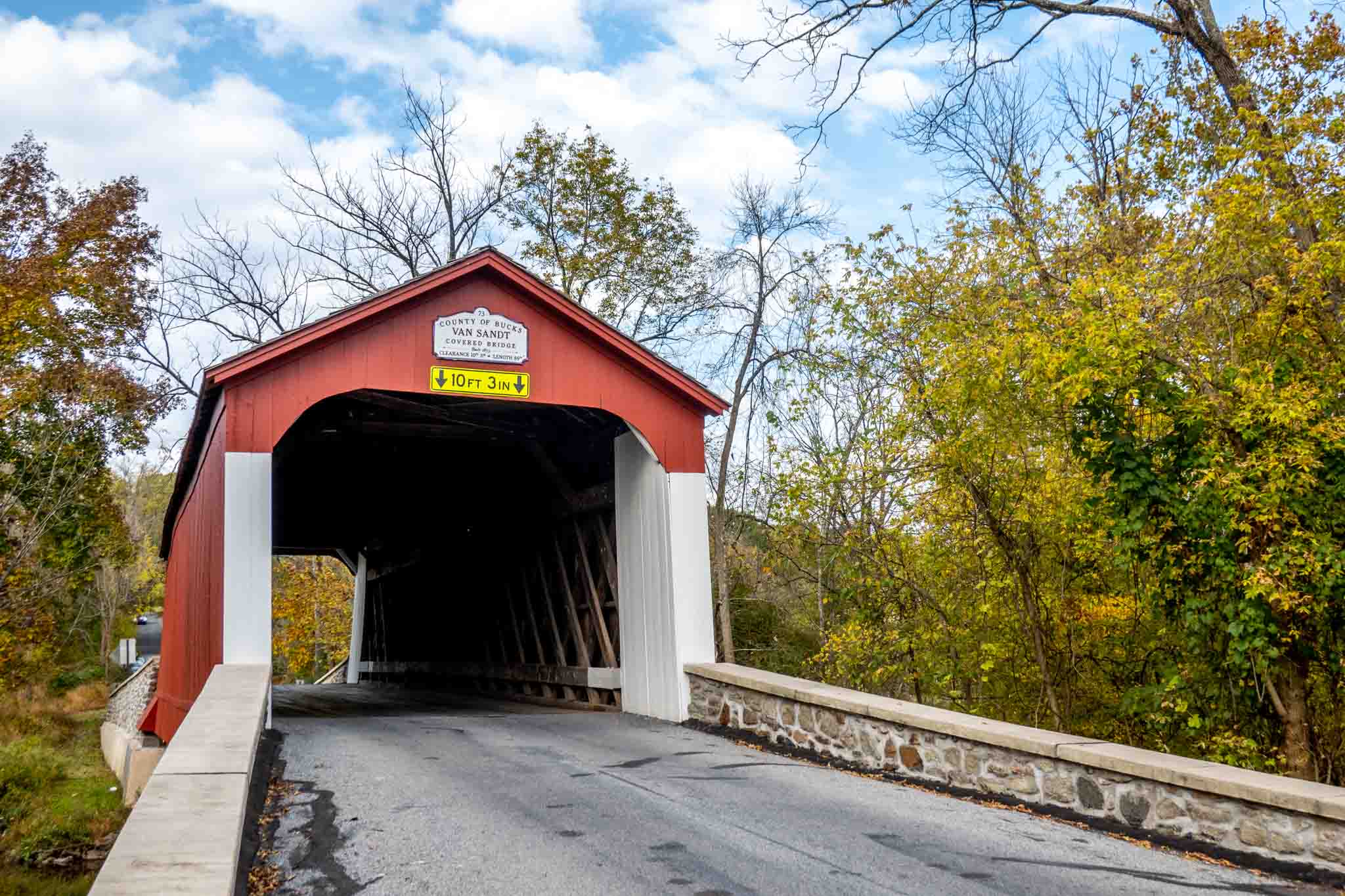 One of the unique things to do in Bucks County is to visit the area's covered bridges. Generally dating from the mid-1800s, the bridges are still open to traffic.
There are 12 across the county, but several are near New Hope, including the Van Sant covered bridge, which is only about 5 minutes from the center of town.
Visit Washington Crossing Historic Park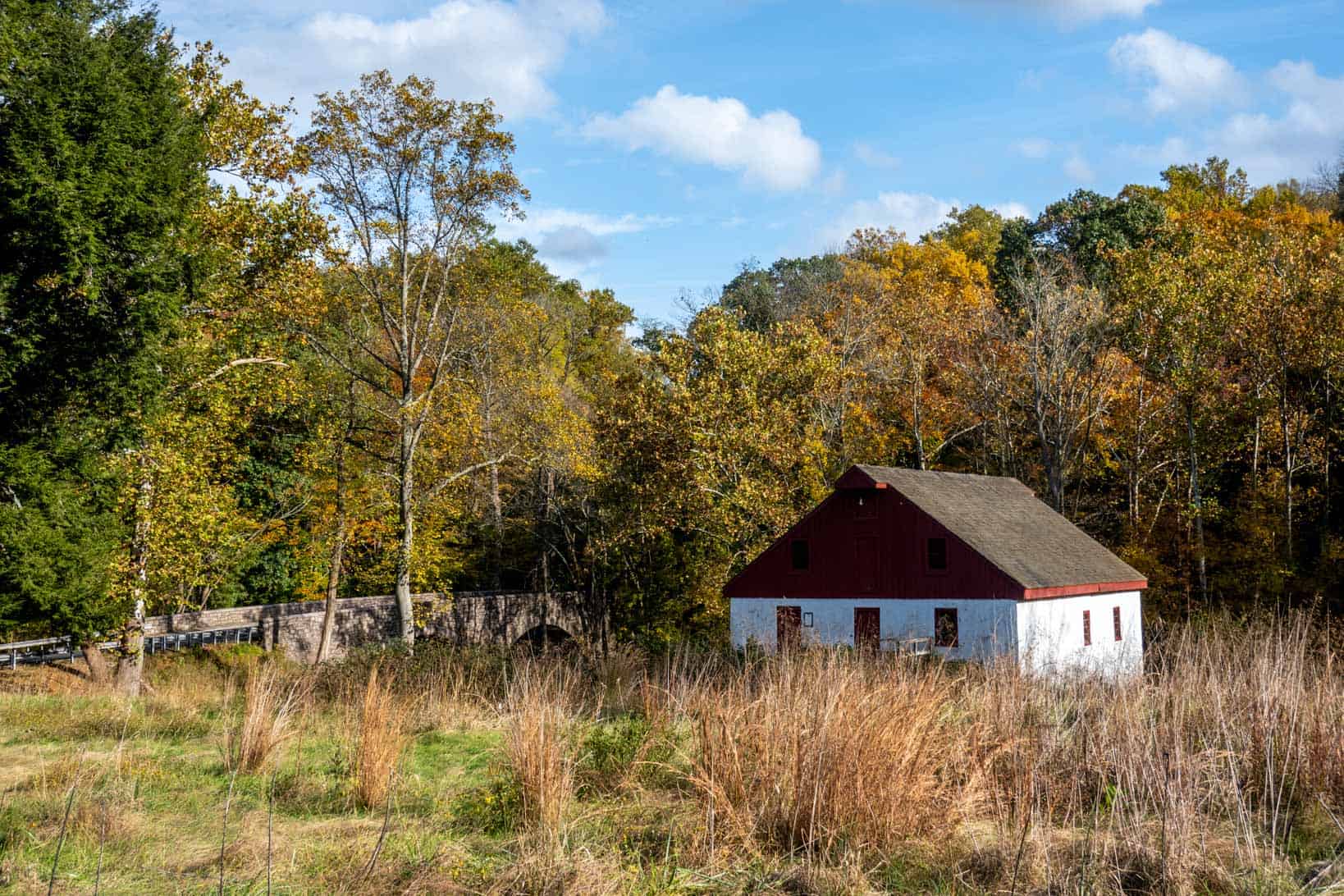 When George Washington and his troops crossed the Delaware River on Christmas night in 1776, it was a turning point in the Revolutionary War. The morning after the treacherous crossing, the army achieved an important victory in Trenton that helped re-energize the war effort. Washington Crossing Historic Park is a 500-acre park that preserves the site of the crossing and the time when fortunes began to turn.
The park is home to restored colonial structures such as the Thompson-Neely House and gristmill and the McConkey Ferry Inn alongside later buildings that show how Pennsylvanians lived and worked in the 1800s. Memorials and graves of Revolutionary War soldiers are scattered across the grounds. Regular tours cover different aspects of the park and its buildings.
See Boomer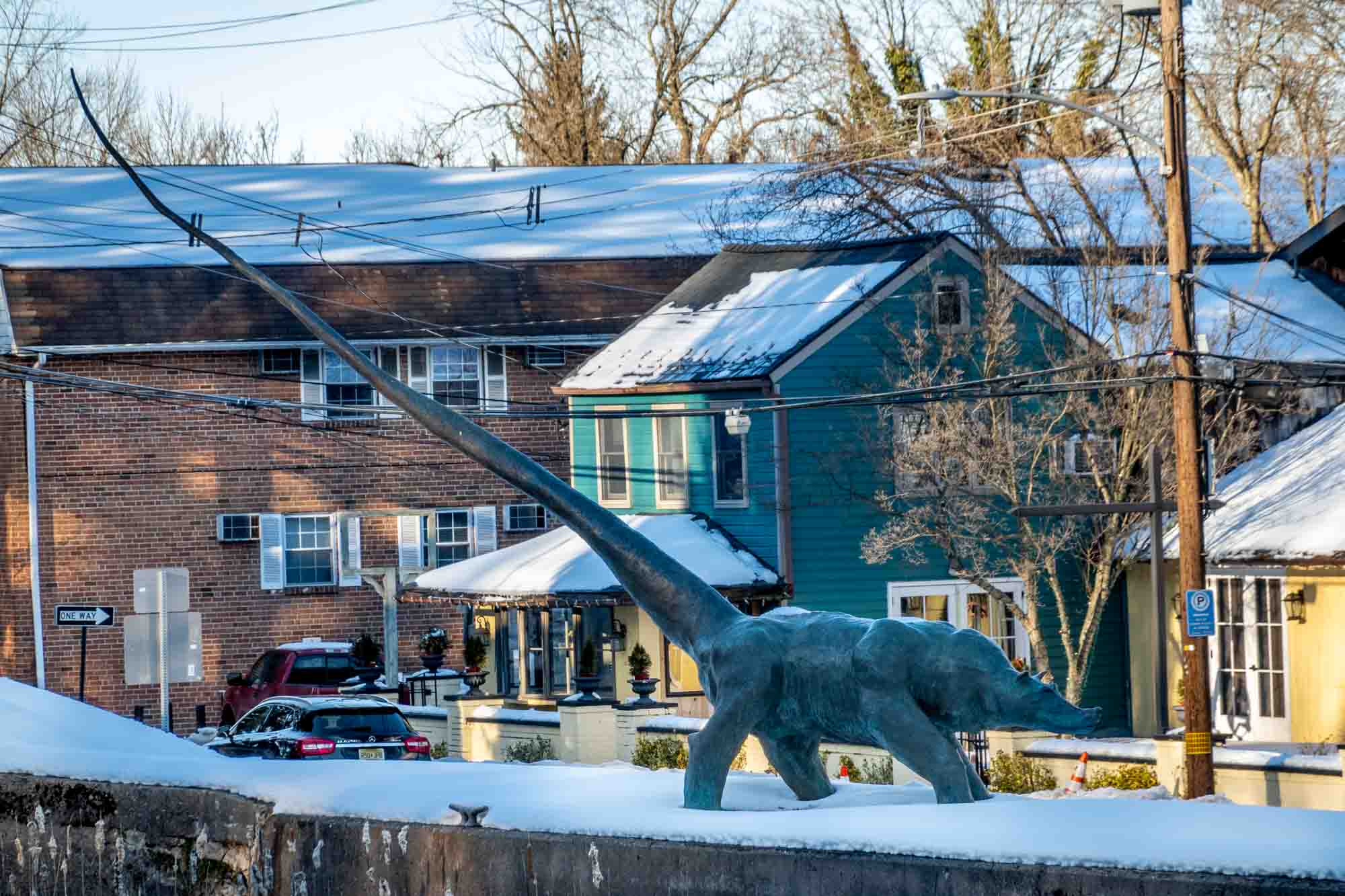 Boomer, a work by local sculptor Dana Stewart, is probably the strangest thing to see in New Hope. The unmissable artwork on Main Street is a hybrid of a dinosaur and a dog with a very long tail.
The unofficial town mascot, Boomer has been a permanent resident since 2004. He (or she?) is a frequent subject of photography and curiosity for visitors and is often decorated around the holidays.
Shop at Peddlers Village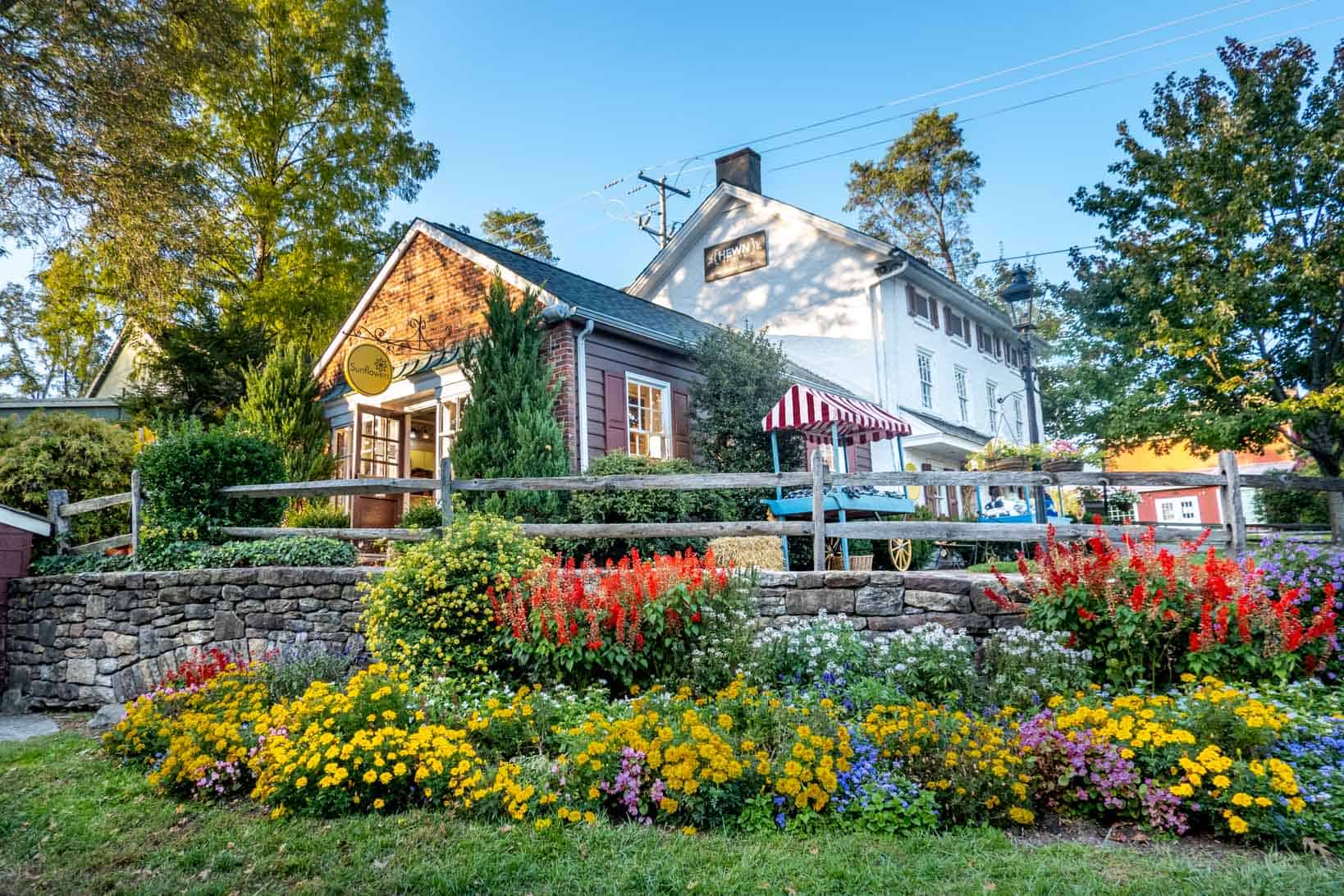 Peddlers Village is a complex of more than 60 charming shops, boutiques, and restaurants located about 10 minutes from New Hope. Everything is laid out around water features, trees, and gardens, which make it an inviting place to spend the day.
The Village hosts frequent special events like the Strawberry Festival or the Summer Block Party that spread across the property. There are often decorations and competitions, including sculptures made from Peeps candy, a scarecrow competition, an elaborate holiday lights display, and more, so there's always something fun to experience.