Some posts on this site contain affiliate links, meaning if you book or buy something through one of these links, we may earn a small commission (at no extra cost to you).
Crates filled with vine-ripened tomatoes, stacks of fresh baked brownies, bouquets of hand-cut flowers–these are just a few of the glorious things you'll find at farmers markets in Philadelphia. Across the city, local producers, farmers, and craftspeople set up shop weekly around parks and in courtyards offering the freshest produce, prepared foods, and handmade items.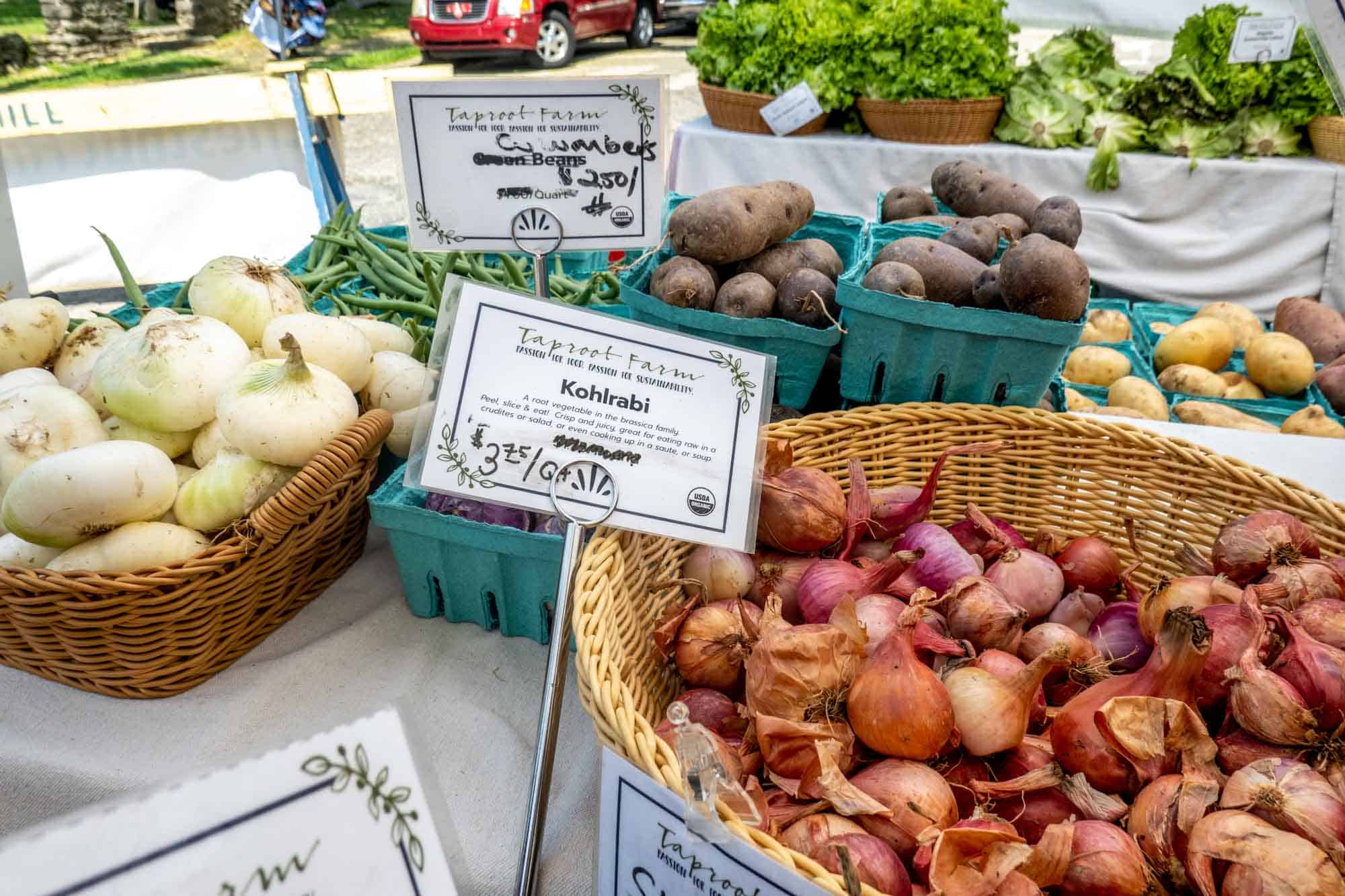 We have a bit of an obsession with markets and visit as many as we can. While some are smaller or only open seasonally, there are a few farmers markets that are open to the public year-round. Read on for our list of the best farmers markets in Philadelphia.
Headhouse Market
A Society Hill treasure, Headhouse market is set in a building whose history dates to 1745–one of the oldest market buildings of its kind that still exists. Every Sunday, visitors flood in to see the 40+ vendors and rotating food trucks that draw people from the local area and beyond.
This Food Trust-run market is a weekend treat, and it's not uncommon for items to sell out early. Some vendors except pre-orders to be picked up at the market, so it's best to check if that's an option if there is something you particularly want.
Don't miss Birchrun Hills Farm for their artisanal cheeses and meats and Blooming Glen Farm for their organic produce. Homemade pierogies from Mom-Mom's Polish Food Cart are also an excellent choice. Year-round, Sundays 10 – 2 pm.
Chestnut Hill Farmers' Market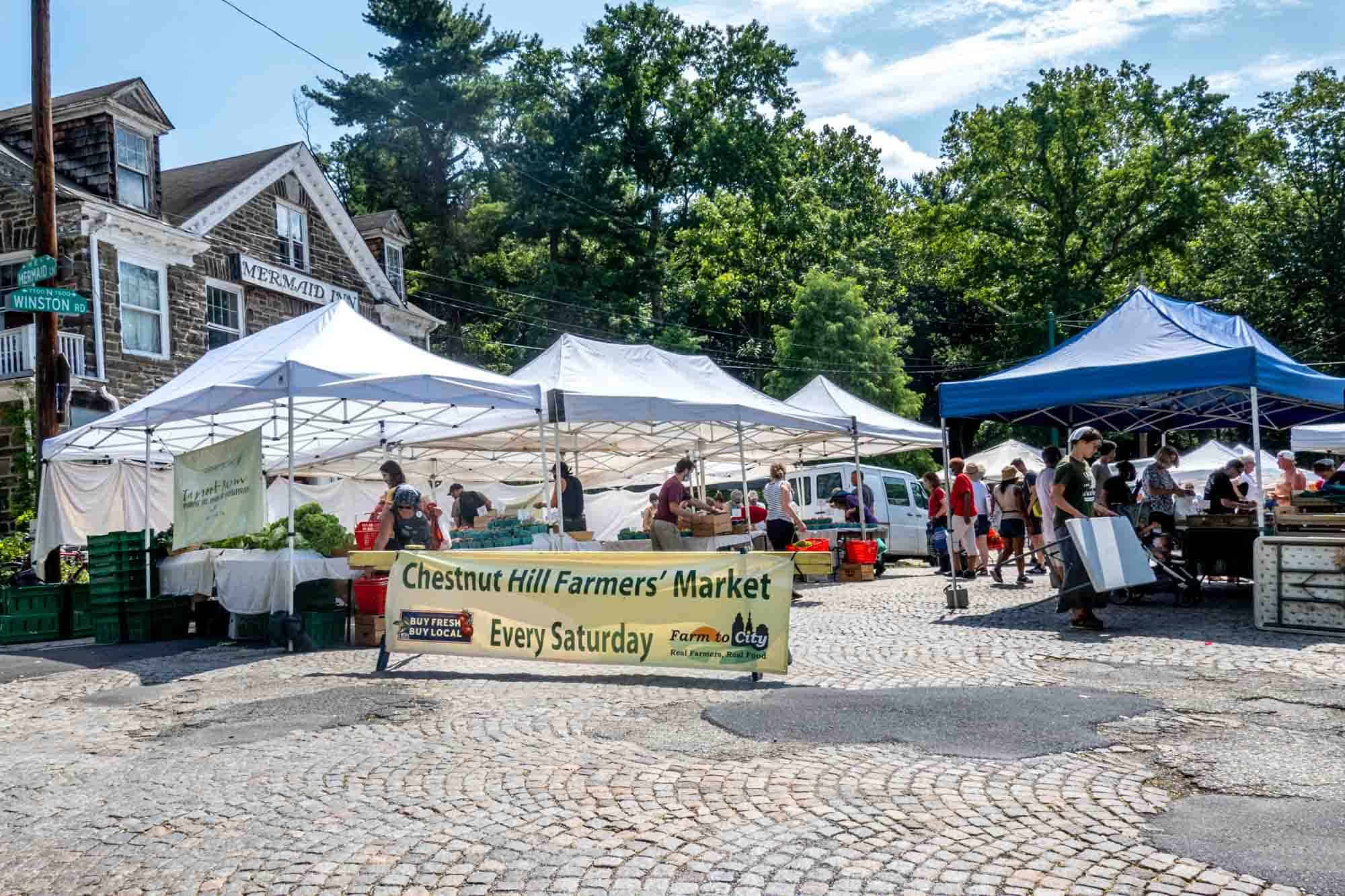 This ever-growing, producer-only outdoor market sells fresh seasonal staples to the local community and is a mainstay in the Chestnut Hill neighborhood. Since the inception of the Chestnut Hill Farmers' Market, it has expanded to include a range of items beyond produce such as honey and beeswax products; flowers; locally made cider, whiskeys and beers; artisanal pastas; and more.
The breads and flours from Green Lion Breads are not to be missed, and Primordia Farm has an incredible selection of mushrooms you never knew you needed to try. There is often live music to enjoy while you browse. If you're really lucky, you'll find one of our favorites–North By Texas–slinging their Tex-Mex BBQ and breakfast tacos. Year-round, Saturdays 9 – 12 pm.
Germantown Market
Located at Germantown's historic market square, Germantown Market is a place for food producers and artisan makers to sell their wares in a community-oriented setting. You'll find local coffee roasters and brewers as well as plants, prepared food, and even books in this family-friendly environment.
The market is fun by Philly Forests, which sells produce from it 8-acre local farm. Their proceeds go toward growing trees and shrubs that are distributed to neighborhoods with a low tree canopy. May-November, Saturdays 10 – 2 pm.
Grumblethorpe Farmstand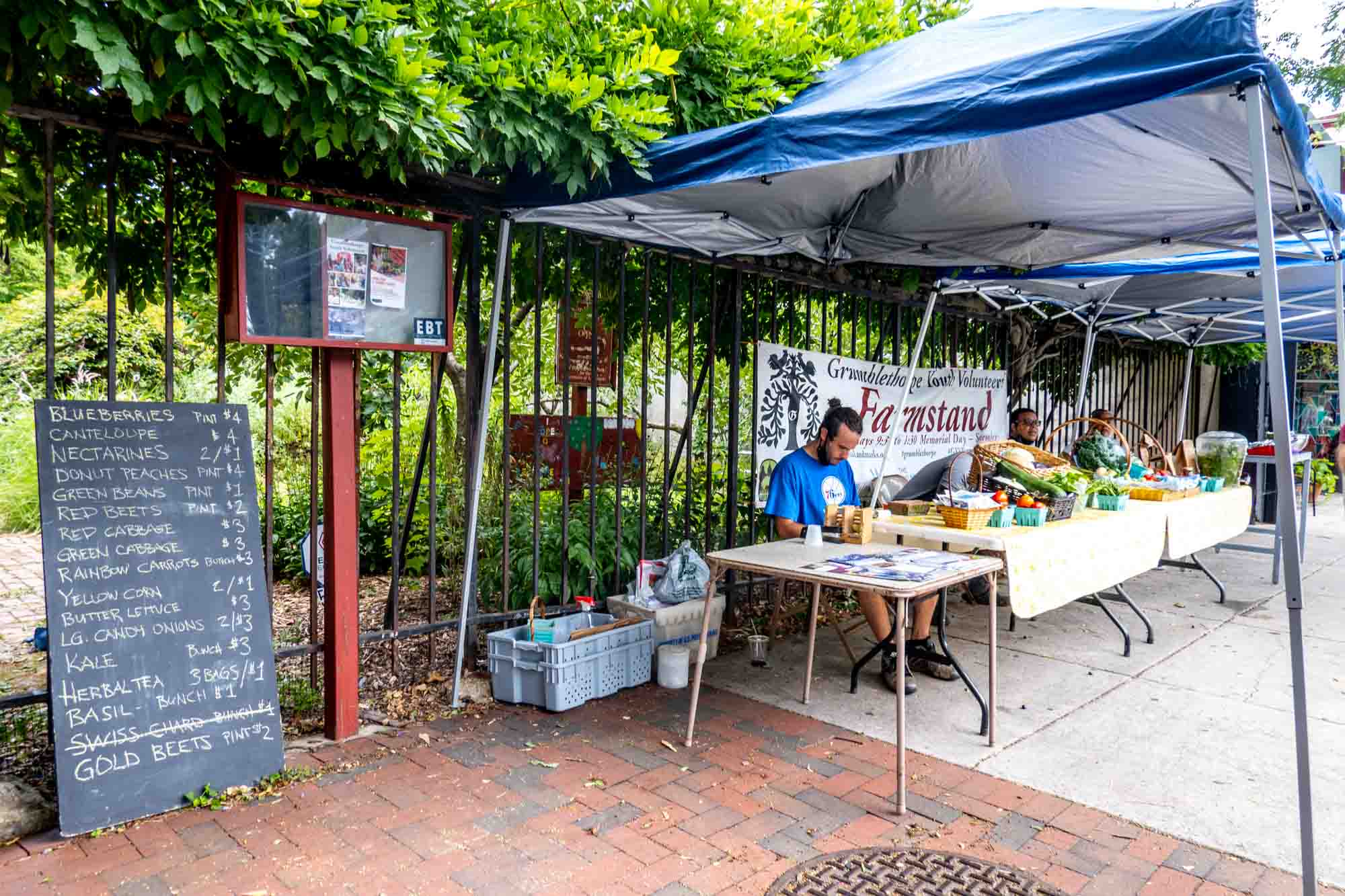 The Grumblethorpe Farmstand is another unique spot with a community-oriented mission. Local youth farm workers learn to grow organic produce on the historic Grumblethorpe property in the heart of Germantown and sell the bounty on Saturdays in the summer.
The stand is packed with herbs, flowers, and fresh produce throughout the summer. Additionally, you'll often find hand-churned fresh ice cream, which is a great way to beat the summer heat. If you visit on the second Saturday of the month, the (allegedly haunted) house built in 1744 is open for visiting. June through August, Saturdays 9:30 am – 1:30 pm.
East Falls Farmers Market
In a parking lot under the Twin Bridges, vendors gather every Saturday to share their harvests. In addition to produce, meats, cheeses, and eggs, East Falls market gets a lot of excellent food trucks and live musicians to join their weekend festivities.
Angie's Vietnamese Cuisine is a great option when they're in attendance, and we love the fresh pasta from Sorrentino Pasta and baguettes and cinnamon raisin loaf from Ursa Bakery. There is also a long list of craftspeople who sell here with artwork, photography, pottery, and more. May – Nov 10am-1pm, Dec – Apr 11am-1pm, Saturdays
Clark Park Farmers' Market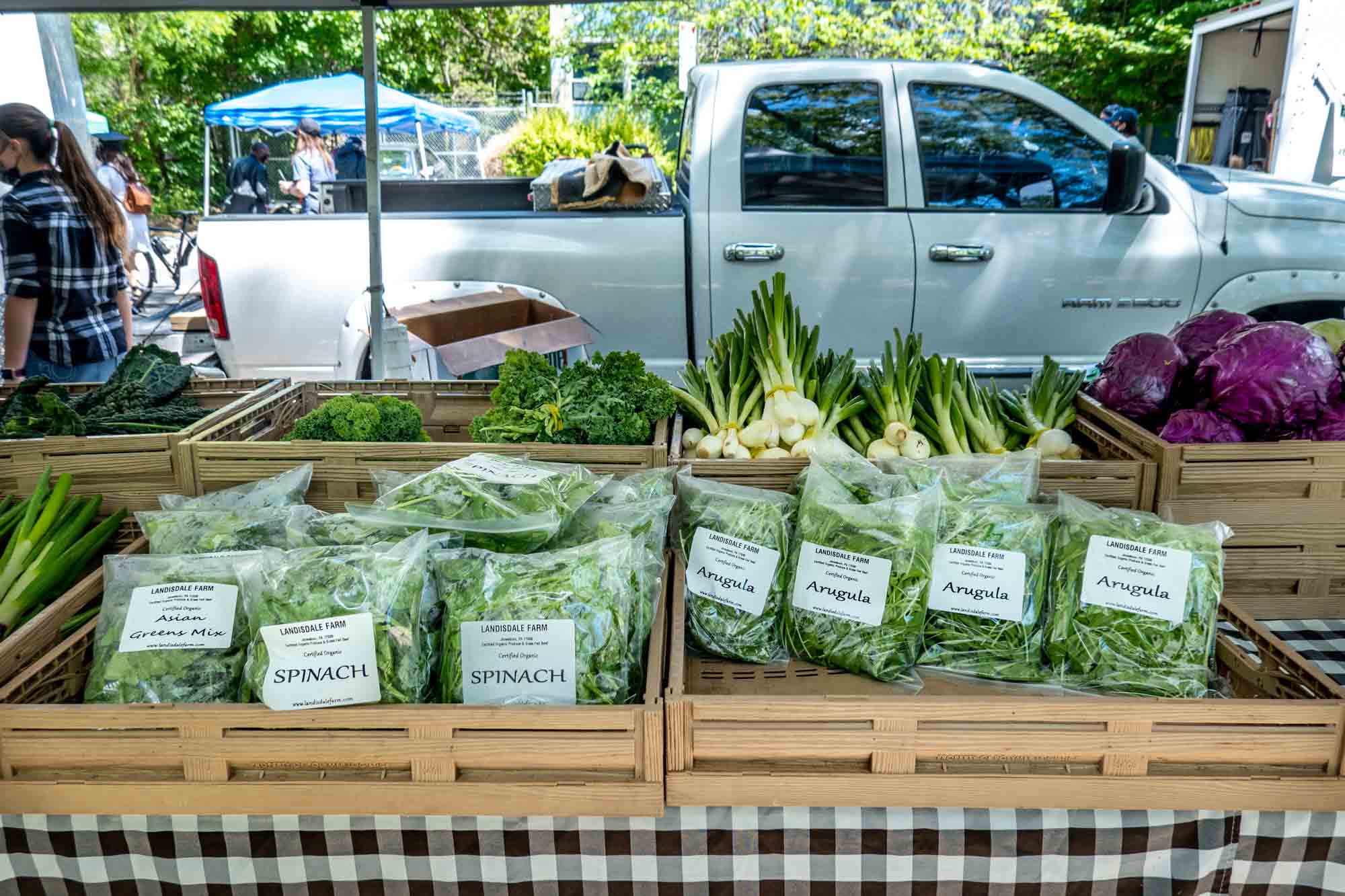 Established in 1998, Clark Park's farmers' market has stood the test of time. Run through the Food Trust, this market strives to provide accessible, fresh produce to its West Philly neighbors. For this reason, The ACCESS/food stamps card is accepted at every stand, except food trucks.
Focaccia, croissants, and anything else from Lost Bread is always a good idea, and Valley Milkhouse Cheese is also excellent. You'll also find lots of produce, flowers, and locally-made spirits. Year-round, Saturdays 10 am-2 pm
Fitler Square Farmers' Market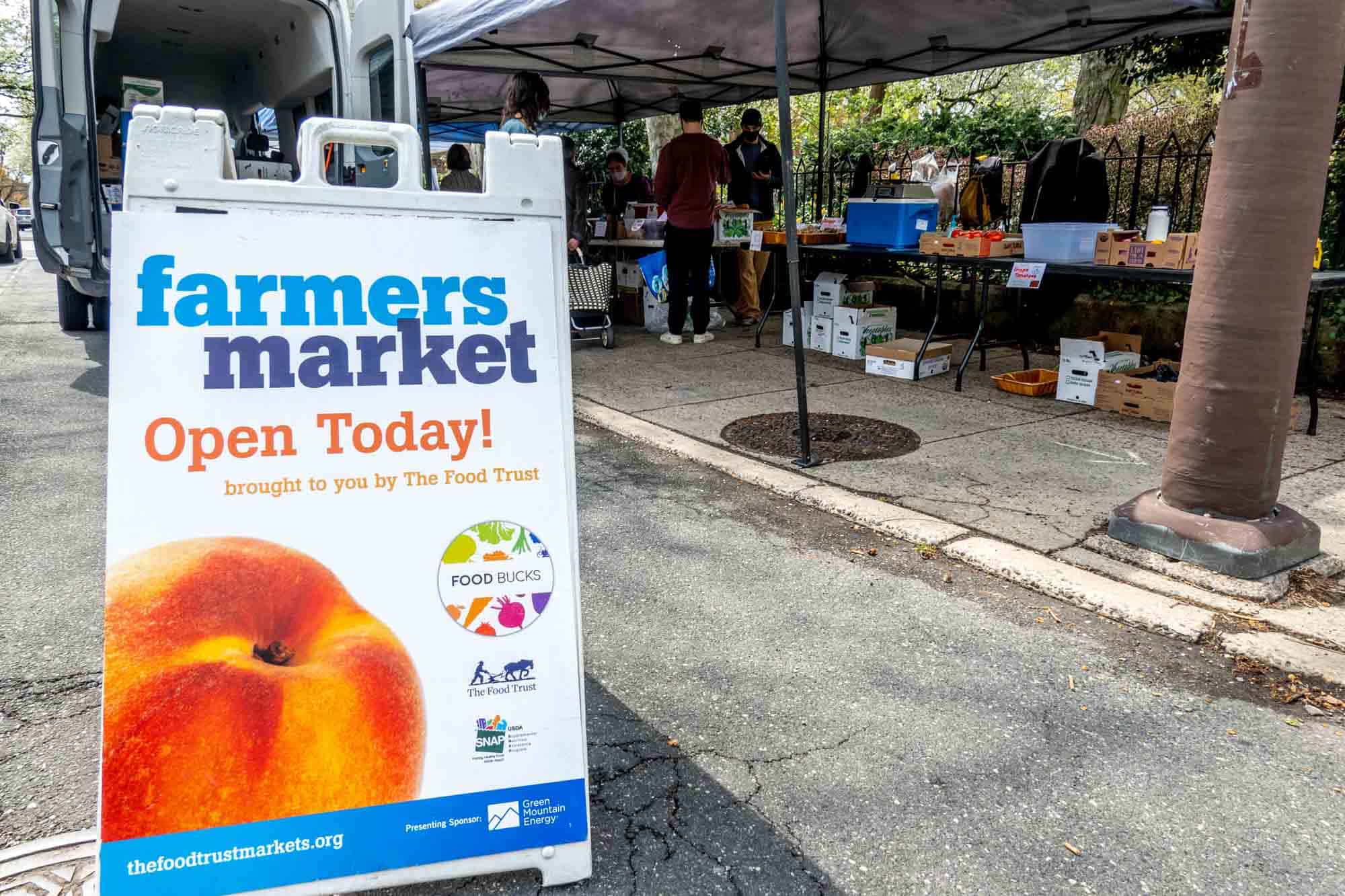 Small in size but robust in its selection, the Fitler Square Farmers' Market offers a relaxed environment for shoppers to peruse high-quality local produce from Brogue Hydroponics. Plus, the location is in spitting distance of the Schuylkill River— the perfect destination for a sunny afternoon picnic. Year-round, Saturdays 9 am-12 pm.
Rittenhouse Farmers' Market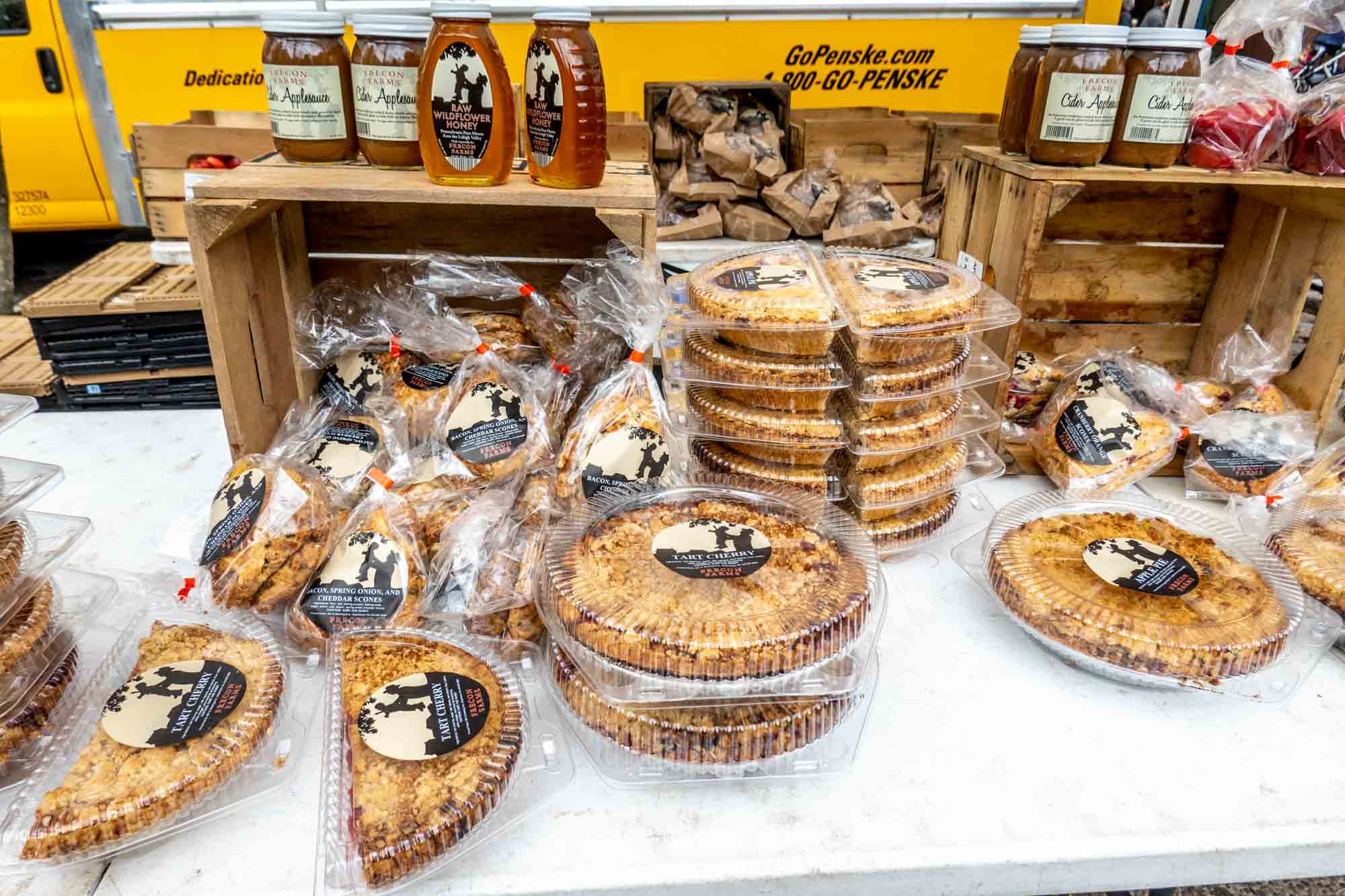 The Rittenhouse Square market is one of the most popular in the city, especially once temperatures sneak past 65 degrees. On nice days, expect a crowd for the long list of vendors that set up shop here.
Our list of favorites is long. Check out Second Daughter Baking Co. for the most decadent brownies you've ever tried and cookies the size of dinner plates. Hands on the Earth orchard always has great apples and cider, but winter means the appearance of apple cider donuts made while you wait. Forest and Main's local brews are a highlight, too. Stop by A-Frame Apiary for wildflower honey, honey butter, and more. Year-round, Tuesdays 10 am-2pm and Saturdays 9 am-2 pm.
Fairmount Farmers Market
Across from Eastern State Penitentiary, explore the range of produce and baked goods, including options from the dozen or so vendors who set up at the Fairmount market weekly. Shevy's Babka Paradise has culturally Jewish baked goods, and Beechwood Orchards brings apples, cider, and other produce from their farm near Gettysburg. Amira's Delites is the place for vegan treats and delicious items like mixed berry tarts, scones, and carrot cake. Year-round, Thursdays 3-7pm.
Christ Church Farmers' Market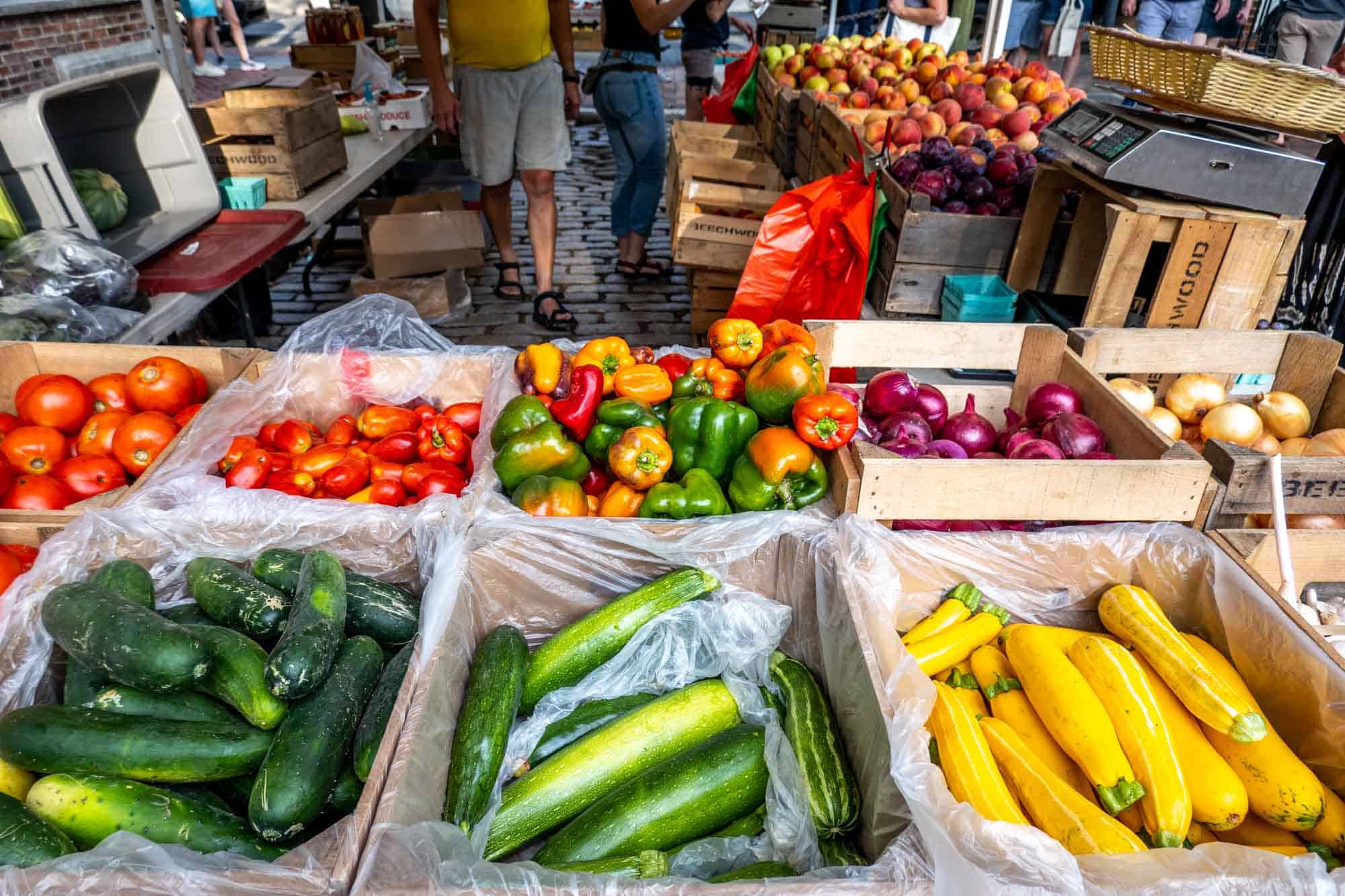 While visiting the historical gem that is Christ Church, you can bask in the sunlight and pick up some goodies for the week! Though smaller than the other farmers markets in the area, it's perfect for a midweek break and conveniently located by the Market Frankford line.
Grab a latte at Old City Coffee, walk the cobblestone streets, and peruse some of Philly's locally grown treasures. From olives and nuts to custom art featuring some of the city's prettiest buildings, there is a lot to see here. May – Nov, Wednesdays 3-6pm.