Some posts on this site contain affiliate links, meaning if you book or buy something through one of these links, we may earn a small commission (at no extra cost to you).
Hot chocolate, hot cocoa, drinking chocolate—whatever you're looking for, there are a wealth of options. Here are some of our favorite spots to find the best hot chocolate in Philadelphia when the temperatures plummet.
Shane Confectionery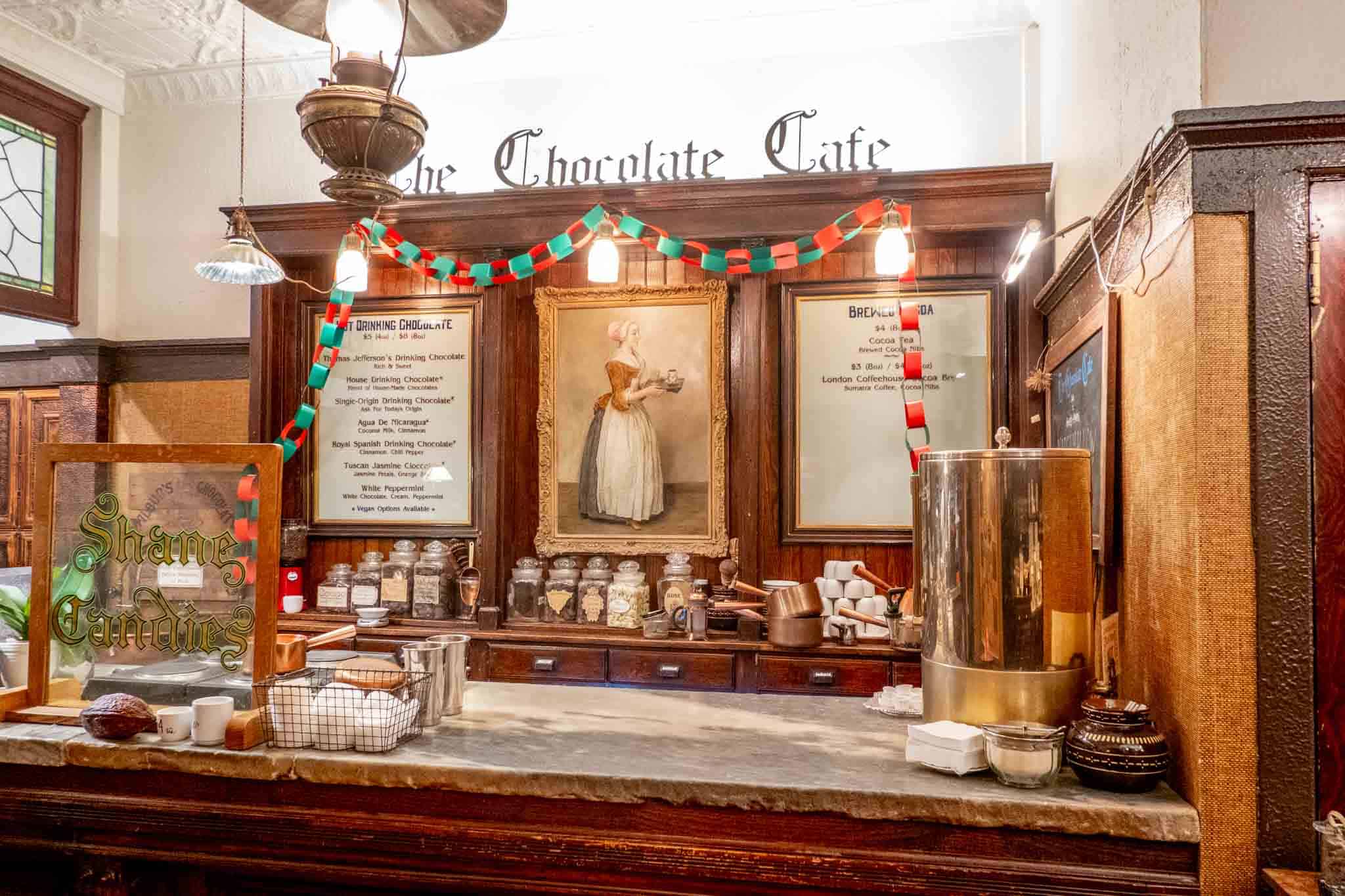 Known for their candies and nods to candy-making traditions, Shane Confectionery is also one of the best places in the city for hot chocolate. In fact, the back portion of their restored historic building is The Chocolate Cafe.
The cafe serves a variety of specialty drinking chocolates made from cacao beans that are roasted and ground on-site. Thomas Jefferson's drinking chocolate is a popular choice, and other kinds like the Royal Spanish drinking chocolate include cinnamon and chili pepper. You'll also find brewed cocoa, milkshakes, and mixes to take home to recreate your beverage of choice. (Note: The Chocolate Cafe is temporarily closed, but hot chocolate is still available.) Location: 110 Market St.
Café y Chocolate
If you're bold enough to put "chocolate" in the name of your business, you better know your stuff. Thankfully, Café y Chocolate brings its "A" game to hot chocolate.
This breakfast and lunch spot in South Philly offers specialties like chilaquiles and huaraches served with sweets and myriad drinks. We opt for the Mexican hot chocolate sprinkled with cinnamon (chocolate Oaxaca) and a similar version that includes espresso (café con chocolate). The drinks are also available frozen. Location: 1532 Snyder Ave.
Rim Café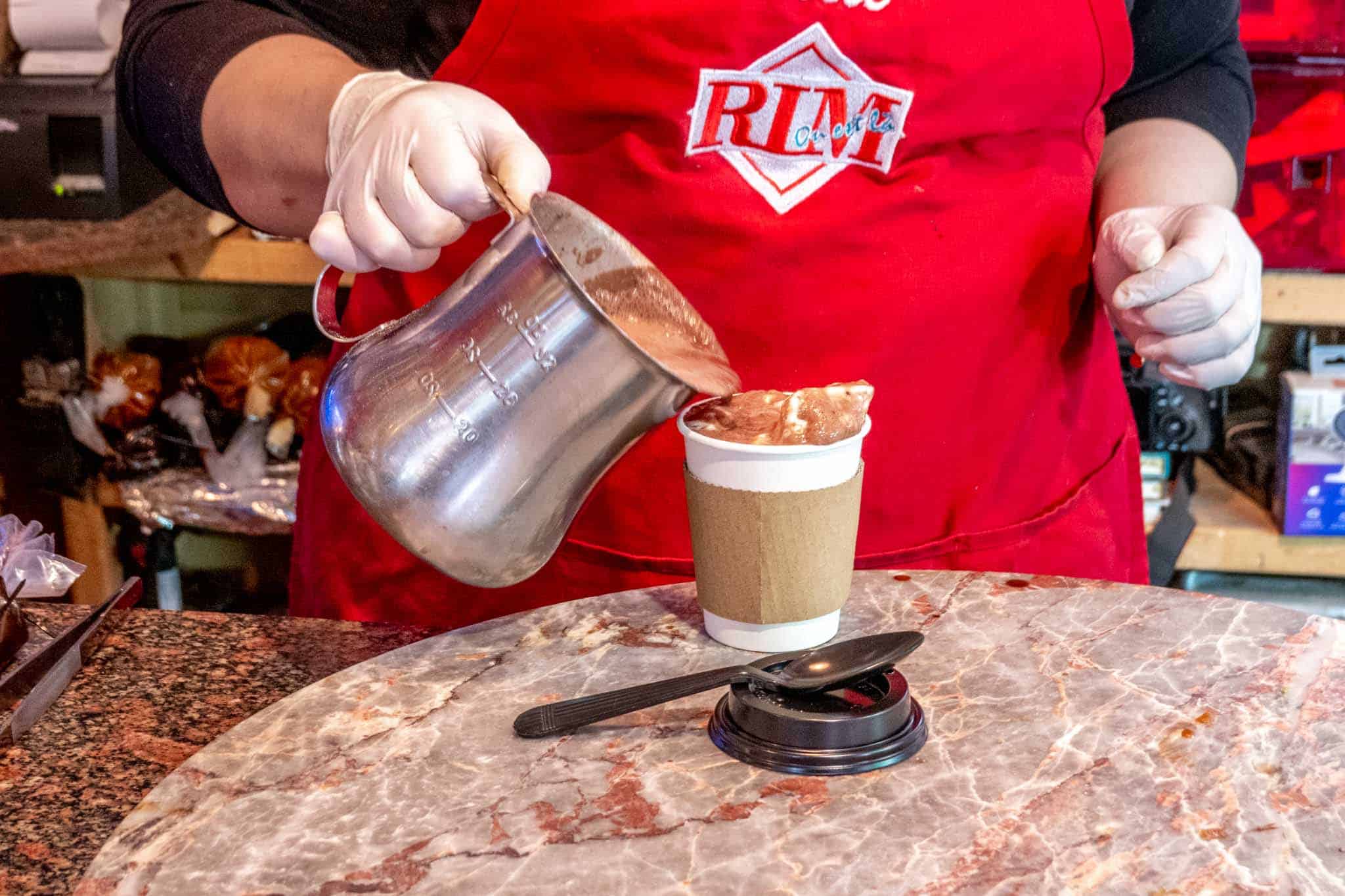 At Rim Café, hot chocolate isn't just a drink, it's an experience. There is steaming chocolate, a spinning platform, and sometimes even a blowtorch involved in the making of these delicious drinks.
Located in the Italian Market, Rim Café specializes in hot chocolate. They offer a dozen different options, including peanut butter, salty caramel, and even sweet potato. You can even get a hot chocolate complete with a scoop of their homemade gelato. If you're anywhere in the area, don't hesitate to stop in. Location: 1172 S. 9th St.
Max Brenner
Max Brenner is a festival of chocolate. From chocolate pizza to fudge brownie sundaes and lots in between, this chocolate restaurant is absolutely indulgent.
Among Max Brenner's many offerings are a selection of hot chocolates severed in their signature hug mugs, which will warm your hands no matter how far the mercury falls. Choose from classic, Mexican hot chocolate, mint, salted caramel, and more. Location: 1500 Walnut St.
Anthony's Italian Coffee & Chocolate House
One of the most popular spots for coffee and pastries in the Italian Market, Anthony's Italian Coffee & Chocolate House is also one of the best places for hot chocolate. This family-run shop makes thick Italian drinking chocolate and hot chocolate in a range of flavors. For a special treat, try the peanut butter, Nutella, or amaretto, which is perfect alongside a famous Anthony's sfogliatella. Location: 903 S. 9th St.
Weckerly's Ice Cream
Like their fantastic ice cream, Fishtown ice cream spot Weckerly's makes their hot cocoa from scratch.
Starting with organic milk from a dairy in Chester County, Weckerly's adds in cane sugar, fair trade cocoa, and salt for a rich mix. Topped with gooey, torched marshmallows, this drink is the ultimate remedy for a cold day. Add sea salt whipped cream, salted caramel, or a selection of other toppings. Locations: 9 W. Girard Ave. and 265 S 44th St.
Càphê Roasters
Located in Kensington, Càphê Roasters is a Vietnamese specialty coffee roastery known for its traditional Vietnamese coffee and specialty lattes. They bring the same care to making a decadent cup of hot chocolate.
The hot chocolate at Càphê Roasters is made with cocoa powder, steamed milk, confectioner's sugar, and the special touch—condensed milk. It's all topped with a dollop of delicious whipped cream. Location: 3400 J Street, G1
Franklin Fountain
Franklin Fountain is popular in every season. In the winter, the bow-tied staff who normally dispense homemade ice cream and sodas add hot chocolate to their repertoire. Their thick, housemade chocolate and cocoa is served with marshmallows and/or whipped cream. It may seem glutinous to get both, but it's totally worth it. Location: 116 Market St.
Sazon Restaurant & Cafe
At Sazon, Robert Campbell complements his wife's Venezuelan cooking with specialty chocolates curated from around the world. Known as The Chocolate Alchemist, Campbell creates rich drinking chocolates with different blends of beans and flavors.
The Clasico is a bittersweet mixture of five types, the Cacique is a vegan option with a touch of vanilla, and the Calabaza King includes pumpkin, pecans, and an array of spices. Location: After many years on Spring Garden St., Sazon is now takeout and delivery only at 1308 W. Girard Ave.