Philadelphia is one of the most important beer cities in America. That may be a bold claim compared to places like Denver or San Diego, but like the country itself, America's beer history runs deep in the City of Brotherly Love. These are the best breweries in Philadelphia.
When the country was founded most beer was small batch and brewed in someone's home or in the local tavern's cellar. That changed in 1685 when William Frampton built a commercial brewery on the corner of Front and Walnut Streets. The opening was so notable that William Penn included it in letters. And while working on the Declaration of Independence, John Adams took a moment to write to his wife in Boston saying, "I drink no cider, but feast on Philadelphia beer." Thus, the Philly beer scene was born.
True to these roots, some of the earliest (and best) microbreweries in America were established here, including Dock Street Brewing Co., which was founded in 1985. Pennsylvania is the 2nd largest beer producing state, with many of those breweries based here in the city.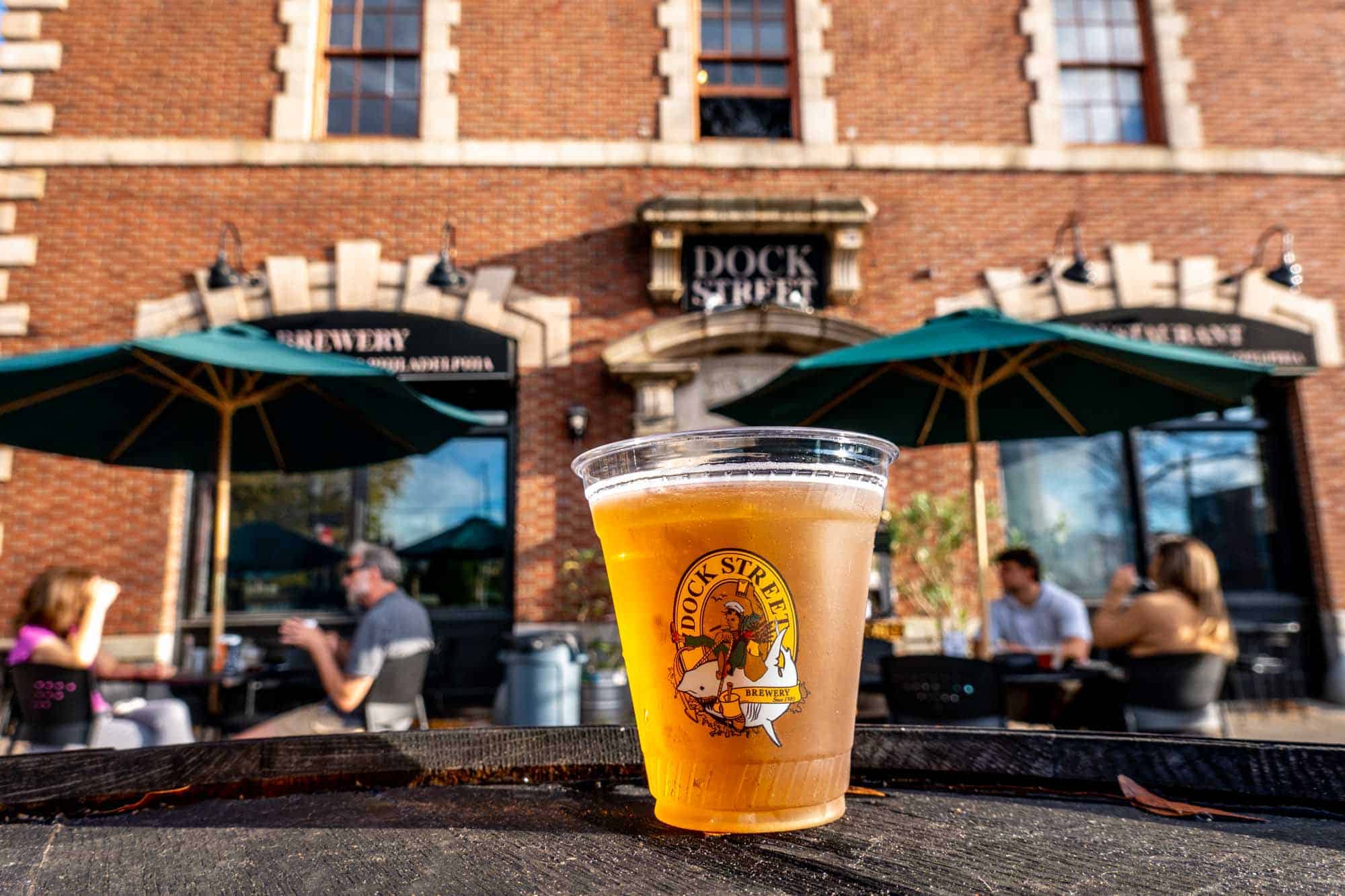 The latest addition to the beer world from the City of Brotherly Love? The Philly Sour. Yeast found on a tree in Woodland Cemetery is changing the way brewers around the world are making sour beer. The yeast produces both alcohol as well as the lactic acid of sour beers, and is saving breweries time in the process. Owned and marketed by the University of the Sciences, the Philly Sour is taking center stage at beer festivals around the world.
So, whether you love a crisp lager, a full stout, those hop-heavy IPAs, or even the Philly Sour-style, Philadelphia breweries can quench your thirst. Here's the best breweries in Philadelphia, in alphabetical order:
2nd Story Brewing Co.
Occupying a large building in the heart of Old City, 2nd Story Brewing is a popular choice with tourists and large tour groups. While it would be easy to put them solely into the "for tourists" bucket, there's actually more to this brewery than that. It's also a good bet for locals who are entertaining out of town guests or find themselves in Old City. Check out the brewery space on the 2nd floor.
With a 'Don't Tread on Me' vibe, solid snack options, and a large number of draft choices, this is a good option in the historic district. 2nd Story does lagers very well and have several options, including the Helles Yes lager. Location: 117 Chestnut Street.
Ambler Beer Company
Located in the historic Ambler Yards in Montgomery County, Ambler Beer Company is an oft-overlooked, but surprisingly great brewery. Founded in 2019, they run a 10-barrel brewing system and have 12 beers on top, with more available in cans, including some innovative collaborative beers. They also feature a rotating array of food trucks and catering partnerships, including delivery by Frizwit at Musi BYOB, makers of one of the best Philly cheesesteaks.
The beers here lean to the hop-forward IPA style and German-inspired lagers. Many of the ingredients are sourced from Europe, for that Old World classic feel in the mouth. This is the kind of place where you want to grab a pint and spend an afternoon. Location: 300 Brookside Avenue in Ambler (they are located inside Ambler Yards, Building 19, Suite E). Use 432 N. Spring Garden Street in your GPS for the main parking lot. Learn more.
Attic Brewing Company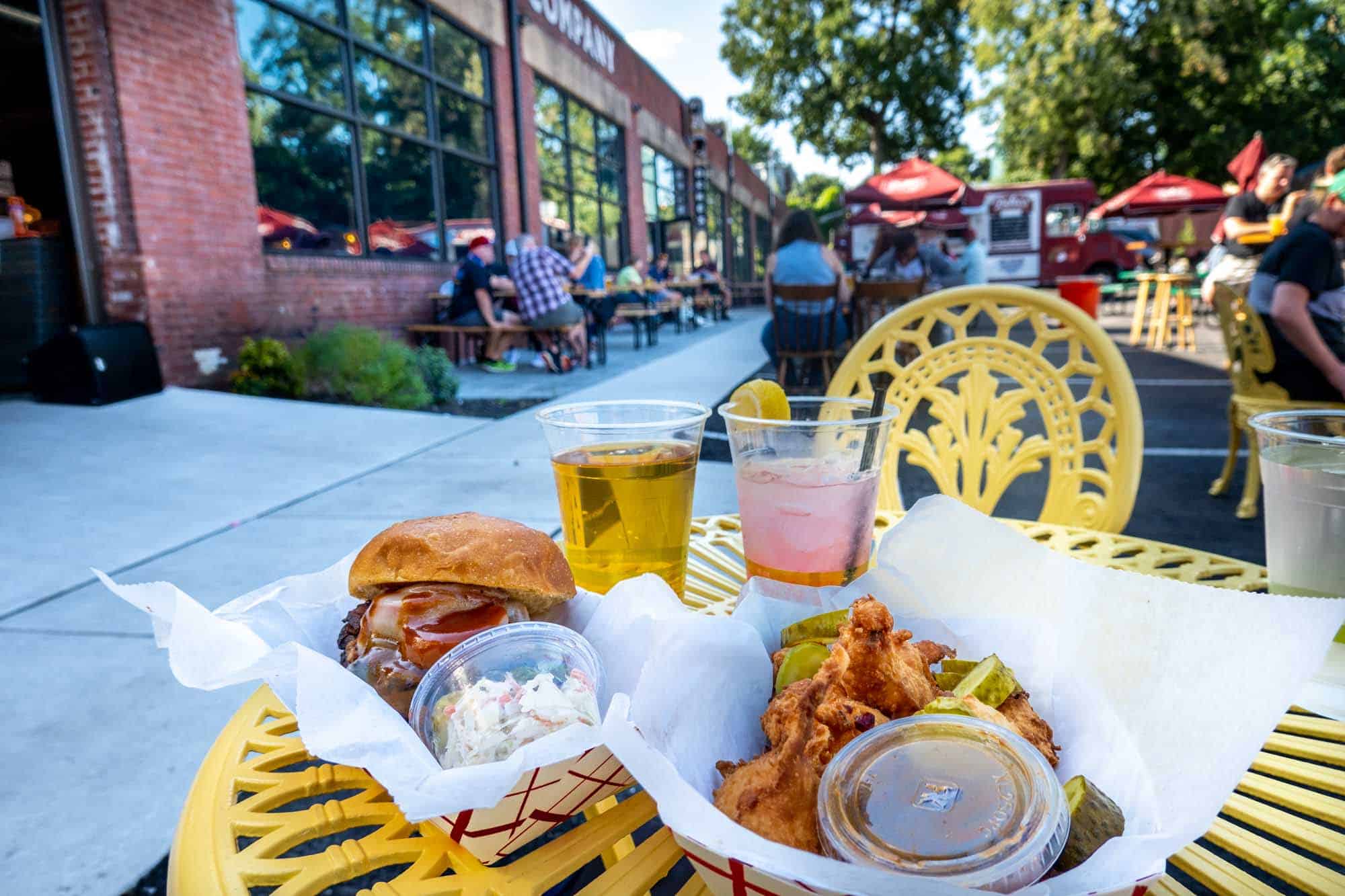 If you haven't noticed, the Germantown neighborhood is one of the most exciting places to be in the city right now. Attic is the first brewery to open in this section of the city. With a focus on small-batch craft beers, social responsibility, and serving the community, they fit right into the neighborhood. Stop by, get lunch from Deke's Garage Roadhouse BBQ next door, and enjoy a drink.
Many of the beers here have fun or cat themed names. While this adds to the whimsical feel, the beers are anything but. Their West Coast-style IPAs are excellent and they do some of the best Belgian beers in the city. Don't overlook the Plugstreet Belgian Blonde. Location: 137 W. Berkley Street. Learn more.
Bald Birds Brewing Company
Despite a long beer history, breweries in Philly haven't really adopted that 'lounge all day' vibe that is so pervasive among microbreweries on the West Coast. Bald Birds is changing that. They are creating the kind of social space that has been missing from a lot of places in the city. While they've got a kind of playfully odd name (both owners have a form of hair loss), their beers are anything by simple.
Locally they are best known for their New England IPA-style beers and lots of layered hoppiness. You'll also find the occasional lager or stout. Location: 970 Rittenhouse Road, Suite 400 in Audubon (on the back of the building facing Adams Avenue) or 220 Shaffer Lane in Jersey Shore, PA. Note: The great location on Main Street in Manayunk has closed. Learn more.
Chestnut Hill Brewing Co. and Taproom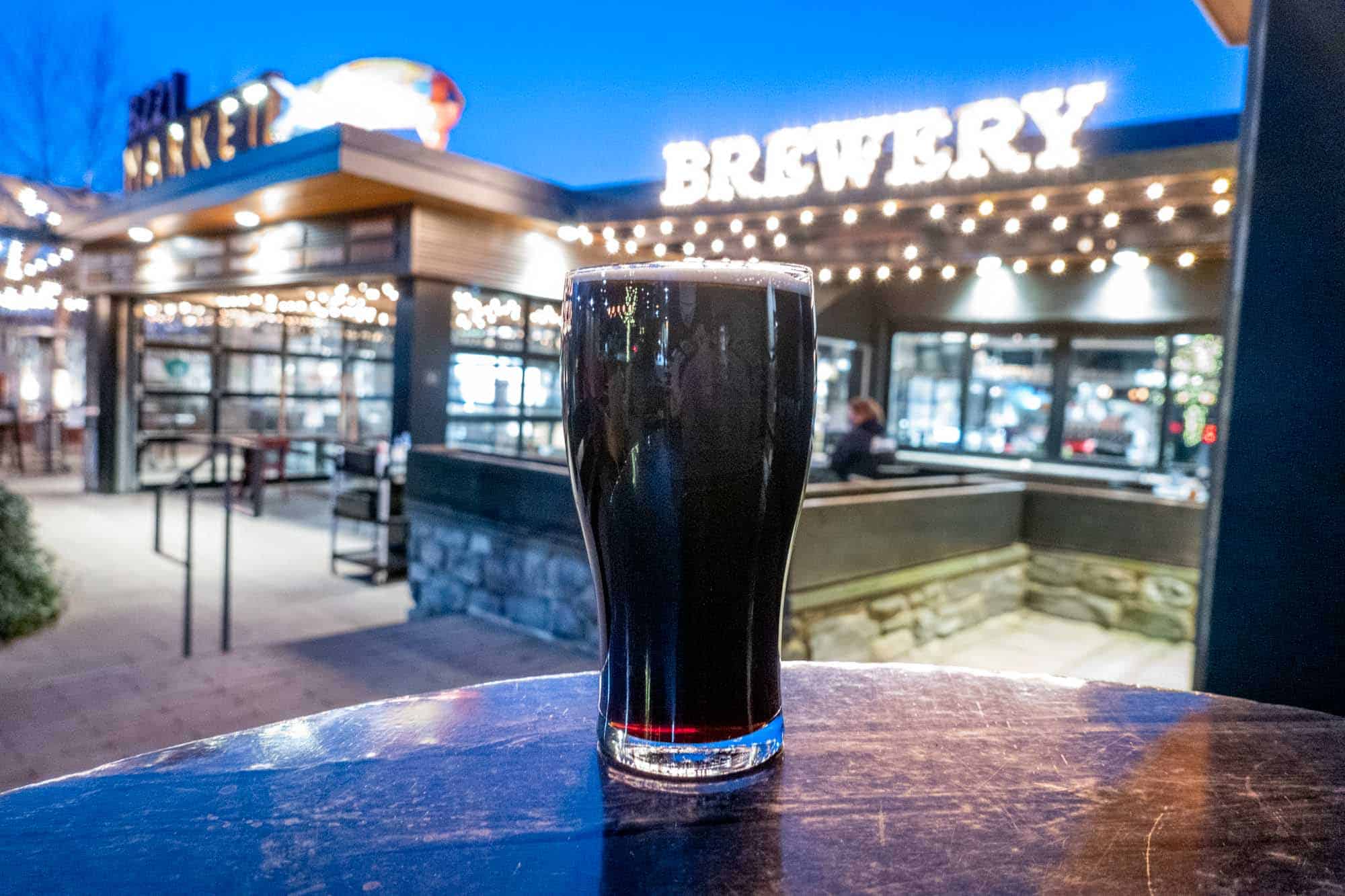 The Chestnut Hill Brewing Company is based on the concept of the perfect marriage: pizza and beer. And while there are lots of craft breweries that do both, few do both to the degree of perfection that you find here in the Chestnut Hill neighborhood. This is legit, wood-fired Neapolitan pizza. And it's amazing.
Pizza not your thing? The brewery is located in the hip Market at the Fareway so you can grab something from one of the other food stalls and enjoy in their small beer garden.
And while their pizza is some of the most remarkable in the city, the modest beer menu (usually 8 on draft) is not something to overlook. Here in this far northwest section of the city, delight your palate with a saison, a corn-based lager, a stout, or a Kolsch. They've got lots of inventive options to rock your world. Location: 8221-8231 Germantown Avenue behind the Chestnut Hill Hotel. Learn more.
Dock Street Brewing Co.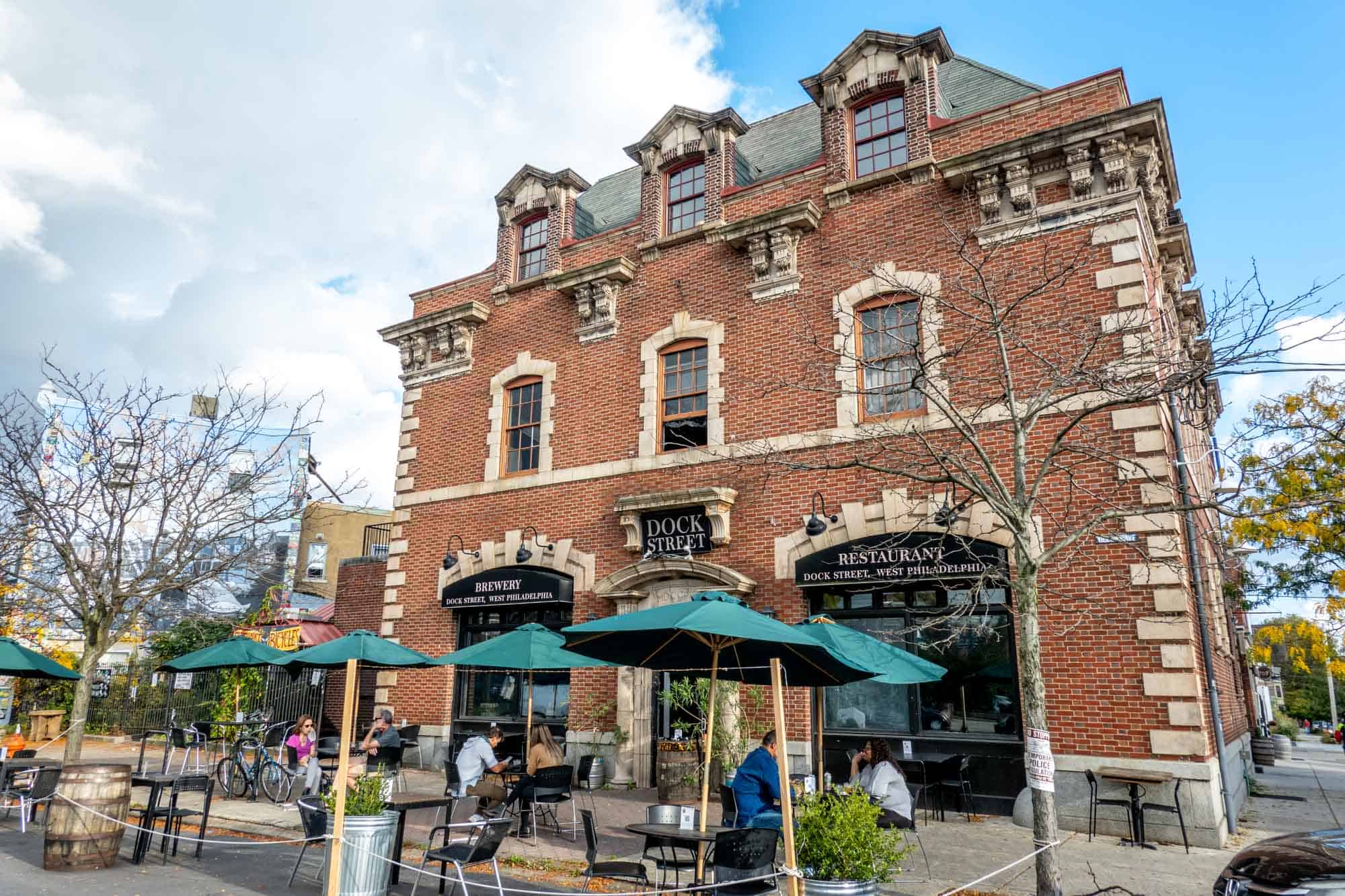 When it comes to Philadelphia craft breweries, there's Dock Street, and there's everybody else. This is the place where the revolution began in 1985: the first microbrewery in Philadelphia. At the time, it was also led by one of the first female brewery owners in America, and they busted out some exceptional brews and some remarkable pizzas. In 2007, the established moved into an old firehouse on Baltimore Avenue and the ambiance factor inched up a few notches. Today, Dock Street is a legend.
Each year, Dock Street cranks out close to 50 different beers, so you'll never tire of trying them all. Of course, come for the Bohemian Pilsner, the beer that started them off. Dock has also been experimenting with the Philly Sour, calling their version Fera Bestia. Grab a brew and bite of nosh at this Philly original. Brewery tours available at Dock Street South on Saturdays (reservations required). Location: 701 South 50th Street in West Philly and 2118 Washington Avenue in South Philly.
Evil Genius Beer Company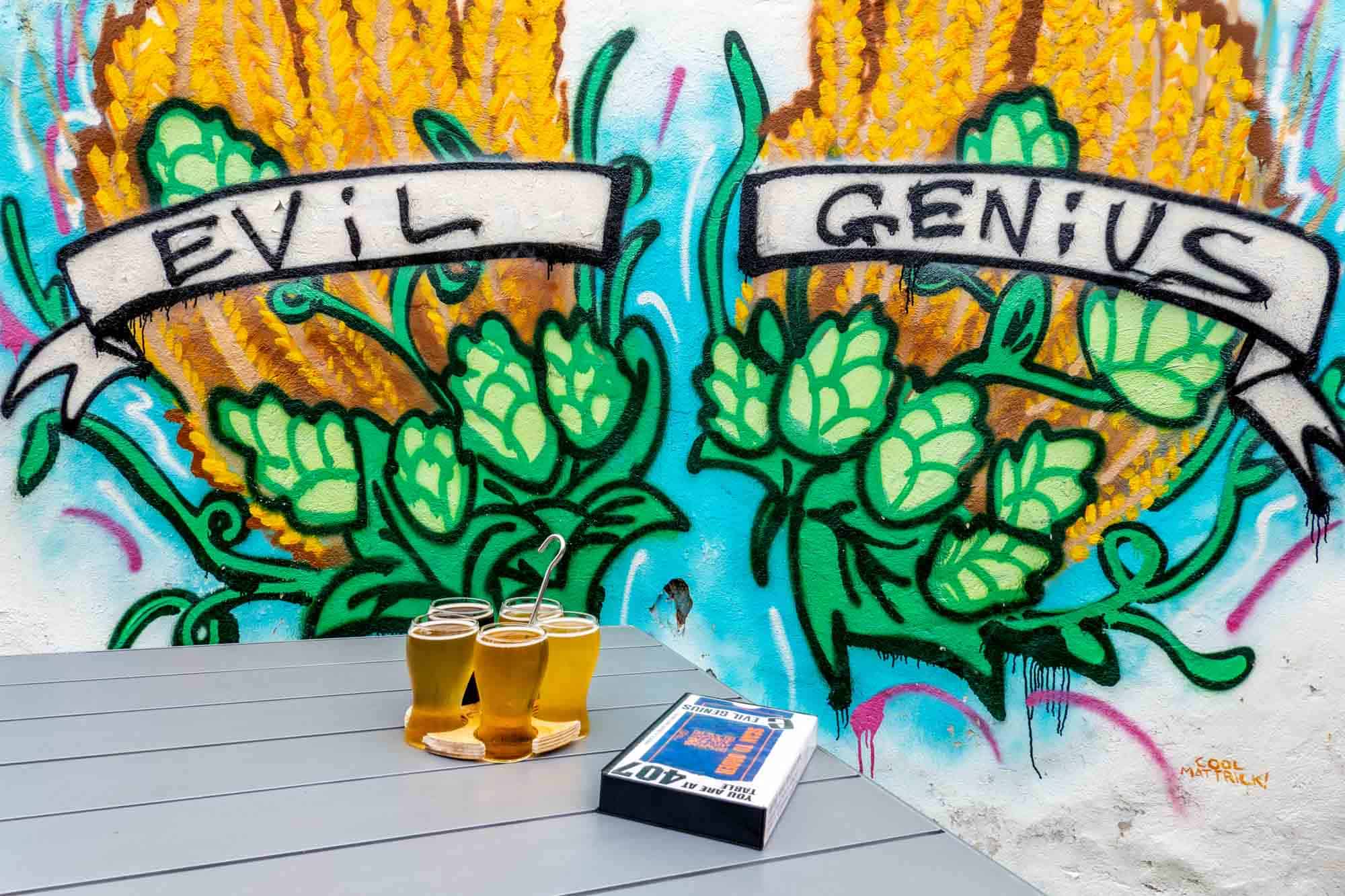 Evil Genius might well be the brainchild of the kid from the movie Big. It's like someone ripped a couple of guys out of the 1990s, dropped them in the Fishtown neighborhood in 2017, and they didn't want to grow up. There are video games in the taproom, beers named after pop culture moments (Stacey's Mom), the music in the taproom is all 1990s, and the menu comes on a Blockbuster VHS video box (remember VHS? and Blockbuster?).
And while there's a tendency to put Evil Genius in the frat-boy-grows-up column, there's actually a brilliance to both their marketing…and their beer. Purple Monkey Dishwasher, their version of the chocolate peanut butter porter, is a rich, full-bodied malty brew and is way more sophisticated than the cheesy name would indicate. Of course, the hoppy citrus Stacy's Mom IPA is extremely well balanced, an instant classic, and one of their most popular beers.
The beer garden at Evil Genius is one of the most popular Instagram spots in the city. You can't help but snap a selfie with a pint in front of the murals or colorful fence. Beyond the obviously photogenic nature of the garden, it's also a great space to chill out and socialize with friends. Location: 1727 N. Front Street. Learn more.
Forest and Main Brewing Co.
There's great beer and then there is truly exceptional beer. On an unassuming street corner in downtown in Ambler, Forest and Main have been brewing some of the most sophisticated and beloved beers anywhere.
For years, people from the around the country traveled to the small Victorian house on the corner of Forest and Main for the brewery's British cask ales and saisons. In late 2020, they moved to expanded digs on Ambler's Butler Pike, but the flow of pilgrims hasn't subsided.
Pleasant staff and high quality beer provide the recipe for the best brewery in Philadelphia. There is no equal. Everyone from major media outlets to your favorite beer app have named Forest and Main one of the best breweries in the world. And yet the owners remain true to their small, quirky suburban roots.
The beers change frequently, but the beloved can art and the experimentation are a constant. New beers are announced on social media and people come running to Ambler on new beer release days. Location: 33 East Butler Avenue in Ambler. They also sell at several farmers markets, including the Rittenhouse Square farmers market. Learn more.
Geronimo Brewing at Lilly's Jury Room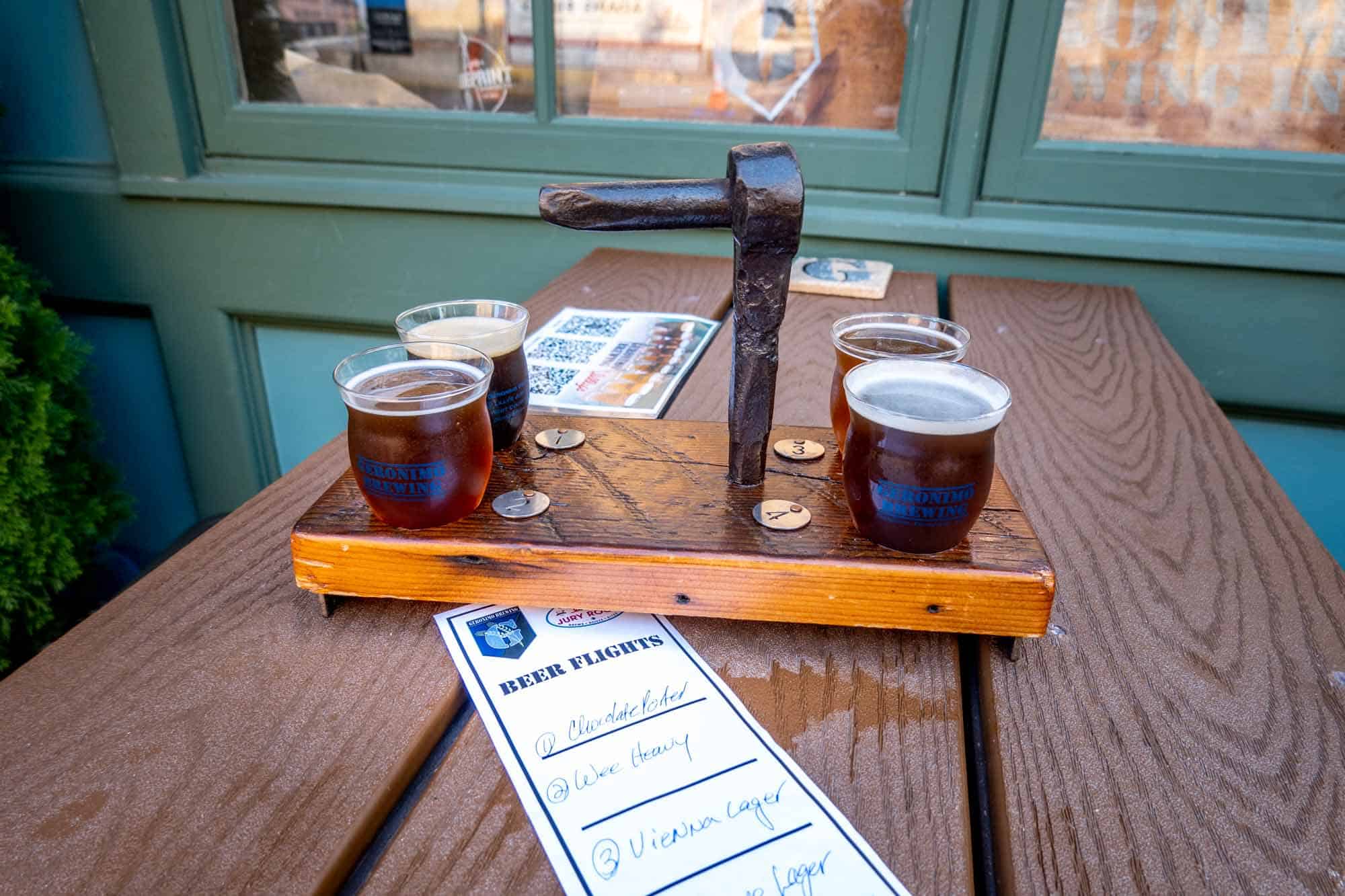 On a side street from downtown Doylestown, the Geronimo Brewing occupies what is essentially the backroom of Lilly's Jury Room. It's a tiny brewery – about a dozen seats and about the same outside in good weather. What they lack in size, they make up for in quality.
Geronimo Brewing also had (their beer recipes are constantly changing) two of the more interesting beers in the area. The Pathfinder Chocolate Porter on nitro is as smooth as drinking milk chocolate without the fake sweetness. But the Wee Heavy is maybe the most remarkable beer I've had in years. A smoky malt and a smooth, mellow finish give this punchy 9.2% ABV Scotch Ale lots of flavor and leaves you with a halo. Location: 1 W Court Street in Doylestown. Learn more.
Human Robot Beer
Located in the old St. Benjamin Brewing Company building, Human Robot has generated a lot of marketing hype in a section of the city that doesn't get much good news: Kensington. Human Robot is best known for sharing space with Poe's Sandwich Joint, one of the best sandwich shops in the city. When you visit, you'll notice everyone has a sandwich…there's good reason for that: it has amazing food.
The beer? There's human beer and robot beer – a kind of marketing gimmick that seems to make sense to the owners. The bartender said they specialize in pilsners and lagers, with the Czech 10° lager being the best of the bunch. And it is a good pilsner. But some of the other beers are kind of like chemistry experiments. A newer addition to the already crowded Philly beer scene, Human Robot still seems to be working out the kinks. Note: they don't sample or do flights. Location: 1710 N. 5th Street. Learn more.
Iron Hill Brewery & Brewpub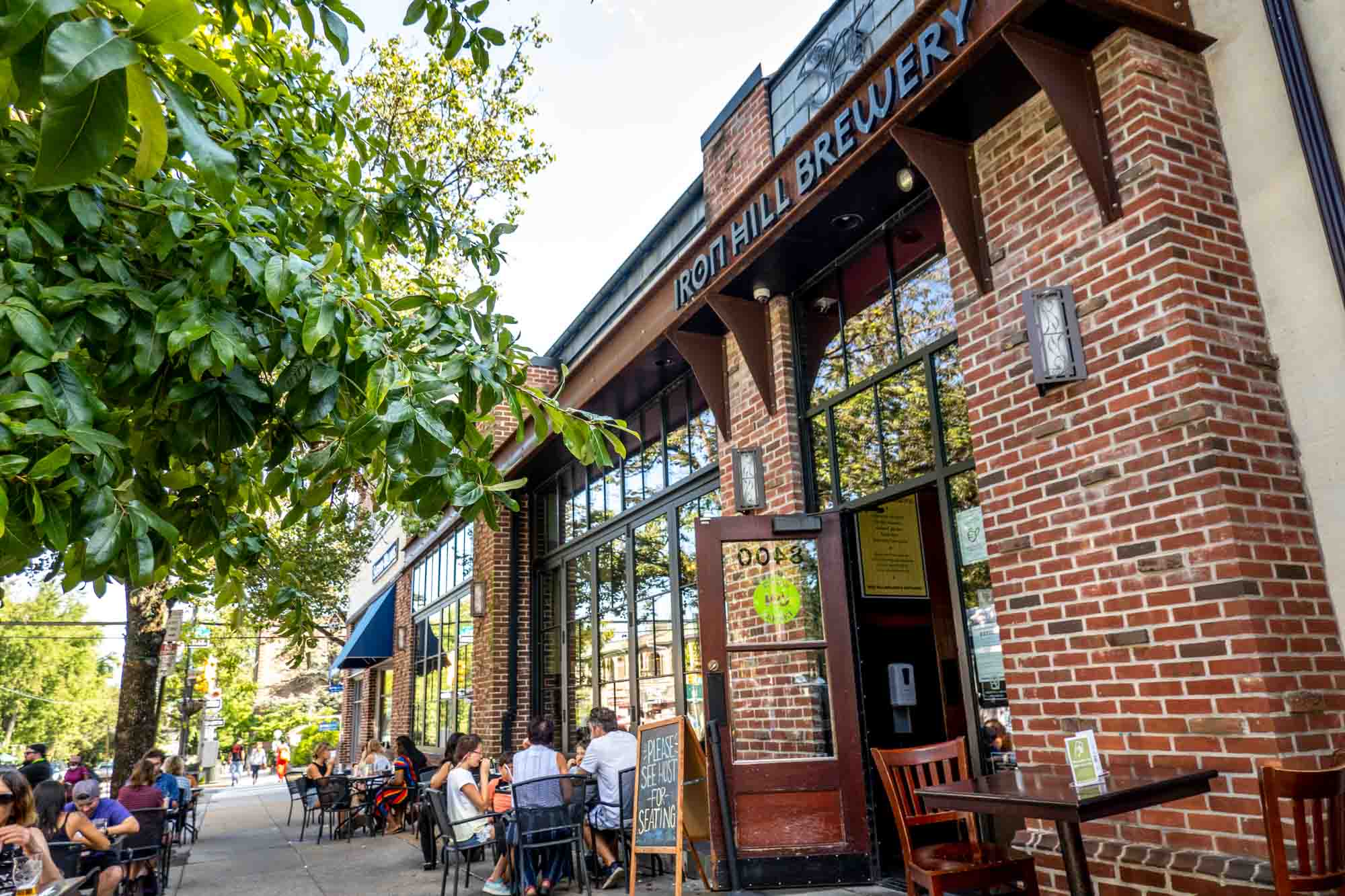 The Iron Hill Brewery & Restaurant is often discounted by people as nothing more than a glorified restaurant. While they have scratch kitchens and turn out delicious food, they are much more than that. While Iron Hill is among the best brewpubs in Philadelphia, people seem to ignore them because they are a "chain" with multiple locations.
Each Iron Hill location turns out great food…AND good beer…just feet from your table. The tanks you see behind the glass aren't just for show, so this really is a local brewery. And yes, Iron Hill is the most award-winning brewery east of the Mississippi River. Ignore them at your peril.
What began as a passion for homebrewing in 1990 became a real commercial brewery in 1996. While each location has a slightly different vibe, different artwork, and different beer selections, the overall excellence is reflected across all locations.
They are known for their Philly Phavorite, which might as well be the official beer of Philadelphia, as well as their award-winning Pig Iron Porter, a deliciously chocolatey beverage. Iron Hill is also one of the few in the area to dip a toe into the light beer market with their Iron Hill Light Lager. Finally, they also deserve credit for having some of the most interesting beer can art of any brewery. Locations: There are two locations in Philadelphia: 1150 Market Street and 8400 Germantown Avenue. There are an additional 8 locations in the suburbs, including: 60 Greenfield Avenue in Ardmore; 785 Huntingdon Pike in Huntingdon Valley; 30 East State Street in Media; 1460 Bethlehem Pike in North Wales; 2920 S. Eagle Road in Newtown; 130 E. Bridge Street in Phoenixville; 3 West Gay Street in West Chester; and 260 Eagleview Blvd in Exton. Learn more.
Levante Stables
There is no prettier brewery destination in the area than Levante Stables. The 19th century German farmhouse and barn has been a landmark on Pottstown Pike for generations. The brewers at Levante did a popup here a number of years ago. They fell in love in the property and the Levante Stables were born.
Feeling hungry? The Levante Sole Wood Fired Pizza serves a handful of seasonal wood fired pizzas. And they are absolutely delicious!
But most people come here for the beer. And for good reason. They have some of the best beers in the region and are well worth the drive out to Chester County. Their beers have a complexity and many layers of flavors. They are best known for their Cloudy and Cumbersome IPA and Tickle Parts a hazy IPA. Other standouts are the For Fudge Sake, an Double Milk Imperial Stout, and Please Take One (Peanut Butter Cup Stout), a full-flavored Imperial Stout. Location: 160 Park Road in Chester Springs, PA. They also have a taproom in West Chester at 208 Carter Drive. Learn more.
Locust Lane Craft Brewery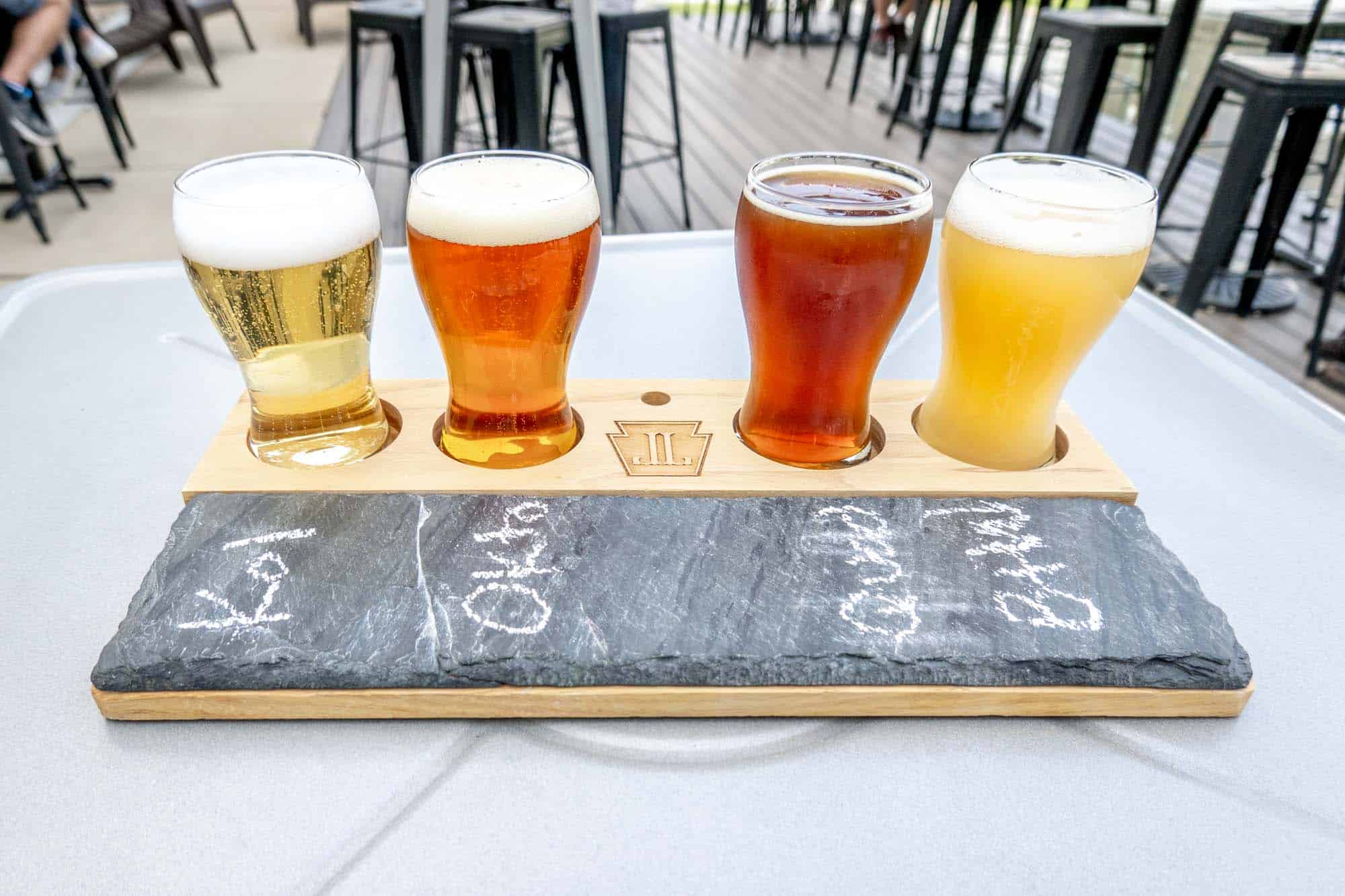 Tucked into a small corporate office park just off the Main Line, Locust Lane has a very local feel. It seems like everyone here is a regular and they all know each other. There's a friendly, relaxed atmosphere. The outdoor deck has shade and a nice view of the trees.
The Kolsch and the Belgian Double are both outstanding. Locust Lane also have their own dedicated food truck out front serving pub food favorites. If beer isn't your thing, check out the distillery next door. Location: 50 Three Tun Road, Suite #4 in Malvern. Learn more.
Love City Brewing Company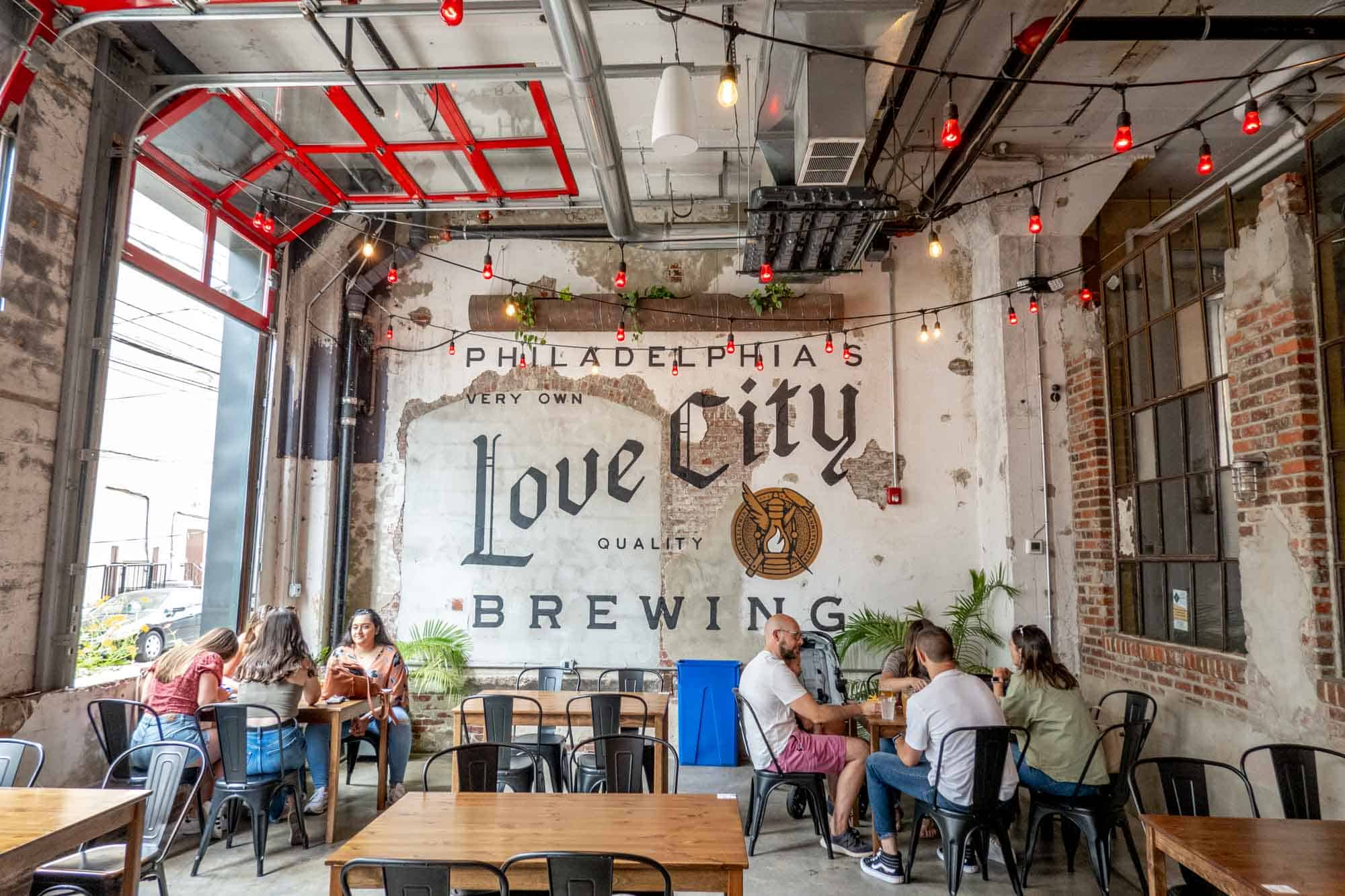 The sprawling Love City brewery with its massive industrial interior and quirky outdoor area is exactly the kind of brewery Philly was waiting for. Featuring both good beer and a great environment (and an excellent rotation of food trucks), this is the new place to relax in the city. The close proximity the Rail Park and all of the cool murals in the neighborhood are a bonus.
They are best known for their flagship Eraserhood IPA, a bold hopsadaiscal beer that defies categories…and expectations. The beer is a riff on the unfortunate nickname for Callowhill: Eraserhood, a spin on David Lynch's Eraserhead, which was conceived when he lived a few blocks away. Their Love City Lager is often dismissed as being overly approachable, but it is a deliciously malty beverage that is among the best lagers in this lager-loving town. Location: 1023 Hamilton Street. Learn more.
Manayunk Brewing Company
The Manayunk Brewing Company is situated in the heart of this fun and trendy neighborhood. The building housing the Manayunk Brewery dates back to 1822 and was constructed at the entrance to the canal to use the water in linen manufacturing. The remnants of those early industrial days can still be seen with the large scale located inside the brewpub.
Manayunk Brewing's defining characteristic is the massive outdoor deck overlooking the canal – one of the finest outdoor dining experiences in the city. In addition to the normal brewpub fare, they also serve pizza from their stone oven and run a better-than-expected sushi bar.
On the beer front, they brew a handful of their own beers (mostly IPAs), including their flagship IP Yay!, and also feature a rotating selection of craft beers from other local brewers. Location: 4120 Main Street. Learn more.
McKenzie Brew House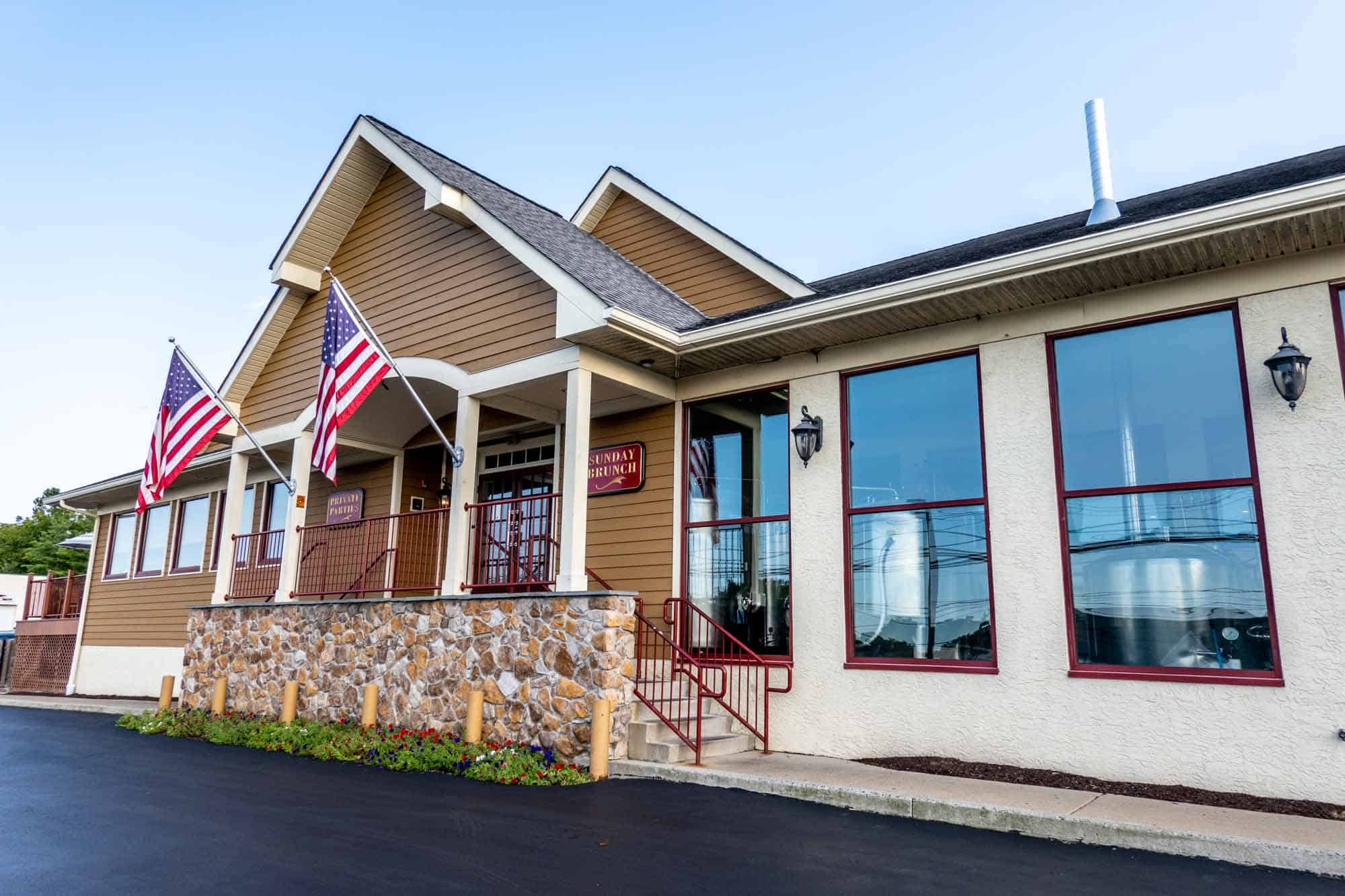 Since 2001, the McKenzie brewpub has been a Chester County favorite. With operations in Malvern and Chadds Ford, they are known for excellent food and respectable beer – the emphasis is on the food. But they are a popular, all-around option in the area. The deck at the Malvern location is one of the better outdoor dining spaces in the area.
Primarily an ale house, they specialize in Belgian and American-style ales, including amber and pale ales. There's the odd wit or light beer thrown into the mix. The amber ale (called Emergency Golf Match) is super smooth and very well balanced – the kind of beer you could drink all day and enjoy it. Location: 240 Lancaster Ave in Malvern. Learn more.
Philadelphia Brewing Company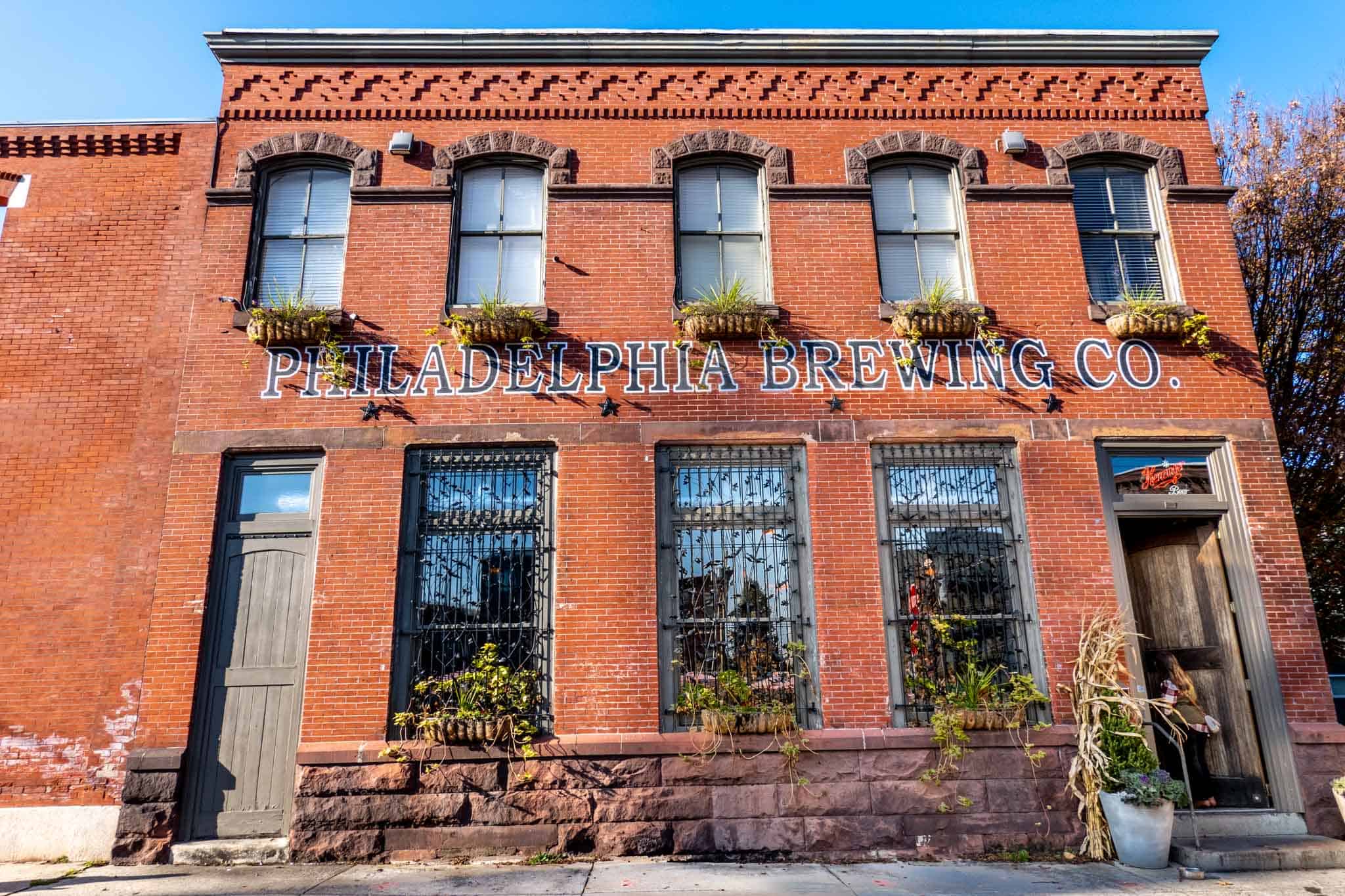 Located on Frankford Avenue along the East Kensington/Olde Richmond border and occupying a warehouse that was originally built in 1885 for the old Weisbrod & Hess brewery, Philadelphia Brewing Company has been one of the premier brewers in the area since 2007. Offering a great tour for fans, an exceptional outdoor space that is among the best beer gardens in the city, and truly friendly staff, this is one of the better destinations in the city.
Best known for their golden Kenzinger and the Walt Wit white ale, they also offer a number of seasonal beers and ales. Grab a pint and pull up a table in the beer garden. It doesn't get much better than this. Location: 2440 Frankford Avenue.
Second District Brewing
On a quiet corner in South Philly (located in the second district of the city), the Second District Brewing is literally the perfect craft joint. They've got a cool vibe, excellent beer, and great food all with knowledgeable, friendly staff.
Their flagship Bancroft Beer is an easy-drinking-all-day kind of brew. The seasonal Festbier is also excellent. Come, relax and enjoy some excellent beer. Location: 1939 S. Bancroft Street. Learn more.
Sly Fox Brewery and Tastin' Room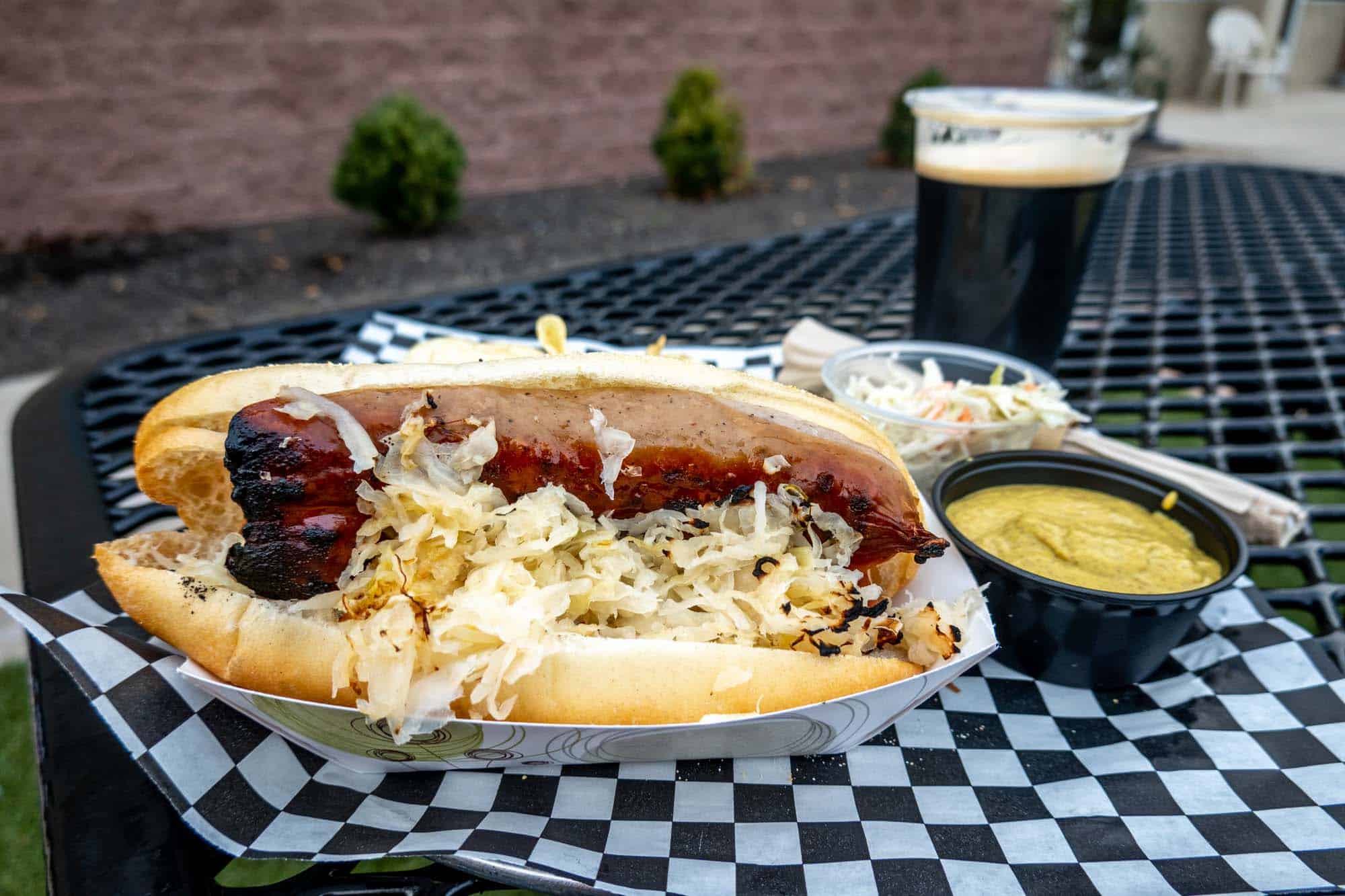 The Sly Fox Brewery has been one of the top breweries in Philadelphia and the region since it first opened in 1995. Their beers have won numerous awards at beer festivals and the food in their Eatery and Taproom is also quite good. Sly Fox is known for hosting numerous events throughout the year, from Can Jam Festival to the annual Taps, Trucks and Tunes event.
They are perhaps best known for their gold medal-winning Pikeland Pils, a German-style Pilsner that has become a staple of summer drinking. Also popular are their classic brews, Helles Golden Lager and the O'Reilly's Stout. Having produced over 100 different kinds of beers over the years, they are always experimenting, and new favorites are created all the time. Location: 331 Circle of Progress Drive in Pottstown; 520 Kimberton Road in Phoenixville; and 20 Liberty Blvd, Suite 100 in Malvern (at The Grove). Learn more.
Tannery Run Brew Works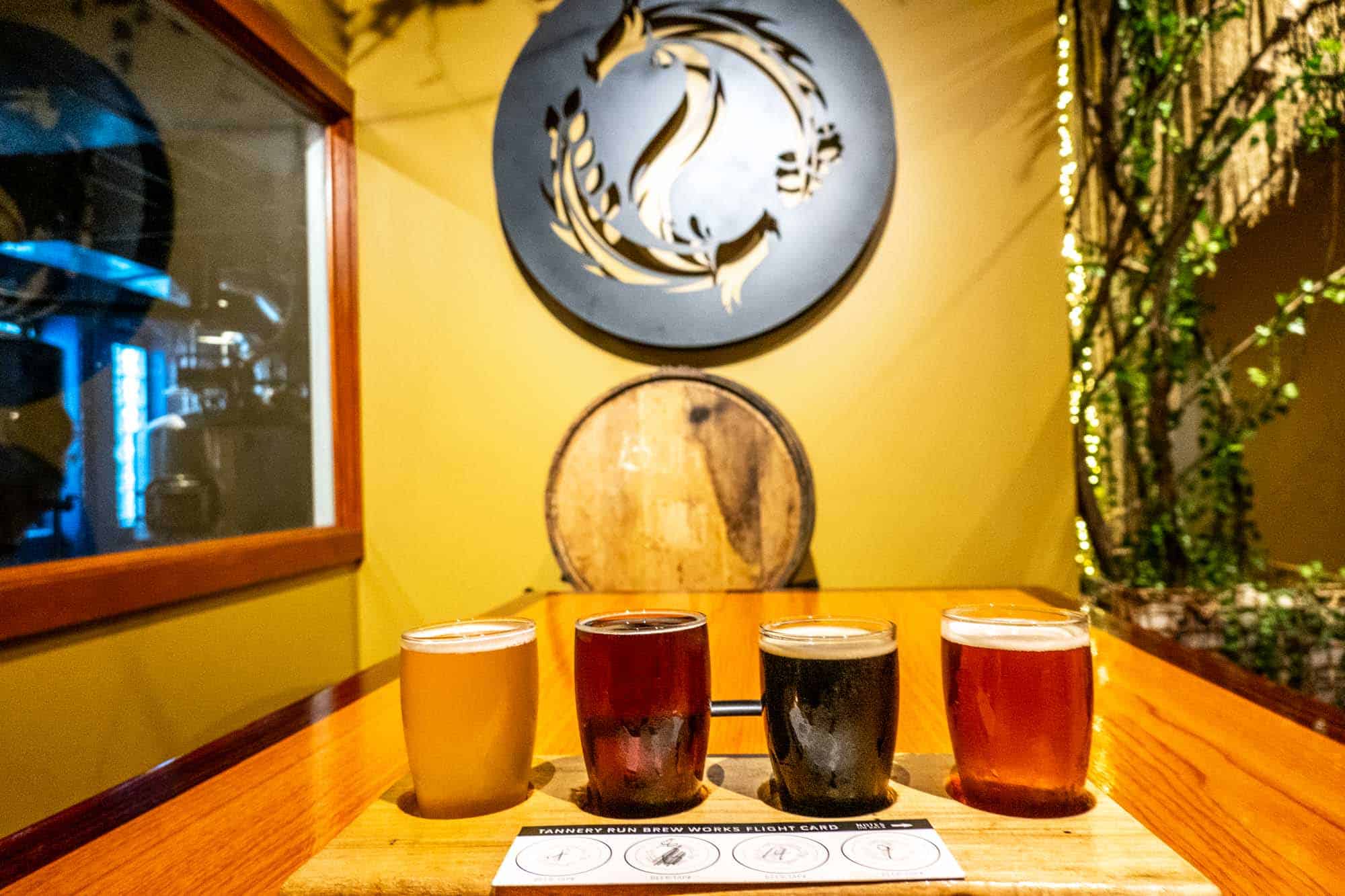 Located on Butler Pike in downtown Ambler, Tannery Run Brewery has a reputation of turning out solid beers in a fun, brewpub environment. The food here is absolutely excellent and much better than most brewpub fare. While many people view this as a 'restaurant with beer', it does a disservice to the beers.
There's a constantly changing range of beers produced in small batches here. From lagers and porters, the beers are approachable and refreshingly good. Some brews are made using unique ingredients like Mexican panela sugar and wildflower honey, or alternative processes. There are also some exciting partnership beers that are produced in small quantities for a limited time. Location: 131 E Butler Avenue in Ambler. Learn more.
Tired Hands Brewing Company
In the near suburbs, Tired Hands in Ardmore dominates the scene. The massive Tired Hands Fermenteria is a brewery, restaurant and store that features some cool industrial architecture and great murals. This is usually destination #1 for visiting hop heads and beer aficionados when they come to town.
Long the local darling on the beer apps, the company has been cranking out deeply funked and super-hopped beers for years. They lay claim to inventing the milkshake IPA and are also doing some interesting genre-defying beer/wine co-ferments. Add in some of the best can art around and you've got a recipe for success. Location: 35 Cricket Terrace in Ardmore. Learn more.
Triple Bottom Brewing
The good folks over at Triple Bottom Brewing Company are focused on their mission of providing good beer and doing great things for the community. Advocating for social justice issues, equality and being a positive force for humankind is the name of the game here. The name Triple Bottom references their triple bottom line: delivering beer, improving people's lives, and preserving the planet.
And while that sounds all well and good, it misses the fact that they make some damn fine beer. While some people initially discounted them as "that other brewery on Spring Garden," they are turning heads and winning over palates.
They serve a mix of drafts and cans at the taproom, along with some delicious pastry creations. Their Imperial stout, Stormy Escapes, a punchy 10.9% ABV may be one of the best Imperials in the city. Location: Location: 915 Spring Garden Street. They are also the beer partner of the Eastern State Penitentiary, running the Fair Chance Beer Garden during the annual Night Tours. You can also find them at several of the local farmer's markets in the area. Learn more.
Urban Village Brewing Co.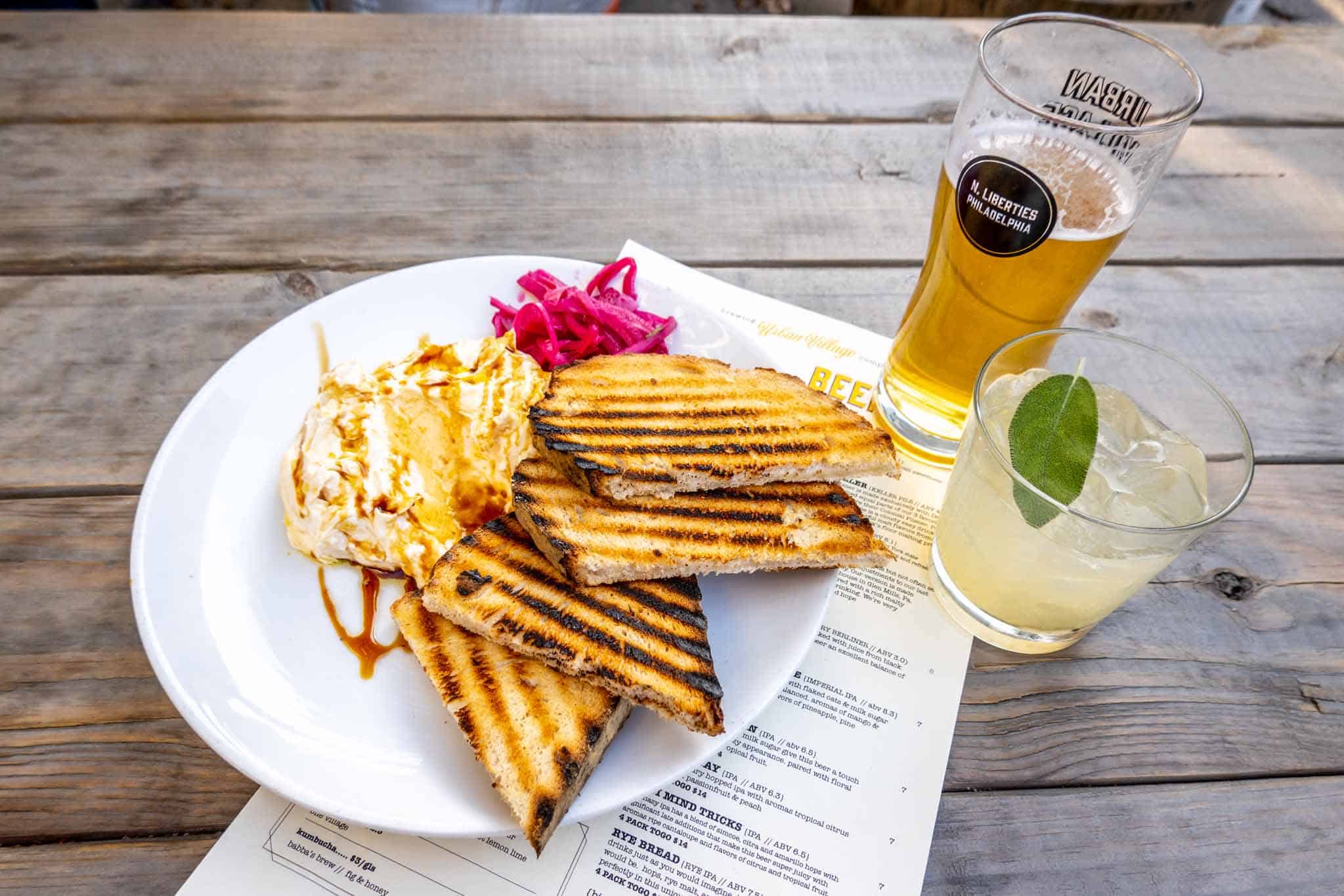 The Northern Liberties neighborhood and beer were once synonymous. Here, the massive Schmidt Brewery cranked out brews from 1860 until 1987. The brewery buildings were torn down and the Piazza, a mixed-used space of businesses and apartments, was constructed in its place.
But, out the ashes, the phoenix is reborn. In the Piazza complex, Urban Village Brewing Company has brought beer back to Northern Liberties. The food, particularly the brick-oven pizzas, is crazy good. In fact, these are some of the best pizzas in the city. And the outdoor patio seating almost feels like a beer garden with a view.
The food is so good that it is almost tough to call Urban Village a brewery, but it is. From tank to table is a matter of feet. Unlike other breweries, the focus isn't the ever-more-hoppy brews. Rather, they generate a constantly evolving seasonal beer menu that flawlessly pairs the pizza. The Wildey wheat beer and the Beach Day blonde are both excellent. Location: 1001 N. 2nd Street. Learn more.
Victory Brewing Company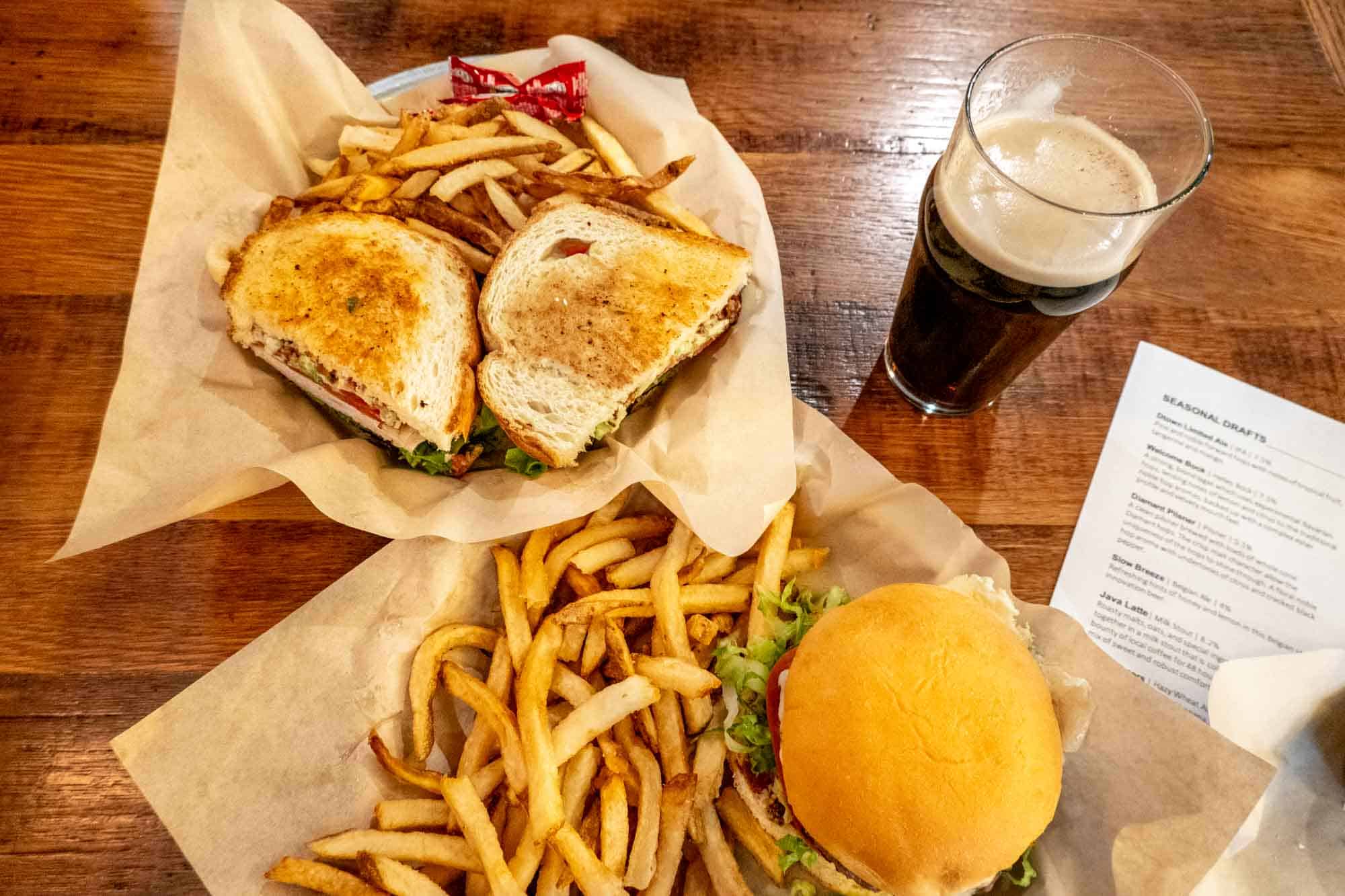 Since 1996, Victory Brewing has been setting the standard as one of the best breweries in Philly (well, technically the suburbs). Over the years, they have grown to be the largest brewery in the Delaware Valley. Not to be outdone, they also operate one of the best brewpubs in the area, both in Downingtown and also in Parkesburg.
Best known for their broad range of hoppy IPAs, including the outrageous HopDevil, this is a good bet for those looking for punchy, bitter brews. Their Classic lager is a winner too. Location: 420 Acorn Lane in Downingtown; 650 W. Cypress Street in Kennett Square, and 3127 Lower Valley Road in Parkesburg. And a new location coming to 1776 Benjamin Franklin Parkway in late 2021. Learn more.
Wissahickon Brewing Company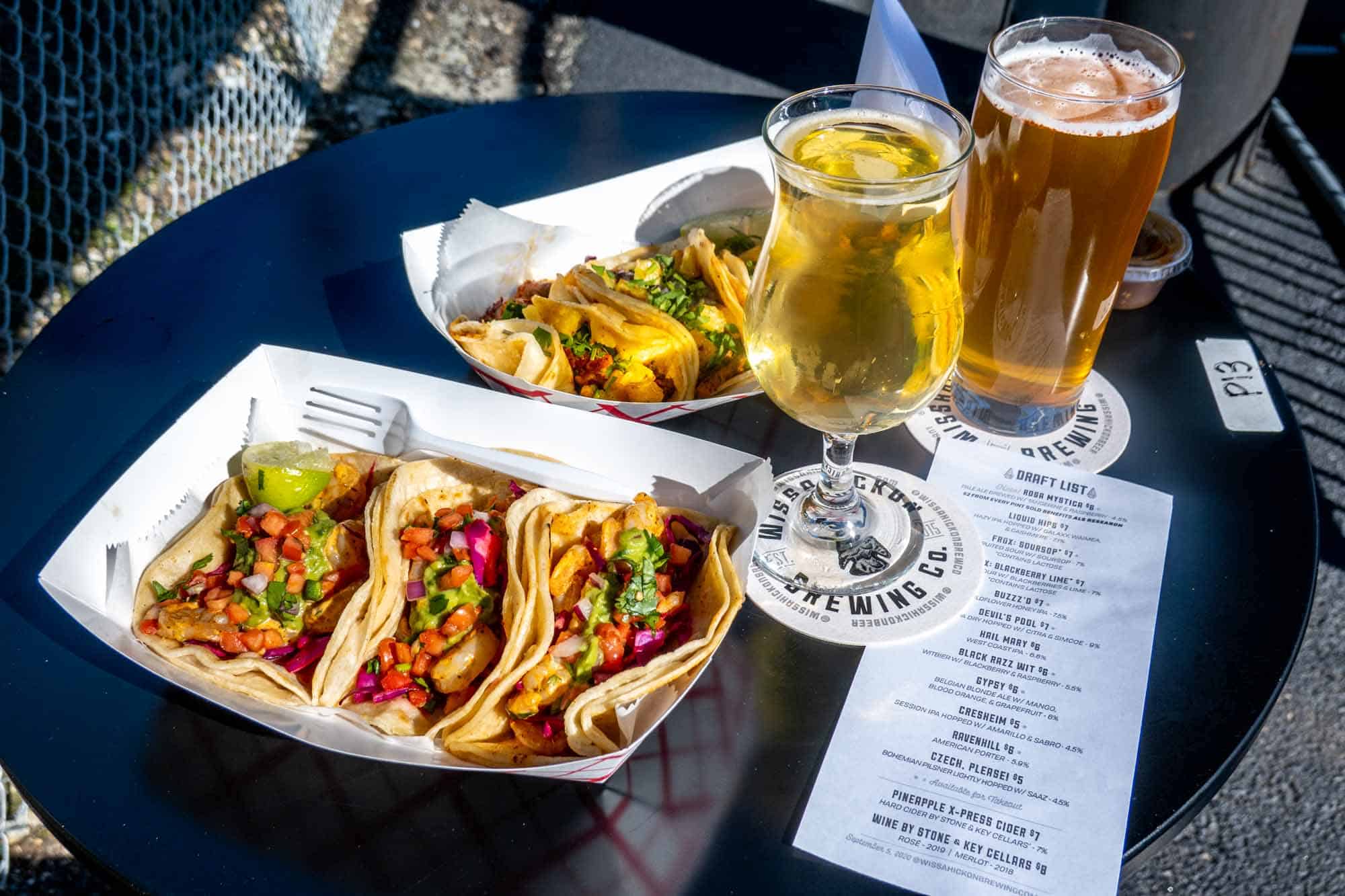 The Wissahickon (or WBC) is the best bet for a family-friendly brewery in the city. Walk up carrying your child, a pack-n-play, a basket of toys, and even your dog, and then make yourself comfortable in the beer garden or inside. Or maybe leave the kids at home and join them for their signature Beer Yoga. They have some of the best food truck selections in the city, with daily appearances.
Wissahickon has a really broad beer selection, including a large number of wit beers. The Czech, Please!, a Bohemian pilsner, and Gypsy, a Belgian blonde, are particularly good. Wissahickon is like having a brew in your neighbor's back yard during a block party – the conversation stops when the train goes by and you watch where you step. But, in the process, you just might make a new friend. Location: 3705 W. School House Lane. Learn more.
Yards Brewing Company
One of the original craft breweries in Philadelphia, Yards has been on the scene since 1994. But the journey started years before in the owner's house where they perfected their craft. In 2017, they moved up to Spring Garden Street in Northern Liberties in a massive brewery and brewpub space that is a major stop on the beer tour and bachelor/bachelorette party circuit. The small beer garden space/outdoor seating also spills out into sidewalk patios. With top-flight beers and excellent pub fare, Yards ranks high in the pantheon of major Philly breweries.
In terms of beer, they are best known for their Signature IPA and also the Philadelphia Pale Ale. Also popular are the English-style Brawler and the Love Stout, one of the best nitro stouts in the city. Or enjoy their beer on draft at many of the best restaurants in Philadelphia.
Yards is also a brewery where you can sample the Ales of the Revolution. This flight features three beer recipes from the Founding Fathers. These include George Washington's Tavern Porter, a roasty English-style porter from the original recipe on file in the New York Public Library's historic rare manuscripts collection. Benjamin Franklin, while Ambassador to France, wrote home with the recipe to Poor Richard's Tavern Spruce, a rich molasses-based Amber Ale. And finally, Thomas Jefferson's 1774 Tavern Ale, a rich golden ale with lots of strong flavor. Why not grab a flight and toast Philadelphia – the Birthplace of America? Location: 500 Spring Garden Street. Learn more.