Some posts on this site contain affiliate links, meaning if you book or buy something through one of these links, we may earn a small commission (at no extra cost to you).
Philly is full of delicious options for donuts. Whether you're looking for traditional glazed or unexpected flavors, yeasted or cake, or frosted, filled, or decorated, there's something for every taste.
In Philadelphia, the fried dough choices are extensive. There are vegan offerings at Dottie's, adventurous flavors at Federal Donuts, Amish specialties at Beiler's, and kinds like you can't find anywhere else at Curiosity Donuts. Here's a look at some of the best donuts in Philadelphia, no matter what you're craving.
Federal Donuts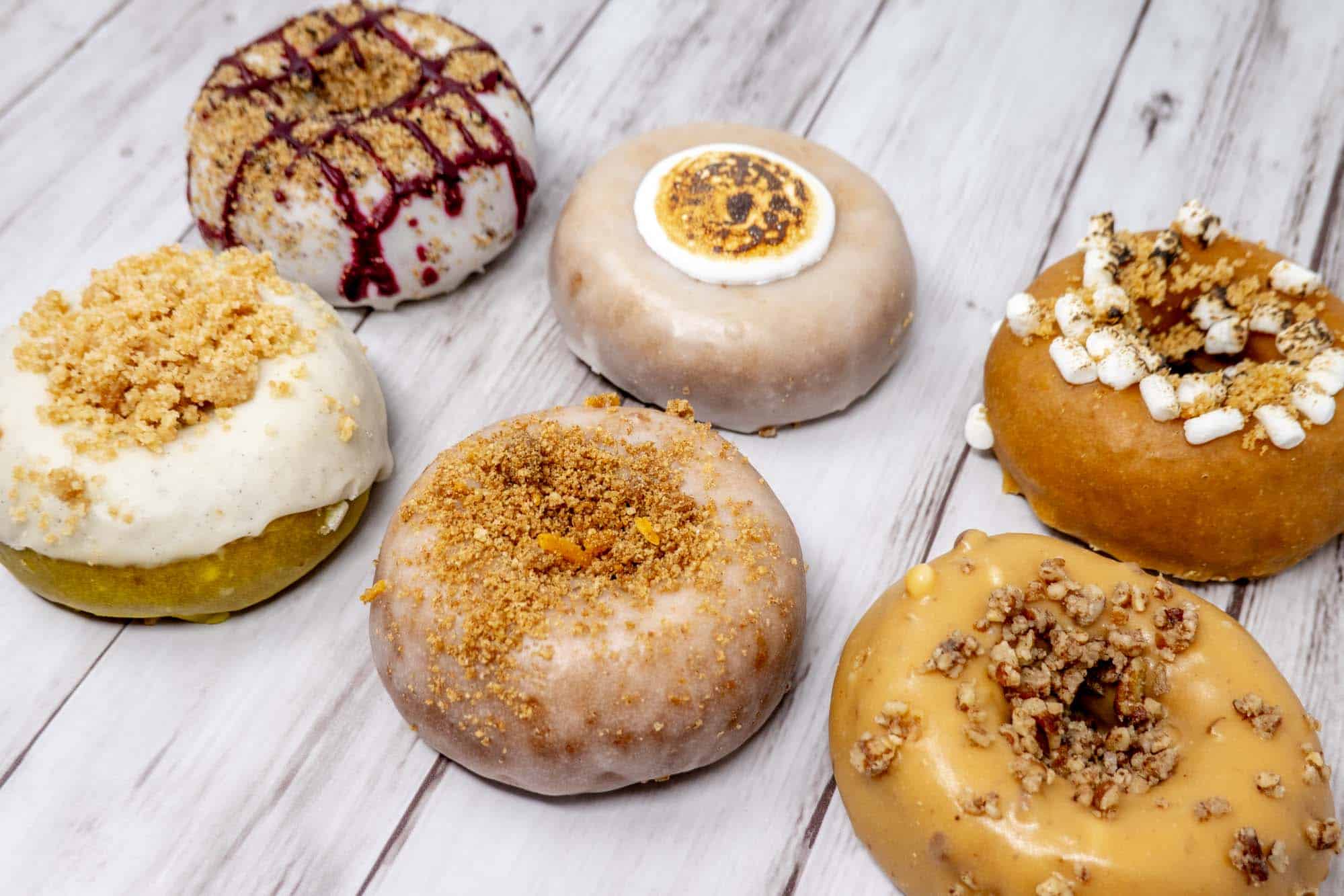 When Federal Donuts opened in Pennsport a decade ago, it revolutionized donuts in Philadelphia. Founded by a team that includes Steve Cook and chef Michael Solomonov (they run some of the city's best restaurants, including Zahav and Laser Wolf), Federal Donuts specializes in some of the best donuts you'll ever have. They have joined the pantheon of must-eats in the city.
The donuts at Federal Donuts fall into three groups—classics like old fashioned glazed, hot sugared donuts straight from the fryer, and fancy donuts that run the gamut from raspberry mascarpone to pumpkin pie and Irish potato. Try one with Federal's other specialty, their epic twice-fried chicken, which is available as individual pieces, on a sandwich with buttermilk dressing, and even in a salad.
Anything you choose here is almost guaranteed to be a home run. Locations: 1219 Second St., 1909 Sansom St., 701 N. Seventh St., 540 South St., 3428 Sansom St., 21 S 12th St., 1776 Benjamin Franklin Parkway, 2101 Pennsylvania Avenue inside Whole Foods, and 15 E Wynnewood Rd. inside Whole Foods in Wynnewood.
Beiler's Donuts
No matter what time you visit Beiler's Doughnuts, there's likely to be a crowd. They're just that good.
Located in Reading Terminal Market, Beiler's has been a city staple for nearly 40 years and was one of the first Amish merchants at the market. Every day, they offer up to 40 varieties of homemade Pennsylvania Dutch donuts.
There are classics like plain glazed, strawberry-filled, and cruller varieties as well as popular options like Fruity Pebbles and peanut butter and jelly. We're partial to the apple fritters and the apple cider donuts that are available year-round. Locations: 351 N. 12th Street inside Reading Terminal Market and 3900 Chestnut Street.
Dottie's Donuts
Proving that vegan pastries can be creative and super delicious, Dottie's Donuts regularly sells out of their fantastical creations. There are standard delights like vanilla sprinkle donuts and apple fritters alongside daily specialties like raspberry white chocolate, blueberry poptart, and creations topped with cookie dough or infused with tea.
And, yes, it's all vegan. Even the Boston cream.
Go early to get the best selection. Locations: 4529 Springfield Ave. and 509 South 6th St.
Frangelli's Bakery
Frangelli's Bakery has been a South Philly staple for over 70 years. Every morning, they make hundreds of yeast and cake donuts that are hand filled to order.
The bakery has a wide variety of donut options, but it is most known for two unique creations—ice cream doughnuts and the Franolli. Ice cream doughnuts are a choice of your favorite ice cream sandwiched in between two donut halves, a spin on the Sicilian specialty of brioche con gelato. The Franolli—a "Best of Philly" winner—is a hole-less donut filled with thick, fresh cannoli cream and chocolate chips. They're also available in chocolate, and you'll occasionally find special flavors like pistachio or pumpkin. Location: 847 W. Ritner St.
Curiosity Donuts
Owners Alex Talbot and Aki Kamozawa make some of the area's most popular doughnuts at their Curiosity Donuts locations. There is always something unique among the ever-changing selection.
With 16 styles of dough that end up in 10 varieties from beignets to sourdough bars, you never know what you'll find at their Curiosity spots at Whole Foods in Spring House (Montgomery County) and Princeton. But the fried treats are pretty much guaranteed to blow you away. After all, this team were semifinalists for the James Beard Award for baking just a couple of years ago.
Curiosity Donuts takes pride in their ingredients, using real vanilla, fresh dairy, fruit purees, and sunflower seed oil to craft their specialties. If it's available, try the original vanilla glaze, a fritter, or anything with apple cider or the raspberry glaze (yes, we go often!). Locations: Whole Foods in Spring House and Princeton, Native Cafe in Doylestown, and occasional other pop-ups in Philadelphia and the suburbs
Suraya
Lebanese restaurant Suraya is well-known for being one of the best places in the city for mezze, but it is also popular for its selection of French-inspired pastries. The lone donut on the menu is a true standout. The light, rose-flavored cruller is topped with crushed pistachios. It's available on its own or as part of a pastry basket on the weekends. Location: 1528 Frankford Avenue
Okie Dokie Donuts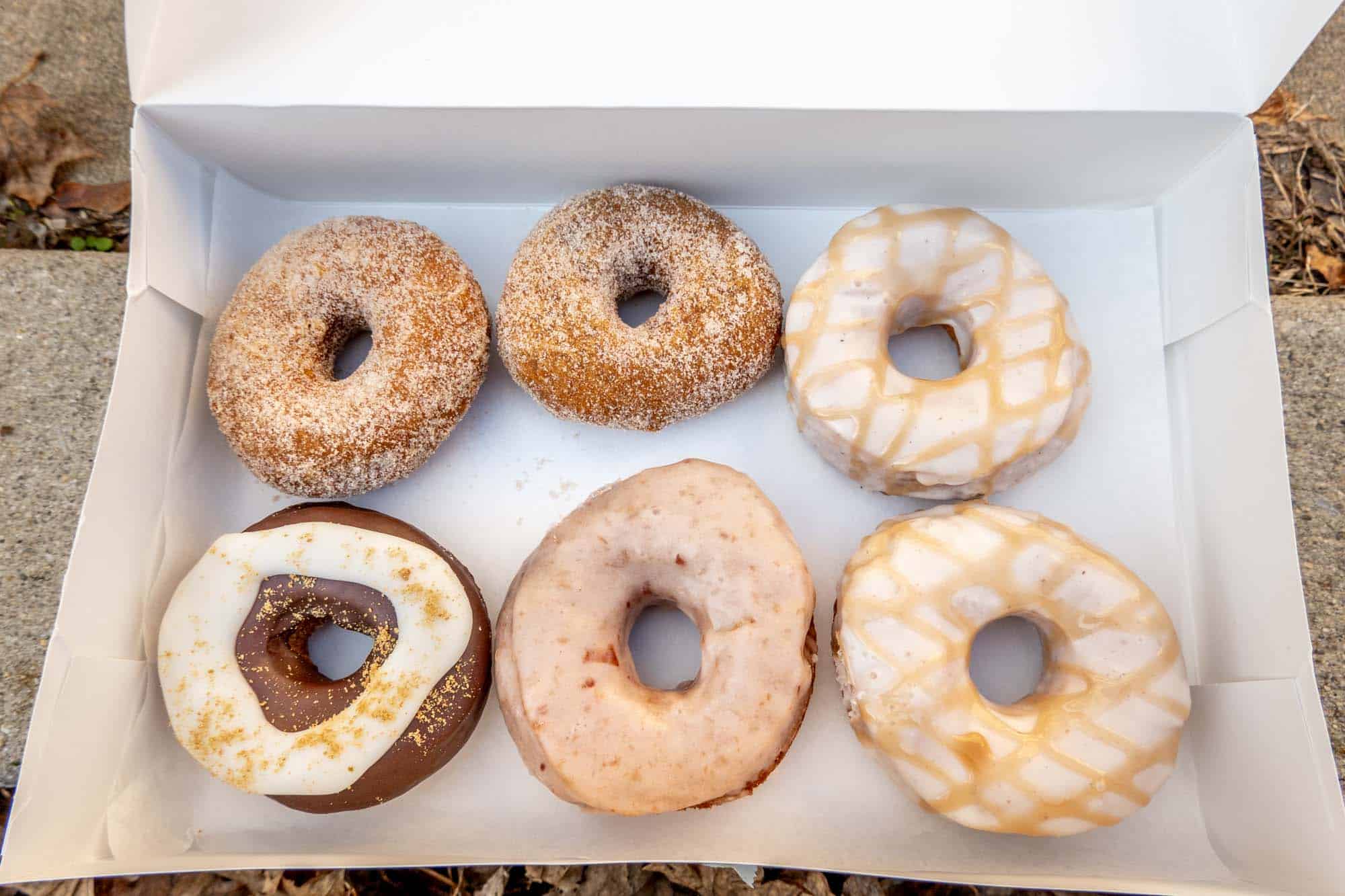 Pastry chef Carol Ha has perfected gluten free donuts at her South Philly shop Okie Dokie Donuts.
With flavors like lychee, ambrosia, and orange cardamom, plus fritters to die for, there is no shying away from flavor here. The shop regularly collaborates with other local businesses to produce specialty donuts like Thai Twist, which incorporates a cordial from Art in the Age, or Mango Cider, which uses a cider from Hale and True.
Okie Dokie's window is open mornings Wednesday through Sunday. If you can't make it to South Philly then, you can pre-order and pick up at locations around the city from Mount Airy to Queen Village. They're also carried at lots of local coffee shops. Location: 1439 Snyder Ave., plus lots of options for pickup
Tiffany's Bakery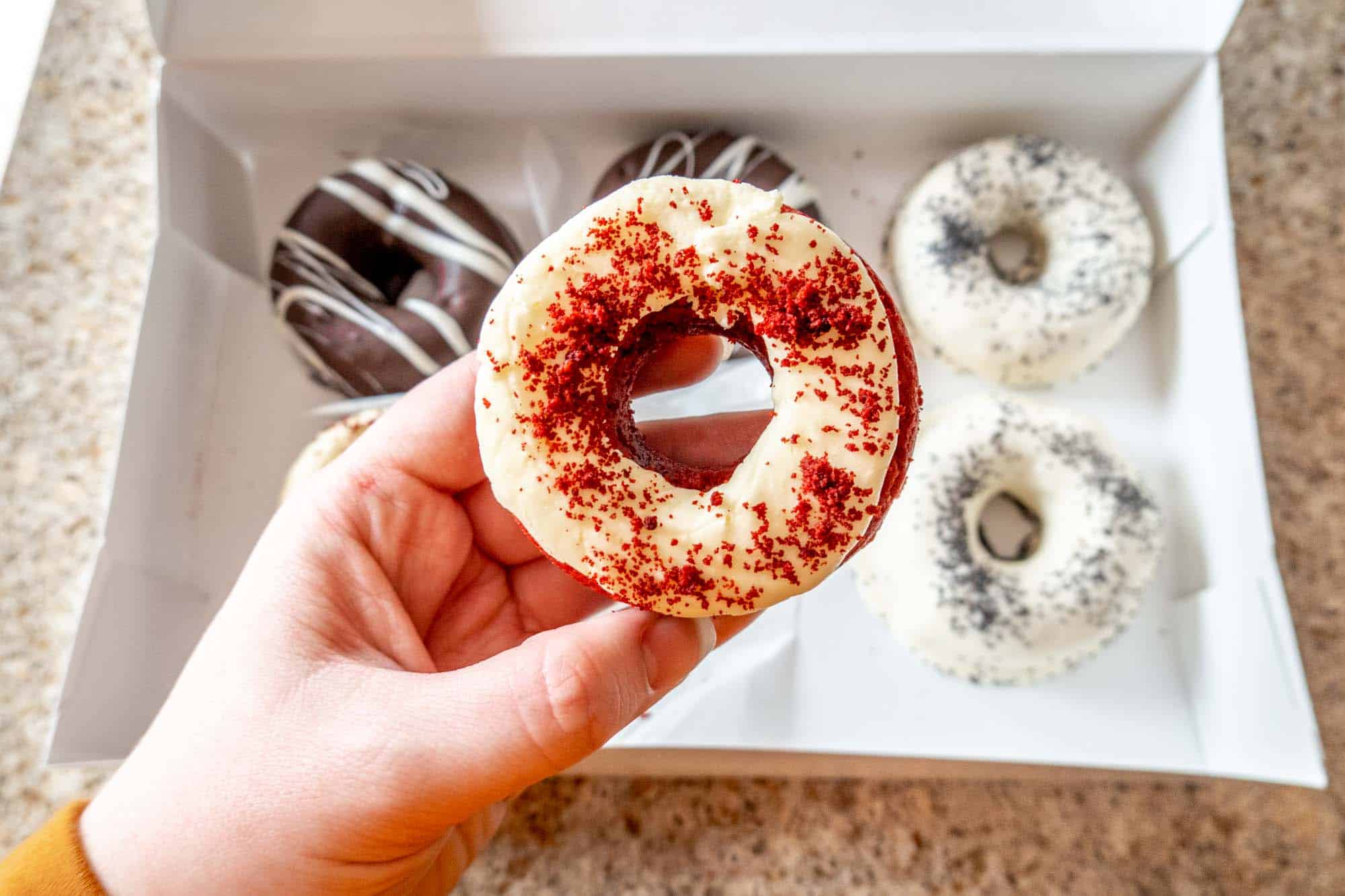 Located in the Fashion District, Tiffany's Bakery makes a unique kind of donut that they call the "doyo." Instead of being deep-fried, the cakes are steamed, creating a moist donut that's surprisingly light.
As a bonus, Tiffany's donuts have 50% less fat than a traditional donut. But don't try them because of that—try them because they're really good. They come in more than a dozen flavors ranging from cinnamon sugar to vanilla glazed to red velvet. Location: Fashion District Philadelphia, 1001 Market St.
Holmesburg Bakery
A family-owned business, Holmesburg Bakery has served delicious pastries for over 120 years. They're particularly well-known for their cream-stuffed donuts. Whether you opt for the ones covered in powdered sugar or regular sugar, bring your sweet tooth for these treats. Location: 7933 Frankford Ave.
Hello Donuts + Coffee
Hello Donuts + Coffee in East Kensington offers a selection of traditional and unique flavors like old fashioned cake, raspberry lemonade, and cookies and cream. The six flavors plus a variety of savory buns and fritters (Friday only) change weekly. There are also always a couple of vegan options available.
The shop—run by ReAnimator Coffee and a group of musician friends—is open daily. Grab an espresso or latte for a sampling of some of the city's best coffee, too. Location: 2557 Amber St.
Hands on the Earth Orchard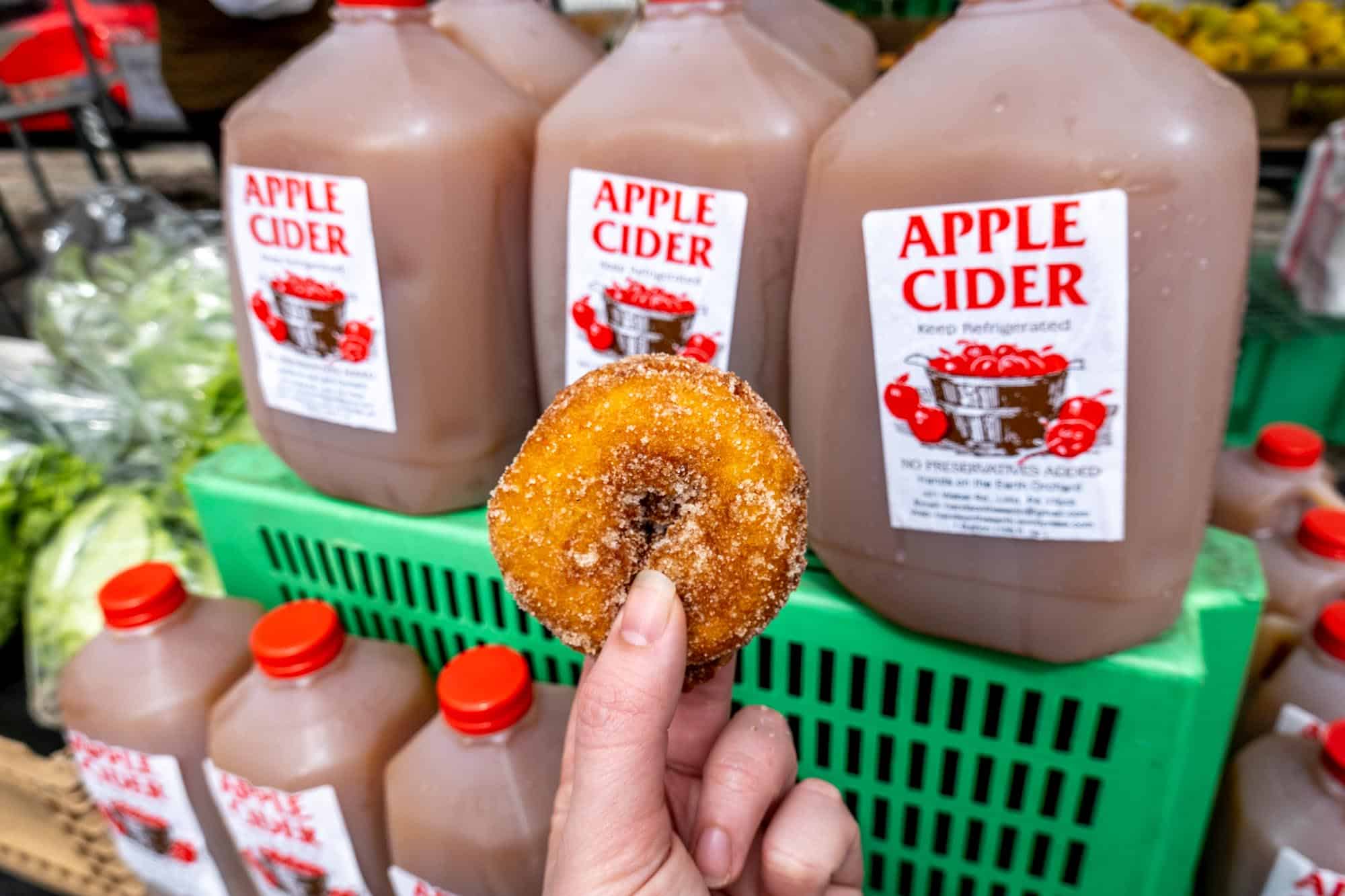 Apple cider donuts aren't just for fall. At the Rittenhouse Square market, you can see these perfectly fresh, sugary donuts straight from the fryer at the Hands on the Earth Orchard stand, typically in late winter through early spring. They're absolutely worth a special trip. Location: Tuesdays and Saturdays in Rittenhouse Square