Some posts on this site contain affiliate links, meaning if you book or buy something through one of these links, we may earn a small commission (at no extra cost to you).
For power lunches, killer brunches, or a fun night out, Rittenhouse Square restaurants have you covered. In one of the nicest neighborhoods in Philadelphia and based around one the city's original parks laid out by William Penn, there is a vast array of choices. Burgers, vegan specialties, fast casual spots, and James Beard Award winners all have a home here.
Here's a look at some of our favorite places to eat in the neighborhood.
The Love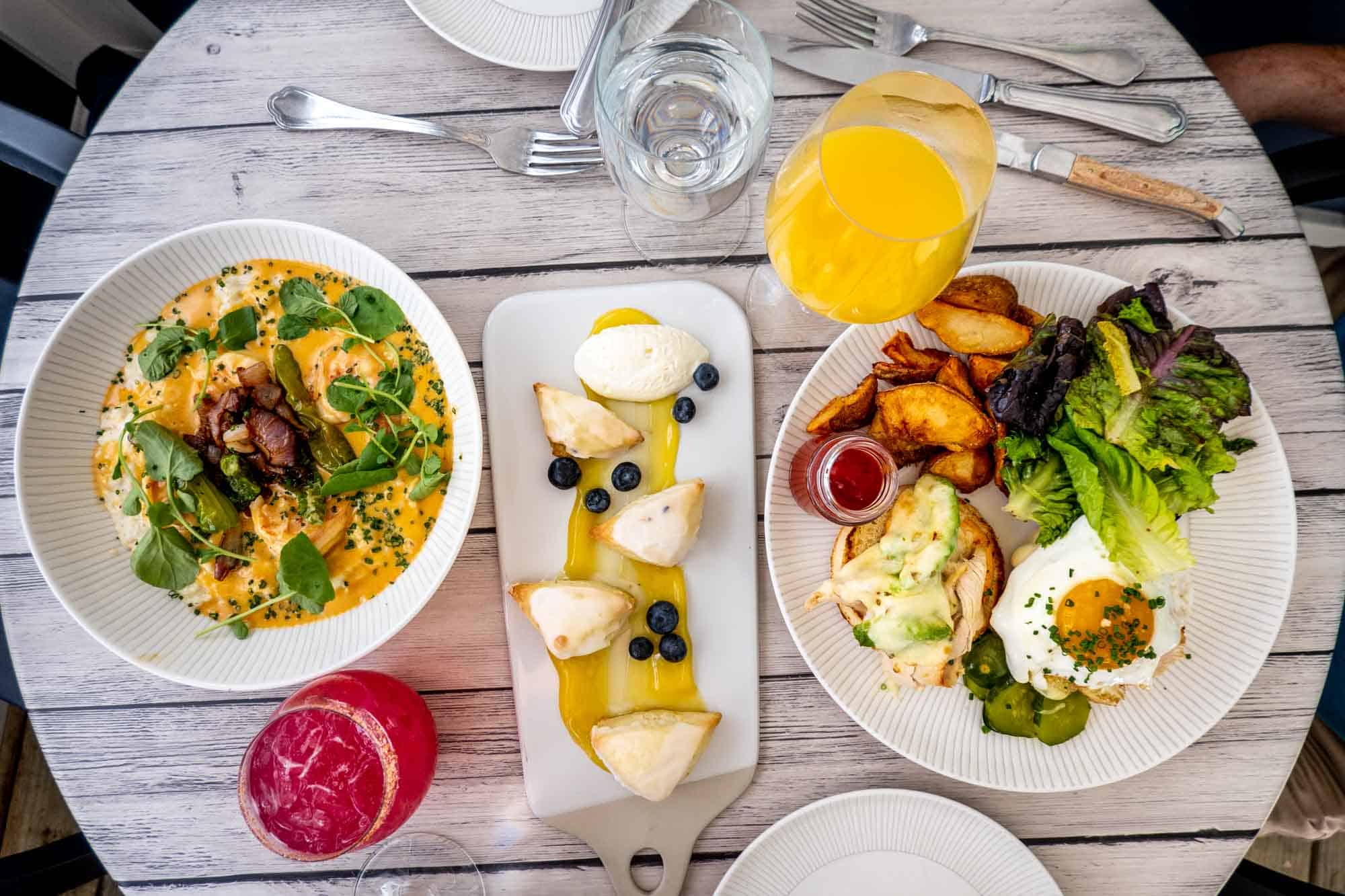 Whether you're looking for a casual lunch, a cocktail-filled brunch, or a romantic dinner, The Love is one of the best options in the neighborhood.
The menu features New American cuisine with highlights like shrimp and grits, bourbon salmon, and a honey-brined pork chop. The signature dish—the Lovebird—is a combination of crispy buttermilk fried chicken, grits, and collard greens. Don't miss the warm, buttery Parker House rolls.
At brunch, start with the delicious lemon lavender scones before one of the fresh salads or sandwiches like the turkey avocado melt topped with a fried egg. With drinks like a prickly pear margarita (also available non-alcoholic) and a grapefruit and elderflower Champagne cocktail, it's the perfect place to start your weekend.
Bar Bombón
Bar Bombón delights diners with plant-based Latin American dishes. From blackened fajita tacos with aji amarillo to Spanish meatballs with grilled bread, there's no lack of flavor here. We're especially partial to the empanadas, and there is a long list of great cocktails.
Parc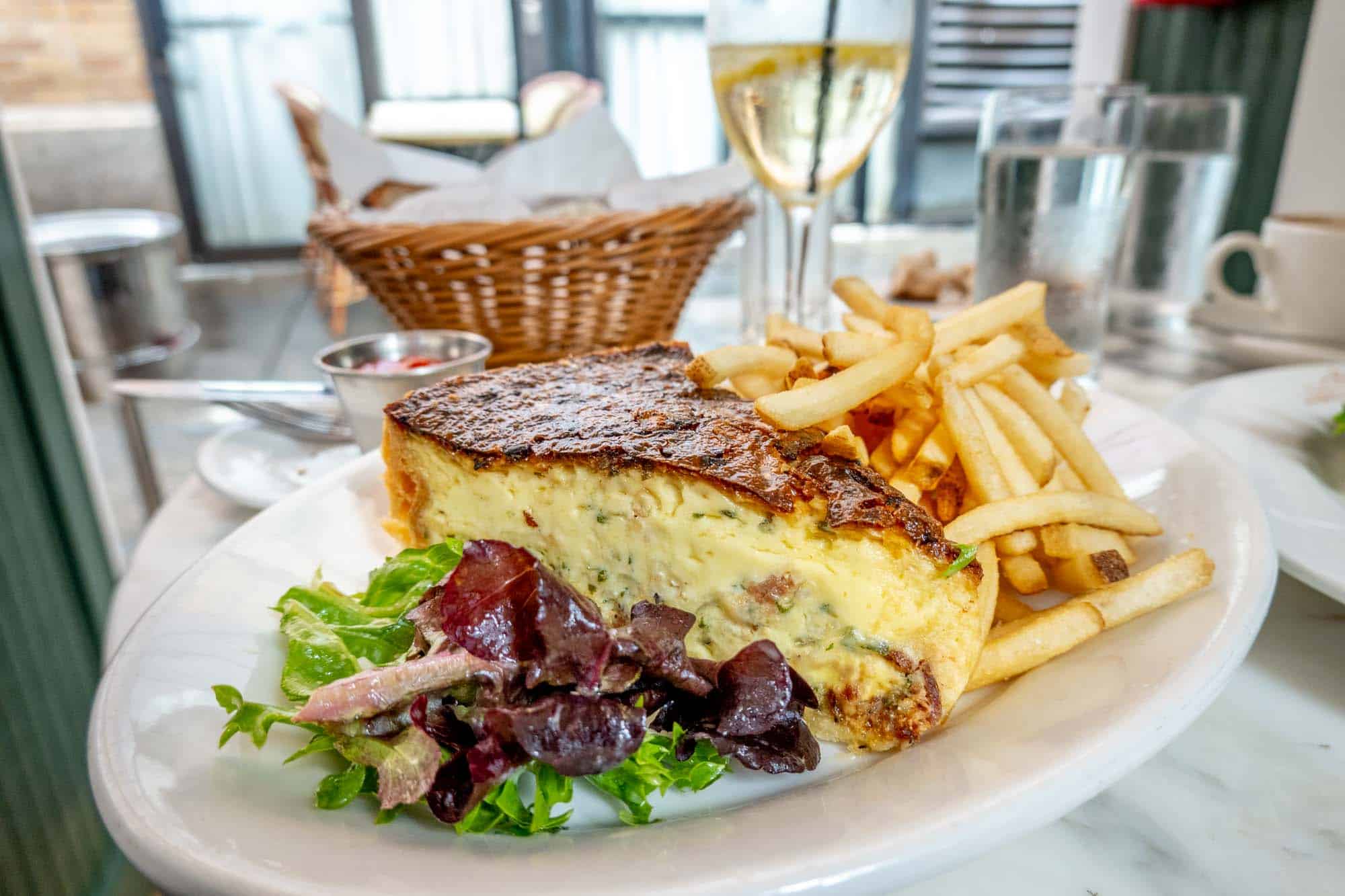 The French brasserie Parc is one of the most popular restaurants in Rittenhouse Square. Its brunch and dinner are outstanding, and its mid-afternoon menu pairs well with people watching in the park.
With a spacious dining room and ample outdoor seating, Parc is a place you want to linger for awhile. Its breadbasket and cheesy French onion soup are among our favorites. Parc is also well-known for its towering fruits de mer and steak frites, among many other items.
If you're visiting for its great brunch, get a sidewalk table, a glass of Champagne, and anything else that suits your fancy at this special spot.
Barclay Prime
One of the best steakhouses in the city, Barclay Prime has a top location right on the east side of the park. Its chandelier-filled interior and colorful booths make it a welcoming place to indulge.
And indulgence is the name of the game at Barclay Prime. Be prepared for a little bit of sticker shock and a lot of excellent food here.
From caviar to the premium wagyu steaks, there are many high-end dishes to choose from alongside more moderately priced steak and seafood options. One of the most notable items on the menu is (somewhat unexpectedly) a gluttonous cheesesteak, complete with wagyu ribeye, foie gras, and a half-bottle of Champagne. We've tried it, and it's worth the splurge.
The Dandelion
A sophisticated British pub, The Dandelion looks like it came straight from the quaint streets of small-town England. Behind the ornate wooden door and Victorian lamp, there are cozy chairs, fireplaces, bar-top lights, and lots of British knickknacks. It's an homage to a UK staple in all the best of ways.
The menu is packed with UK classics from Welsh rarebit to bangers and mash. I have eaten my share of fish and chips on the other side of the Atlantic and would put the crispy, beer-battered cod and beef fat-fried chips at The Dandelion up against almost anything from a British chippy. It really is that good. From the Sunday roast to the lamb shepherd's pie, dining here is a delight.
Her Place Supper Club
One of the most coveted tables in the city is at Her Place Supper Club. The set up at this 24-seat restaurant feels much like a dinner party with friends, with acclaimed chef Amanda Shulman walking you through the night's six-course menu.
There are only two seatings a night, and the restaurant is closed on weekends, so reservations can be hard to come by. Slots are released on Tock every two weeks, so be prompt if you hope to get a seat. The menu changes every two weeks and is always packed with what's in season.
My Loup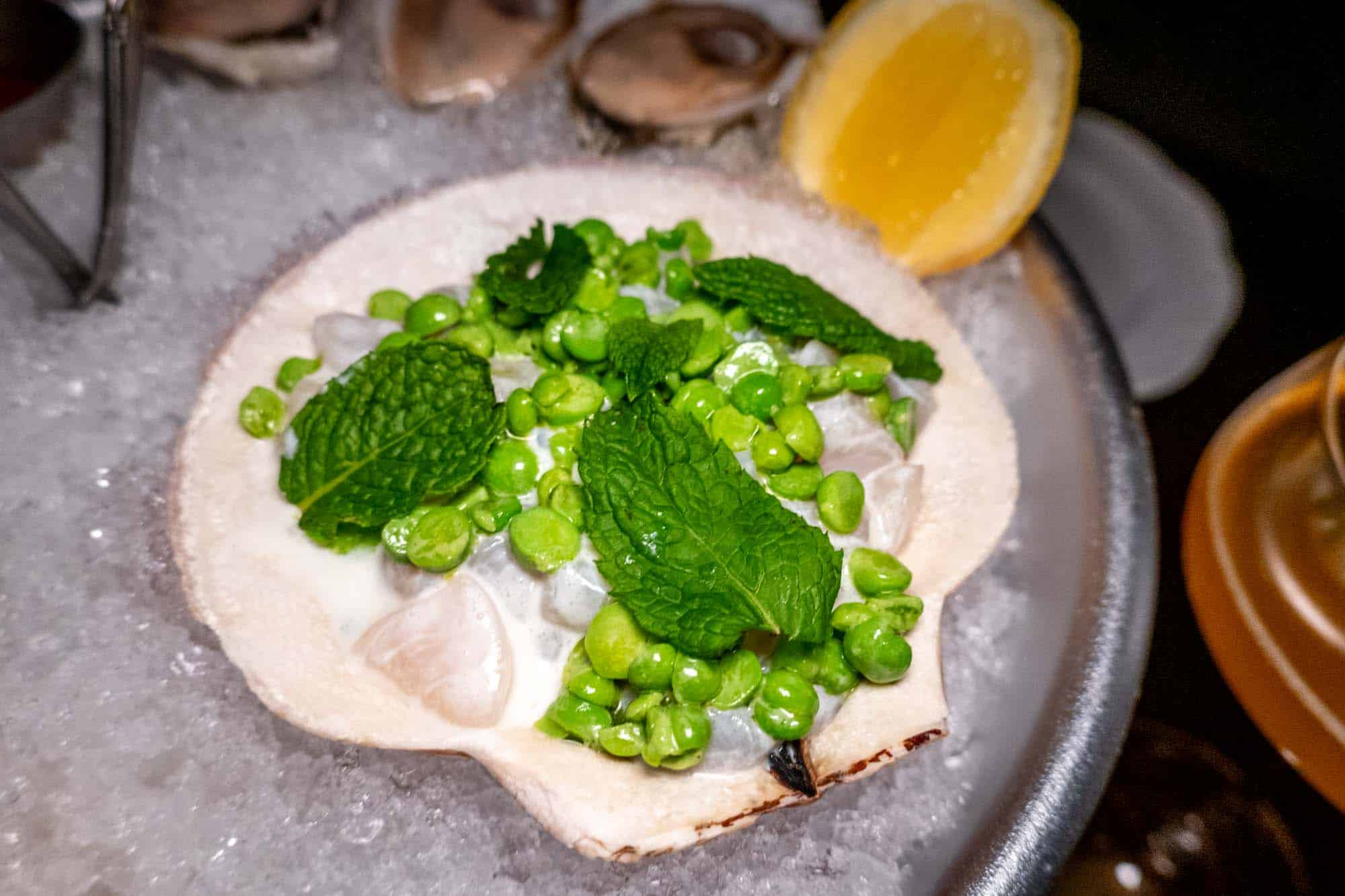 Her Place's Schulman and her husband chef Alex Kemp run another sought-after restaurant in the neighborhood, My Loup. Also only a weeknight joint, this French-inspired restaurant has a cozy dining room and bustling bar.
Seasonal produce and the chefs' creativity ensure an ever-changing list of delicious dishes. Oysters are a mainstay here, and the seafood offerings shine. This is the kind of place where you may be unfamiliar with ingredients or flavors on the menu, but you go with it because of reputation, and the chefs deliver excellence. One of our favorite dishes is the Philly Balls—a classic roast pork sandwich interpreted in a croquette.
A.Kitchen+bar
The French-inspired menu at a.kitchen+bar has drawn rave reviews for years. Both its cuisine and beverages are widely acknowledged as some of the best in the country, with its wine program drawing recent recognition from the James Beard Awards.
The contemporary restaurant located in AKA Rittenhouse Square features innovative small plates like octopus Lyonnaise with Calabrian chili and beef tartare with a cheddar and jalapeno croquette. The menu changes seasonally.
El Merkury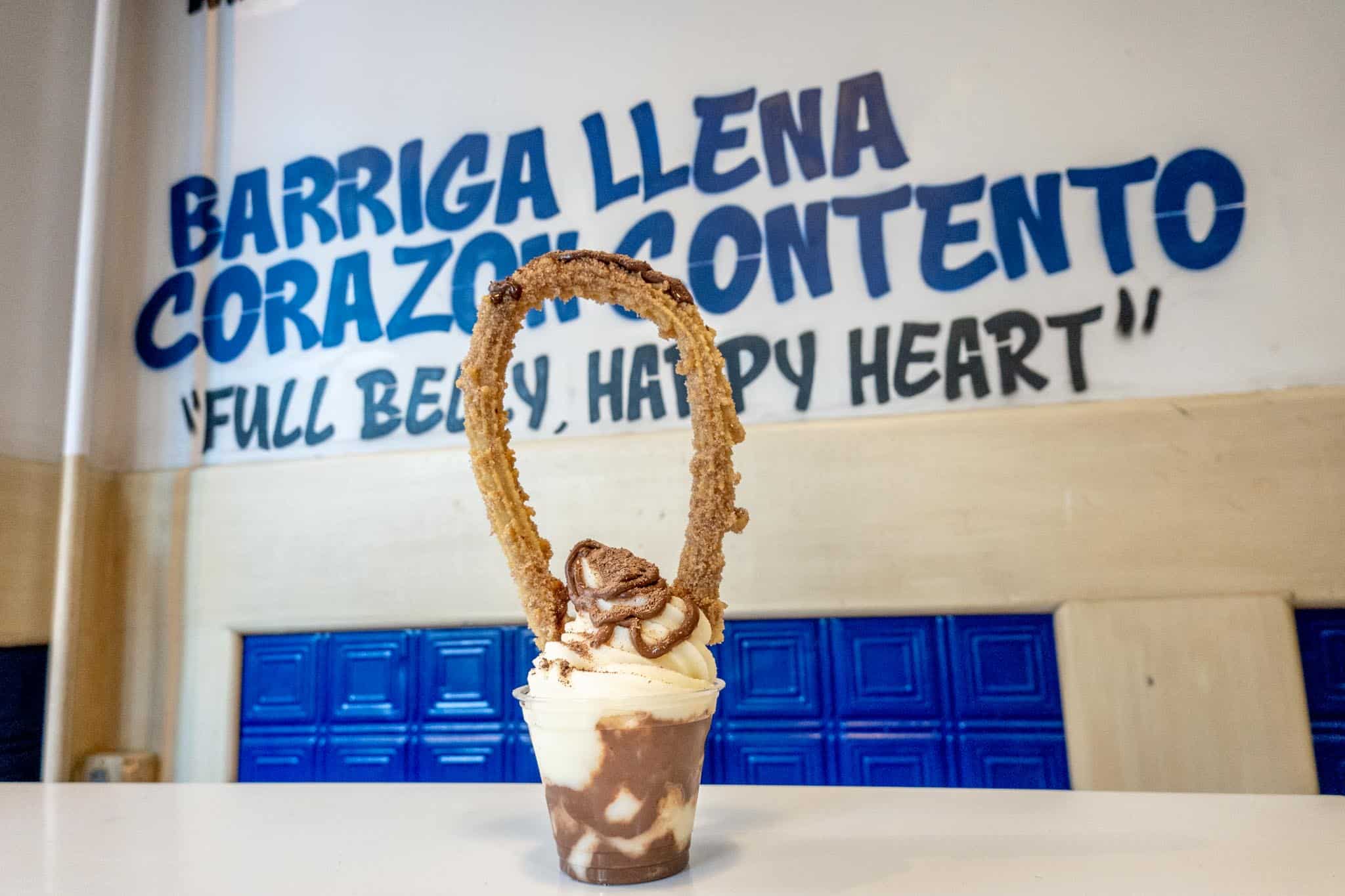 If you're a fan of handheld food packed with spice and flavor, make a beeline to El Merkury on Chestnut Street. This casual Central American restaurant specializes in street food from Guatemala, El Salvador, and Honduras. The menu features items like pupusas, tostadas, and taquitos filled with the staples of the region. For a real treat, stop in for the made-to-order churros that get plunged down into a cup of soft serve ice cream.
Goldie
At Goldie, simplicity is the recipe for success: falafel, fries, and tehina shakes. This straightforward—and Kosher vegan—menu makes Goldie one of the most popular quick service restaurants near Rittenhouse Square. Devotees swear by the loaded fries and milk chocolate tehina shakes, in particular.
If there's not enough sweetness for you at Goldie, check out the incredible donuts at its sister restaurant Federal Donuts in the same space.
Via Locusta
In a city filled with good Italian restaurants, Via Locusta is one of the best. Its fresh focaccia with whipped honey butter, homemade pastas, and specialties like a honey sweet stuffed onion baked until it nearly melts combine to make a menu full of great choices.
The dishes are well-executed, the service is friendly and knowledgeable, and when you order so much that you have to take some home, it reheats well, too. For brunch or dinner, Via Locusta is a must-try.
K'Far
Breakfast and lunch spot K'Far is a neighborhood favorite. Serving fresh pastries, bagel sandwiches, salads, and more, this Israeli café and bakery is known for its light and flavorful offerings. Its inviting interior also makes a good remote working location.
Harp & Crown
Harp & Crown is Michael Schulson's cavernous spot on 15th and Sansom featuring globally-inspired dishes. Guests will find a menu full of small plates, pizza, and pasta punctuated with a handful of entrees like seared scallops and hanger steak. Many of the highlights are featured on the happy hour menu, which is one of the best in the city.
The décor at Harp & Crown is a mix of the rough and refined, with exposed brick, sleek booths, a glass façade, and subterranean bowling lanes. Often busy and occasionally star-studded, the vibe here is always energetic.
Vernick Food & Drink
Dining at Vernick Food & Drink is simply sublime. Located in a bi-level brownstone, entering the restaurant feels a lot like being invited to your friend's house for dinner, if your friend was one of the most renowned chefs in the city.
The food at Vernick is seasonally driven, so the menu changes often, though it always includes divinely roasted chicken and perfectly grilled fish. Toasts are also a standard, and the one we enjoyed with fromage blanc and pickled kumquats was incredible. Reservations can be difficult to get here, so plan ahead or arrive at opening time to grab a seat in the bar, which is reserved for walk-ins.
Spice Finch
Middle Eastern and Mediterranean influences combine at Spice Finch, the chic restaurant in the Warwick Hotel. Known for its small plates and packed with fresh vegetable dishes, Spice Finch is great for sharing lots of mezze and kebabs.
The brunch menu features avocado toast with an "egg in the hole" and harissa tomatoes and a breakfast flatbread with bacon, egg, cheese, harissa, and spiced potato hash. Standouts available at every meal include the baked cheese with tomatoes and the savory shakshuka served with a flatbread that's tailor-made for dipping in the thick tomato sauce. The chef's tasting menu gets you a little bit of many items for $69 per person.
Harper's Garden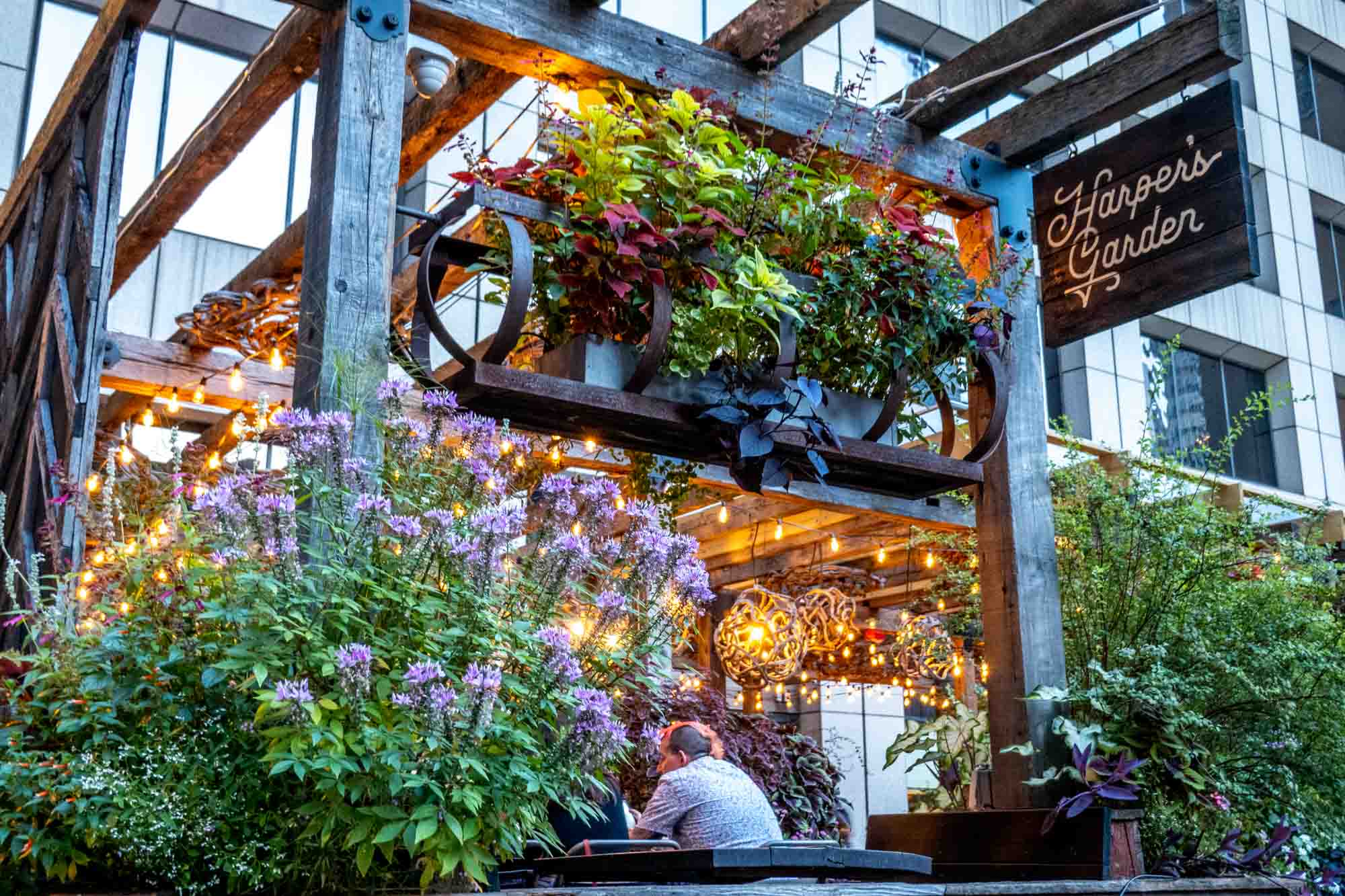 New American creations with seasonal ingredients are what draw people to Harper's Garden. In the plant-filled indoor/outdoor space, diners can choose from the patio, the dining room, or the greenhouses for unique experiences.
Appetizers at Harper's Garden are made for sharing, including the cheese board and vegetable board. Dishes like the French onion agnolotti and the branzino with brown butter are highlights. The 'Merica burger is also a winner with a double stacked patty and cooper cheese.
It's also a top choice for weekend brunch when the menu includes everything from avocado toast to a variety of eggs Benedicts.
Friday Saturday Sunday
Friday Saturday Sunday has consistently made the list of best restaurants in Philadelphia and earlier this year was named the best in the country by the James Beard Foundation. Reservations for this special place are at a premium, but the bar is first-come, first-served.
The restaurant features an eight-course tasting menu that changes frequently but always includes numerous stand-out courses. Diners can expect highlights such as caviar with crème fraiche, sweetbreads, and New York strip.
El Techo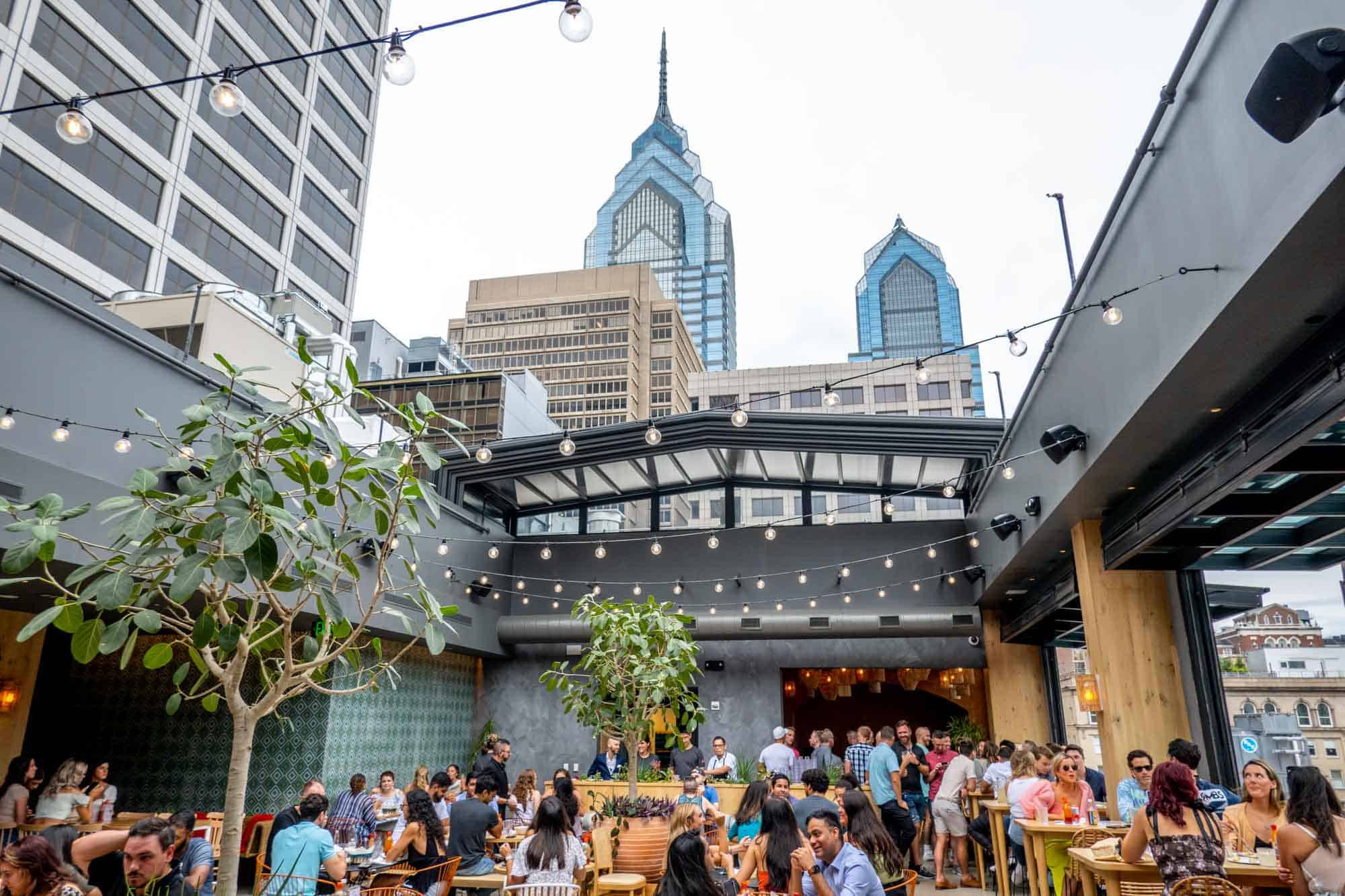 One of the most popular restaurants in the area—especially when the weather is nice—is El Techo. This Mexican rooftop restaurant has all the tequila and mezcal you could want plus tacos, salsas, guacamole, and a seasonal ceviche. The roof is retractable, so this pretty spot is a go-to all year.
Continental Mid-town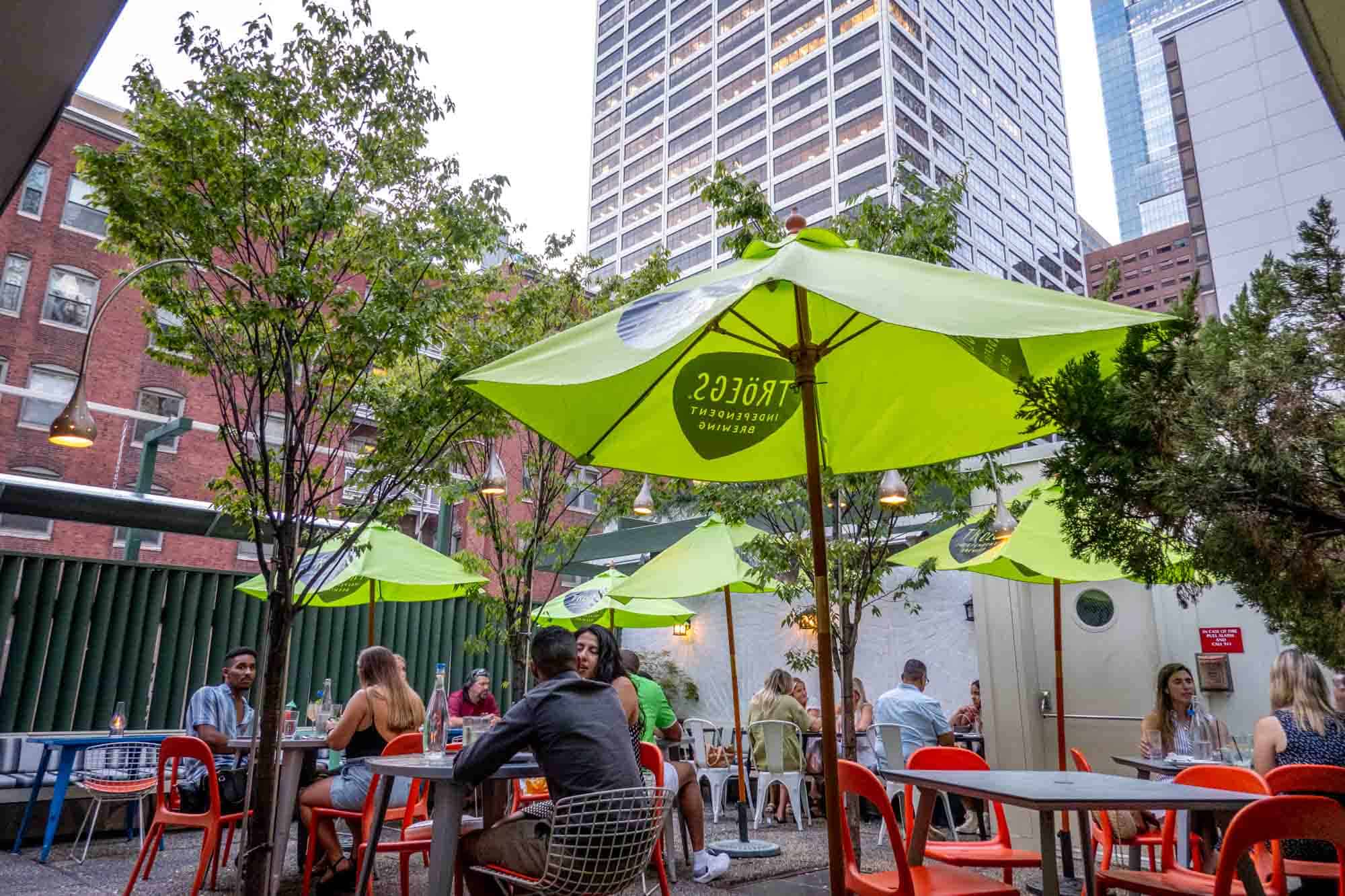 The Continental Mid-town has been a mainstay of Philadelphia dining for nearly 20 years. With three levels, they're known for their swing chairs and rooftop, which features indoor and outdoor areas with a retro bar at the center.
The eclectic offerings at the Continental include the notable cheesesteak eggrolls and lobster mac and cheese. Our personal favorite is the Korean fried chicken. The drink menu is long here, but The Astronaut cocktail (which includes Tang) is a memorable choice.