Some posts on this site contain affiliate links, meaning if you book or buy something through one of these links, we may earn a small commission (at no extra cost to you).
So you've found yourselves in Northern Liberties (No Libs) on an empty stomach. Luckily for you, there are countless restaurants in Northern Liberties that will have you coming back for seconds. The walkability of No Libs paired with its vibrant community of hip, young people and aspiring creatives make the Northern Liberties neighborhood ripe for a culture of delicious and thoughtfully crafted food.
With no shortage of places to eat in Northern Liberties, this hipster hotspot is the ideal destination for a date night, girls' night out, or recovery brunch. For a breakdown of our favorite No Libs spots, keep reading!
Café La Maude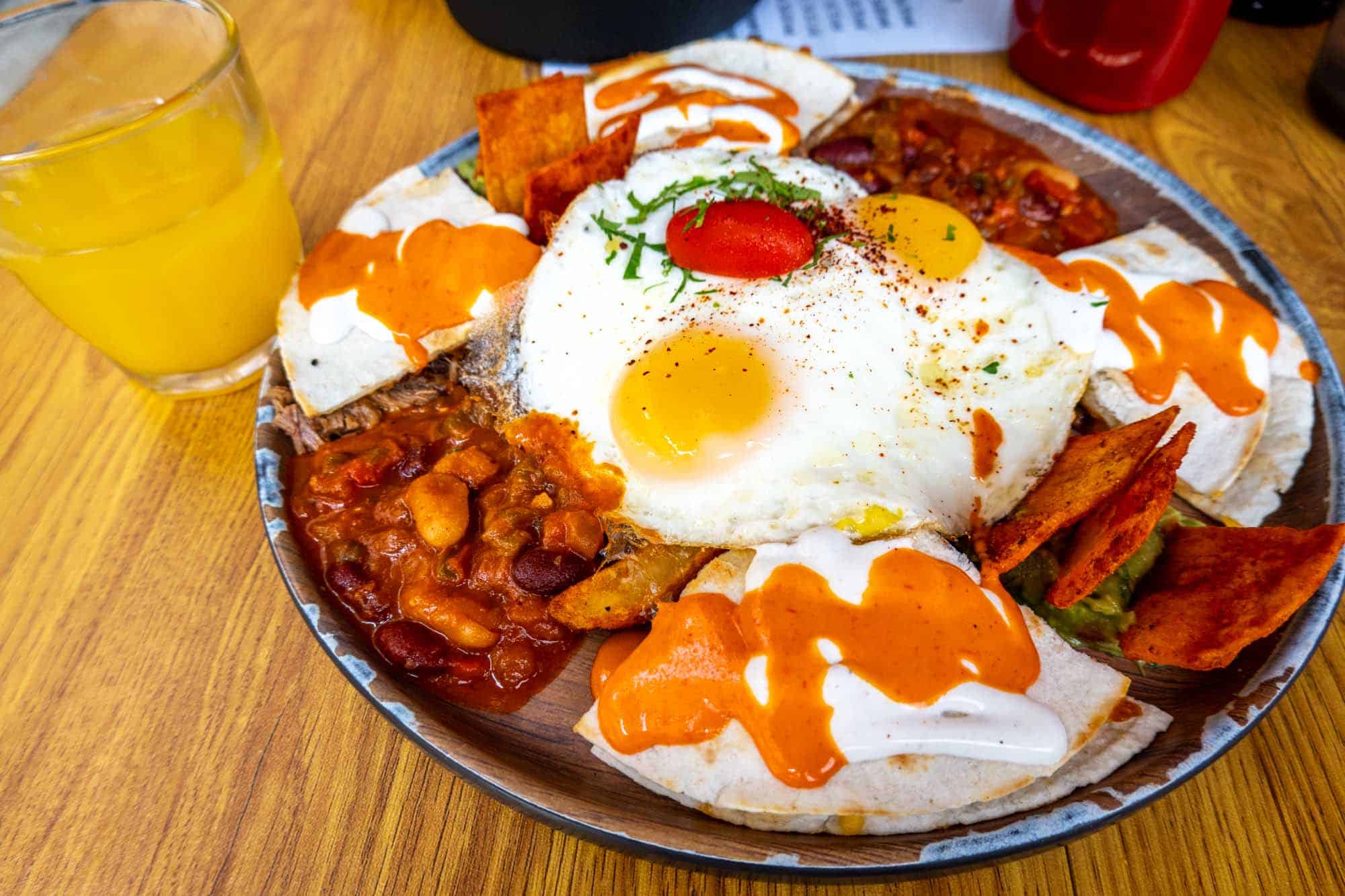 No reservations, no days off, no complaints. Café La Maude is a staple in Northern Liberties restaurant culture. This French-Lebanese cafe infuses both flavor profiles into their dishes while offering a European cafe vibe. Snag a sidewalk table and devour some shakshuka or a stack of red tiramisu pancakes to satisfy your morning sweet tooth. It's one of the better brunch spots in the city and a BYOB. Location: 816 N. 4th St.
Jerry's Bar
There's always something going on at Jerry's Bar! Between live music Fridays, impressive happy hour deals, and seasonally curated cocktails, Jerry's is a No Libs must. While the spicy fried chicken sandwich is the bar's calling card, the weekend brunch is nothing to joke about either. Location: 129 W. Laurel St.
Soy Cafe
This one's for all the vegans and vegetarians out there. Soy Cafe owners describe their restaurant as an "omnivore's haven where friends can enjoy wholesome meals together." With delicious, dairy-free coffee drinks and a menu including vegan pho, oat milk soft serve, and killer veggie burgers, Soy joyfully combines healthy cuisine with international flavors. Location: 630 N. 2nd St.
Urban Village Brewing Company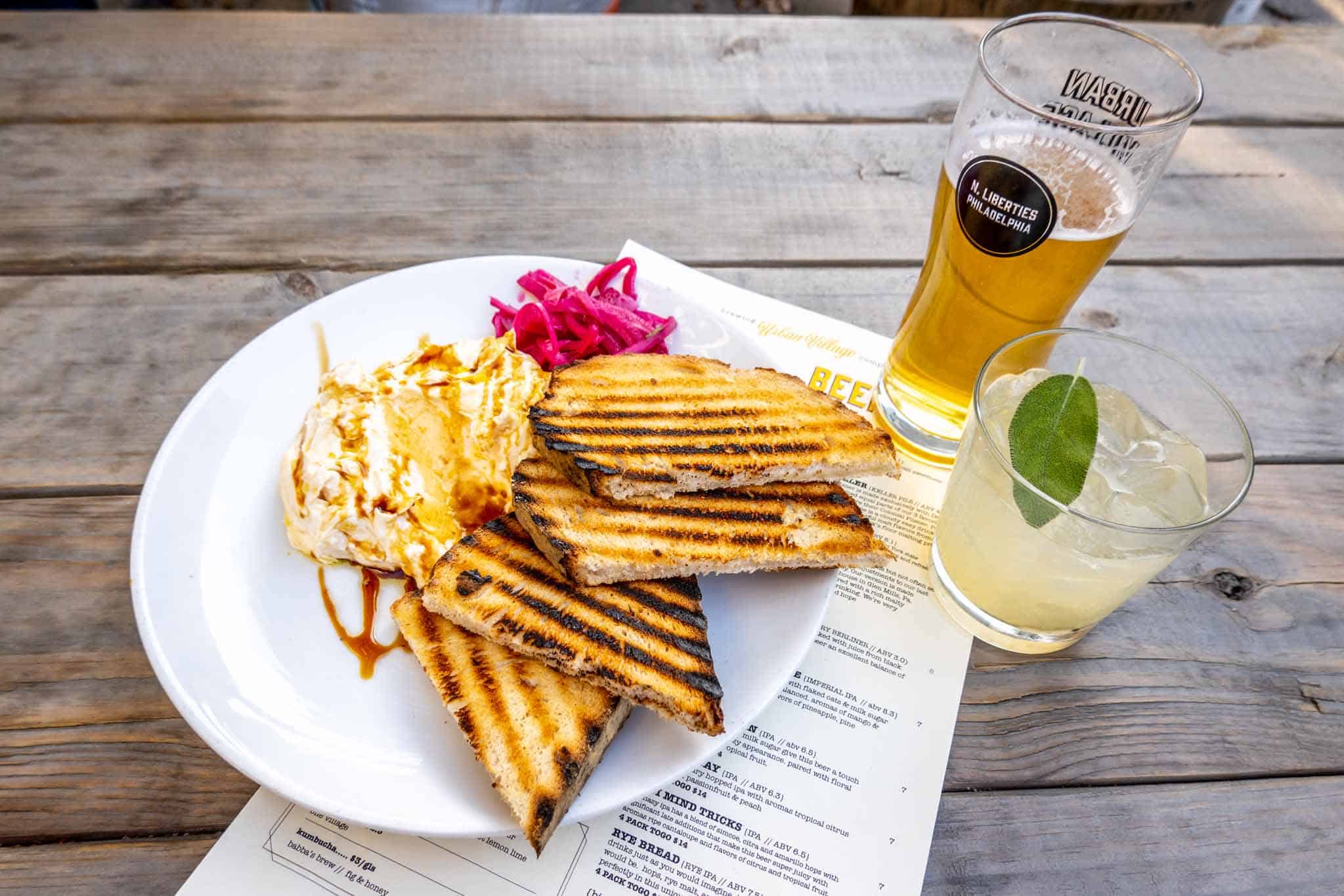 The hazy IPAs! The truffle fries! Urban Village is your classic Philly brewpub where the food is just as good as the beer (making it one of the better breweries to visit).
The cozy atmosphere in and out is what keeps people coming back. Either that or the brick oven pizza! The pizza is arguably some of the best in the city. Location: 1001 N. 2nd St.
Silk City Diner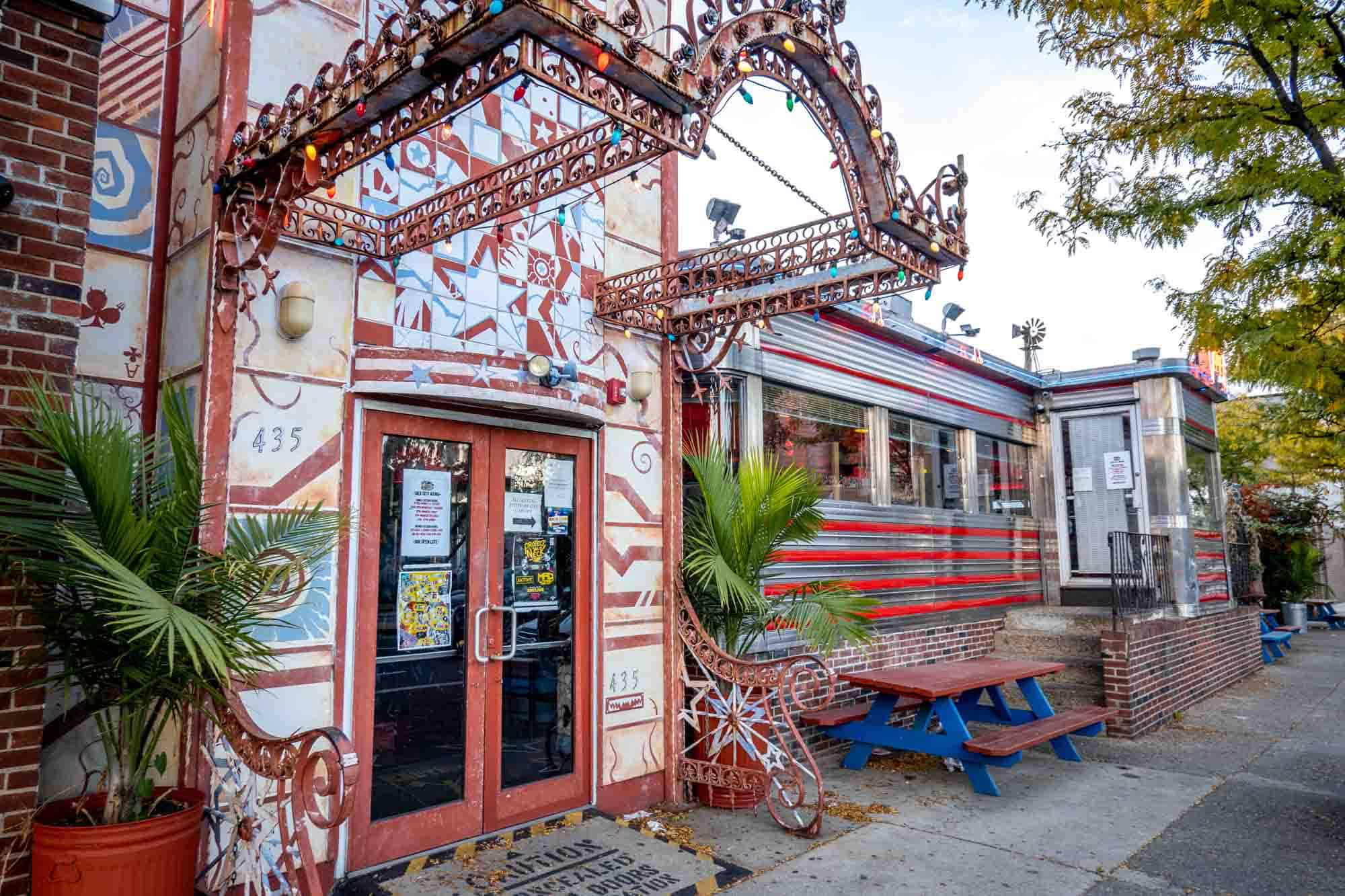 Diner food never tasted this good. Whether you're coming for brunch, dinner, or an after-hours DJ set, you will leave Silk City wanting more. It wouldn't be a diner without a standout burger and humongous pancakes. Make sure to check out the outdoor beer garden if you're visiting on a nice day. Location: 435 Spring Garden St.
Honey's Sit n' Eat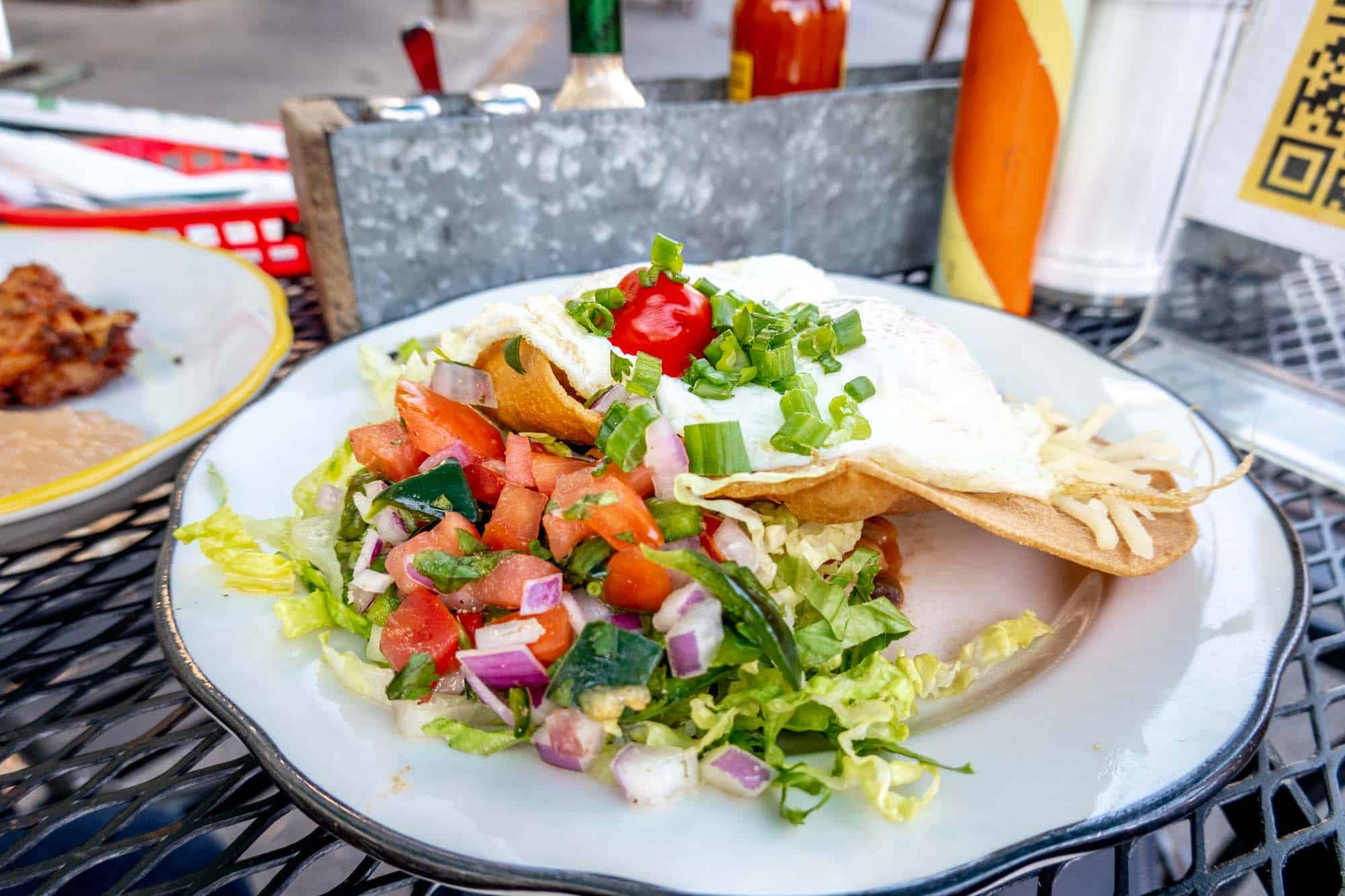 Southern comfort meets Jewish deli. If there's anything these two groups have in common, it's making sure you're well-fed and happy. Honey's takes big flavors and even bigger portions to a totally new and delicious place. The Honey Cristo (ham, egg, and cheese on challah french toast) is worth every last calorie. Location: 800 N. 4th St.
Hikari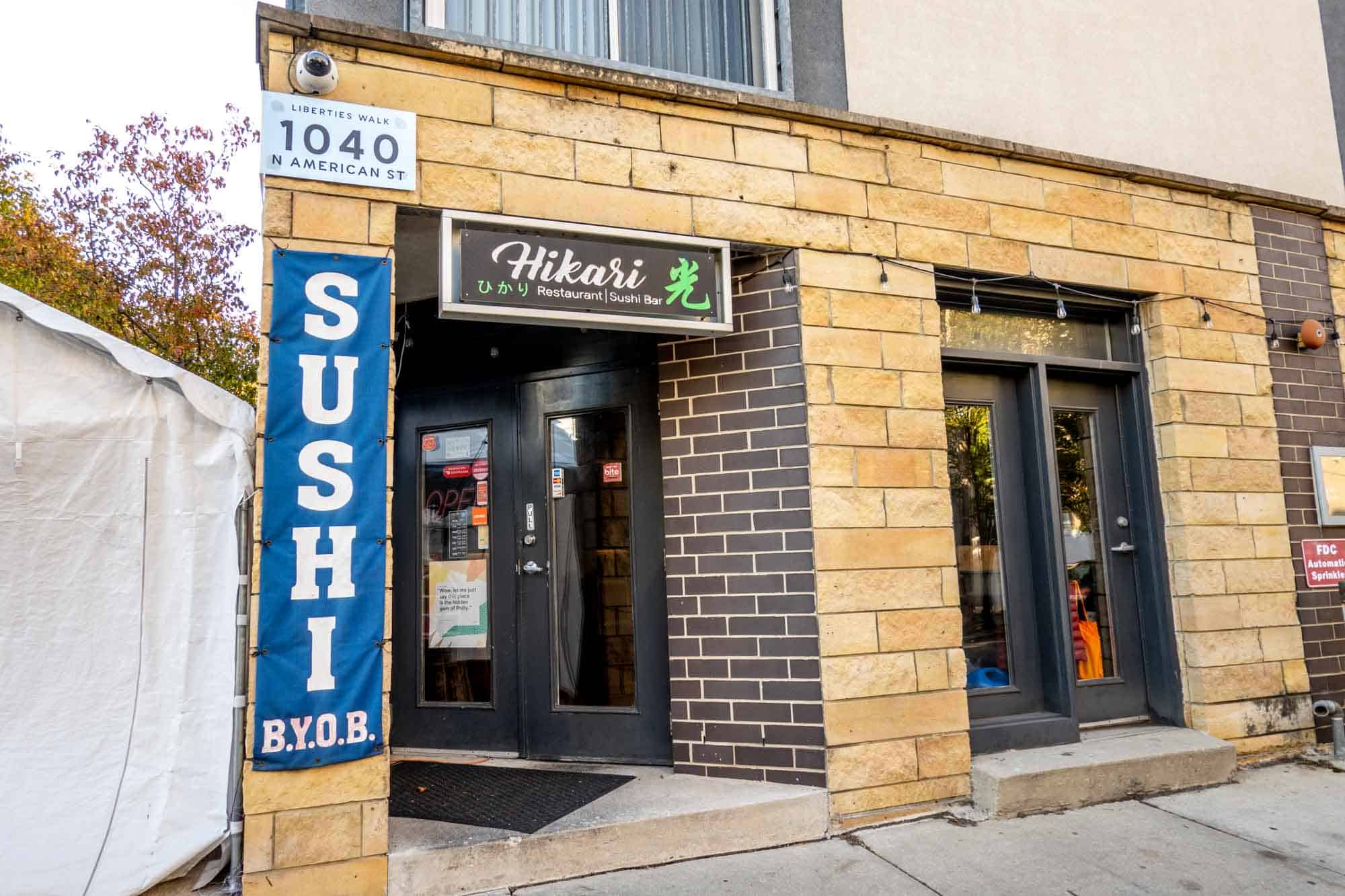 For Michelin-quality sushi at an affordable rate, try Hikari. This BYOB spot serves some of the freshest fish in the 215 and does an unforgettable omakase (chef's choice). For great vibes and stellar sushi, grab a bottle of natural wine from Bardot Cafe just around the corner and enjoy it with a delicious meal at Hikari. Location: 1040 N. American St. #701.
Apricot Stone
Looking for something that feels a little homier? Syrian chef Fimy takes family-inspired recipes and brings them to life, highlighting Mediterranean flavors and traditional dishes. Apricot Stone is known for its chicken shawarma, dip platters, and juicy kabobs. Location: 1040 N. 2nd St. #601.
One Shot Cafe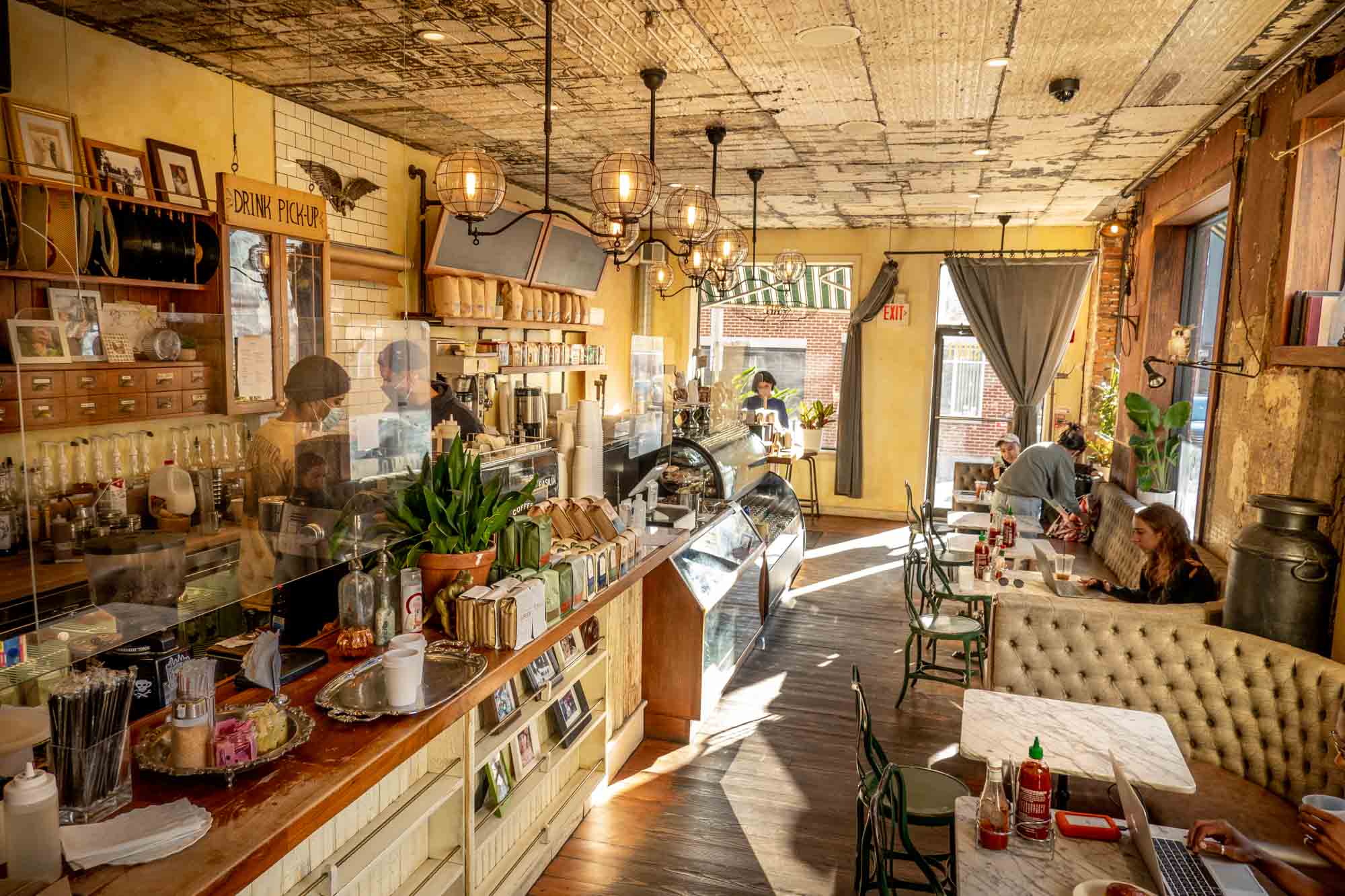 Let's get caffeinated! One Shot is a great grab-n-go coffee option, but don't get it twisted—they do not skimp on the weekend, sit-down brunch! Our mouths are watering just thinking about the cinnamon bun pancakes and white bean, mushroom avocado toast. Location: 217 W. George St.
Ortlieb's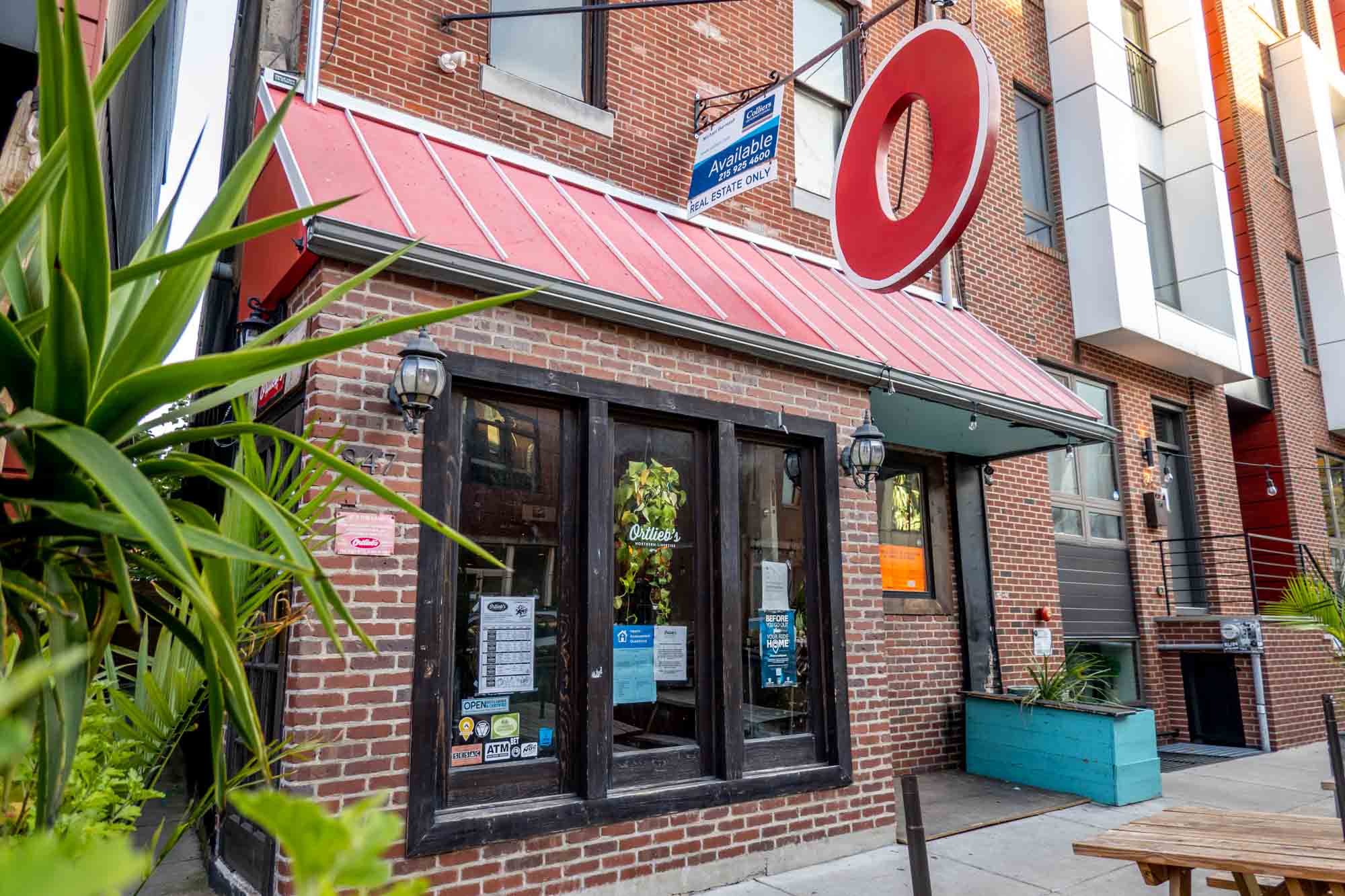 For a small music venue/bar, Ortlieb's has some darn good tacos. Check out this No Libs jazz and rock bar if you're seeking some cheap eats, local brews, and great live music. Location: 847 N. 3rd St.
Bourbon & Branch
Another tasty Southern spot with an extensive bourbon list to boot is Bourbon & Branch. The standout at this No Libs establishment is the brunch, featuring shrimp and grits, chicken and biscuits, and, most importantly, bottomless mimosas. Note that most things on the menu can also be made vegan. Location: 705. N. 2nd St.
Heritage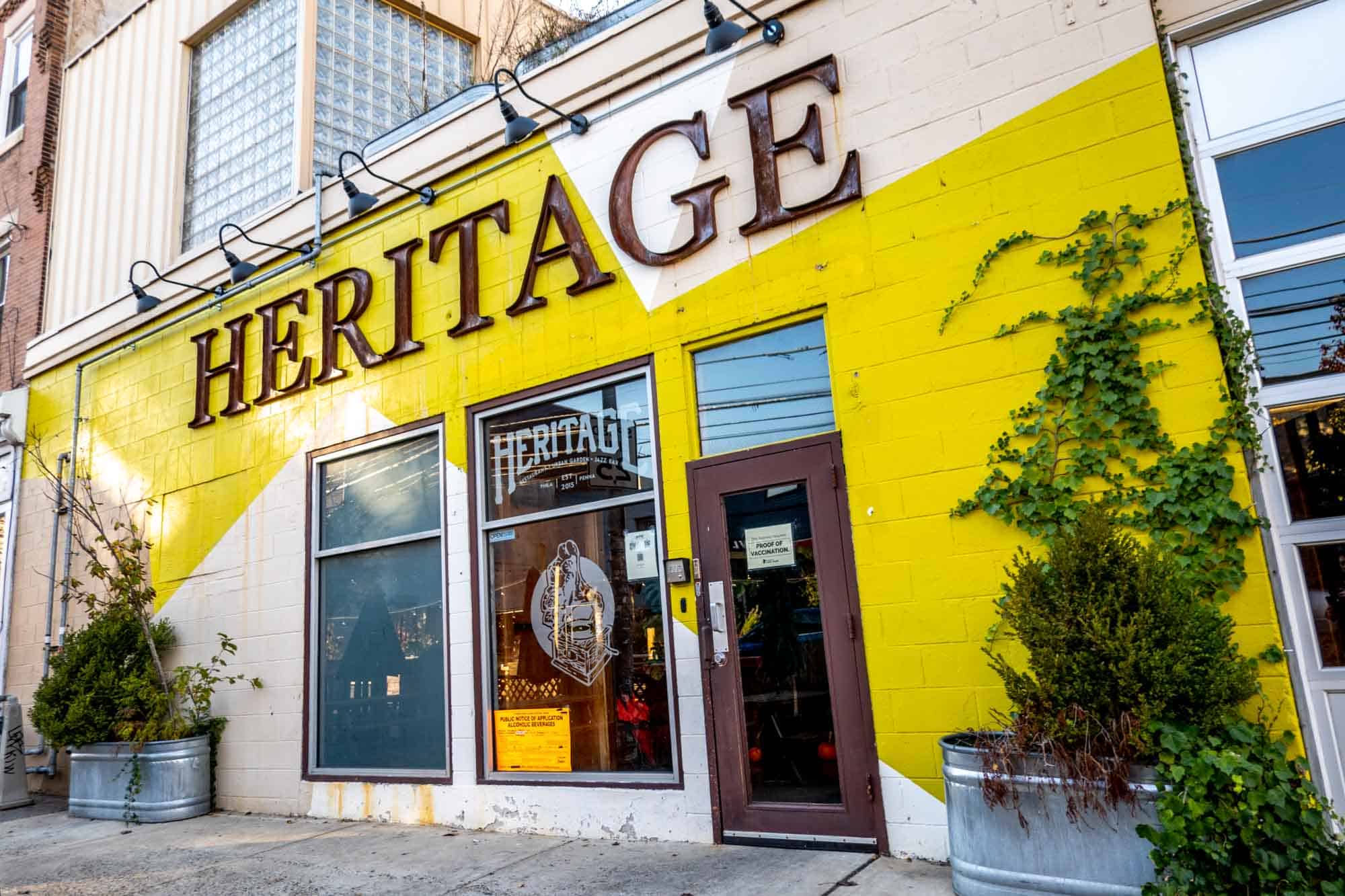 Another spot to enjoy live music while you eat! Heritage offers a Bluegrass Brunch on the second Sunday of the month from 11 am to 3 pm. The inviting, open floor plan invites you in and the Dutch Baby with Pennsylvania maple syrup and fresh peaches seals the deal. Location: 914. N. 2nd St.
North Third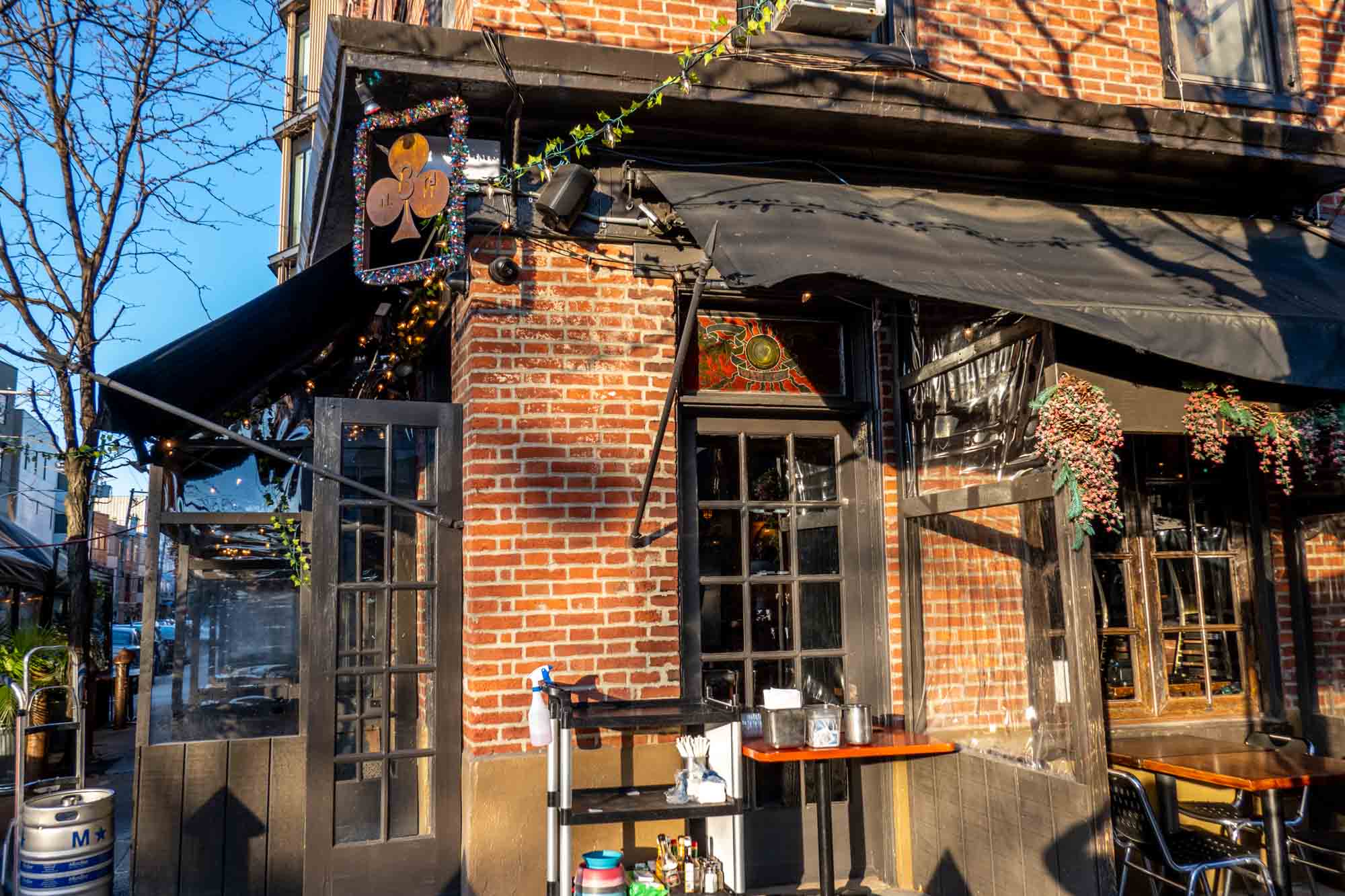 "The place with the good wings" should be North Third's tagline if it isn't already. However, while the Thai wings are a standout, this No Libs gem also serves a decadent brunch and an excellent New American style dinner with plenty of yummy cocktails for pairing. Location: 1801 N. 3rd St.
Anejo Philadelphia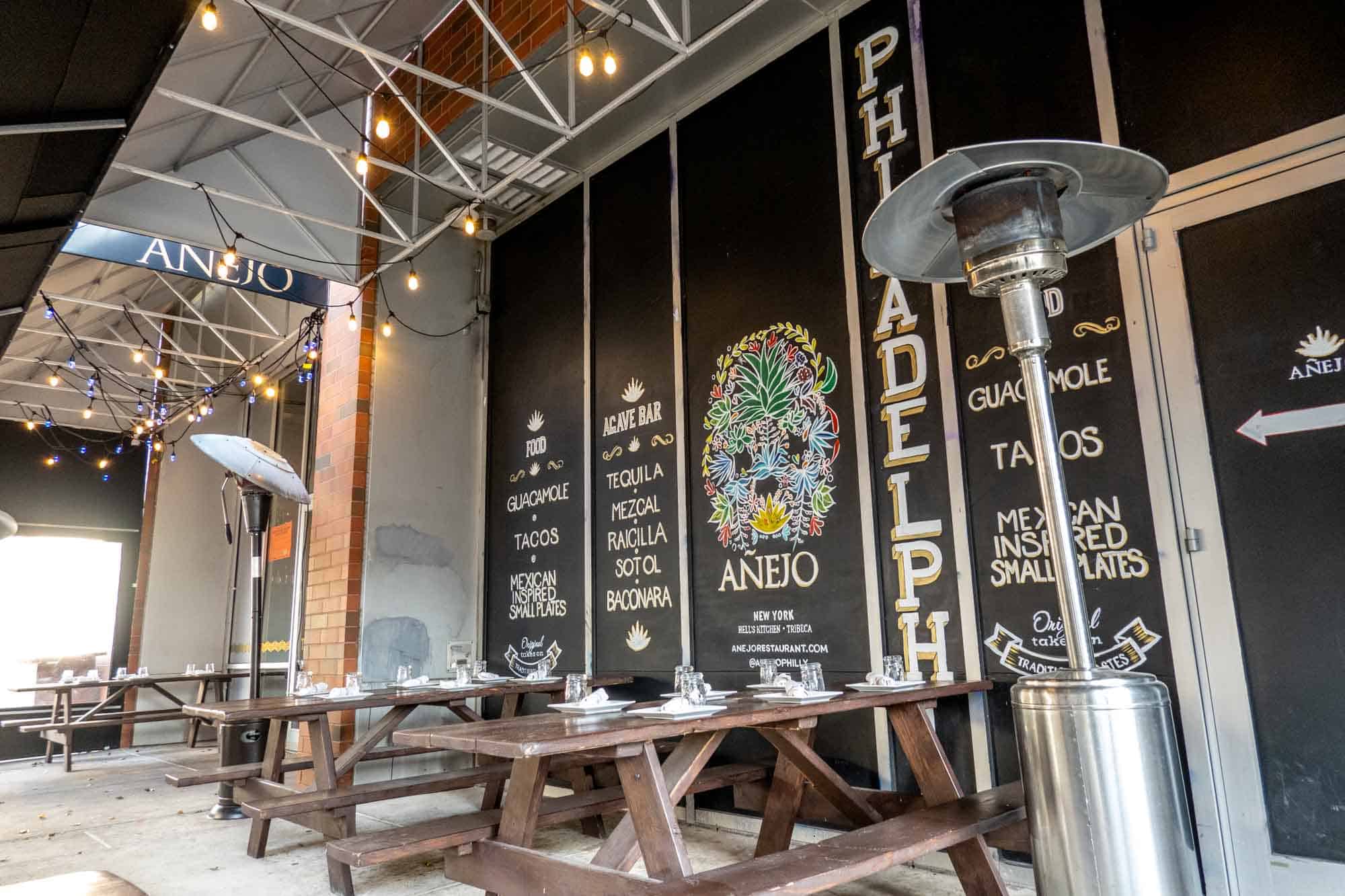 Anejo has made a splash in the No Libs brunch scene with a 90-minute premium option that provides guests with bottomless drinks. Make sure to pace yourself with some of Anejo's delicious entrees like the breakfast tacos or huevos rancheros. Location: 1001 N. 2nd St.
Cantina Dos Segundos
Generous portions, creative dishes, and strong drinks– what more could you ask for? Get your tequila and guac fix at No Libs favorite Cantina Dos Segundos. They serve dinner daily plus weekend breakfast, and they're open late night. Vegan options are also available! Location: 931 N. 2nd St.
Baan Thai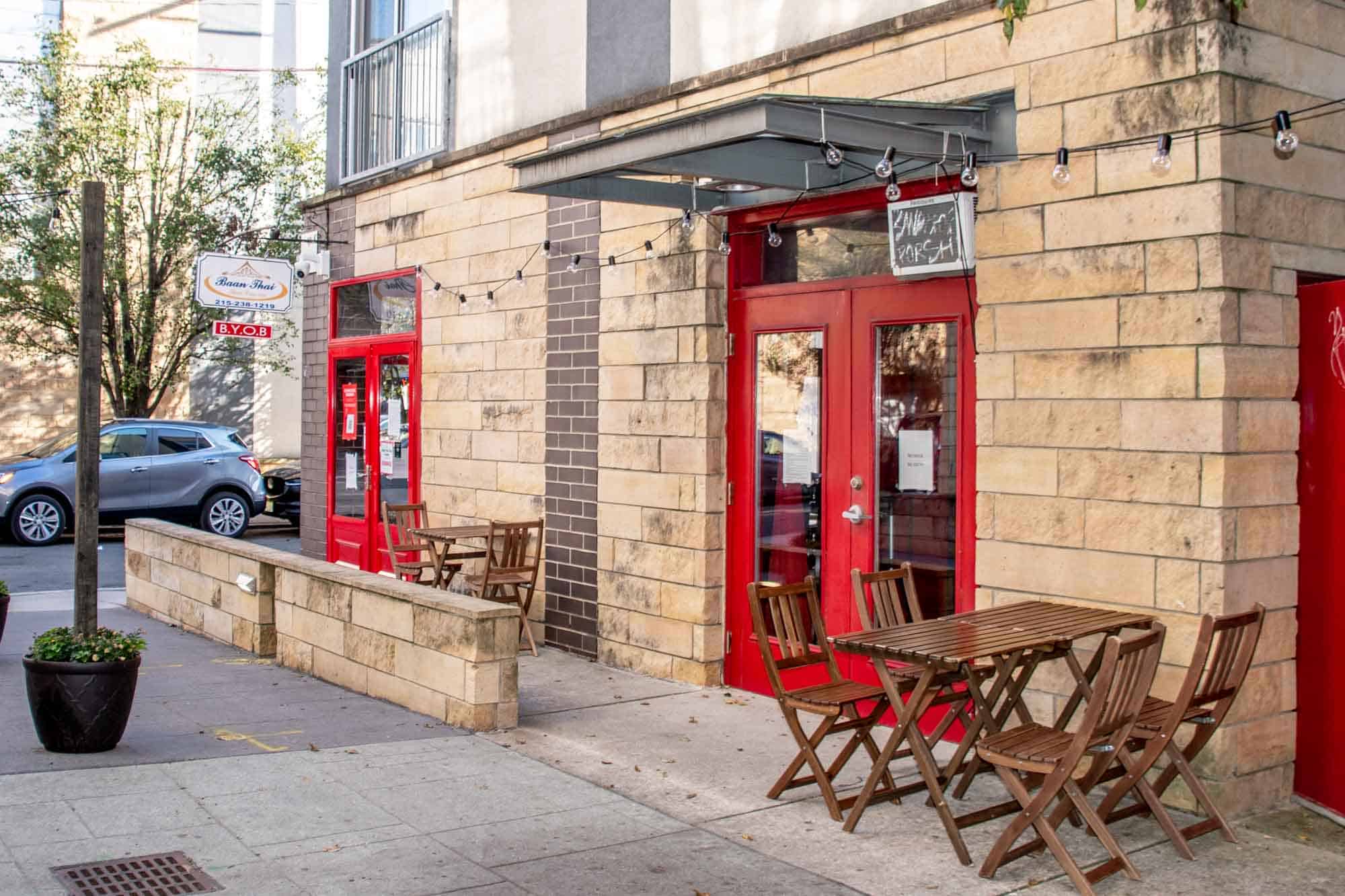 Baan Thai is a popular Thai spot in the No Libs neighborhood. You will no doubt get a bang for your buck with their large portions of authentic thai dishes. Also, Baan Thai is BYOB! Location: 1030 N. American St.
SET NoLibs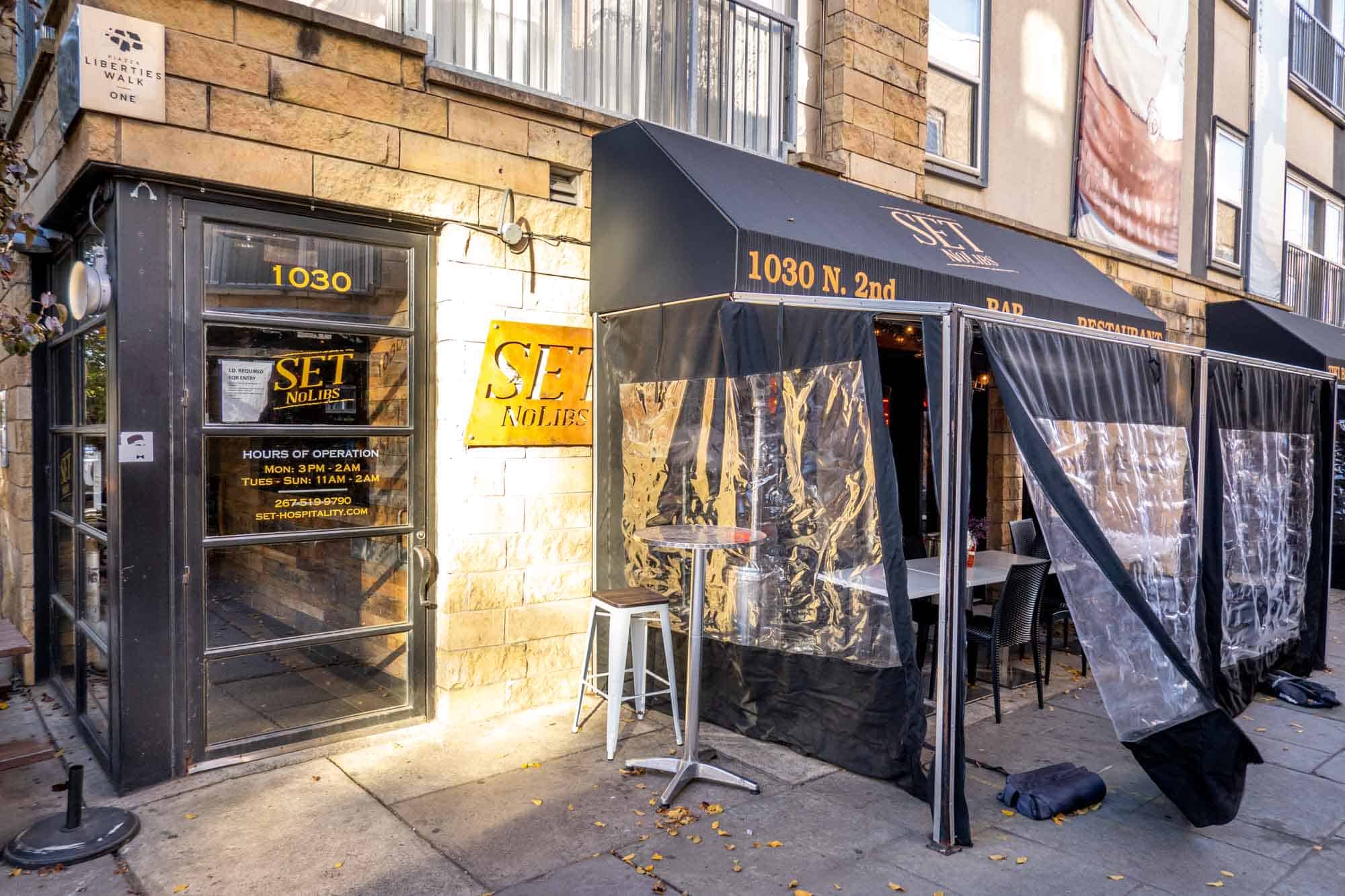 Fact: mimosas and margaritas are infinitely better when served in a tower. Well, maybe not a fact but definitely one of SET's calling cards along with the tempura shrimp poppers. This is a great place for a group outing but remember to make reservations ahead of time as it gets pretty crowded on the weekends. Location: 1030 N. 2nd St #101-102.
Ken Love's BYOB
Ken Love's specializes in complex flavors in a fine dining atmosphere. The six-course menu rotates weekly, portions are huge, and the dishes are inventive. Ken Love's is the perfect place for a special occasion dinner. Note that it's cash only. Location: 701 N. 3rd St.
The Abbaye
Take your classic pub food, make it upscale, and you get The Abbaye. Stop by for a burger and a beer or try some of The Abbaye's vegan options like the seitan cheesesteak. Location: 637 N. 3rd St.
Hello Vietnam Asian Bistro
For outstanding Vietnamese food, Hello Vietnam Asian Bistro should be your new go-to. Get your bahn mi fix or a tasty bowl of pho to enjoy in the outdoor dining area nestled between fresh flowers and greens. Location: 722 N. 2nd St.