Some posts on this site contain affiliate links, meaning if you book or buy something through one of these links, we may earn a small commission (at no extra cost to you).
Philadelphia is flat-out fun for families with kids. Not only is it the most walkable city in America, but it's also one of the most family-friendly cities — we've got kid-friendly museums, playgrounds galore, as well as festivals, free (or almost free) fun attractions, and even a few amusement parks!
Aside from the award-winning museums and fun attractions, Philly is arguably one of the most historic places in country. Exploring the city and its attractions can also be educational and informative.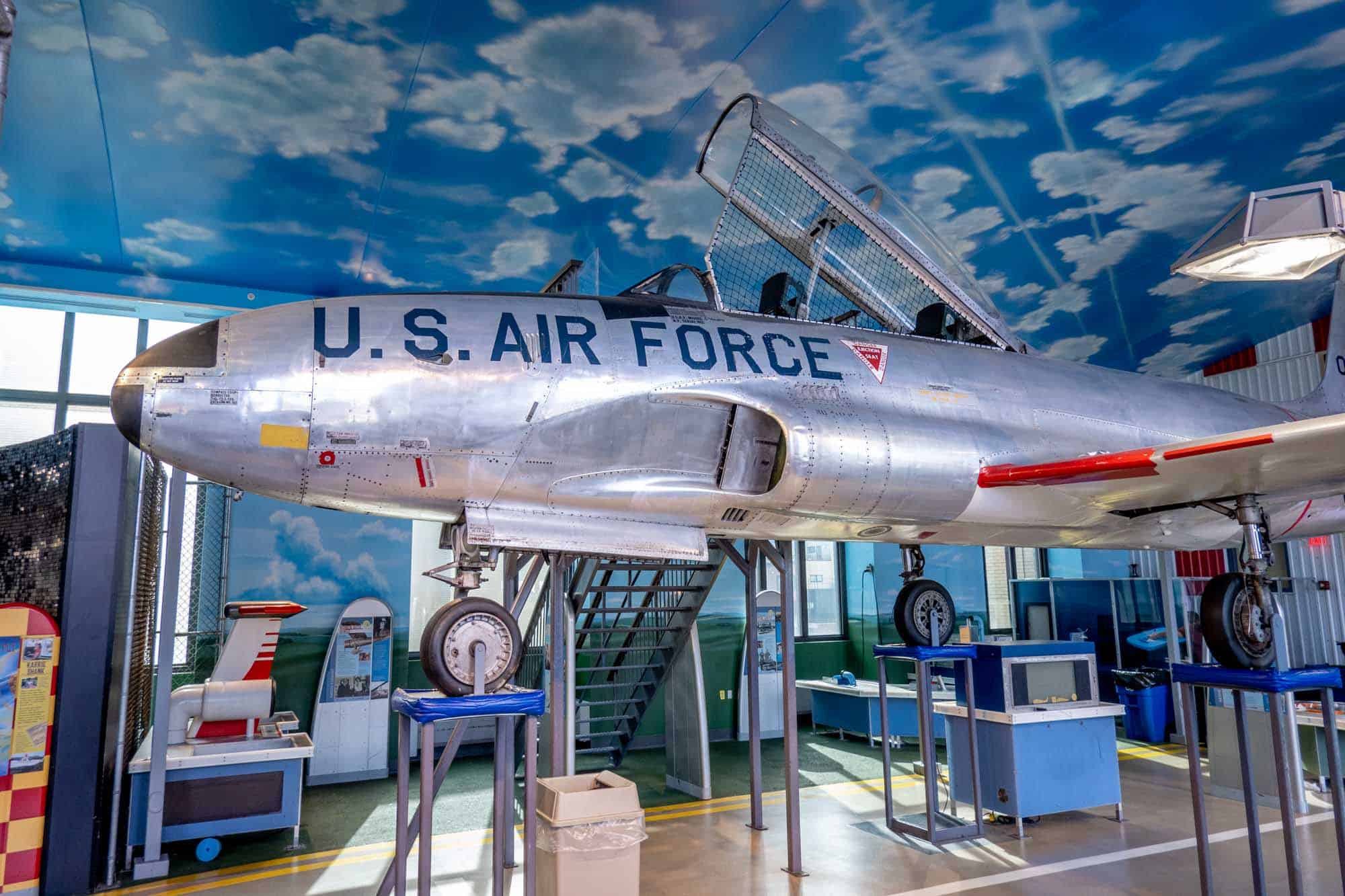 Planning a trip to Philadelphia with kids and want ideas for what to do? Or do you live here and want to find new and interesting places to explore? Well, look no further. We give you our in-depth list of the best things to do in Philadelphia with kids.
Let's dive in.
Please Touch Museum
This is one of the most popular spots in Philadelphia for kids. Located in Fairmount Park, the Please Touch Museum has something fun for kids aged seven years old and below. While toddlers get to crawl around the fairytale-themed forest, the older kids can explore the rocket room.
Younger ones will also enjoy riding the carousel while older kids experience the water-centric River Adventure exhibit. There are lots of other activities that will encourage your child's passion for learning.
Franklin Institute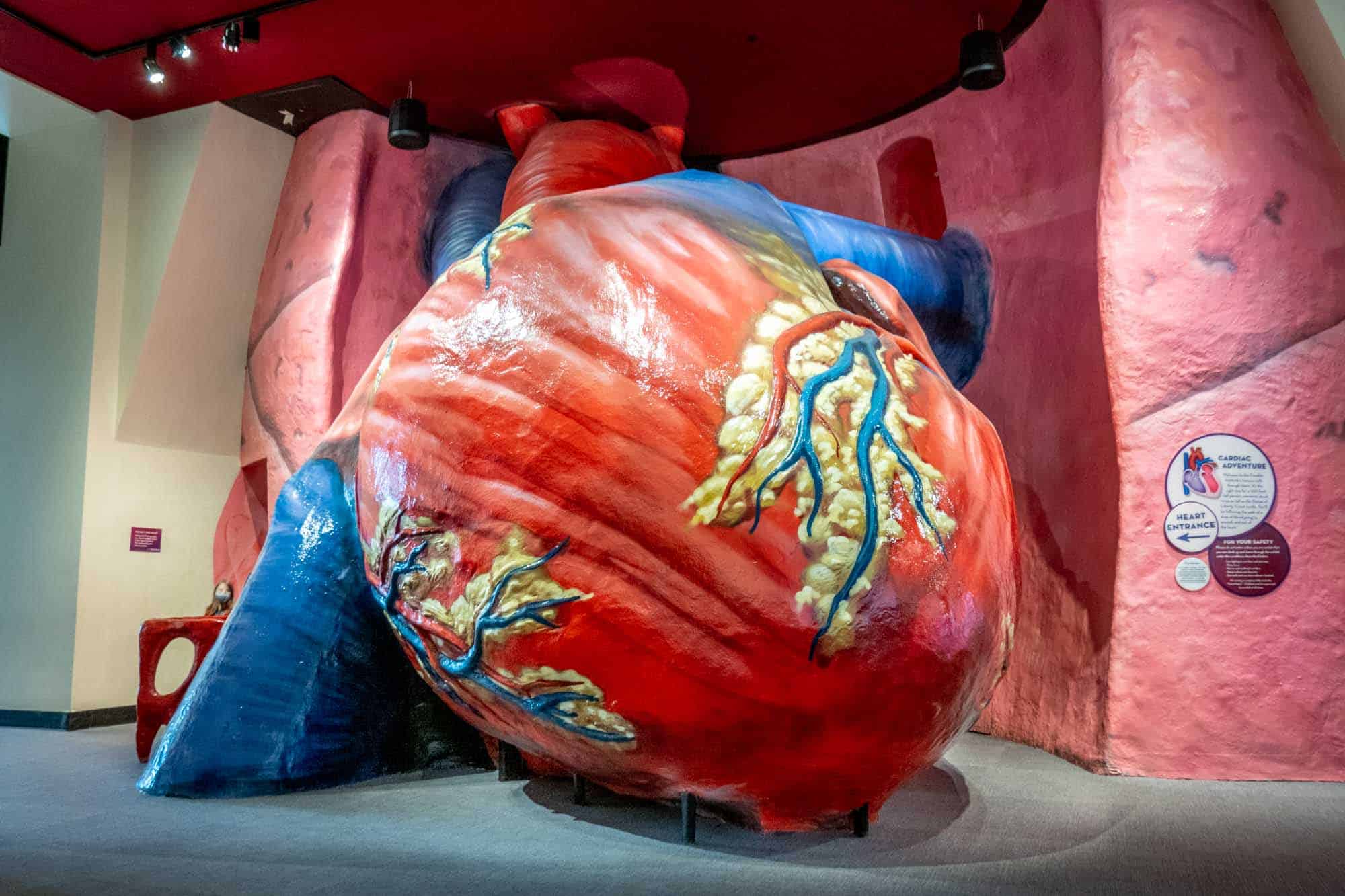 If you have kids who love science, this is the best place to bring them. The Franklin Institute is a center of science education and research. It is named after Benjamin Franklin and features loads of exciting and educative exhibitions for kids. History buffs will enjoy the actual Ben Franklin artifacts from his experiments on electricity.
Kids love the giant walkthrough heart that they can explore while learning anatomy. There are also rotating special exhibitions. Past exhibits have included the immersive Harry Potter experience or 100 years of Disney.
Adventure Aquarium
This massive aquarium houses 2 million gallons of water and 8,500 different animals. Impressive right? It will be even more impressive to your kids.
There is a 760,000-gallon tank filled with sea turtles, sharks, schooling fish, stingrays, and a Great Hammerhead that measures up to seven feet. There are Hippos and Penguins too.
Your kids will have a great time trying to identify and touch the different animals. Be sure to look out for the Shark Bridge as well.
The Adventure Aquarium is located along the Camden waterfront and has great Philly skyline views.
Sister City Park
Looking for things to do in Philly with young kids when it's hot? Here's your answer! Take them to Sister City Park and have them splash around in the pebble-bottom wading pool. The park is sheltered by a landscaped hill and has ten spouting fountains. The little ones will definitely have a chill time.
The best part? You get to kick your feet in the water and chat with other parents. This park also has a café and a kiosk that sells souvenirs, sunscreen, swim diapers, and other essentials.
Spruce Street Harbor Park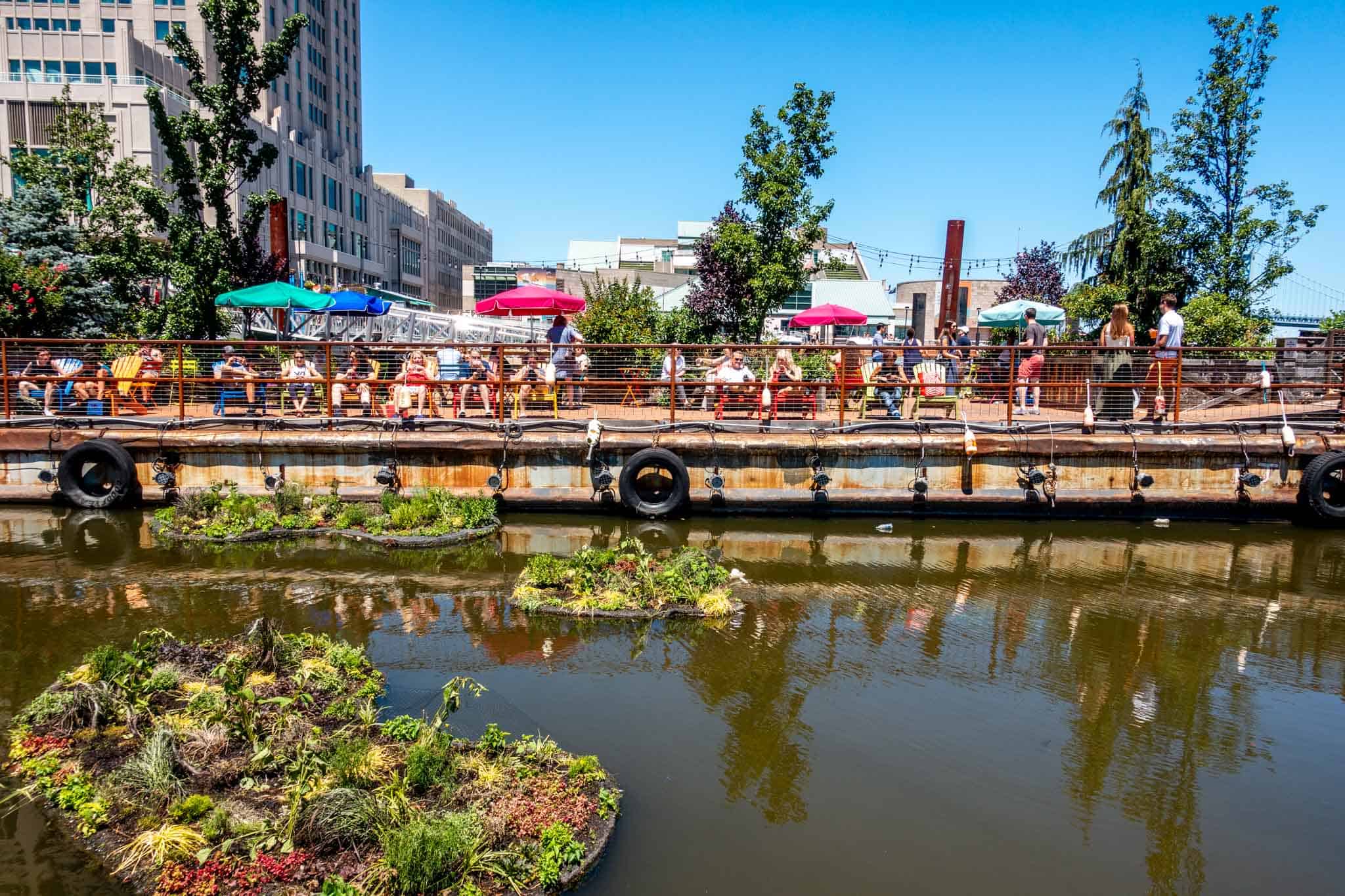 This is one of the best urban beaches in America. And it is a perfect summertime location!
An outdoor oasis located on the Delaware River waterfront, it features tree-slung hammocks, concessions, and arcades in cargo containers. Planning to spend a warm summer day out with the kids? This is an excellent pick.
While the kids run around in the park and play arcade games, the adults can enjoy refreshing drinks from the bar or the food sample from the food trucks. If you are interested in learning more, read our article about Spruce Street Harbor Park.
Franklin Square
This is another fun park that will keep your kids engaged and happy all day long. It features a Philly-themed mini-golf course, a carousel, a large playground, and a restored marble fountain.
Built in 1682 by William Penn as one of the 5 original parks in Philadelphia, this historic square offers affordable and fun family activities. A burger joint sells mouthwatering burgers, fries, and tasty cake shakes. This park is suitable for kids of all ages and frequently hosts special events like the Chinese lantern festival or the holiday light show.
Philadelphia Zoo
The Philadelphia Zoo is the oldest zoological park in America. It was opened in 1874 and houses over 1,000 rare and fascinating animals. It is the first zoo in the world with an animal exploration and train travel system. This system is called Zoo360 and makes it easy for guests to explore the zoo and interact with the vast species of animals.
Your kids will enjoy exploring the KidZooU exhibit. Be sure to have them check out the McNeil Avian Center and Big Cat Falls exhibits. This zoo is perfect for adults and kids of all ages.
Blue Cross River Rink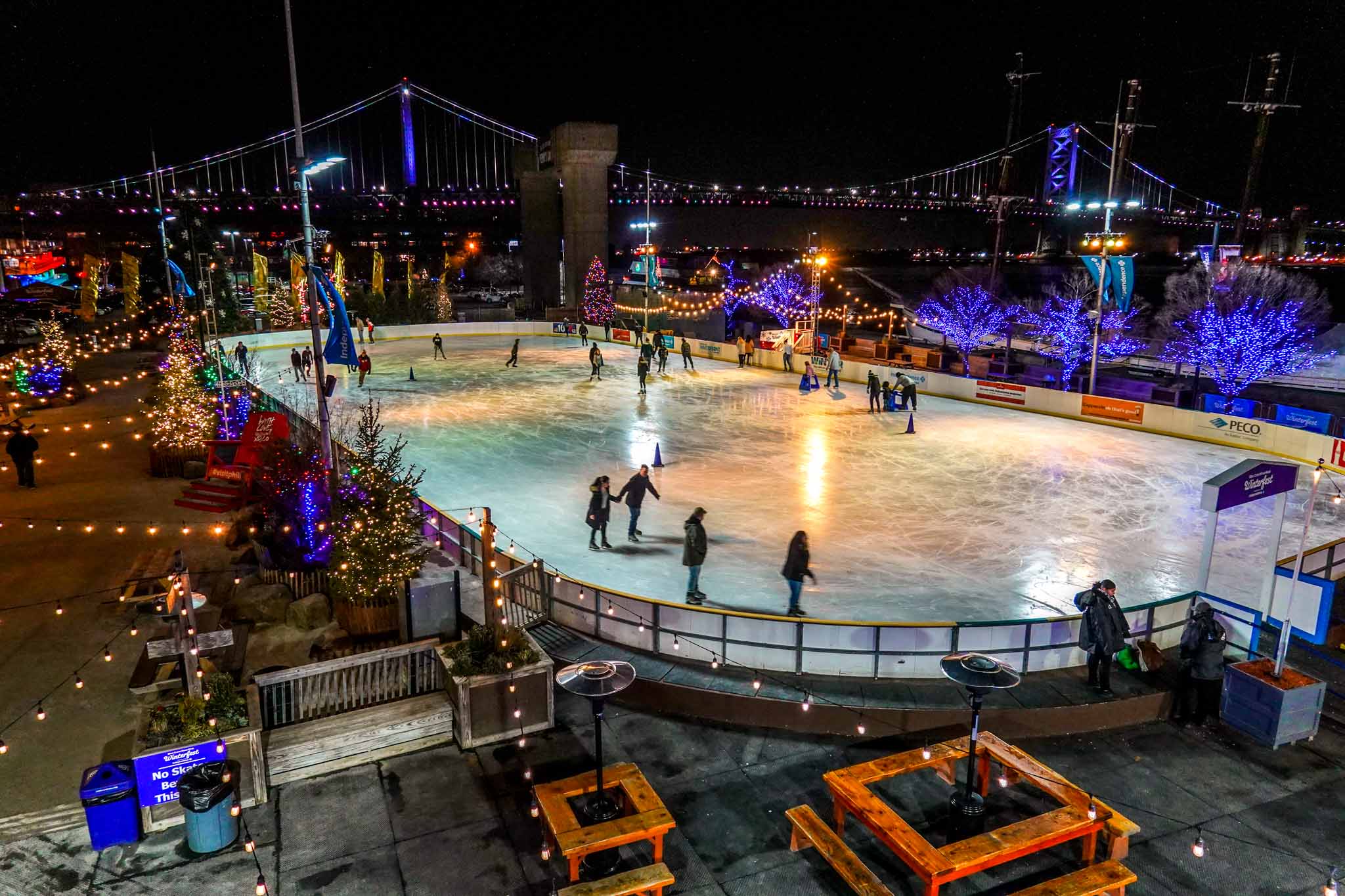 This location is the definition of fun in Philly for kids. If you visit during winter, the kids get to enjoy ice skating events known as Winterfest. The winter ice-skating runs down to the Delaware River waterfront and features indoor games, pop-up fire pits, cozy couches, and hot drinks.
The rollerblades come out to play in summer, and the kids participate in Summerfest. The warmer weather comes with rocking chairs, cool drinks, air conditioning, and fun carnival rides. There's also a 60-feet Ferris Wheel. This is a fun location for the entire family.
Sesame Place
One of the famous Philadelphia attractions for families, Sesame Place, is a must-visit. Spend the day with Sesame Street characters like Elmo, Big Bird, Julia, and Abby at this beautiful theme park.
If you plan to visit around Memorial Day and Labor Day, your kids will have the chance to splash around in the water park. They will also enjoy exciting rides, watch thrilling parades and fireworks and participate in tons of interactive activities.
Kid's Castle in Doylestown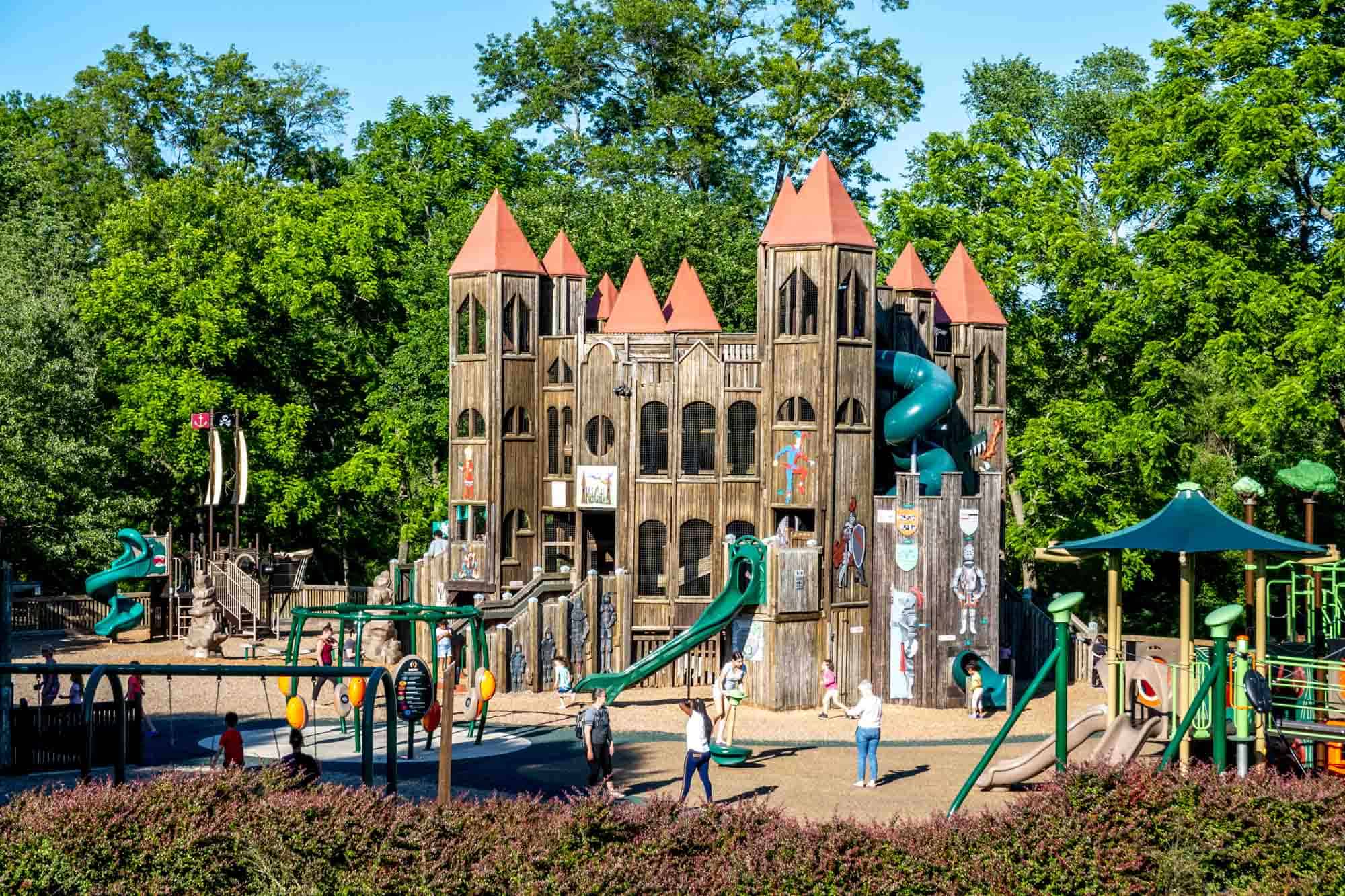 This is a castle-themed playground is perfect for your little princes and princesses. Made entirely with wood, this eight-story castle is every kid's favorite and is a must-do in Doylestown.
Your kids will surely enjoy going down its twisty slide. This castle also has a children's amphitheater and swings where they can expend their energy.
Morris Arboretum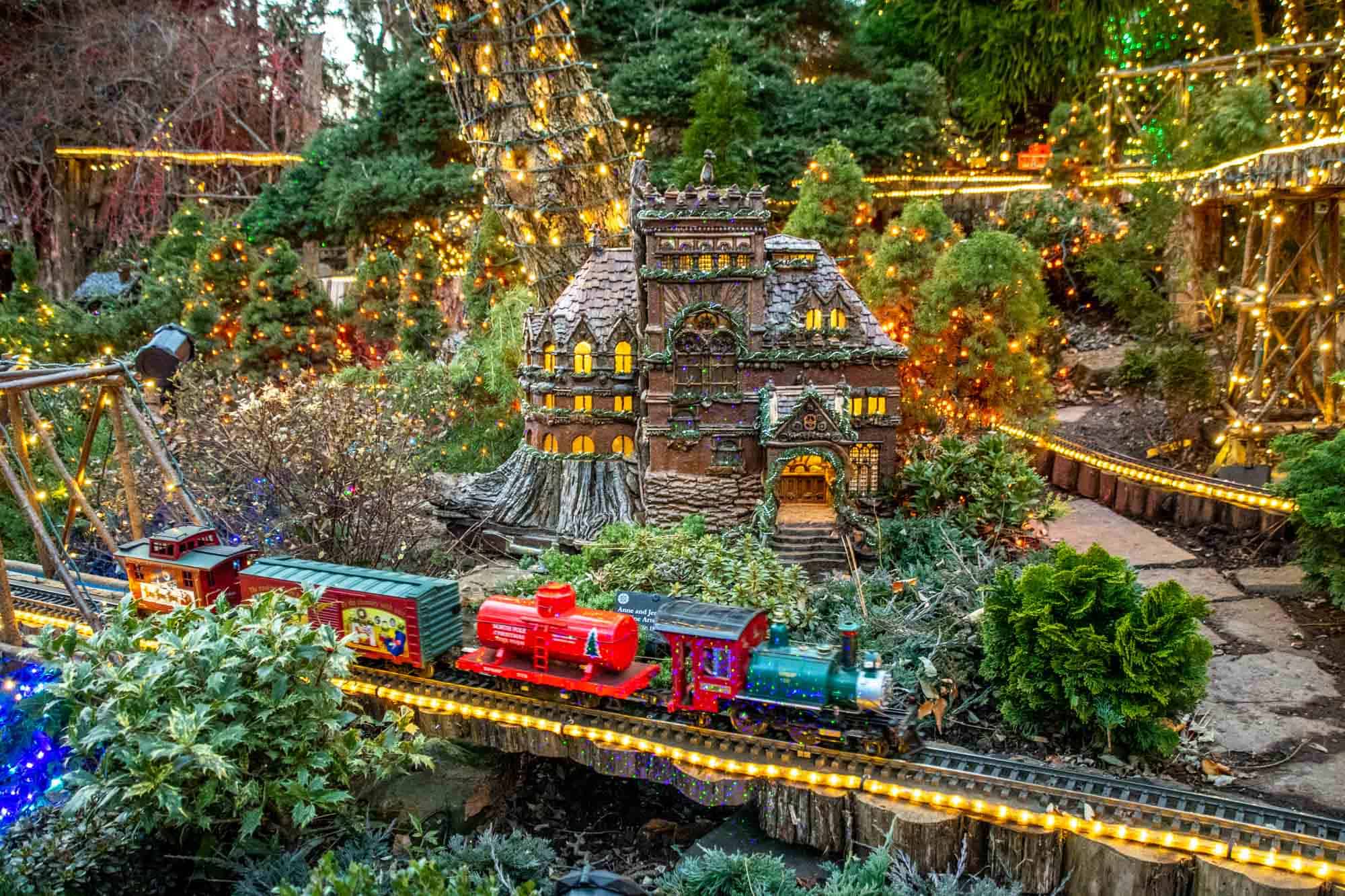 Set across 92-acres of natural land and gardens, Morris Arboretum brilliantly introduces children to the wonders of nature. It uses imagination and education to introduce the collaborative relationship between people and the land.
The arboretum houses The Garden Railway, a miniature world of trains, bridges, and small buildings made from natural materials. Morris Arboretum is an excellent location for both adults and children. It also features an exciting canopy walk and expansive rope netting where kids can run and climb. If you are planning a visit, be sure to read our Morris Arboretum visitors guide.
Legoland Discovery Center
Your kids already love LEGOs. Give them the time of their lives by taking this a step further. Visit the 33,000 square-foot LEGO heaven with your kids and watch their eyes light up in delight.
They will enjoy going on the LEGO-themed ride and spending time in the 4D cinema. This home of plastic bricks features ten play areas and a DUPLO Park for toddlers.
TreeTop Quest
Designed for kids aged four years and above, this 20-zipline obstacle course is another top location for kids' activities in Philadelphia. Each year, TreeTop Quest is open from May to November and features 60 different obstacles.
It is quite safe and self-guided, and your kids will enjoy playing at the swings, jumping, climbing, and walking the tightrope. There are various difficulty levels to pick from, and there is a 'chick pea' area for kids between 4 and 6 years old.
Smith Memorial Playground
This is one of the oldest playgrounds in America and is one of the best things to do with kids in Philadelphia. It is best known for its famous 1899 Ann Newman Giant Wooden Slide and is free for kids aged ten years and younger.
They will have a great time jumping about, swinging, climbing, and exploring nature. Kids aged five years and under can explore Tot Lot, where there are tons of age-appropriate play equipment.
Elmwood Park Zoo
This zoo was opened in 1924 and houses over 100 species of animals indigenous to the Americas. The Elmwood Park Zoo is also home to Asian red pandas and African fruit bats.
This 16-acre zoo in Montgomery County also houses animals that have been successfully conserved. Some of them are the bald eagle, American bison, timber wolf, peregrine falcon, and the American alligator.
The fun part for kids? There is a spacious play area with interactive animal sculptures where kids will enjoy playing.
Buck's County Children's Museum
The Buck's County Children's Museum features seven explore-able exhibits that will be the highlight of the children's day. These exhibits introduce the children to the history of Buck's County.
There are several themed play areas within the museum as well. Some of the themes include Town Square, Big Dig, The Hospital, Factory Works, Airways to Waterways, and Bucks County Country.
Battleship New Jersey
Do you have a nautically inclined kid? They would absolutely dig a visit to Battleship New Jersey. It is America's most decorated battleship and is open for tours. It features a 4D flight simulator and an onboard helicopter.
Your kids will also enjoy exploring the sailors' bunk. For the Overnight Encampment program, they even get to sleep over. Thrilling, right?
Magic Gardens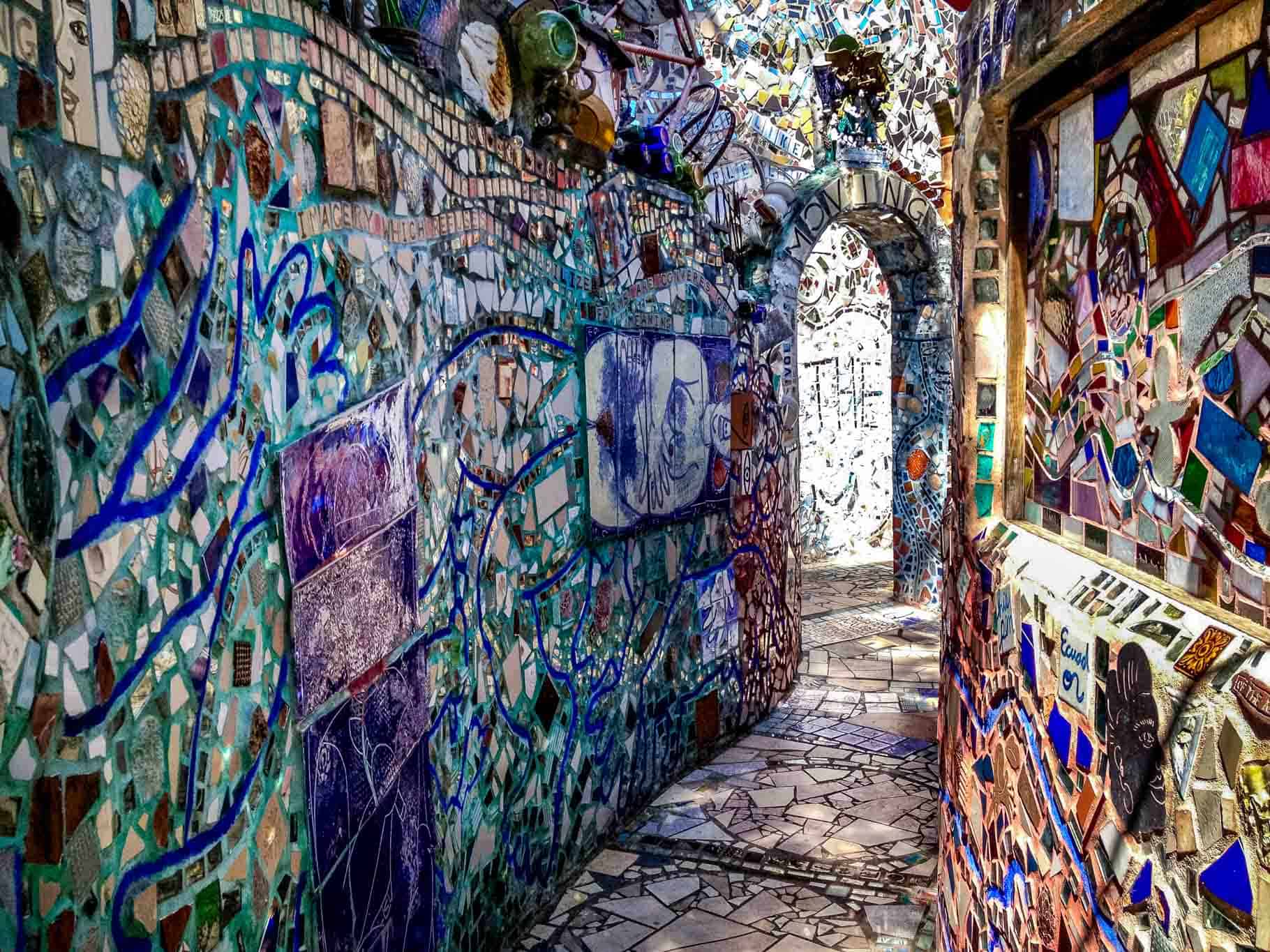 Philadelphia's Magic Gardens is a nonprofit museum that displays mosaic art by local artist Isaiah Zagar and the murals extend over half a city block.
The exhibits feature a scavenger sheet that turns the museum into a treasure hunt island. Kids will love the colorful pieces of glass, and the small details found here and there.
Academy of Natural Sciences of Drexel University
Drexel University houses the oldest natural history museum in America. It features a gigantic Dinosaur Hall with a fossil preparation lab and a dig site.
Science-inclined kids will have a enjoyable time learning all about natural history. They will also get to explore the interactive nature center with live animals, play with live butterflies and learn from the various exhibits available.
Peddler's Village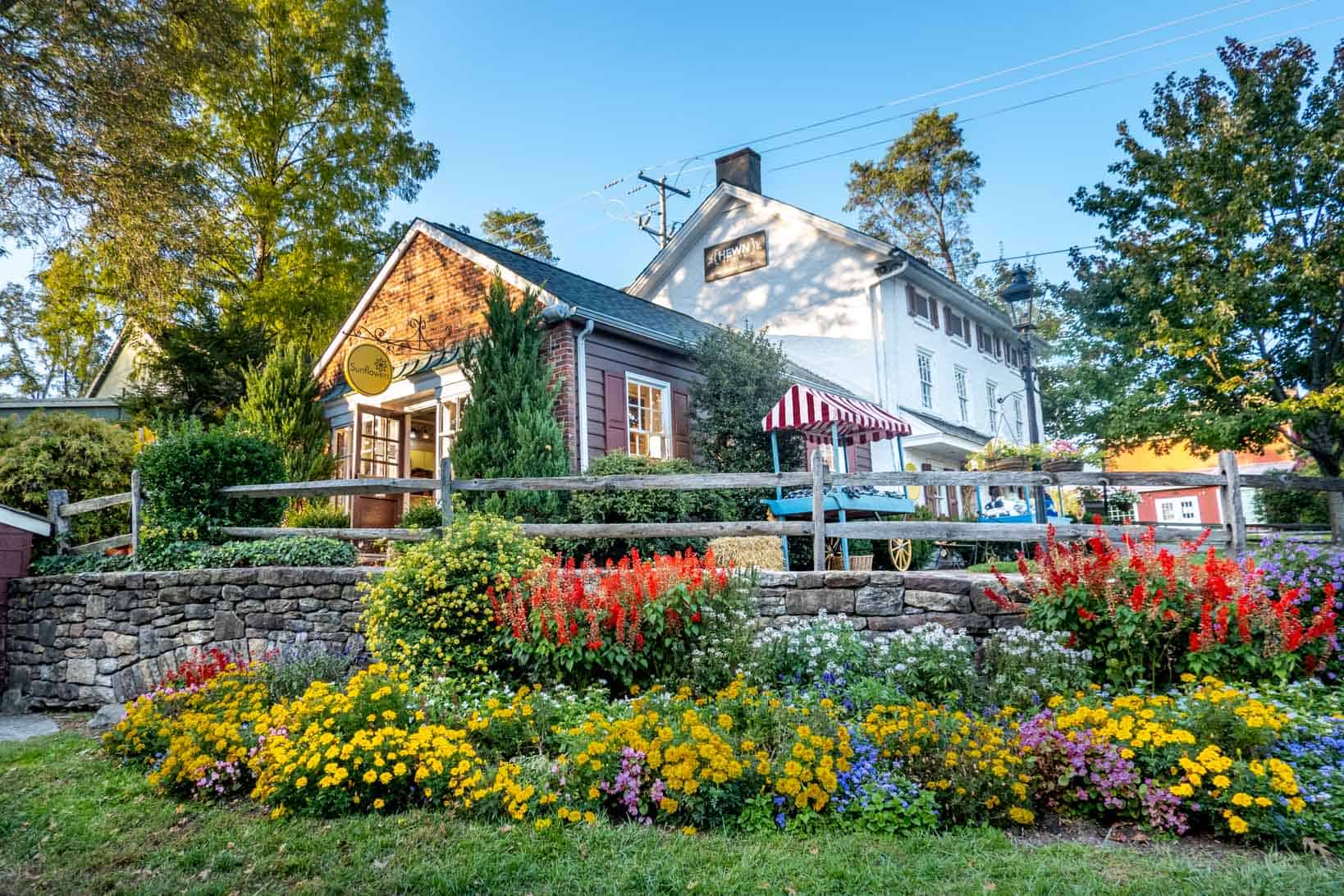 Want your kids to experience a real fair in Bucks County? Peddler's Village is it. This all-in-one destination has shops, restaurants, candy stores in a cute setting. But for children, it also hosts Giggleberry Fair.
This indoor amusement center is a place that children of all ages love. It features a restored 1922 Philadelphia Toboggan Company Grand Carousel. Be sure to check out the interactive exploration environment named Giggles Discovers.
Kids will also enjoy challenging themselves to an obstacle race on Giggleberry Mountain, the largest indoor obstacle course. Younger kids will love spending time in the Game Room.
Independence National Historical Park
This historical park is nicknamed 'the cradle of American democracy.' Overseen by the National Park Service, this 55-acre park and has the most iconic landmarks in Philadelphia. It also features lots of family-friendly activities and educational experiences.
Some of its historic attractions include the Congress Hall, the Liberty Bell Center, Benjamin Franklin Museum, and Independence Hall. The museum also has ranger-led tours from Memorial Day to Labor Day that educate kids on important historical events. It is a fun place for kids aged six years and above.
Dilworth Park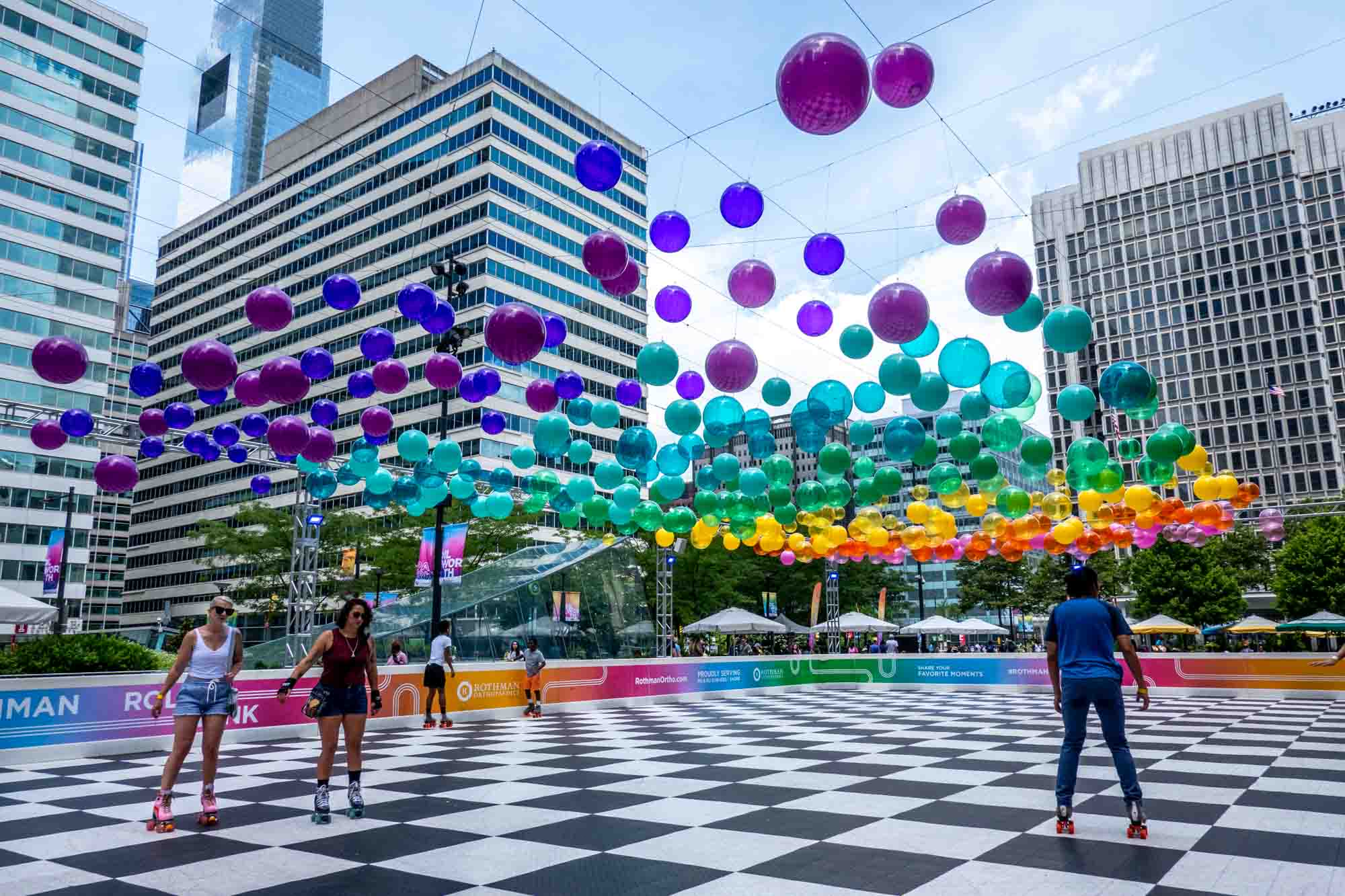 Located at the foot of City Hall, this retro-themed roller rink park is a fun place for kids. The park features tree-lined fountains where kids can splash around. During winter, they can ice skate on the rink.
Dilworth Park boasts of year-round fitness events, pop-up concerts, outdoor movies, and festivals. There's also a café where parents and their kids can grab a quick bite. It is a kid-friendly park and is fun for adults and kids of all ages.
Betsy Ross House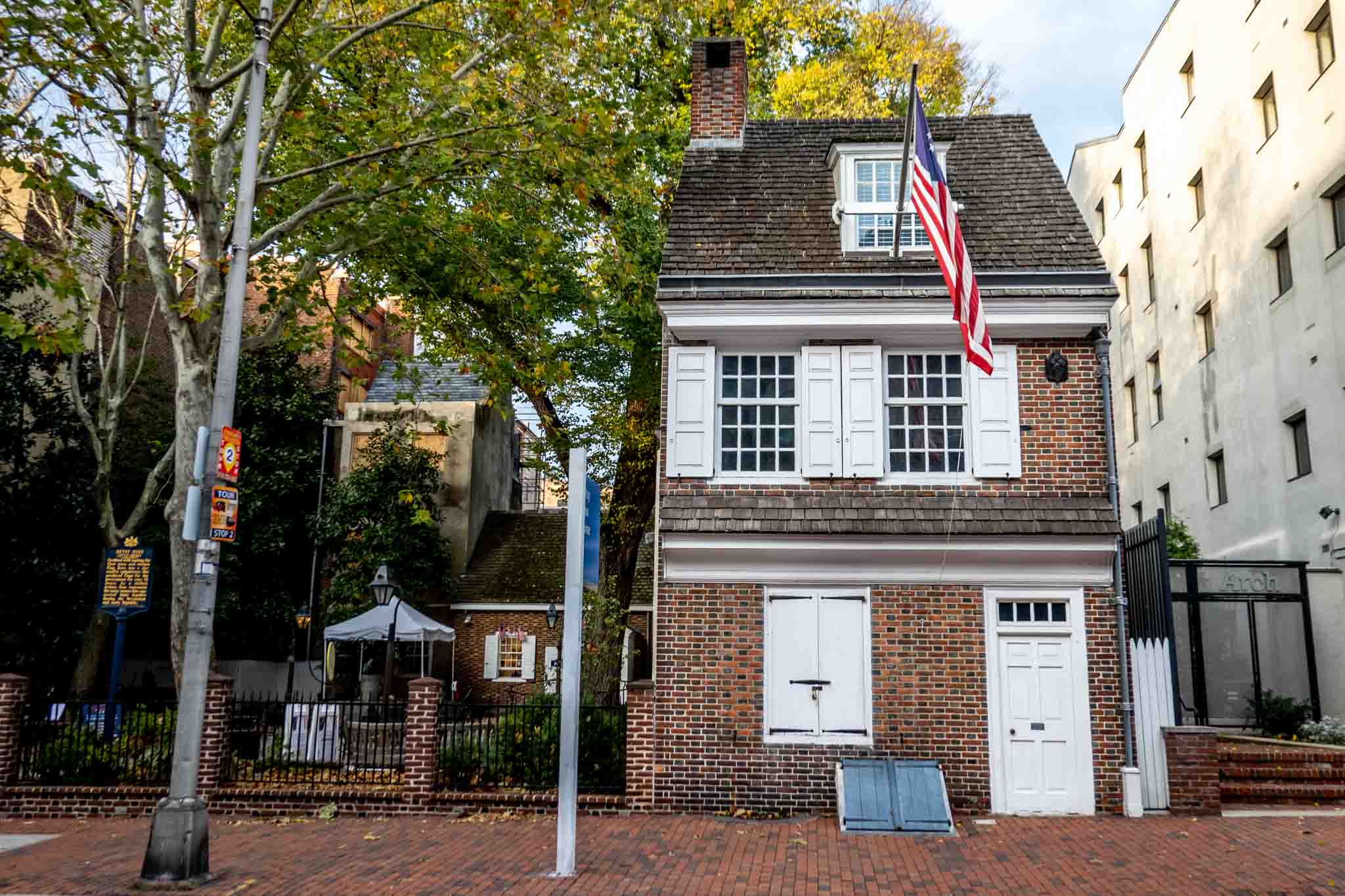 This is the home of America's famous flag maker. It is an interactive 18-century upholstery shop where visitors get to learn about Betsy's work and life.
It features an audio tour that is suitable for kids aged 4 to 8 years old. Kids have an opportunity to solve historic mysteries, while learning about our colonial past. The kitchen features an exhibit that shows what cooking during colonial times was like. There are several fun activities happening at the house all year round, so it's best to check the website before your visit.
Independence Seaport Museum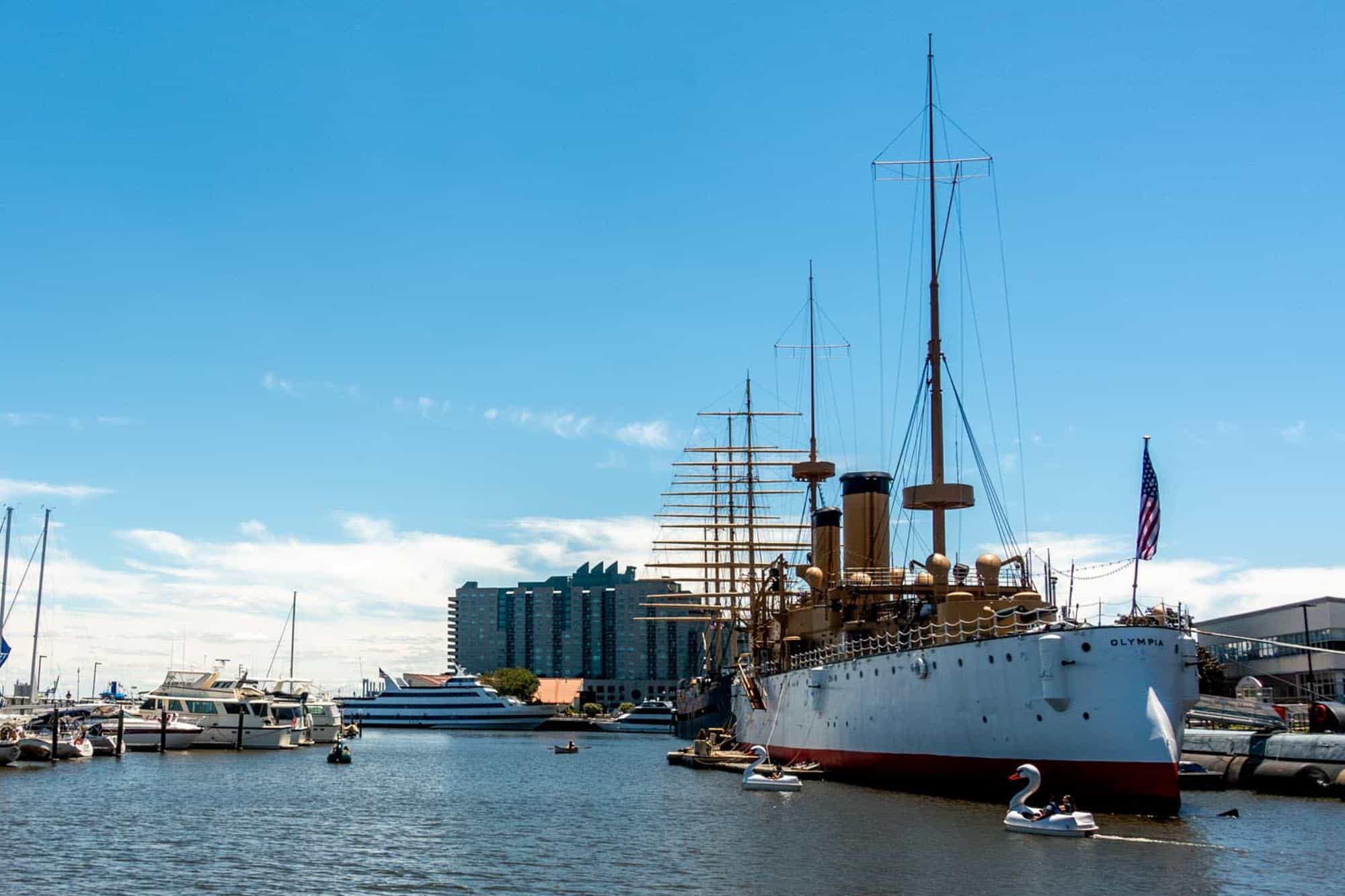 Located on the edge of the Delaware River, the Independence Seaport Museum hosts the Cruiser Olympia. This vessel participated in the Spanish-American War and is now open for tours.
Kids who love sailing will enjoy a visit to this museum. They get to climb a full-size reconstruction of the 1707 schooner Diligence. Kids get to learn about pirates and the history of river rescue and disasters. You can also rent a kayak or a rowboat built in the museum and explore the calm waters with your family.
National Constitution Center
This is the first and only museum in America that is dedicated to the U.S. Constitution. It features lots of family-friendly attractions and exhibits like the Freedom Rising multimedia performance and the Signers' Hall, which is filled with life-sized statues of the signers of the U.S. Constitution.
Civic holidays such as Presidents Day, Tax Day, Veterans' Fay, Earth Day, and many more feature lots of fun, family-friendly events at this museum.
Philadelphia Museum of Art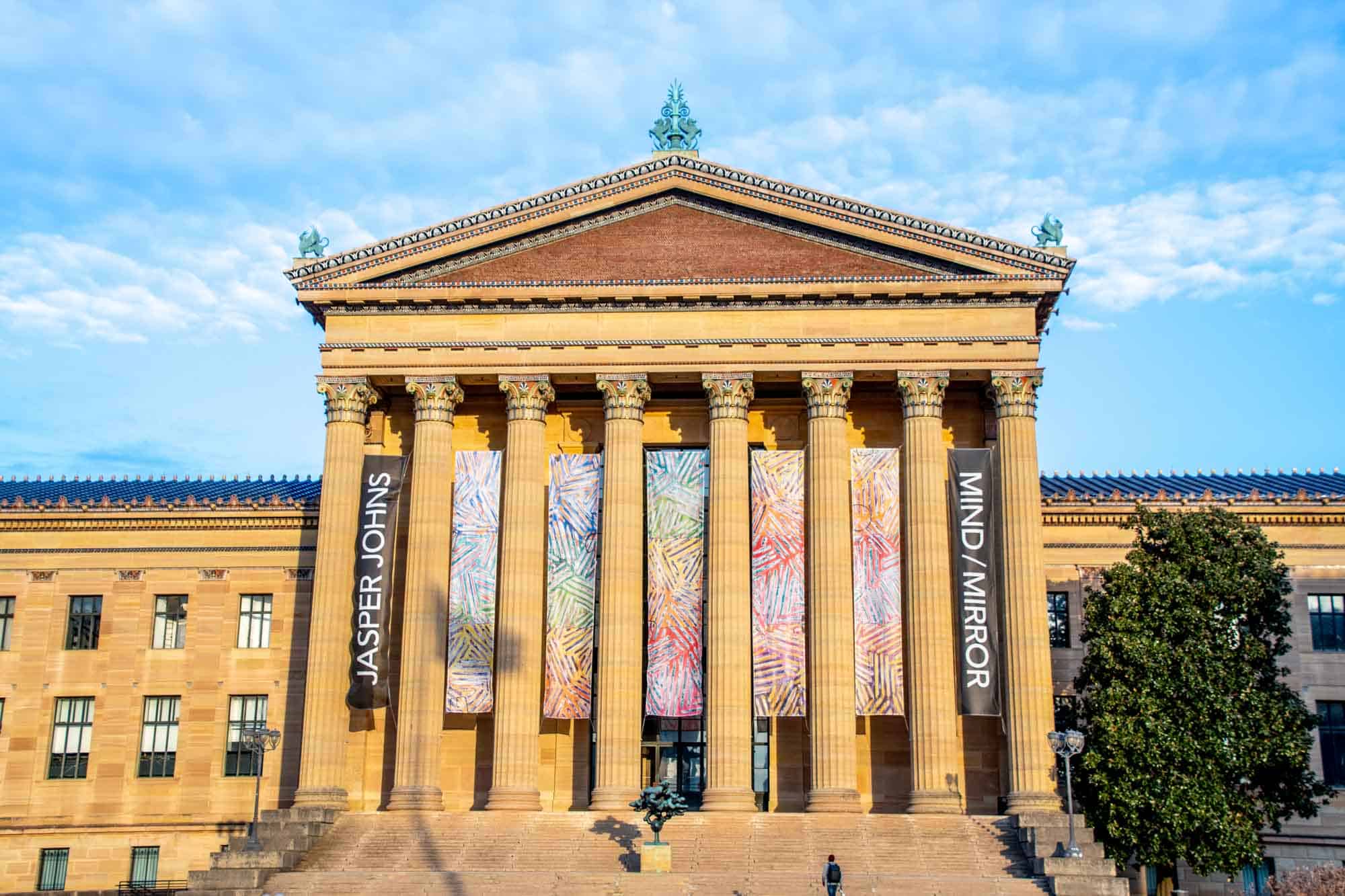 Both kids and adults will have an enjoyable time here. The Philadelphia Museum of Art is a world-class museum with an exceptional collection of over 230,000 pieces of art.
It features lots of kid-friendly tours and programs and is suitable for kids aged three years and above. Sketch galleries are available for kids who love to draw. Paint, and create all forms of art. If you visit on the first Sunday of any month or after 5 pm on a Wednesday, you get to pay any amount you wish for your tickets.
African American Museum in Philadelphia
The African American Museum in Philadelphia is groundbreaking museum that was founded in 1976 and is one of the top black history sites in the city. Its core video exhibit, titled Audacious Freedom, tells notable early African American stories.
There is also an interactive installment created for kids aged 3 to 8 years. Kids get to explore the daily lives of young ones who lived in Philly between 1776 and 1876. Family workshops are available on the weekends, and several special events are held all year round.
Museum of the American Revolution
Located in the Historic District, this museum tells the stories of the citizens who participated in the conflict that led to the creation of the United States of America.
Guests get to join the Sons of Liberty and visit the interactive Revolution Place discovery center. The discovery center is suited for kids aged 5 to 12 years, and it recreates an 18th century Old City, complete with a military encampment, a home, a meetinghouse, and a tavern.
Kids will enjoy boarding the deck of a privateer ship and play soldier. It offers free admission to kids under age 5. Discounts are also available for older children.
American Treasure Tour Museum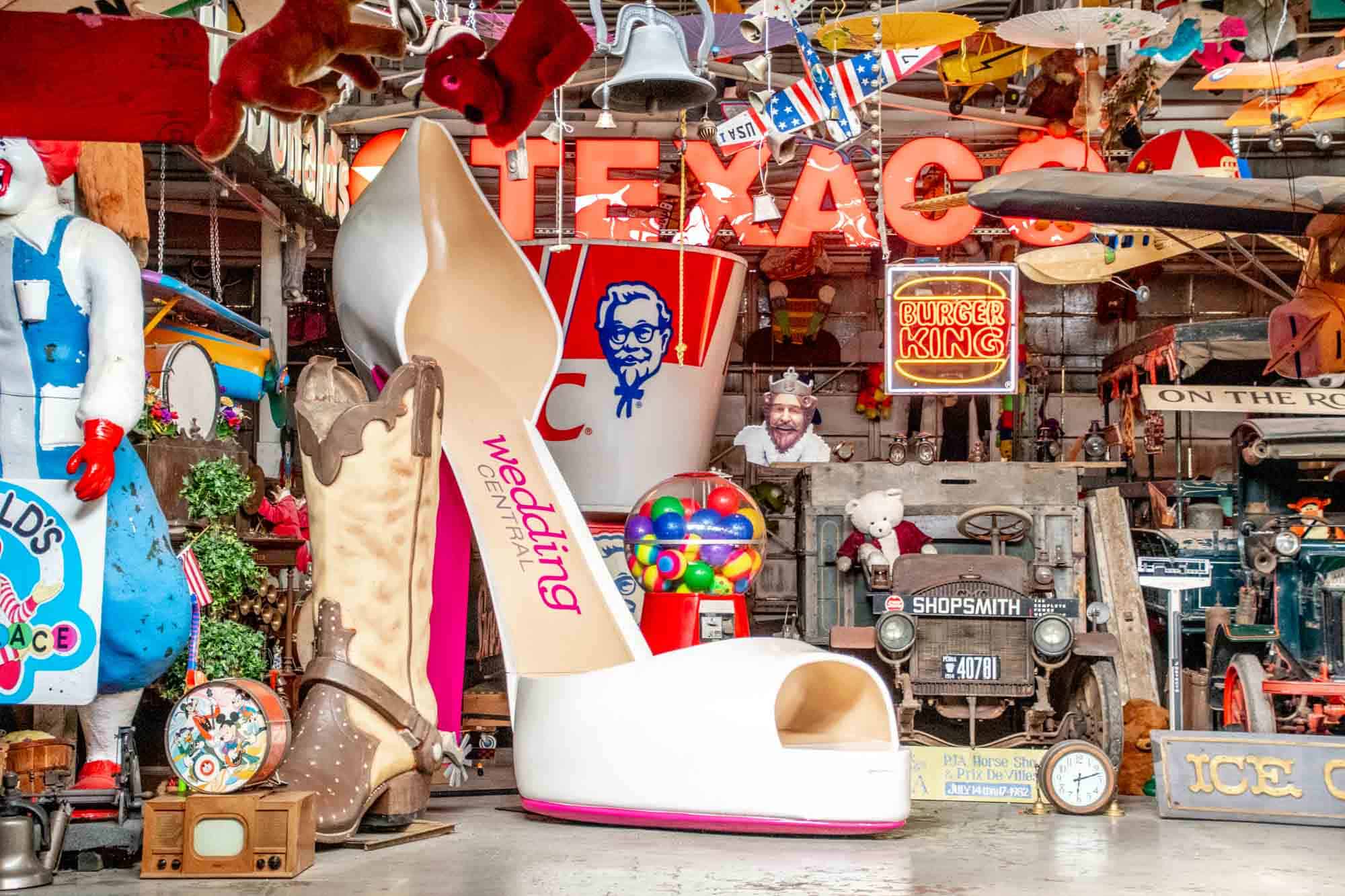 This is a unique tourist attraction in Philadelphia. Established in 2010, it offers guided tours to guests on a unique two-hour tram tour through the giant warehouse near King of Prussia.
This museum is actually a large private collection of eclectic items and collectibles, yet is open to the public. It is actually a collection of collections, each room with its own theme.
Kids love seeing he old cars and toys. They will also get to explore the nickelodeon room and the Kalliope annex. There are lots of stuffed animals, neon signs, and clowns. There's also a penny arcade and a small aircraft at the museum. If you are planning a visit, read our article about the American Treasure Tour Museum.
Eastern State Penitentiary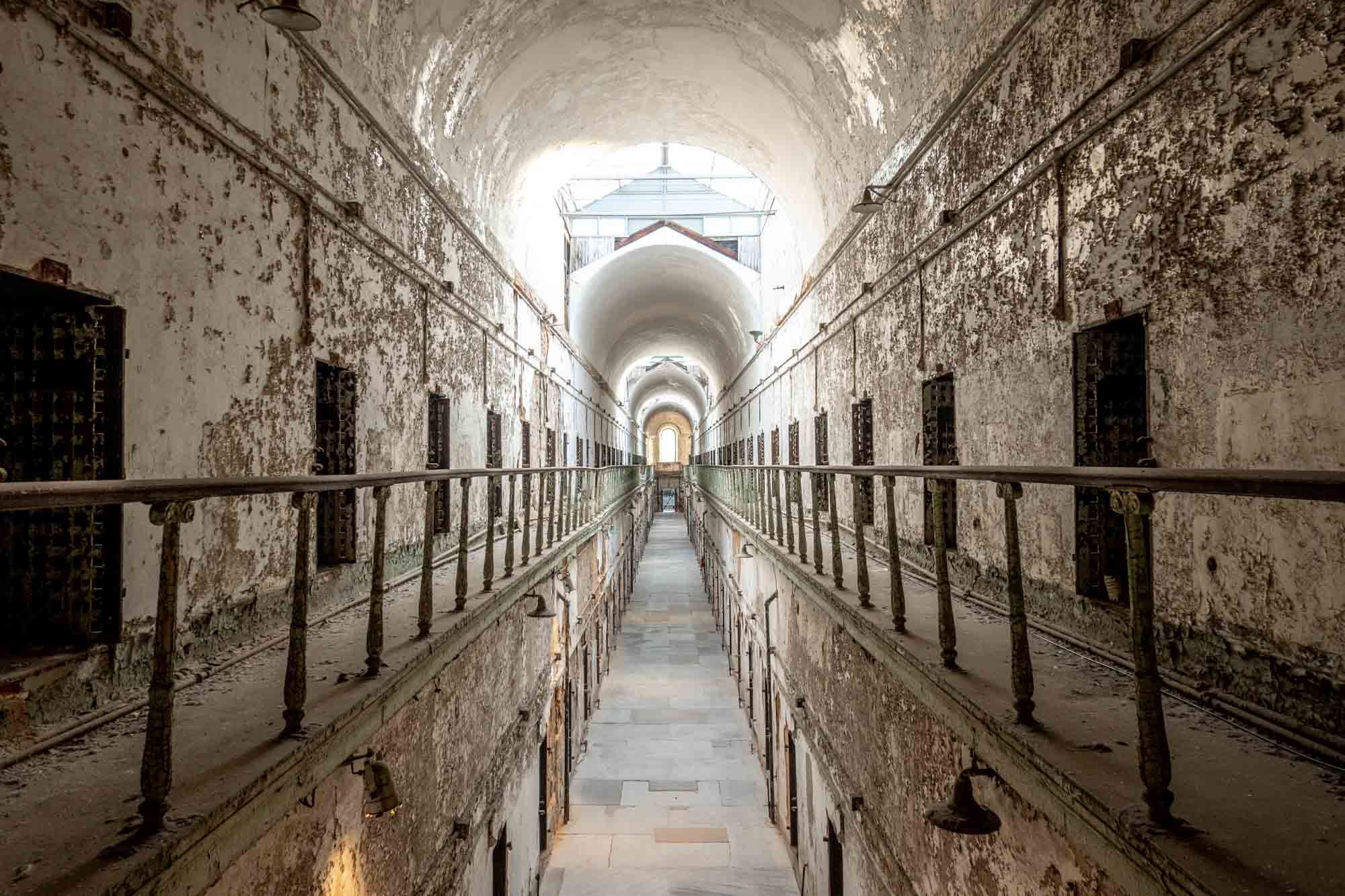 Best suited for older children, the Eastern State Penitentiary is an interesting place to visit. This 200-year old prison in the Fairmount neighborhood has been closed for years.
It is open for tours and features a scavenger hunt for kids. You can also walk around and learn about the history of the prison and the prisoners who lived there. Read our Eastern State Penitentiary visitors guide.
Fireman's Hall Museum
If your kids love fire trucks, this is your chance to blow their minds (not literally, of course.) This museum is located in the Old City neighborhood and is a restored 1902 firehouse.
It is open for tourists and gives kids the chance to get up close and personal with ancient fire trucks. It houses some of America's oldest firefighting equipment, such as steam and motor fire engines. They also get to try on a firefighter suit and take pictures with other firefighter paraphernalia.
Barnes Foundation
The Barnes Foundation is an educational institution that promotes the appreciation of art and horticulture. It moved to Philly in 2012 from the suburbs and is located along the Benjamin Franklin Parkway.
So why take your kids here? For one, this art collection institution offers lots of family activities like stroller tours and toddler times. Kids are also introduced to the works of famous artists like Picasso, Renoir, Cezanne, Van Gogh, Seurat, Degas, Modigliani, Monet, Manet, and many more.
Your family will have a wonderful time exploring French metalwork, African sculpture, regional decorative arts, as well as Native American textiles, jewelry, and ceramics.
Linvilla Orchard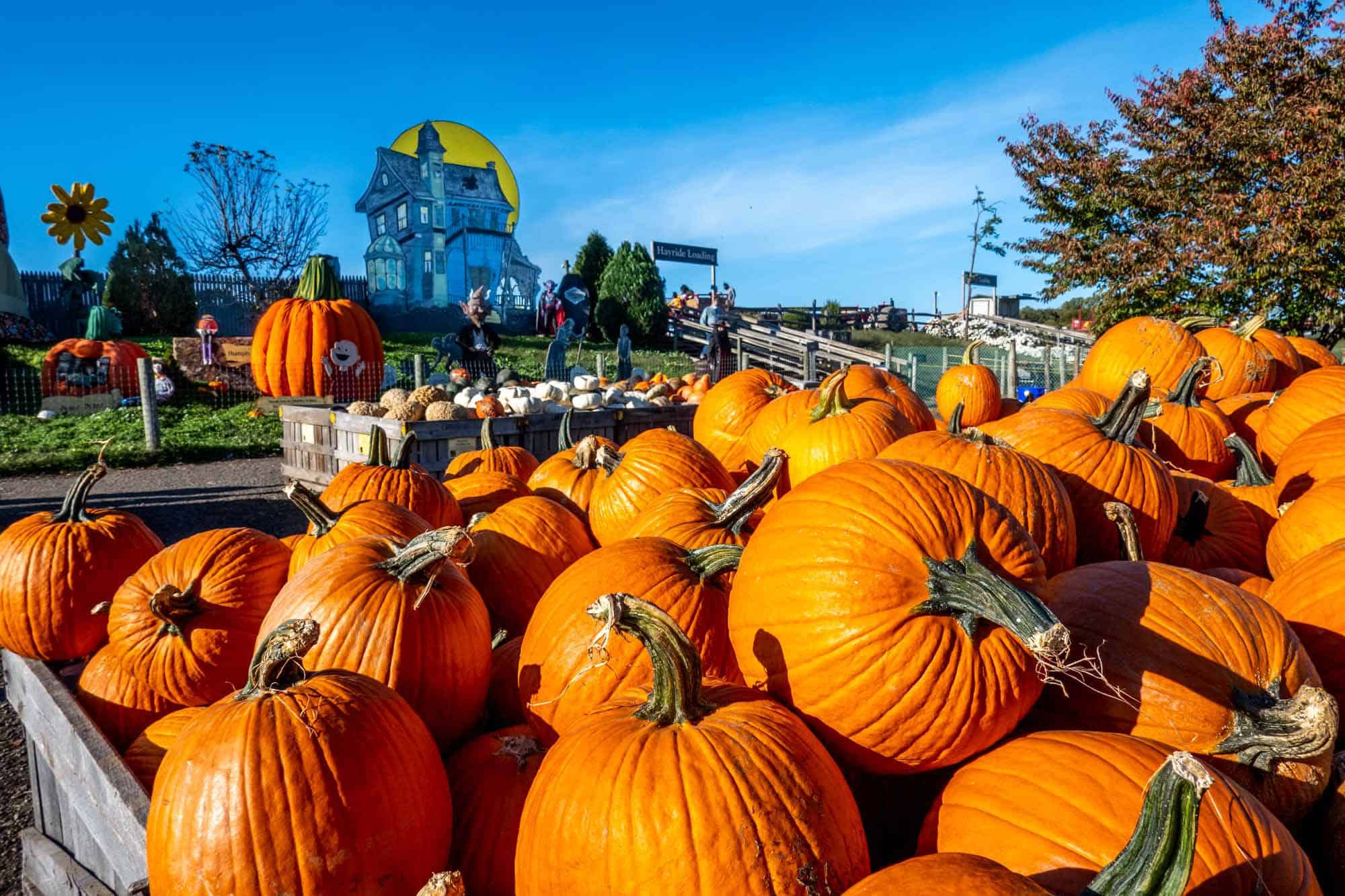 What better way to get your kids to explore and interact with nature than a visit to a 300-acre family farm. The Linvilla Orchard is dedicated to education, agriculture, and entertainment.
Children will enjoy picking season fruit like strawberries or apple picking in the fall. Your kids will also get to hop on a hayride. Be sure to bring some extra cash along so you can buy freshly baked, mouthwatering pies to take home.
Longwood Gardens
Longwood Gardens is a horticultural destination is a perfect place for kids to hone their imaginations. The vast garden area is child-friendly and features a child-size space with several hands-on water activities.
The Indoor Children's Garden located in the Conservatory houses lots of handcrafted sculptures and secret stairways where kids can play. Outdoors, there is a Children's Corner and a Flower Fountain where the kids can splash around all day.
American Helicopter Museum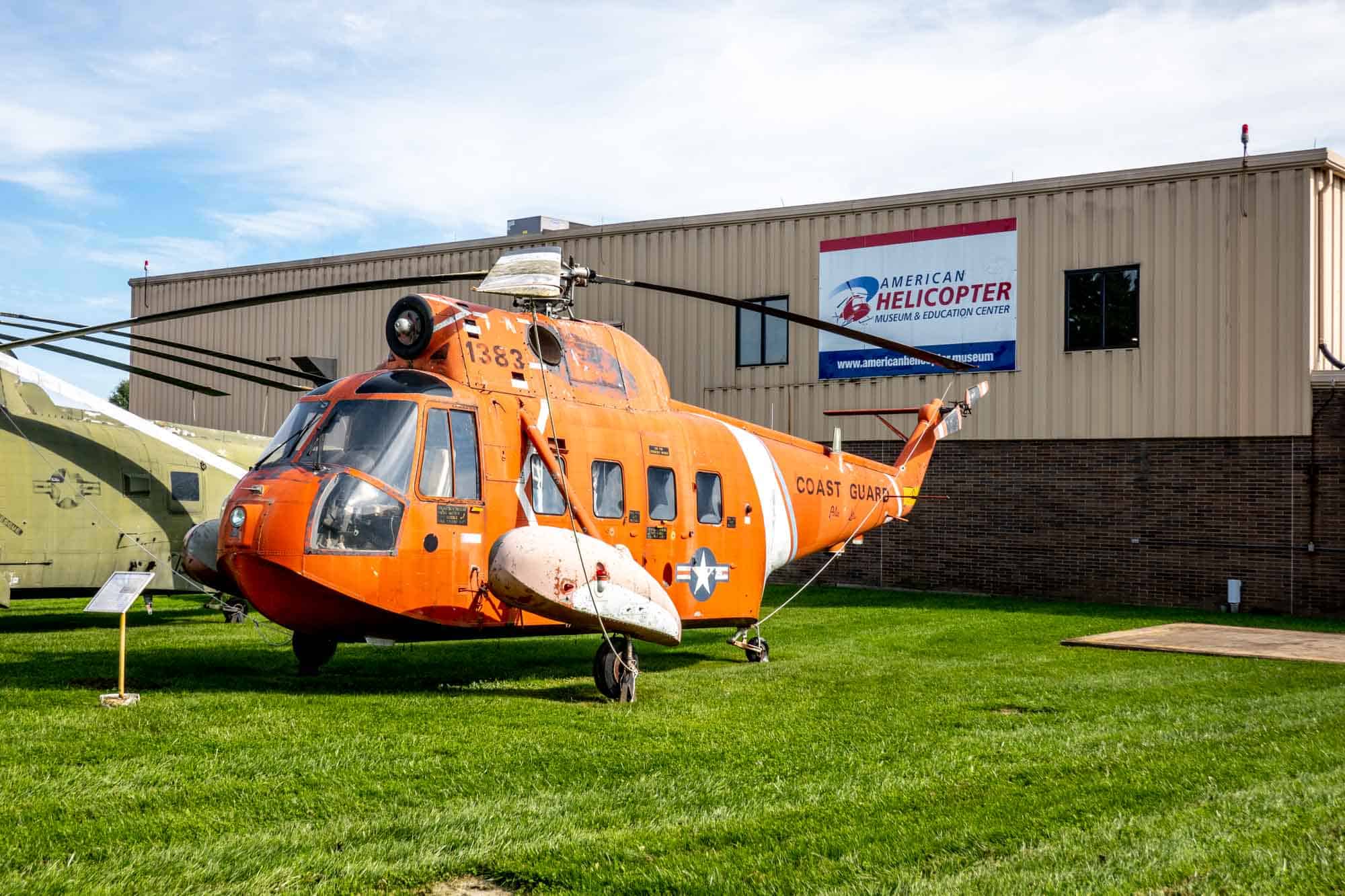 The American Helicopter Museum has over 35 helicopters, convertiplanes, and autogiros on display. Eight of these are fully accessible to visitors, and aviation-inclined kids will have a fantastic time here.
The museum also has a kids' learning space and a toddler play area where they can engage their minds with games, puzzles, and lots of educative toys. They also get the chance to ride in a helicopter.
Valley Forge National Historical Park
This 3500-acre historical park is the site of the third winter encampment of the Continental Army. This encampment took place during the American Revolutionary War between 1777 and 1778. The site is preserved and is set to interpret the history of the events that took place here.
Valley Forge features an in-depth visitors center and historical museum, ancient buildings, memorials, recreated encampment structures, and recreation facilities. Plan a family day here and experience ranger programs, walking and trolley tours, and other seasonal activities. The park also has biking and hiking trails. Read our guide to visiting Valley Forge National Historical Park.