Some posts on this site contain affiliate links, meaning if you book or buy something through one of these links, we may earn a small commission (at no extra cost to you).
Philadelphia is flat-out fun for families with kids. We've got kid-friendly museums and playgrounds galore as well as free (or almost free) exciting attractions and even a few amusement parks! There are so many fun things to do in Philadelphia with kids.
In addition to award-winning museums and immersive art experiences, Philly is arguably one of the most historic places in the country. Exploring the city and its attractions can also be educational and informative.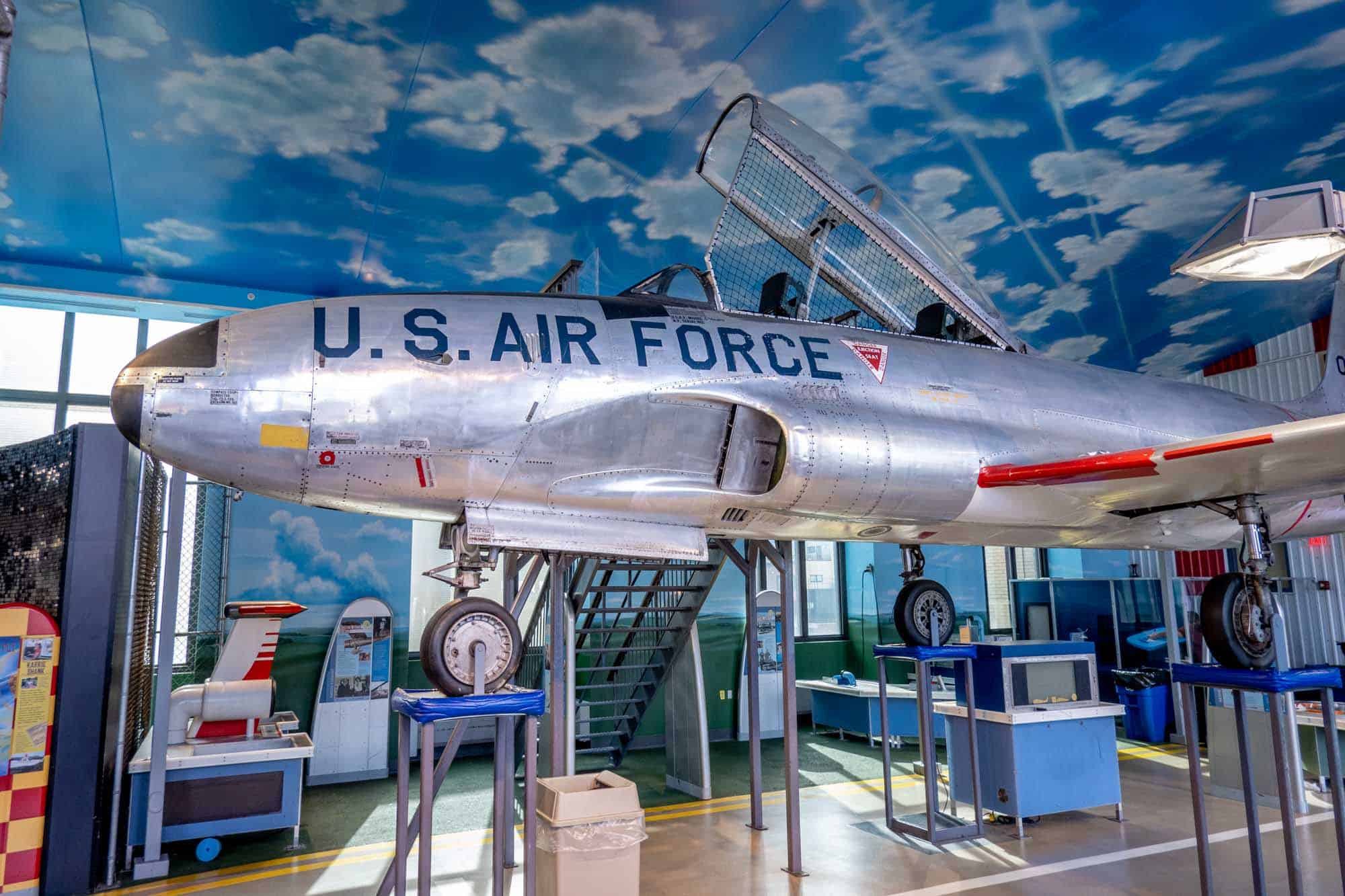 Whether you're planning a trip to Philadelphia with kids or you're a local looking for interesting places to explore, we've got you covered. We've spent lots of time taking our nephew to all the entertaining sites in town. Here's a look at some of our favorites.
Get hands-on at Please Touch Museum
The most popular place in Philadelphia for kids, the Please Touch Museum is located in Fairmount Park. This engaging spot has something fun for kids ages seven years old and below. While toddlers get to crawl around the fairytale themed forest, the older kids can explore the rocket room.
Younger ones will also enjoy riding the 100-year-old carousel while older kids experience the water-centric River Adventure exhibit. There are lots of other activities that will encourage your child's passion for learning.
Explore the Franklin Institute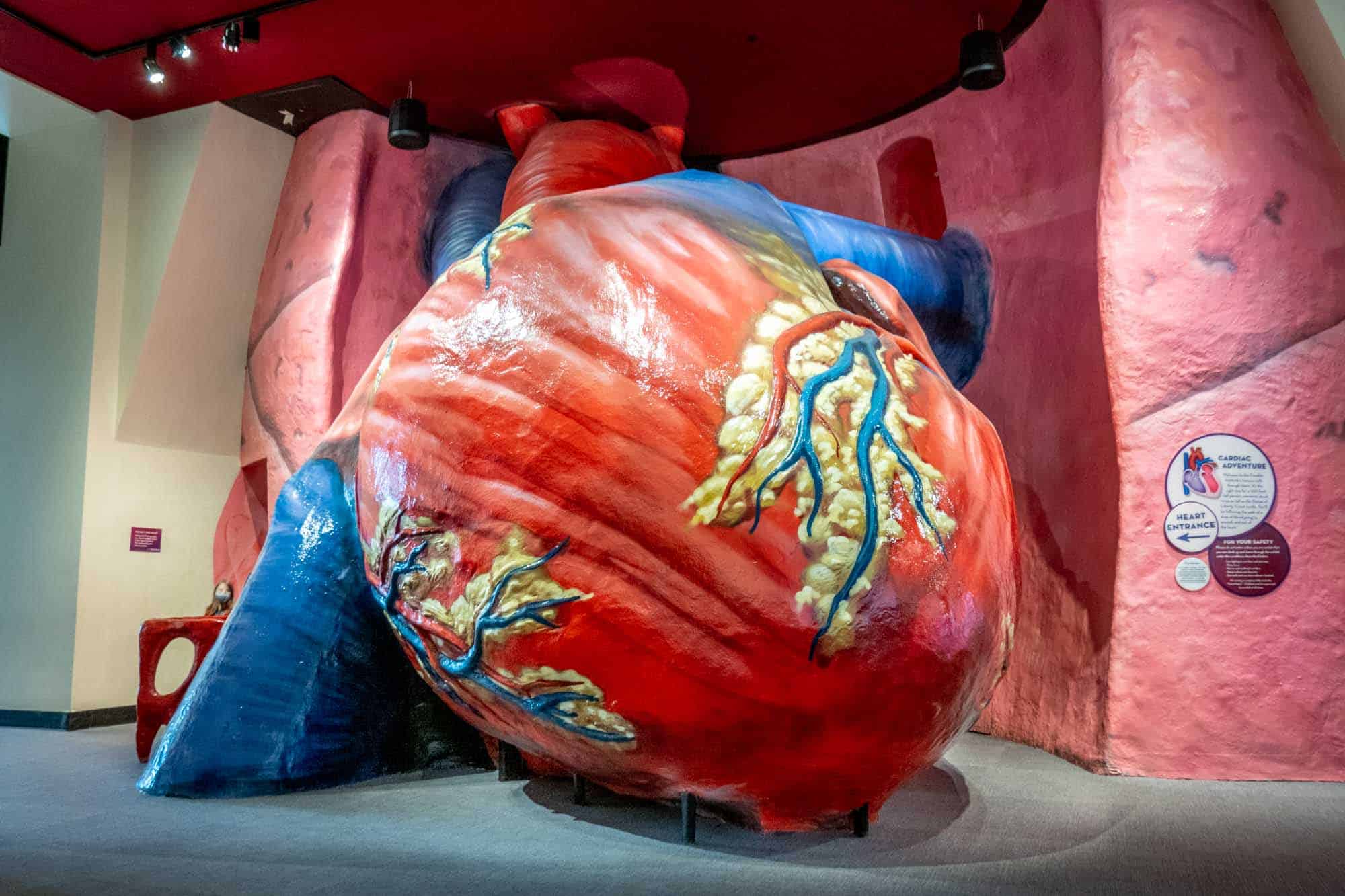 If you have kids who love science, the Franklin Institute is the place to go. Spanning a full city block, the interactive educational museum is full of exhibits on flight, space, and electricity (it is named after Ben Franklin, after all). Kids love the giant walk-through heart that they can explore while learning anatomy and the climb-through brain where the nervous system is the subject.
Live science demonstrations happen daily and are worth prioritizing on a visit here (they're also pretty cool for adults). The combustion show is dramatic and filled with fire while the liquid air show makes creative use of liquid nitrogen.
The Franklin Institute also has large, rotating special exhibitions that draw people from around the region. Past exhibits have included the immersive Harry Potter experience packed with movie memorabilia and 100 years of Disney that featured scores of original drawings and costumes.
See sea life at Adventure Aquarium
Playful hippos, racing penguins, and rays you can touch all combine to make for a magical day at Adventure Aquarium. With over 8,500 different animals in 2 million gallons of water, there is so much to see here.
Two of the aquarium's main attractions involve sharks. You can take a walk through the Shark Tunnel and marvel as dozens of sharks and other animals swim around and then over you. Then, head to the Shark Bridge to see everything from above. This cool experience is an 81-foot-long suspension bridge that lets you walk just inches above the Shark Realm exhibit (note that only children who can walk easily on their own should try this).
Beyond just observing, there are plenty of interactive activities. At Stingray Beach Club, you can touch and feed rays, and Touch-A-Shark lets you interact with several different species. There are also age-appropriate activity sheets ranging from coloring pages to games and questionnaires to help kids get more out of their aquarium visit.
Splash around at Sister Cities Park
Looking for things to do in Philly with young kids when it's hot? Here's your answer! Take them to Sister Cities Park for the water attractions.
This cute park across the street from the Cathedral Basilica of Saints Peter and Paul has a fountain area with water jets that represent the 10 countries in which Philadelphia has sister cities. A few steps away is the Children's Discovery Garden where you'll find the wading pond, which is ideal for everyone on a warm day. Beside the pond, there are scalable stones and paths to walk among the trees. In the winter and early spring, the pond is replaced with a hollowed out climbing log.
The park also has a café with drinks, sandwiches, and light bites, so you can stay fueled for playing.
Enjoy Spruce Street Harbor Park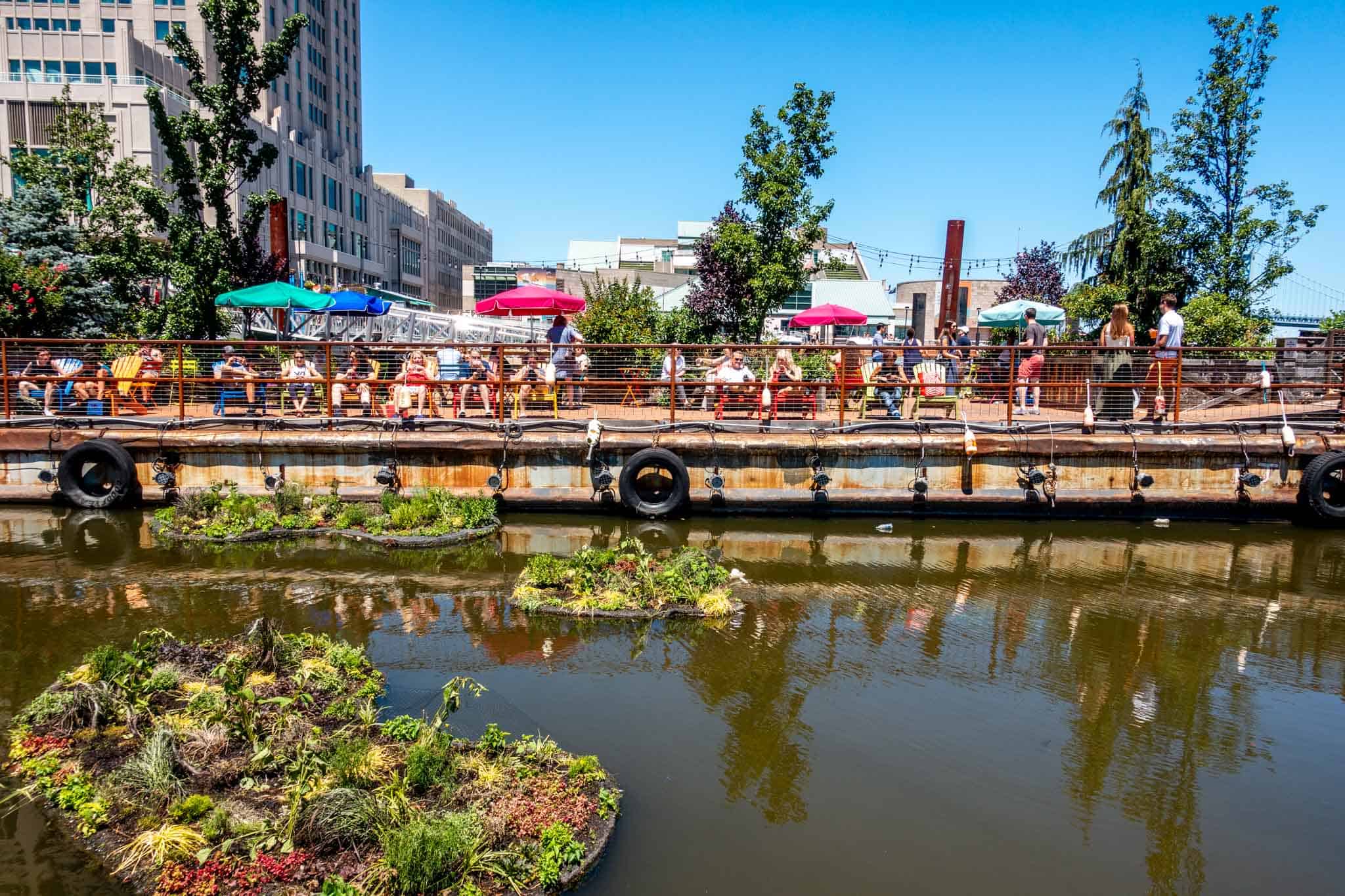 Named one of the best urban beaches in America, Spruce Street Harbor Park is a must visit for us in the summer. An outdoor oasis located on the Delaware River waterfront, it features tree-slung hammocks, concessions, and arcades in cargo containers.
While the kids run around in the park and play arcade or lawn games, the adults can enjoy refreshing drinks from the bar or sample food from the food trucks. For even more fun, rent a paddle boat from the Independence Seaport Museum next door. The park is open May through September.
See the attractions at Franklin Square
Franklin Square offers several different options to keep kids engaged and happy all day long. One of our favorite areas in the park is the Philly-themed mini-golf course where you can go for a hole-in-one at Independence Hall and try your luck at making it in the crack of the Liberty Bell. At different times of the year, it takes on seasonal themes such as "Spooky Mini Golf" around Halloween.
Around the park, you'll also find a carousel plus a large playground that's free to visit. At the heart of the park is a restored marble fountain that's over 180 years old. From mid-April through October, a fountain show set to music takes place every half-hour beginning at noon. It's really fun to watch. If you get hungry, check out SquareBurger, which sells mouthwatering burgers, fries, and tasty cake shakes.
In the summer, Franklin Square is the location of the Chinese lantern festival, a magnificent spectacle of giant hand-painted lanterns that range from panda bears that move to color-changing cherry blossoms. It's one of the city's best events in the warmer months.
Visit the Philadelphia Zoo
For over 160 years, the Philadelphia Zoo has cared for animals and worked toward their conservation. Visitors to America's first zoo can see nearly 1300 animals spread across the park's 42-acre campus. If you're looking for African lions, birds of prey, primates, or even Vampire bats, you'll find them all here.
One of the zoo's most unique features is Zoo360, an animal travel and exploration system that allows some of the biggest animals to move above the zoo's main walkway. It's pretty amazing to look up an see a tiger walking right above your head!
Don't miss the chance to get up close with a few of the animals at KidZooYOU, and stop by the Rare Animal Conservation Center for a look at some the endangered species who call the zoo home. If you're looking for a bit of a break, the carousel and Express Kiddie Train are nice for some of the smallest visitors.
The zoo is great to visit any time, but we especially enjoy going to different holiday celebrations. Boo at the Zoo means costumes and fall treats, and the holiday light display LumiNature includes light sculptures, musical shows, and s'mores.
Skate at Independence Blue Cross RiverRink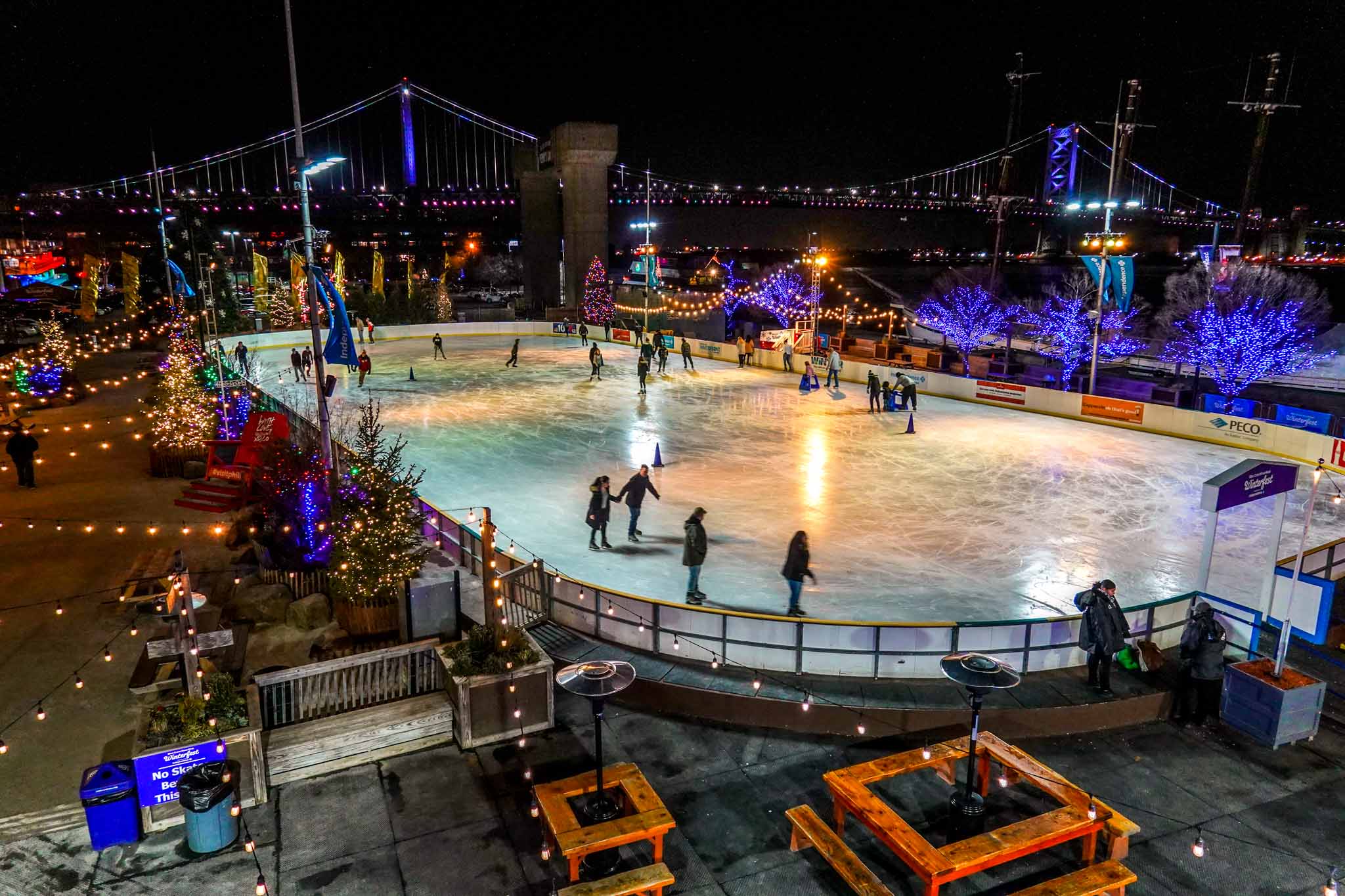 No matter what time of year you visit, there is always something fun going on at RiverRink on the Delaware River waterfront.
During winter, the kids get to enjoy ice skating events at Winterfest in one of the city's favorite cold-weather traditions. Beyond the NHL-sized rink, there are indoor games, fire pits, cozy couches, and hot drinks in a winter chalet setting. Boardwalk rides and games help ensure that there are plenty of attractions to entertain the entire family, and the decorations make it one of the prettiest places in the city to see holiday lights.
The rollerblades come out to play in summer when the rink transitions for Summerfest. The warmer weather comes with rocking chairs, cool drinks, air conditioning, and more fun.
Have fun at Sesame Place
One of the famous Philadelphia attractions for families, Sesame Place is a must-visit. Elmo, Big Bird, Julia, Oscar the Grouch, and the whole Sesame Street gang welcome visitors to enjoy rides and educational games throughout the theme park. We particularly love Monster Clubhouse, Elmo's Cloud Chaser, and Peek-A-Bug.
Character shows, fireworks, and a parade happen daily from spring through fall. Memorial Day through Labor Day brings the addition of the water park, which includes features like a lazy river, slides, and The Count's Splash Castle that has a 1000-gallon tipping bucket. Holidays are big at Sesame Place, so Halloween and Christmas mean fun additions like a costume contest and themed shows and dining events.
Climb and slide at Kids Castle Central Park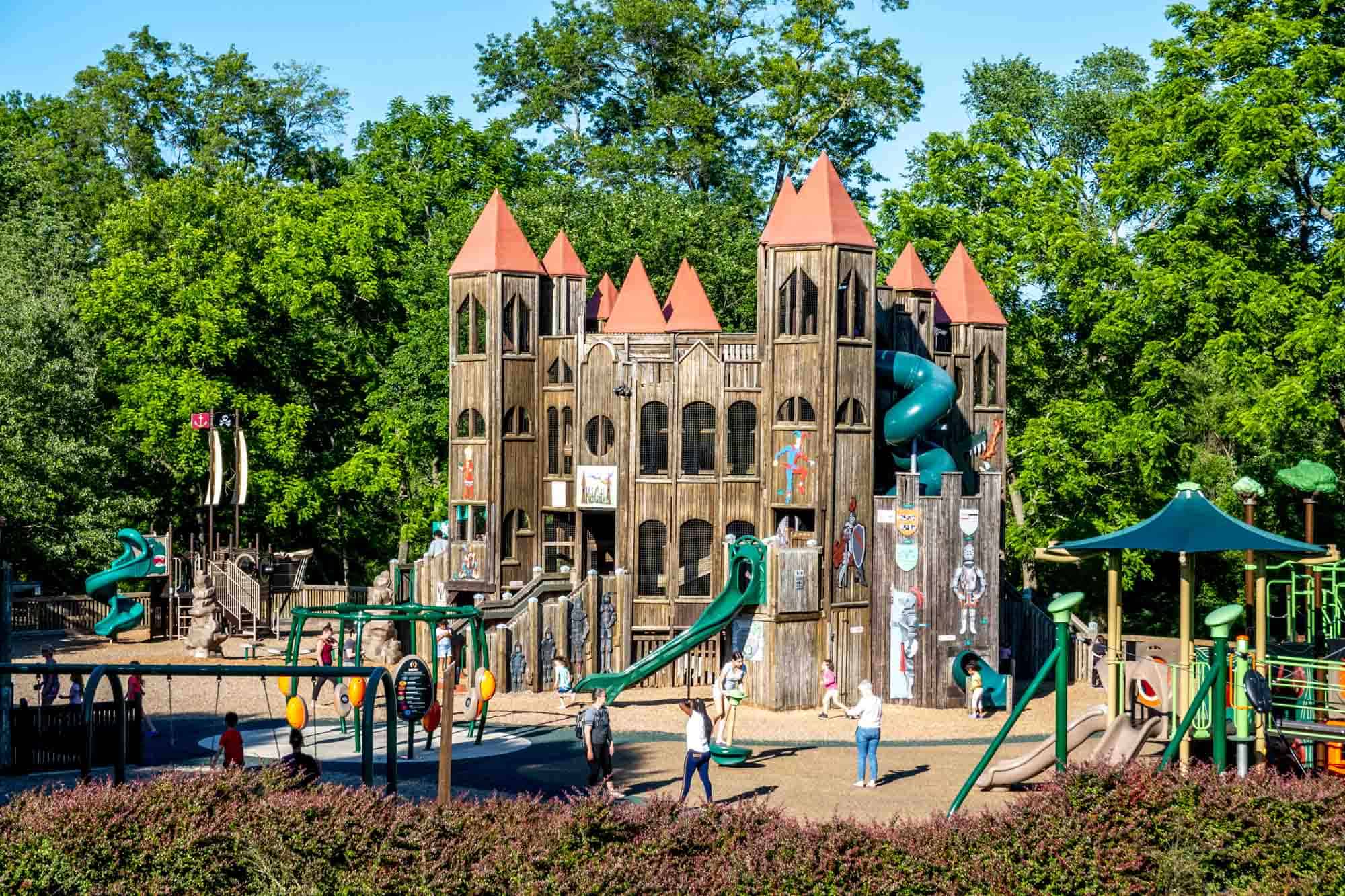 Kids Castle is a castle-themed playground perfect for your little princes and princesses. The unique complex includes the main castle, which has been a local favorite for years and is a must-do in Doylestown, as well as lots of surrounding play areas. Kids can climb throughout the castle, race on 38-foot-long slides, swing, and play on all the unique equipment.
Two play areas have recently been added for children of different abilities and needs, making sure that this incredible (and free!) attraction is welcoming to all who want to let their imaginations run wild.
Run around Morris Arboretum
Set across 92 acres of natural land and gardens, Morris Arboretum brilliantly introduces children to the wonders of nature. It's one of our favorite places to have a picnic, and there is plenty of room to run around and expend some energy while seeing beautiful plants and exploring the various sculptures throughout the gardens.
Morris Arboretum & Gardens has attractions and lots of special programming geared toward kids. In Out on a Limb, visitors can walk through the tree canopy 50 feet up or peer through a giant net that lets you see all the way to the ground. You can also explore the Whimsical Woods and take a walk through the fairy garden.
The Garden Railway is probably the biggest draw for kids. One of the largest model train displays in the country, it features a world of miniature buildings, bridges, and passages stretching for one-third mile. It's particularly popular in the winter when the landscape for the Holiday Garden Railway is lit up with Christmas lights at night.
See the creations at Legoland Discovery Center
If your kids already love LEGOs, give them the time of their lives by taking it a step further. Visit the 33,000 square-foot LEGO heaven with your kids and watch their eyes light up in delight.
Visitors will enjoy going on the LEGO-themed ride and spending time in the 4D cinema. There is also a virtual reality attraction that includes lava caves, flying objects, and more. This home of plastic bricks features ten play areas and a DUPLO Park for toddlers. If you visit on a weekend, you may get to meet a LEGO character.
Bat at The Yard at Citizens Bank Park
With two recent playoff runs, going to a Phillies' game is pretty entertaining. But, if you're looking for even more to do on a visit to Citizens Bank Park, don't miss the kid-friendly area called The Yard.
Ninety minutes before game time, The Yard opens for lots of different activities and a few specialty concessions. The two most popular things to do here are scaling the 30-foot Phanatic-themed wall and playing a little Wiffle ball. At Citizens Phan Field, kids can take a turn hitting and see themselves on the big screen. There is no shortage of spectators and people to cheer you on.
Slide at Smith Memorial Playground
Smith Memorial Playground and Playhouse is one of the oldest playgrounds in America and visiting here is one of the best things to do with kids in Philadelphia. The Playhouse is best known for its 1899 Ann Newman Giant Wooden Slide, which is 40 feet long and an astonishing 12.5 feet wide.
Kids will have a great time jumping about, swinging, climbing, and playing on the 50+ pieces of play equipment. Inside, the 16,000-square-foot playhouse was renovated in 2022 and offers lots of creative and engaging options. Everything here is designed for ages 12 and younger, while kids aged 5 years and under have a special Tot Lot, which is packaged with age-appropriate play equipment. Smith Memorial Playground is free to visit.
See the colors at Magic Gardens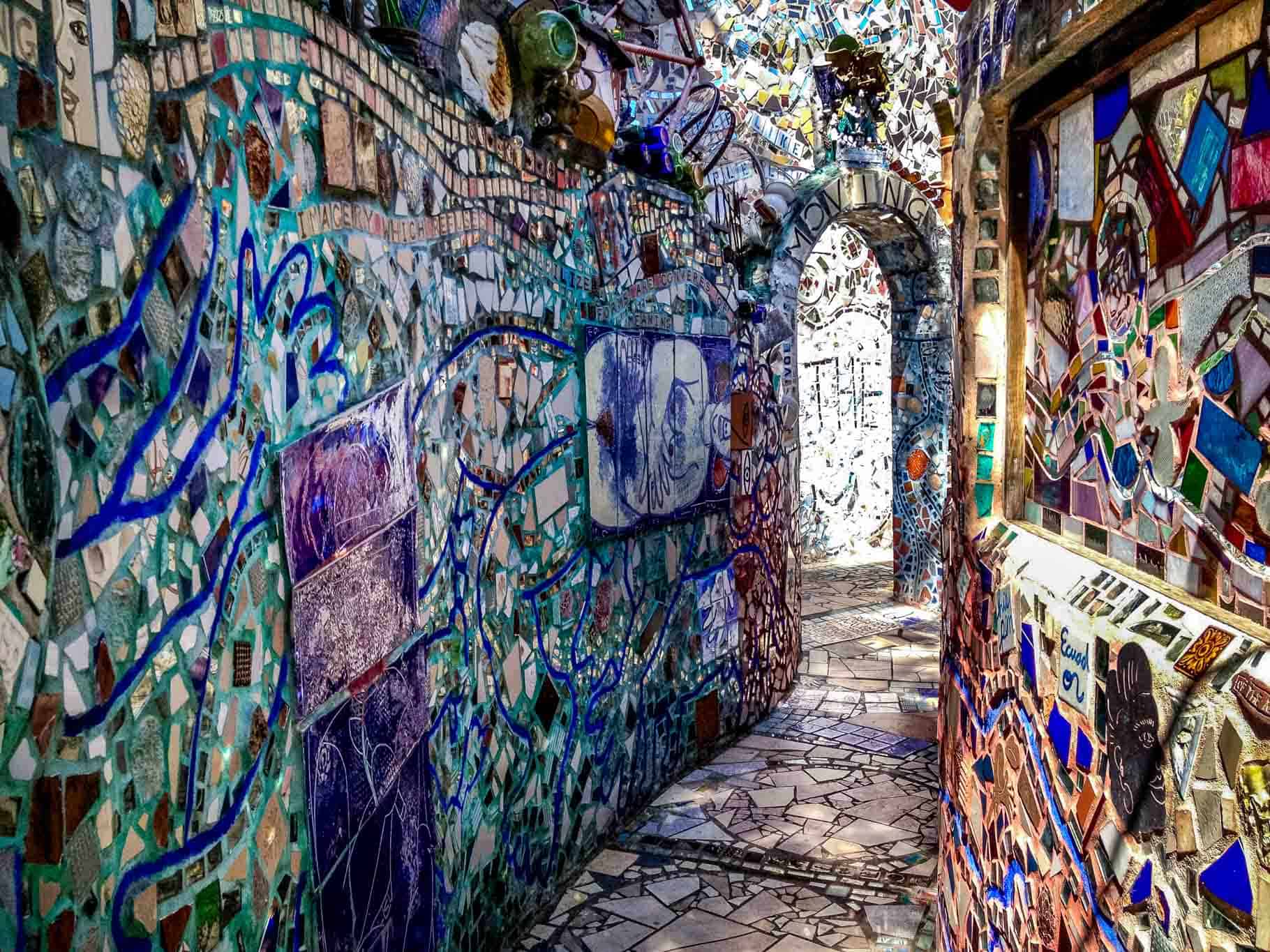 Philadelphia's Magic Gardens is a nonprofit museum that displays mosaic art by local artist Isaiah Zagar. His grand works using pottery, glass bottles, bicycle spokes, mirrors, and other recycled materials extend over half a city block.
The museum features a scavenger sheet that turns the exhibits into a treasure hunt. Kids will love the colorful nature of the works in the indoor and outdoor spaces that invite lots of exploration.
Visit Peddler's Village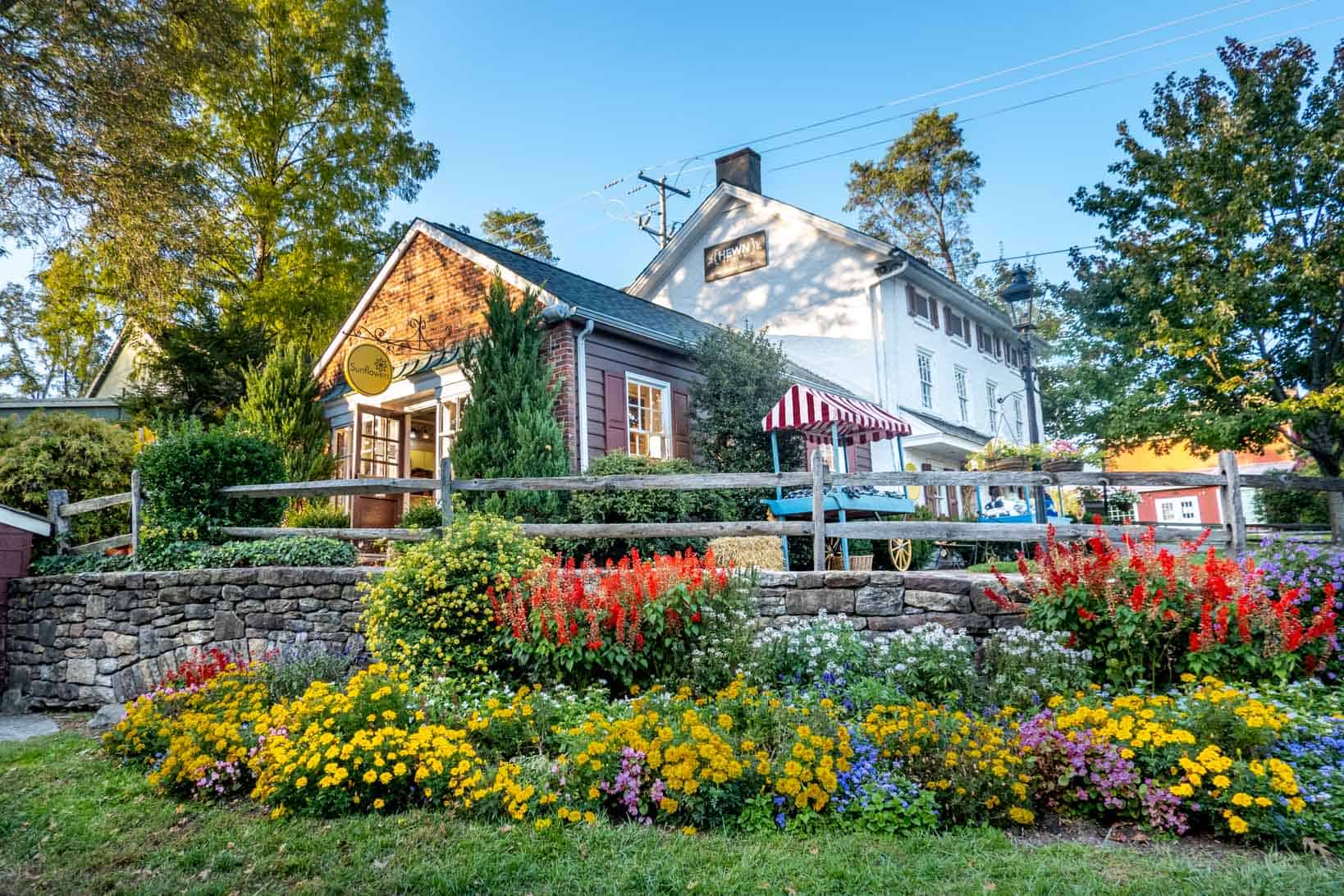 Peddler's Village in Bucks County is an all-in-one destination that has shops, restaurants, and candy stores in a cute setting. But for children, it is also the home of Giggleberry Fair.
This indoor amusement center is a place that children of all ages love. It features a 100-year-old carousel with dozens of horses, goats, roosters, and other fun figures. Kids will also enjoy challenging themselves to an obstacle race on Giggleberry Mountain. The huge structure includes a slide that spans three stories, giggleberry blasters, and lots of fun places to play.
For children under 6 years of age, Giggles Discovers is an interactive exploration environment where they can play with puppets and costumes, learn about fire trucks and play with a fire bell, and splash around in a table with water spouts.
Take a walk with Philly Goat Project
One of the more unusual activities on our list is one of the most fun if you're an animal lover. The Philly Goat Project based at Awbury Arboretum in Germantown gives kids a chance to get up close with over 10 goats on the organization's regular goat walks. Walks happen at Awbury as well as other locations all around Philadelphia from Laurel Hill Cemetery to Fair Hill Burial Ground, and the goats frequently appear at neighborhood festivals and events downtown.
The goat walks are an easy stroll and fun for kids and adults as you learn to guide your goat. We had a great time during our winter walk, even with snow on the ground. Note that some walks are reserved for children with special needs, which is a focus of the Goat Project.
If you're not able to make one of the walks, you can see the goats in their paddock or grazing at Awbury for free every day of the year from dawn until dusk, though it's important to know that they hate rain so their movements are limited in bad weather. Keep an eye on the event calendar to see what fun things are scheduled.
Uncover the secrets of Otherworld
Every inch of Otherworld is filled with art. This new, fanciful space in northeast Philadelphia includes over 50 rooms packed with unusual scenes, creatures from another universe, unexpected sights, and visual tricks. Whether its statues that look like court jesters or an alien with a mouth you walk into, you never know what's coming.
If you see a lever, pull it. If there's a button, push it. If something moves, see what's behind it. As you make your way through the maze of Otherworld, keep an eye out for secret passageways and clues to unlock more information. Staff along the way may be helpful.
Visit the sites of Independence National Historical Park
Some of the county's most significant sites and the most iconic landmarks in Philadelphia are located within the 55-acre Independence National Historical Park. From Congress Hall and the Liberty Bell to the Benjamin Franklin Museum and Independence Hall, the National Park Service has resources to make learning about these places fun for school-aged kids.
Children ages 8 through 12 can earn a sticker by completing activities in the Junior Ranger Challenge related to the historic buildings. There is also a series of trading cards for kids to collect as they visit Old City sites (more information is available from the Independence Visitors Center). Older kids may enjoy completing a scavenger hunt that requires taking selfies at famous spots and learning about their significance.
Enjoy the events at Dilworth Park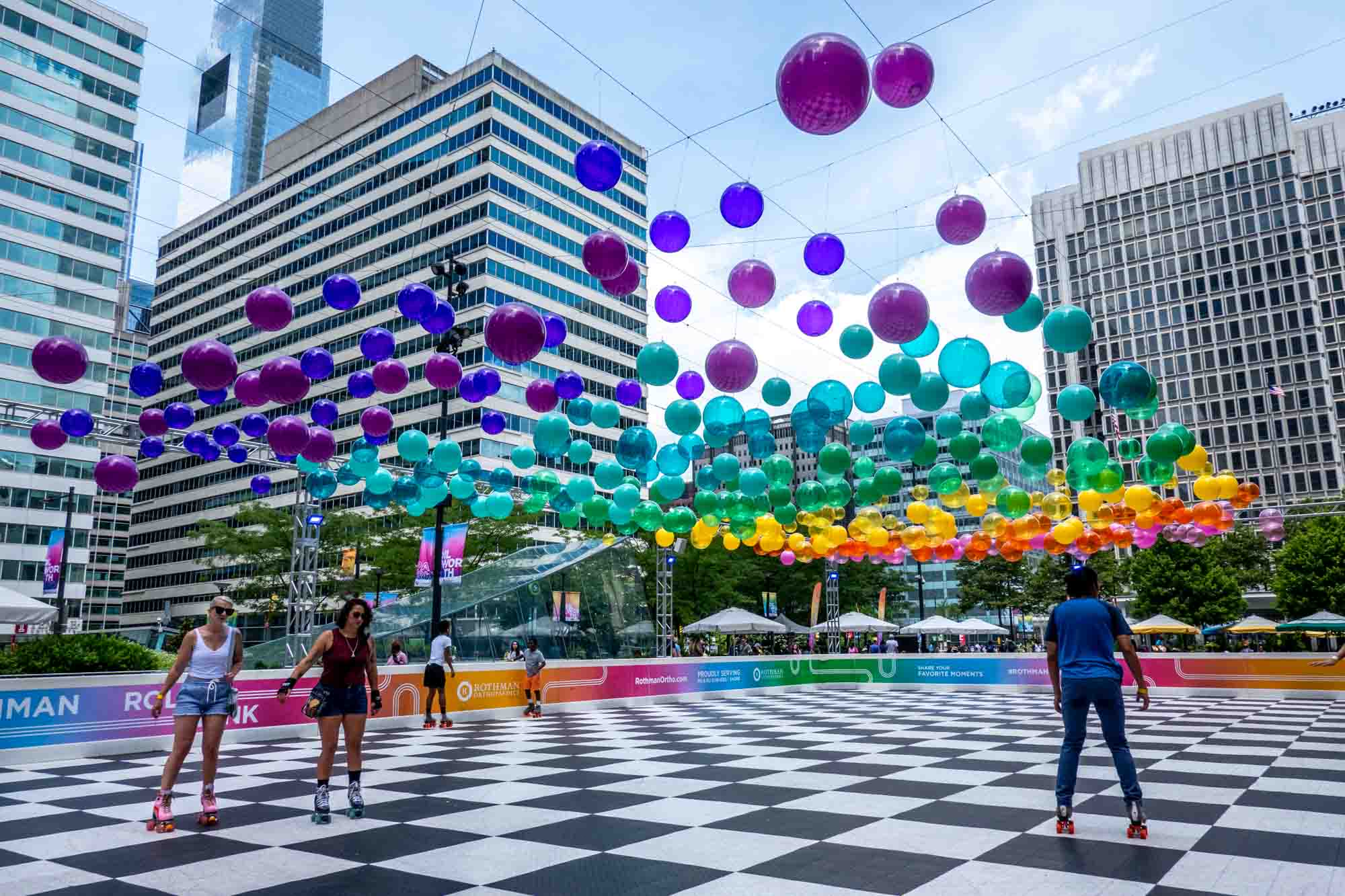 Located at the foot of City Hall, Dilworth Park is constantly full of new and fun things. In the winter, it transforms into the Rothman Orthopaedics Ice Skating Rink welcoming visitors for skating, snacks, and warm drinks alongside the Christmas Village and other holiday activities. In the summer, it's a colorful rollerskating rink beside fountains, lovely seating areas, and occasional live music.
Other times of the year, Dilworth Park boasts fitness events, pop-up concerts, outdoor movies, and festivals, all of which are family-friendly. We've even seen artists carve an entire piano out of ice here as part of a winter event, so expect the unexpected fun when you visit. See the calendar for what's on.
Step inside Betsy Ross House
The home of America's most famous flag maker, the Betsy Ross House is one of the top destinations in Old City. Inside, you can see historic interpreters working in an 18th-century upholstery shop where you can learn about Betsy's work and life.
There is an audio tour tailored for kids that lets them learn about what it was like growing up in colonial America. Kids also have an opportunity to solve 13 historic mysteries as they make their way through the house. If you get an early start to your sightseeing, at 10:30 am most days during the summer, Betsy comes to the courtyard for a morning flag-raising ceremony.
Tour the Museum of the American Revolution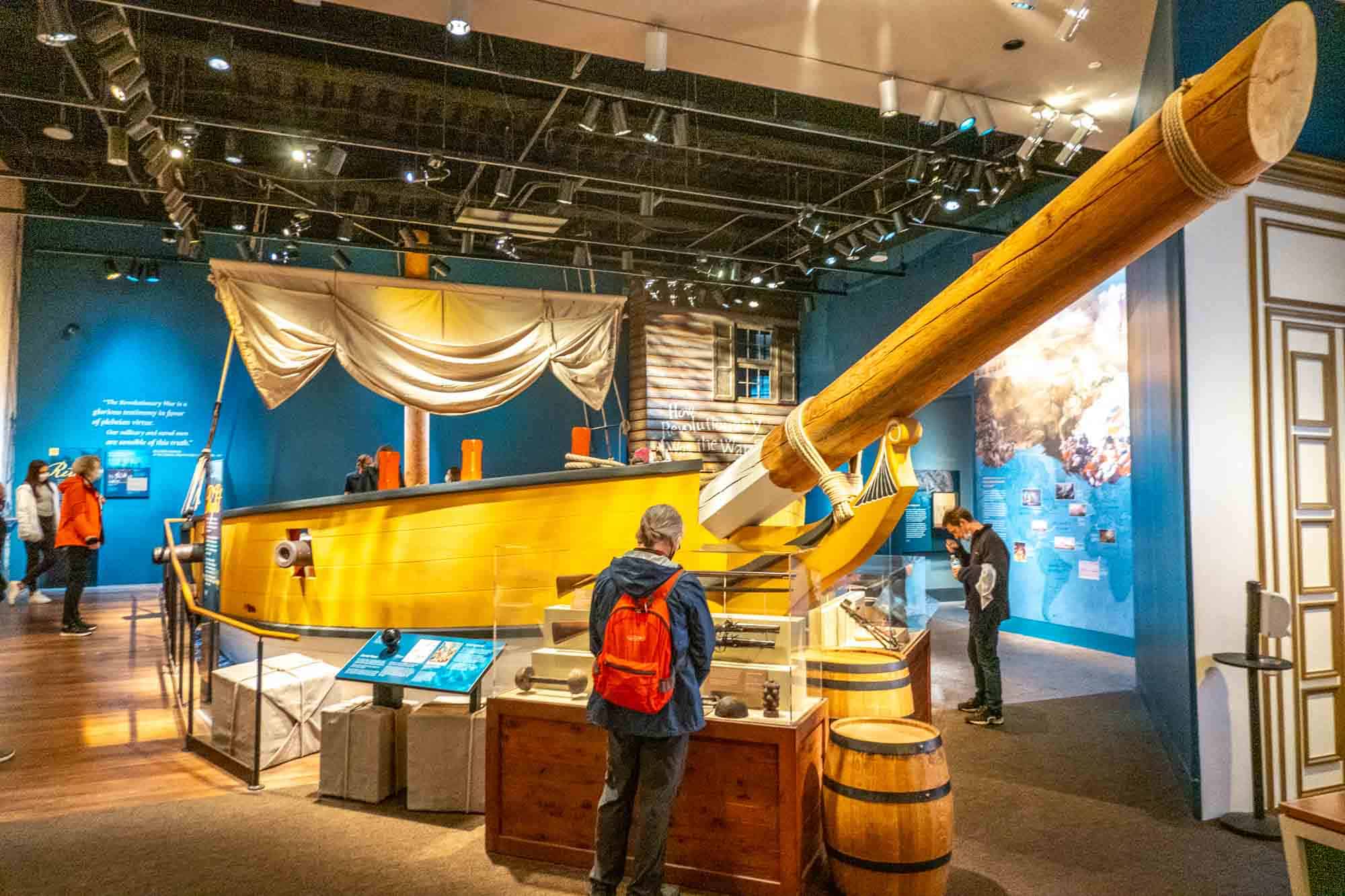 Located in the Historic District, the Museum of the American Revolution tells the stories of the citizens who participated in the conflict that led to the creation of the United States of America.
Kids visiting the museum get to join the Sons of Liberty and play in the interactive Revolution Place discovery center. The discovery center is suited for kids aged 5 to 12 years, and it recreates an 18th-century Old City, complete with a military encampment, a home, a meetinghouse, and a tavern. It is full of replica objects and costumes for kids to dress up in.
Kids will also enjoy boarding the deck of a replica privateer ship to play soldier. It has movable canons and cargo you can load. The surrounding exhibit tells the story of 14-year-old free Black James Forten who volunteered on a similar ship to fight the British.
See the American Treasure Tour Museum collection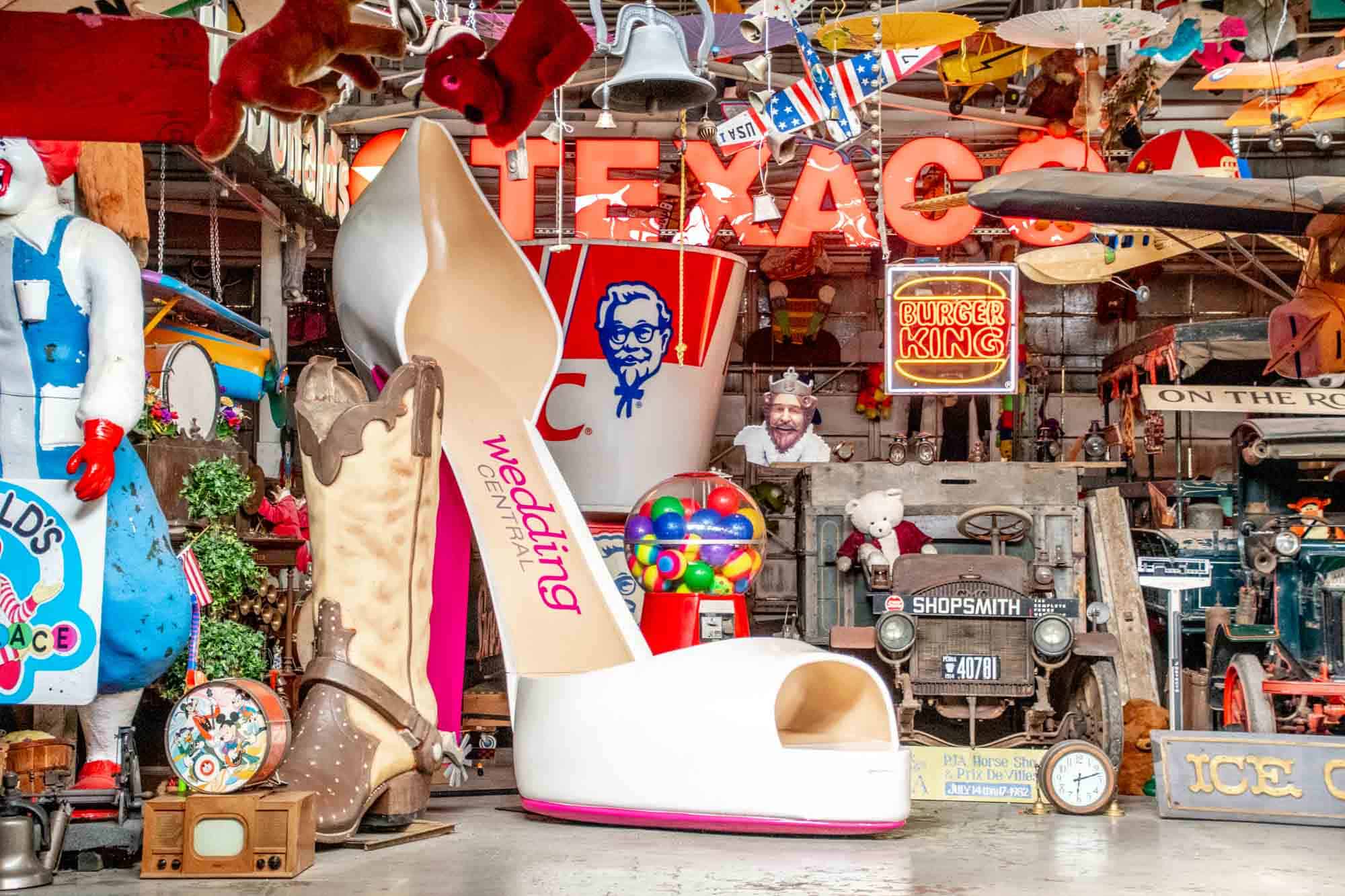 Established in 2010, the American Treasure Tour Museum is an incredible collection of unique items filling 100,000 square feet of space. It is really more like a collection of collections, each room with its own theme. You need a tram just to get around!
The American Treasure Tour Museum is located in a giant warehouse near King of Prussia. As you go from room to room on the narrated tour, you'll see all manor of memorabilia spanning over a century of American history. There is a giant Gumby, cutouts of The Three Stooges, and every Sesame Street character you can imagine. Whether you want to see the world's longest Slinky or a smoking skeleton, this place has you covered.
Kids love walking among the old cars and cruising by the toys and decorations. They will also get to explore the Nickelodeon room and the Kalliope annex. There are lots of stuffed animals, neon signs, and clowns plus a penny arcade and a small aircraft.
Find a storytelling bench
Do you love a good story? Around the Historic District, you'll find six "Once Upon a Nation" benches dedicated to storytelling. In the summer, performers (often costumed) tell short 3- to 5-minute stories you won't hear anywhere else.
From Franklin Square to Betsy Ross House, kids will hear about regular citizens doing brave and unusual things in the places where they actually happened. If you make it to all six, you'll get a certificate and a free ride on the carousel in Franklin Square.
Walk the halls of Eastern State Penitentiary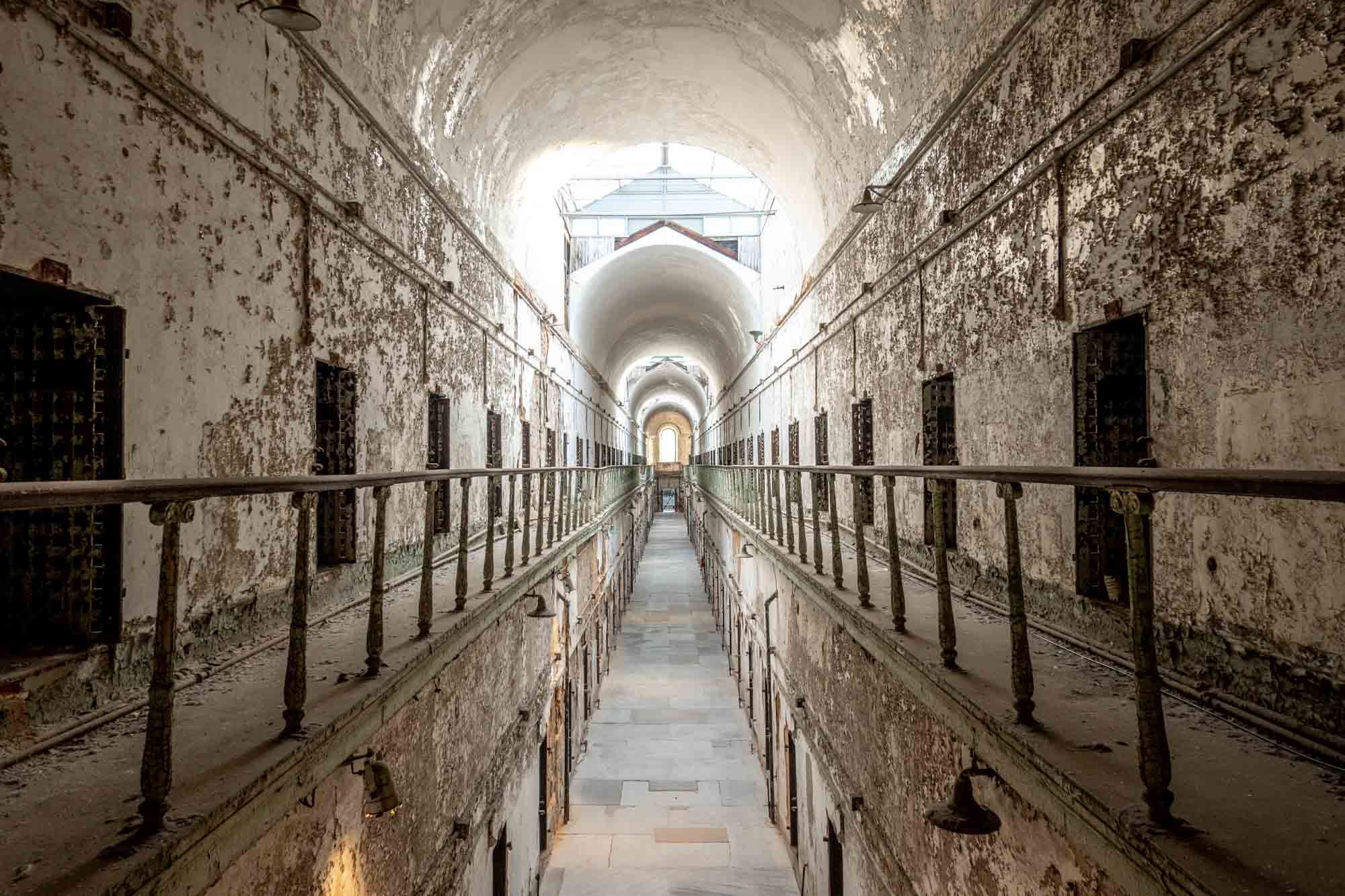 The ruined cell blocks of Eastern State Penitentiary are fascinating to explore. At nearly 200 years old, this prison in the Fairmount neighborhood was once a model for hundreds of prisons around the world. Over 50 years after it stopped housing inmates, it is now a preserved ruin and museum.
Walking among the dilapidated cells is an usual experience. You'll see the old hospital wing marked with a red cross and the former dentist's office with a chair awaiting the next patient. Many cells are now open to the elements with weeds growing up through the floors and walls. An audio guide gives lots of background on the site's history, the history of incarceration, and the stories of inmates.
Eastern State Challenge, a free booklet for kids, includes a scavenger hunt to take you to different parts of the prison. Kids seven and older are likely to get the most out of a visit here.
Visit Fireman's Hall Museum
If your kids love fire trucks, this is your chance to blow their minds. Fireman's Hall Museum in the Old City neighborhood is set in a restored 1898 firehouse and is packed with items related to the history of fire fighting.
The museum gives kids the chance to get up close with some of America's oldest firefighting equipment, such as steam and motor fire engines. They also get to try on a firefighter suit and take pictures with other firefighter paraphernalia. Admission is free.
Browse the galleries at the Barnes Foundation
The Barnes Foundation has one of the greatest collections of impressionist, post-impressionist, and early modern paintings in the world. As you walk around, it's incredible to see so many great works in one place. Artists like Van Gogh, Matisse, Renoir, and Cezanne are well-represented here.
The Barnes is a great place to help children develop an appreciation for art, and they have lots of resources to help students get engaged. They provide age-appropriate background information, guides to their garden, and art-related scavenger hunts to encourage engaging with the collection.
The first Sunday of every month is truly a fun time to visit because of the special programming designed to appeal to the whole family. You'll find story time events, musical and spoken word performances, dance demonstrations, and lots of artistic activities. Admission is also free on these days, though advanced registration is required.
Play at Craft Hall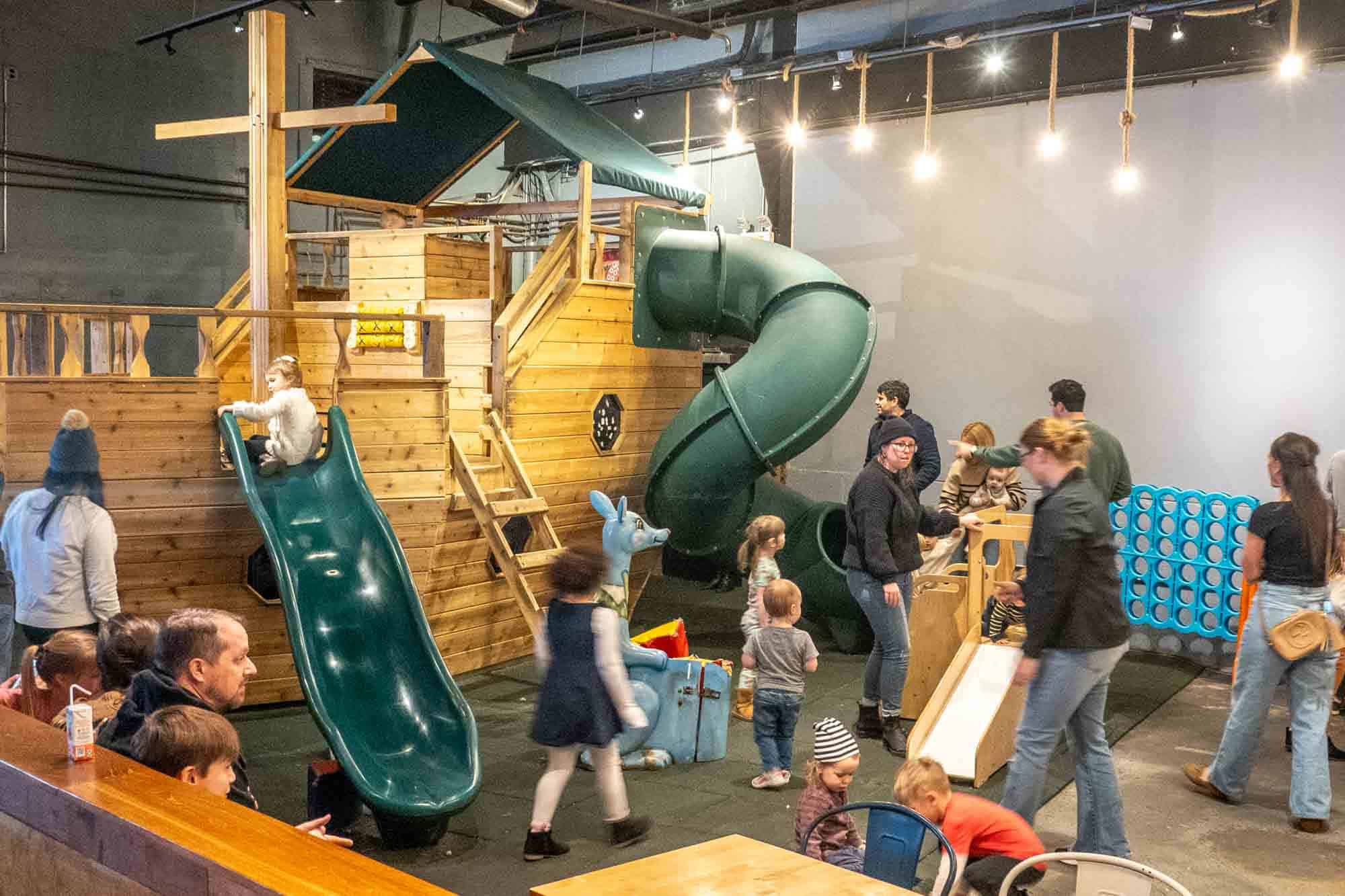 Craft Hall lives up to its billing as a family-friendly sports bar. It is filled with screens to watch every competition you would want to see and has great food and beer from Mainstay Brewing, which is located on-site (plus plenty more drink choices).
What really sets Craft Hall apart is how welcoming it is for kids. There is a pirate ship indoor playground, a foosball table, and games like a giant Connect Four. You can also pick from lots of board games, arcade games, and even classic skeeball. The choices are extensive and help make sure that everyone has a great time.
Choose your own adventure at Linvilla Orchard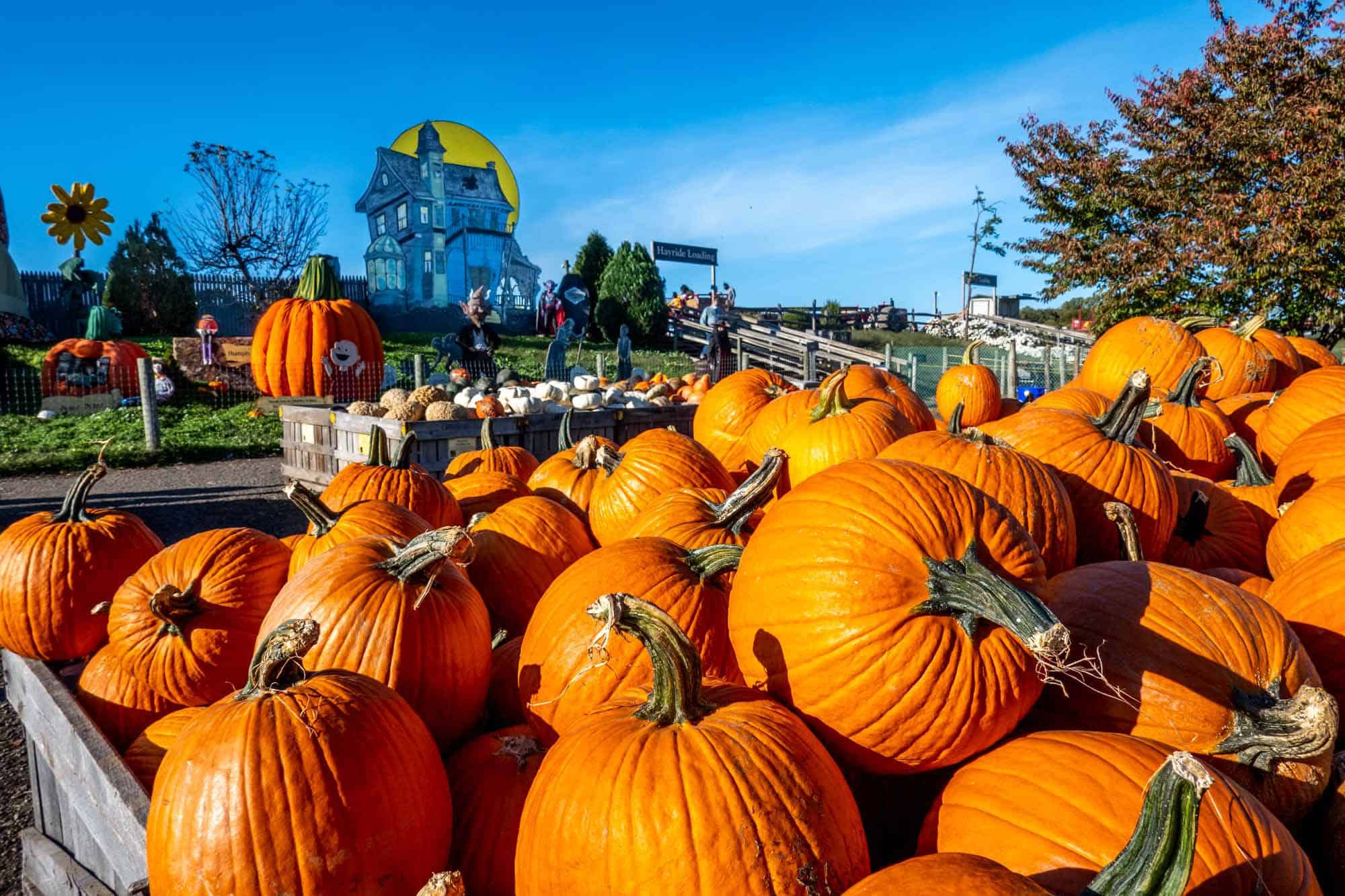 Just 30 minutes from Philadelphia, Linvilla Orchard is a 300-acre farm full of entertainment possibilities. Whether you're looking for fishing, face painting, or pony rides, you'll find it at this popular attraction. There is also a 9-hole indoor mini-golf course and a sprawling playground for when you're looking for lots of active fun.
Spring, summer, and fall at Linvilla bring lots of chances to pick your own fruits, vegetables, and flowers at the farm. Picking late spring fruit like strawberries or apple picking in the fall are particularly popular.
Fall is a great time to visit because of the number of activities available. You can visit Pumpkinland to pick a pumpkin for carving, make your way through the corn maze, or take a hayride around the farm. Stop inside for Linvilla's popular apple cider donuts and browse all the produce and pastries in the market. Weekday visits help avoid some of the crowds, which can be significant, especially around Halloween and Christmas.
See the sites at Longwood Gardens
Natural meadows, incredible plant sculptures, manicured gardens, and majestic fountains are just a few of the things that attract people to the gem that is Longwood Gardens. Across Longwood's 1000 acres, there are lots of attractions designed specifically for kids. They're conveniently outlined on the Children's Garden Map that helps make sure you don't miss any of the fun stops.
See a fountain show set to music, chase butterflies in the meadow, and see the plants in the indoor Children's Garden. Don't miss the two-story treehouse that overlooks the Italian Water Garden–it's one of our favorites. If you're visiting in the fall or winter, the Garden Railway is also a must-see with model trains snaking through a multi-level miniature world surrounded by plants and trees.
Visit the American Helicopter Museum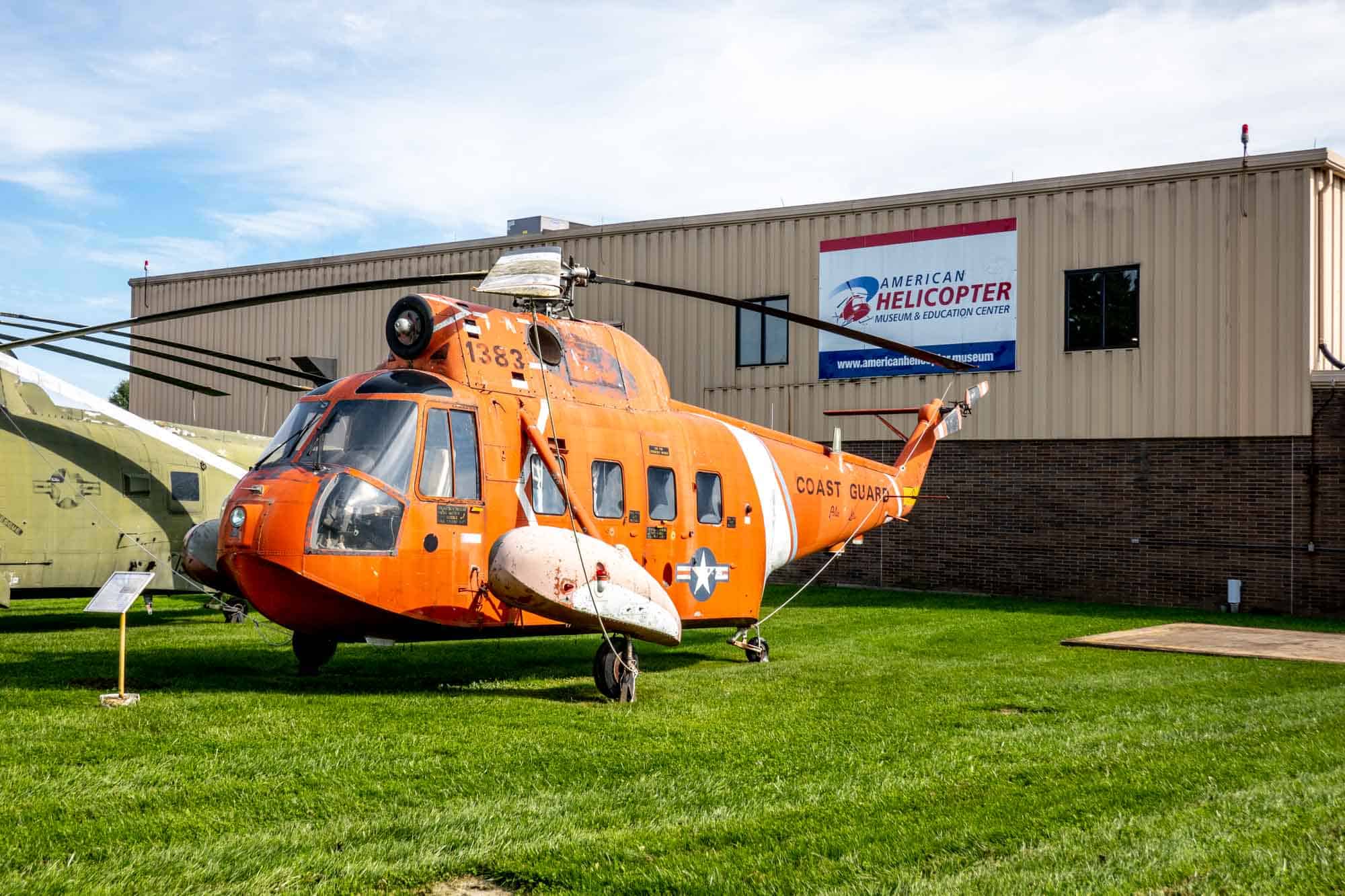 The American Helicopter Museum has over 35 helicopters, convertiplanes, and autogiros on display. Eight of these are fully accessible to visitors, and aviation-inclined kids will have a fantastic time here sitting in the cockpits and exploring all the pieces.
The museum also has a kids' learning space and a toddler play area where they can engage their minds with games, puzzles, and lots of educative toys. Kids who want to learn even more can register for a two-day Aerospace Boot Camp or a week-long ground school session that offers 35 hours of training from a certified flight instructor.