Some posts on this site contain affiliate links, meaning if you book or buy something through one of these links, we may earn a small commission (at no extra cost to you).
Otherworld Philadelphia is the cool immersive art experience that defies description. No, really. How do you describe all the amazingly bizarre things that you'll see? From stunning visual images to hip spaces to explore, there's so much to experience here.
Follow along as we travel to another world and we share everything you'll need to know about visiting Philly's most unusual attraction. Whether you treat Otherworld Philly like a giant puzzle and search for hidden meanings, or just want to enjoy the art and be dazzled by the colors and images, we guarantee you'll enjoy it (or least question your reality!).
Overview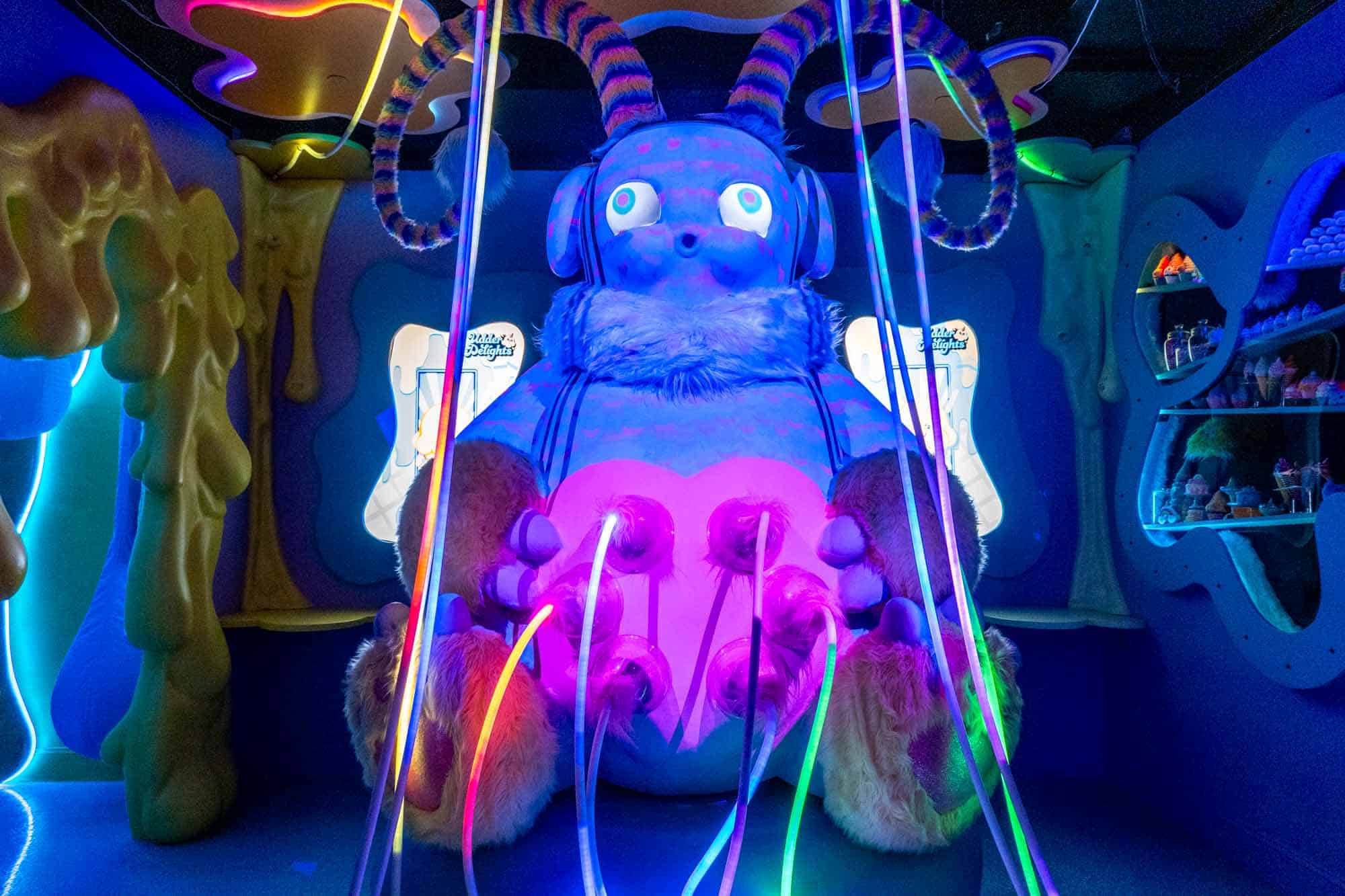 Otherworld is described as an immersive art experience, but that description really doesn't do it justice. It's partly a game/puzzle and partly a giant, interconnected art gallery. And all of it is designed to be touched and experienced with all your senses. So, what does that really mean?
When you arrive, you are immediately transported into a surreal and alien environment. The space is a maze of interconnected rooms and passages, each more elaborate and creative than the last. The artistic works combine elements of science fiction, fantasy, and steampunk to create something unusual and ethereal.
At Otherworld, you'll explore 55 themed rooms that were designed by 100 visual artists (including many local artists). Each room will have a common element or theme or showcase object to absorb. For example, there's a room with a pathway and each side is lined with bins full of soft balls (or are they alien eggs). Or there's a room filled with giant teardrop shaped objects (cocoons?) that hang from the ceiling that you can crawl into like a chair. Or, the centerpiece of the Otherworld, The Weeping Willow, a giant room filled with "trees" that have lights and water rains down filling shallow ponds below. (There's a notice that you might get wet, but we found we were dry sticking to the path).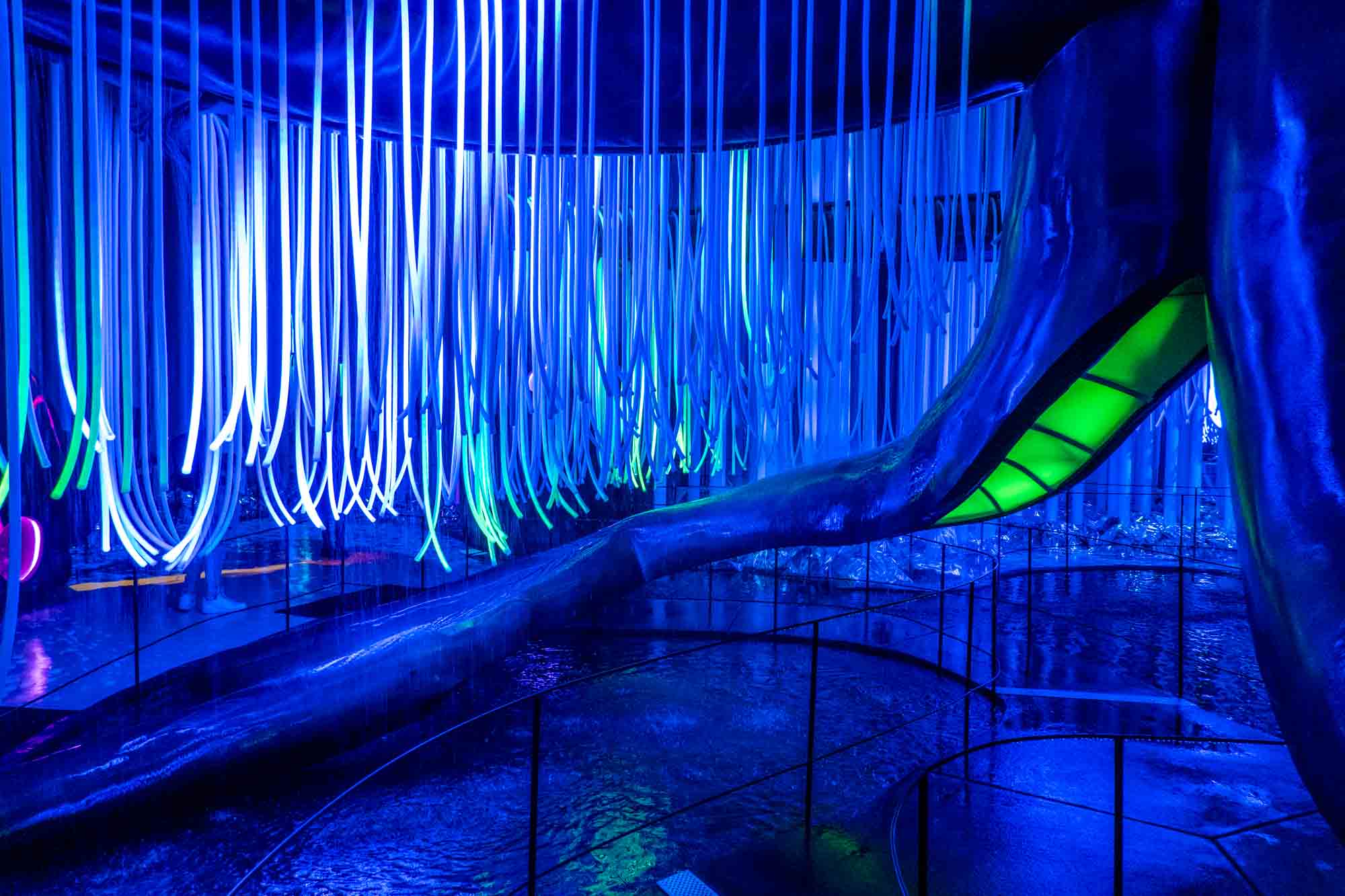 But what does it mean? That's really the point of the experience: every visitor comes away with their own "truth." And everyone will constantly question what they see.
Is that a radioactive rabbit that you're supposed to milk using the udder pumps? Is this a funeral parlor or the royal court of some foreign country? What is that black and white colored monster with multiple eyes?
Interactive spaces like this are all the rage these days. Pioneered by Meow Wolf in Santa Fe (and now in Denver, Las Vegas, and Dallas), as well as Seismique in Houston and the original Otherworld in Columbus, the Philadelphia Otherworld is among the best (we've been to a bunch of them on our travels). You don't need to travel to have your mind blown!
What's It Like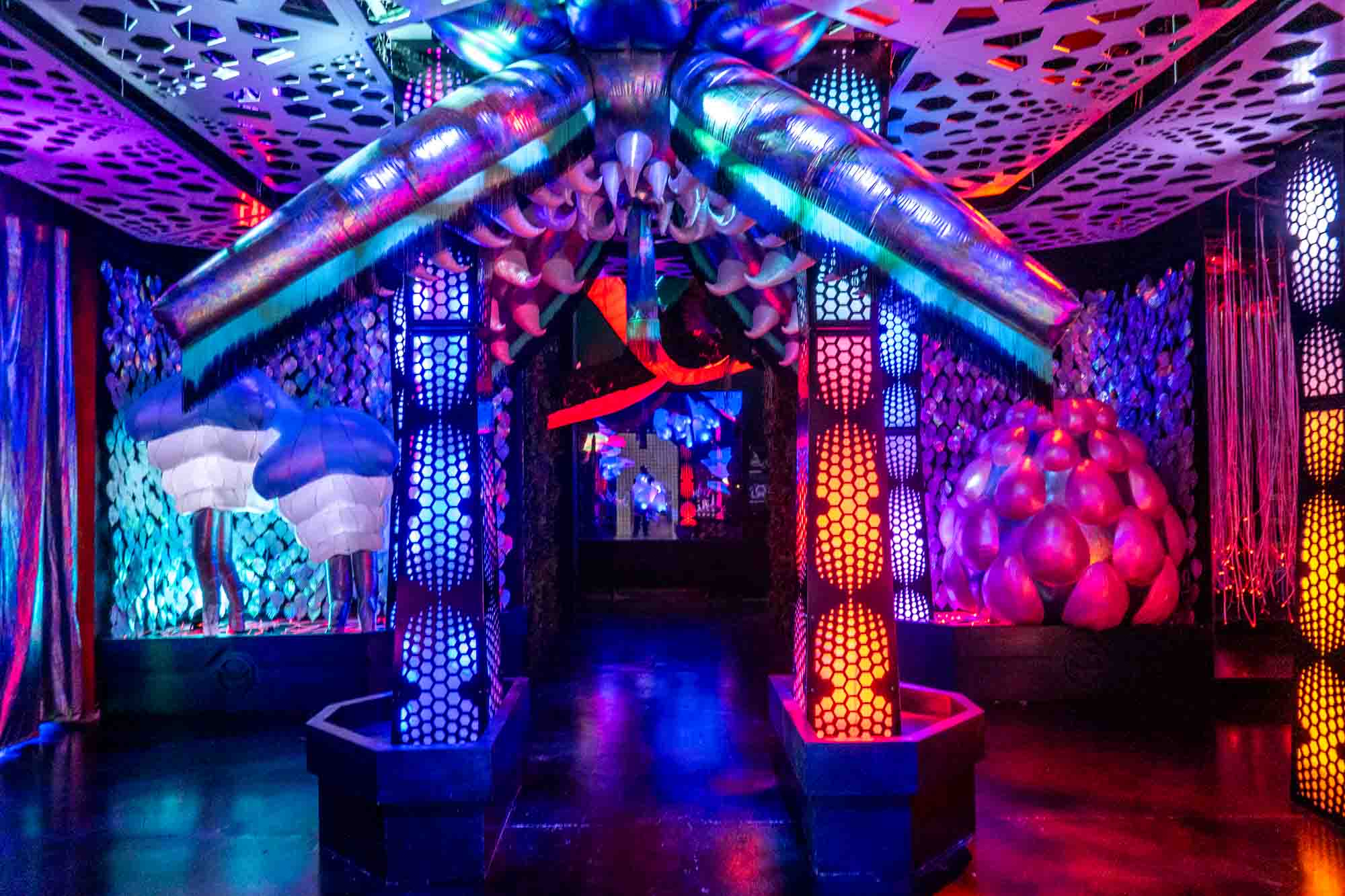 When you visit, you'll constantly be asking yourself the questions, "What IS that" and "What does it mean."
Each person visiting Otherworld is able to experience it at their own pace and in their own way. There's no set path through the exhibit (in fact, once you are inside the building, there's three different entrances). And there's two ways to immerse yourself in the space: become a detective or appreciate the art (or do both).
Be a Detective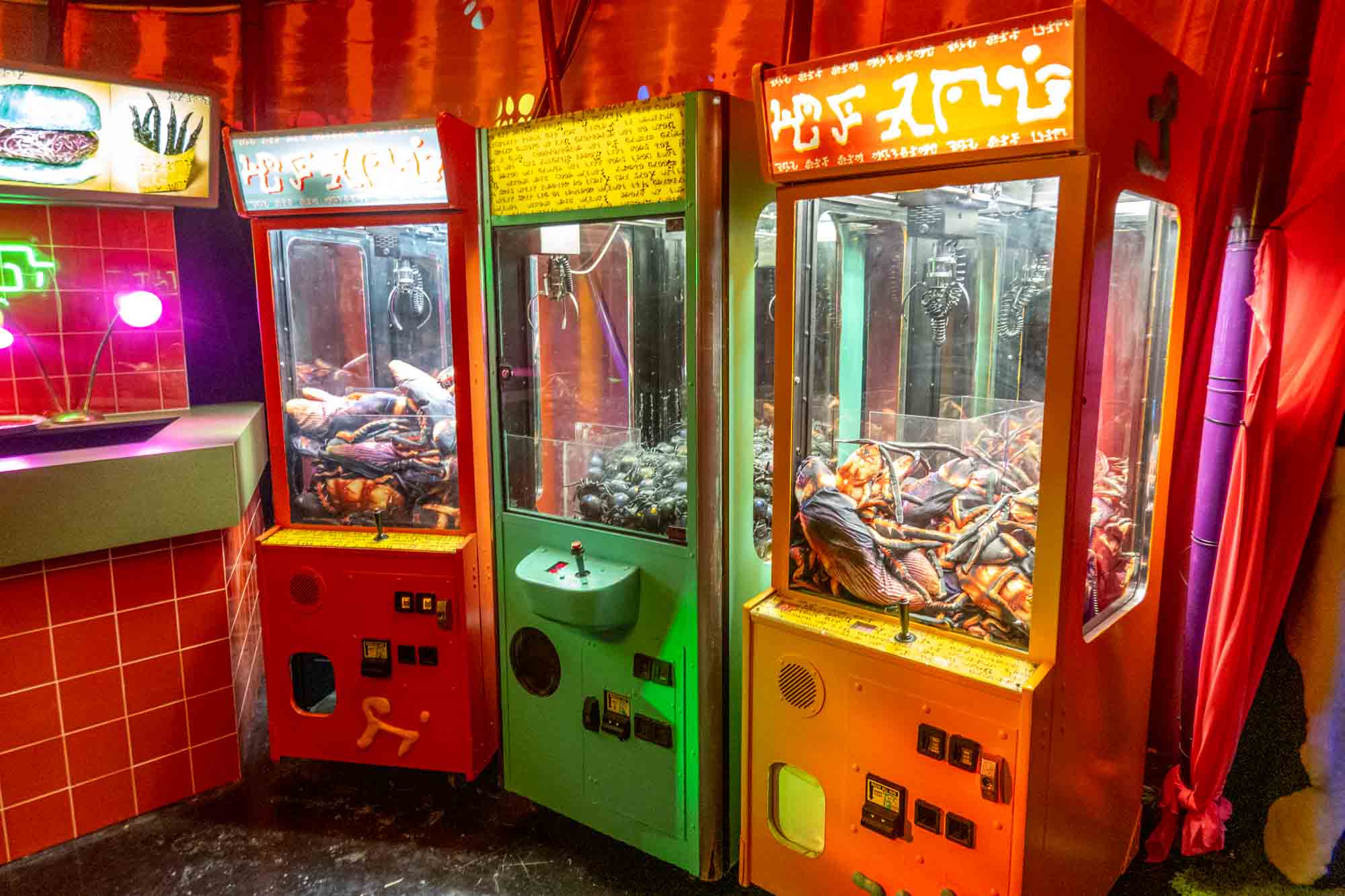 As we walked through the space, we wanted to find a story or clear narrative to follow. It's not there.
There's kind of a story of an alien world where an ACME-type evil corporation experiments on benevolent alien creatures. Kind of. Or maybe that was just us reading too much into it. (To be honest, we didn't play as much of a detective as we should have.)
TIP: If you decide you want to crack the code of Otherworld, read everything (especially the posters and objects on the walls). Also, look at the computer on the desk in the room with the harlequin head and read the emails on the terminal.
Also, be sure to explore all the nooks and crannies. Climb up into the yarn tree thing (you might want to wear pants and shoes for that). Crawl into the tunnel under the Space Boopers video game. Play DJ in the interactive room. Read each of the wall panels in the alien incubator room.
As you do all that, try to draw threads between them. Are the aliens visiting here? Or are you going there to save them? What do your detective skills tell you?
Appreciate the Art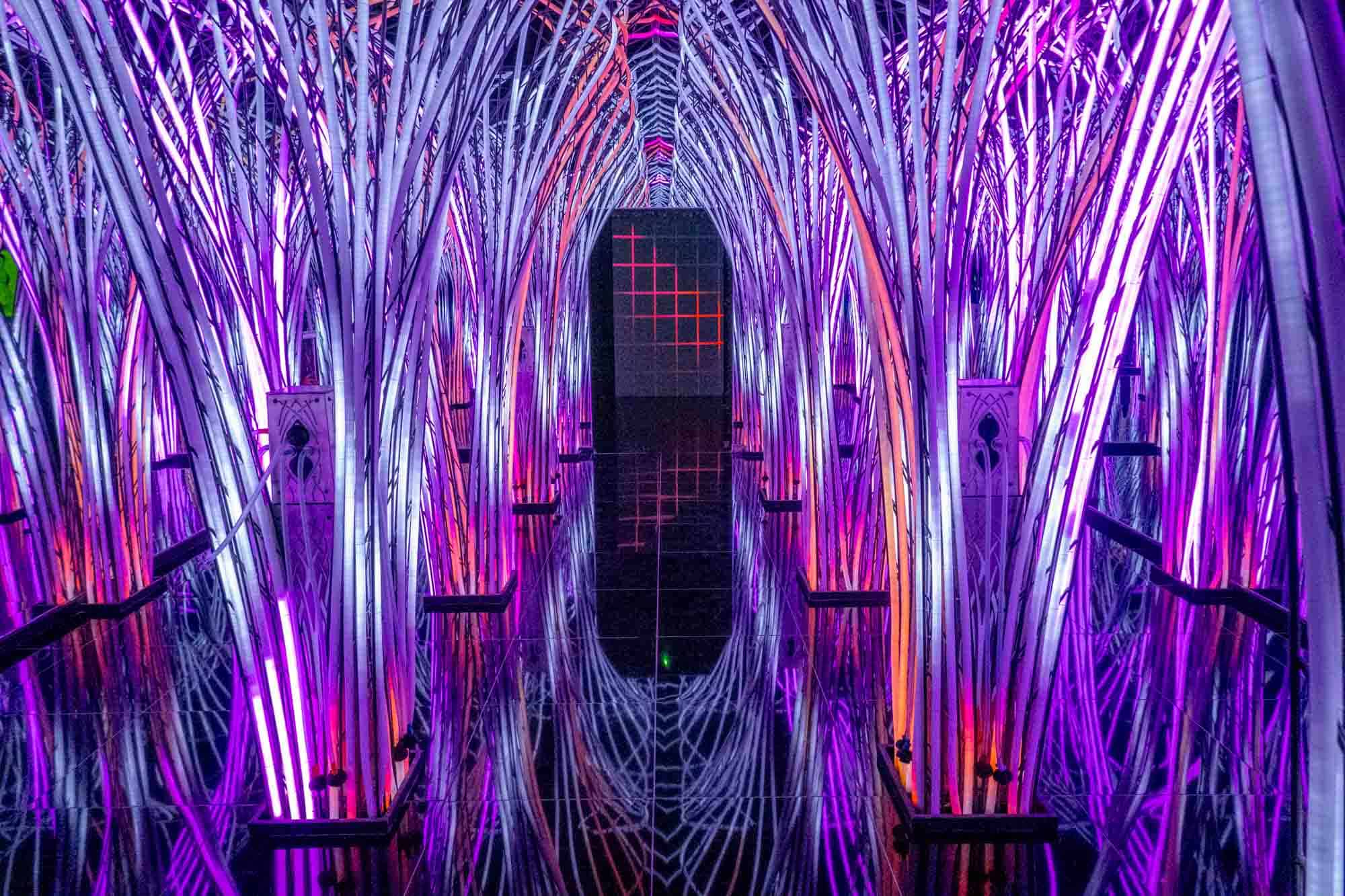 If playing detective sounds like too much work, you can just wander through the rooms and experience Otherworld as a giant, interactive art installation. A very, very interactive installation.
Touch everything. Climb up into the tear drop chairs. Sit on the cushions in the Bedouin tent/hookah lounge. Stomp on the illuminated floor. Pump the handles on the milk machine and watch the milk flow from the udders.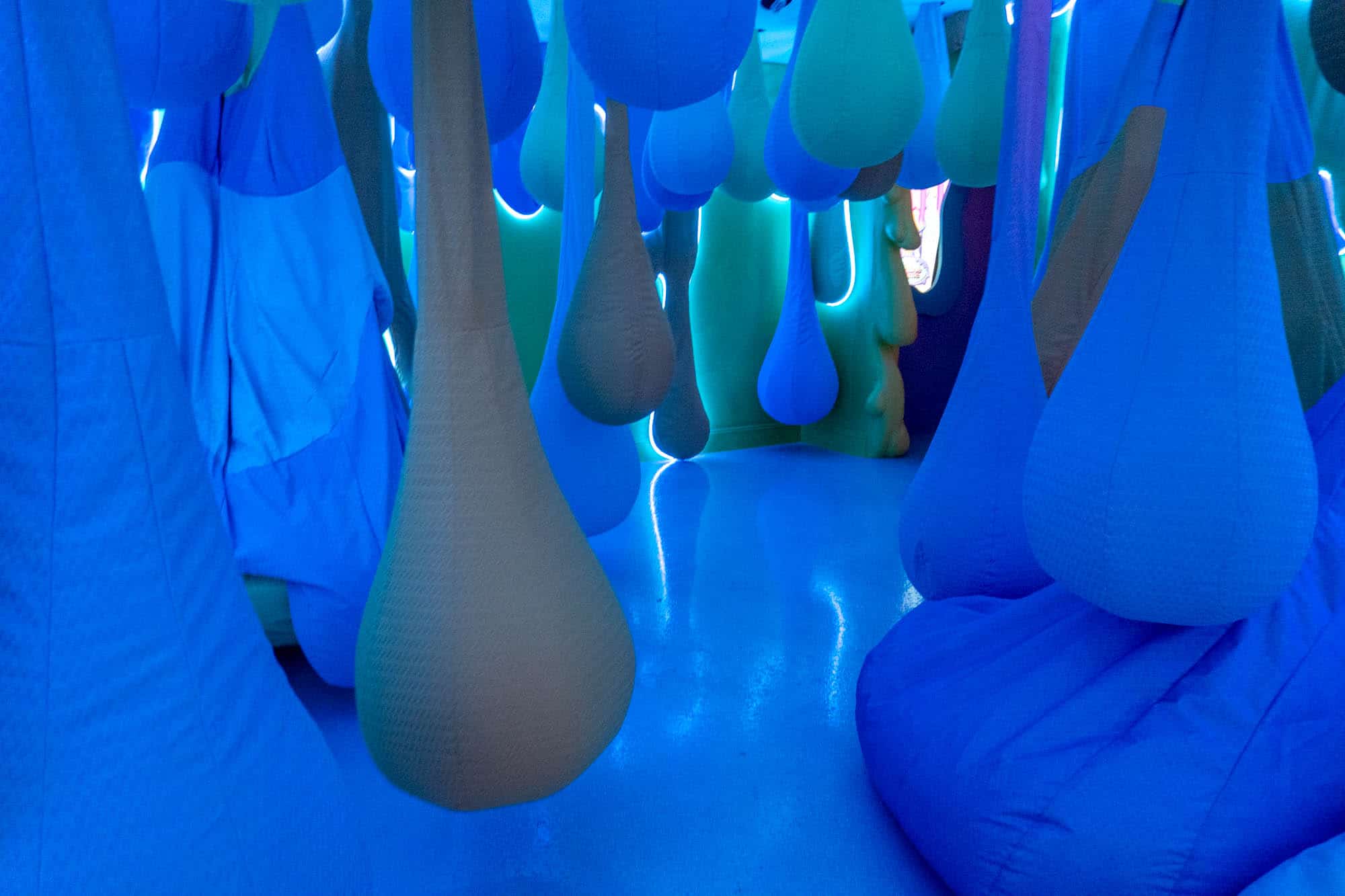 Two words come to mind: the rabbit hole. The entire exhibit has a feeling of falling into some kind of alternative reality that would blow little Alice's mind. It's a very psychedelic, trippy experience when you just appreciate the visuals that surround you.
As you explore, appreciate the creativity, complexity, and otherworldly creation that has descended on Northeast Philadelphia.
Visiting Information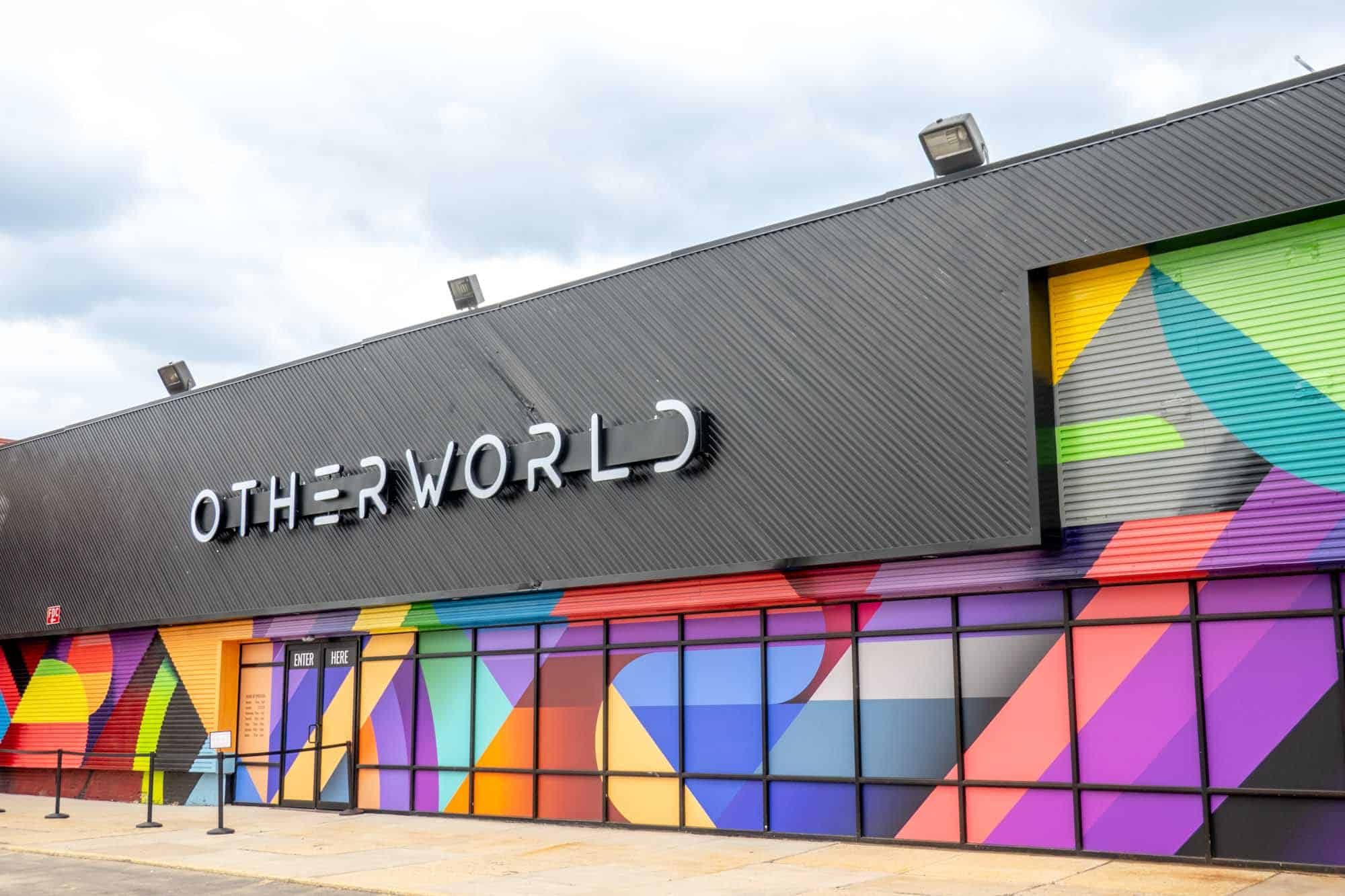 Location: Otherworld Philly is located in a strip mall in the Northeast section of the city at 2500 Grant Avenue, two blocks east of Roosevelt Avenue. (The building used to be an old Forman Mills outlet store.) You can't miss it – the exterior of the building is painted in geometric shapes in all the colors of the rainbow.
Hours: During the week, Otherworld is open 11am-8pm. On weekends, it opens at 10am, and stays open until 10pm on Friday and Saturday nights. Otherworld is closed on Tuesdays.
Admission: Tickets need to be purchased in advance online. The price for adults and teenagers is $34.99. Admission for children (ages 3-12) are $29.99. Tickets are available on the Otherworld website.
Kids: Otherworld is designed to be accessible for visitors of all ages and is a great, kid-friendly attraction (particularly on rainy days when outdoor activities may be limited). That said, there are some rooms that can be fanciful or have "monsters" that could be troubling or give very young children nightmares (particular the animal "incubator" area with a giant snake-like creature). Use your best judgement on what is appropriate for your children. Visitors should be aware that there are strobe-type lights and loud noises throughout the exhibit.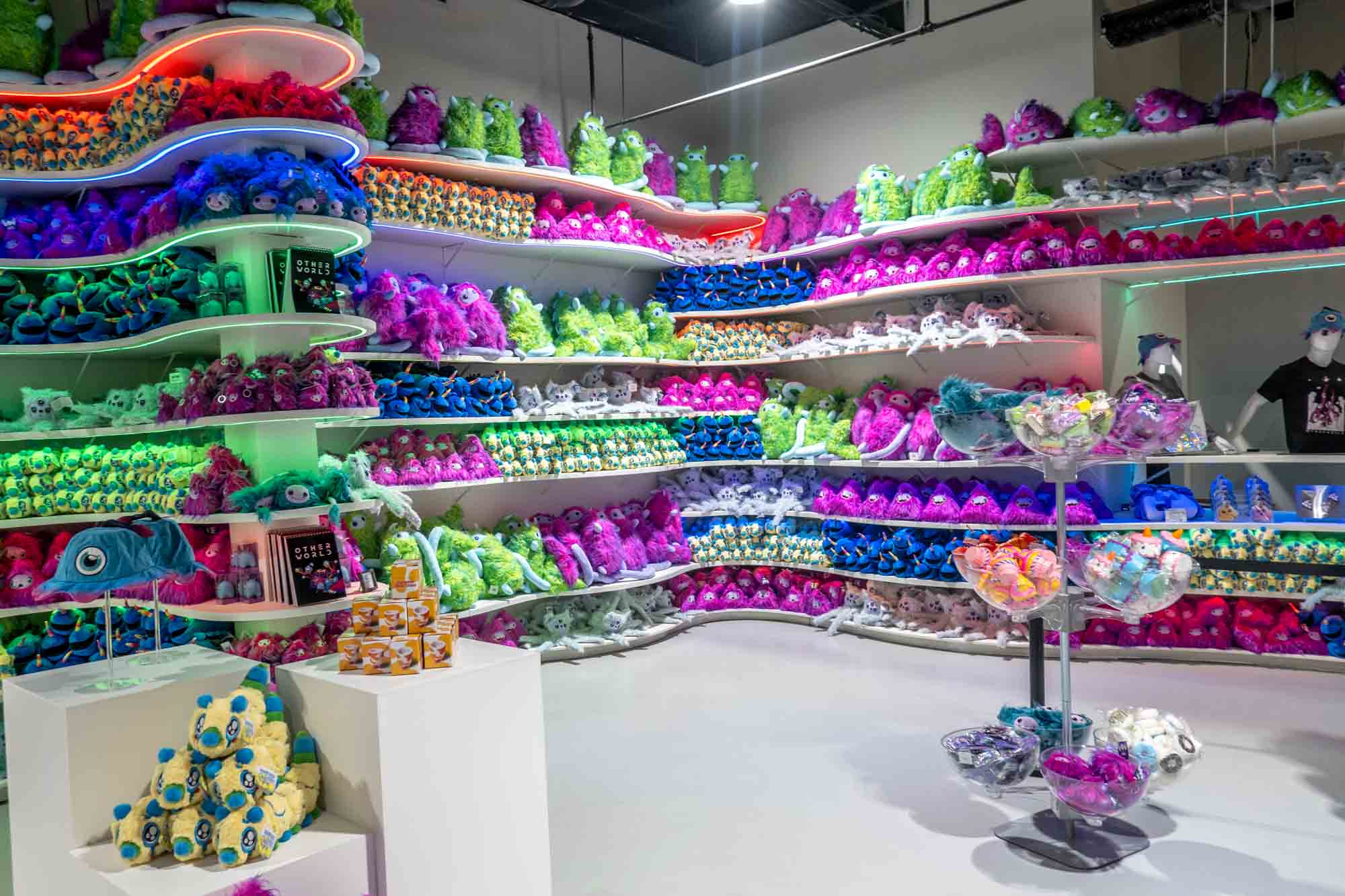 Tips: Be prepared to crawl into and over objects. Visitors may be more comfortable in long pants and shoes (no sandals).
Getting there:  Visiting Otherworld Philadelphia is possible by public transit. The SEPTA bus #19 passes immediately in front along Grant Ave and the SEPTA buses #1 or #14 pass along Roosevelt Avenue (two blocks away). But Otherworlds is best visited by car. There's a large parking lot with free parking.