Some posts on this site contain affiliate links, meaning if you book or buy something through one of these links, we may earn a small commission (at no extra cost to you).
It doesn't get much better than a crisp fall day, the scent of apple cider donuts fresh from the fryer, and the joy of picking out just the perfect pumpkin for carving. Across the area, visitors will find that and more at the many pumpkin patches near Philadelphia. There are lots of pick-your-own options at local farms plus chances for hayrides, bonfires, and other fall-themed activities.
At many of the spots, advanced ticketing is recommended for popular times like weekends and in-demand activities like hayrides. Make sure to check the websites of the pumpkin patches before you head out and look for any updates on social media.
Read on for our recommendations for some great places to go pumpkin picking and enjoy fall around Philadelphia.
Hellerick's Family Farm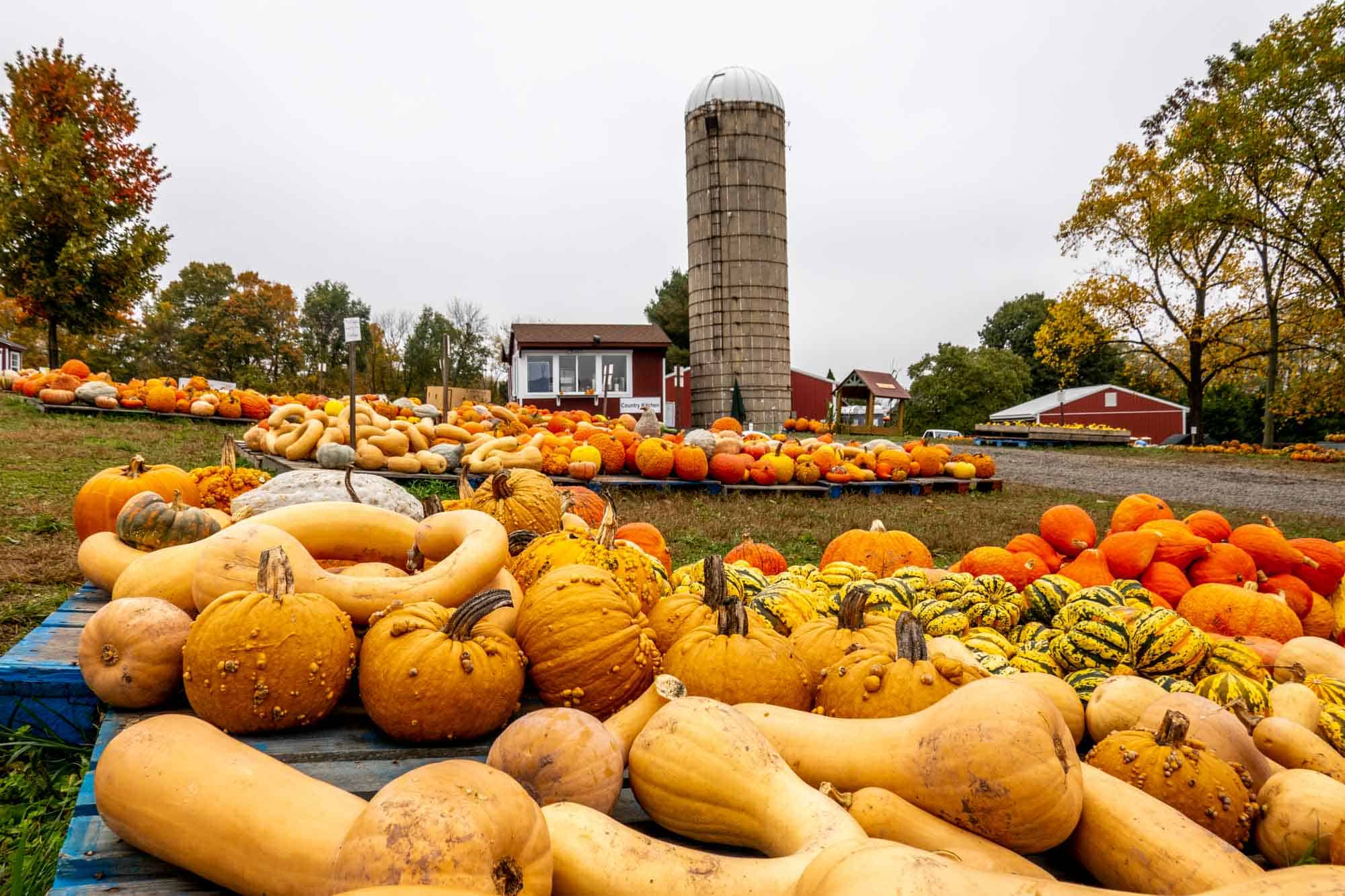 A fall day at Hellerick's Family Farm offers so much in addition to a pumpkin patch. At this farm in Doylestown, visitors will find an 18-acre Adventure Farm, which includes hayrides, sunflowers, slides, and even goats.
There are lots of pumpkins, gourds, and colorful fall decorations. Don't miss the market for stocking up on pumpkin bread, apple pie, and other fall treats. Check out the beautiful fall foliage in the area to make a day full of autumn-themed activities. The festivities run September 14 – November 7, 2023.
Johnson's Corner Farm
In Medford, Johnson's Corner Farm welcomes guests to their pumpkin patch from September 9 through October 31, 2023, so there is plenty of time to get in on the fun. Visitors can enjoy hayrides and watching the animals on the farm before shopping the extensive offerings in the farm market.
On weekends, the fall festival is in full swing. You'll find live music, a corn maze, and a stroll through the sunflower field in addition to the pick-your-own opportunities.
Maple Acres Farm
A 105-year-old farm in Plymouth Meeting, Maple Acres is a family tradition in all seasons thanks to their bountiful produce and flowers. A visit here is particularly special in the fall when the pumpkin patch opens and weekend hayrides are available. With wagons, pumpkins, and plenty of picturesque settings around the farm, there are all lots of chances to snap the perfect fall photo.
Gourds, hay bales, Indian corn, and other fall decorations are available along with fall produce, baked goods, and their famous apple cider slushies. The fall fun begins September 9.
Merrymead Farm
Merrymead Farm is packed with fall activities. The pumpkin patch and giant illuminated "Great Pumpkin" are among the highlights. On weekends in October, visitors will also find hayrides, a cornstalk tunnel, pumpkin painting, and a corn maze. Don't miss the pumpkin ice cream and apple cider donuts.
Styer Orchard
Styer Orchard is one of the best places in Bucks County for pumpkin picking. Located in Langhorne about 45 minutes north of Philadelphia, the sprawling property has multiple patches open with a wide variety of pumpkin types, including white pumpkins.
Depending on timing, visitors may also find apples, squash, and corn available for picking.
None Such Farm
A third-generation family farm, None Such Farm is the first farm we visited when we moved to the Philadelphia area, and we've loved it ever since. In addition to the wide variety of produce, meat, and baked goods, there is lots to pick right on the farm.
On weekends in October, None Such comes alive with a pumpkin patch, hayrides, and more. If you're in the area of Buckingham (not far from Doylestown), the farm is a great place to visit.
Snipes Farm
Weekends in October bring all the fun at Snipes Farm. This 150-acre farm in Morrisville offers just about everything you could want in fall. There is a pumpkin patch and a fully stocked market with Halloween decorations, caramel apples, and lots of fresh apple cider.
The array of activities around the farm ensures that everyone will find something they like. The straw bale maze is a don't-miss activity, and the Land of Scarecrows is a creative addition. There are also hayrides, a scavenger hunt, a farm museum, and lots of farm animals to enjoy.
Shady Brook Farm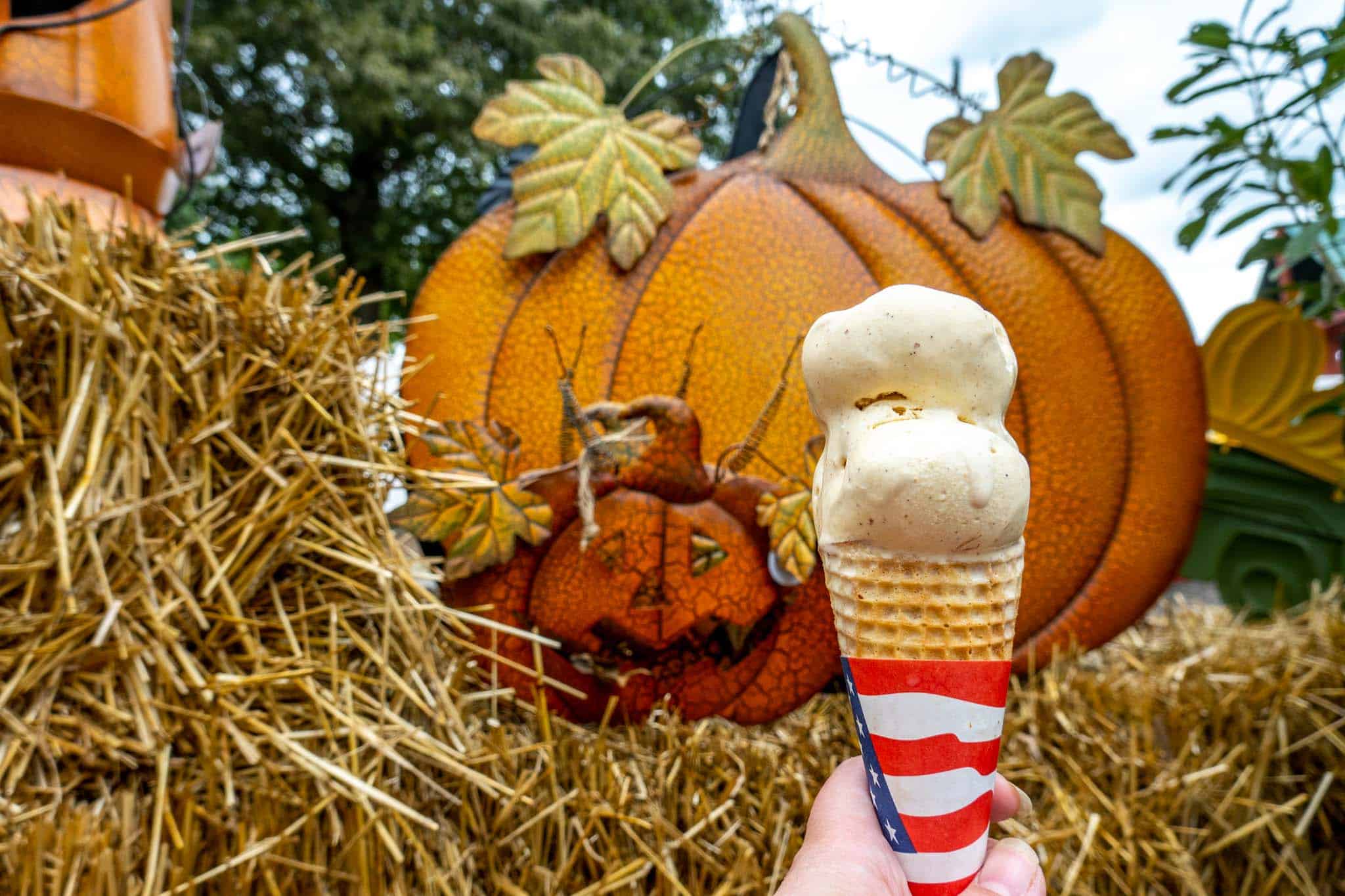 With wine concerts, regular special events, a farm market, and some of the best Christmas lights in the area, there is always something happening at Shady Brook Farm. In the fall, the historic farm in Yardley offers pick-your-own pumpkins at one of the best pumpkin patches in greater Philadelphia (plus corn, apples, and sunflowers, depending on timing).
The Fall Fest includes wagon rides, campfires, a corn maze, and live music. Stop inside for apple cider donuts and lots of fall foods. Make sure not to miss the pumpkin ice cream from Uncle Dave's—it's in high demand every year. Events run from September 8 through October 29.
Milky Way Farm
Find the perfect pumpkin at Milky Way Farm in Chester Springs. Beginning September 23, this lovely family-run farm (also home to Chester Springs Creamery) offers a pick-your-own pumpkin patch that spans about 8 acres. Visitors can walk through the patch, see farm animals, and enjoy the corn maze. Plus, there is always ice cream and other fall harvest items for sale.
Highland Orchards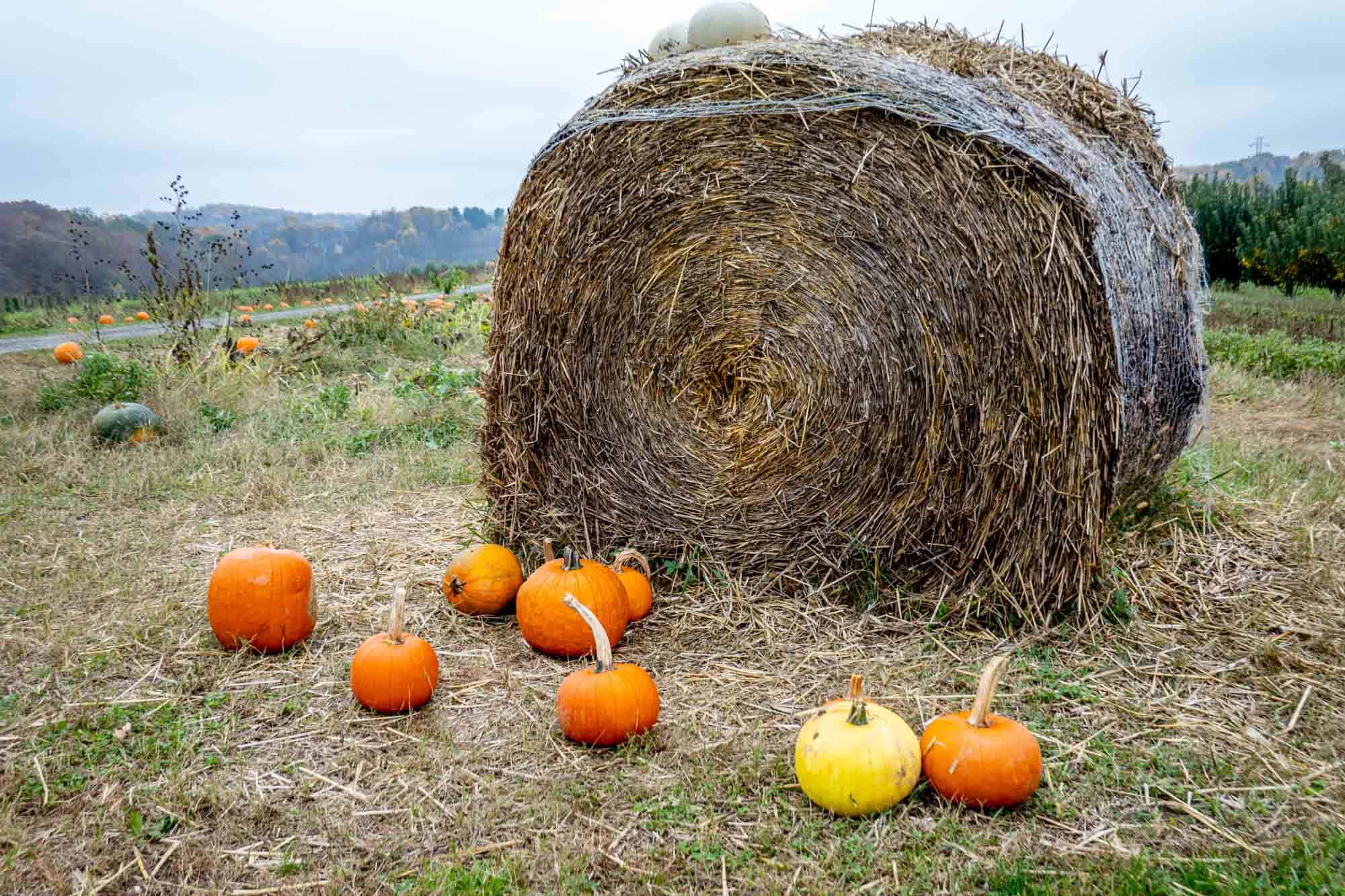 Highland Orchards is a gem in Chester County. Whether apple cider donuts, pumpkin picking, or visiting an orchard is on your fall agenda, this is a great place to go. In addition to the pumpkin patch and hayrides, the farm market is also full of local produce and baked goods—it's impossible to leave without something delicious.
Froehlich's Farm
Fall Fest is one of the highlights of the season at Froehlich's Farm in Furlong. The main attraction is the pumpkins. Whether you want to pick them yourself in the pumpkin patch or get some that are pre-decorated, there are lots of options to choose from.
On Saturdays and Sundays from September 30 through October 29, the farm offers an endless number of other fall- and Halloween-themed activities. Visitors can take a wagon ride around the 107-acre farm, fly down the monster slide, or get lost in the corn maze. There's also live music, scarecrows, and more. And there's plenty of food and drink to enjoy while you explore all there is to do.
Linvilla Orchards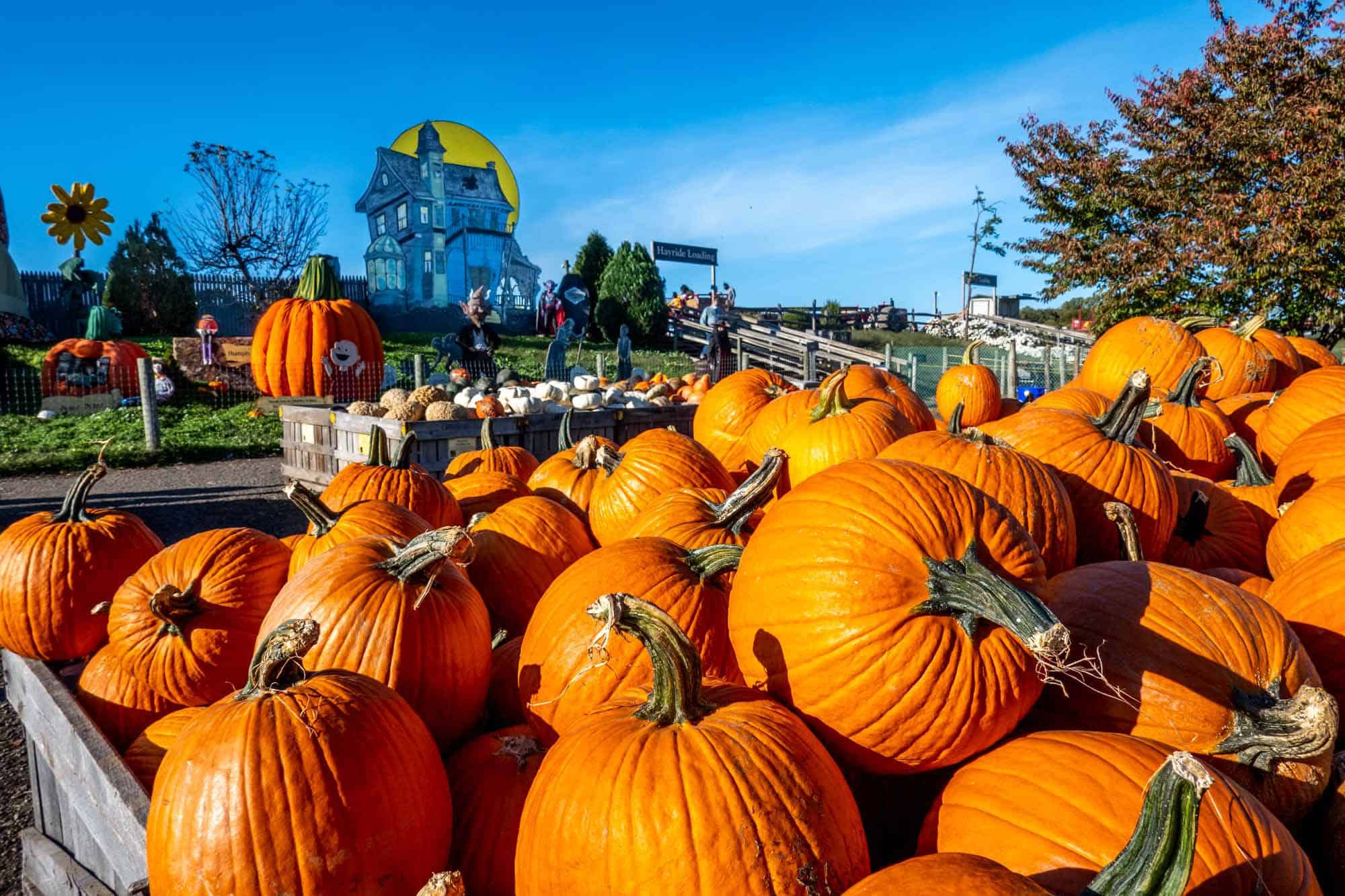 One of the best-known farms in the area, Linvilla Orchards is all about fall as soon as there's even a tinge of cool in the air (and sometimes when there isn't). Their massive Pumpkinland with larger-than-life decorations is impossible to miss.
Beginning September 16 and lasting through November 5, visitors have their pick of a huge number of pumpkins and gourds of lots of colors, shapes, and sizes. While the pumpkins are pre-picked, people dying to do their own legwork can wander the rows of trees in the orchards in search of the perfect apples for pies, applesauce, and more.
Hayrides are very popular at Linvilla, and the straw bale and corn mazes are not to be missed. Pony rides, face painting, and food vendors round out the extensive list of things to do here. Fair warning: this place gets busy. Try to time your visit for a weekday if you can.
Tabora Farm and Orchard
Check out Tabora Farm and Orchard in Chalfont for lots of seasonal fun. Pick your pumpkin from the 4-acre pumpkin patch or get lost in the 8-acre corn maze. Go for a wagon ride or just hang out and enjoy the live music. There is also a full-service deli and farm market on site to enjoy.