Some posts on this site contain affiliate links, meaning if you book or buy something through one of these links, we may earn a small commission (at no extra cost to you).
Doylestown, Pennsylvania is the apple pie, ice cream parlor, covered bridge type of idyllic that you read about in classic American literature. Only 25 miles from Philadelphia's city center, this historic hub is full of museums, markets, parks, and historic attractions. There are lots of great things to do in Doylestown.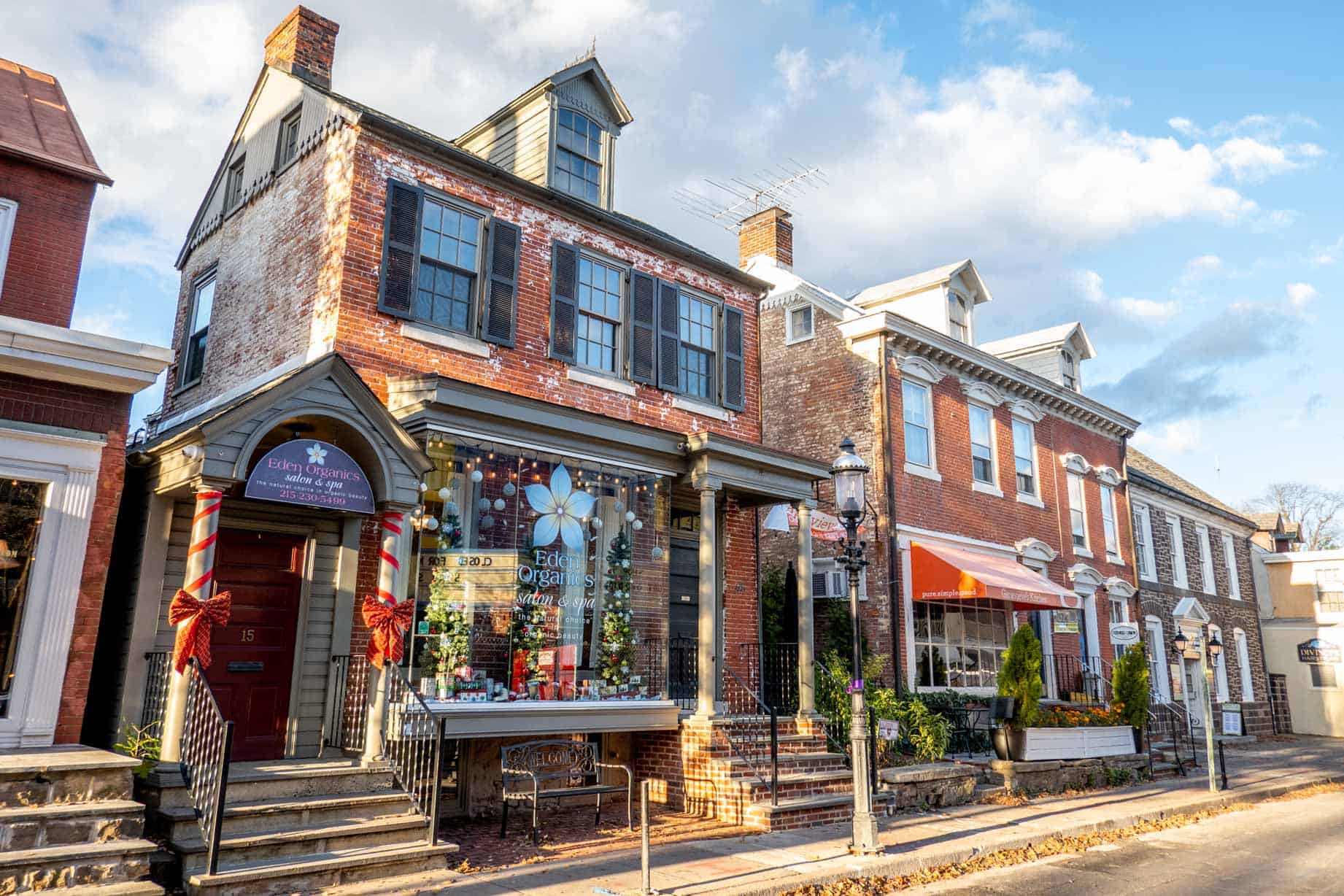 Doylestown takes its name from 18th-century tavern owner William Doyle. Due to its strategic location on the corner of Main Street and State Street, William Doyle's Tavern quickly expanded into what is now Doylestown. For a small town, this Bucks County gem has a rich history punctuated by great American architect Henry Chapman Mercer's lasting impact. Visit for its enduring cultural artifacts, its small-town charm, or simply to retreat from the hubbub of the city.
Here's a look at some of the top things to do and see here.
Get cultured at the Michener Art Museum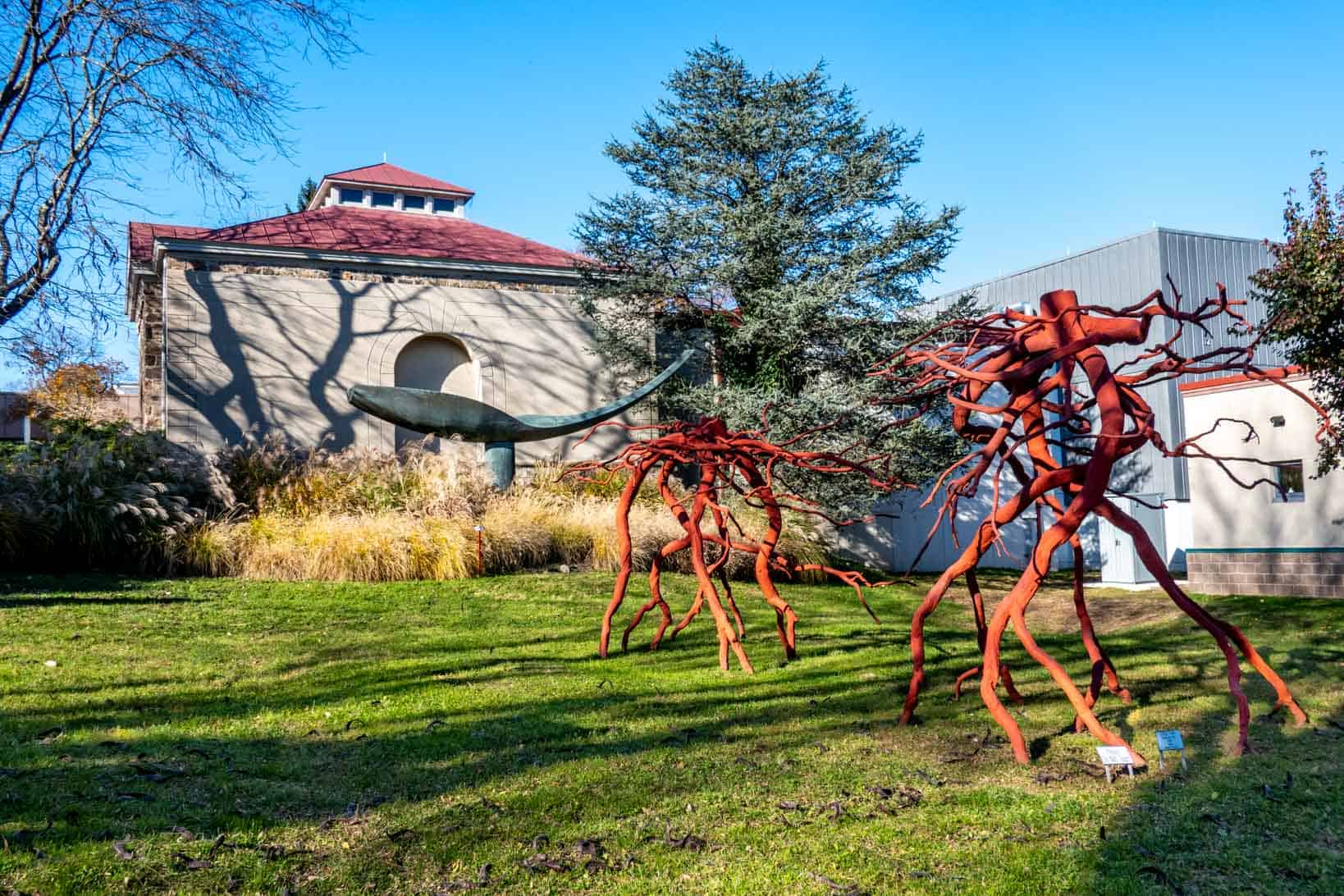 The Michener Art Museum opened as an independent, non-profit cultural institution in 1988. Their mission focuses on preserving, interpreting and exhibiting the art and cultural heritage of the Bucks County region. Named for Doylestown-born, Pulitzer-Prize winning writer, James A. Michener, this museum now hosts a wide range of programs open to the public, including lectures, artists conversations, gallery talks, family-themed activities, and other events.
Explore the objects of the Mercer Museum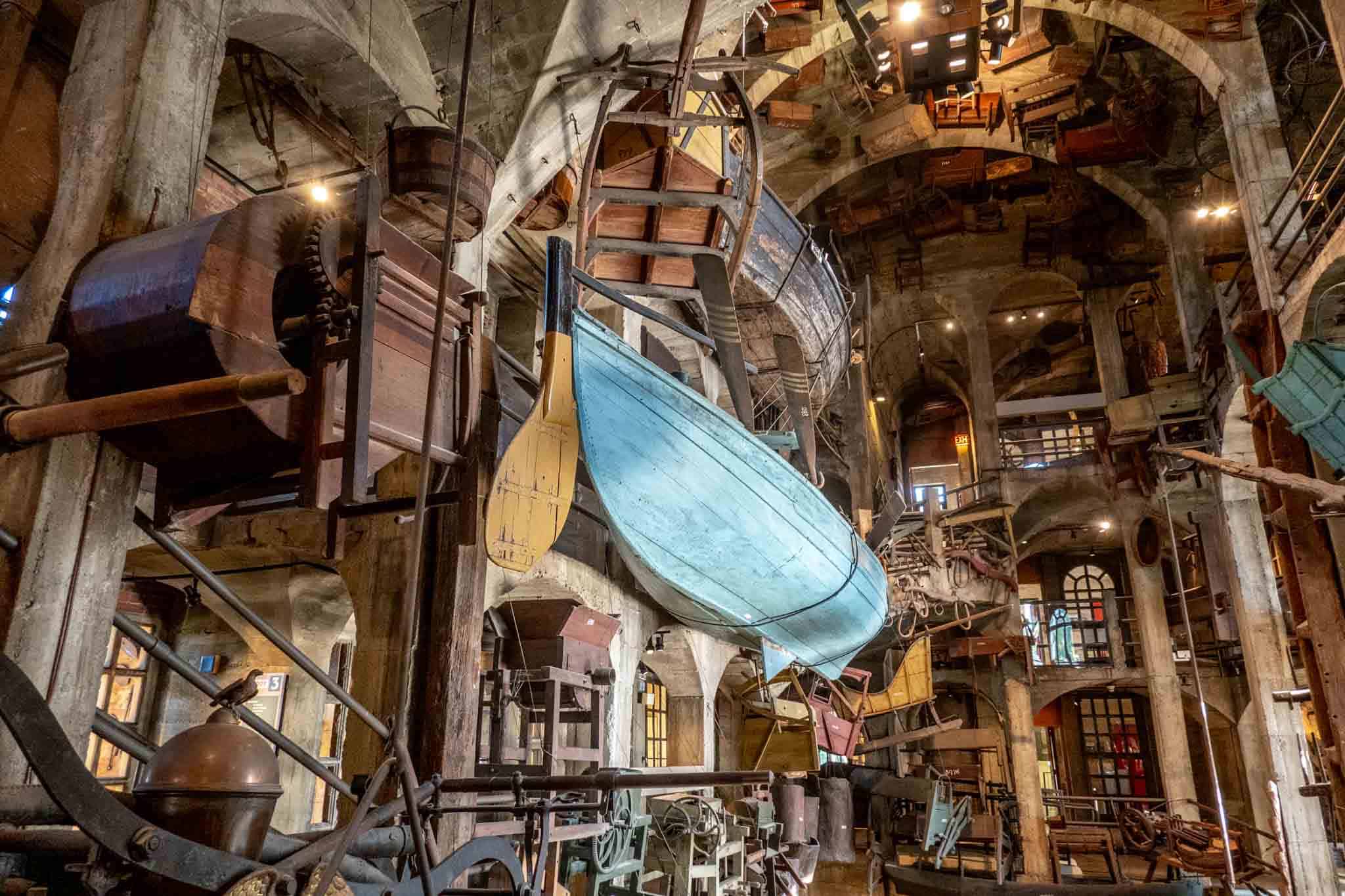 If you're looking for that wow factor, the Mercer Museum needs to be on your list. Designed and completed by Henry Mercer in 1916, this six-story reinforced concrete castle is one of Bucks County's top attractions. Displaying a collection of over 50,000 tools from around the time of the country's founding, the museum shows pre-Industrial life in the early United States by exploring the evolution of various trades.
Visit Fonthill Castle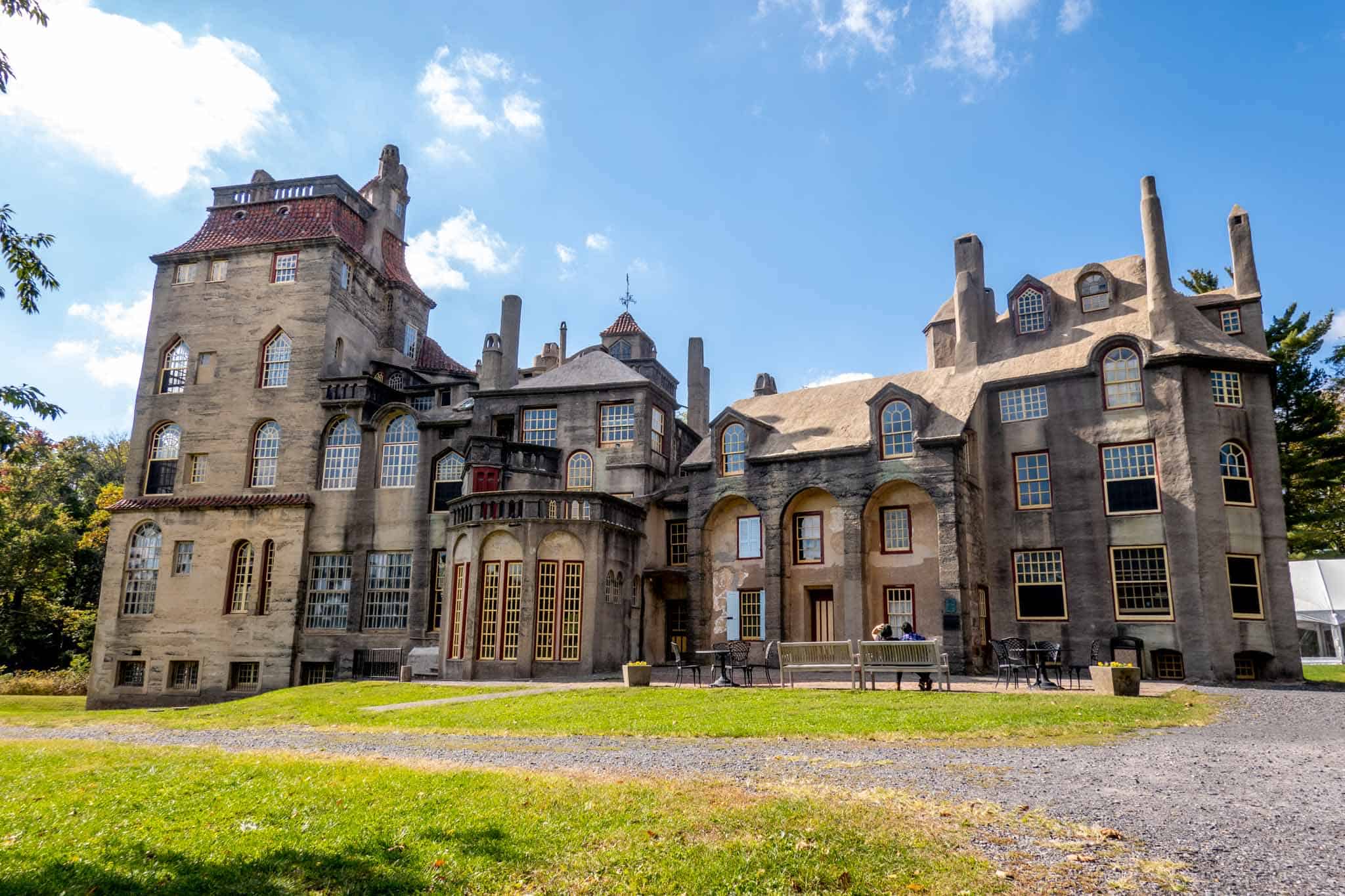 Another stop on the coveted, "Mercer Mile," a collection of three historic structures designed by Henry Mercer within a mile of each other, Fonthill Castle offers a closer look at Mercer's personal life, featuring his collection of books, prints and Victorian engravings. Book ahead to attend a one-hour guided tour through a portion of Henry Mercer's historic home.
Appreciate the craft of the Moravian Pottery & Tile Works
The last of the Mercer Mile's stops, the Moravian Pottery & Tile Works contains artifacts from the pre-industrial era. Built with the idea of early Spanish mission and monastery architecture in mind, this National Historical Landmark produces handmade tiles and mosaics in the same style of Mercer's original designs. Guests can even watch artisans throughout the entire tile-making process.
See a movie at the County Theater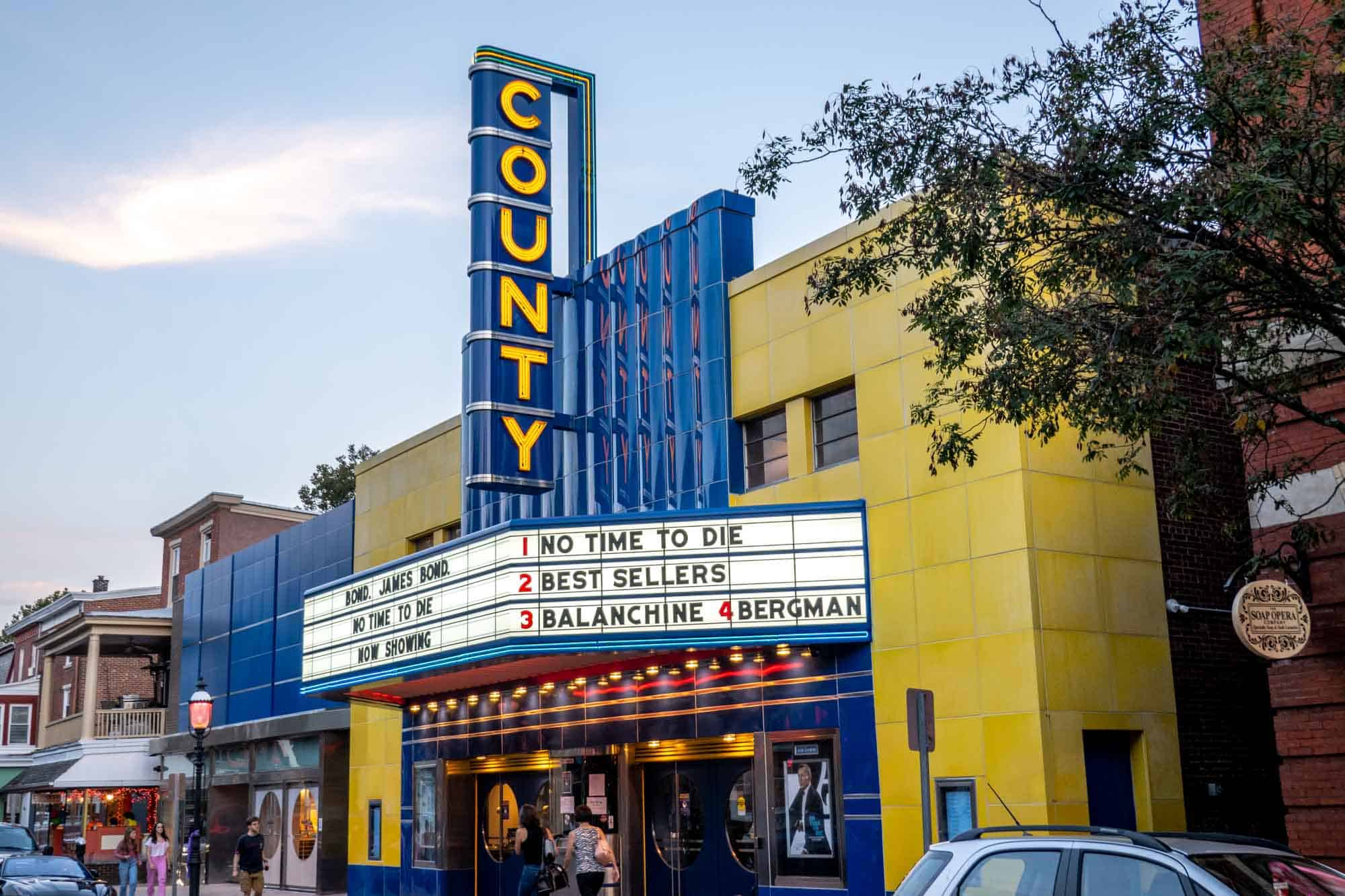 Since 1938, County Theater has created movie magic with its Art Deco architecture and neon marquee. The County Theater in Doylestown is for real film connoisseurs. The theater is best known for showing independent films produced by local filmmakers, but it also hosts film lectures and special-interest discussions. This is the spot for film buffs in the county.
Browse Siren Records
Once a country barn in 1988, Siren Records is Bucks County's local, independent music shop. Conveniently located in downtown Doylestown, the shop carries an incredibly wide variety of music: rock, pop, jazz, hip-hop, soul and R&B, and country. You can catch bands giving in-store concerts.
Relax at Peace Valley Lavender Farm
What exudes tranquility like rows of lavender swaying in the breeze? While this family-owned farm stays open year-round, the peak of the blooming season is the third and fourth week of June. If you can't make it to Peace Valley, fret not. Find a variety of fresh lavender-infused products on their website.
Take a dip at the Fanny Chapman Memorial Pool
Another Mercer production, the renowned architect named this pool complex after his favorite aunt, Fanny Chapman. From its founding in 1927, the Fanny Chapman Memorial Pool Complex has been significantly expanded over the years and now includes five swimming pools. While the pools are popular with families, it is open to people of all ages.
Play around at Kids Castle Central Park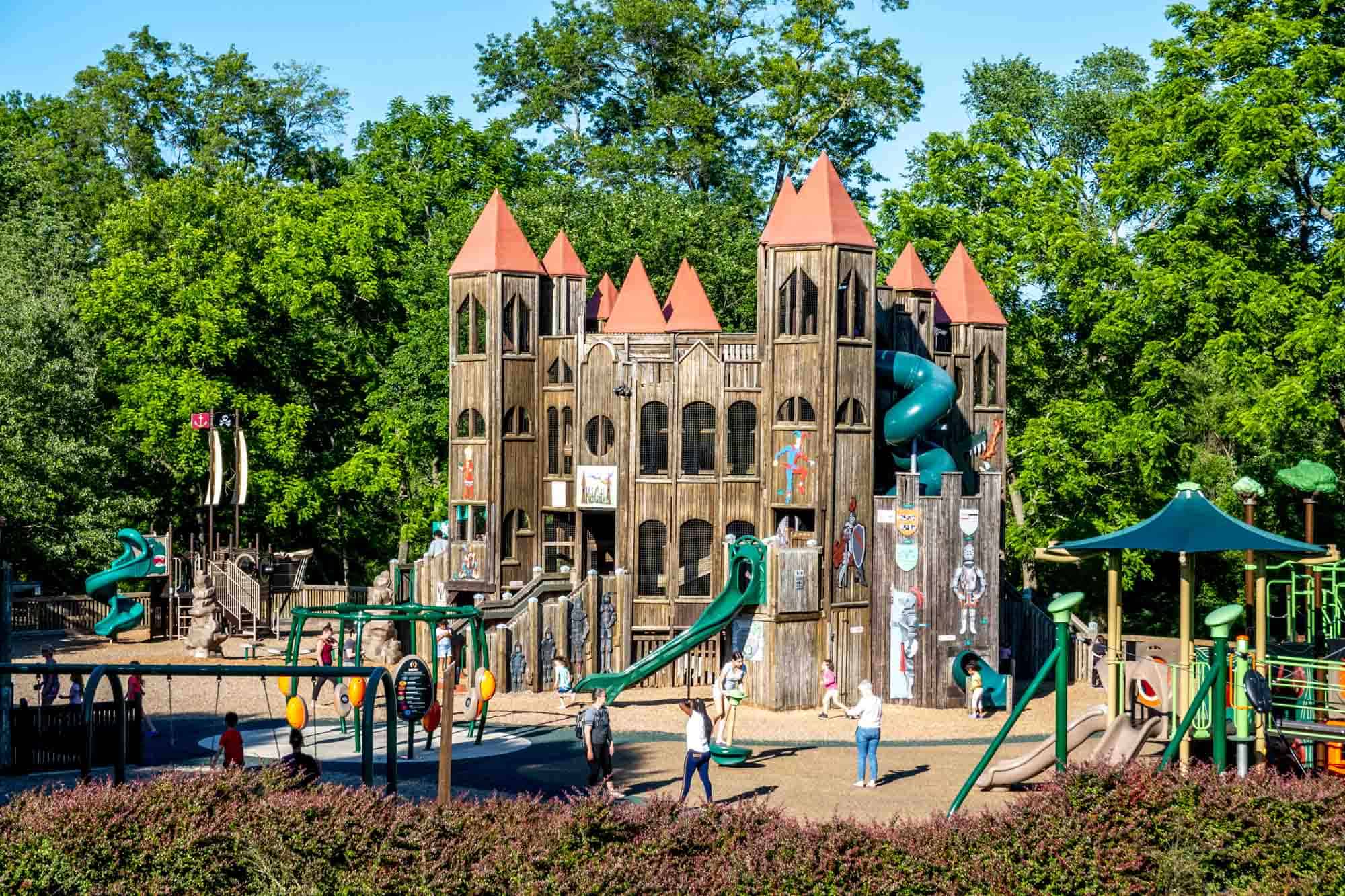 While you explore Fonthill, let your little ones claim their own kingdom. Kids Castle contains an unbelievable structure packed full of fun activities. The three story tube slide is a must if you can get through the maze. This is one of the best things to do in Doylestown with kids.
Shop at Doylestown Farmer's Market
Every week from April through November, this market is one of many reasons to visit Doylestown, Pennsylvania. This open-air Doylestown Farmer's Market features dozens of local Bucks County vendors, live music, and tasting events. Throughout the year, the market also puts on special events, cooking workshops, and demos from notable local chefs. For entertainment, local musicians give performances and there are occasional scavenger hunts for kids.
Enjoy seasonal fun at Hellerick's Family Farm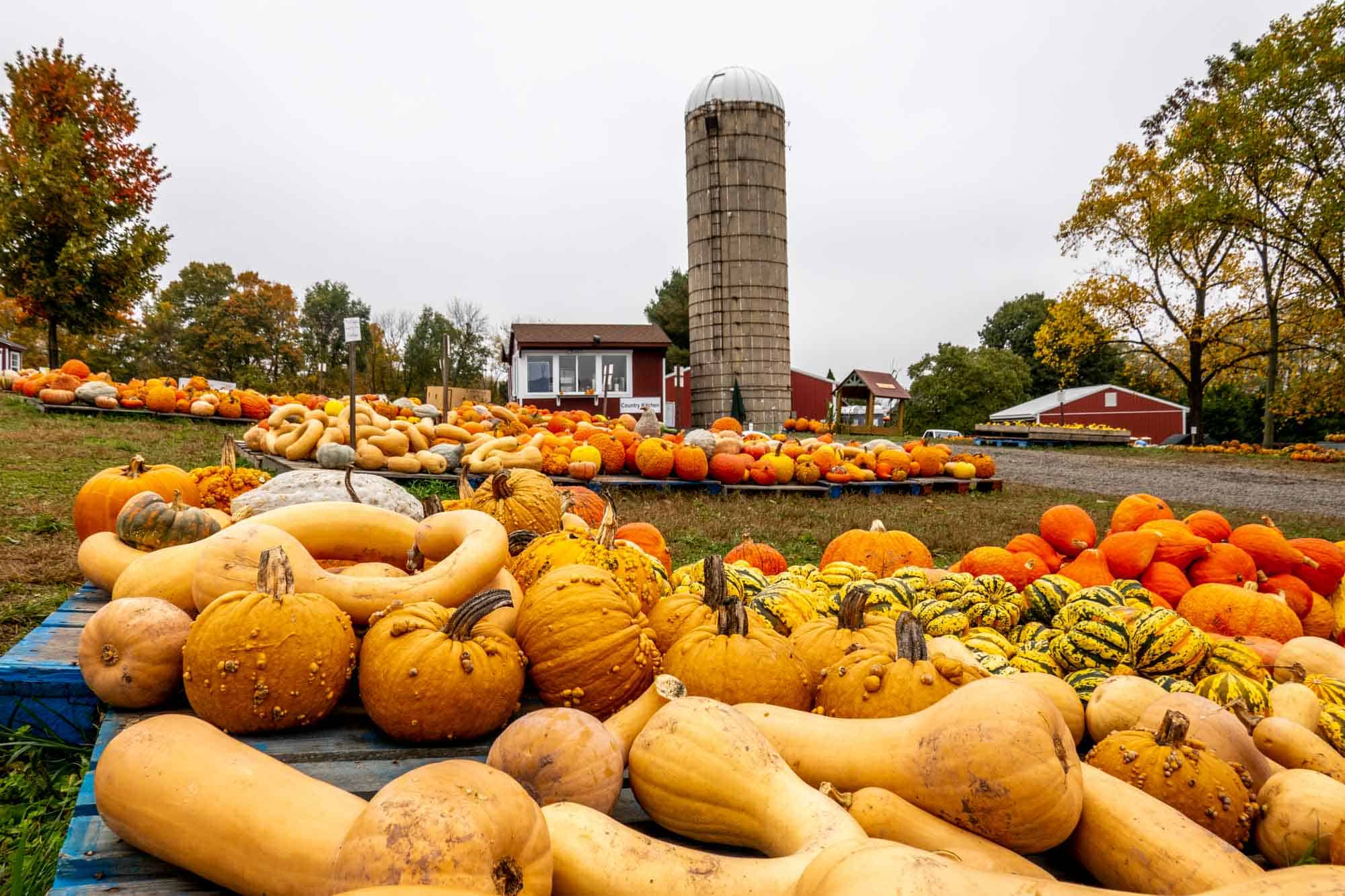 For family-friendly activities, Hellerick's Family Farm is the place. The Aerial Adventure Park features nine zip lines, 21 bridges and a free fall jump for ages 7 and up. The farm's 40+ family friendly activities include hay rides, a corn maze, and animal attractions. It's especially fun to visit in the fall when the grounds are filled with pumpkins and gourds. Pick up some fresh pies and breads on your way out!
Sample the brews at Geronimo Brewing at Lilly's Jury Room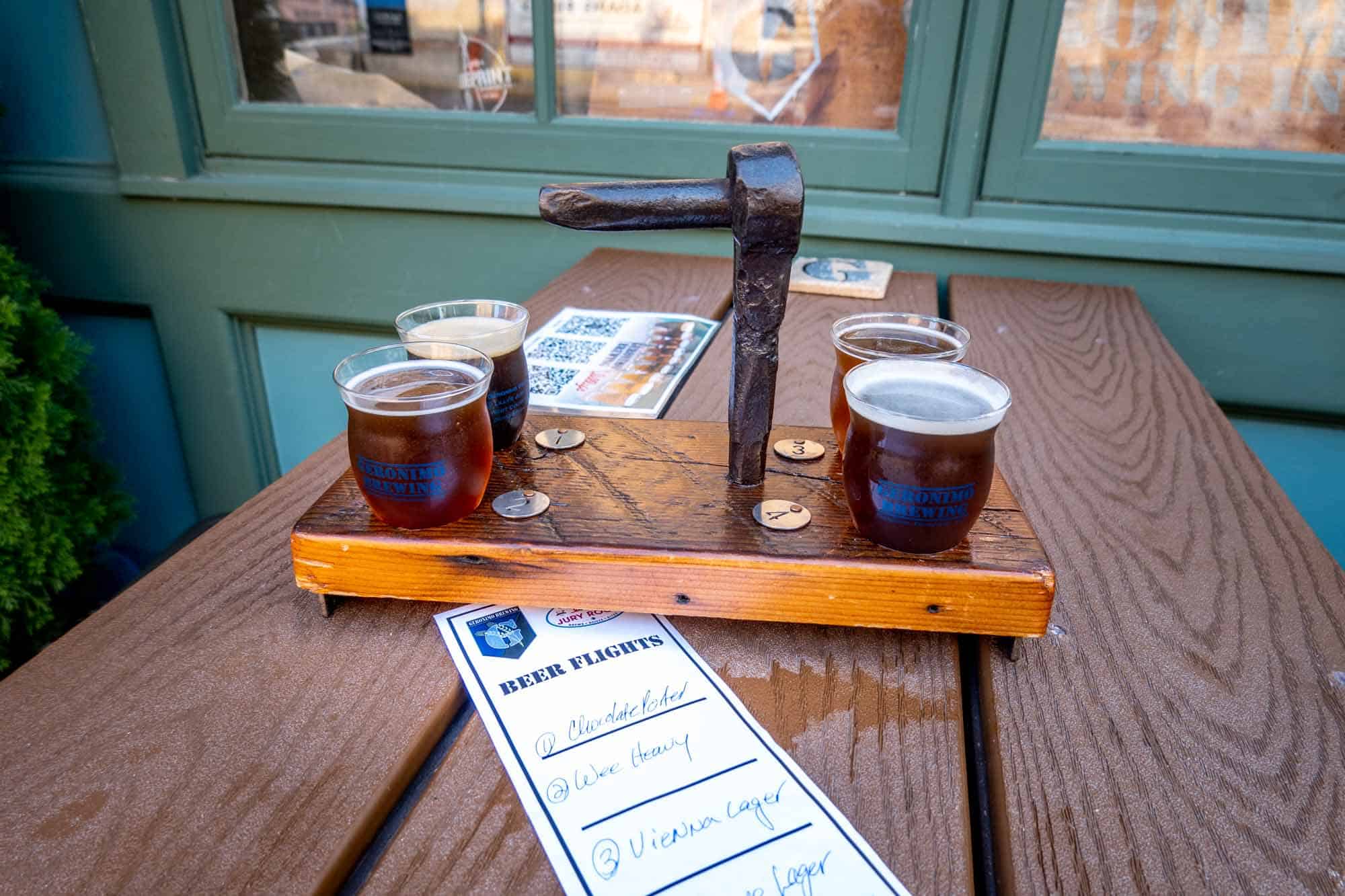 Geronimo Brewing uses fresh, diverse ingredients to create ever changing and highly interesting brews. Geronimo's partnership with Lilly's Gourmet combines exquisite gourmet foods with hand crafted beers brewed right on site. 
See the National Shrine of Our Lady of Czestochowa
Poland's most important religious icon is honored at the National Shrine of Our Lady of Czestochowa. The Black Madonna of Czestochowa takes center stage in the sacred space that was twice visited by Pope John Paul II in his days as a Cardinal.
The shrine's altar and stained glass windows are unique, and the grounds attract the religious faithful and the curious to see the chapels, the Stations of the Cross, and more. The annual Polish Festival each Labor Day weekend attracts over 25,000 visitors to Doylestown to enjoy Polish food and music plus carnival rides, games, and family fun.
See the Doan Outlaw graves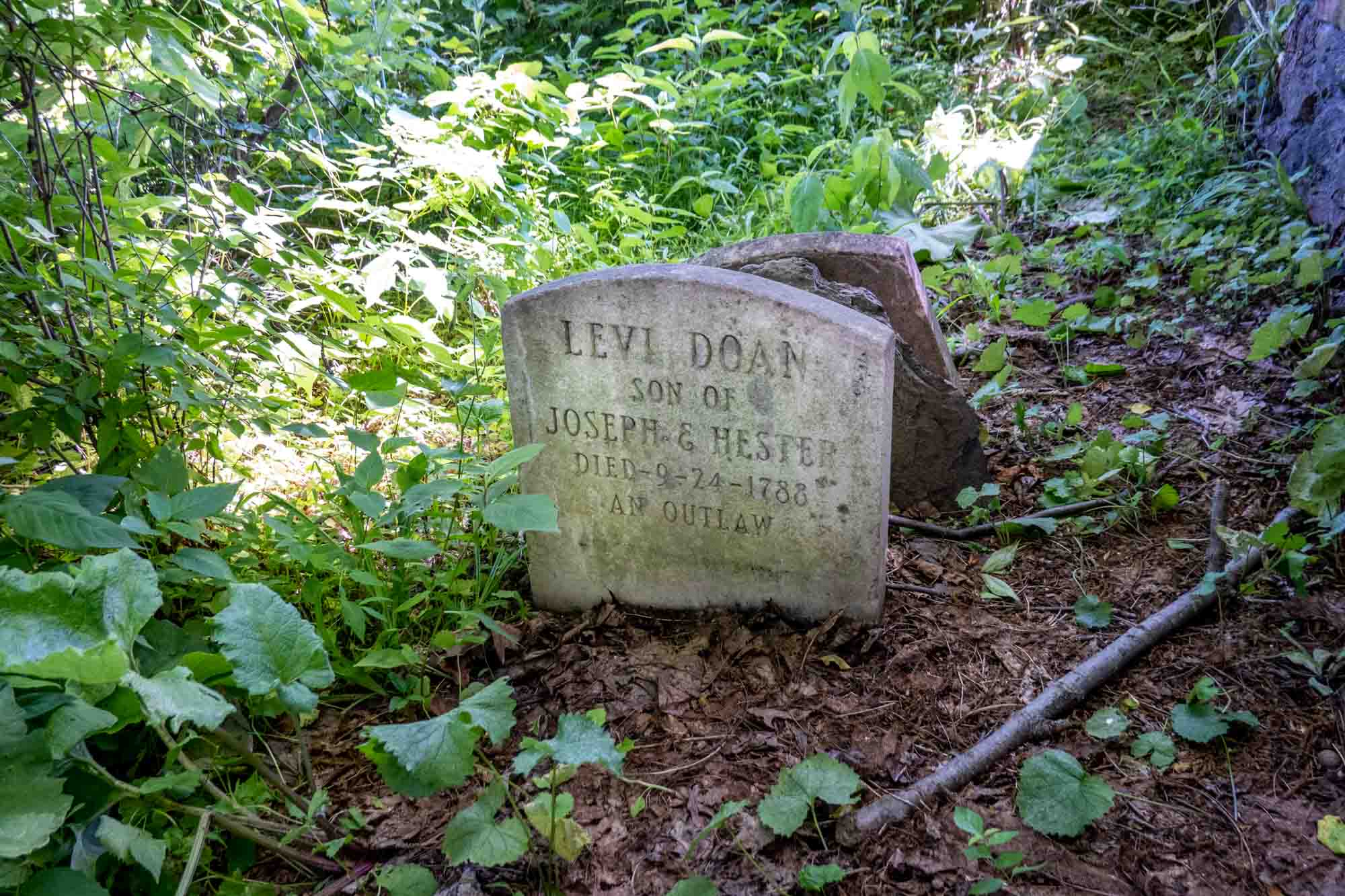 A band of five brothers, the Doans were notorious outlaws and Revolutionary War Loyalists. The gang were reported to have robbed the Newtown Treasury of 1,307 British pounds – quite a sum of money in those days. The loot was never found, but the Doan Legend was born.
Locals say the loot may be hidden in one of several caves in the area that the gang used as a hideout. If urban legends are your thing, peek into the cemetery behind the Plumstead Friends Meeting house. The graves can be seen by peering over the left side of the back wall.
Explore Henry Schmieder Arboretum
The Henry Schmieder Arboretum of Delaware Valley University is a horticultural jewel just west of town and is one of the top Doylestown attractions. These 40 acres provide a living collection of plants and serve as a "green resource" for the surrounding community. Highlights include the Iris and Peony Garden and the Rose Garden. Self-guided tours are free.