Some posts on this site contain affiliate links, meaning if you book or buy something through one of these links, we may earn a small commission (at no extra cost to you).
Philadelphia is full of historical sites, good eats, and cultural institutions. From colonial-era attractions to modern art, there is more than enough to occupy any amount of time you have in this great city. If you're planning a trip, a weekend in Philadelphia will let you see some of the top sites and then dig a little bit deeper to visit places casual visitors may miss.
As locals, we've spent a lot of time getting to know many of the best sites and restaurants. Because a weekend trip is still a quick visit, we've focused our recommendations on some of the most unique things to see, while keeping geography in mind. This 2 day itinerary is designed to minimize back-tracking while still covering some of the best places to go in a weekend in Philadelphia.
Day 1: Historic Philadelphia
The first day in Philadelphia is focused on Old City. This neighborhood is the historic core of the city, notable for being the place where the Declaration of Independence was signed, where Benjamin Franklin experimented with electricity, and where the first U.S. presidents lived. It also has museums, lively waterfront parks and piers, art galleries, and great restaurants to try.
Breakfast in Old City
There are lots of options for breakfast in Old City. The Bourse and Old City Coffee are two of our favorites.
The Bourse, an artisan food hall filled with local favorites, is an ideal stop for breakfast. It's just across the street from some of the main historic sites, so it couldn't be more ideally located. Check out Menagerie Coffee for great espresso drinks and a selection of breakfast sandwiches and pastries, or head to Grubhouse for something more substantial like pancakes or biscuits and gravy. While you're inside, take a look around. This 125-year-old building was once home to the first commodities exchange market in the US.
Depending on where you're staying, Old City Coffee a couple of blocks away on Church Street may be a more convenient option. This shop has been a Philadelphia institution for nearly 40 years. They roast their own beans and offer housemade scones, muffins, and other light breakfast items.
Independence Hall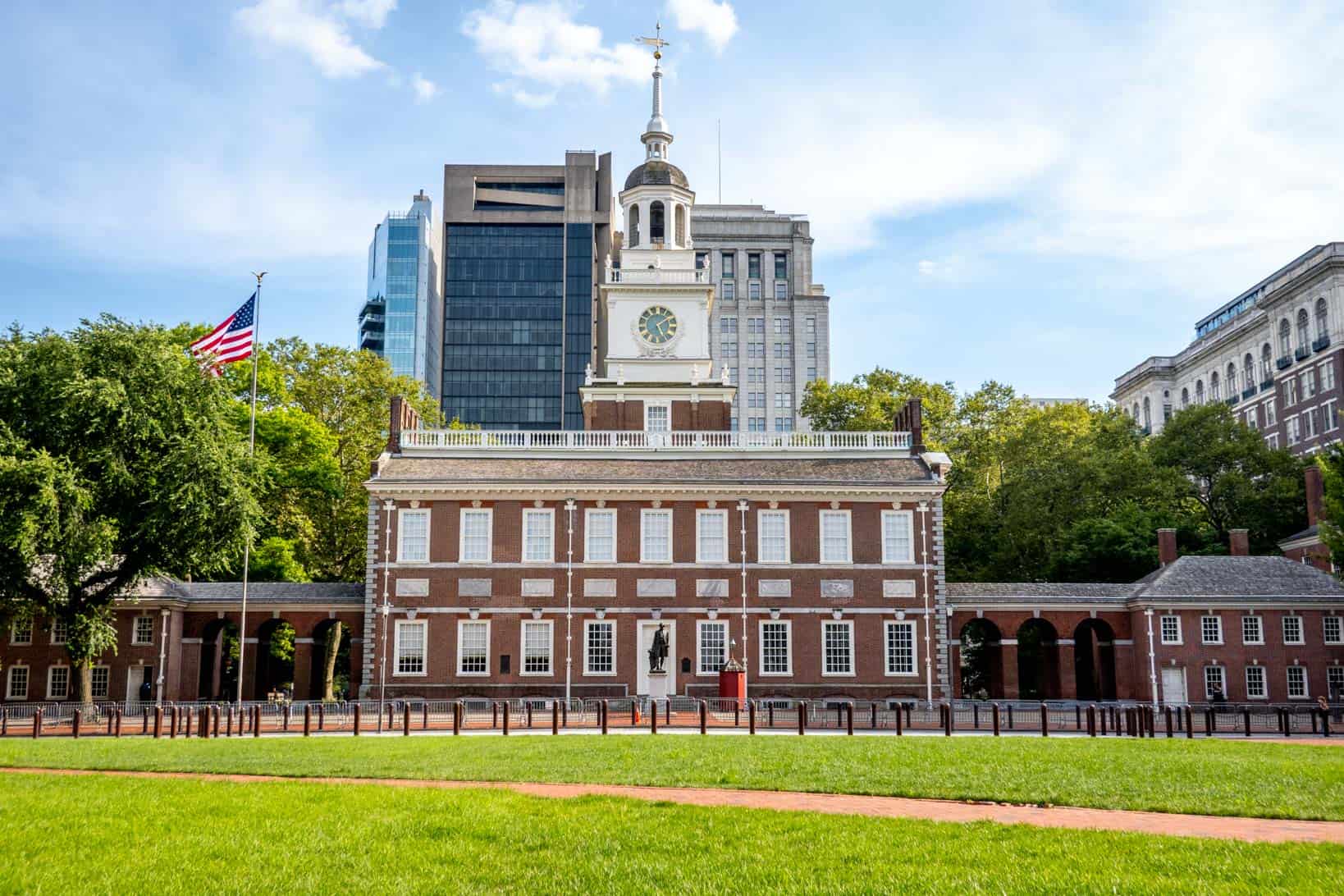 Visiting Independence Hall is a must, especially if it's your first trip to Philadelphia. The building dates from 1753 when it was the Pennsylvania State House. This is where both the Declaration of Independence and the Constitution were signed.
A tour lets you see the inside of the building, which looks much like it did in 1776. On the tour, you'll learn about the history of Independence Hall and the importance of the conventions held here by the founding fathers as they debated the tenets of freedom and conceptualized a new country. There are even several original artifacts on display, including George Washington's chair and an inkstand that was used to sign the Declaration of Independence.
Independence Hall tickets are just $1, and it's a good idea to reserve in advance, especially if you're visiting in the summer. Make sure to leave time to go through the security screening before your tour.
It may also be possible to see Old City Hall, the location of the first Supreme Court, which is adjacent to Independence Hall.
Liberty Bell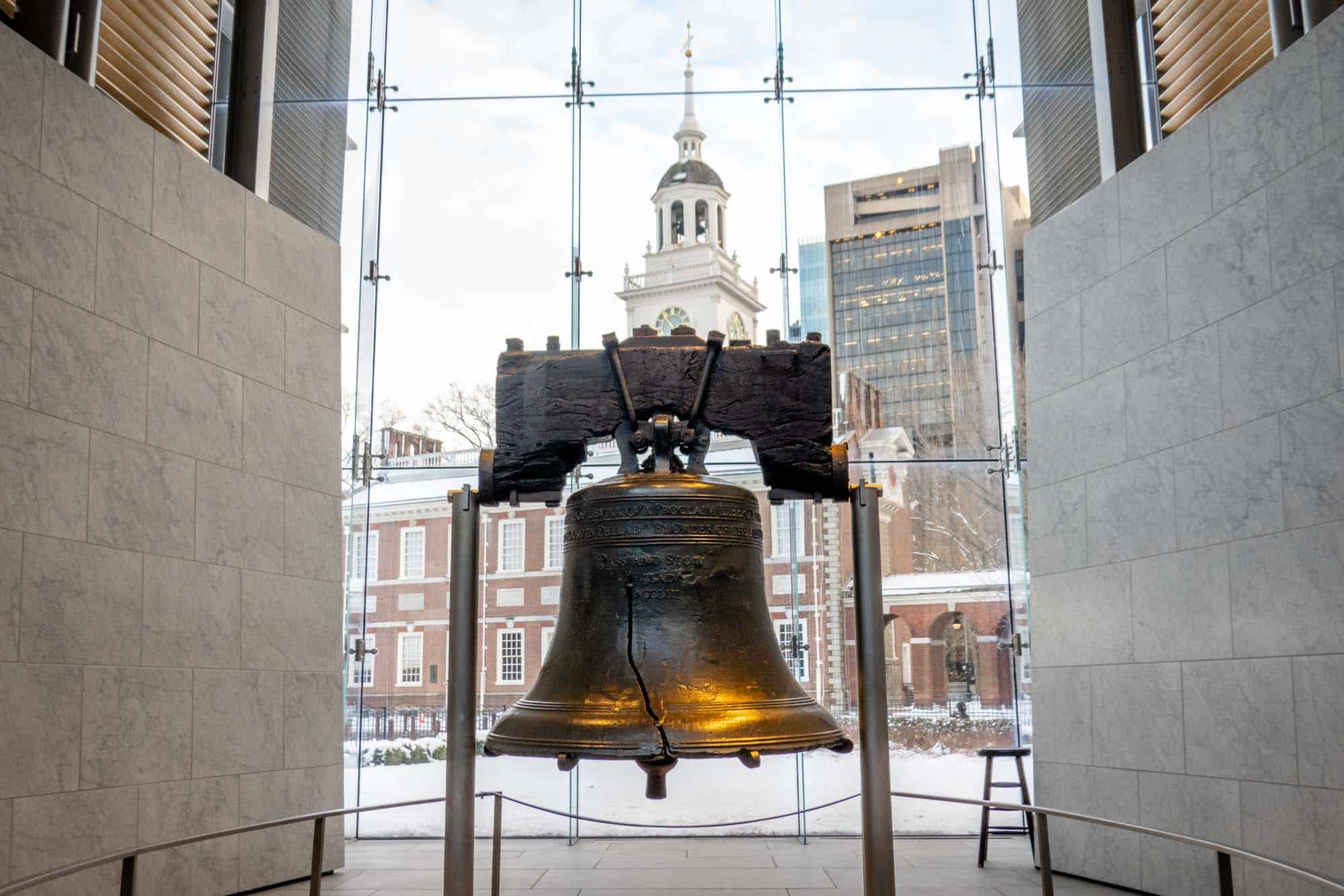 Just steps from Independence Hall is the Liberty Bell. The small museum here is free to visit and features exhibits about the bell's origins, its famous crack, and how it became such a prominent symbol of freedom.
If you're short on time and just want to see the Liberty Bell itself, make a beeline straight to the back of the building after you go through security.
Second Bank of the United States
One of the lesser-known sites in the historic area, the Second Bank of the United States now operates as a portrait gallery. Its permanent collection has over 150 portraits of politicians, military officers, and other notable people who figured prominently in the American Revolution and the early days of the United States. Many of the paintings are the work of prominent artist Charles Wilson Peale who was most well-known for the dozens of portraits he painted of George Washington.
Visiting the gallery is free, so it's worth a quick stop on your walk, especially if you're an art lover.
Carpenters' Hall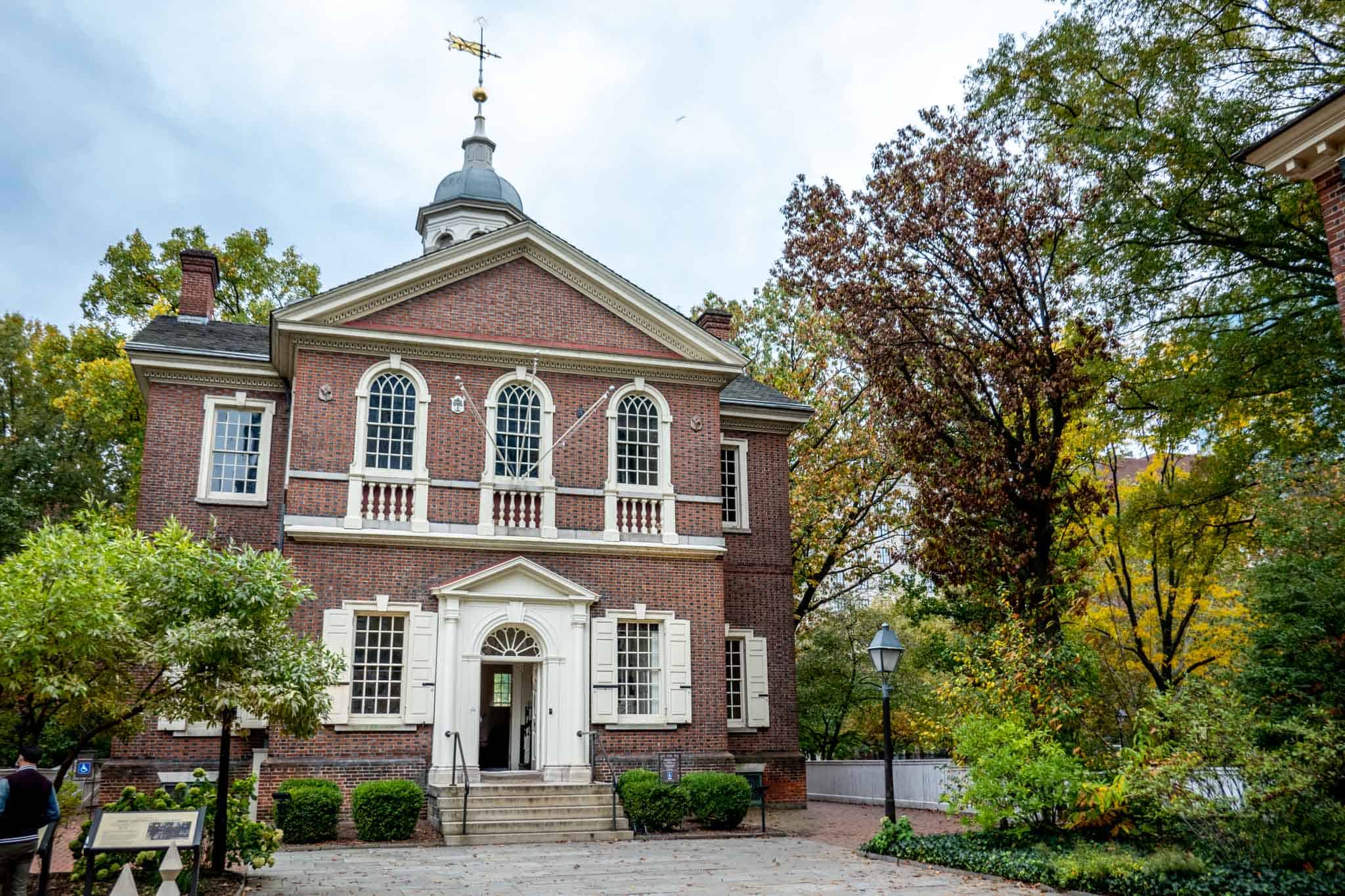 Like the other sites on the recommended morning itinerary so far, Carpenters' Hall is also part of the Independence National Historical Park. That means it's also free.
This beautiful 18th-century building at the end of a cobblestone path was the location of the First Continental Congress. The delegates' chairs and the banner from the 1788 Constitutional parade are displayed, and there are often rotating historical exhibits.
Elfreth's Alley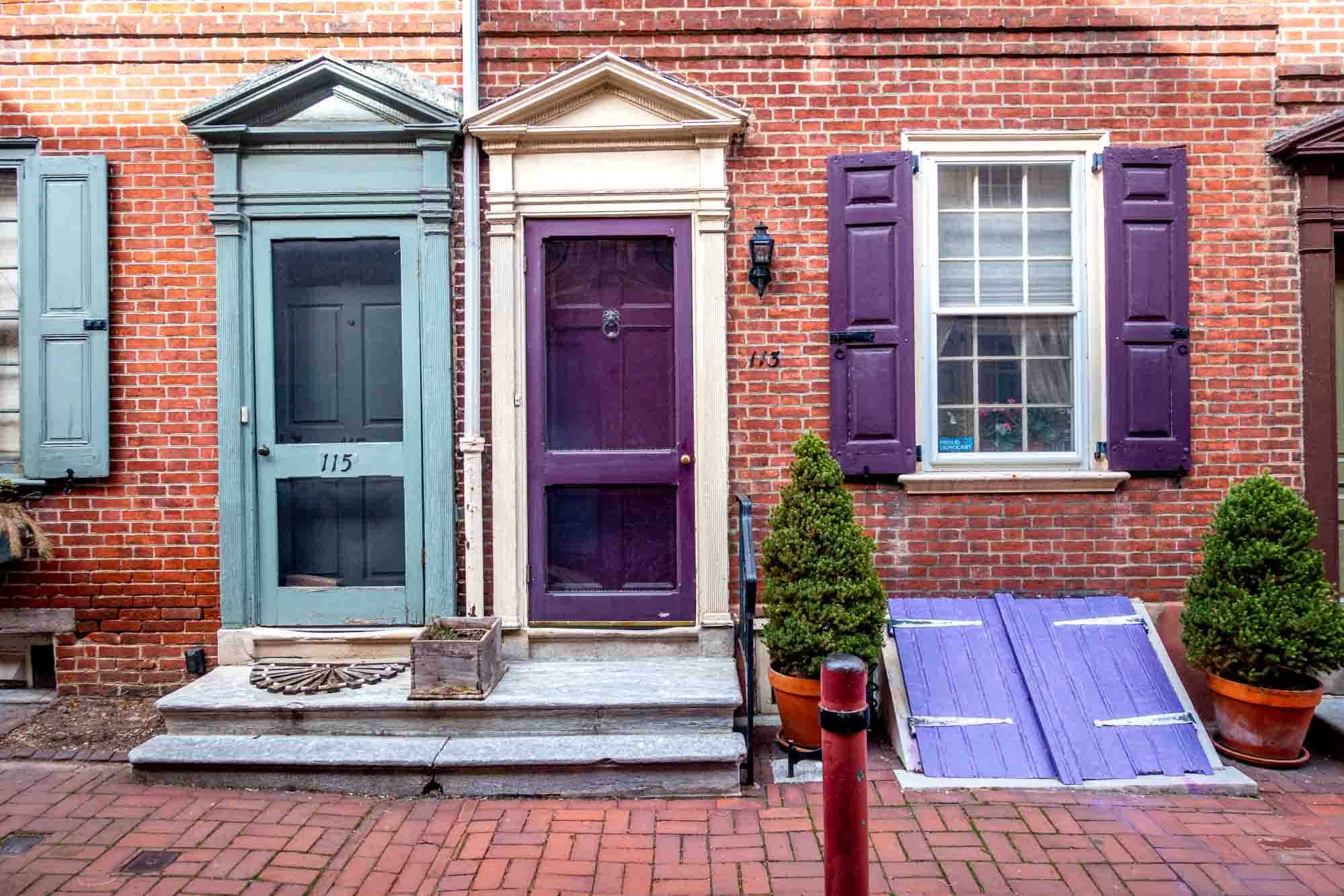 Head three blocks north to Elfreth's Alley. This charming street with brightly painted doors is one of the most popular places to visit in Philadelphia. No matter how many times we walk it, we always notice something new. Plus, homeowners often put up seasonal decorations, which is fun to see.
The oldest residential street in the US, there is more than 300 years of history in Elfreth's Alley. Visit the museum located in the former homes at 124-126, which tells the history of the street and the tradesmen who lived here when it was built.
Christ Church and its Burial Ground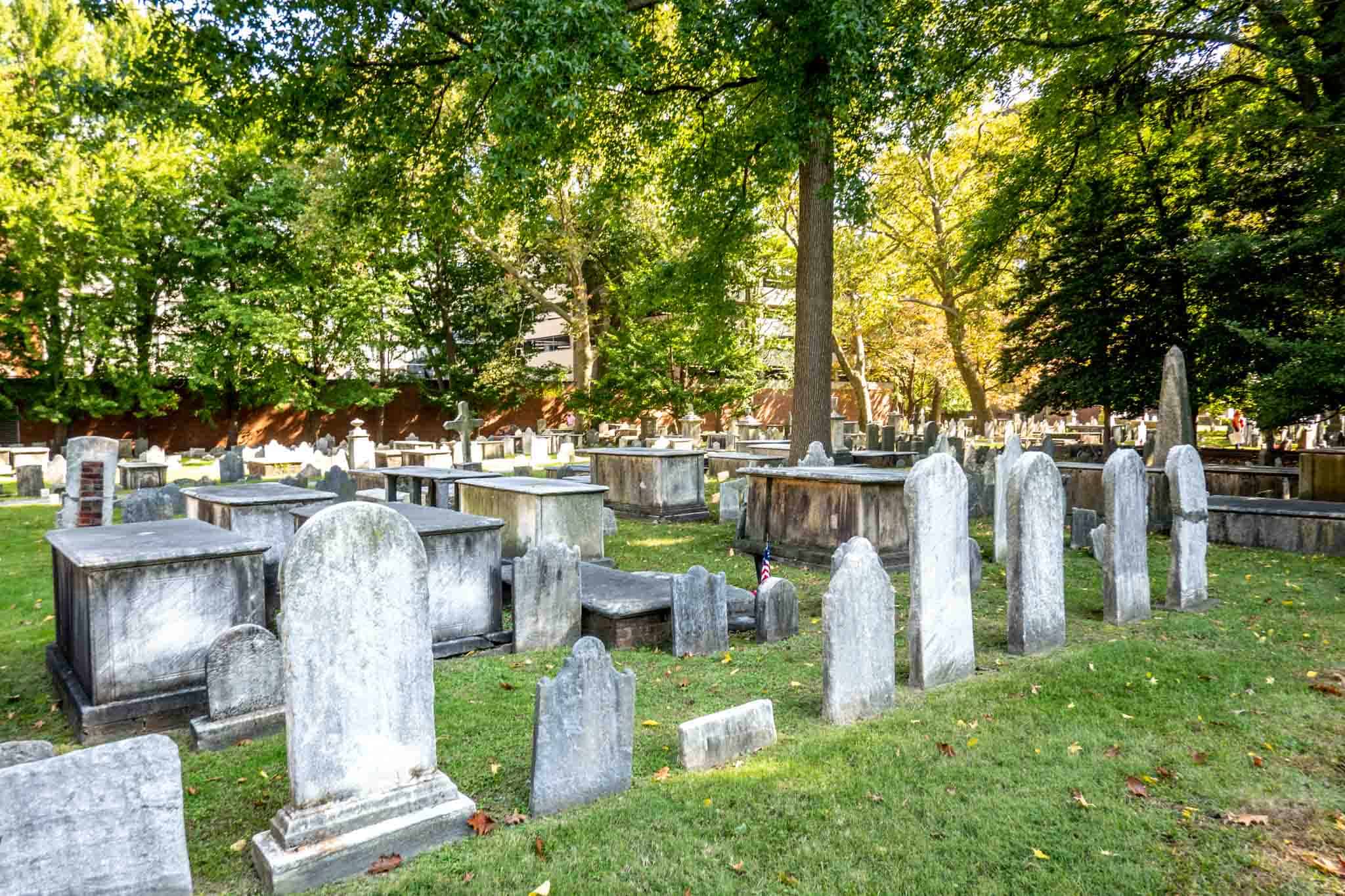 Nearby is Christ Church and Christ Church Burial ground. The church, which is the birthplace of the American Episcopal Church, was founded as part of William Penn's charter in 1695. It has an illustrious history.
Over the years, presidents, founding fathers, and other notable people have been worshipers at Christ Church. It is still a functioning church but is open for visiting. Inside, you learn lots about the church's history and see the marked pews where the Penn family, the Franklin family, and others regularly sat. If you visit in the summer or fall, you may encounter the (delicious) farmer's market here.
While there are some graves at the church site, the Christ Church Burial Ground is a couple of blocks away. At the burial ground, you'll find the graves of many Revolutionary War figures and early leaders. There are signers of the Declaration of Independence and notable figures like Dr. Philip Syng Physick who is known at the "father of modern surgery."
The most notable person buried here is Benjamin Franklin. His grave is typically covered with pennies, an homage to his "a penny saved is a penny earned" adage. If you don't pay to enter the burial ground, Franklin's grave is visible through the wall at the cemetery's northwest corner.
Cherry Street Pier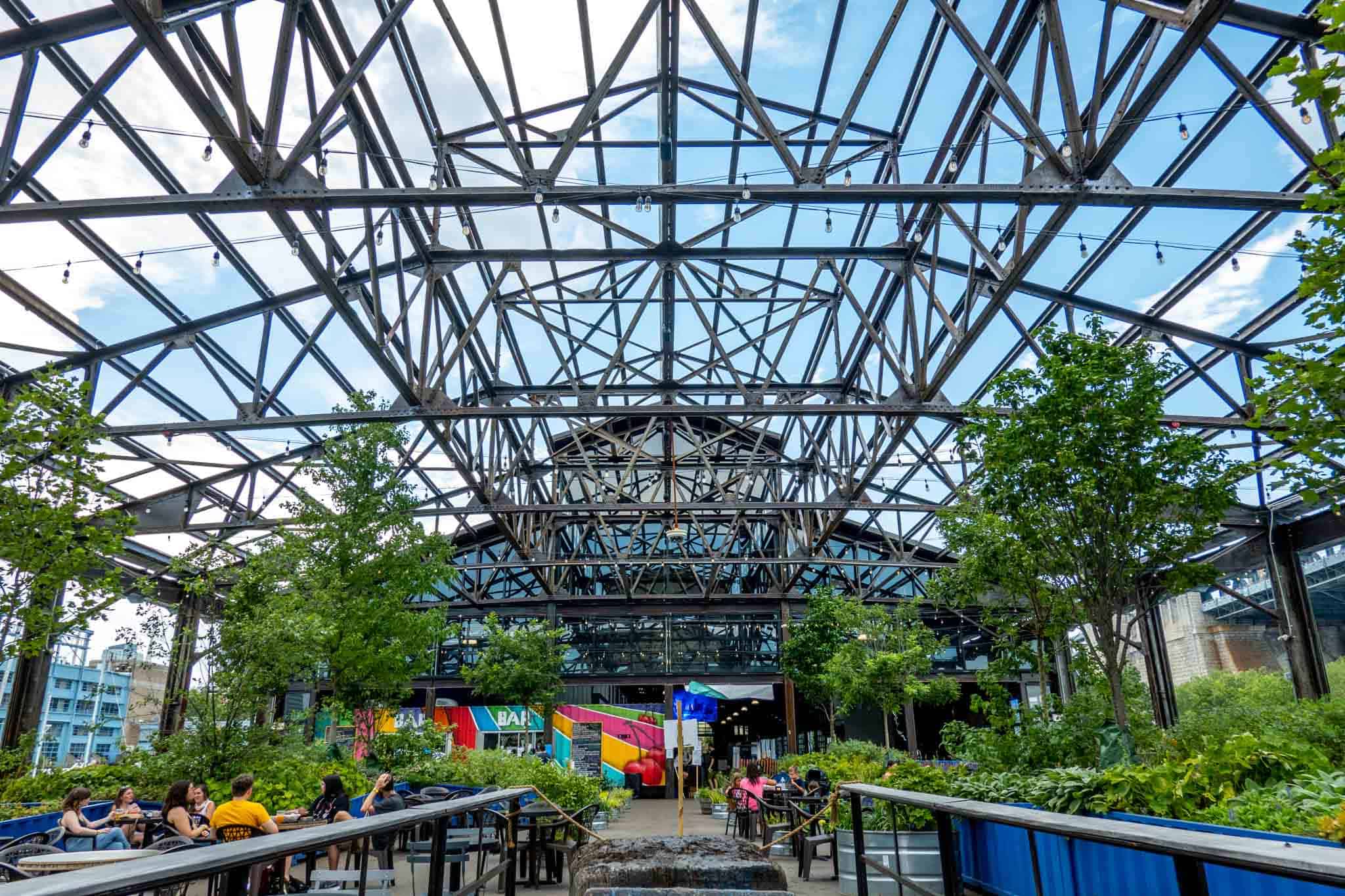 Nearby, Cherry Street Pier offers a contemporary break from all the history. This unique spot is a 100-year-old municipal pier that has been converted into a mixed-use space. There are artworks of all types done by local artists who have workshops here.
During the summer and on the weekends, concessions are available, so this is a great place to stop for lunch if you're hungry. Enjoy a drink and a meal with incredible views of the Delaware River and browse all the artwork on-site. On weekends, there are often markets featuring local artisans and other special events.
Lunch at Campo's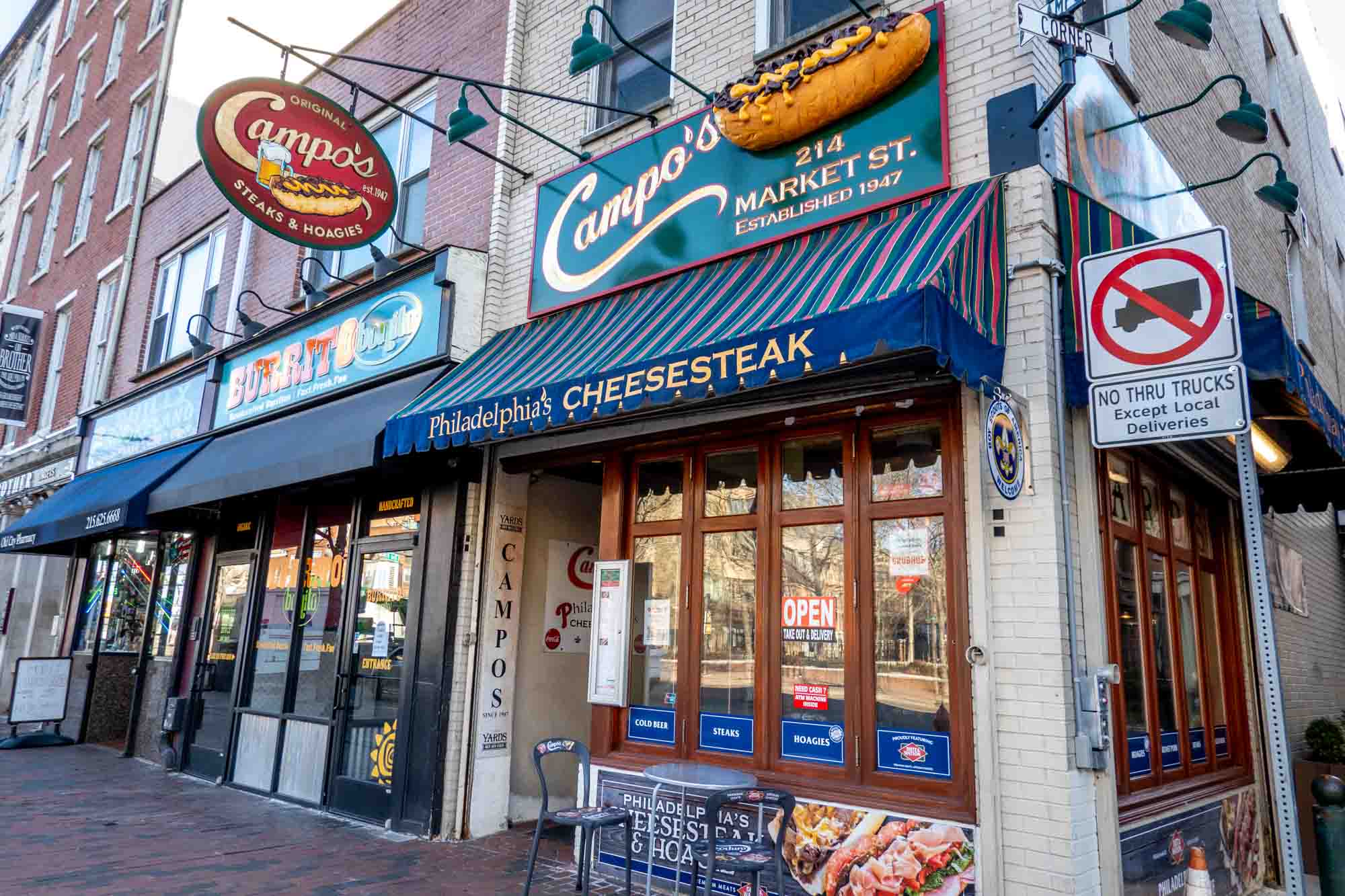 If lunch at Cherry Street Pier doesn't float your boat or you just really want a Philly cheesesteak, head to Campo's. For more than 70 years, Campo's has made some of the best cheesesteaks and specialty sandwiches in the city. They pride themselves on great service and are open every day.
If you've never had a cheesesteak before, it's important to know that steak, cheese, and onions are the only acceptable ingredients for an authentic cheesesteak (exceptions may be made for chicken). You order based on what type of cheese you want and whether you want onions ("wit," or "witout.") If you want the sandwich with onions and wiz (Cheez Whiz-like cheese), you would order "wiz wit," for instance. If you want provolone and no onions, you would order "provolone witout." However, the nice folks at Campo's will be pleased to serve you even if you don't order like a local.
Betsy Ross House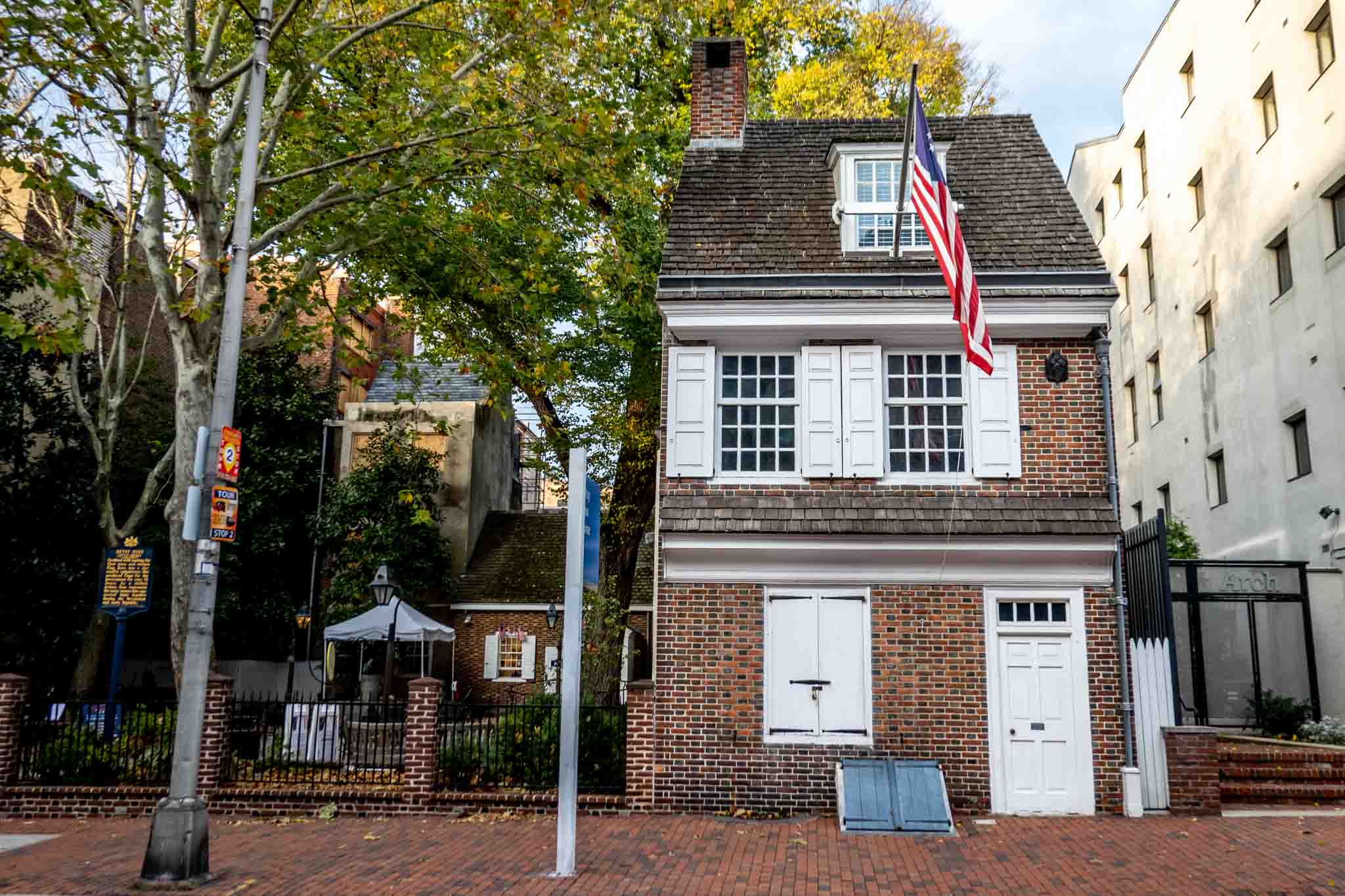 A self-guided tour of Betsy Ross's 1740s house lets visitors see her upholstery shop, the room where she is reported to have sewn the first flag, and more. After exploring the floors, you can meet Betsy herself and talk about her experiences. The tour takes less than an hour.
Washington Square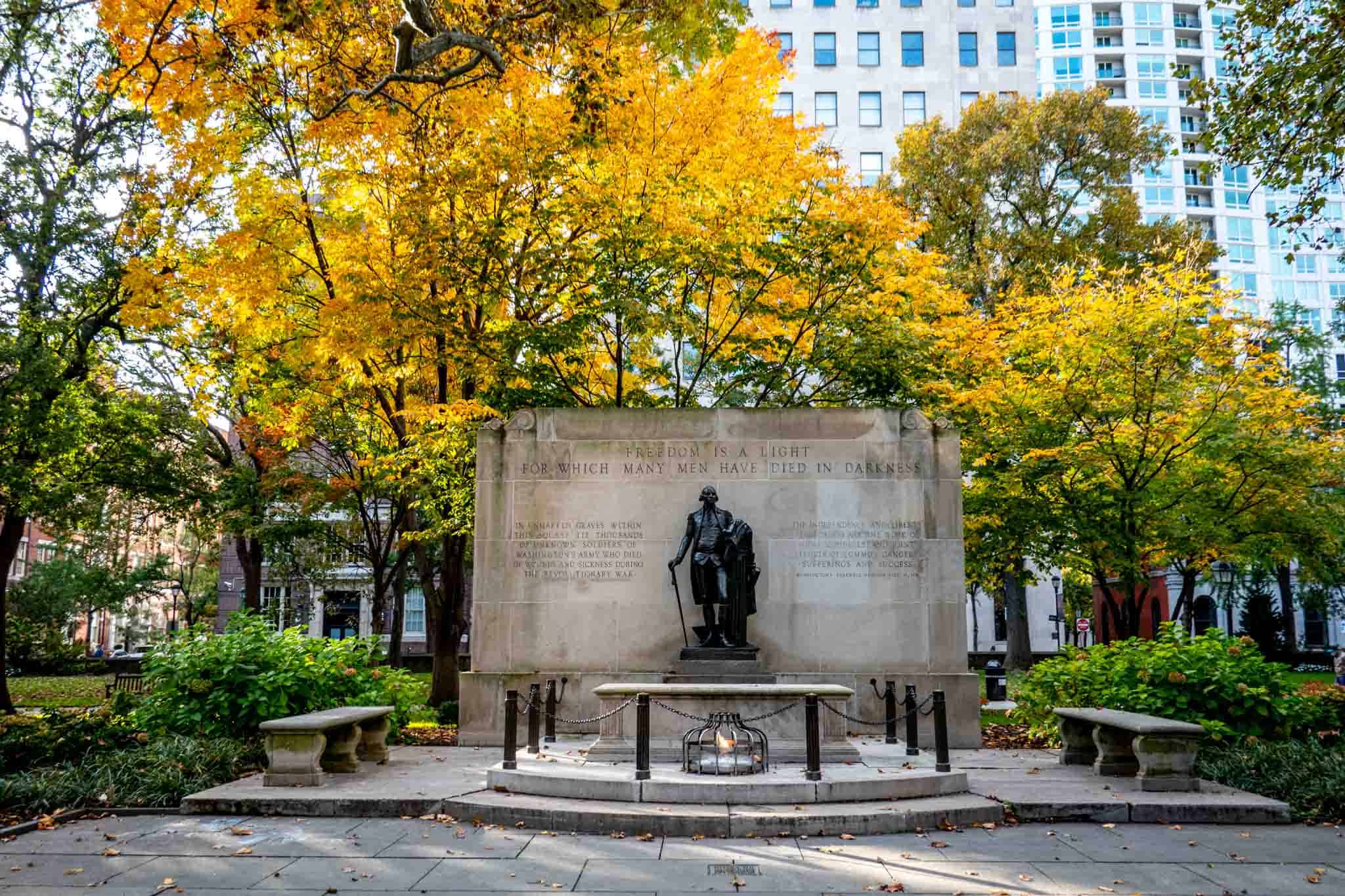 If time allows, make the next stop Washington Square. This tree-filled park has plenty of seating space to enjoy nice weather. We've also encountered different performances and pop-up events here, so you never know what you might find.
In addition to being a nice park, Washington Square is quite historic. First established in 1682, it was used as a burial ground for Revolutionary War soldiers and victims of the yellow fever outbreak of 1793 (as a result, there are rumors of paranormal activity). A large monument—the Tomb of the Unknown Revolutionary War Soldier—in the middle of the park includes a soldier's remains, an eternal flame, and a statue of George Washington after whom the park was named.
Dinner at Amada
Spanish restaurant Amada serves some of the best tapas and pintxos in the city. The menu features more than 40 options, so it's fun to try lots of different small dishes. From tortilla Española to gambas al ajillo, the selection is excellent.
Alternatives: If you'd rather go for Asian-inspired cuisine, Buddakan is our pick in Old City. Don't miss the edamame dumplings. Other excellent options include the seasonal offerings at Fork, sushi at Tuna Bar, or modern Israeli at Zahav (though you need to plan way ahead to get a reservation there).
Independence Beer Garden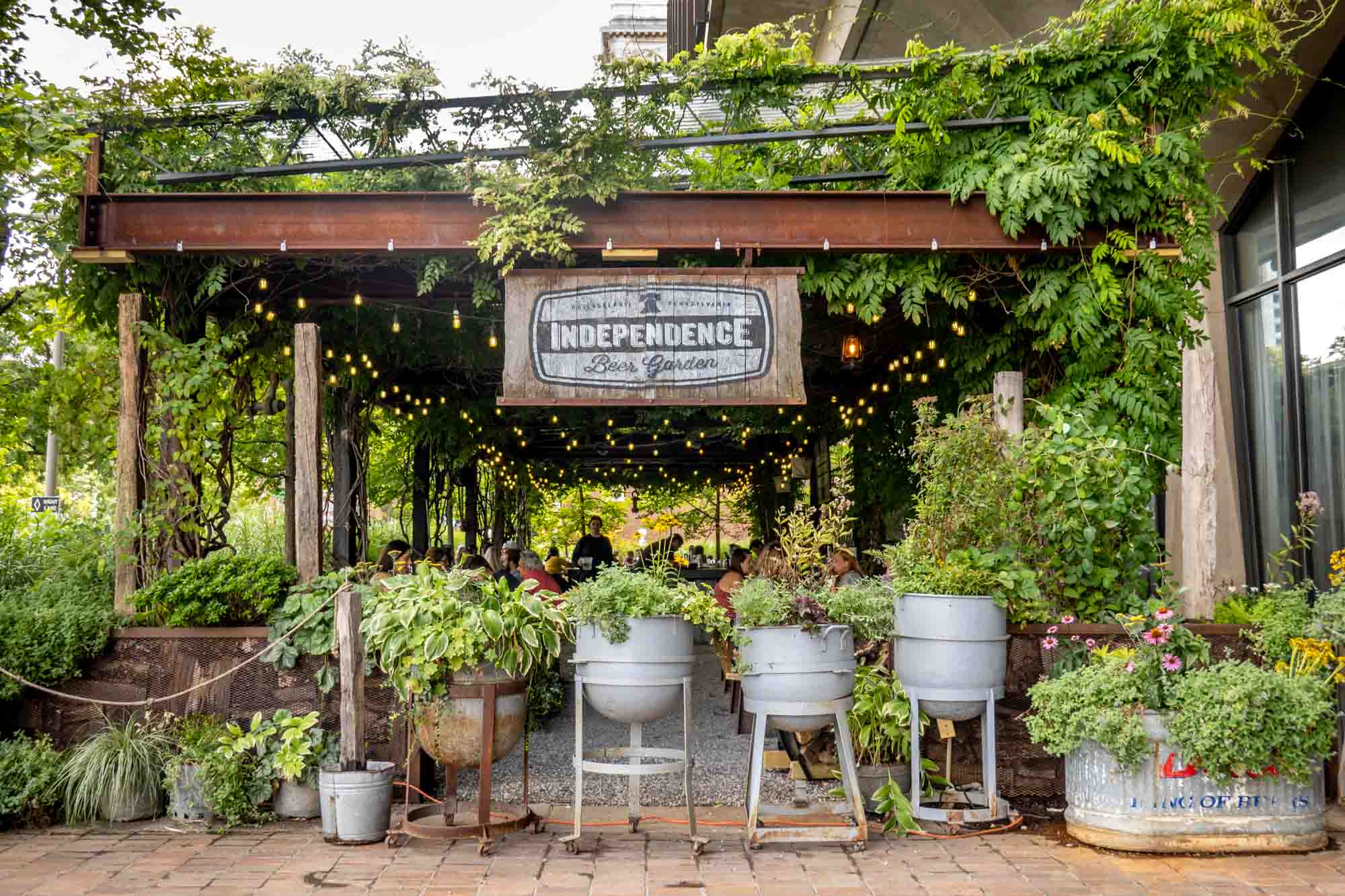 For an after dinner drink, one of the most lively places nearby is Independence Beer Garden. This sizeable space that overlooks Independence Mall has tons of seating in unique environments such as a re-purposed shipping container. There is a projection TV and games to play like ping pong and a giant Jenga. The beer garden has 2 bars with 40 local and domestic craft beers plus a small selection of cocktails and wine. For an indoor option, check out National Mechanics, which is set in an historic bank.
Day 2: Parks, Art, and Great Food
The second day of your weekend trip to Philadelphia starts in the Rittenhouse neighborhood, one of the city's nicest areas. After that, you visit an unusual space in South Philly before venturing to the Philadelphia Museum of Art and University City.
Brunch at Parc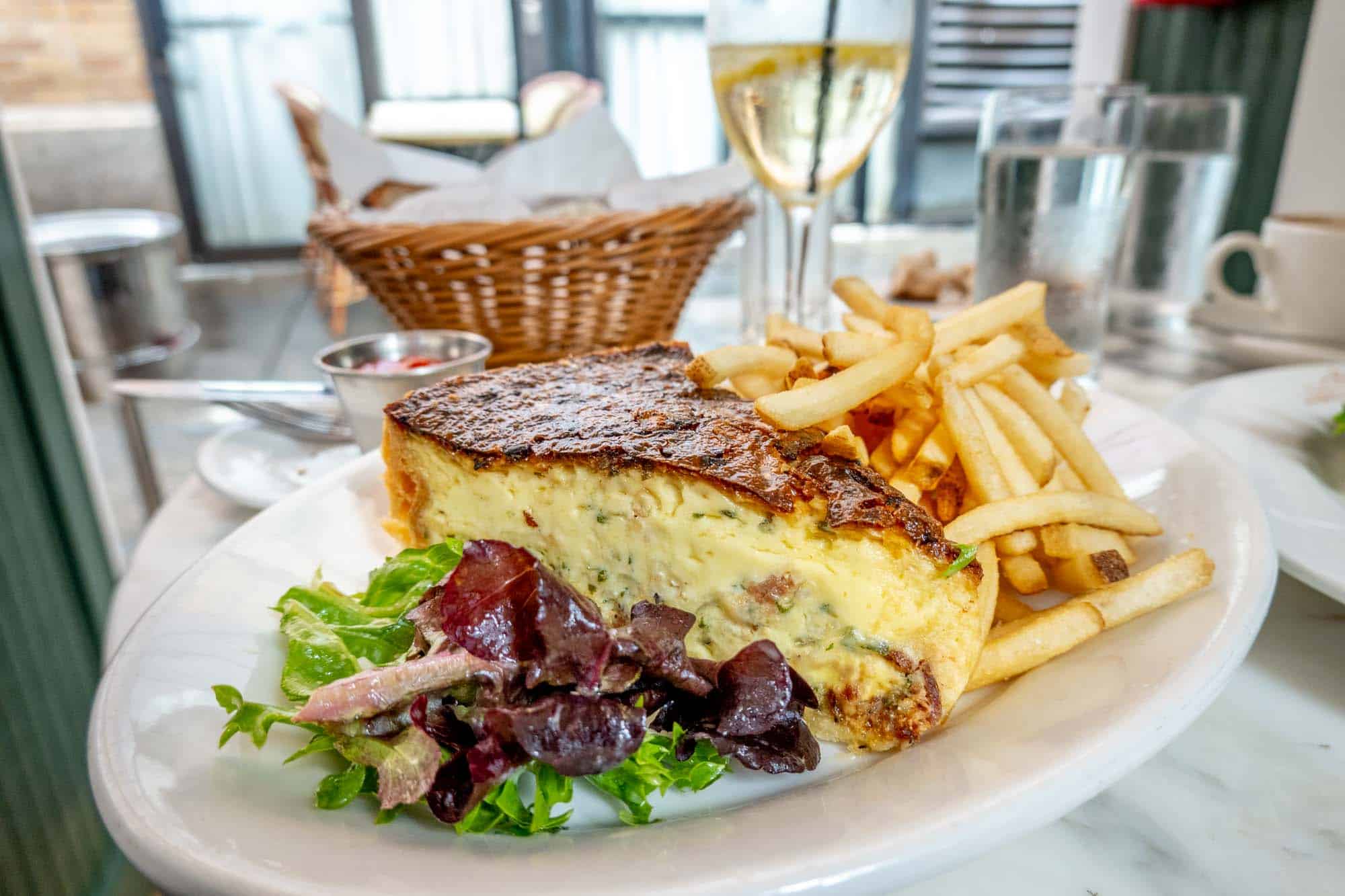 Parc, a French brasserie on Rittenhouse Square, is a great place to start the day with brunch. The restaurant's menu is renowned across Philadelphia and beyond. We know people who would crawl over a sea of broken glass just to have the bread basket at Parc. Their cheesy, herby French onion soup is also a wonder.
Get a sidewalk table if you can and indulge in croissants, Champagne, and their fabulous brunch specialties.
Alternative: If you'd prefer a more grab-and-go style breakfast, head to Kismet Bagel, a local favorite. They offer bagels with creative schmears, breakfast sandwiches, and latkes.
Rittenhouse Square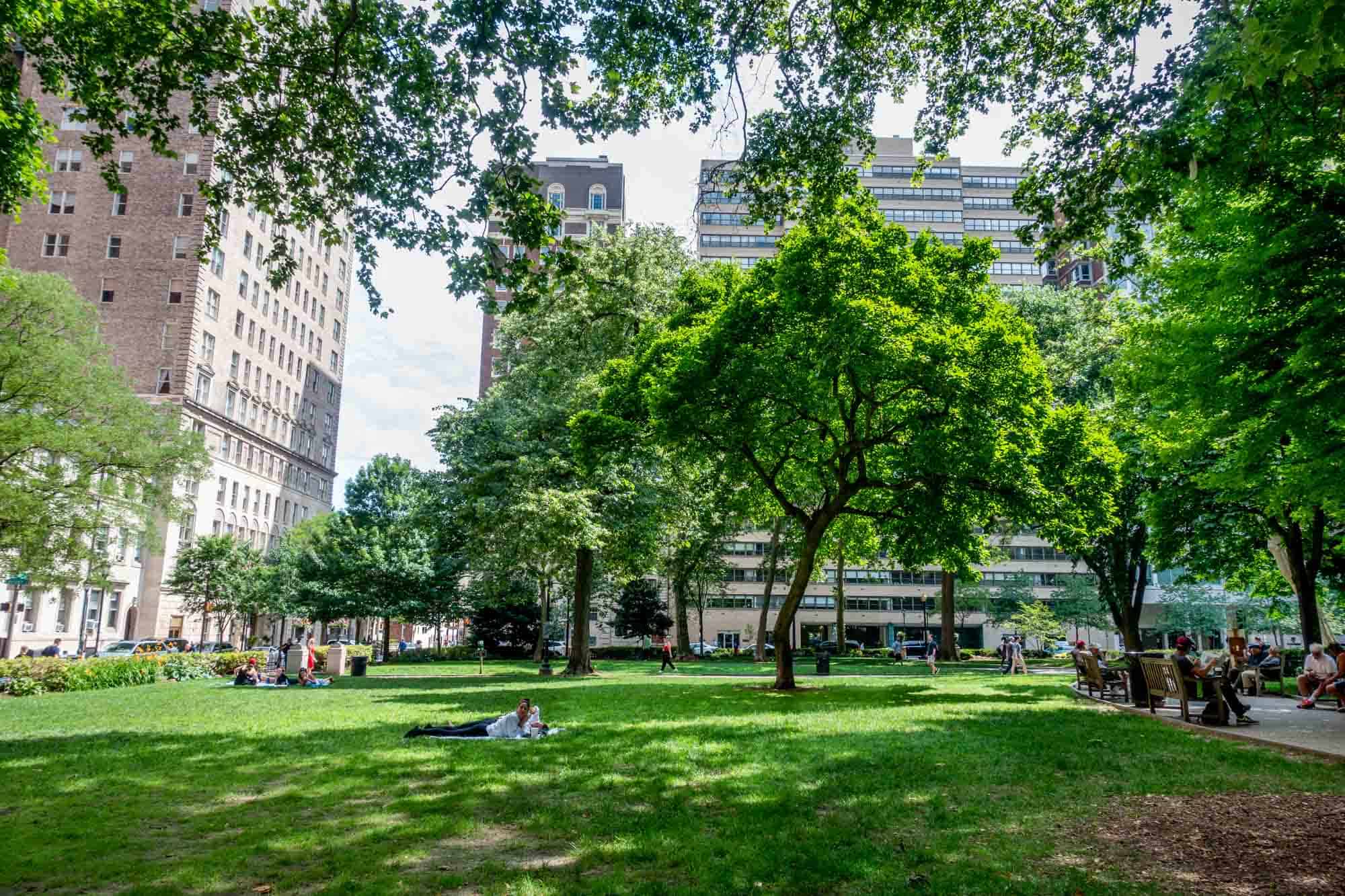 Rittenhouse Square was one of the five original squares created by William Penn in the 1680s. With sculptures, fountains, benches, and plenty of room to set up a picnic, it's one of the city's favorite places for relaxing on a sunny afternoon.
Take a stroll around the park and get in a little people watching before you head to the next stop. If you're visiting on a Saturday, don't miss the farmer's market that happens from 10 am-2 pm. There are lot of delicious treats from local vendors. We particularly enjoy the to-die-for brownies from Second Daughter Baking Co. and the fresh made apple cider donuts that are available from Hands on the Earth donuts in the winter.
Magic Gardens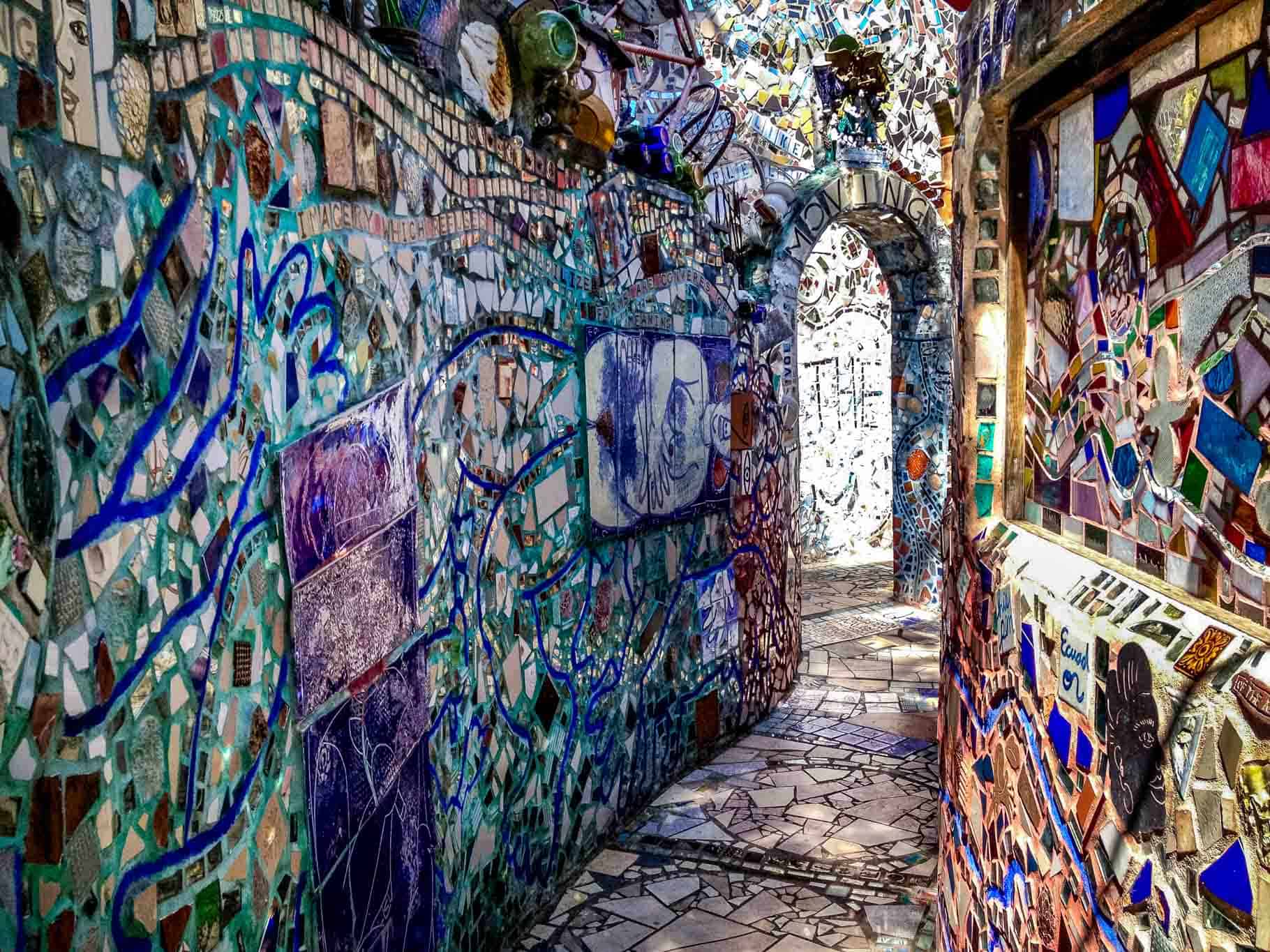 A visit to Magic Gardens is a singular experience. This unique location is part museum, part artwork, and all fantasy. Its creator, artist Isaiah Zagar, has constructed an environment full of whimsical mosaics and reclaimed items like bicycle spokes and glass bottles. Wandering through it, you never know what you'll find next.
With indoor and outdoor components, Magic Gardens spans half a city block, with mosaics spilling down staircases, lining passageways, and covering the walls. It's a sight to behold.
Mural Mile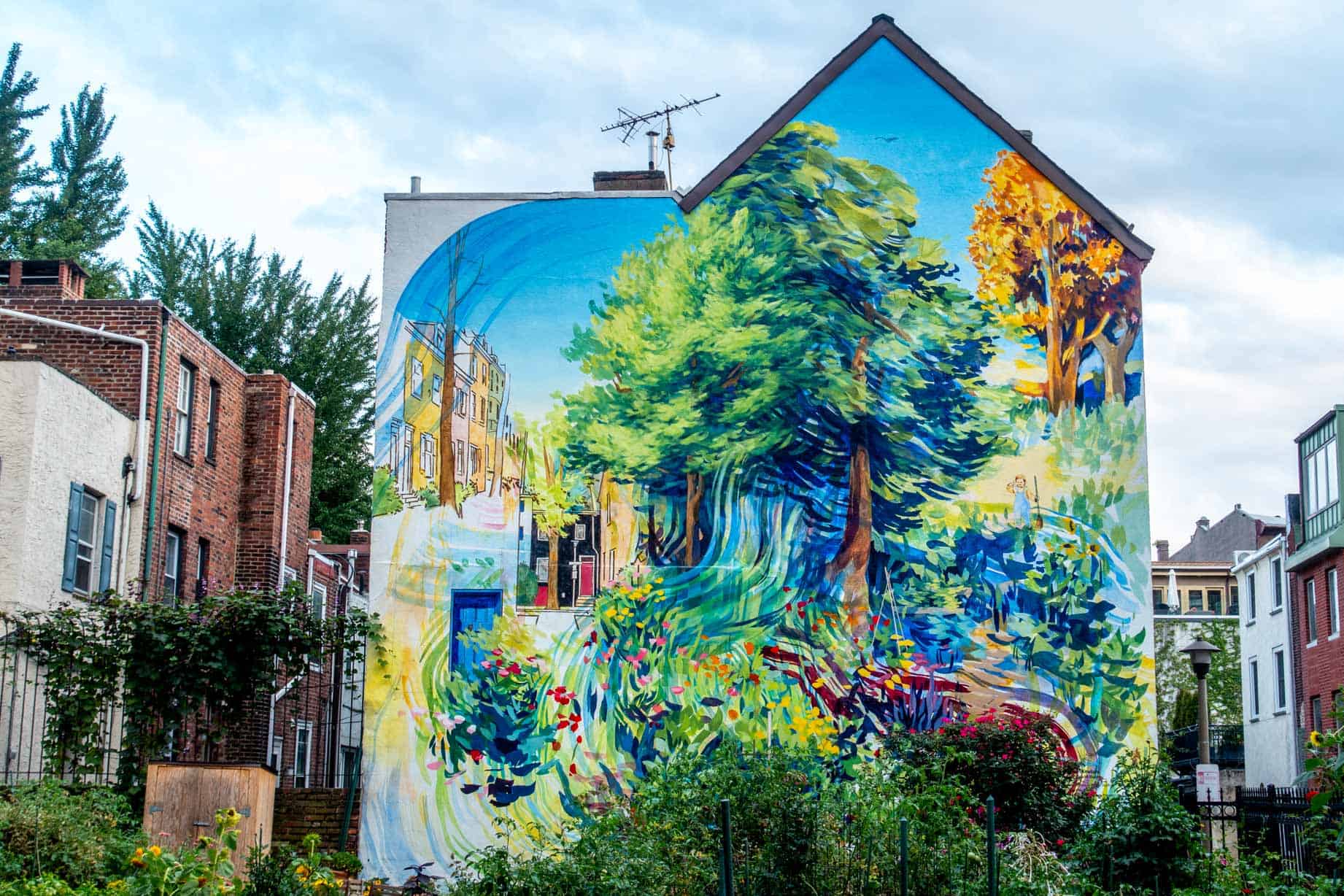 If you're interested in more contemporary art, take a walk around the neighborhood. Not only will you find more unexpected Zagar mosaics, you'll see part of the Mural Mile.
Mural Arts Philadelphia has worked to create over 3000 murals around the city, and there are several near Magic Gardens that are part of the Mural Mile—a self-guided walking tour in Center City that features 17 murals. With a full weekend in Philadelphia, you will probably see a handful of the murals on your walks, but this map can help ensure you don't miss any near you on the Mural Mile.
Reading Terminal Market
If you're ready for lunch, now is a great time to visit Reading Terminal Market. This historic spot is a Philadelphia landmark that dates from 1893, and a visit here is one of the top things to do in the city.
In the bustling market space, there are over 100 vendors who feed locals and tourists every day from 8am to 6pm. You can find Philly classic foods like cheesesteak and DiNic's roast pork sandwich along with Pennsylvania Dutch specialties and cuisines from all over the world. Even if you're not hungry, it's worth the time to browse here. If you're just looking for a snack, get one of the excellent pretzels from Miller's Twist.
Philadelphia Museum of Art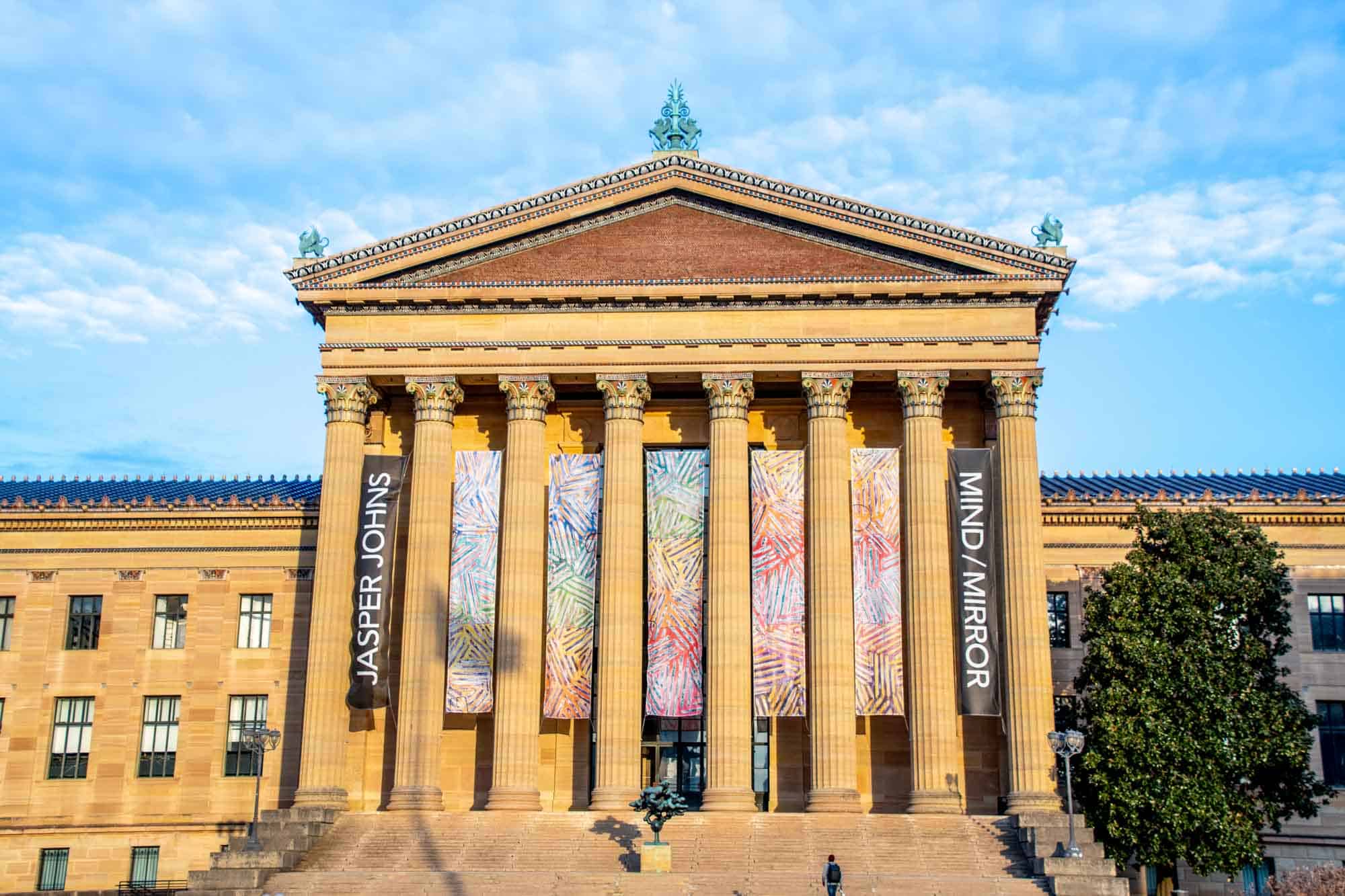 The Philadelphia Museum of Art is a must for art lovers visiting the city. With more than 240,000 works, it is one of the largest art museums in the country. The museum's collection spans 2000 years of human history from ancient times to modern day.
Visitors can see everything from medieval armor and a 14th-century Buddhist temple to paintings by Van Gogh and photography from Pennsylvania native Andy Warhol. The permanent collection is extensive and temporary exhibits bring in the best in art and architecture as well as fashion design and other artistic endeavors.
Rocky fans will want to see the statue of the famous fictional boxer out front and take a quick sprint up the museum's steps.
If you need even more art in your life, the Rodin Museum and the Barnes Foundation are both nearby. The Rodin Museum houses the largest collection of the sculptor's work outside of France, and the Barnes Foundation is a glorious collection of artistic greats, including Matisse, Renoir, Van Gogh, Cezanne, and many others.
Cira Green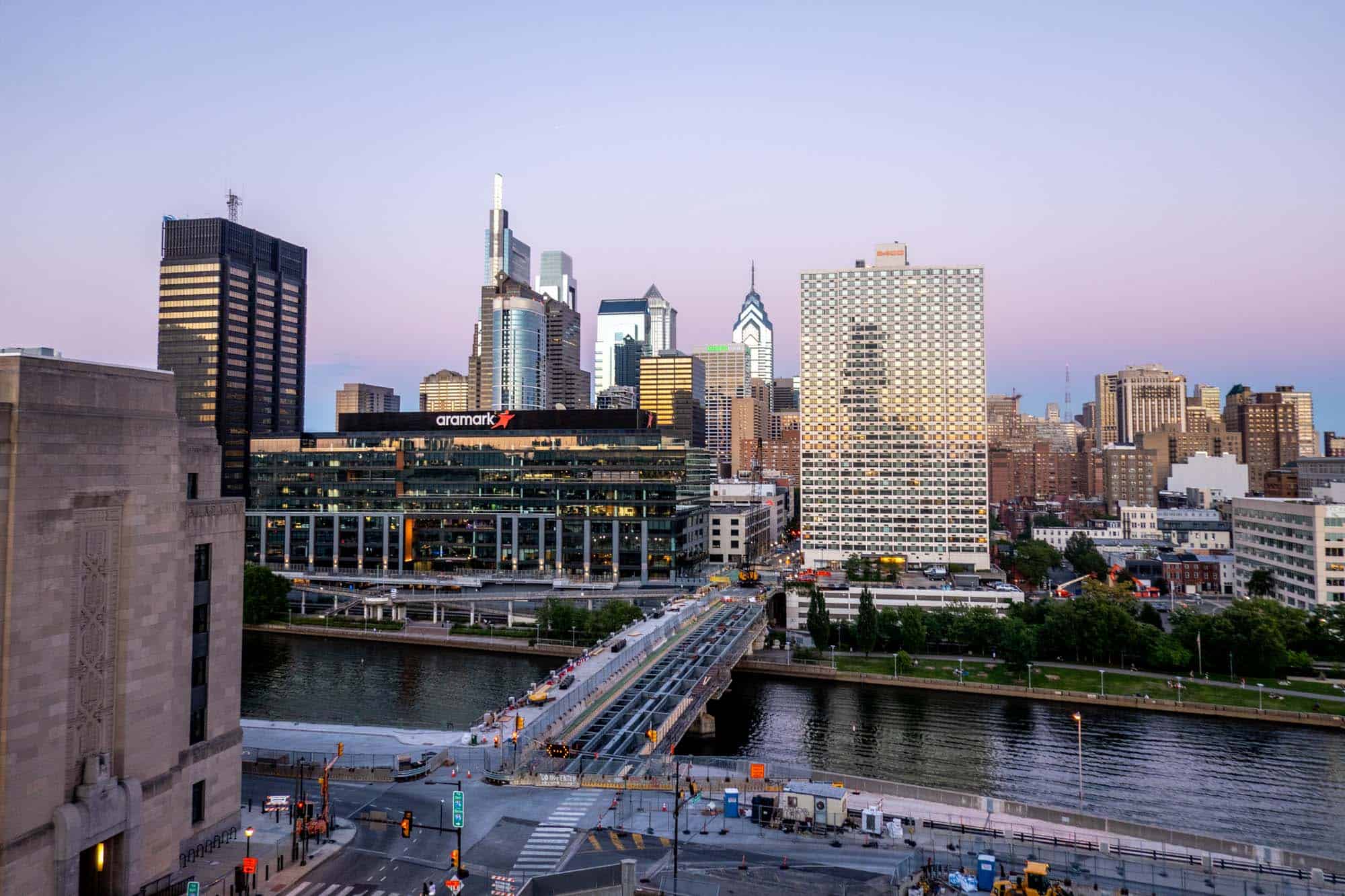 Cira Green offers a unique view of downtown Philadelphia. This sprawling rooftop park overlooks the west side of Center City from 12 stories up. Free to visit, it's a fun place to hang out for a little while and to see the skyline at practically eye level.
In season, the park runs lots of special events, often projecting movies and sports on their massive screen. There is also a restaurant and bar offering sandwiches, wraps, and drinks, so you can make a picnic or happy hour out of the experience.
Dinner at Vedge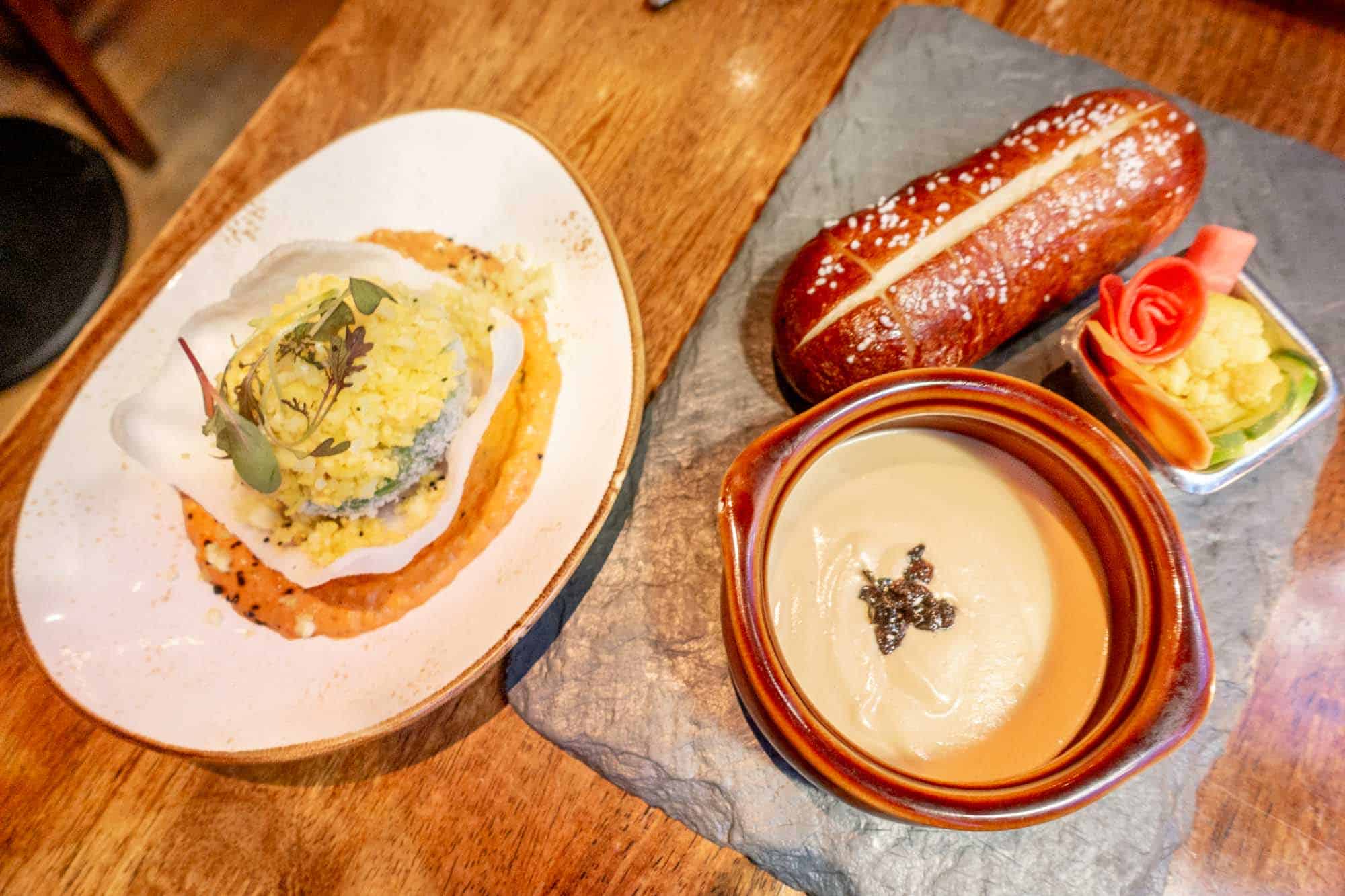 Critically acclaimed Vedge is one of our favorite restaurants. As the name hints, everything here is vegan, but you would almost never know it. All the dishes are so good, you won't miss the meat. We love the rutabaga fondue, the grilled avocado, and anything mushroom. And everything else on the menu, too.
Vedge is very popular, so it's best to try to book several weeks in advance, if possible.
Alternative: Bud & Marilyn's describes its style as retro American, which is evident from the sleek 60s-style décor. The menu is filled with favorites like Marilyn's fried chicken, fontina stuffed meatloaf, and shortrib stroganoff. Other great options in the immediate area include El Vez for Mexican and Barbuzzo for pizza and Mediterranean dishes.
Hop Sing Laundromat
If you're up for a nightcap, check out Hop Sing Laundromat. This quirky speakeasy is known for its incredible cocktails and its strict rules, so make sure to check out the dress code and cellphone rules before you go. It's worth it. Whatever you do, don't take a photo.
Alternatives: Other options we love back in Rittenhouse Square include two speakeasies–Franklin Mortgage and Andra Hem–as well as Library Bar at The Rittenhouse Hotel.
Where to Stay
Marriott Old City – An 8-minute walk from Independence Hall, this 4-star hotel is noted for its comfortable beds and helpful staff. There is an on-site restaurant, bar, and coffee bar.
Kimpton Hotel Monaco – This modern hotel in Old City offers a rooftop lounge and top-notch service. It's known for its spa suites that include a soaking tub and for its views of Independence Mall.
Cambria Hotel Center City – Just south of City Hall, the Cambria is conveniently located to explore the whole city on your weekend visit. It offers cozy, modern accommodations and a rooftop bar and restaurant.
Sofitel at Rittenhouse Square – This upscale hotel in one of the nicest neighborhoods offers luxury accommodations and an on-site restaurant and lounge.
Getting Around
By Air: Philadelphia International Airport is just 7 miles from downtown. It is easy to take a cab or get a rideshare from the airport to Center City. The SEPTA Regional Rail, which runs every half-hour, also stops at the airport and goes to several stops downtown.
By Train: Philadelphia is part of Amtrak's Northeast Regional service, which also serves Boston, New York City, and Washington, D.C.
By Rideshare: Uber and Lyft are both available in the city from the airport and to connect sites on this itinerary.
By Taxi: Taxis are widely available downtown.