Some posts on this site contain affiliate links, meaning if you book or buy something through one of these links, we may earn a small commission (at no extra cost to you).
Vedge is the kind of restaurant you want to be dining at right now: fun and pushing culinary boundaries around every corner.
Overview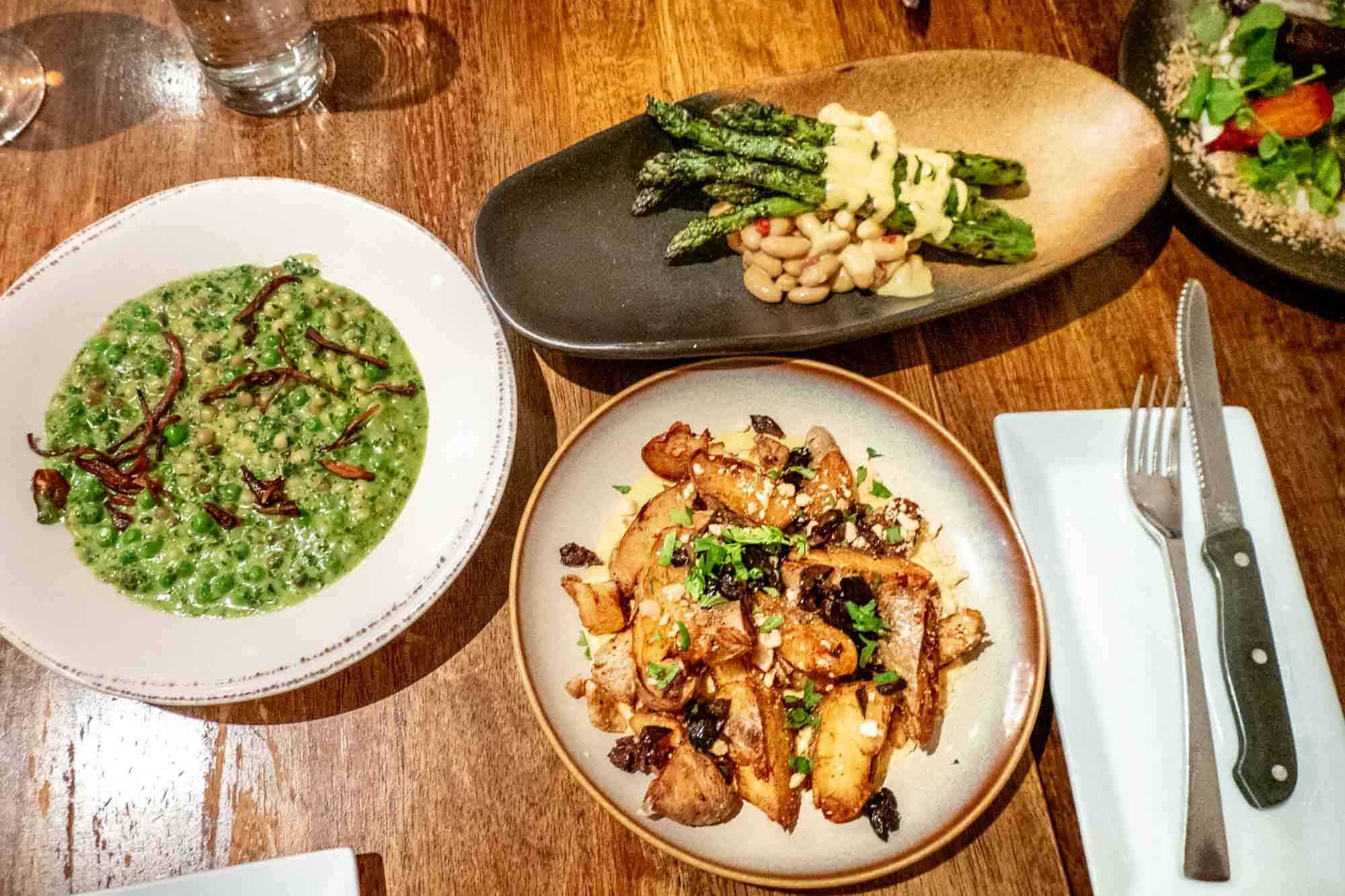 Vedge is a fantastic restaurant that's doing very inventive things with both usual and unusual ingredients. The dishes surprise and delight. Eating here is a privilege that everyone should have.
Oh, did I fail to mention this is a vegan restaurant? Well, now you know. Leave your preconceptions at the door. If you're expecting bland and boring based on the "vegan" label, you've obviously never been here.
Owners Rich Landau and Kate Jacoby, both James Beard Aware nominees, are charting new ground with a wildly inventive menu that just happens to be vegetable based. Some dishes, like the charred carrot, lay the feature ingredient out in complete simplistic perfection. It doesn't pretend to be something else. It is what it is: an absolutely incredible carrot.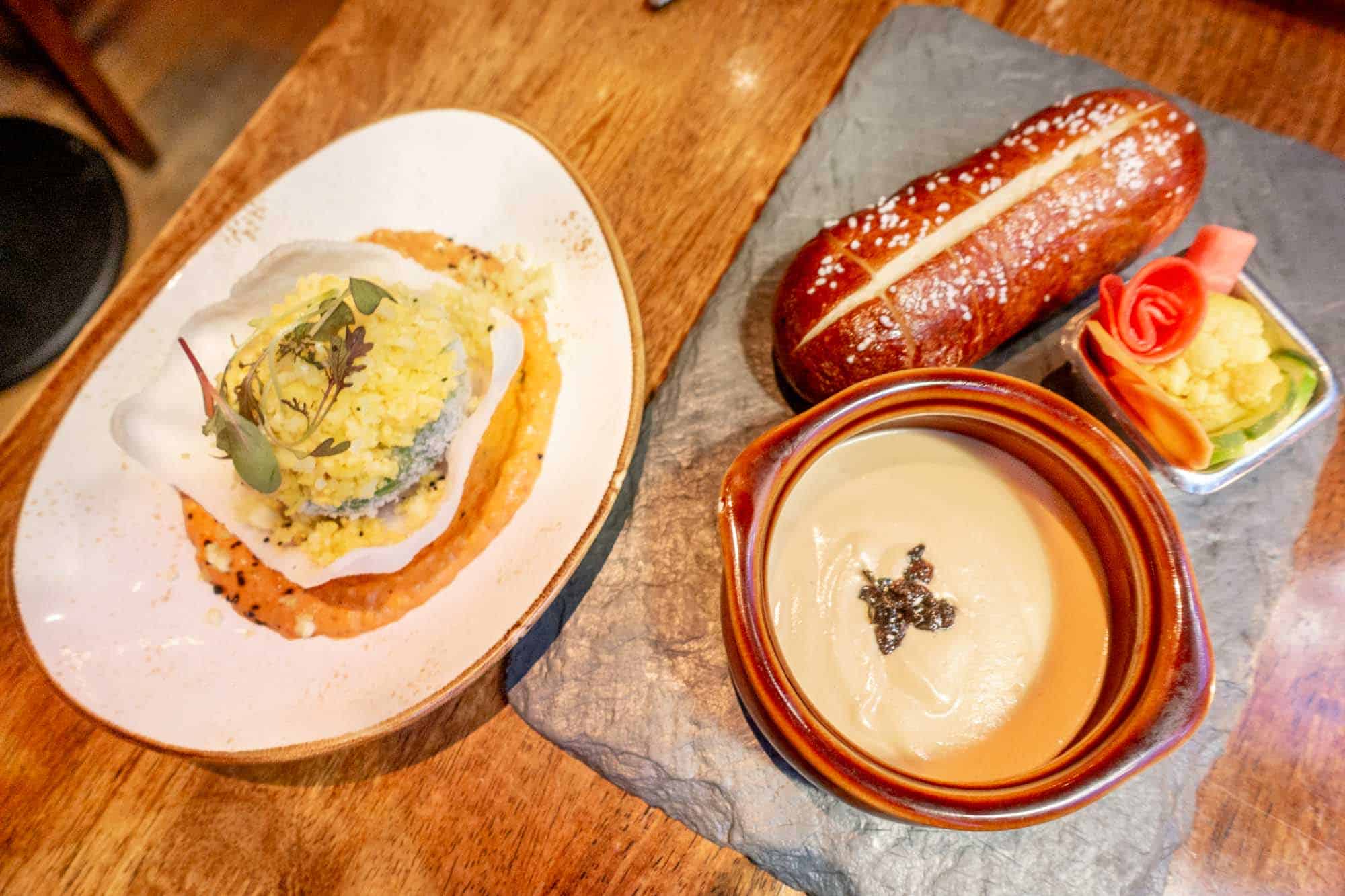 Other dishes transform the feature ingredient into something…else. This isn't vegetables playing dress up – they still stand on their own. But they become truly remarkable. Such is the case of the Rutabaga Fondue or even the Stuffed Avocado.
If you think vegan food isn't for you, you are not alone. I had mixed feelings and a great deal of skepticism coming here. I'm an unapologetic carnivore. Yet, I've had the pleasure of dining at Vedge six times and have never once missed the meat. If I can love it, anyone can.
Vedge isn't a vegan restaurant. It is an excellent dining experience, that just happens to be vegan.
For lovers of the Vedge concept, you can also check out their sister restaurant, Ground Provisions in West Chester.
The Menu
It's all vegetables all the time at Vedge. Yes, this is a truly vegan restaurant – everything from the pretzel bread to the buttery sauces is made without any animal products.
The menu at Vedge is highly seasonal. They use the vegetables they can get at the time. The menu is divided into four sections. The Vedge Bar are traditional appetizers, vegetable charcuterie, and inspiring starters. On the Grille are traditional entrees or what the restaurant calls "composed plates."
The Dirt List, despite the unappetizing name, features some of the best dishes and includes many of the seasonal vegetable selections. Finally, Dessert, which defies culinary tradition and proves once-and-for-all time that desserts can be healthy…kind of. At least that's what we tell ourselves.
Some of the more notable dishes include the Rutabaga Fondue. What's a rutabaga? No idea. But it makes an incredible creamy dipping sauce for the amazing soft pretzel and yesterday's pickles. Add to that a perfectly Charred Carrot. It sounds so simple, but the reality is anything but.
It's hard to believe there's not cheese or cream in the Stuffed Avocado. The tangy romesco is the perfect addition to the sweetness of the avocado. The Spicy Dan Dan Noodles (emphasis on spicy) are one of the best versions of this dish we've ever had – vegan or otherwise. And the Fingerling Potatoes are just plain delicious.
The Vibe
Located on Locust in the heart of the Midtown Village and The Gayborhood (what some are calling Center City East), Vedge occupies two Victorian townhomes, which have been combined into a single, romantic setting. The location was once home to the very popular Deux Cheminees restaurant.
First built as private residences by the famed Philadelphia architect Frank Furness, they were later repurposed into the Princeton Club – an elite meeting room where the men of the Ivy League could socialize and smoke. The window in the main dining room still has the Princeton University logo in glass.
Stepping inside, Vedge still feels true to its townhouse roots. The cozy accents, dark wood and very low-key service remind you of dining at a friend's home. And just like at a friend's, you can't wait to dive into the delicious food.
Price Range
Most diners will spend about $70-90 per person. There's a dozen+ menu items, all priced $11-20. Most diners order 3-4 dishes per person and then share bites of everything.
There's also a small happy hour menu with 3-5 snack items (substantially discounted) and their stellar cocktails.
Reservations
Reservations at Vedge are usually essential and book out weeks in advance. Some walk-ins are taken, particularly during the week, and you might be able to score seats at their cozy bar. But if you are looking for the full experience, you'll need to book ahead.
Location
Vedge is located at in 1221 Locust Street in the Midtown Village neighborhood (or, what is known to the Gayborhood to locals). The closest garage is the Hamilton Garage at Thomas Jefferson University Hospital. Visit the Vedge website for more information.