Some posts on this site contain affiliate links, meaning if you book or buy something through one of these links, we may earn a small commission (at no extra cost to you).
At Amada, the rich culinary tradition of Spanish tapas meets the modern interpretations of a James Beard Award winning chef. Whether you love the new or the classic, there is something here for you.
Overview
When it comes to tapas in Philly, there's Amada and there's everywhere else. Since 2005, this Old City restaurant has been dishing out the best small plates the city has to offer. This is the original flagship restaurant of the James Beard Winner and Iron Chef Jose Garces.
The focus is on delivering traditional Spanish tapas with perfection, as well as offering some new interpretations on beloved classics. Both approaches blend together into a parade of pleasing plates.
All long-lived restaurants struggle to maintain relevancy. Amada Philly has managed to remain a popular spot even after the buzz has diminished. While the new polish may be gone, it is still a solid choice.
The Menu
The Amada menu focus on traditional small plate dishes called tapas that are meant for sharing. The idea is order lots of things and share among your group, so everyone gets a bite. Amada has dozens of traditional tapas, as well as some slightly larger sized dishes (called Raciones).
Highlights include the Serrano ham croquetas with a tangy Romesco sauce and the deliciously cheesy Albondigas (lamb meatballs). We could eat both all day long.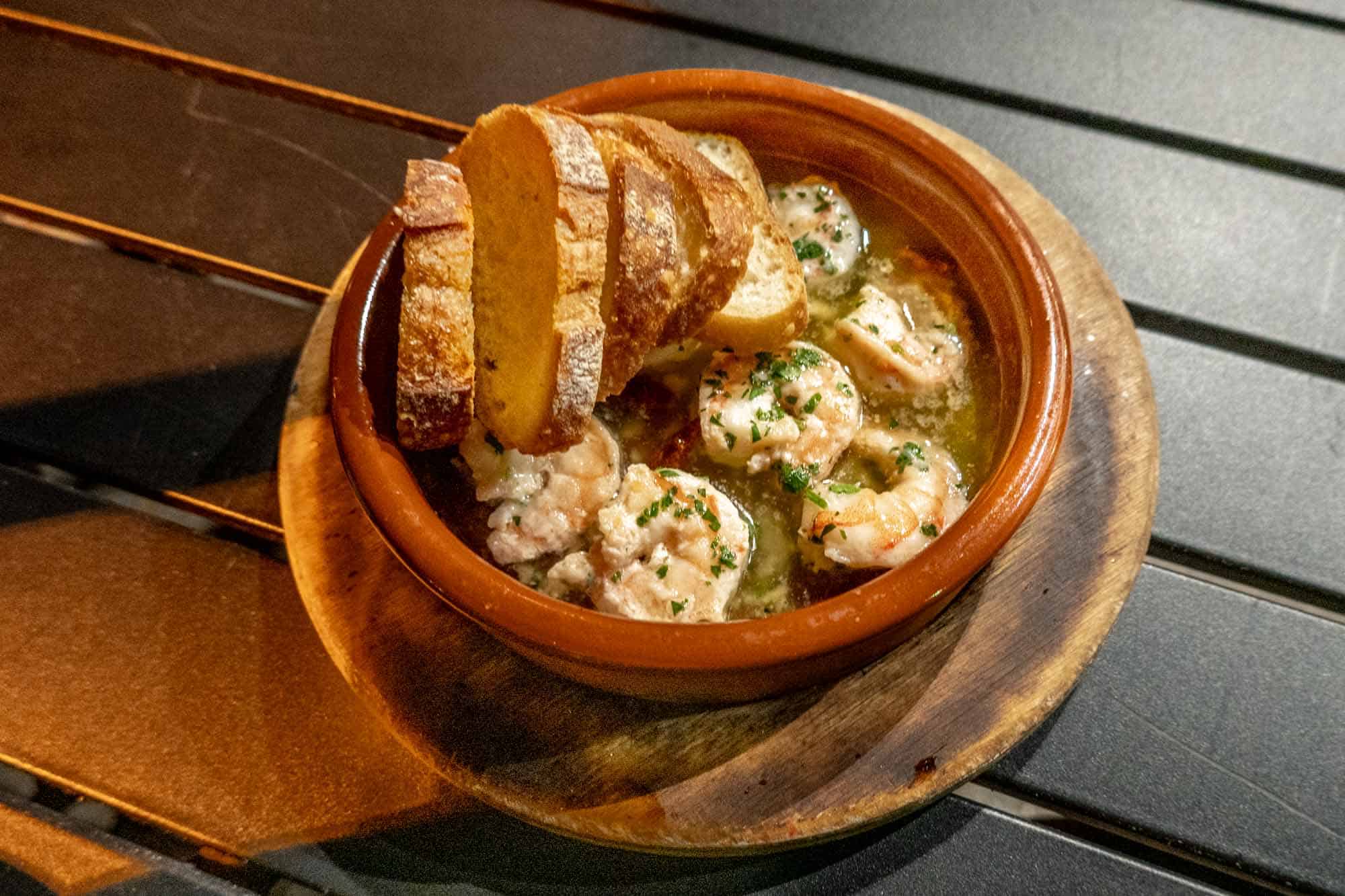 The Pulpo dish features buttery medallions of octopus and potatoes. Instead of whole octopus tentacles grilled, they come out looking like coins on the plate. The Tortilla Espanola is probably the most authentic dish on the menu – it is EXACTLY what you get in Spain.
The star of the show is the spicy shrimp in garlic sauce (Gambas al Ajillo). The shrimp are cooked in traditional clay bowls in garlic butter and served boiling hot. The traditional crusty serves as the perfect vehicle to soak up all that delicious butter. When that first bite hits your mouth, you might think for a moment that you were at the famous La Casa de Abuela restaurant in Madrid.
The one disappoint is the Patatas Bravas. There are some dishes that are so traditional…and so perfect…that you change them at your peril. This is one of them. In Spain, the best part of these spicy potatoes is the softness of the potato and how the skin crisps in contrast. But you don't get that at Amada. Instead, the potatoes resemble marshmallows because they are cored out and there's no crispy skin to be found anywhere.
The Vibe
Amada is tucked into a corner of Old City that caters to both tourists and locals. Around the corner from the Museum of the American Revolution and just up the street from the Ritz Theater, this restaurant is a neutral territory for both wide-eyed visitors and jaded locals. It is beloved by both groups.
Inside, the restaurant is dimly lit and features dark wood – a trait it would share with its cousins in Spain. It is exactly the kind of place where you mix and mingle. And everywhere is the aroma from the giant open kitchen. If you close your eyes, you might imagine you're on Cava de San Miguel street in Madrid.
Yet Amada Old City is the kind of place that can be all things to all people. It's a popular date night location. It's great for groups of friends. You can bring a business associate here and impress them with your knowledge of the extensive wine list. Or…you can come and just hang out.
Price Range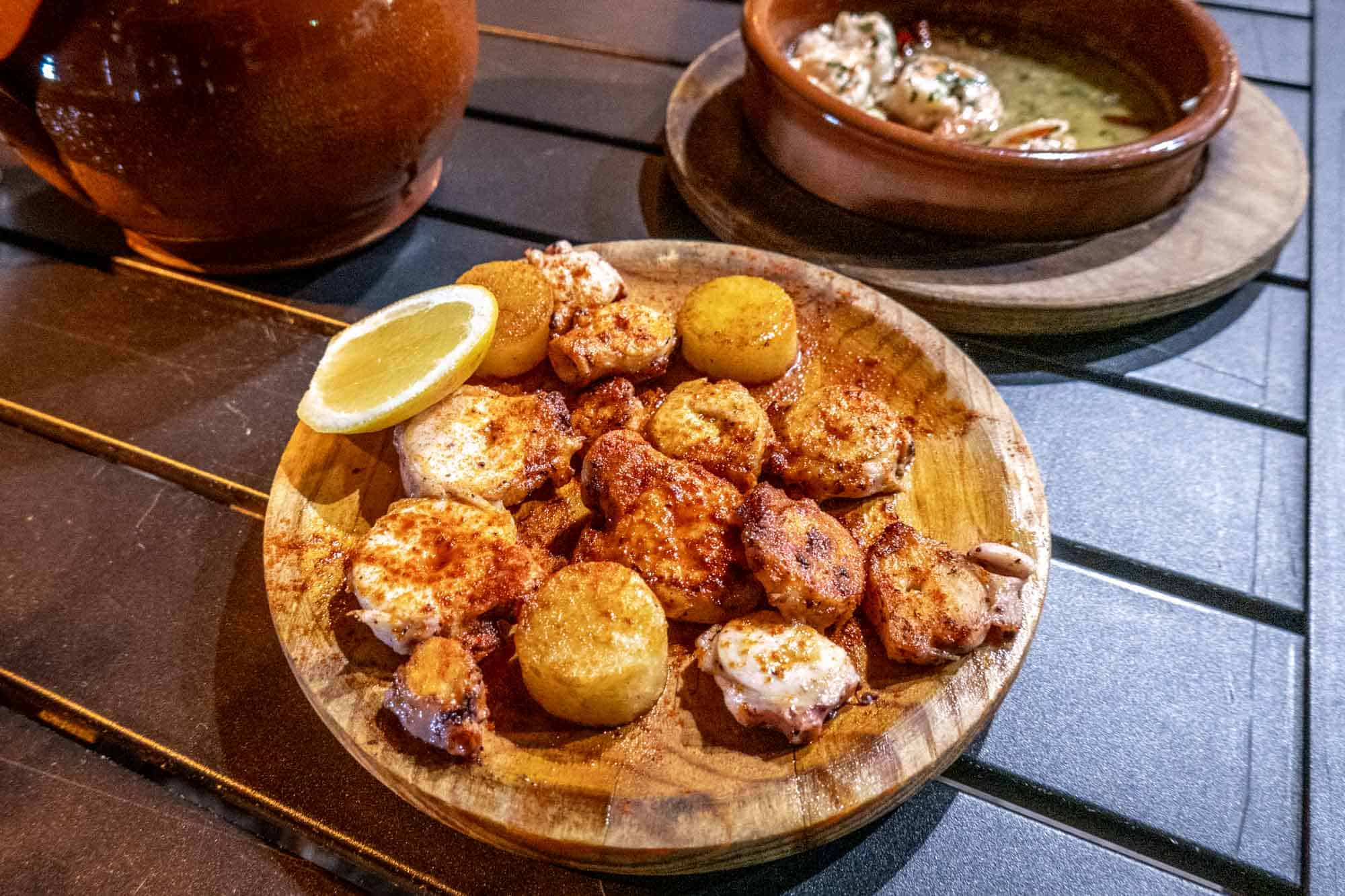 Dinner will run about $70-90 per person based on the number of dishes ordered. Most parties will order 3-5 small plates per guest, or fewer with a couple of larger sharing places included.
Individual tapas dishes run from $7-15. For those not into sharing, dinner-sized portions (Raciones) run from $18-29. Grill options from $14-26. They do a large, shareable paella as well.
If you are budget conscious, look to both the Happy Hour as well as the Sunday Tapas y Vino celebration. Both feature substantial discounts on both food and drinks.
The Amada Happy Hour features both food and drink selections priced at the insanely reasonable amount of just $5. You can have an early dinner here, or use it to get your evening started before heading out.
On Sunday, the insanely popular Tapas y Vino celebration features ½ off bottles of wine and an array of deeply discounted tapas offerings.
Reservations
Reservations are encouraged, particularly for their limited outside seating. Walk-ins are possible, particularly on weeknights and Sundays, but they are usually busy.
Location
Amada Philadelphia is located at 217-219 Chestnut Street in Old City. There is also a second location in Atlantic City.
There is some street parking in Old City, particularly along Dock and Front Streets. The nearest parking garage is the Autopark at Olde City, located on South 2nd Street. Visit the Amada restaurant website for more information.