Some posts on this site contain affiliate links, meaning if you book or buy something through one of these links, we may earn a small commission (at no extra cost to you).
Serving over 33 million passengers a year, Philadelphia International Airport (PHL) is the only major airport in the Philadelphia region.
In the last two decades, more than $2 billion has been spent to improve the airport and make it more on-par with facilities in other major airports, leading to improvements in efficiency, safety, appearance, and services for passengers.
Airlines and Terminals
Sixteen airlines fly out of the Philadelphia airport. It is a hub for American Airlines and a focus city for low-cost carrier Frontier Airlines. Other carriers with a large volume of flights include Delta Air Lines, United Airlines, and Southwest Airlines.
There are seven terminals with 126 gates serving domestic and international destinations with over 75,000 flights a year.
TSA Precheck is available in Terminals A-East, C, and D/E for passengers who have the service and are flying on American Airlines, United Airlines, or Alaska Airlines. All the terminals are connected, so it is possible to walk between them. That means that if you would like to use Precheck but are flying out of a B gate, you can use the Precheck in Terminal C and walk to B, for instance.
There is also a free shuttle bus available that operates between Terminal F, Terminal C, and Terminal A-East.
Philadelphia Airport Food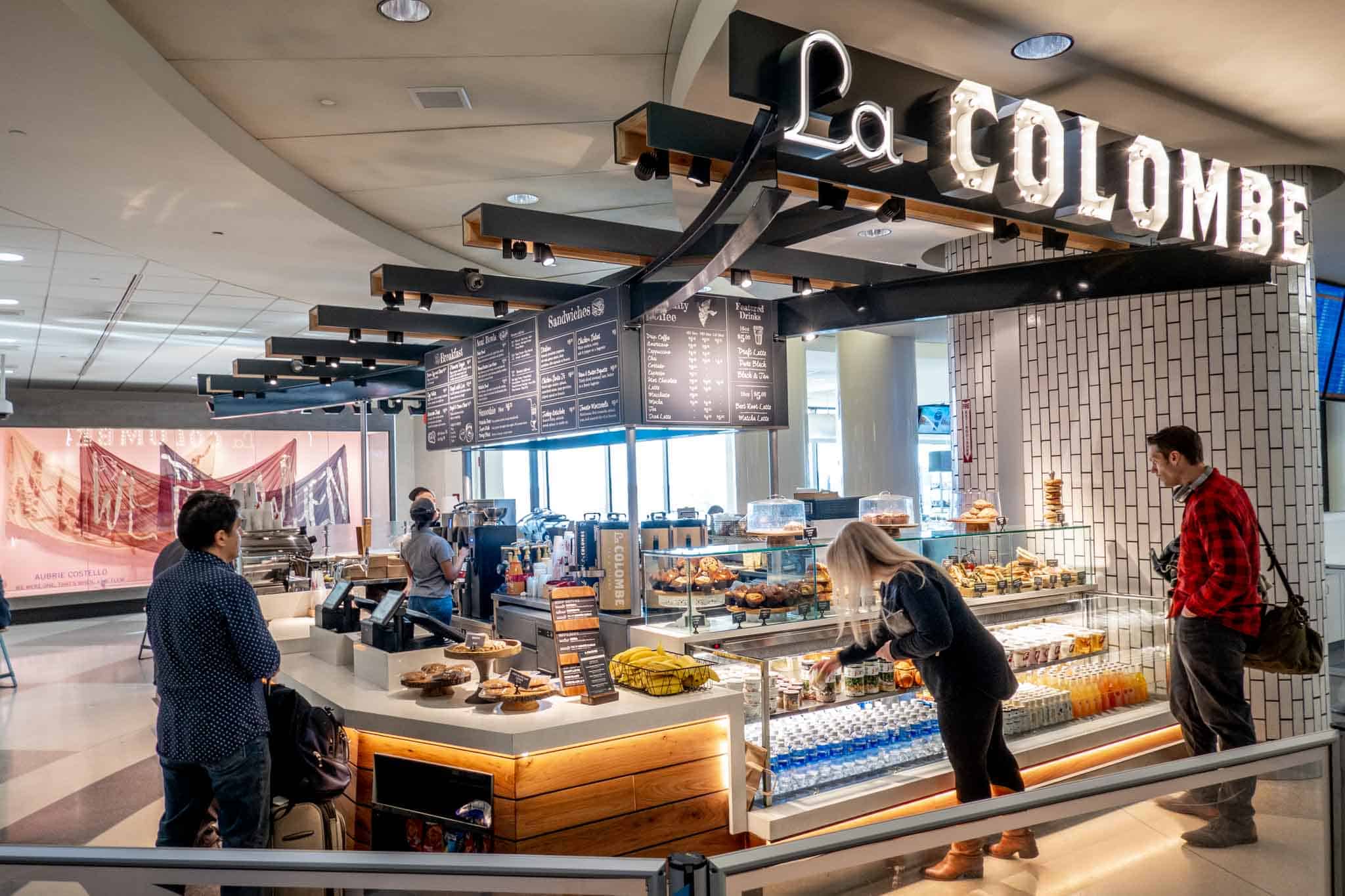 Food options at Philadelphia International Airport have improved dramatically in recent years. Across the terminals, there are about 80 food options ranging from snack stops to bars to restaurants.
In the airport, there are a variety of options that will please most palates. There are food court mainstays like Subway and Sbarro alongside Philadelphia originals like Chickie's & Pete's and Jim's South Street Famous Cheesesteaks.
Depending on what you're looking for, these are a few of the standouts:
La Colombe (Gates A3, B2, E3, and B/C Connector) – Headquartered in Philadelphia, La Colombe is known for its espresso drinks, coffee roasting, and tasty menu.
Bud & Marilyn's (Gate C 18) – Another Philly original, Bud & Marilyn's is an outpost of a Center City restaurant. It focuses on American comfort food alongside tasty cocktails.
Independence Prime (Gate B8) – if you're on an expense account or want to treat yourself to something on a long layover, head to terminal B for filet mignon or crab cakes.
If you're not quite sure what you want, head to Concourse B. There is a string of restaurant options where you can order food from iPads. Check out French-inspired Boule Café, Italian restaurant Mezzogiorno, or some of the other options.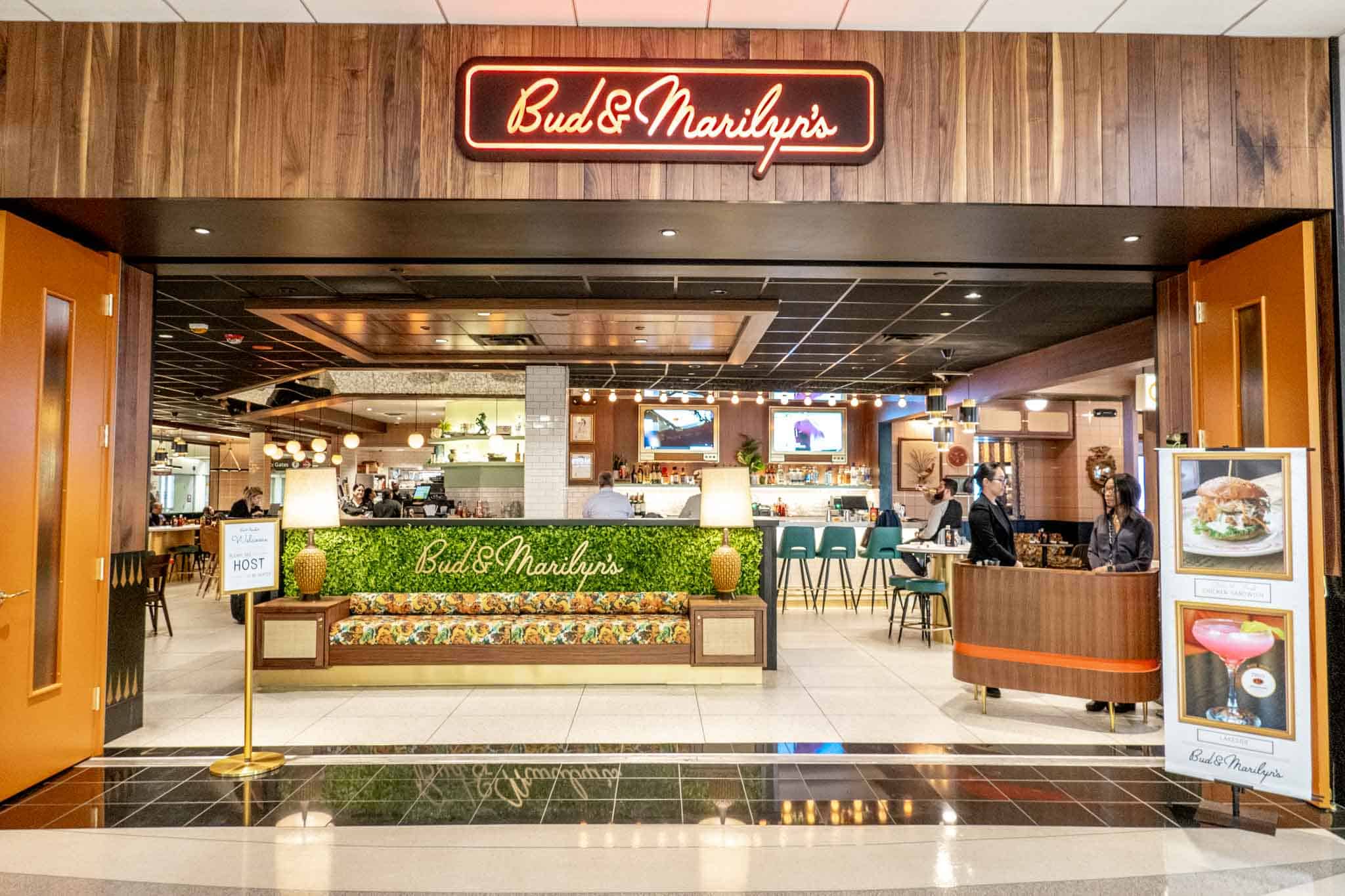 Baby and Pet Care Facilities
Minute Suites (Terminal A/B Connector) – One of the best places in the airport for weary travelers, Minute Suites are great if you find yourself with a layover in Philadelphia. They offer 13 suites that feature a daybed with a pull-out trundle that sleeps two, pillows, blankets, sound masking system, DirecTV, Netflix, and WiFi access.
If there is space available, the suites are available for nursing mothers for free. You get a half-hour to nurse or pump in peace.
Mamava Suites (Terminals A-West, the B/C Connector and Terminal F) – These standalone pods have a bench, fold-down table, outlet for charging, and a locking door. They're available free of charge and can be accessed via the Mamava app.
Children's Play Areas (Terminal A-East) – With a jumbo jet and control tower, the "Ready For Take-Off" play area will keep kids occupied for as much time as you can spare.
Pet Relief Area (every terminal) – Indoor pet relief areas are inside every terminal. Outdoor relief areas are available in designated areas along the Departing Flights road and outside of baggage claim areas.
Other Useful Services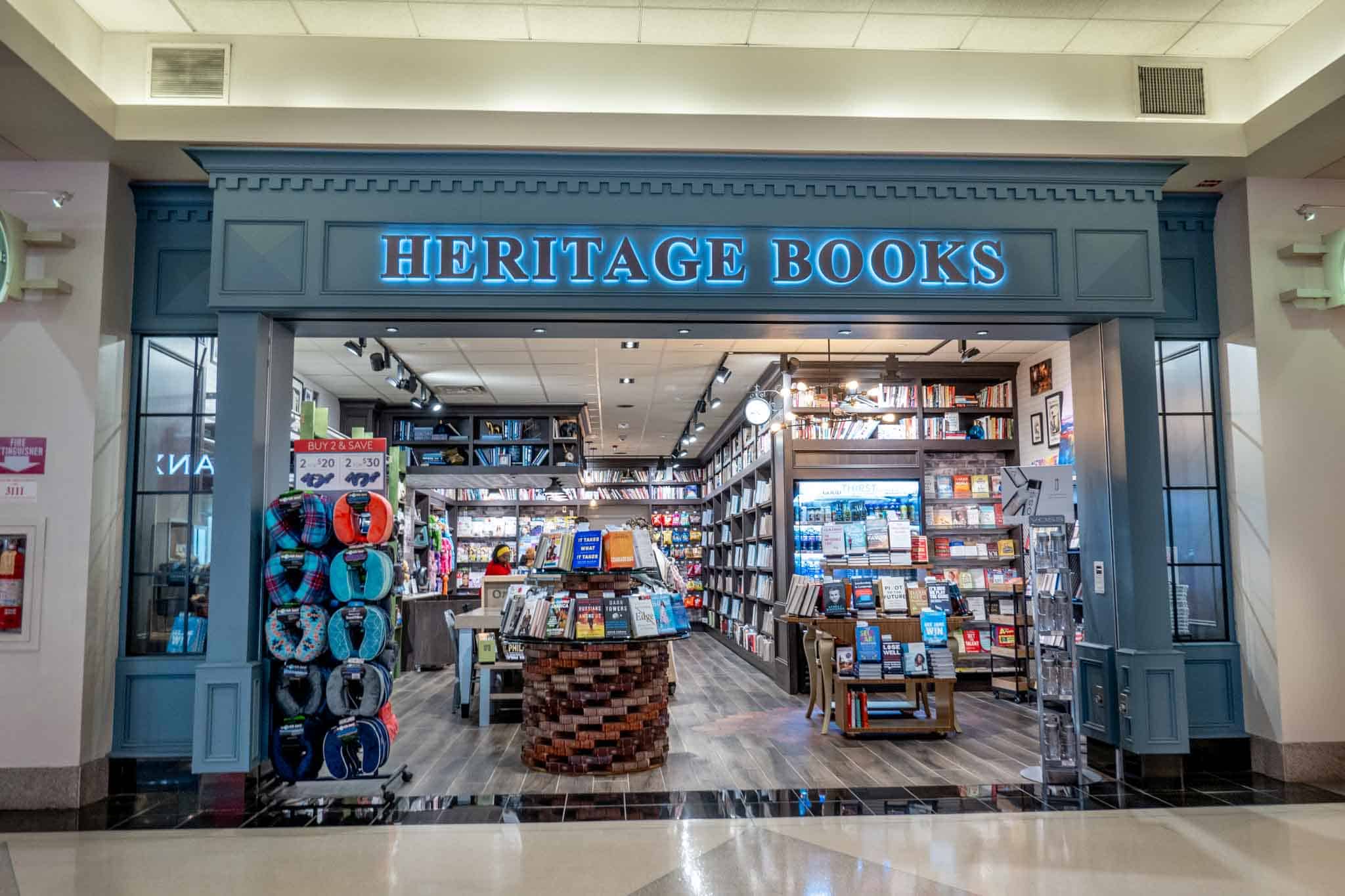 Charging Stations (airport-wide) – There are lots of places to charge your devices once you get through airport security. Look for the PHL "Power Up" Cubes and charging stations (power outlets), Power Tables (power outlets and USB ports), and Charging Tables (power outlets). You'll also find charging stations at the gates for Delta, Southwest, and JetBlue.
Virtual Library (Terminals D and E) – A wifi hot spot gives you access to free ebooks and podcasts courtesy of the Free Library of Philadelphia.
Read & Return at Heritage Books (B/C Connector) – If you find yourself flying through Philadelphia often (or an airport with any of the other 800+ Paradies Lagardère locations), stop by Heritage Books. If you return a paperback you bought here within six months of purchase, you can get a 50 percent refund.
Where to Stay
Philadelphia Airport Marriott – Located at the airport, the Marriott is easily accessed from Terminal B. It's quiet comfortable, and convenient whether you're looking for a place to stay during a layover or longer. Check rates.
How to Get to the Airport
Philadelphia International Airport is about 8 miles from Center City.
The cost of an Uber or Lyft varies based on demand. The route is often busy, so even though it's only a short distance, it's not unusual for a ride to cost $50.
If you're going to the airport from downtown, the train is a solid option. The SEPTA Regional Rail line that goes to the airport runs every day from 5:00am to midnight and stops at every terminal.
There's also plenty of short and long-term parking at the airport if you want added convenience. Prices range from $11 to $44 for up to 24 hours in either economy parking or garage parking. We almost always opt for Wally Park, which is an off-airport site about 5 minutes away.