Some posts on this site contain affiliate links, meaning if you book or buy something through one of these links, we may earn a small commission (at no extra cost to you).
In a city with a history as rich as Philadelphia's, there are lots of stories about ghosts, spirits, and frighteningly eerie experiences. Furniture moves on its own, doors slam when no one else is home, and there are unmistakable cries at night. From an historic prison to the rooms of Independence Hall and covered bridges to the graves of famous residents, there are lots of haunted places in Philadelphia to explore.
Grab your ghost hunting gear and your sense of adventure and uncover all the supernatural stories the city has to offer at these spooky spots.
Christ Church Burial Ground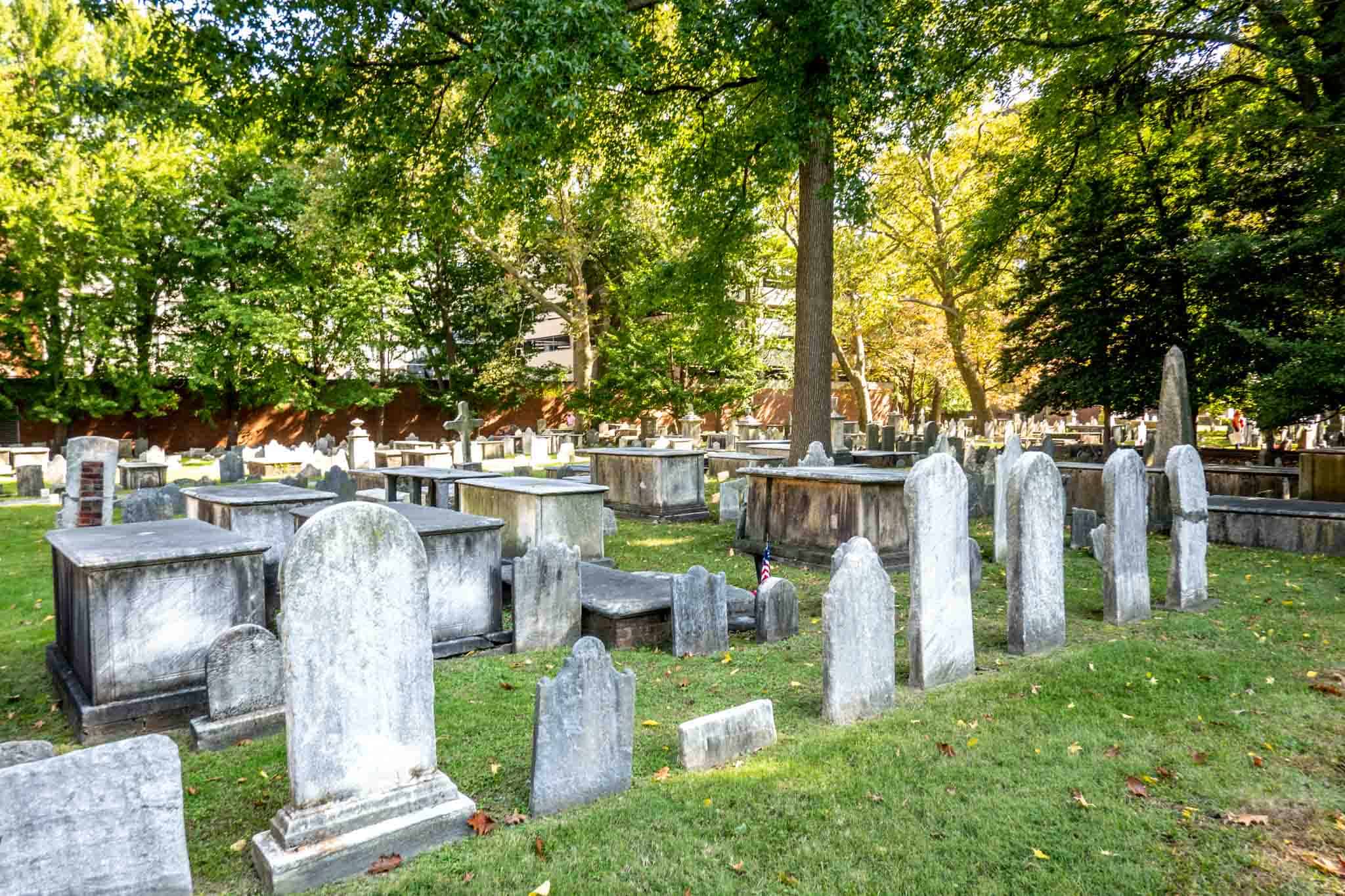 Christ Church Burial Ground is most well-known as the final resting place of Benjamin Franklin. His grave is typically covered with pennies, an homage to his "a penny saved is a penny earned" adage.
The ghost of the man responsible for so many contributions to Philadelphia is known to be a bit feisty in death. There are reports of Franklin throwing pennies and even a rumor of him pinching the bums of female visitors.
Even if you don't pay to enter, you can still see old Ben's grave through a cutout in the wall on the northwest corner of the burial ground. I can't make any guarantees about the ghost, though.
Betsy Ross House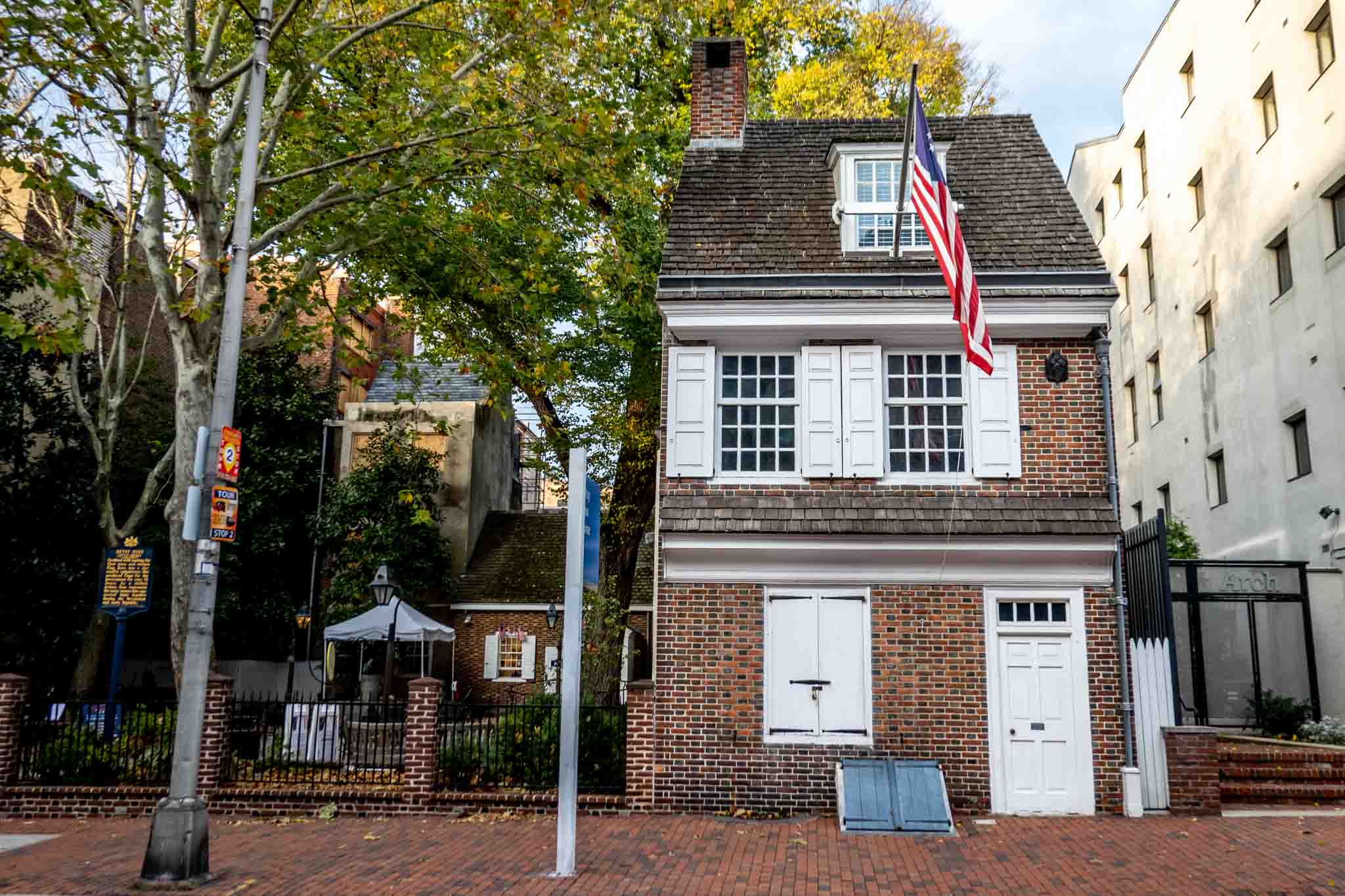 With her grave right out front, it's no wonder that Betsy Ross is said to haunt the halls of her Old City home that is now one of the city's top attractions. Having lost several children and three husbands, she is said to mourn when she visits her former house. Even the TV show Ghost Hunters came to check it out.
We can't say whether the stories about the mourning Ross are apocryphal, but the Betsy Ross House hosts candlelight tours in October full of stories about horrors that are true. From amputations to bloodletting, the Spooky Twilight Tours are full of stories about life in the 1700s.
Elfreth's Alley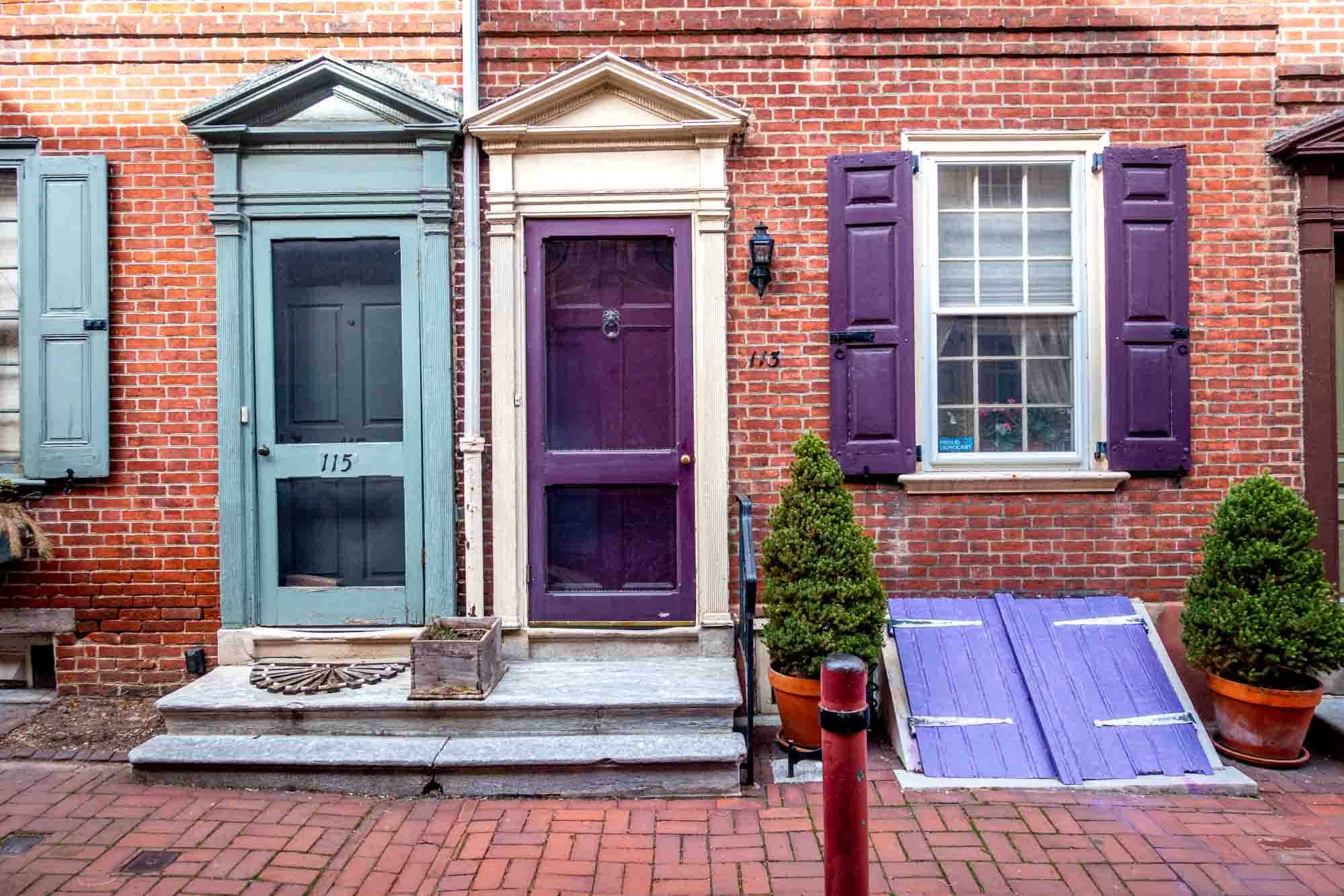 Elfreth's Alley is where historic Philly comes alive, capturing a time before large factories when artisans and tradespeople worked out of their residential first floors. The oldest residential street in the county, it's home to 300 years of history. But don't be fooled by the brightly painted doors—there's some darkness here, too.
Visitors regularly capture evidence of what some people believe is paranormal activity, in the form of orbs and apparitions. There are stories of a hanged Revolutionary War soldier making an occasional appearance, and some visitors even claim they were choked by an unknown entity while walking down the alley.
American Philosophical Society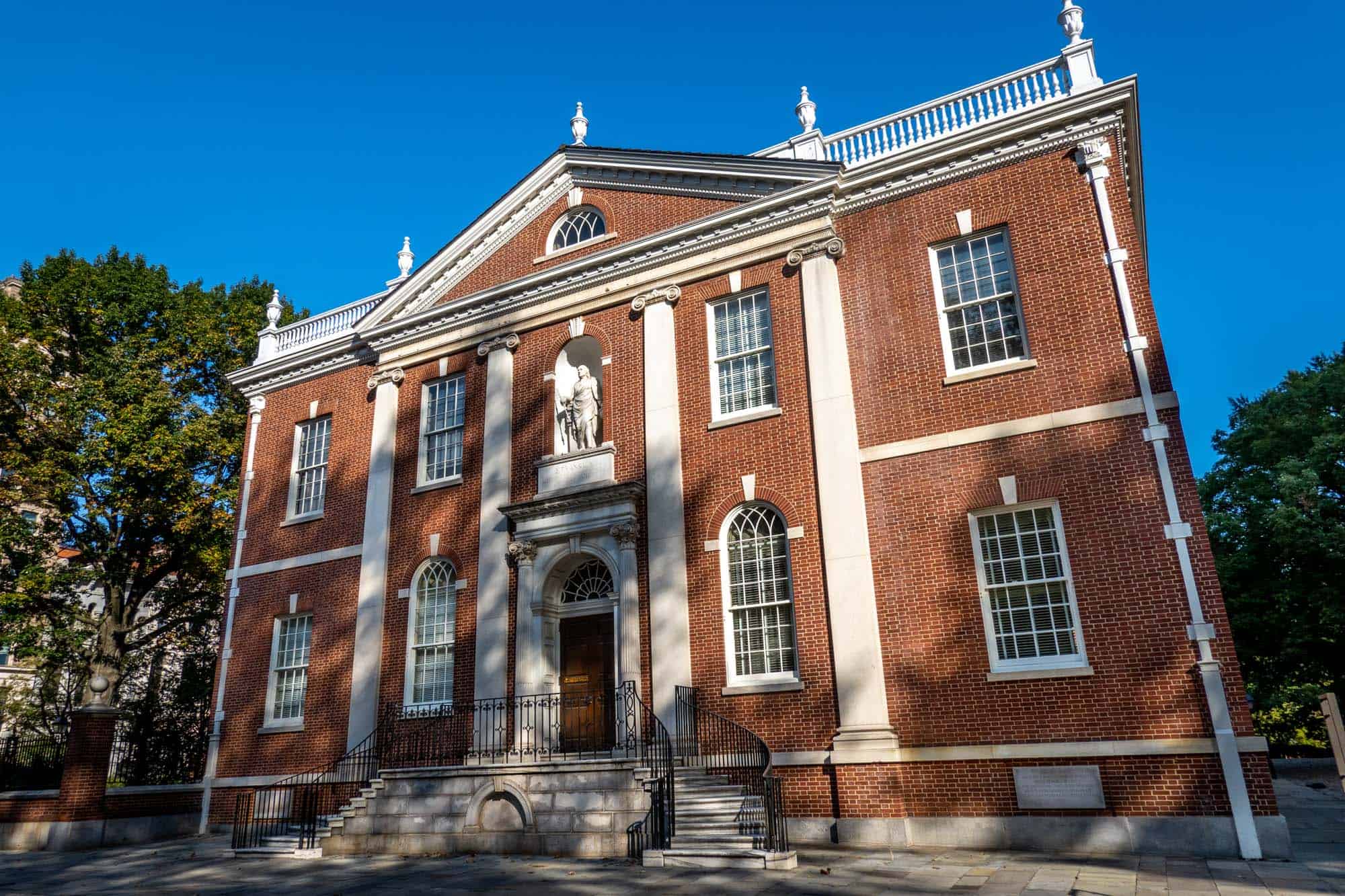 Benjamin Franklin's statue looks out on Old City from the façade of the American Philosophical Society Library, an entity he founded in 1743. Among its members were Alexander Hamilton, George Washington, and Thomas Jefferson, among others.
There are plenty of stories about Franklin still hanging around his old haunt (see what I did there?). In 1844, a cleaning lady saw him in the Society library, and he's also been seen lingering on the front steps. It is also said that Ben's statue from the building dances in the streets on occasion. Keep an eye out if you're in the historic district at night—you never know when he might show up.
First Bank of the United States
When Alexander Hamilton was famously cut down by a bullet in a duel with Aaron Burr, he left behind his wife, seven children, and a mountain of debt. He also left behind the legacy of having established America's first national bank which is embodied in the First Bank of the United States that still stands on Third Street.
Hamilton is said to wander the interior of the Greek Revival building bemoaning his fate and the state in which he left his family's finances. If he is still around, visitors may soon get to see more of him–the First Bank is finally being turned into a museum after decades of being closed.
Independence Hall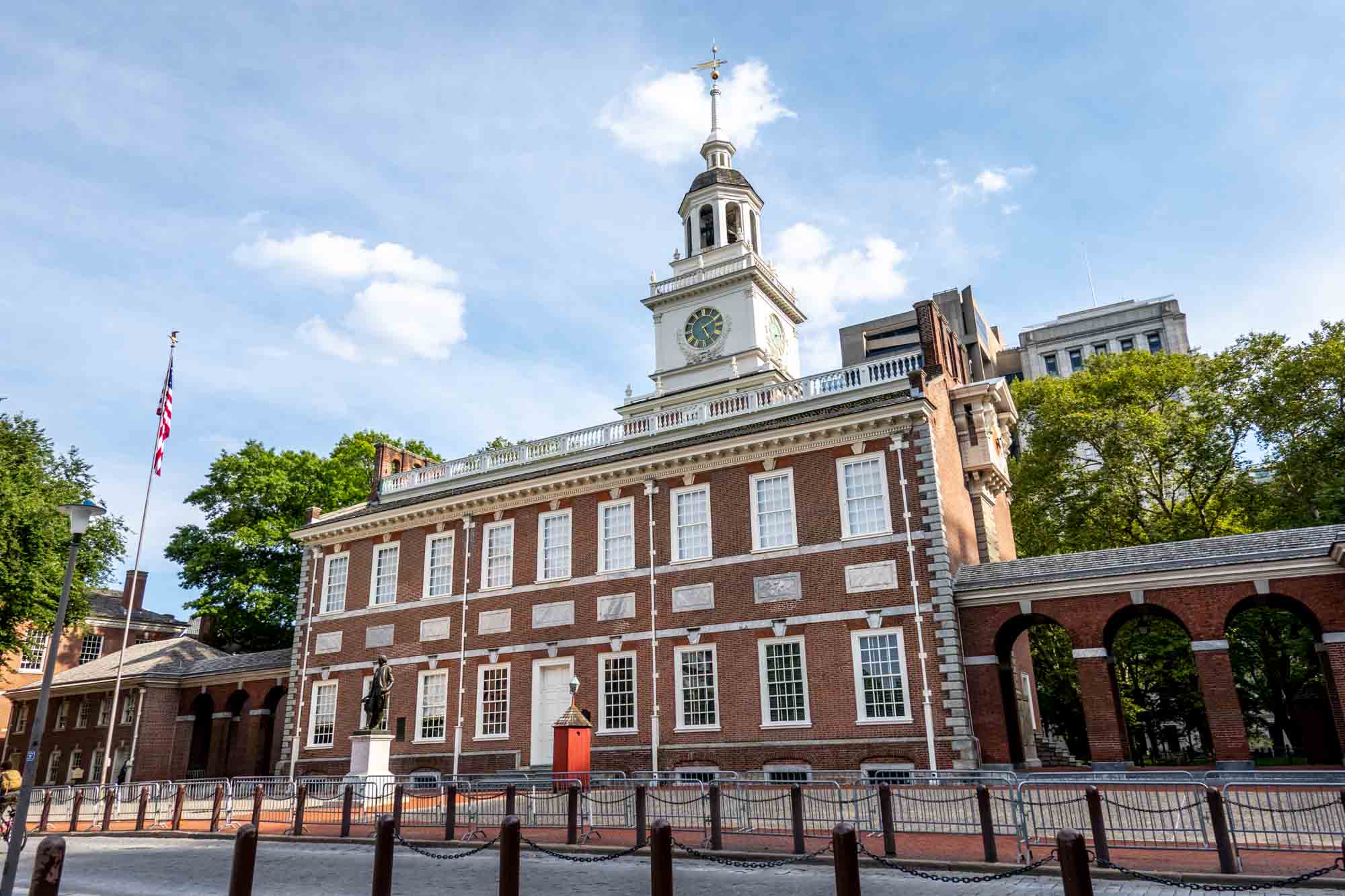 Ben Franklin was a busy man in life, and, apparently, couldn't give up his habit of working, even in death. At Independence Hall, he's been spotted looking over the Declaration of Independence in the room where he and 55 others signed it. The infamous Benedict Arnold has been known to make an appearance, too. He is supposedly remorseful about his treachery.
Take a free tour of the building and Congress Hall next door and see if you feel the spirits of the signers.
Hill-Physick House
A surgeon's house seems like a plausible place for finding some restless spirits. After all, Dr. Phillip Syng Physick (known as the Father of American surgery) may have dissected cadavers in the house in Society Hill.
Whether the spirits seen around the house are the doctor's ex-wife, a former resident, or research subjects is hard to tell, but there are some creepy ghosts behind these beautiful walls.
Cruiser Olympia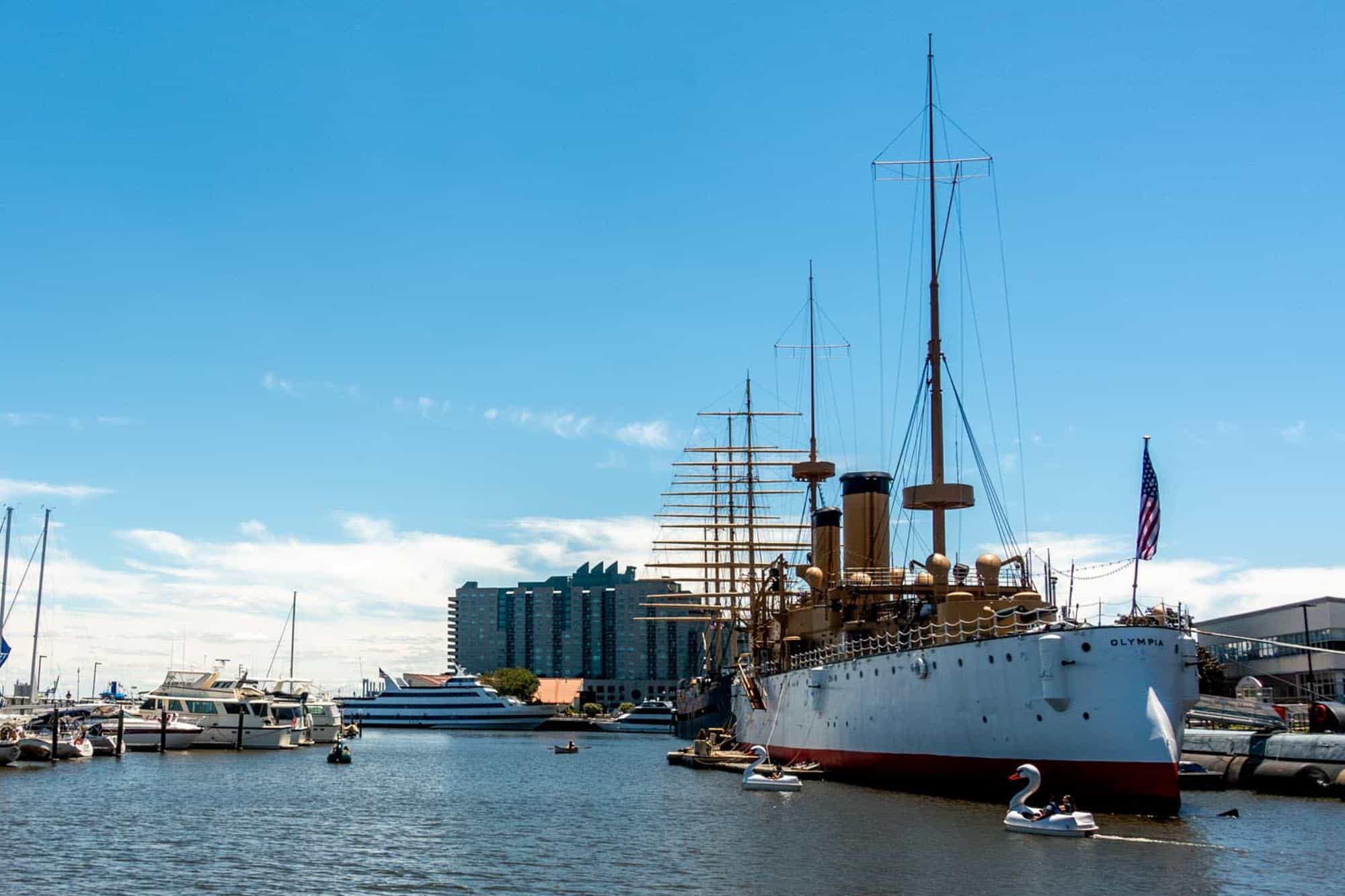 The Cruiser Olympia now stationed at the Independence Seaport Museum is the last surviving warship from the Spanish-American War. At over 120 years old, the ship has lots of characters haunting its halls.
There have been reports of the ghost of "Gunner" Johnson in the bowels of the ship and plenty of anecdotes about "something strange" in the boiler room and shadowy figures darting about the engine room. Visit the museum at Penn's Landing to see if you encounter any of the ghouls. In October, they even host a Halloween-themed speakeasy.
Powel House
Lots of Revolutionary War-era ghosts have taken up residence in the Powel House. The Georgian home that belonged to Samuel Powel—Philadelphia's mayor both before and after the Revolution—is said to be inhabited by several members of the Continental Army, including General Lafayette. The ghosts of Benedict Arnold and his wife Peggy Shippen have also made appearances.
Washington Square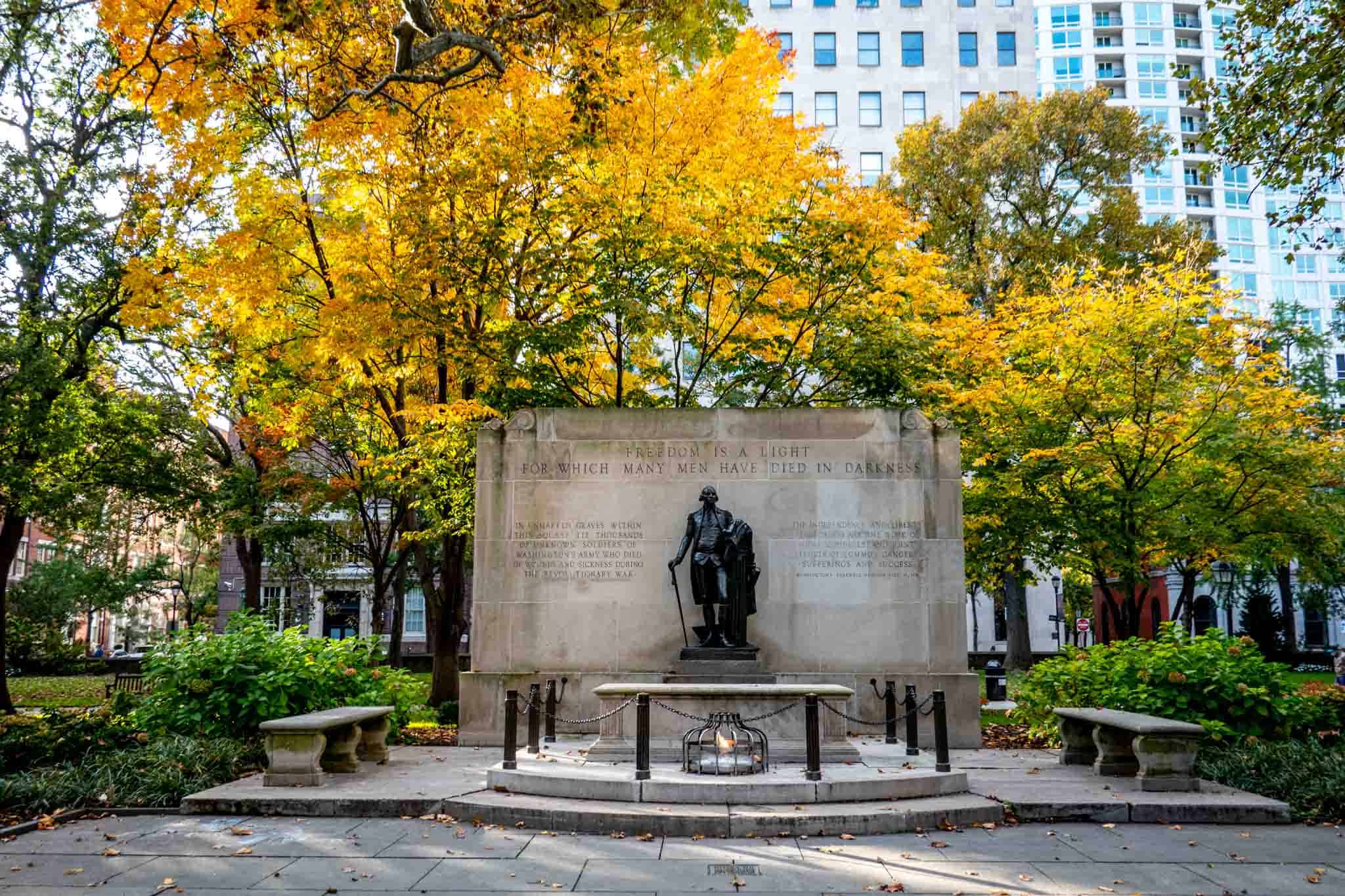 One of the city's nicest parks and a great place to see beautiful leaves in the fall, Washington Square holds an unexpected secret—it's actually a giant burial ground. First established in 1682, it was used as a potter's field for city residents and a burial ground for Revolutionary War soldiers and victims of the yellow fever outbreak of 1793. There are a lot of souls here who could be disturbed.
The spirit seen most often in Washington Square isn't buried there. She's a Quaker woman named Leah who spent time in life patrolling the square to protect the graves from thieves and people in search of cadavers for research. She's continued her mission in the afterlife and visitors have reported seeing the specter with a lantern late at night.
Pennsylvania Hospital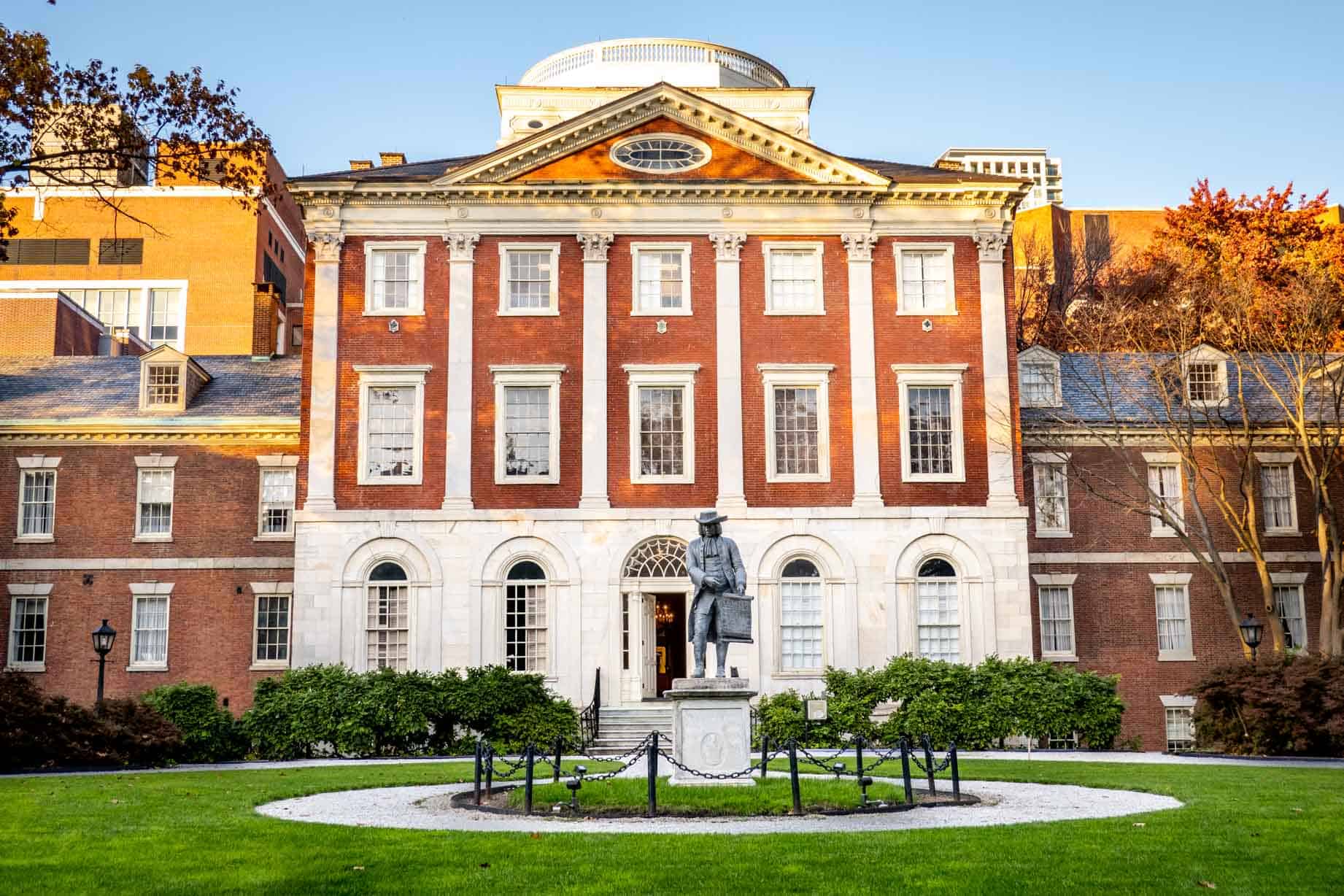 The nation's first hospital, Pennsylvania Hospital features a beautiful garden along Pine Street. At its center is a statue of William Penn that reportedly likes to climb down from its pedestal and stroll the grounds. The supernatural activity was said to happen so frequently that nurses brought patients to watch.
Philadelphia Academy of Music
Ghosts like music, too. At the Philadelphia Academy of Music—which hosts ballet, orchestra, and opera performances—there have been tales of guests being pinched by no one and seat cushions indented by invisible guests.
Eastern State Penitentiary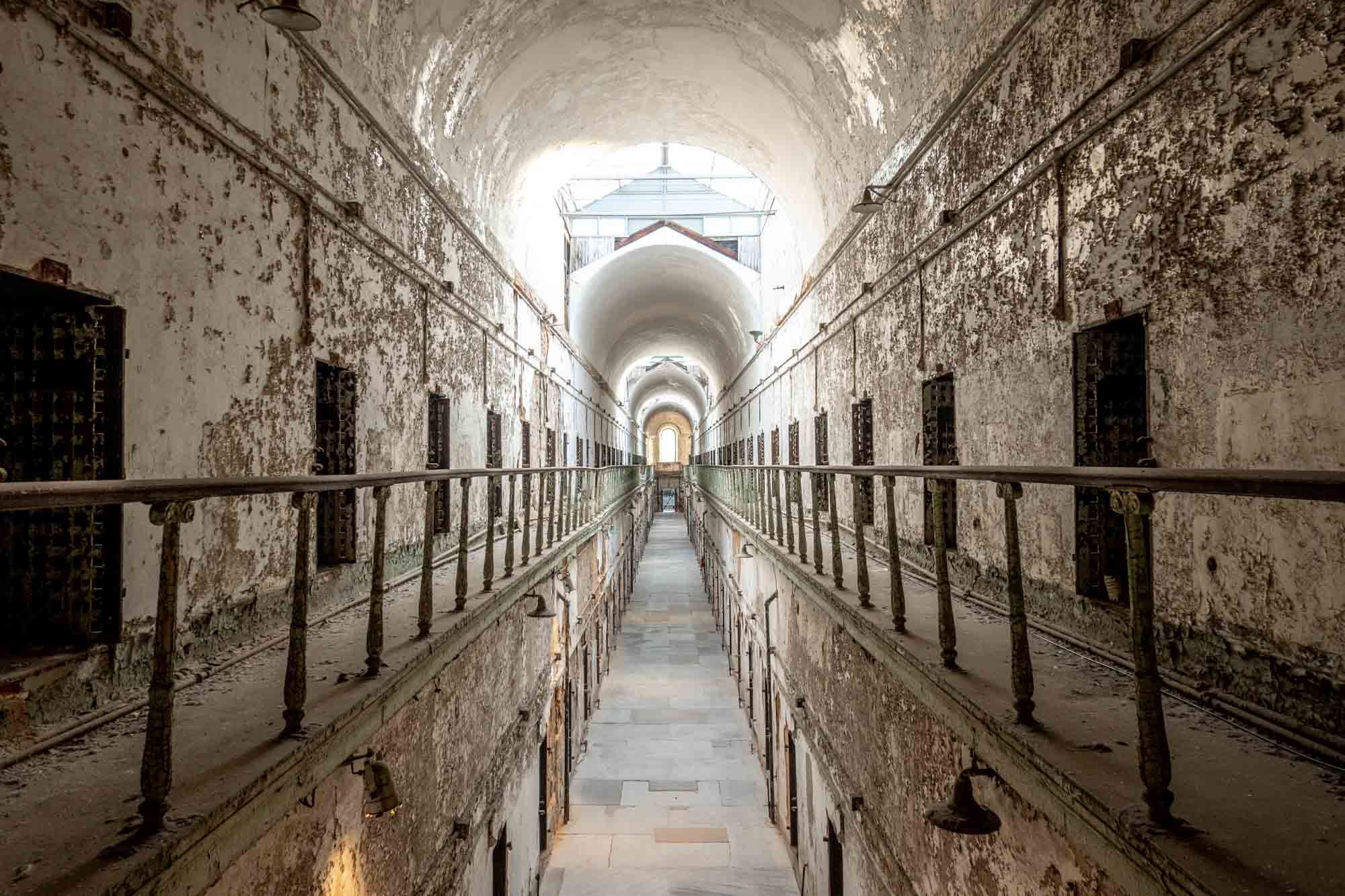 The Eastern State Penitentiary housed thousands of inmates in its 140-year history. Now a preserved ruin in Fairmount, this creepy spot is filled with the spirits of former prisoners who lived and met their end there, making the jail one of the most haunted places in Philadelphia.
There have been reports of mysterious apparitions, visions of people in the old guard tower, and a mysterious woman sitting in one of the dilapidated cell blocks. The prison is open for tours year-round, but if you come to Halloween Nights in the fall, you're almost sure to see something that will give you nightmares.
Fort Mifflin
Fort Mifflin is considered one of the most haunted places in America. In its 250-year history, it was the site of a Revolutionary War battle, a military hospital during the Civil War, and an ammunition depot during World Wars I and II. The Fort has seen hundreds of deaths over the centuries.
Visitors might see phantom soldiers cleaning their guns or a faceless Union Army solider who was executed there. Rumor even has it that the ghost of a woman has screamed so loud that the police were called. Spirits are around all the time, but October is a particularly good time to try to experience the paranormal activity for yourself—that's when the fort hosts ghost tours by candlelight.
Laurel Hill Cemetery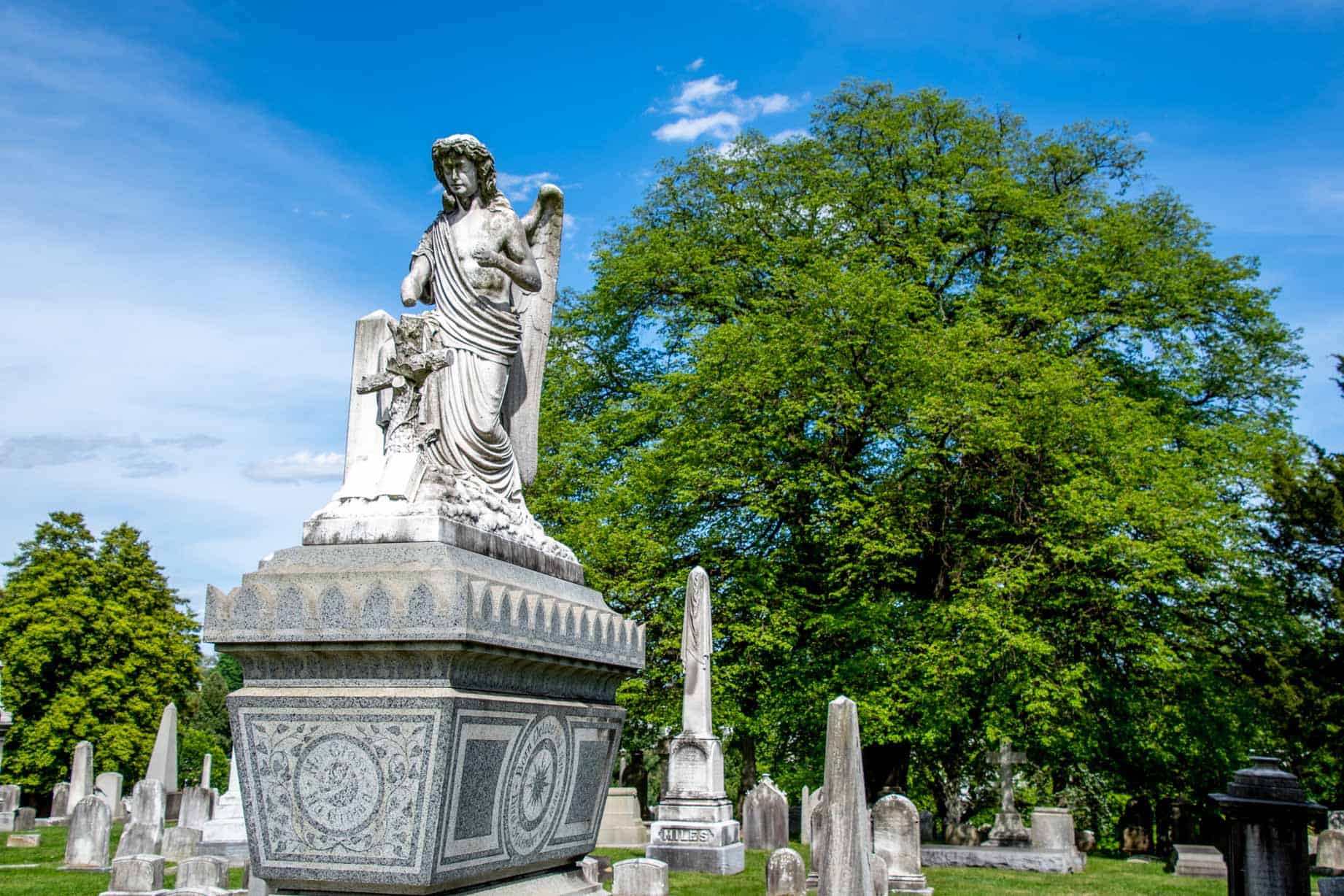 Laurel Hill Cemetery is one of the most well-known cemeteries in the city thanks to its elaborate grave markers and its location at a scenic spot overlooking the Schuylkill River. Visitors will find graves and monuments for over 75,000 people, including city leaders, pioneers across industries and social movements, and even a signer of the Declaration of Independence.
With so many burials, Laurel Hill is a prime haunting location. Ghost hunters and paranormal investigators visit frequently in search of spirits and ghouls wandering the grounds. There are regular events focusing on the creepier aspects of the cemetery's story, ghost hunting, and even a "market of the macabre."
Baleroy Mansion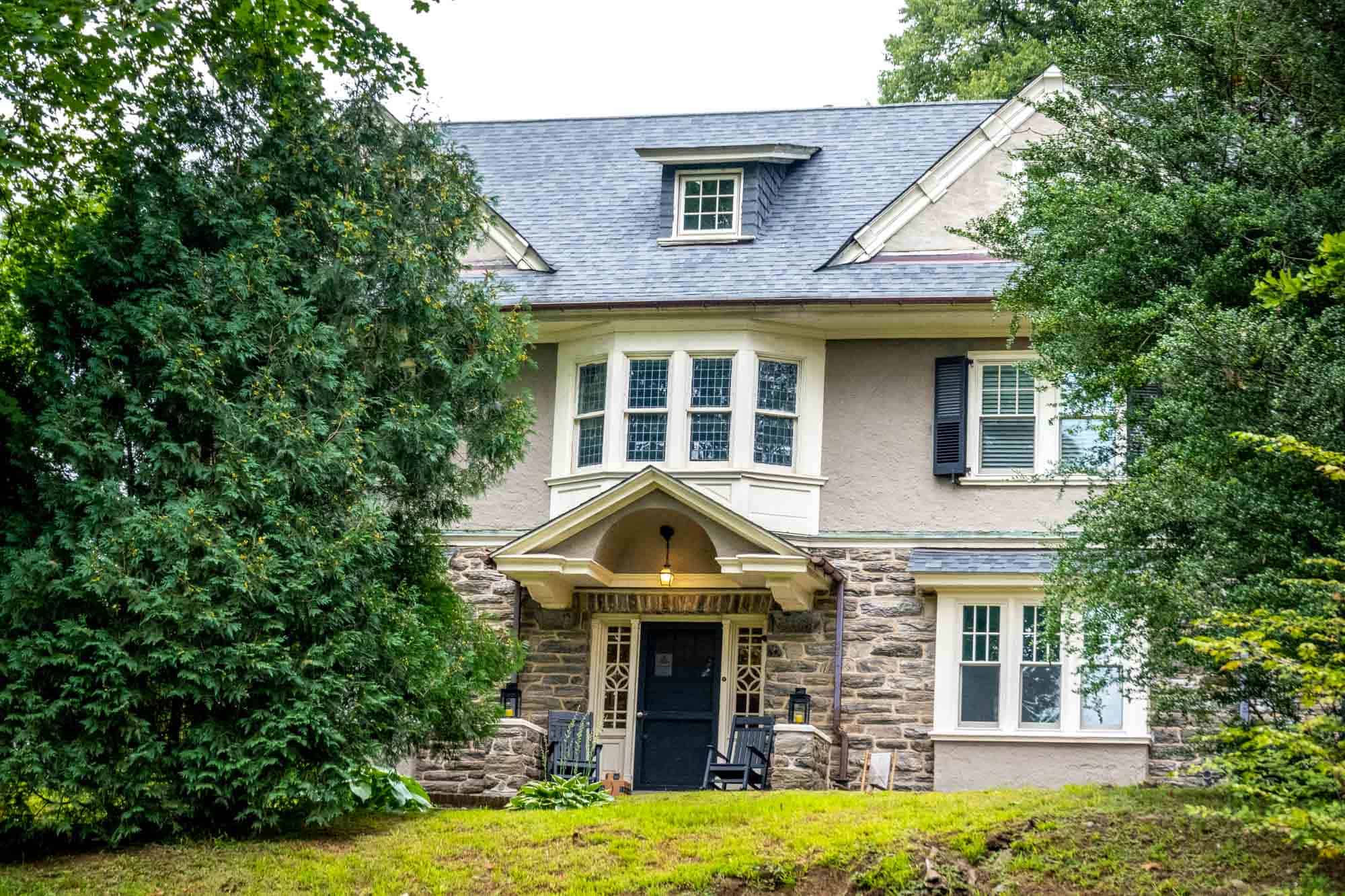 Baleroy mansion—a 32-room estate in Chestnut Hill—is said to be the most haunted home in America. There are stories of supernatural occurrences during seances and phantoms grabbing people in the night.
One particularly threatening spirit is a menacing trickster named Amelia who has a gift for getting unsuspecting targets to sit in a "death chair." They supposedly die shortly afterwards.
While the fatal seating arrangement may sound far-fetched, it was corroborated by former owner George Meade Easby (great-grandson of General George Easby, who is buried in Laurel Hill). Easby claimed to have known a housekeeper, a cousin, and a friend who all fell victim to the ploy.
Allens Lane
Allens Lane in Mount Airy dates all the way back to 1746 and was heavily trafficked by Revolutionary War soldiers. One unfortunate soul was decapitated in a battle and the headless soldier on horseback is said to haunt the street on foggy nights.
Cliveden
In October 1777, the Battle of Germantown broke out in the Philadelphia countryside in an area that is now the Germantown neighborhood. The Cliveden estate was at the heart of the bloody battle. Seventy soldiers lost their lives on the property, and their ghosts haunt the grounds where the 1760s Georgian home still stands.
Soldiers are said to walk the halls of the historic home as well as the surrounding acres. On a tour, you might also encounter the ghost of an elderly headless woman who has frequently been sighted there.
Grumblethorpe
The former summer home of the Wister family, the historic house known as Grumblethorpe has witnessed a lot of history since it was built in 1744. When the Battle of Germantown arrived on its doorstep, British General James Agnew set up residence here only to be shot and die in the front parlor. Visitors can still see the efforts to clean up his blood on the floor, which is just enough to make your hair stand on end.
Van Sant Covered Bridge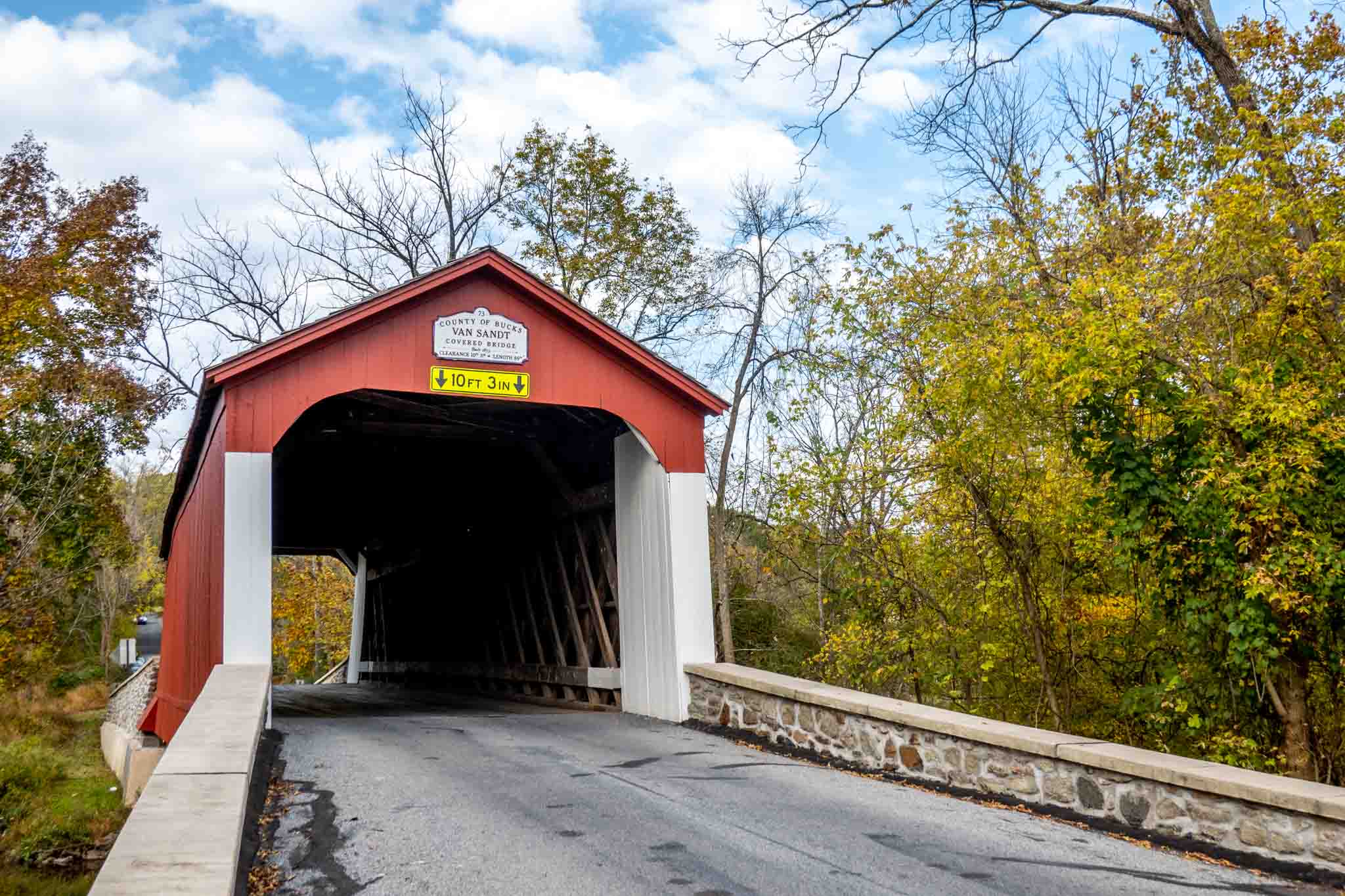 Just a few minutes from downtown New Hope, the Van Sant covered bridge is one of the charming covered bridges in Bucks County. But it has a sinister story.
Built in 1873, Van Sant bridge has been called a "cry baby bridge." As the story goes, a young woman had a baby out of wedlock and was disowned by her family. She was so distraught that she threw the baby from the bridge into the creek below and hanged herself from the wooden beams of the bridge. Supposedly, the baby's cries can sometimes be heard at night…or it might just be the local foxes.