Some posts on this site contain affiliate links, meaning if you book or buy something through one of these links, we may earn a small commission (at no extra cost to you).
Most years, the Philadelphia area finds itself on the receiving end of at least a few snowfalls. It doesn't take much for winter lovers and kids of all ages to emerge with sleds and toboggans (or garbage can lids and cardboard boxes…whatever works) in search of snowy adventure. While the Delaware Valley isn't known for massive hills, there are plenty of places to pick up a little speed as you soar over the white stuff.
Read on for some of our recommendations about where to go sledding near Philadelphia.
Philadelphia Museum of Art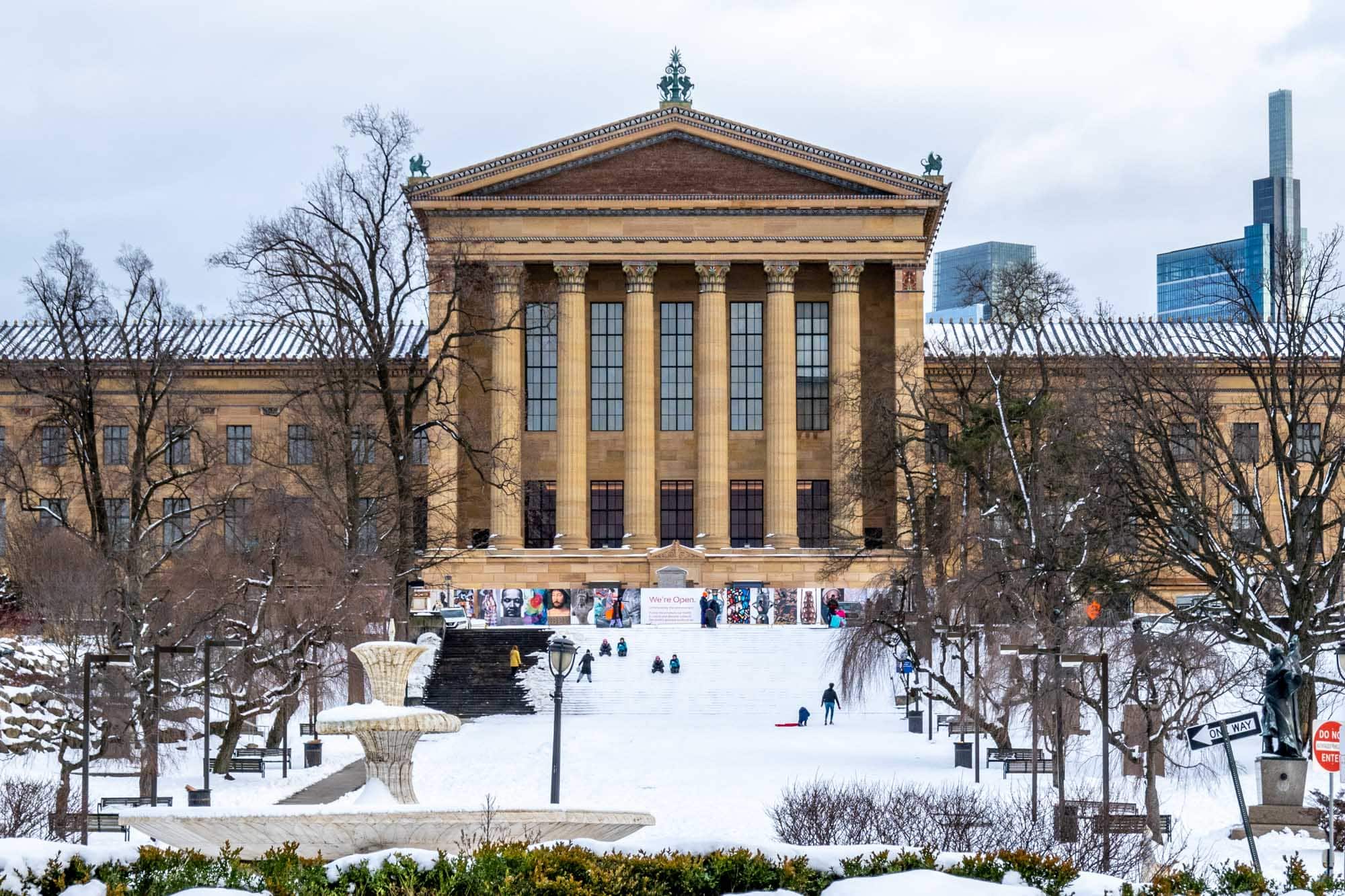 The Art Museum steps are most well-known for Rocky's run up them. But, during a snowstorm, it's all about coming down them. The steps are probably the top place to go sledding in Philadelphia, especially for those who are a little adventurous.
The museum steps are just that—manmade steps—so they can be super bumpy. This sledding spot is best if a lot of snow has fallen to smooth out the ride on the way down. Use a plastic sled or other option without runners that will let you glide down easily. If there's not enough snow to make the steps work, check out the hills behind the museum.
Clark Park
Bowl-shaped Clark Park (particularly the part south of Chester Avenue between 43rd and 45th Streets) seems almost tailor-made for sledding. This gem, which was once a pond, is great for a picnic date, a Shakespeare in the Park performance, and its regular farmer's market, but winter is when it really shines.
Because the Clark Park bowl is entirely self-contained, it's a perfect option for families or those who want an easier sledding experience—you won't accidentally go too fast or end up in the street. There are plenty of cafés to warm up at nearby, and you can always get a hot drink at Green Line Café.
Belmont Plateau
Belmont Plateau in Fairmount Park is broad and has a gentle slope that will let you build up some speed. As a bonus, the plateau also offers one of the best views of the downtown skyline.
Lemon Hill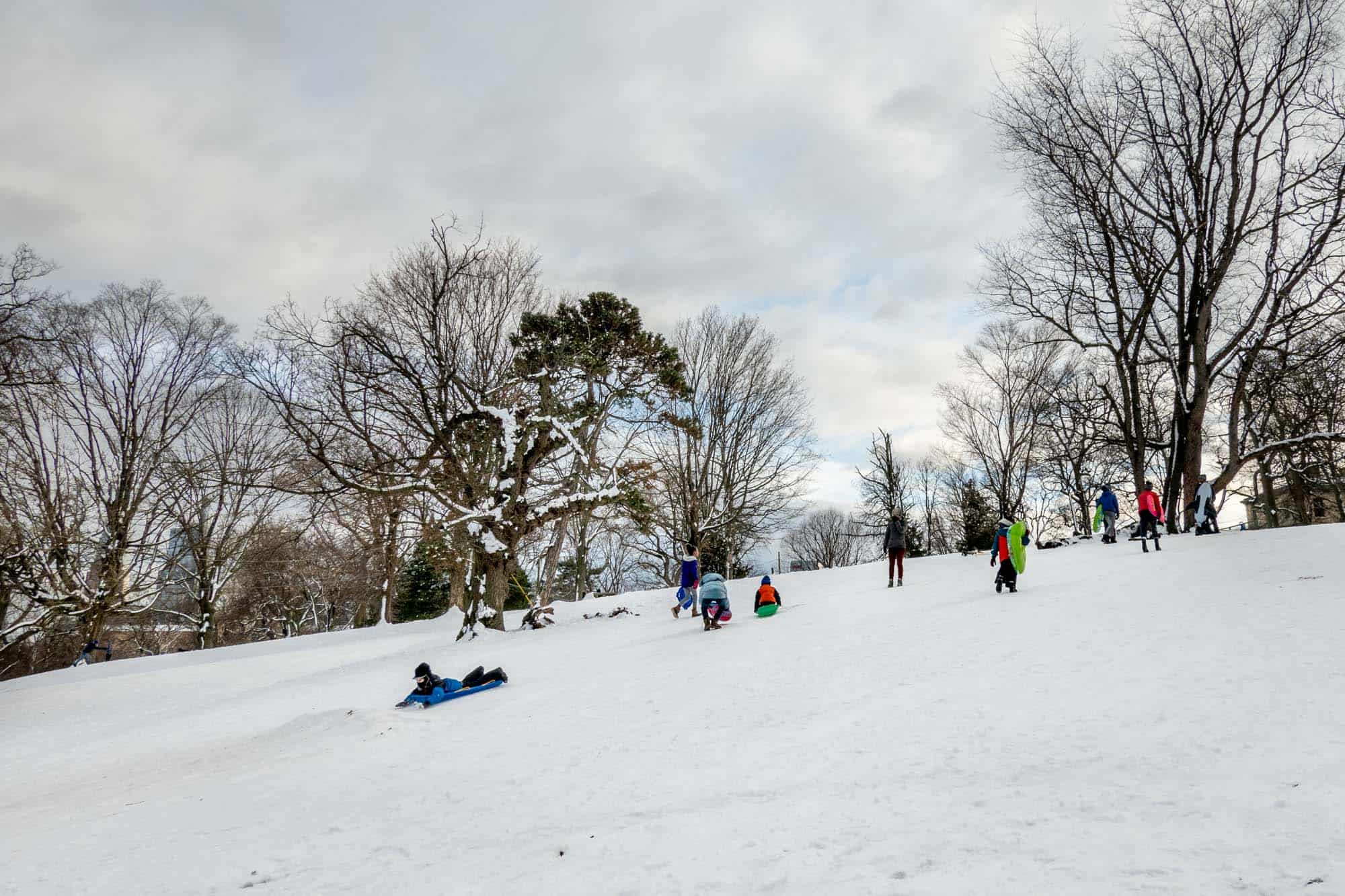 One of the most popular sledding hills in Philadelphia, Lemon Hill can get quite busy on a snowy day. There are some very steep parts and some slopes that are more manageable, so it works for sledders of different abilities and comfort levels.
Fernhill Park
Fernhill Park is a fun sledding option in Germantown. Its expanses of gentle hills will keep the whole family entertained for hours.
Burholme Park
If you're looking for a great sledding hill in the Fox Chase section of the city, Burholme Park is your spot.
The park is the home of the Ryerss Museum and Library, which was built on one of the highest points of land in the area, meaning it's an ideal place to feed your need for speed.
Thomas Mansion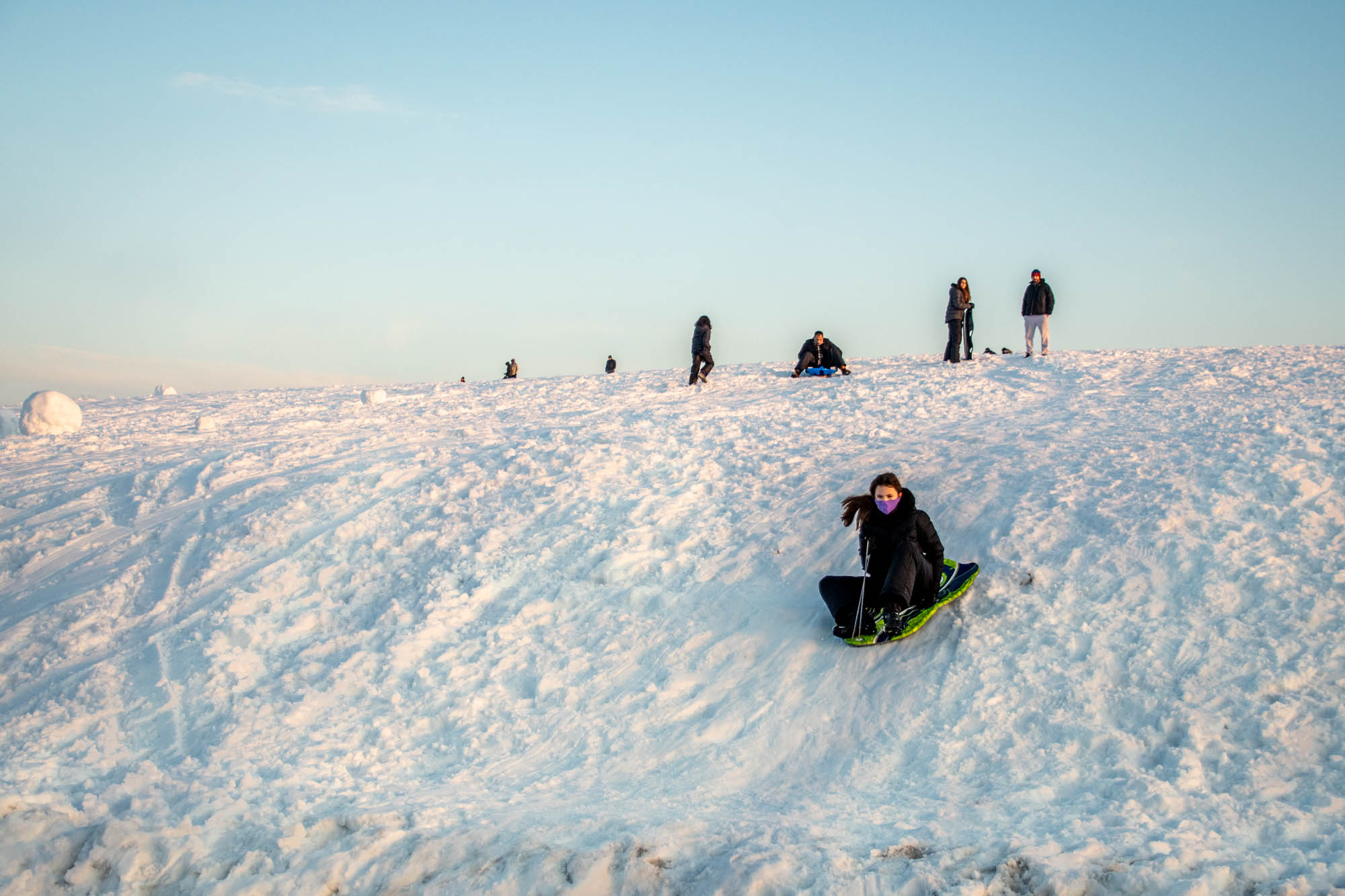 Just off Lincoln Drive, the hill behind Thomas Mansion—nicknamed "Tommy's Hill"—provides a fun sledding location. This long hill has a decent grade but isn't too steep, so it works for all abilities.
Walnut Lane Golf Course
Not far from Thomas Mansion, Walnut Lane Golf Course in Roxborough is pretty much a sledder's paradise.
The golf course has lots of hills to choose from with different grades of slopes. It's open to the public, so grab your sled and get going! As a bonus, it's just a block from Dalessandro's and Chubby's Steaks if you need to refuel. A stop here is a highlight of Philadelphia in winter.
Water Tower Recreation Center
The recognizable 125-foot-tall tower at the Water Tower Recreation Center in Chestnut Hill is a landmark for those looking for a sledding adventure. Depending on where you jump on, the undulating hill can be more or less steep, and there's lots of room to glide along at the bottom.
Fort Washington State Park
At 400-feet-long, Suicide Hill in Fort Washington State Park gives sledders a long runway to gain some speed. It's a popular place to visit after a decent snowstorm, but the location also lives up to its name and there have been some gnarly wipeouts here.
Bring your courage if this hill is on you post-snow list. It is located in the Militia Hill Day Use Area (use the entrance off Militia Hill Road near Skippack Pike). You'll find it just below the large bird-watching platform at the top of the hill near parking lot 5.
Valley Forge Park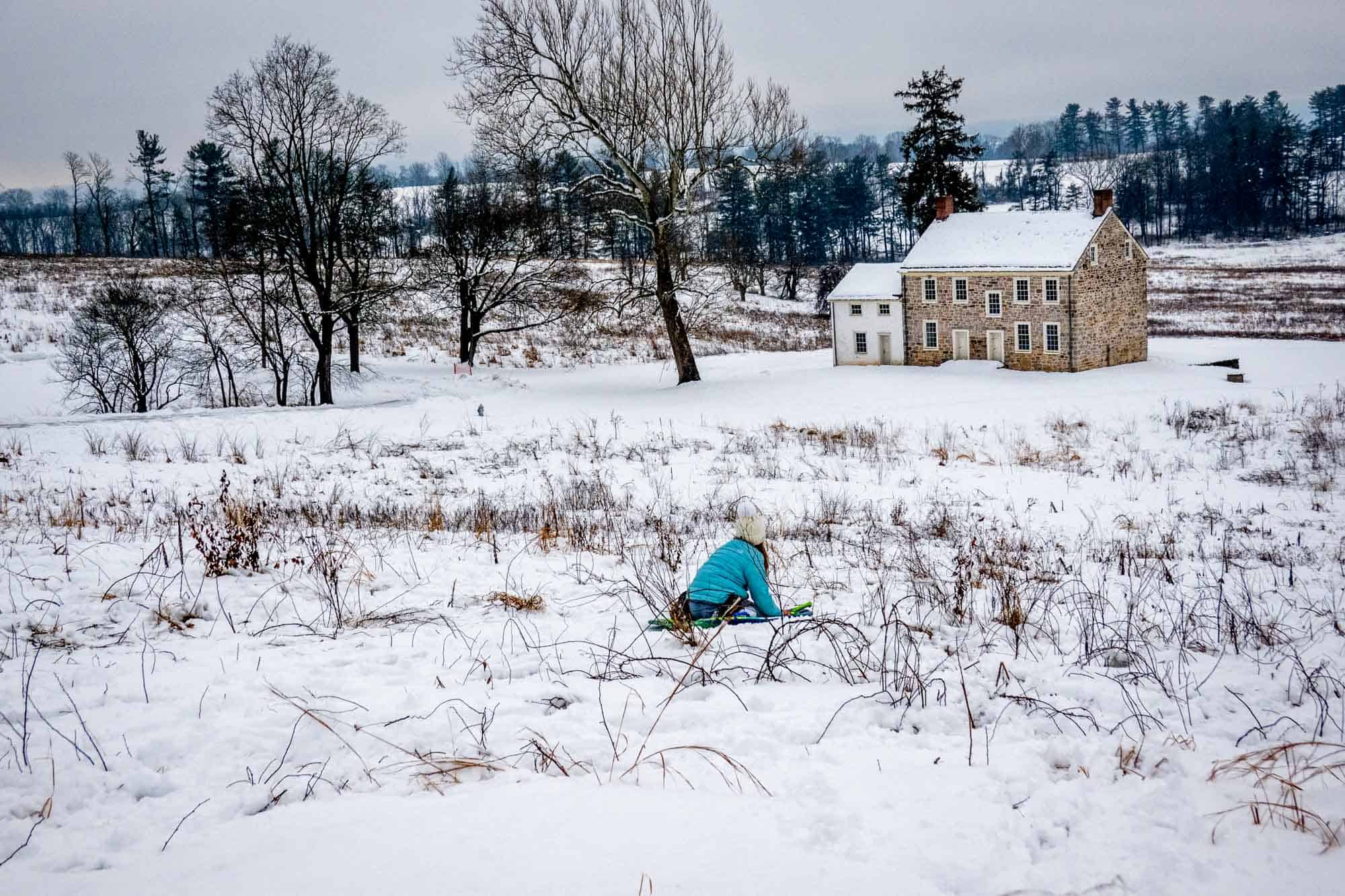 If you've ever driven through the fabulous historical park that was the location of George Washington's troops in the winter of 1777-78, you know just how hilly Valley Forge is. That's what makes it one of the best places for sledding in greater Philadelphia.
There are lots of good sledding hills in Valley Forge. During one of last year's big storms, we found three areas to be the most popular. The hill behind the Memorial Arch is unmissable, and Wayne Hill and the area by the Anthony Wayne statue (close to Baptist Road) was also popular. The area near the Washington Memorial Chapel down to the Maurice Stephens House had lots of people sledding as well as some cross-country skiers near the road and even one gentleman out painting the whole snowy scene.
Tyler State Park
Newtown's Tyler State Park is a popular place for sledding in Bucks County just 45 minutes from Philadelphia. Spanning more than 1700 acres, the state park is large, and much of it is a downhill slope. Two of the prime sledding locations are just below the Upper Plantation Picnic Area parking lot and west of the covered bridge. (Note: the road to the covered bridge parking lot is gravel and can be messy when there is snow.)
Mercer Museum
When it snows, sledding is one of the most popular things to do in Doylestown, and the area behind the Mercer Museum seems to draw just about everyone. The area isn't too steep, and there is plenty of room to slide safely away from streets and other hazards, even though it's in the center of town.
Central Park
About 3 miles from the Mercer Museum, Central Park is a 155-acre park with ample room for enjoying a snowfall. One particularly good place for sledding is near one of the picnic pavilions and the Kids Castle (a large wooden play structure). The area is wide with a slight slope, so it feels like you can go forever.
Rockwood Park
Just north of Wilmington, Rockwood Park is a fun place to visit on a snowy day. With 72 acres of hilly ground, this public park has lots of great sledding spots.