Some posts on this site contain affiliate links, meaning if you book or buy something through one of these links, we may earn a small commission (at no extra cost to you).
Philadelphia is America's Garden Capital and there's no shortage of greenery and open space within the city. But for those looking for a bit more adventure, there are some amazing state parks near Philadelphia to explore. Best of all, they can be reached in about an hour.
These state parks offer the chance for adventurers and naturalists to explore. They present great opportunities for hiking, camping, fishing, cycling, kayaking or boating. Whether you want to make a quick day trip or a long weekend, these parks offer everything you could want.
Ridley Creek State Park, Media, PA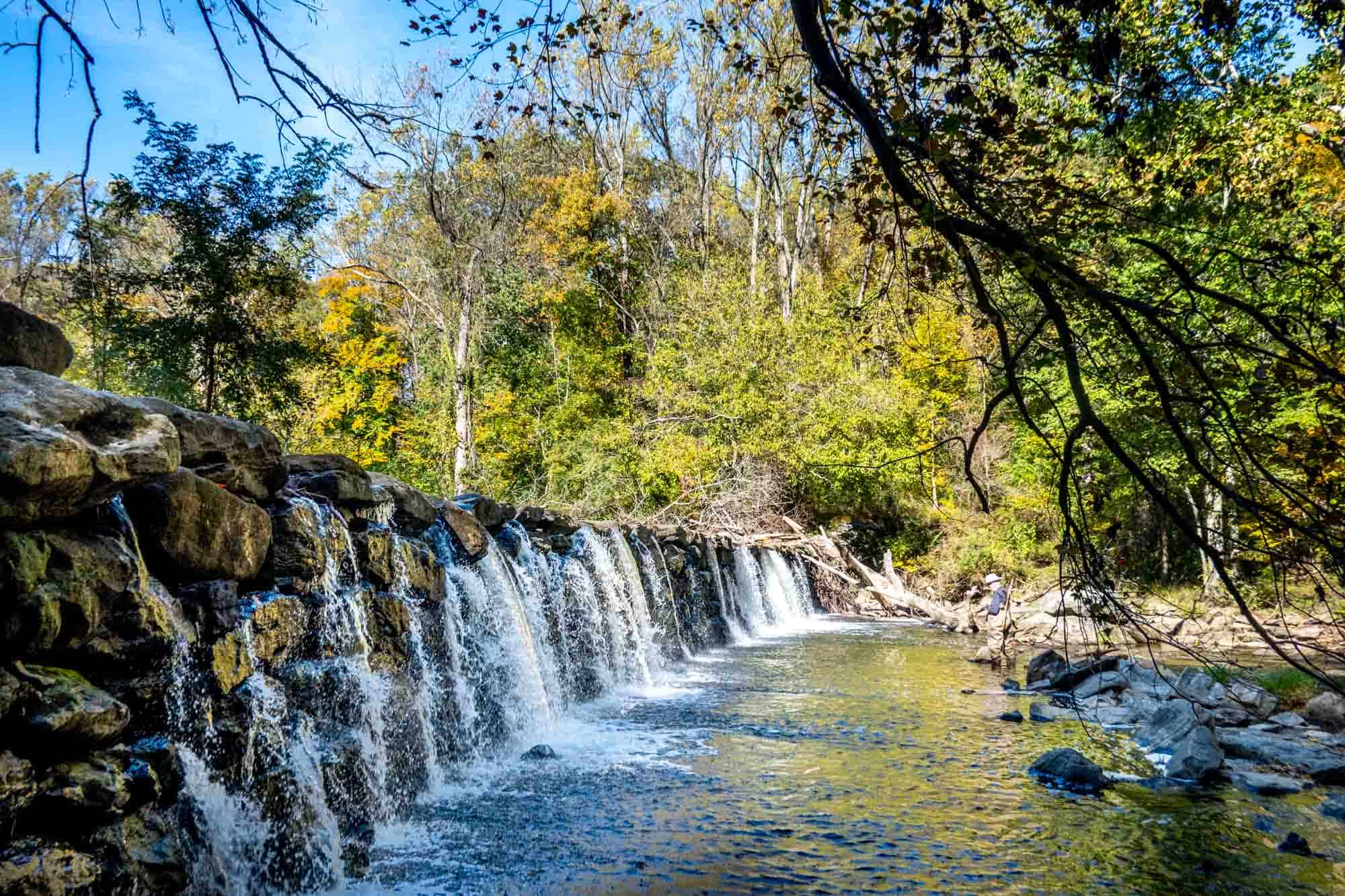 Among one of the best state parks near Philadelphia is Ridley Creek State Park. It sits on a 2,606-acre piece of land, located in Delaware County. It is home to the Hunting Hill Mansion, a prominent English manor with a unique architectural style that sits along the banks of Ridley Creek.
The original estate covered close to 2,000 acres and is located about 16 miles from Center City. Ridley Creek has horse stables, several formal gardens, and various trails. This spot is ideal for those who want to indulge in outdoor recreational activities such as picnicking, hiking, fishing, biking, among others.
Evansburg State Park, Collegeville, PA
Evansburg State Park is spread across several townships in Montgomery County. This particular spot is expansive, covering 3,349 acres, and is the antithesis of busy city life. It is rich in forests, historic farmlands, meadows, and fields. Among the scenic places here is Skippack Creek, which has valleys and hills with vistas ideal for sightseeing.
In Skippack, the first settlers, Mennonite farmers, used water from the region to power their industries. Early American life can still be seen in the mill remnants and buildings from eighteenth and nineteenth-century, making it a good spot for history buffs. Visitors who love the outdoors can go on picnics, bike rides, and even play golf.
Nockamixon State Park, Quakertown, PA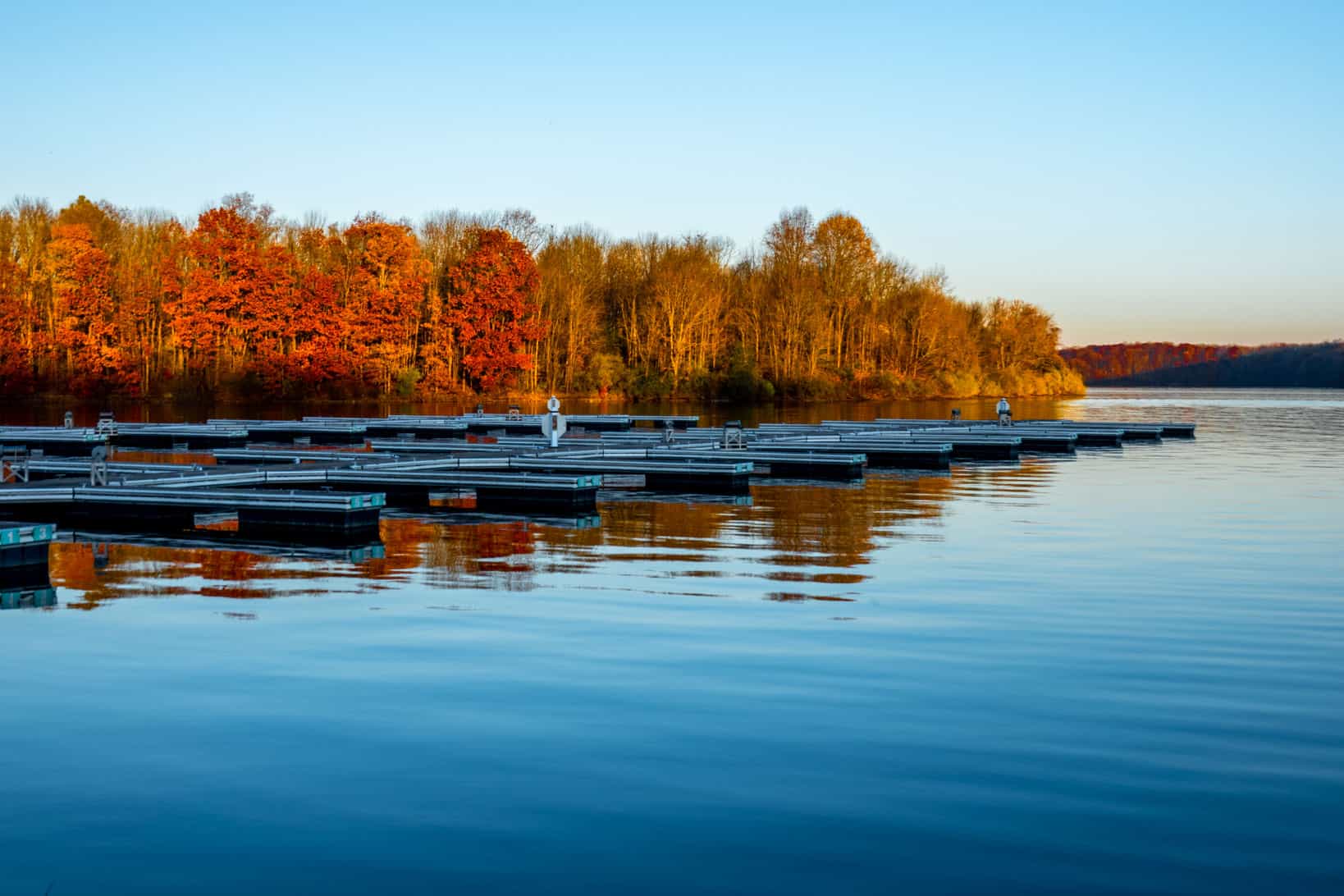 Another spectacular place near Philadelphia is the Nockamixon State Park near Quakertown. Sitting on 5,283 acres, this spot in northern Bucks County is in Bedminster and Haycock Townships. It has a 1450-acre lake that is a waterfowl migration rest stop, and an excellent boating and angling spot.
Nockamixon is also among the most popular parks in Southeastern Pennsylvania, with many tourists visiting during summer. Some of the popular activities for visitors can include hiking, bow hunting, disc golfing, and swimming. There are cabins for those who want to spend the night away from the city.
The Nockamixon Park also offers environmental education and programs for children teaching them to be more environmentally conscious and appreciate the stewardship of our natural resources.
French Creek State Park, Elverson, PA
French Creek State Park is among one of the most popular Pennsylvania state parks. It sits on a 7,526-acre location in Berks and Chester Counties. It is home to two lakes: Hopewell that covers 68 acres and Scotts Run that sits on 22 acres. Initially, the woods here provided the lumber that fueled the early American industrial complex at nearby Hopewell Furnace, but now French Creek is a great tourist attraction and home to abundant wildlife and some rare plant species.
This woodland is best known for being the largest dense forest between New York City and Washington D.C. Visitors can engage in outdoor recreational activities such as hiking, camping, fishing, and biking. During spring, summer, and fall, there's usually a naturalist who leads guided walks for visitors and provides information about the natural resources and local history.
Marsh Creek State Park, Downingtown, PA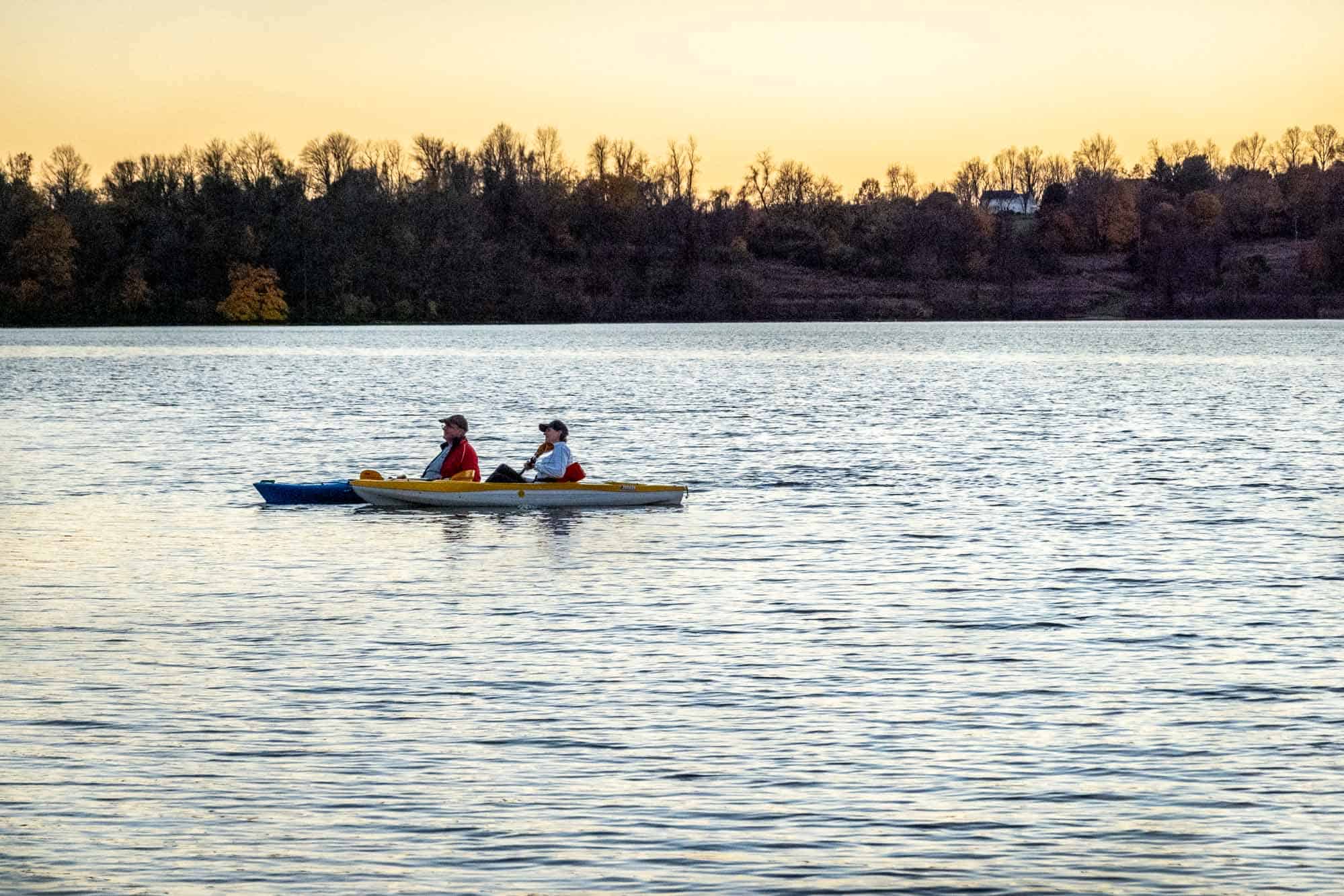 This 1,705-acre recreation area in Chester County, Pennsylvania, is another beautiful destination. Marsh Creek State Park has a 535-acre man-made lake, which is a popular resting stop for migrating waterfowl, and the perfect spot for fishing and sailing. The artificial lake was initially established to help provide adequate drinking water for the Chester County Water Resource Authority, but has also been turned into a recreation paradise.
A wide range of hands-on environmental education programs are offered, teaching stewardship of our natural resources. The guided walks are great, especially for first-time visitors. It's worth mentioning that, on busy weekends during the summer, it often gets packed to the brim, and therefore, the earlier you go, the better.
Benjamin Rush State Park, Philadelphia, PA
Situated in Philadelphia, Pennsylvania, Benjamin Rush SP is another lovely place for unwinding and sightseeing. Sitting on just 275 acres, this is only state park located within the city of Philadelphia. It is best known for hosting the Northeast Radio Controlled Airplane Club, where visitors can fly model airplanes. It has a community garden that's believed to be one of the largest in the world. Gardeners are allowed to rent space in the community garden where they can grow vegetables and flowers.
Visitors get to explore the Pennsylvania woodlands without ever leaving the city. Various trails meander through wooded areas. This spot is ideal for hikers, cyclists, and even bird and wildlife lovers; however, hunting is prohibited.
Fort Washington State Park, Fort Washington PA
One of the top state parks for history is Fort Washington. This wooded area covers over 493 acres in Springfield and Whitemarsh Townships of Montgomery County. Founded in the 1920s by the Fairmount Park Commission, this park is named after General George Washington and the fort that was built here during the 1777 Philadelphia campaign of the American Revolutionary War. After the Battle of Germantown and several notable skirmishes, the troops left Fort Washington to spend the winter at Valley Forge.
Today, Fort Washington is renowned for its display of flowering dogwood trees during the spring. It is also an excellent spot for outdoor activities such as hiking, cross-country skiing, and picnics. Bird enthusiasts also have the privilege of watching the seasonal raptor migration from the observation deck, making this one of the best spots for birding near Philadelphia. The small campground is one of the closest places for camping near the city.
Washington's Crossing Historic Park, Titusville, NJ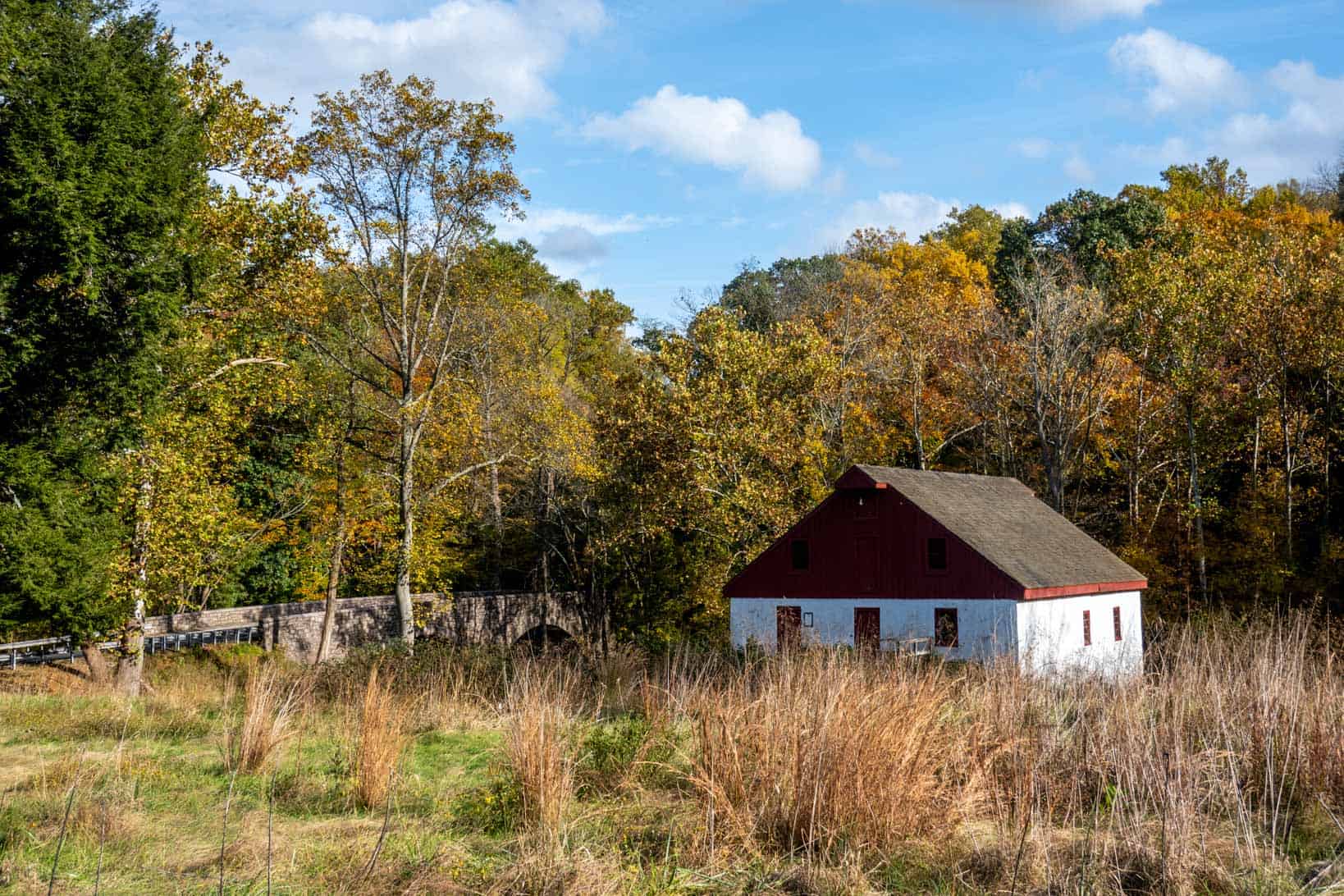 Located in Mercer County along the Delaware River, Washington's Crossing Historic Park sits on 3,575 acres. Initially preserved for its historical importance and heritage, it is also known for its numerous trials and wildlife conservation. It has a wide variety of both summer and spring wildflowers throughout the meadows.
Some of the plants include Japanese larch, red pine, Norway spruce, etc. When it comes to wildlife, there are foxes, whitetail deer, great horned owl, raccoons, red-shouldered hawk, and red-tailed hawk.
Visitors who love outdoor recreational activities can go on trial hikes, picnicking, horseback riding, cycling, and during winter, cross-country skiing. Washington's Crossing Historic Park also has an open-air theatre and a museum that showcases the history of the American Revolution War, making it an ideal place for history buffs.
Alapocas Run State Park, Wilmington, DE
This state park near Philadelphia covers 415 acres in Wilmington, Delaware, along the Brandywine Creek. It was initially created as a 123-acre woodland formally known as Alapocas Woods until 1910, when a philanthropist and conservationist donated a portion of land, making Alapocas the size it is today.
Alapocas Run has a visitor's center known as the Blue Ball Barn, which also contains an art collection with over 120 artworks from local artists, as well as permanent exhibits about the park. Art lovers get to enjoy the diverse artistic heritage while visiting. Alternatively, visitors can hike or bike on the expansive trails. It has a public golf course and is also ideal for picnicking and sightseeing.