Filled with fun shops and trendy eateries, this neighborhood has always been one of the most popular areas of the city to go out. Add in the nightclubs and some of the best bars in the city, and you have a the perfect recipe for a night on the town. But whether you call it Midtown Village or The Gayborhood, there's much more of this area to discover.
What is Midtown Village and The Gayborhood like?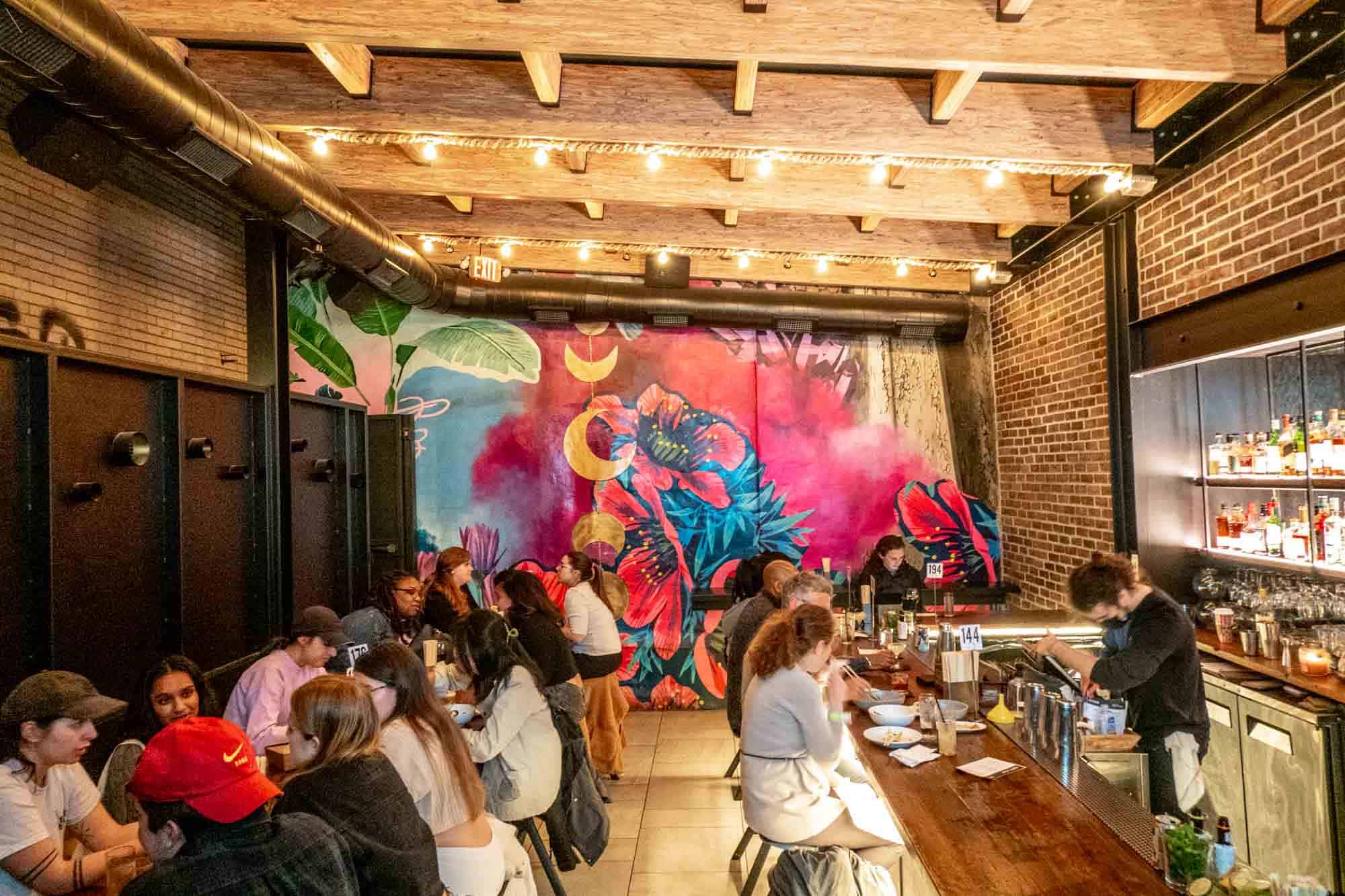 If you ask someone who lives between Rittenhouse Square and Old City what their neighborhood is called, you will likely get at least three different answers. The rectangular section of Center City between 11th and Broad, and Market and Spruce streets is aptly called "Midtown Village" for its central location and extends to include the widely-renowned Gayborhood, a hub for LGBTQ+ nightclubs, bars, and community centers.
One word to describe this section of Philadelphia is "lively," with a surplus of the city's hottest restaurants, bars, and small businesses. Midtown Village is the perfect place to experience Philly nightlife at its finest.
Fast Facts
Population: 5,033
Median age: 30
Median rent: $1,845
Median home value: $550,048
Where is it?
Midtown Village stretches north to south from Market to Spruce Street and east to west from 11th Street to Broad Street. Gayborhood affiliated businesses tend to sit on the south end of these boundaries.
History
While much of Midtown Village is accented by a modern vibe, the neighborhood is brimming with history from its architectural treasures to its LGBTQ+ cultural ties. Together, Midtown Village and the Gayborhood fit into a larger area called, "Washington Square West." This name came into official use in the late 1950s as part of a comprehensive urban renewal plan.
After purchasing and subsequently demolishing many of the neighborhood's buildings in the 1970s, the Philadelphia Redevelopment Authority had lost a majority of its federal funding, and the area was left partially razed.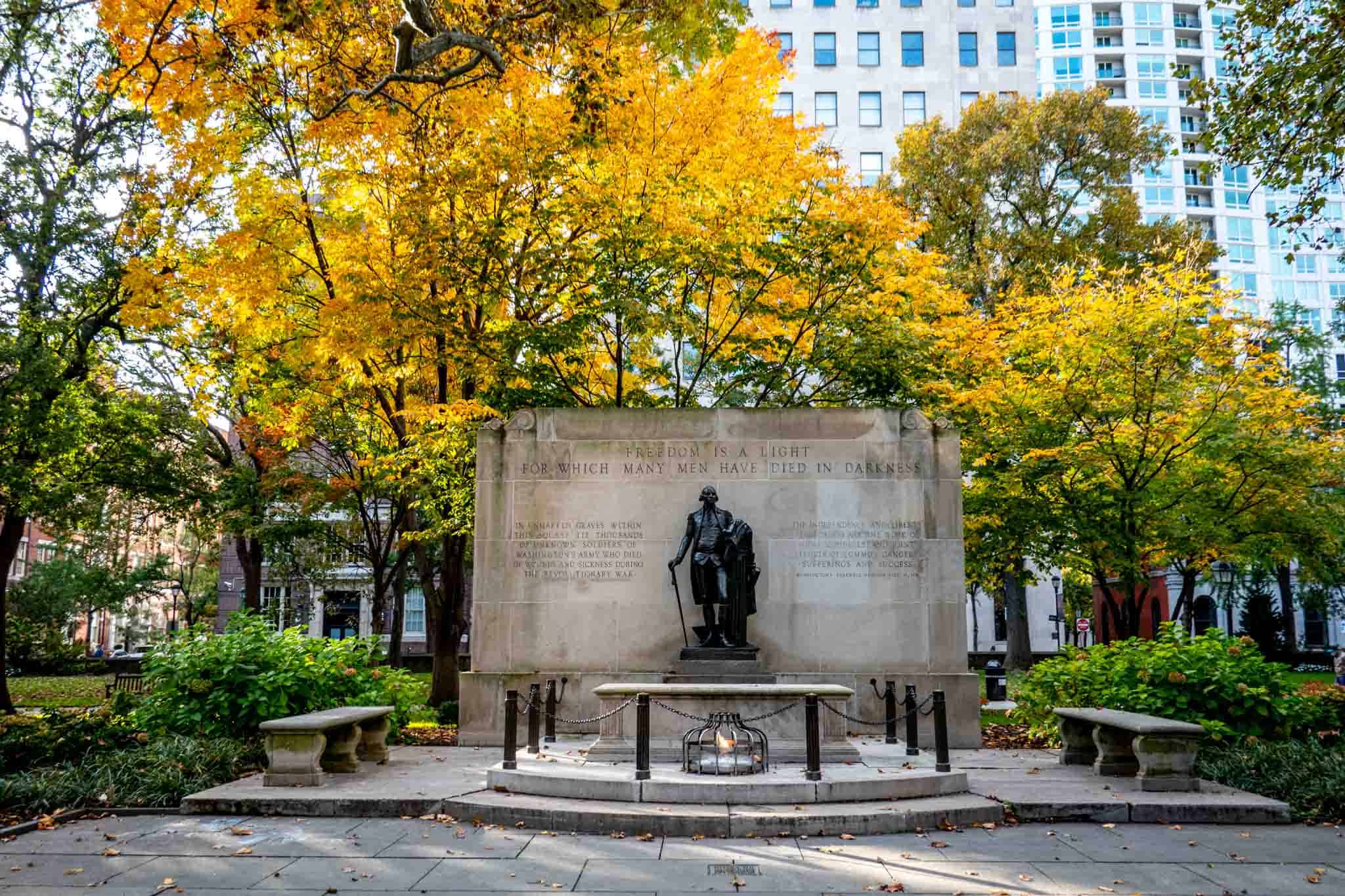 However, as Washington Square West's Gayborhood began to slowly develop in the 70s and 80s, the area began to slowly recover, gaining a spot on the National Register of Historic Places in 1984.
Historically, what is now referred to as Midtown Village and the Gayborhood was only known as "The Gayborhood," a safe space for the LGBTQ+ community as early as the 1930s. Thus, the area's attempt to rebrand this historical landmark to "Midtown Village," has been met with some resistance over the years.
Whether you want to call it Washington Square West, Midtown Village, or the Gayborhood, this ever-developing neighborhood provides a vibrant atmosphere for creatives, night owls, and historians alike.
Don't Miss
Eat and drink your way through one of the liveliest neighborhoods in Philly.
Sites
Historical Society of Pennsylvania – Founded in 1824, the Historical Society of Pennsylvania houses some 600,000 printed items and over 19 million manuscript and graphic items, including collections on Pennsylvania and regional history dating back to the 17th century.
Witherspoon Building – This architectural beauty was designed by Joseph M. Huston for the Presbyterian Board of Publications and Sabbath School Work. It stands today at 11 stories on the intersection of 13th and Walnut Street.
Pride & Progress mural – Philly's got Pride! Occupying the entire west wall of the William Way Center, an LGBTQ+ community center, this mural depicts a colorful gay pride festival to celebrate the strides that Philadelphia has made in achieving civil rights for this community.
Beyond the Bell Tour – Keeping the facts straight and the history gay, this historical tour of the Gayborhood gets into the details nitty-gritty of Philadelphia's LGBTQ+ roots.
Good eats
Barbuzzo – Fresh and flavorful Mediterranean bites, amplified by a cozy, romantic ambiance. For a decadent finish, try their famous salted caramel budino!
Little Nonna's – A five-star Italian meal with mom and pop energy, Little Nonna's is a fan-favorite when it comes to the Italian food scene in Philadelphia. The Sunday gravy special is legendary.
Tria Cafe Wash West – A quintessential pre-dinner drinks spot. Tria serves only the best natural wines and curated cocktails with small bites like warm poached figs with gorgonzola and prosciutto di parma.
Chatayee Thai – Head over to Chatayee for your happy hour fix where you will find generous portions of authentic Thai cuisine.
Alpen Rose – Fulfill all your speakeasy fantasies at this elegant, center city steakhouse. End the night with their legendary baked Alaska.
IndeBlue – An Indian restaurant that does brunch? Count us in. Indeblue has been rated in the top 10 Indian restaurants in the US for their unbeatable dishes and outstanding service.
Talula's Garden – Enjoy farm-fresh ingredients under twinkly lights and floral shade. Talula's is the perfect place to celebrate a special occasion with the option to indulge in a chef's tasting menu.
Oloroso – Top-notch tapas for lovers of Spanish cuisine. Reserve a table for your next date night or group outing!
Sampan – A neighborhood go-to, Sampan offers Asian fusion in a hip atmosphere. Their happy hour menu is available Monday through Friday and definitely gives you a bang for your buck.
Strangelove's – Dive bar meets hipster cafe with a bangin' burger. Strangelove's has Sunday brunch specials as well as Tuesday Bingo night!
Cogito Coffee – A clean, modern space with killer coffee and small bites to take on the go.
Writer's Block Rehab – Heads up, book lovers! This literary-themed bar serves cleverly named artisanal cocktails in a three-story, upscale setting.
Woody's – You can't officially say that you've been to Gayborhood if you haven't ventured into Woody's at least once. Get ready to dance!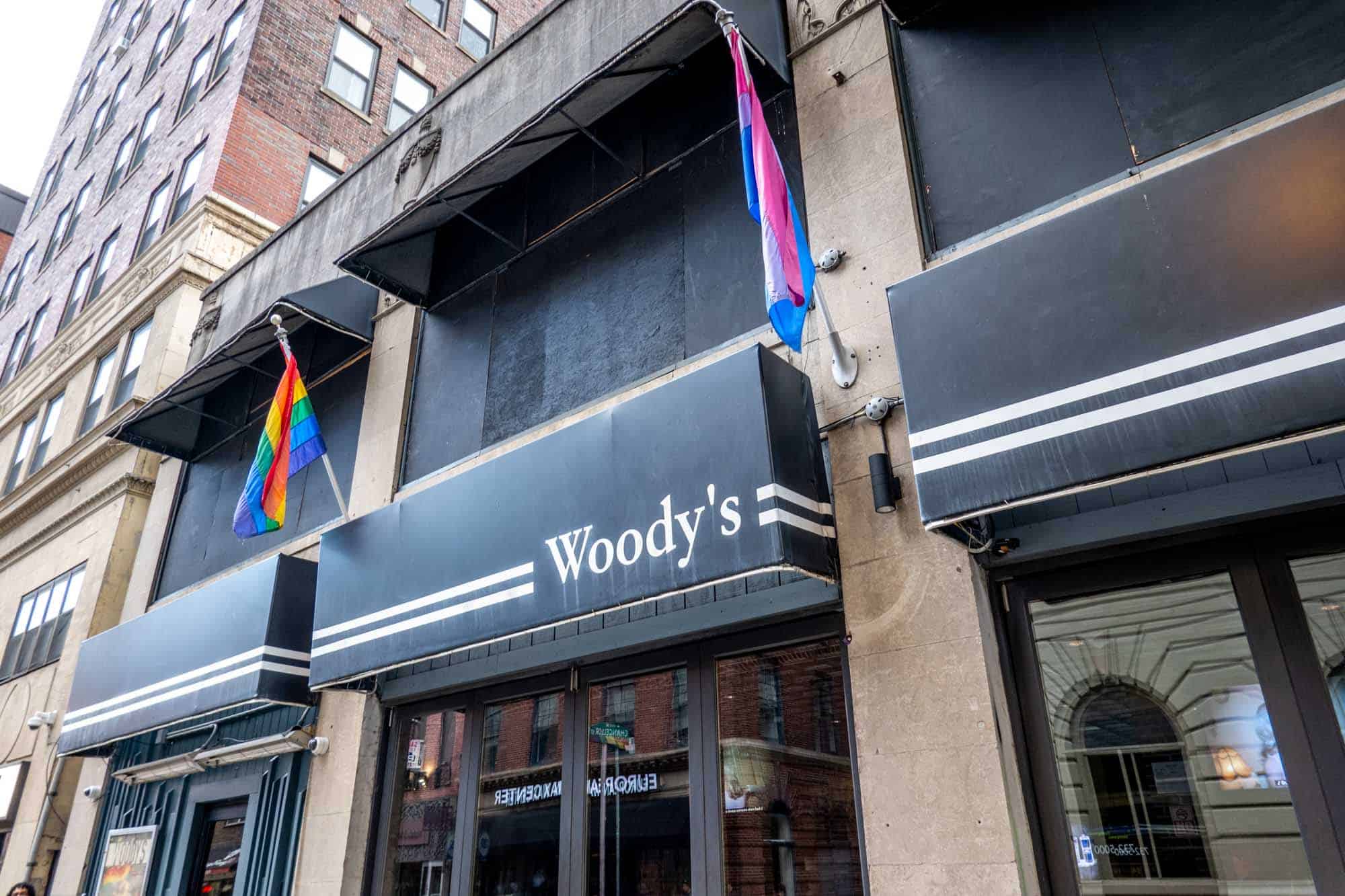 Voyeur Nightclub – Voyeur is dangerously fun. The music is always upbeat and the drinks are always strong. Come a little early to avoid a steep cover charge.
Vedge – You don't need to be an herbivore to obsess over the tasty vegetarian and vegan dishes at Vedge! Excellent service and atmosphere to boot. Read our detailed Vedge review.
El Vez – If you're a guacamole snob, El Vez is gonna knock your socks off. Seriously good Mexican food and cocktails with funky, colorful decor to set the mood.
Charlie was a sinner – Another great spot for our plant-based friends. Think dark wood, soft lighting, and tapas-style vegan eats—yum! Also, one of the best cocktail bars in the city.
Graffiti Bar – Sampan's backyard, open-air patio. The space is small but the energy is contagious and you can order food from Sampan's kitchen.
Bud & Marilyn's – Another Midtown Village staple with upscale comfort food for the weary traveler. The Nashville hot chicken buns are life-changing and the cheese curds are divine. Also a location in the airport.
Vintage Wine Bar – A French/American Bistro with an international wine list of over 60 wines by the glass. The wine is to die for but the share plates are even better.
Shops and Businesses
Open House – Give yourself plenty of time to meander about this extensive gift shop. With amazing trinkets, tumblers, and bags, there is something for everyone on your list.
Duross & Langel – Stop and smell the soap! I mean, seriously, this store smells so good. Hand-crafted, natural soaps, bath bombs, and fragrances galore. Leave smelling better than how you came.
Giovanni's Room – Slightly outside the neighborhood boundaries but certainly worth the mention, this bookstore/secondhand clothing store is a gayborhood landmark. Their LGBTQ+ reading selection is expansive and the storefront decor is always charming.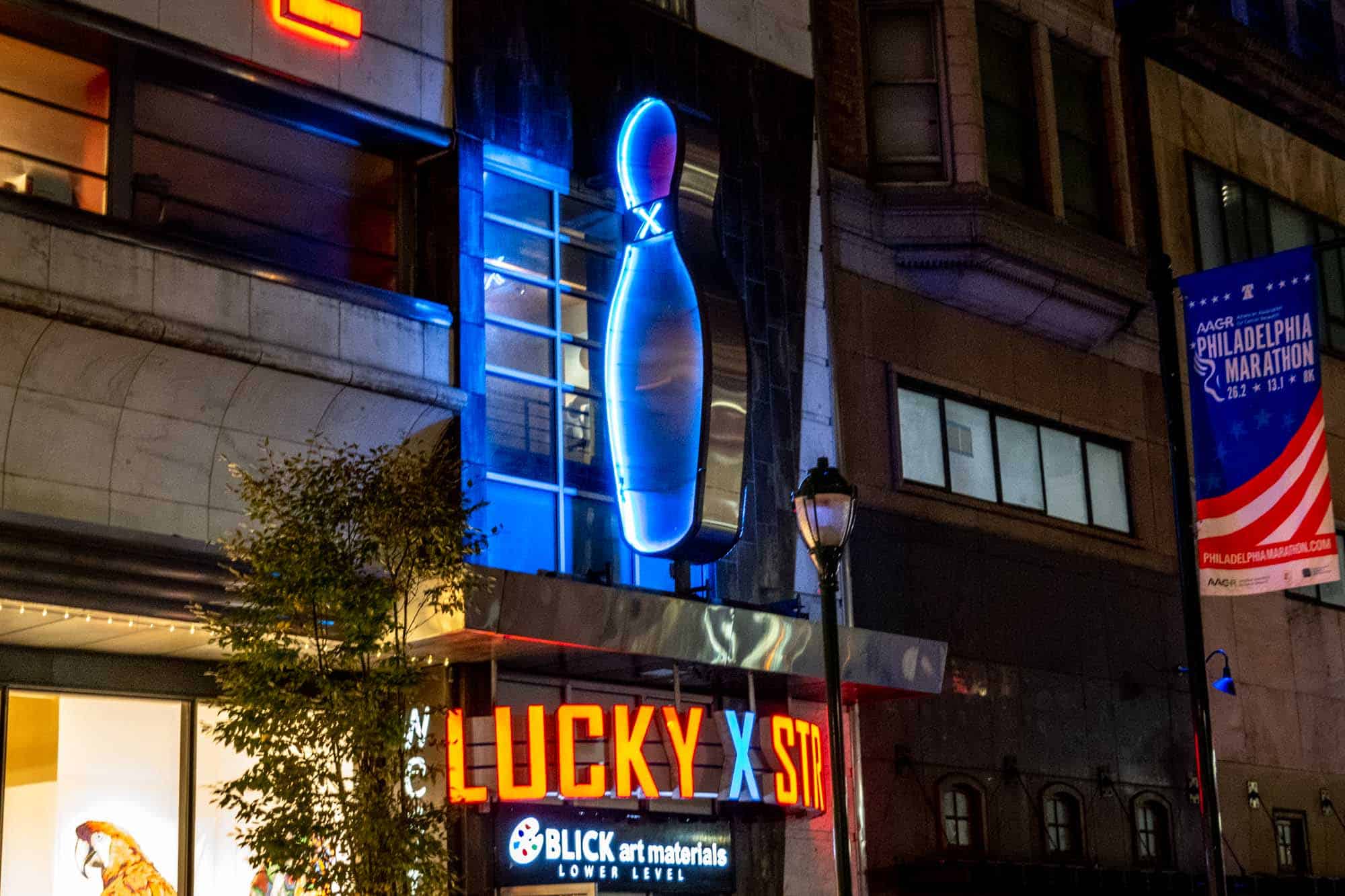 Lucky Strike – Reserve a lane or two and get the ball rolling! Lucky Strike is a bowling alley bar with plenty of space to throw a company event or birthday party. The ice cream sundaes are definitely a plus!
Arader Galleries – The world's leading dealer and auction house of rare maps, prints, books, and watercolors of the 16th through 19th centuries. Stop in and take a gander.
Where to Stay
Alexander Inn – Top-rated boutique hotel, within walking distance of many of Philly's best attractions. Built between 1890 and 1900 as an upscale apartment hotel, you will be staying in a historical artifact.
Canopy by Hilton – Complimentary bikes to stroll through the city? Federal Donuts in the same building? Canopy is hard to beat in terms of luxury accommodation and proximity to Center City.
DoubleTree by Hilton – Located directly on Broad Street, the DoubleTree offers outstanding views of the city. Additionally, it is a stone's throw away from the Kimmel Center where you can catch top-rated musical performances.
Loews Philadelphia Hotel – Loews is committed to providing guests with modern luxury. Rooms at the Loews are spacious, clean, and comfortable with birds-eye views of the Philadelphia skyline.
How to Get There
Midtown Village and the Gayborhood are easily accessible by the SEPTA Broad Street line at Walnut Street or on the Market Street line at 13th. Bike lanes are provided, but this area can get very crowded so take precautions.