Some posts on this site contain affiliate links, meaning if you book or buy something through one of these links, we may earn a small commission (at no extra cost to you).
In a city known for good food, it shouldn't surprise you that Philadelphia has some of the best pizza anywhere. From hole in the wall corner shops to named establishments from celebrity chefs, here is the best pizza in Philadelphia.
The city's history with this iconic food traces its roots to the Italian immigrants who helped found this city. Some of the oldest pizza shops in America can be found here.
There's also an usual amount of pizza in Philly. Over 15% of all restaurants in the city are pizzerias, which is the highest percentage in the nation. And while there is great pizza in the Italian Market and South Philly, these days you can find superb versions in every section in the city.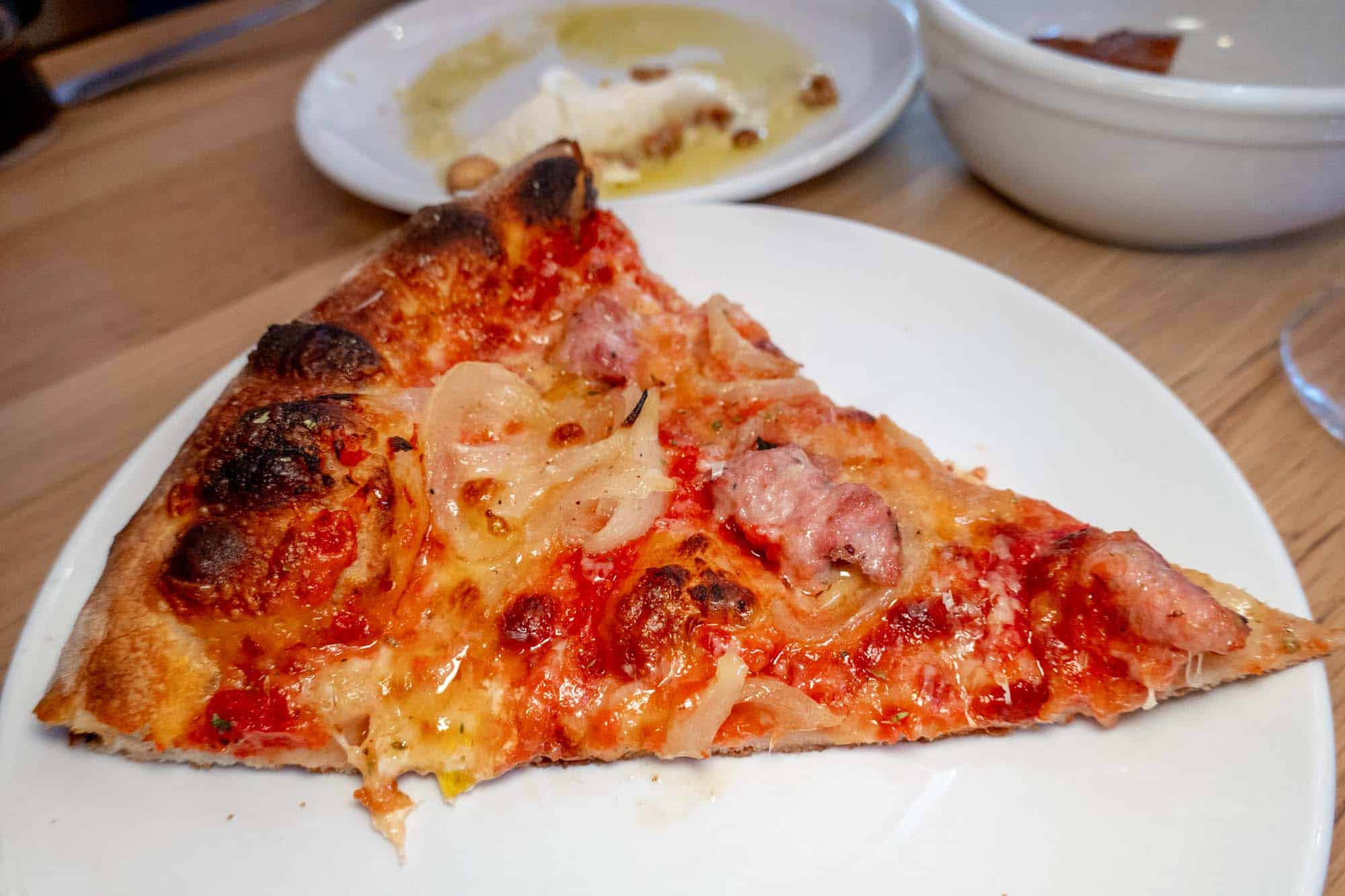 So dive in and find your favorite pizza. Here we list the top Philadelphia pizzerias in alphabetical order.
Barbuzzo
There's pizza and then there's gourmet pizza. For many, Barbuzzo in the heart of Center City is their gateway to gourmet pies. From the dynamic duo of Marcie Turney and Val Safran, this has been a must-eat spot in the city for years. And it was where we decided to launch our mission of trying the pizza places in Philadelphia.
All the foodies rave about the Uovo pizza with its secret white sauce, Brussel sprouts, buffalo mozzarella and truffle egg. That's an awful lot to deal with on a pizza. The Margherita with buffalo mozzarella and San Marzano tomatoes is one of the great classic pies in the city. But we're a bit partial to the spicy Calabrese with 'nduja and soppressata and a little fermented chili and some soothing honey. This is one of those pizzas you write home about. Located at 110 South 13th Street. Learn more.
Circles + Squares
This upstart in the Kensington/Olde Richmond neighborhood feels a lot like the original Pizzeria Beddia, and there's a good reason for that. Circles + Squares is the creation of Dan Gutter, who worked for Joe Beddia at version 1.0 of the 'Best in America' pizza shop. Circles + Squares has that same vibe: there's no phone, the online ordering is complex, and the hours can sometimes be inconsistent. But that's not to say that Circles + Squares is derivative. In fact, it's pretty far from it.
For those who can navigate the challenges, you'll be rewarded with one of the top pizzas in the city. You can get either a 16" hand tossed round pie or the 10" square Detroit-style pan pizza pie. Either has a delicious charred buttery crust topped with delicious sauce and whatever toppings your heart desires. Located at 2513 Tulip Street. No website, order on Toasttab.
Down North Pizza
Located in the Strawberry Mansion section of the city, Down North Pizza has been one of the most hyped pizza shops because of its unique mission of giving opportunities to formerly incarcerated individuals. That mission extends far beyond just an hourly wage to truly transforming lives.
And eating pizza from Down North will transform your life! This is the best version of Detroit-style pizza in the city. It's best order as a 'Roc The Mic' – a heady combo of four cheese and beef pepperoni, along with their signature Norf Sauce. Yes, they've got great dough and a good crust. But the secret here really is the sauce: a tangy and spicy combination that holds up well to the thick, crispy crust. The only downside is that the are only open Thursday-Sunday from noon until they sell out. Located at 2804 West Lehigh Avenue. Learn more.
Eeva
In a rapidly evolving part of South Kensington, Eeva sets the bar for natural pizza in the city. What's natural pizza? They use naturally fermented dough along with locally sourced ingredients to create their Neapolitan-styled pizza pies. The fresh ricotta with sourdough focaccia and honey is excellent. The pizzas change with the season, but the always-on Margherita is a classic.
The intimate space and minimalist décor, make this a good spot for a date or just meet old friends for a good chat. Sit at the pizza bar for a view of the show. They also have an on-site bakery and bottle shop, and are co-located with ReAnimator Coffee (one of the best coffee spots in the city). Located at 310 Master Street. Learn more.
Hook & Master
Nothing about Hook & Master makes sense – right up until your first bite of pizza. It's a pizza joint…with a nautical theme, a giant Octopus mural, a tiki bar with fruity drinks, nightclub-worthy black walls, and accents that look like they were left over from some Dorothy Draper project. In one word, it is bizarre.
And yet, if you can get past all the weirdness, the food is really quite remarkable. They serve what they call Chicago pan-style (not quite a true deep dish, but damn close) and tavern-style (cracker thin), which are build your own. But they are best known for their Brooklyn-style pies with unusual toppings. The Carbonara (bacon, peas, egg) is probably one of the most remarkable pizzas we've ever had and we still talk about it. Pro-tip: Order your usual favorite pie, and get a second one with unusual toppings to try. Located at 1361 2nd Street. Learn more.
Osteria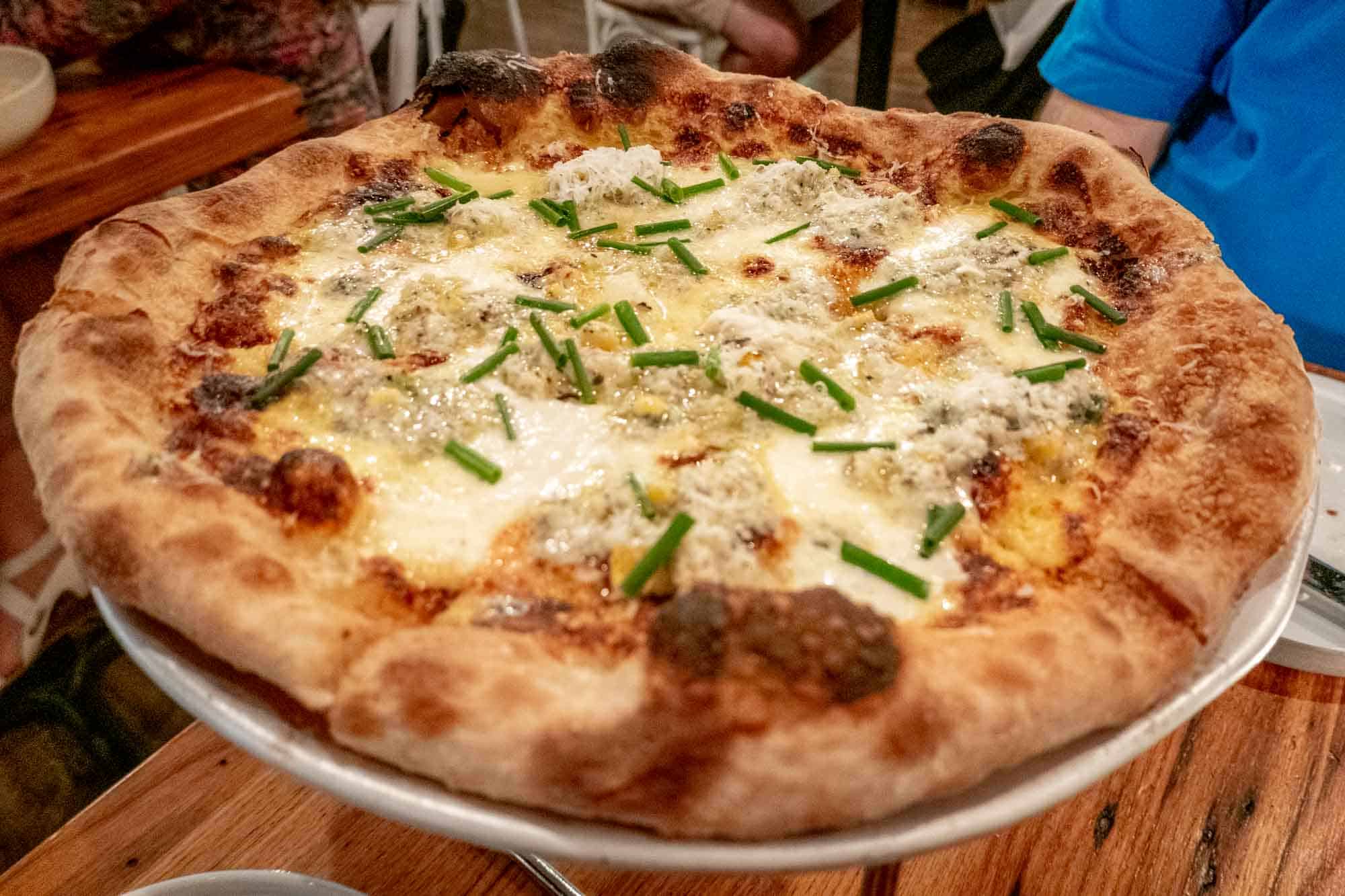 For many people in Philly, Osteria set the bar for gourmet pizza. It literally revolutionized and then defined the Philadelphia pizza scene with incredible crust and inventive ingredients. When it opened, many of the city's old standbys had grown tired and monotonous. Osteria delivered an entirely different pizza experience – and we loved them for it.
In recent years, it has so many ownership and management changes that it looked like it was vying for a spot on a reality show. Thankfully, stability has returned and brought the great pizza with it. The seasonal truffle and corn white pizza was a mouthwatering and life changing experience. Yes, you can get some of the old standbys here. But in a spot known for invention, why not branch out? Located at 640 North Broad Street. Learn more.
Pizza Brain
Pizza Brain is a slice shop that doubles as the world's first pizza museum, complete with tons of pizza-related artifacts. To the casual visitor, you could diss it as shtick or a gimmick, but that would be a mistake. Pizza Brain has pioneered the use of unusual and bizarre toppings. Whether you like a Buffalo Chicken pie (called the "Buffy Ernest") or some of their specials (some with fruit, honey, and other unusual toppings).
Their "Forbes Waggensense" is one of the best pepperoni pizzas in Philly. Full stop. On any given day, there are a rotating selection of pizzas available by the slice. Of course, all pizzas are available as whole pies. Located at 2313 Frankford Avenue. Learn more.
Pizza Jawn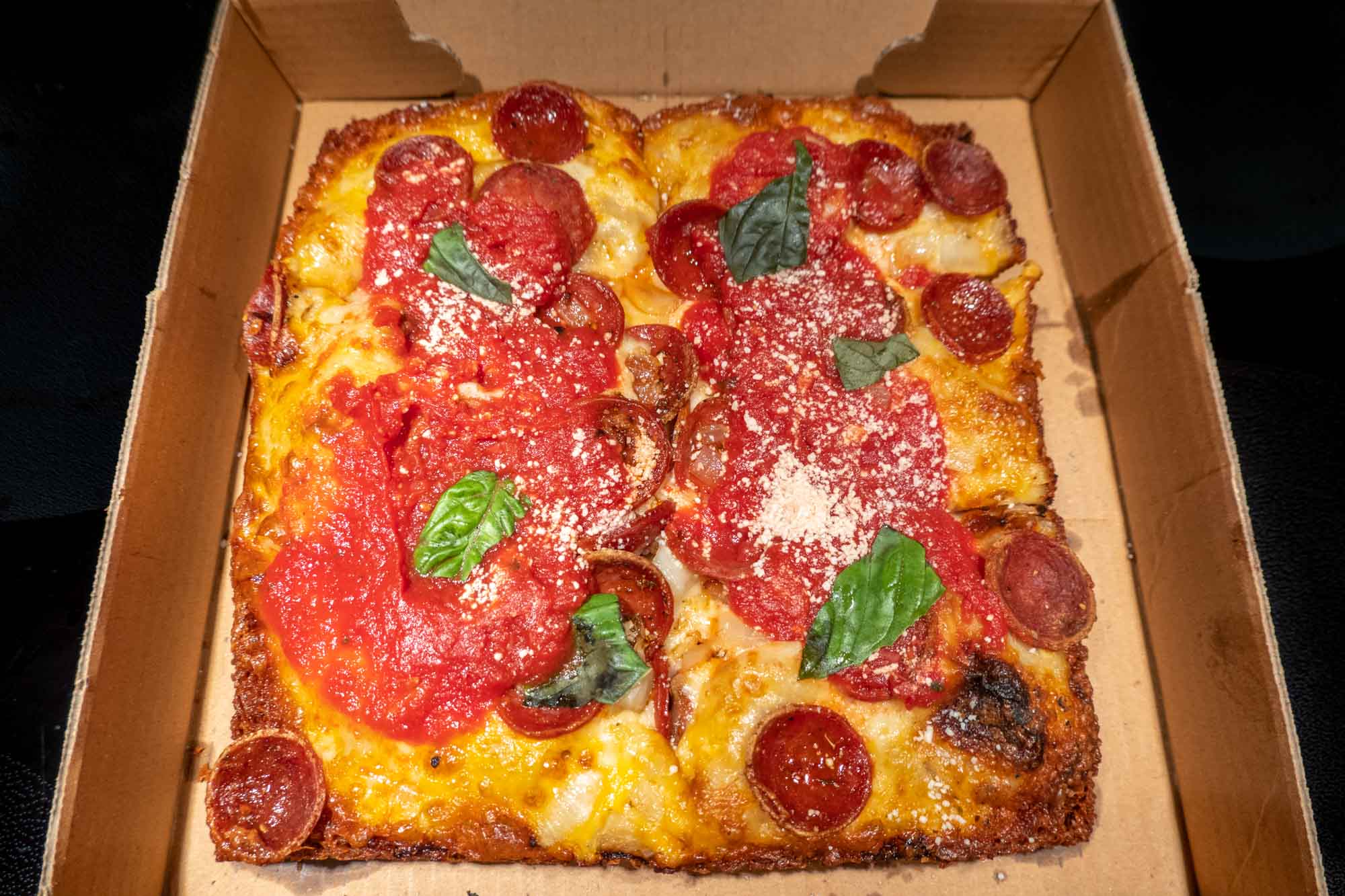 Located in Manayunk, Pizza Jawn has carved out a niche for one of the most difficult pizzas to obtain in the city (although it is much better now!) and is named for the city's famous all-purpose noun. First a pop-up, then a mobile pizza company, and now finally a Main Street location, Pizza Jawn has what we consider to be Philly's best pizza. We should know, we order it a lot! (Pro tip: When available as a special, their cheesesteak is absolutely one of the best in the city.)
Inspired by his mentors Joe Beddia, Dan Gutter, and others, David Lee and his crew at Pizza Jawn dish out a trio of delicious pies. You've got the Grandmas (a 16" square pizza with their signature sesame seed bottom), the Round (a New York-Neapolitan hybrid crust), and the now popular/trendy Detroit Style (complete with high, cheesy sides). Throw on your favorite toppings (they have dozens of options) and you are set. Fair warning, you'll be finding sesame seeds for days! Order early, they sell out long before closing time. Located at 4330 Main Street. Learn more.
Pizza Shackamaxon
When it comes to Philly slice shops, there's Pizza Shackamaxon and then there's everything else. Stepping into the footsteps of old Pizzeria Beddia version 1.0 on Girard, Shackamaxon took a risk and won. This slice shop isn't some poor Beddia imitation, its excellent in its own right. We'd go so far as to say it is the best by-the-slice pizza in the city.
Shackamaxon is also home to the mega-slice. They are proud of their pizza and it shows. You can get your pizza one of four ways: plain, pepperoni, red tomato pie, and the weekly special (which can include options like burrata or Cacio e Pepe). And yes, if you really love it, you can now order whole pies. Remember, no online ordering and no phone. Located at 115 East Girard Avenue. Learn more.
Pizzeria Beddia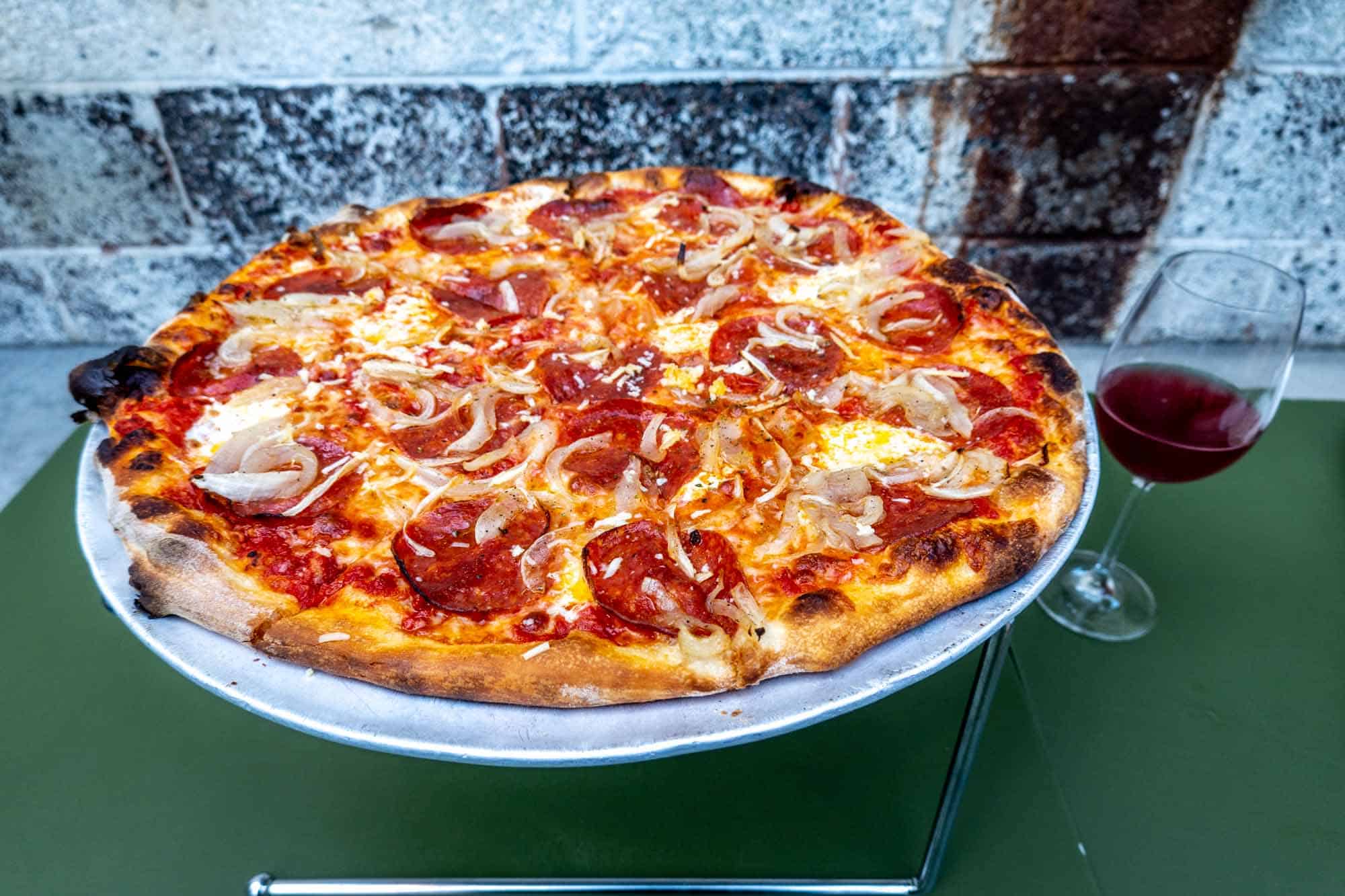 Pizzeria Beddia was once anointed as the Best Pizza in America by Bon Appetit magazine. That's a lot to live up to for any establishment. And while the title 'Best in America' is hotly debated, that this might be the best pizza in Philly is not.
Chef Joe Beddia has given us a zen-like pizza experience. With obsessive resolve and unrelenting quality standards, there is no room for mediocrity here. Make a reservation and walk up to the uber-minimalistic décor of this one-time auto garage now turned pizza temple.
You'll find a simple menu, with everything prepared to perfection. Located at 1313 N Lee Street. Learn more. If you want to learn more, read our Pizzeria Beddia review.
Pizzeria Vetri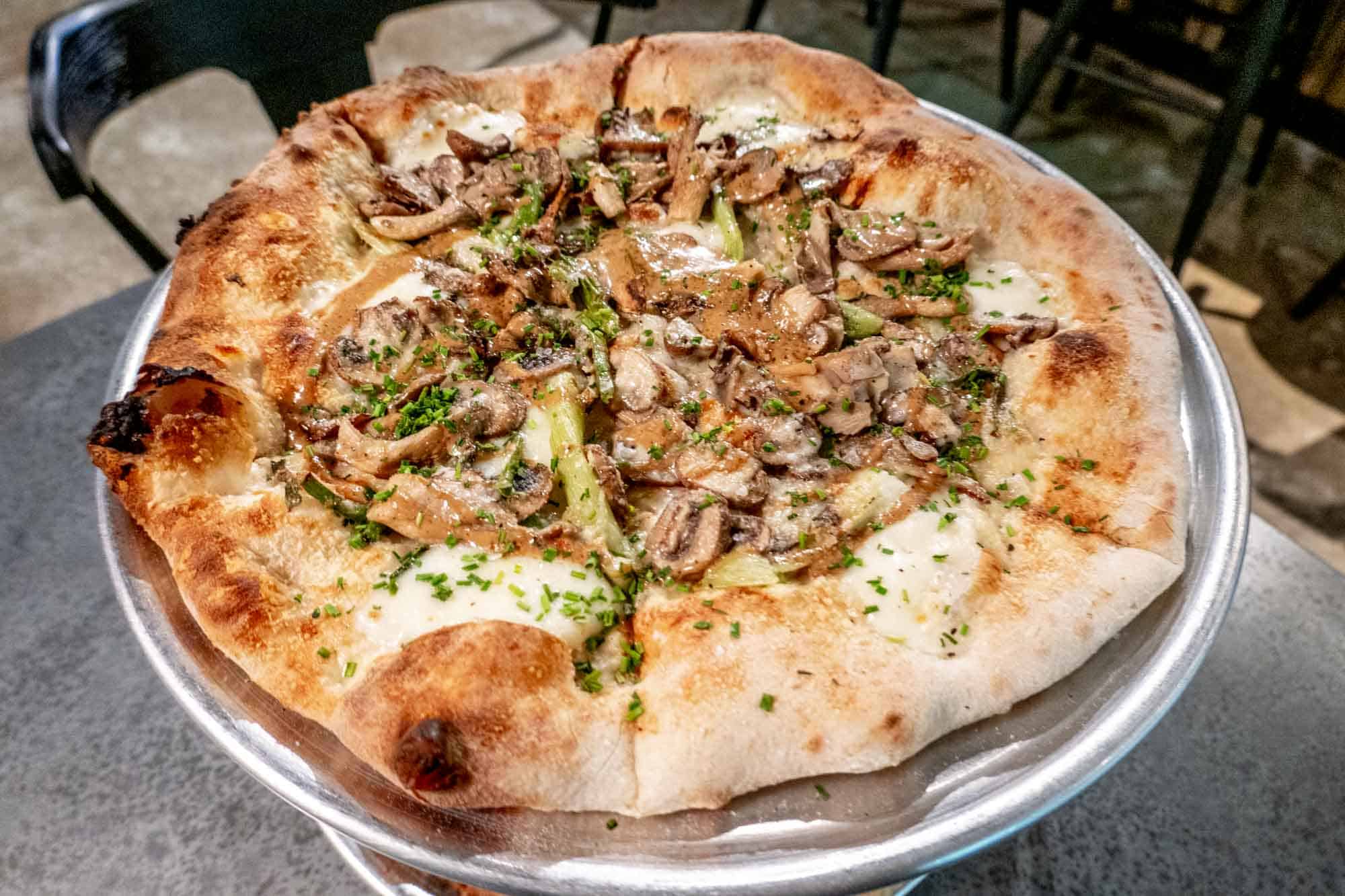 Started by Marc Vetri (the same guy who brought you Vetri Cucina and Fiorella) and later sold Urban Outfitters, Pizzeria Vetri brings beautiful dough and artful ingredients to the masses. They ferment their dough for four days and run their Neapolitan pies through a 650 degree oven for extra crispy crust.
The classics are good, but the mushroom pizza is a stark departure from the mundaneness of lesser pizza shops. Dough on the crust, crispy on the bottom and piled high with fungi goodness, this is the kind of pizza we crave.
But Pizzeria Vetri may have hit on the secret ingredient missing in most other pizza places: actual friendly service. Each time we've dined, we've had great servers who knowledgeable, friendly and made the dining experience magical. We could only wish there were more of that in the city. Located at 1939 Callowhill in Fairmount, 1615 Chancellor Street in Rittenhouse Square, and in the suburbs at 150 Main Street in the King of Prussia Town Center and 138 West Lancaster Ave on the Main Line in Devon. Learn more.
Sally
Tucked into the Fitler Square section of the city, Sally is a hippy-meet-upscale establishment serving the finest sourdough crust in the city. Stella also operates a bottle shop selling unusual, natural wines. You'll find a handful of sourdough pies with locally sourced ingredients, many with a nod to more healthy ingredients. When we visited, we found many of the pizzas topped with salad.
Sally was the kind of place we thought we were going to love – we love sourdough! Candidly, we found it a bit rough-around-the-edges, but are still including on this list because of the strong potential. Located at 2229 Spruce Street. Learn more.
Santucci's Original Square Pizza
Long before the nationwide rise in popularity of Detroit-style pizza, Joseph and Philomena Santucci ran a pizza shop in the Kensington/Juniata Park section of the city. They were famous for their square pizza pie, in which they put the sauce on top of the cheese, and the Philly Square was born.
Santucci's square pie is NOT a Detroit-style pie. We will say it again: NOT Detroit. Another difference with the Motor City pies, the walls of the pizza are lower and not cheese crusted. Santucci's is a classic PHILLY pizza, and you either love or hate the sauce-on-top. Personally, we're fans.
Located at 655 N. Broad Street, 901 S. 10th Street in the Italian Market, and 6164 Ridge Avenue in the Roxborough neighborhood. There are two locations in Chester County: 1776 E Lancaster Ave in Paoli and 379 W. Uwchlan Avenue in Downingtown. And three New Jersey locations: 247 Hurffville – Cross Keys Rd in Sewell, as well as two Jersey Shore locations: 6413 Ventnor Avenue in Ventnor City and 402 E. 26th Avenue in Wildwood. Learn more.
Stina Pizzeria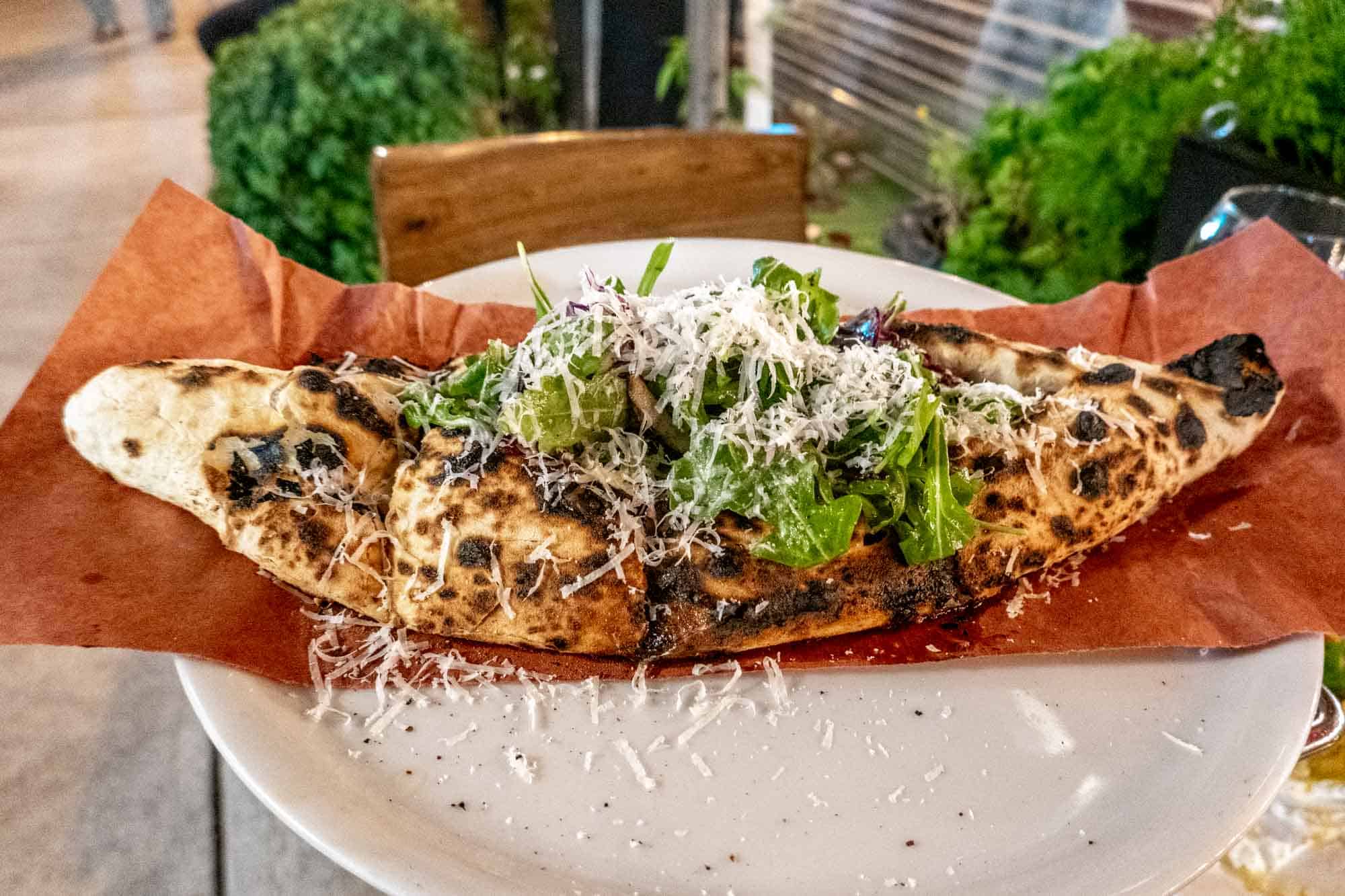 Stina is a pizzeria that is not really a pizzeria but serves incredible pizza. Confused? We were too. Stina Pizzeria is really an incredible pan-Mediterranean restaurant, and also makes some great pizzas and Turkish pides (a kind of 'cousin of' the pizza made from a long, thick dough).
While the whole menu in incredible, the Neapolitan pies are worthy of inclusion on any Philly pizza list. The fresh and hearty ingredients make this a spot to try out whatever Chef Bobby Saritsoglou has put together. Located at 1705 Snyder Avenue. Learn more. If you are interested, read our Stina Pizzeria review.
Tacconelli's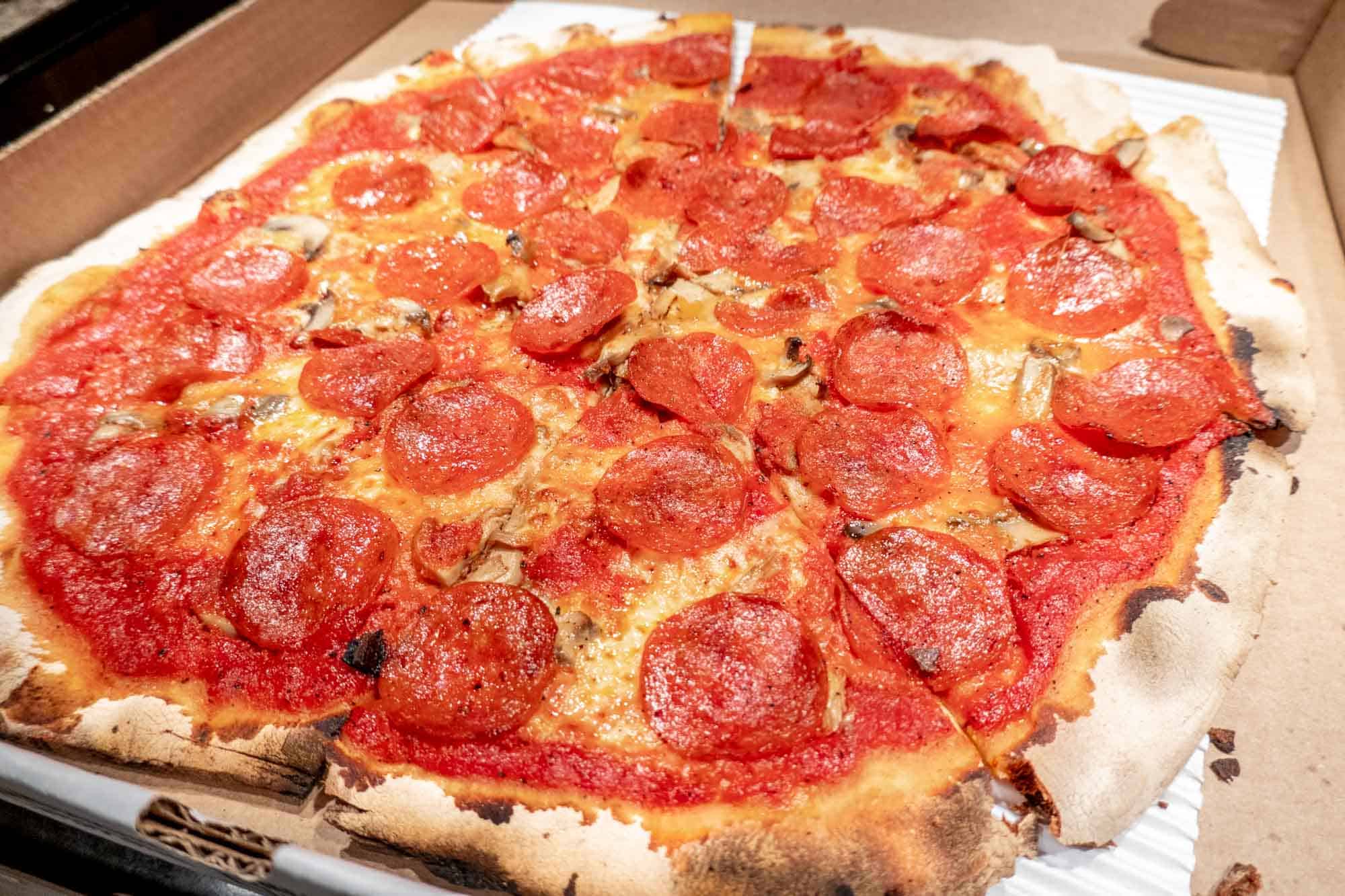 While the oldest pizza restaurant in America isn't in Philadelphia, Tacconelli's is one of the 10 oldest pizza shops in America. Originally opened as a bakery in 1918, the family-run business survived World War II and started making tomato pies in 1946 in the original bakery over.
The same oven (rebuilt in the 1990s) still makes your pizza today. Tacconelli's pizza has a super thin, crunchy crust that is perfect for folding (and makes great leftovers). The plain "Margerita Pie" or something simple like pepperoni is the way to go. For decades, this was the gold standard pizza in Philadelphia, and it still holds up over time. Pro tip: Call the day before to reserve your share of dough and remember that Tacconelli's is cash only. Located at 2604 East Somerset. Learn more.
Wm. Mulherin's Sons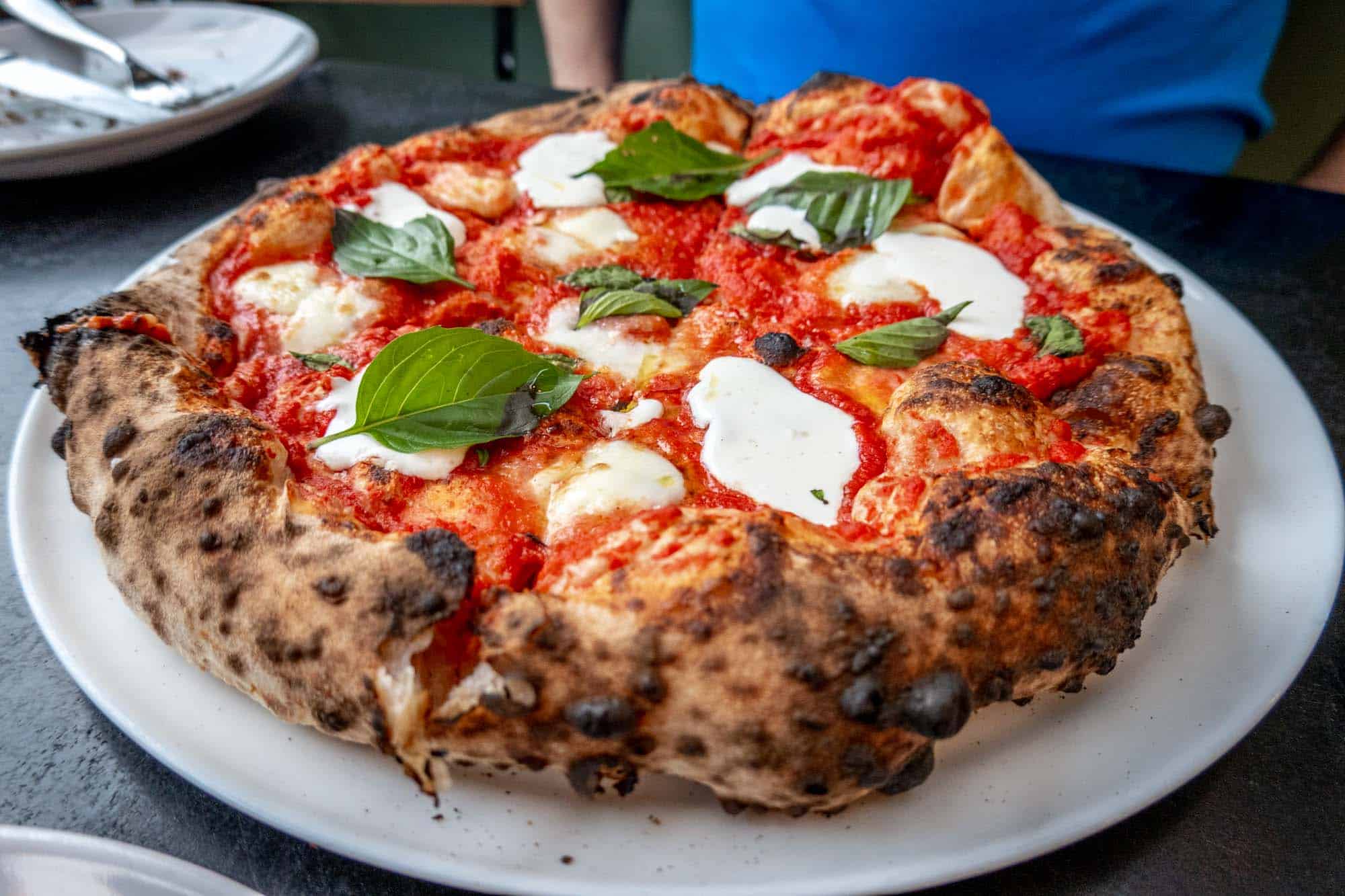 Strictly speaking, Wm. Mulherin's Sons eatery in Fishtown isn't a pizza joint. It's a Mediterranean casual eatery, which happens to spit out some of the best pizza in Philly from the wood-fired oven. As a bonus, they've got some nice outside seating, which is the perfect way to enjoy your pizza and wine.
While some folks rave about the Spicy Jawn, we were blown away by the delicious Margherita with its thick, bready crust. This is a formidable pizza and one that we continue to enjoy again and again. Located at 1355 North Front Street. Learn more.
RIP
A former version of this article mentioned some notable pizzerias that have now closed, including the Earth Bread + Brewery in the Mount Airy section of the city as well as Blackbird Pizzeria for their vegan pizza.