Some posts on this site contain affiliate links, meaning if you book or buy something through one of these links, we may earn a small commission (at no extra cost to you).
Water ice is a summer staple in Philadelphia. From the moment temperatures begin to rise, locals line up for this sweet and simple treat. Italian ice, shaved ice, or a snow cone it is not. Water ice is its own thing, and everyone has their own opinion about who makes it best in Philly.
The origins of water ice stretch back centuries to ancient Sicily where residents gathered snow and ice from towering Mount Etna to mix with honey and fruit for dessert. This evolved into the granita that is served everywhere now in the streets of Palermo and beyond. Thankfully, Sicilians brought this mixture with them when they settled in South Philadelphia, and it evolved into what we know as water ice.
The best water ice is basic—fruit, sugar, and water—without additives. Smoother than shaved ice and, ideally, with actual pieces of fruit, the dessert is refreshing and cooling when it's hot outside. Here's a look at some of the shops making the best water ice in Philly.
John's Water Ice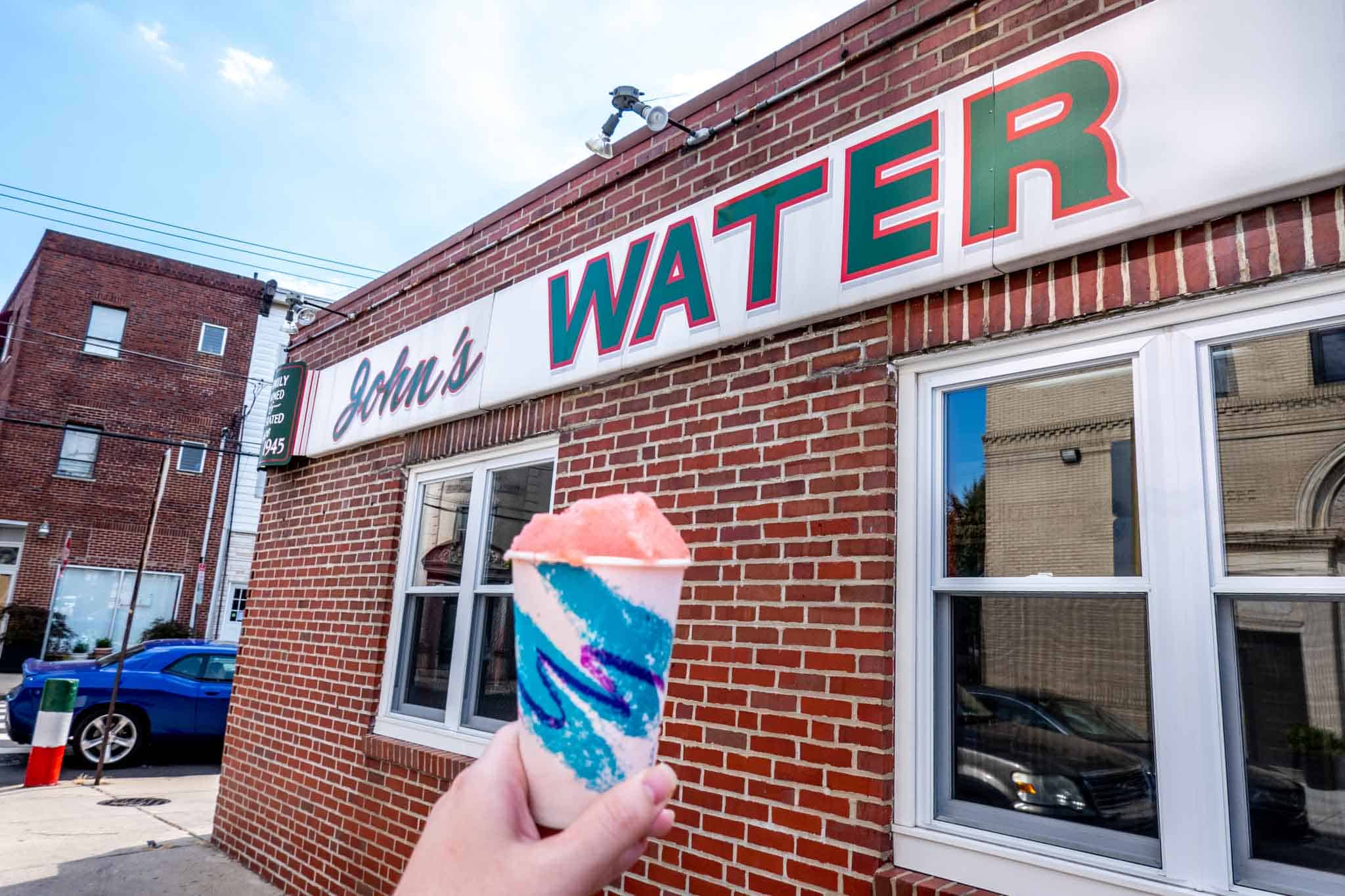 Steps from the Italian Market, John's has served classic water ice for over 75 years. With a simple recipe that includes just fruit, water, and sugar, they make some of the best water ice in the city.
Traditional flavors of lemon, cherry, chocolate, and pineapple are always available, plus a couple of rotating flavors such as mango or strawberry. John's also offers about 6 flavors of ice cream ranging from vanilla to raspberry chocolate chip. There is often a line, but the wait is worth it. Location: 701 Christian Street plus a roving truck
D'Emilio's Old World Ice Treats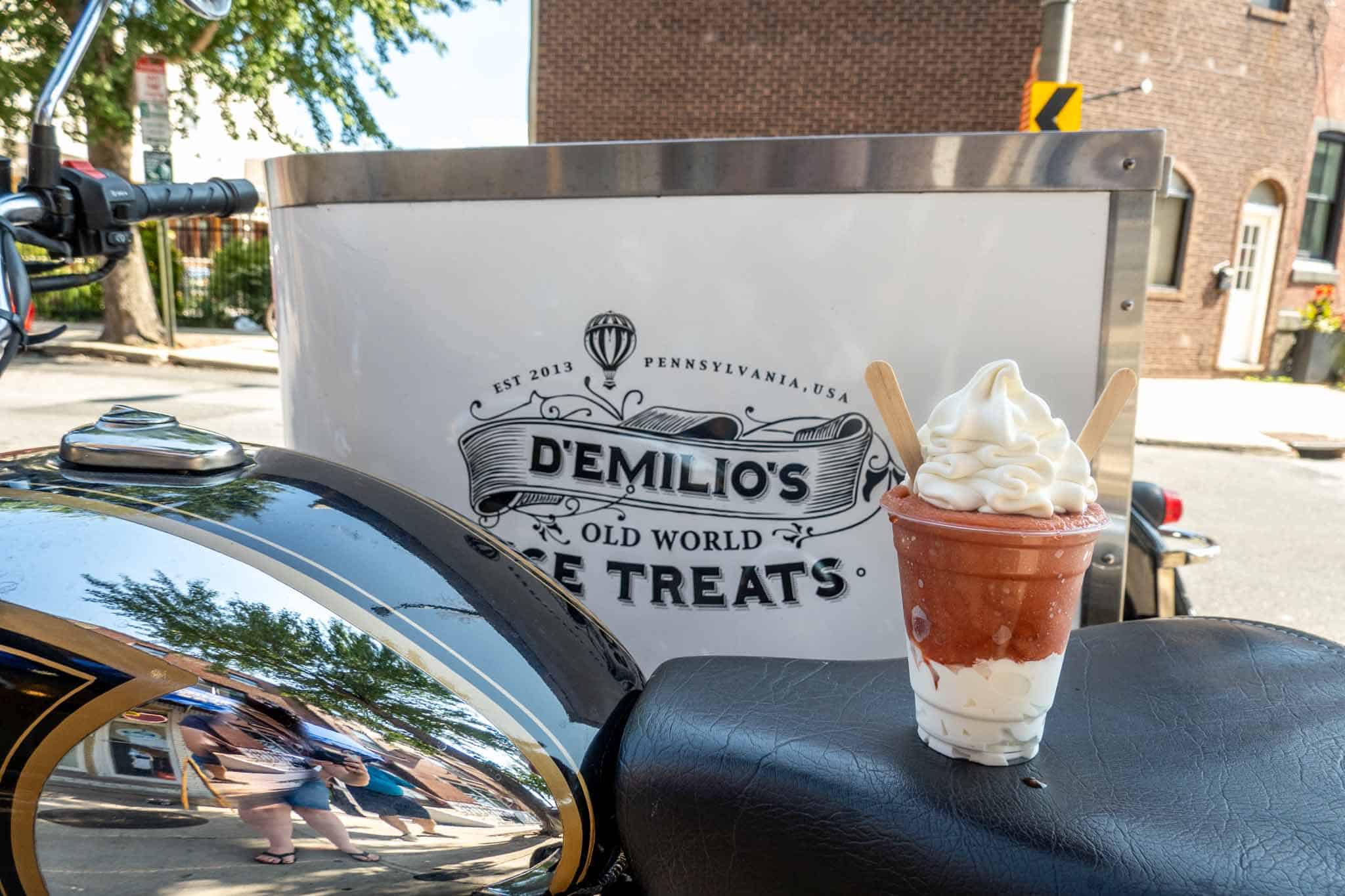 At his storefront in the East Passyunk neighborhood, Chris D'Emilio offers excellent water ice and soft serve at D'Emilio's Old World Ice Treats. His fun creations are based on his grandmother's sorbetto recipe, which incorporates fresh fruit and mostly local ingredients.
D'Emilio's flavors go well beyond the expected, including options like birch beer, guava, blueberry lemonade, and creatively named choices like "Peach, Love, & Understanding." You can get water ice alone or add his incredible soft serve ice cream for an excellent gelati. Sundae options are also fanciful with names like Love Ya to Reeses packed with peanut butter flavor, the Unicorn Sundae featuring the colors of the rainbow, and the Pooh Bear sundae complete with clover honey. Location: 1928 E Passyunk Ave.
Rose's Water Ice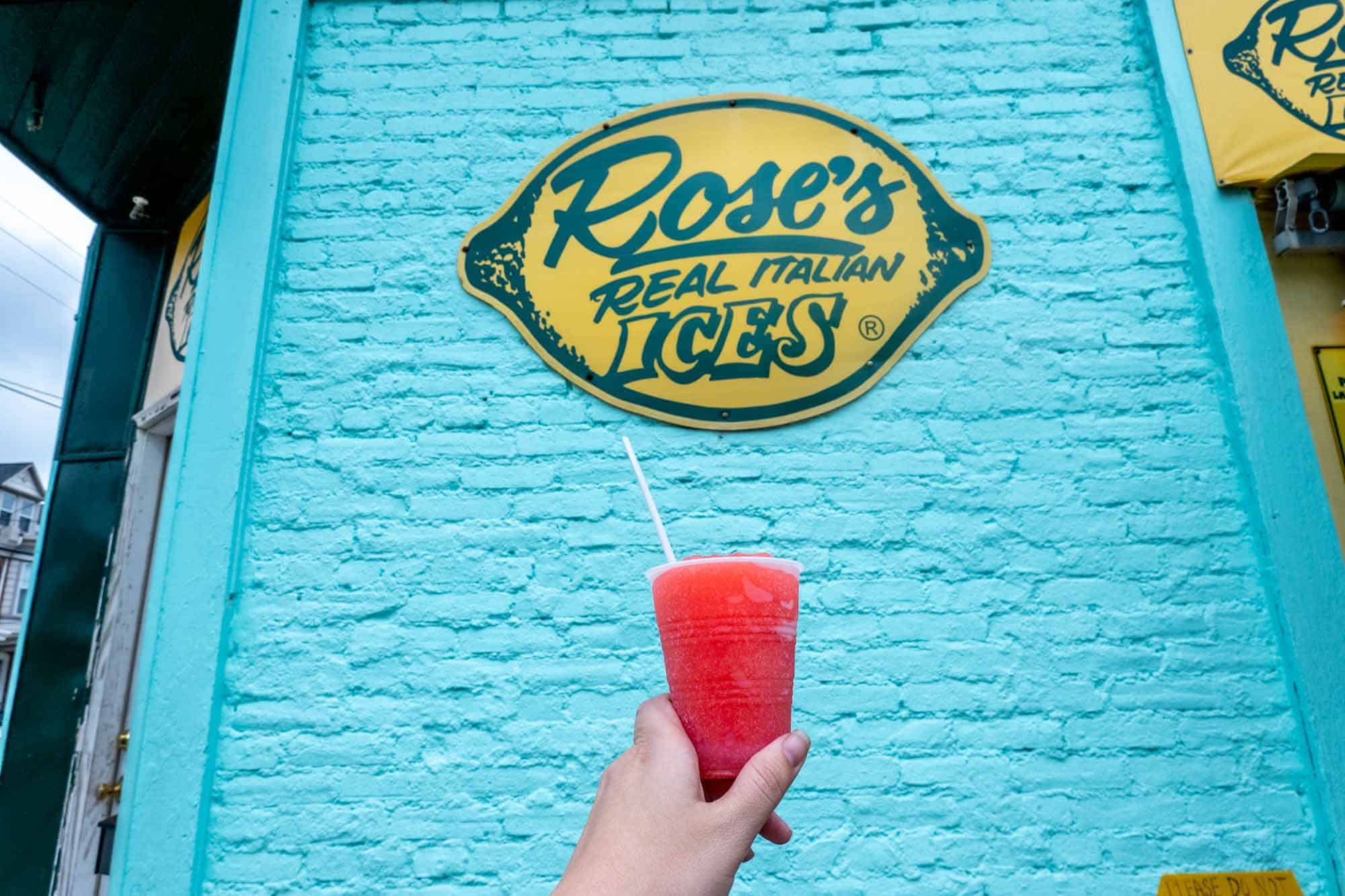 Rose's specializes in two things: year-round breakfast sandwiches people go out of their way for and some of the best water ice around when the weather is warm enough. Their kiosk in Roxborough always has standards like cherry, lemon, and chocolate and serves special flavors like watermelon, lime, and super peach. It's made fresh every day. Location: 4240 Pechin Street
Siddiq's Real Fruit Water Ice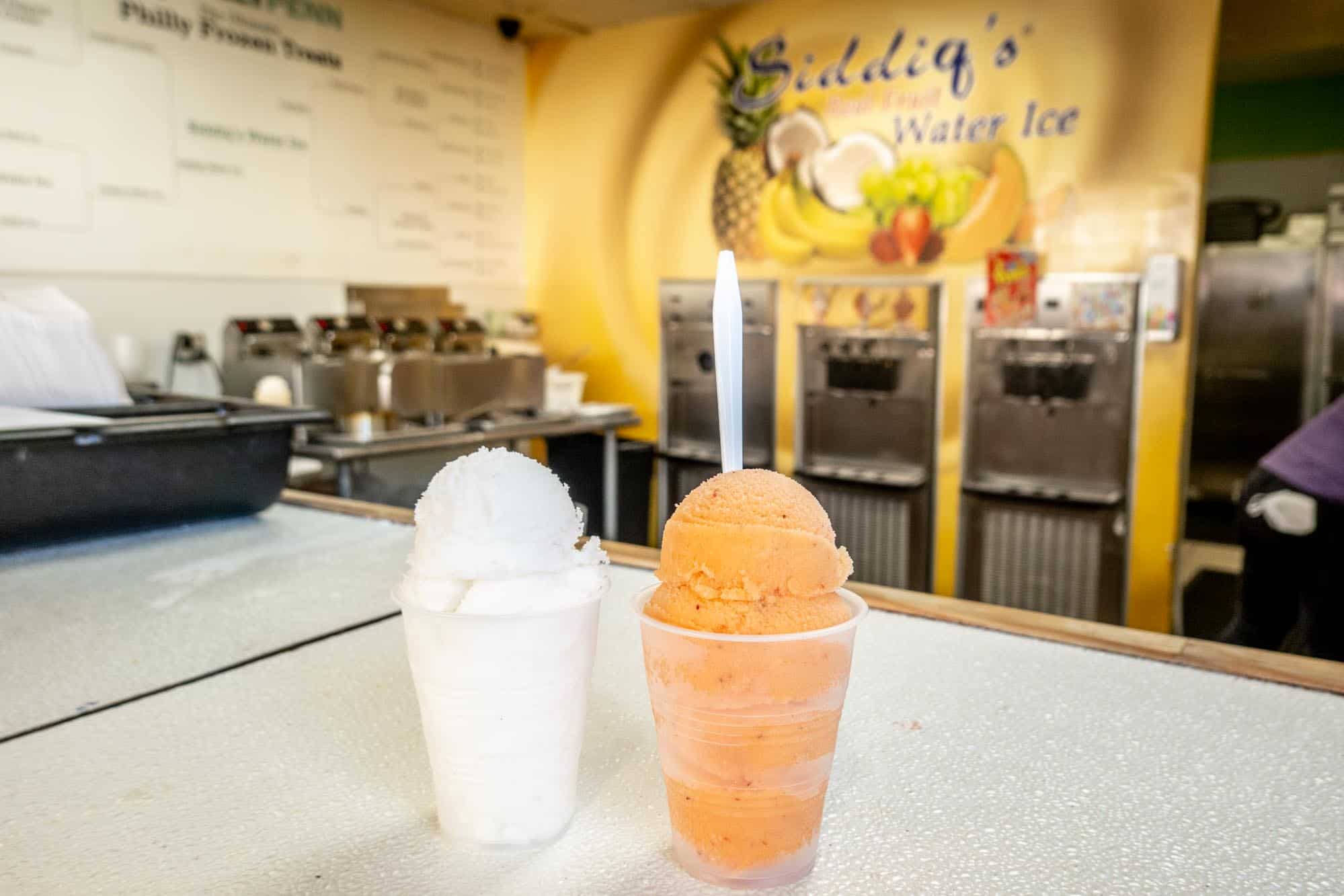 For over 25 years, Siddiq Moore has served his creative water ice to the greater Philadelphia area. He began his sales as a student at Temple University and has continued with storefronts in West Philadelphia and Chester.
As the name suggests, everything at Siddiq's is made with real fruit. You'll find everything from lemon and raspberry to white grape and the popular coquito, a refreshing coconut flavor. Locations: 264 S. 60th Street and 720 W. Ninth Street in Chester
Chuck's Homemade Water Ice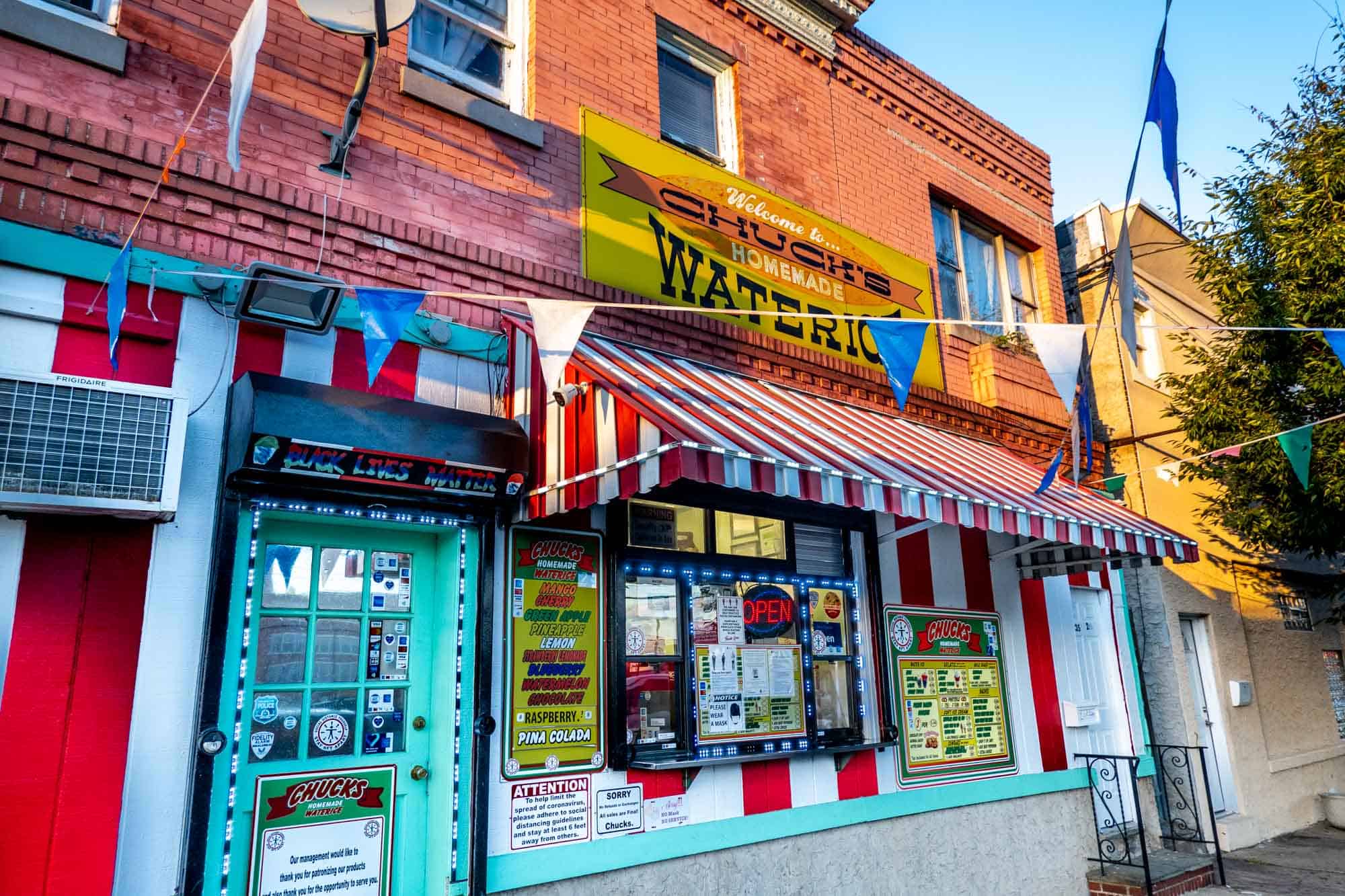 For fans of sweet and salty, the combination of pretzels and water ice is truly a Philly treat made in heaven. Luckily, both are specialties at Chuck's Homemade Water Ice. Whether plain, topped with cheese, or served pizza-style, the pretzels go perfectly with one of the 10 fruity or chocolatey water ice flavors available daily. Location: 1835 Snyder Ave.
Pop's Homemade Italian Ice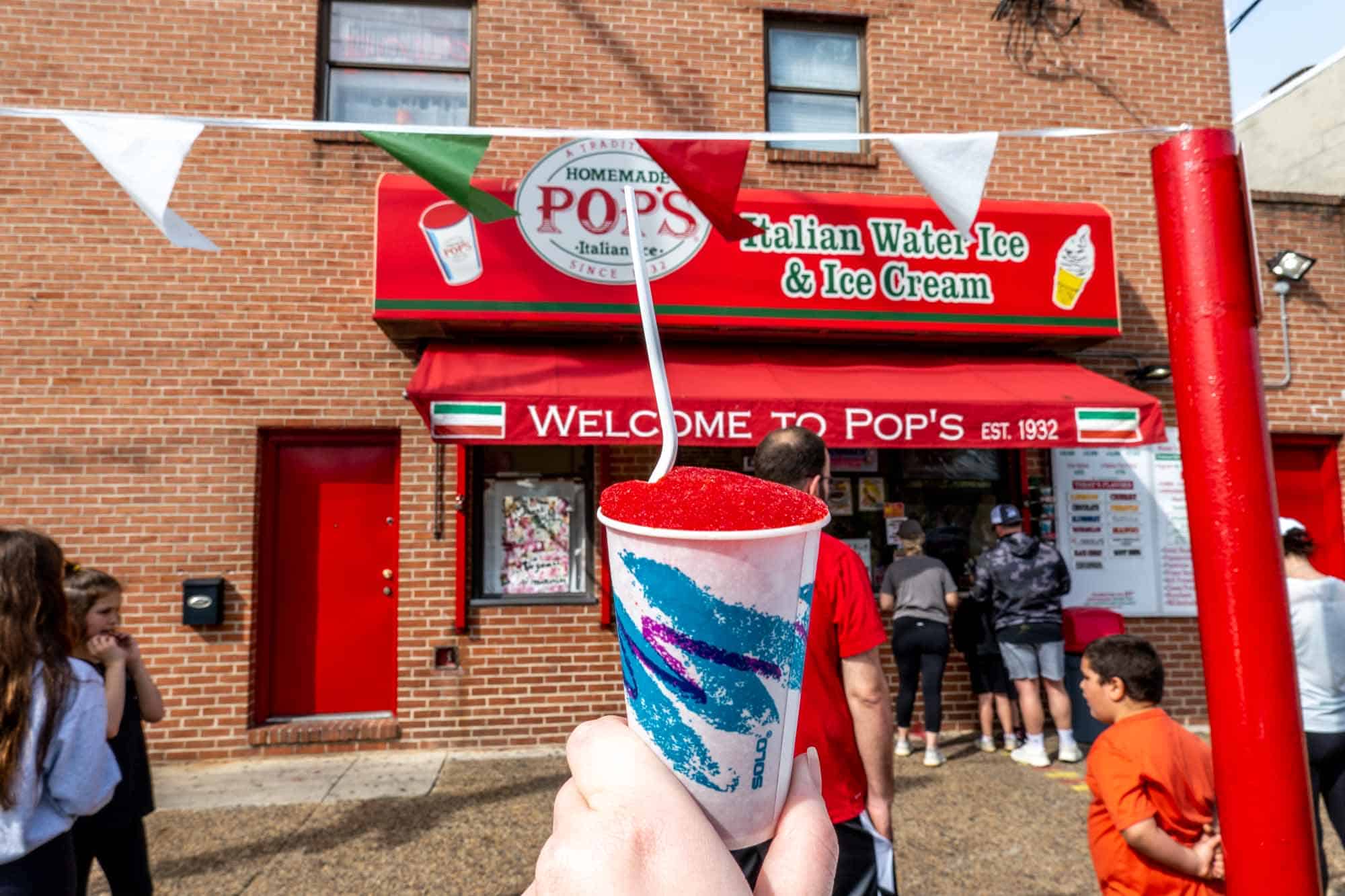 People line up for water ice at Pop's from March through October. The South Philly spot (with another location in Havertown) offers options like root beer and cappuccino alongside fruit flavors like mango and grape. Locations: 1337 Oregon Ave. and 150 W. Eagle Rd. in Havertown
C&C Creamery
It's difficult to say whether C&C Creamery is better known and loved for its homemade ice cream or its incredible water ice. Family owned since 1955, this shop in Roxborough delights customers with water ice flavors like watermelon, Swedish fish, and orange cream as well as seasonal favorites. Location: 5461 Ridge Ave.
Tranzilli's
Italian natives Nobile and Olimpia Tranzilli brought water ice to the Germantown neighborhood in 1969. Beginning as a simple scoop shop, the family-run business now makes its flavorful offerings in wholesale and gallon "party bucket" quantities in addition to individual portions. Favorites at Tranzilli's include traditional cherry and lemon along with cantaloupe and unique flavors like creamsicle and pink lemonade. Location: 5901 Belfield Avenue
Rita's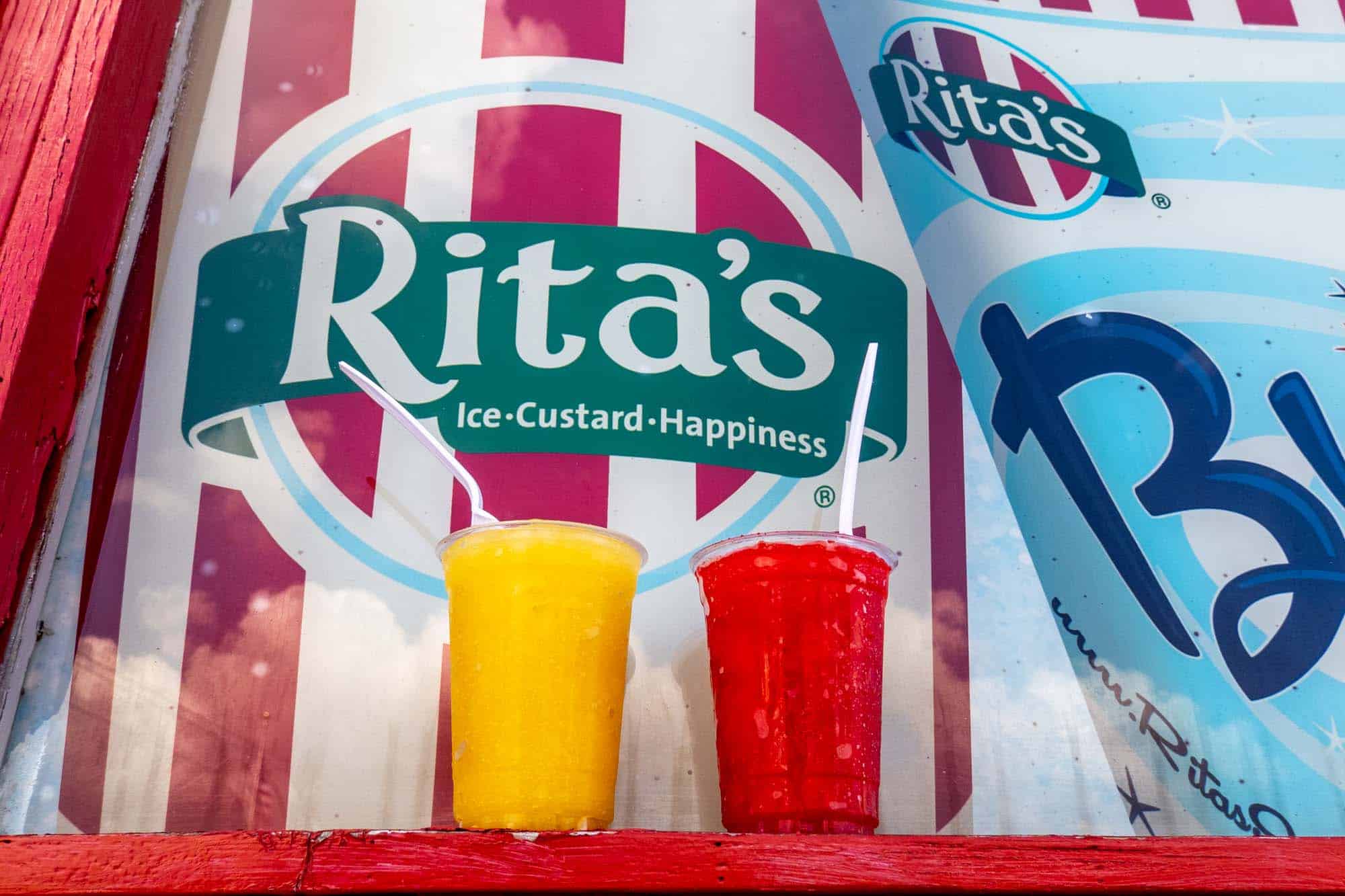 The most well-known water ice company in the country got its start in Bensalem. Now with over 600 locations around the US, Rita's remains a mainstay of summer in Philadelphia.
The menu is full of different types of custard, milkshakes, and other cold treats, but the real fruit water ice remains the best choice. Each location has a slightly different menu, but there is always a wide selection of flavors to choose from. Locations: numerous
Yardley Ice House
Despite its Bucks County location, Yardley Ice House is always on the list of best places for water ice in greater Philly. For over 25 years, they have served up gourmet flavors like coconut cream pie, cherry amaretto, and white chocolate raspberry. There are new additions weekly.
This place is worth the drive (we have friends who come from Virginia at least once a season). In addition to water ice, the menu includes milkshakes, floats, sundaes, and other desserts. Location: 77 S. Main Street in Yardley