Some posts on this site contain affiliate links, meaning if you book or buy something through one of these links, we may earn a small commission (at no extra cost to you).
As the fourth largest apple grower in the country, Pennsylvania is a winner when it comes to apple cider in the fall. And what do you get when there's lots of apple cider? Fall's best treat—apple cider donuts. Covered in a delicious cinnamon-sugar dusting or glazed, these warm fried treats are a staple of fall in the Delaware Valley.
Whether straight from the orchard or at a farmers market in the city, there are lots of options to choose from, and we've been busy sampling some of the best. Here's a look at some great places to find apple cider donuts near Philadelphia.
Solebury Orchard
During the fall, people travel from around the region just to get their hands on fresh apple cider donuts from Solebury Orchard. A trip here to shop in the market and to pick apples in the orchard is one of the top things to do in New Hope as autumn arrives. The donuts can sell out, so make a beeline to the market when you get there.
On the weekends, you'll find wagon rides to the orchard if you plan on picking your own fruit.
Highland Orchard
From hayrides to pumpkin picking, Highland Orchard is a great place to find all things fall-related. The property, which has been an orchard for over 80 years, has cinnamon and sugar-dusted apple cider donuts made in the bakery on site throughout the day. They're available year-round, so you don't have to wait till the weather cools to enjoy them.
Outside, Highland Orchard offers lots of fall produce and apple picking from mid-July through the end of October. Fall weekends often bring face painting, food and drink vendors, and other festive activities.
Beiler's Donuts
Located in Reading Terminal Market, Beiler's Doughnuts has been a city staple for nearly 40 years. They offer up to 40 varieties of homemade Pennsylvania Dutch donuts every day (closed Sunday).
Beiler's makes two delicious types of apple cider donuts year-round. There is a traditional sugared one and a glazed variety that has some of the strongest apple flavor among the ones we've tried. The apple fritters are also insanely delicious.
Curiosity Donuts
As the name indicates, there is always something unique among the ever-changing selection at Curiosity Donuts. Here, 16 styles of dough end up in 10 varieties from beignets to sourdough bars, so there are lots of kinds of donuts to try.
Curiosity offers two delicious apple cider varieties at their shop in Furlong. Their "new-fashioned apple cider" donut is flavored with cider and has crisp crust over a moist interior. The second type—cinnamon cider sticks—uses pieces of apple cider doughnuts that are dusted with cinnamon and shaped into sticks before being fried, dusted with cinnamon-cardamom sugar, and glazed. It's pretty incredible.
Linvilla Orchards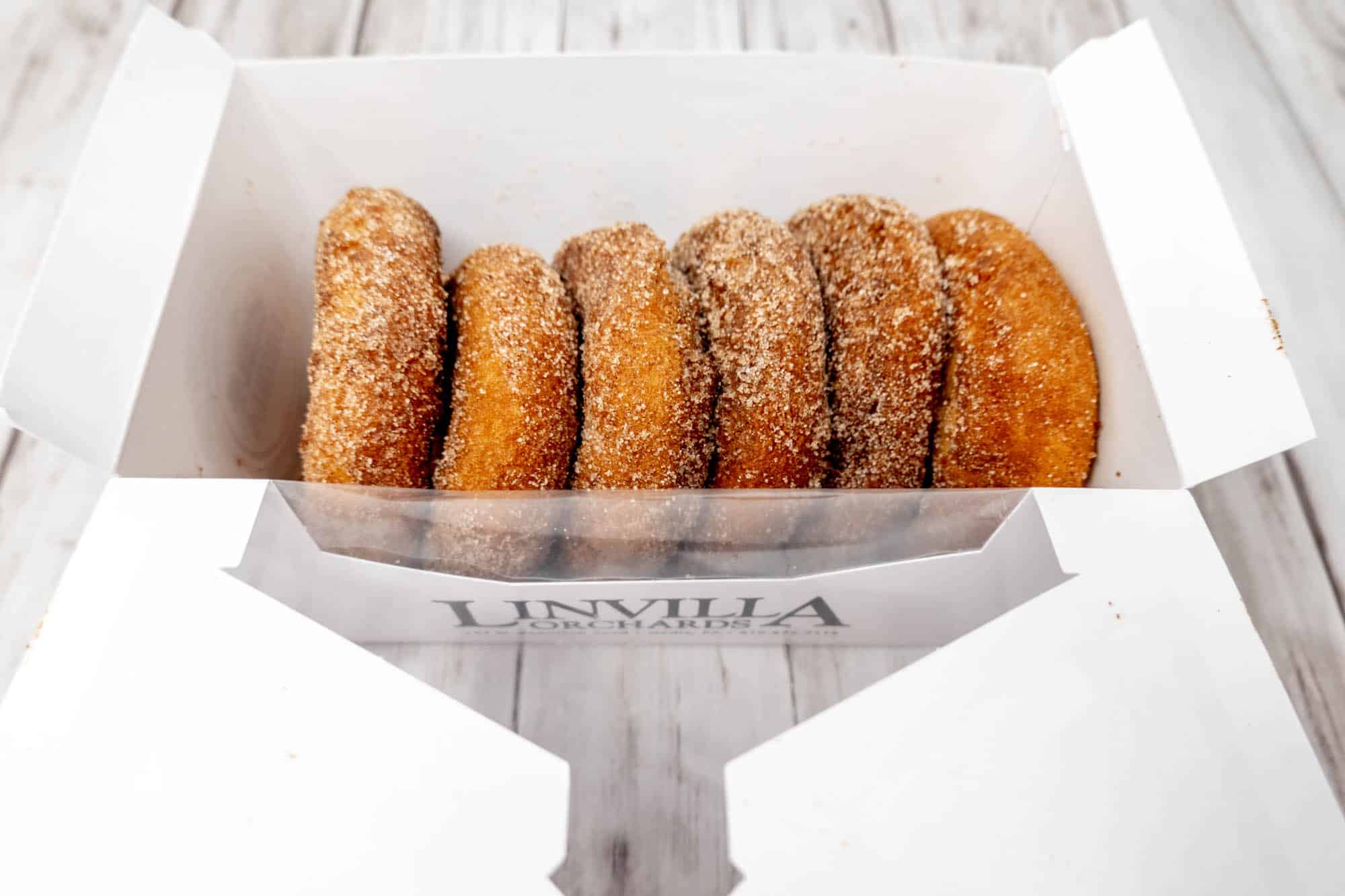 Linvilla Orchards is known for lots of things in the fall from its Pumpkinland and fall festivities to its 20 acres of apple-filled orchards. It's one of the top places to go around Halloween in the Philadelphia area.
Also in high demand: Linvilla Orchards apple cider donuts. Warm and topped with cinnamon sugar, they're one of the highlights of the season. The donuts are made every morning using Linvilla's own cider in their bakery, so you know they're great.
Hands on the Earth Orchard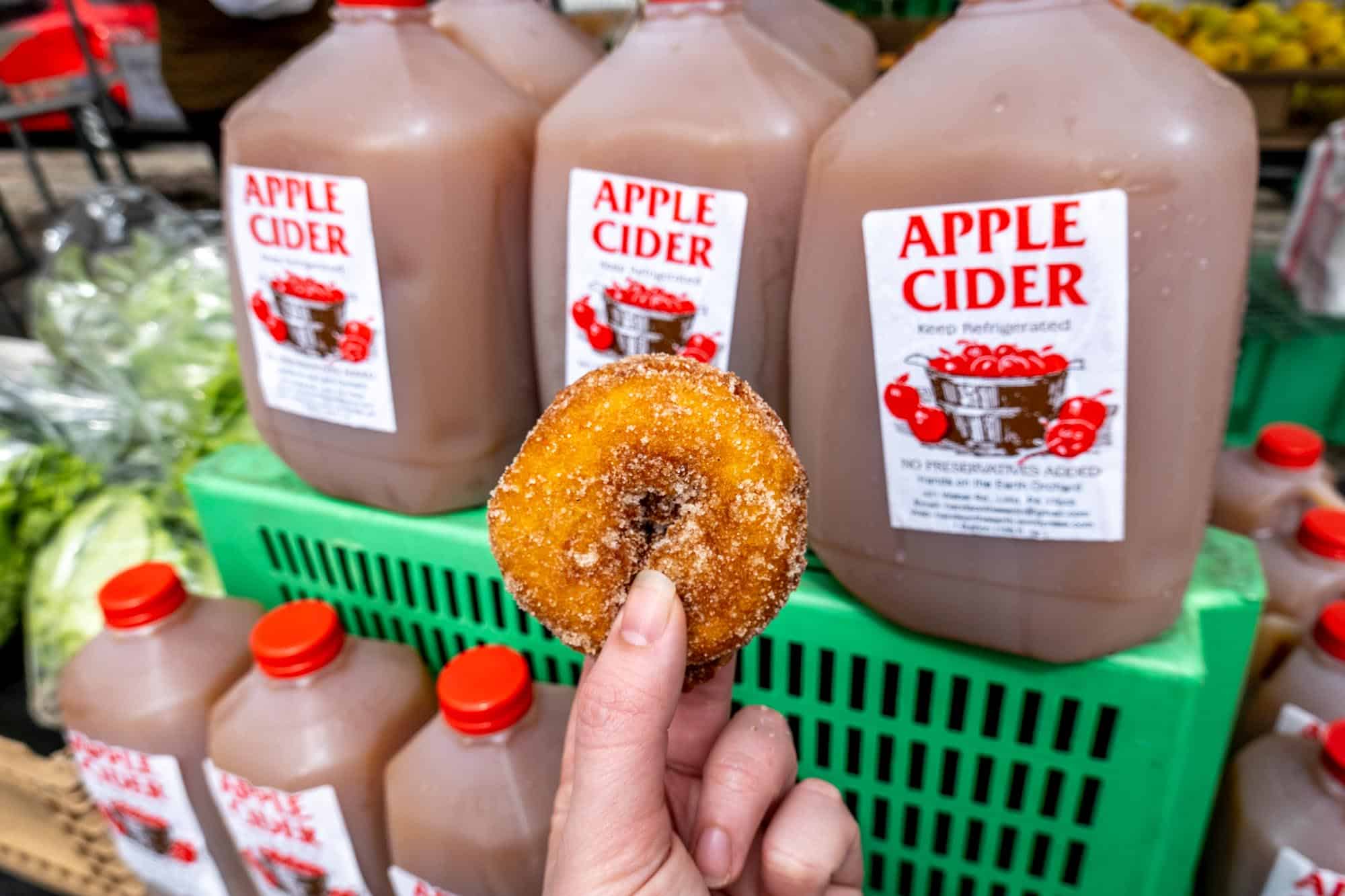 Perfect and straight from the fryer, Hands on the Earth Orchard makes apple cider donuts right before your eyes at their stand at the Saturday farmers market in Rittenhouse Square. Their season starts a little later than others, beginning just after Thanksgiving and continuing well into late spring. It's a must-visit at the market.
Stoltzfus Family Food
To get your apple cider donut fix in the suburbs without heading to an orchard, check out Stoltzfus Family Foods. A mainstay of the popular Ardmore Farmers Market in Suburban Square, Stoltzfus makes their own donuts fresh in their bakery. They're open every day with baked goods, produce, meat, and other Lancaster County provisions.
Tabora Farm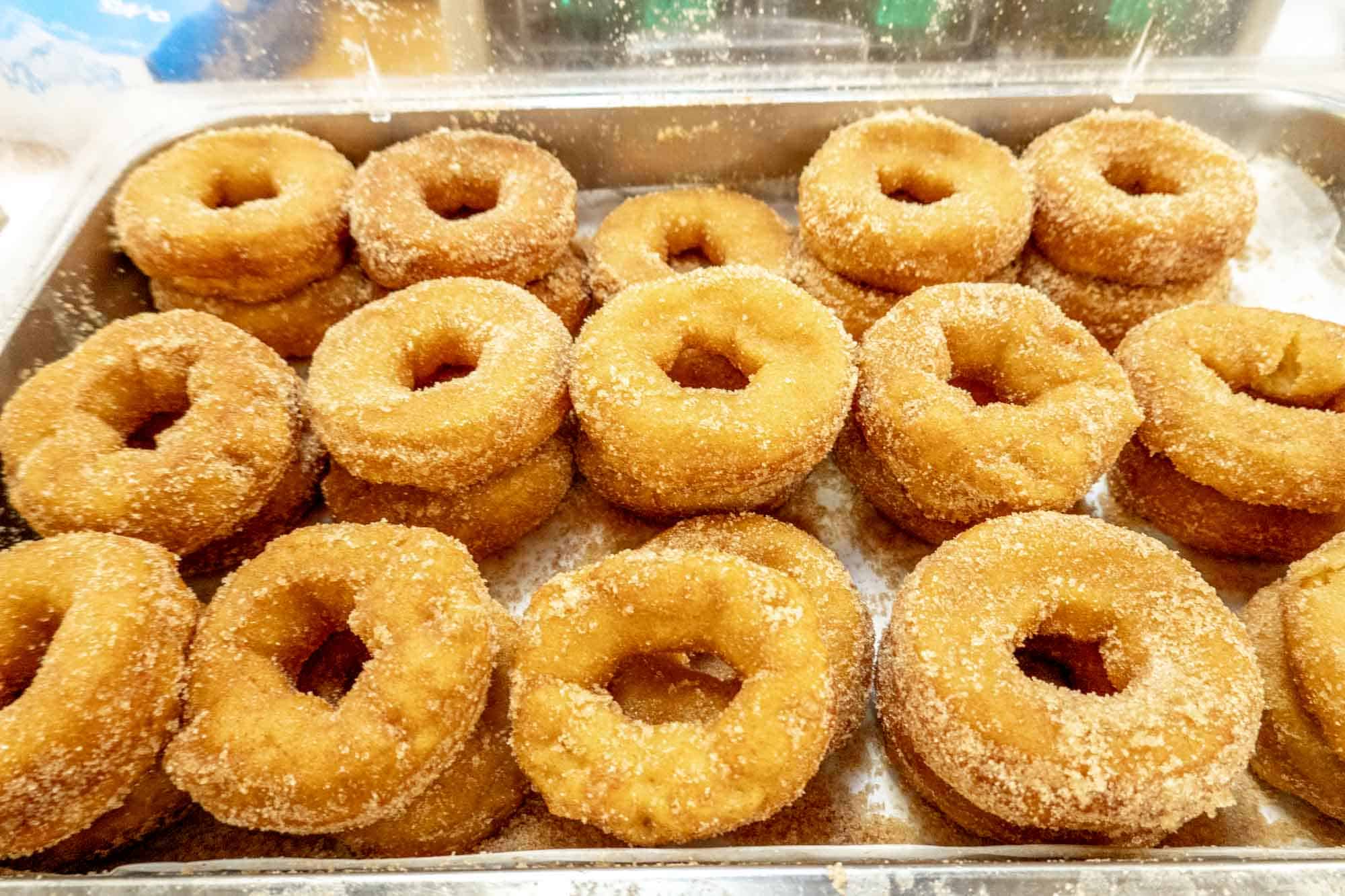 Tabora Farm in Chalfont offers apple picking alongside its cute farmers market. The bakery makes hot fresh apple cider donuts as well as apple dumplings, apple walnut bread, and lots of other pastries. There's even a top-notch coffee bar.
Okie Dokie Donuts
In South Philly, Okie Dokie Donuts has gluten free options to satisfy your fall flavor needs. The specific donuts change frequently. They have included an Apple Brandy donut that is apple cider spiced cake glazed with brandy from Art in Age, a vegan option tossed in cinnamon sugar, and more. Their fritters are also to-die-for.
Okie Dokie's window is open mornings Wednesday through Sunday. If you can't make it to South Philly then, you can preorder and pick up at locations around the city.
Shady Brook Farm
One of the top fall offerings at the Shady Brook Farm market in Yardley is undoubtedly their apple cider donuts. To up the indulgence factor, try one as part of an ice cream sandwich from Uncle Dave's Homemade Ice Cream available on-site.