Some posts on this site contain affiliate links, meaning if you book or buy something through one of these links, we may earn a small commission (at no extra cost to you).
When Laurel Hill Cemetery was founded in the 19th century, cemeteries were places where visitors would come to enjoy the grounds and the scenery. With elaborate monuments and attractive surroundings, Laurel Hill is among the unique spots to visit in Philadelphia.
The cemetery's 78 acres offer sweeping views of the Schuylkill River and lots of places to walk, bike, and enjoy nature. There are more than 30,000 monuments to peruse, some of which are featured on regular, expert-led tours of the grounds.
History
A Quaker and a librarian, John Jay Smith had a personal mission to open a different kind of cemetery after struggling to find a final resting place for his daughter in the city. Within a year, he and his partners Nathan Dunn, Benjamin W. Richards, and Frederick Brown acquired the land of the former Laurel Hill estate. They hired architect John Notman and surveyor Philip M. Price to make the site a reality.
Laurel Hill Cemetery was one of the first cemeteries of its kind when it opened in 1836—architecturally designed, non-denominational, and a major rural cemetery in a peaceful setting. It was an answer to the city whose population had increased so significantly that space for the dead was limited. It was an "alternative environment."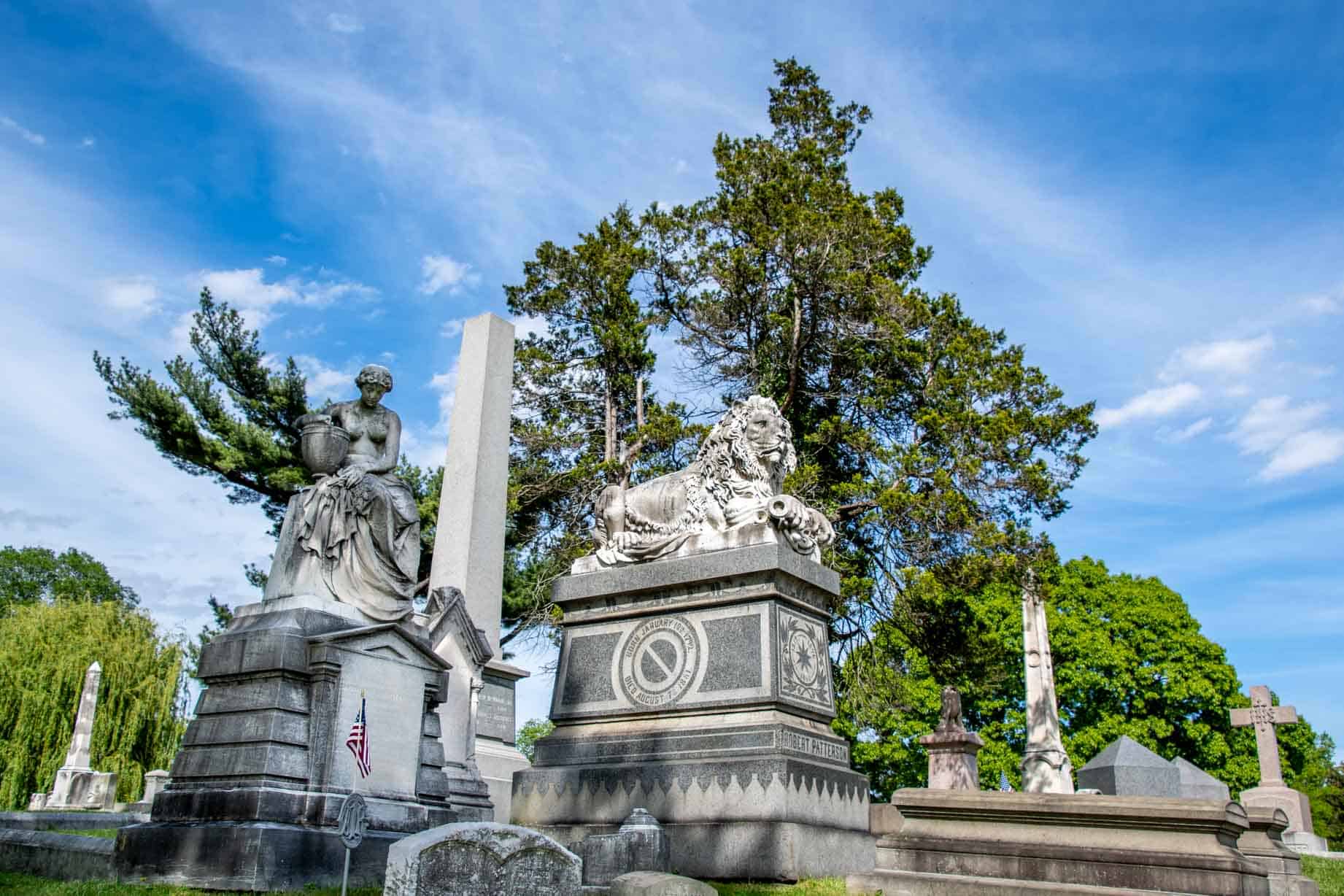 Smith's concept was a popular and necessary one. For 25 years after its founding, the site continued to grow. The present-day Laurel Hill is the result of combining four pieces of land acquired through 1861. In 1869, West Laurel Hill Cemetery opened across the Schuylkill River in Bala Cynwyd.
Notable Burials and Monuments
Throughout the grounds, there are graves and monuments for leaders of Philadelphia, pioneers across industries and social movements, and even a signer of the Declaration of Independence.
Probably the most well-known grave at Laurel Hill belongs to Adrian Balboa of Rocky fame. Since Adrian is a fictional character, there is no burial here, but you can find her headstone on display near the front gate. Her brother Paulie Pennino's headstone is nearby.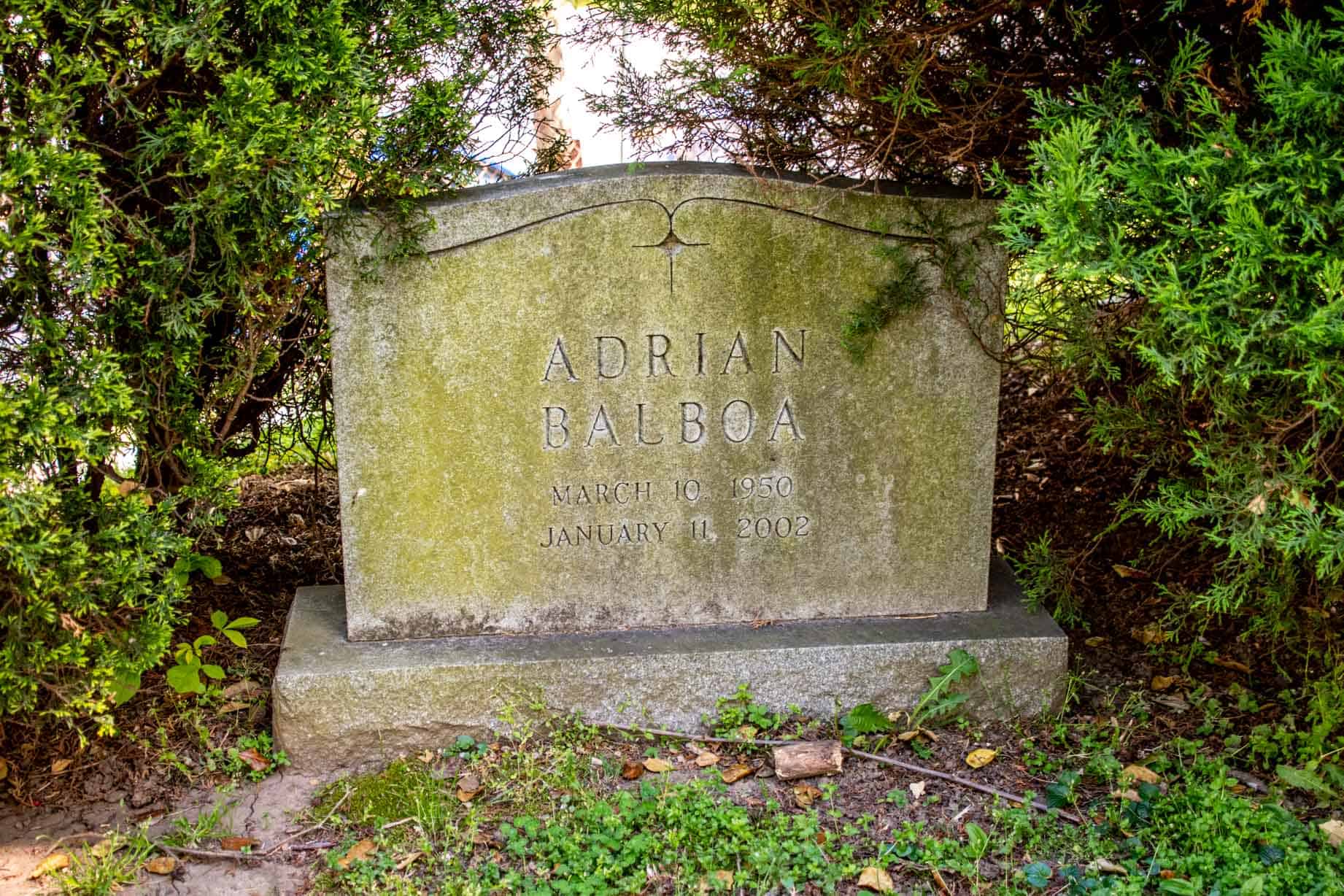 The first person buried here was Mercy Carlisle, a Quaker woman, in 1836. Her original marble grave marker deteriorated over time, but it was replaced with a larger stone funded by the Friends of Laurel Hill.
Curiously, as you walk around Laurel Hill, you may notice a few dates of death earlier than that of Ms. Carlisle. The cemetery's owners wanted to ensure it was a sought-after place, so they had some remains re-interred here. They include David Rittenhouse, the first director of the U.S. Mint, Thomas McKean, the second governor of Pennsylvania and a signer of the Declaration of Independence, and other notable Revolutionary War figures.
Others with less recognizable names are Sarah Josepha Hale who established Thanksgiving as a national holiday and wrote "Mary Had A Little Lamb" and Civil War generals such as George Meade, who led the Union to victory at Gettysburg just 120 miles from Philadelphia. There are also six passengers from the Titanic—three who survived the accident and three who did not.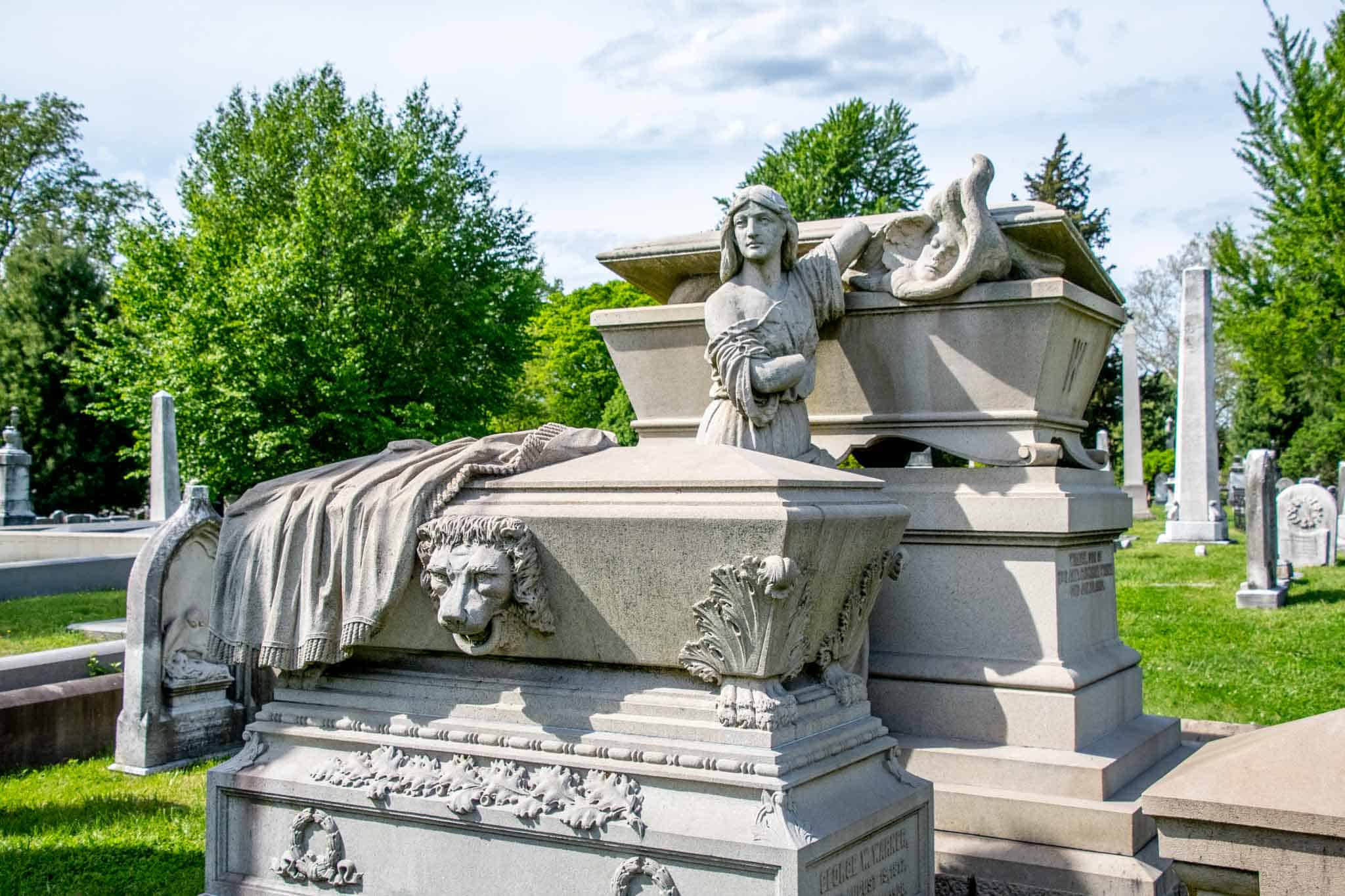 Around the grounds, there are numerous mausoleums and monuments, some designed by notable architects and artists. The William Warner tomb designed by Alexander Milne Calder (the sculptor of the William Penn statue that tops Philadelphia's City Hall) is an elaborate monument showing the soul emerging from the tomb in a puff of smoke. There is also the 55-foot-tall Edwin Fitler obelisk and the Henry Disston family mausoleum which spans an amazing 625 square feet.
One of the most unique gravesites belongs to Philadelphia Phillies broadcaster Harry Kalas. His resting place is marked by a large microphone, seats from Veterans Stadium, and sod from Citizens Bank Park.
Visiting Laurel Hill Cemetery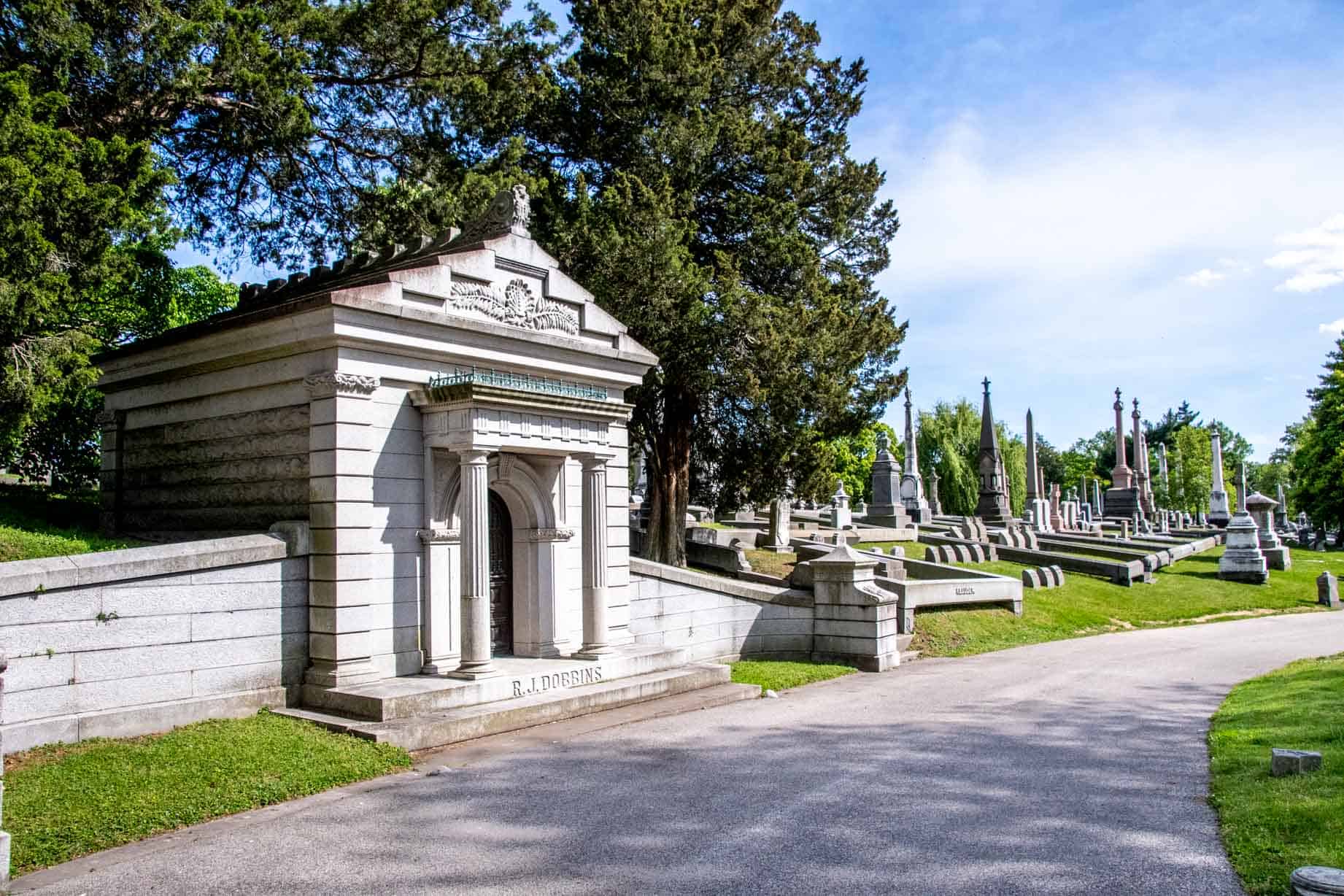 Admission is free.
There are regular guided tours (tickets required) with a wide range of themes from notable women to military figures to innovators and people who caused scandals and rumors in their day. There's always something new to learn.
Location
Laurel Hill is in the East Falls neighborhood. It is located at 3822 Ridge Avenue in Philadelphia.