Some posts on this site contain affiliate links, meaning if you book or buy something through one of these links, we may earn a small commission (at no extra cost to you).
When discussing the best sandwich in town with friends, someone will inevitably mention McNally's Tavern in Chestnut Hill and their legendary Schmitter sandwich. And it just may be one of the greatest sandwiches ever invented.
McNally's has always been a local favorite. Opening in 1921 across the street from the Chestnut Hill trolley turnaround, the tavern was built to feed trolley operators (including Rose's husband) and their patrons who were waiting. Rose's great granddaughters, Meg and Anne, still run McNally's to this day.
The sandwich came about in the 1960s when a local doctor from the nearby Chestnut Hill hospital would come in and order this custom sandwich along with a local Schmidt beer (formerly brewed in Northern Liberties). After repeatedly ordering the sandwich, then-proprietor Hugh McNally perfected the recipe and added it to the menu. And the rest is history. It is now one of the most popular in Philly.
And the sandwich is thing a beauty. A healthy quantity of roast steak (a higher-quality cut than the usual ribeye at cheesesteak shops) is layered on a Kaiser roll. This is then topped with cooked salami (not a cold-cut Genoa), a healthy portion of melted Swiss cheese, fried onions and tomatoes. The entire concoction is then doused in Schmitter sauce – a proprietary recipe similar to a Russian dressing but made with mayonnaise, relish, ketchup, horseradish and Worcestershire.
It is sometimes called a derivative cheesesteak, or a variant, or a 'cousin'/'brother' of the cheesesteak, or whatever. It's really not. About the only similarities are the fact that it has beef. They differ in the cut of the beef, the cooking method, the addition of other meats, the type of cheese, the bread, the addition of sauce, additional toppings, the shape, etc. So basically everything. To call it a cheesesteak is to do a great disservice to The Schmitter® (and also cheesesteaks).
If The Schmitter looks or sounds familiar, you might have seen it on one of those popular food TV shows. It has been featured on…well…all of them. From Food Network to the Travel Channel and all of the local morning network shows, you've seen this sandwich.
It's also an extremely popular menu item with our boys of summer, those Fightin' Phils. The Schmitter was a signature menu item at the Phillies' Citizens Bank Park for over a decade (although is currently no longer available there) and has been promoted as Philadelphia's Big League Sandwich®. Eagles fans take heart, you can get The Schmitter in the plaza outside The Linc.
In recent years, you've begun to see other restaurants serve imitation Schmitters and even Schmitter-inspired egg rolls. Given the popularity, there will be many more Schmitter homage or tributes to come. And once you try it, you'll know why.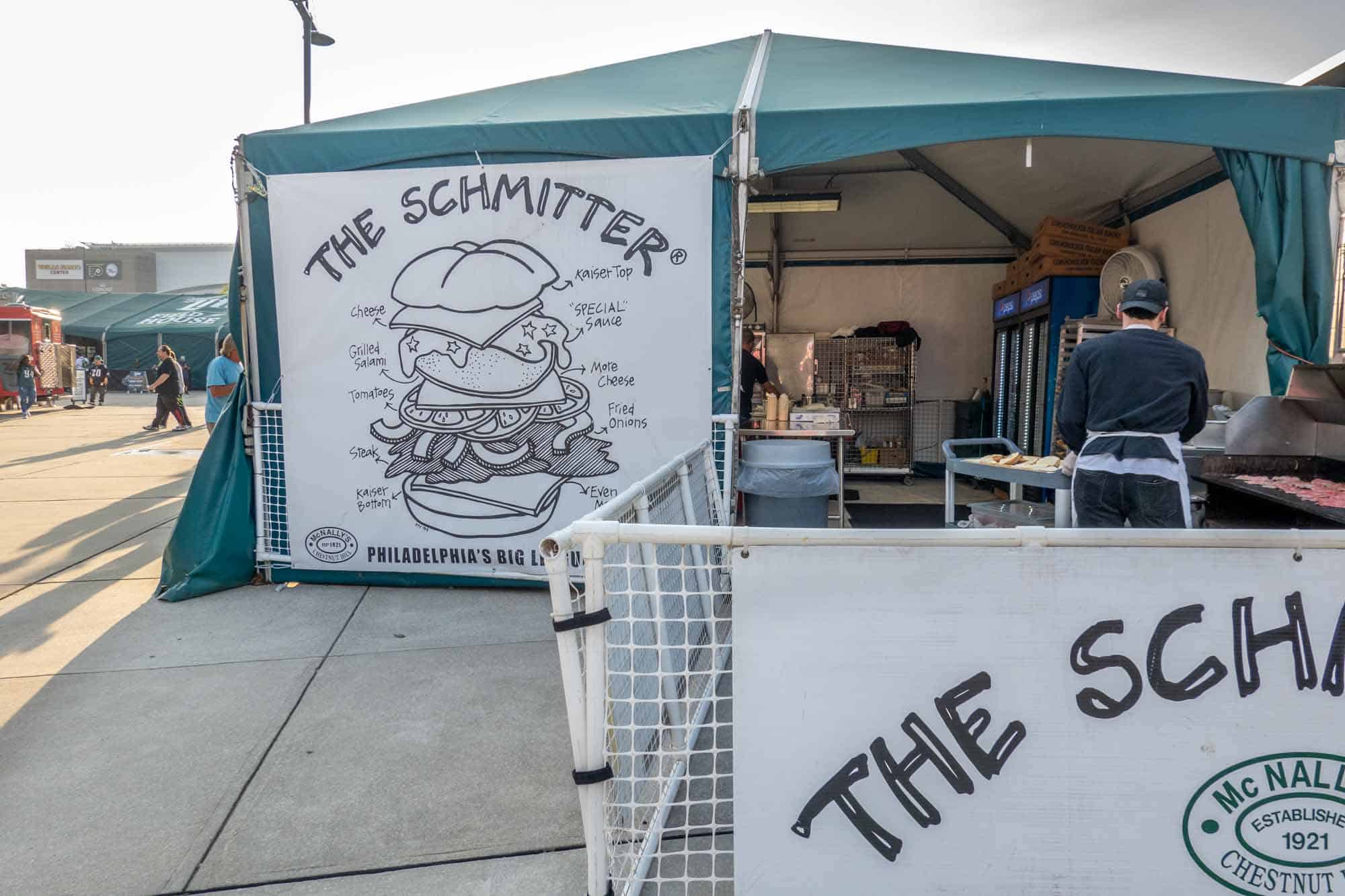 The Schmitter really is a culinary institution. It is a mouthwatering creation, lovingly crafted by friendly staff, and has become an iconic symbol of Philadelphia's rich food culture.
Details
McNally's Tavern is located at 8634 Germantown Avenue in the Chestnut Hill neighborhood. Parking is available along the streets (there is usually ample parking along Rex Avenue or Hilltop Road). Visit the McNally's website for more information.